September, 1, 2014
Sep 1
1:30
PM ET
EDEN PRAIRIE, Minn. -- Defensive tackle
Linval Joseph
, who was hit in the left calf by a stray bullet in an Aug. 9 nightclub shooting in Minneapolis, returned to practice for the first time since the shooting on Monday, working out with the
Minnesota Vikings
as they prepare for their season opener on Sunday.
Joseph had said last week that he would be ready for the start of the regular season, and his participation in practice on Monday would suggest he's still on track to play, as would the Vikings' decision to cut nose tackle
Fred Evans
and start the season with only rookie
Shamar Stephen
backing up Joseph.
Offensive tackle
Phil Loadholt
was also back at practice on Monday, nine days after bruising his ankle in a preseason game against Kansas City. Wide receivers
Adam Thielen
and
Rodney Smith
, as well as linebackers
Anthony Barr
and
Gerald Hodges
, also returned from injuries.
The Vikings were without fullback
Zach Line
at practice, and linebacker
Michael Mauti
left early. Tackle
Mike Harris
, whom the Vikings claimed off waivers on Sunday, was watching practice on Monday.
August, 24, 2014
Aug 24
2:05
PM ET
MINNEAPOLIS -- It's probably wise to use some degree of filter when viewing the
Minnesota Vikings
' third preseason game as a facsimile of the real thing, given how skeptical coach Mike Zimmer was about the idea of the third game being a dress rehearsal for the regular season. But on a night where the Vikings played their starters well into the third quarter, we can glean a relatively solid impression of where the team is going with a few roster decisions.
We'll have a more complete overview of the Vikings' roster in our latest weekly roster projection on Monday, but for now, here are three takeaways from the Vikings' win over the
Kansas City Chiefs
on Saturday night:
[+] Enlarge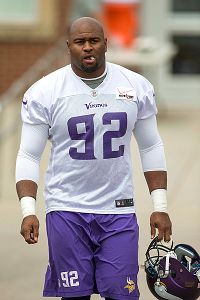 Bruce Kluckhohn/USA TODAY SportsTom Johnson appears to have carved out a role for himself as a rotational player on the Vikings' D-line
Tom Johnson appears to have a key role on the defensive line:
The former
New Orleans Saints
defensive tackle wasn't a high-profile pickup when the Vikings signed him this spring, but his explosiveness looked like it could help the Vikings at 3-technique tackle (outside shade on right guard). Through three preseason games, Johnson has shown he'll fit on the Vikings' roster. He's seen regular playing time as an inside pass-rusher in the Vikings' nickel package, and had two half-sacks on Saturday night. He shared a sack with
Anthony Barr
in the Vikings' first preseason game, and had two quarterback hits against the Chiefs. Johnson played 32 snaps in the game -- two more than
Sharrif Floyd
-- and appears here to stay as a rotational player on the Vikings' line.
Special teams, not receiver, might cement Adam Thielen's spot:
Zimmer is fond of saying, "The more you can do, the more valuable you are," and wide receiver Adam Thielen has taken that to heart in the preseason. He'd earned attention during the Vikings' offseason program and training camp as a receiver, but he's done more to make an impression on special teams in preseason games than he has as a wideout. He had three punt returns for 53 yards in the Vikings' preseason opener, also registering a tackle for a 4-yard loss in that game, and showed great patience on a 75-yard punt return on Saturday. The Vikings haven't gone much deeper than three receivers with their first-team offense -- it's even been hard for
Jarius Wright
to find a role -- and if the Vikings wind up keeping just five receivers, Thielen's utility might put him in over
Rodney Smith
, who's also had a solid preseason and still could make the roster, especially if
Jerome Simpson
is suspended. If it's a decision between those two, however, it's hard to see the Vikings letting Thielen go. "He just keeps fighting and fighting," Zimmer said of Thielen. "He's got a lot of heart, and obviously, I like guys with a lot of heart. He seems to get better and better, and he makes plays. That's important."
Middle linebacker is still up for grabs:
The closest competition in the final week could be at safety -- where
Robert Blanton
and
Chris Crocker
look like the favorites over a cast of other veterans -- or the third cornerback spot, where
Josh Robinson
's injuries have left plenty of playing time for
Marcus Sherels
in a role that's essentially a starting job, given how much time a third cornerback is on the field. But the one we've got our eye on is the battle for the middle linebacker spot, where
Jasper Brinkley
and
Audie Cole
continue to battle. Brinkley started the game on Saturday, but he and Cole alternated series throughout the night, to the point where both were still playing into the fourth quarter with the Vikings' reserves. Cole got 33 snaps on Saturday, Brinkley got 27 and both players bring a different skill set; Brinkley is more forceful against the run, while Cole's size and instincts make him a better fit in pass coverage. Of any battle on the roster, this one might go down to the end of camp -- and even beyond, if the Vikings decide to tinker with their lineup during the season.
August, 19, 2014
Aug 19
1:20
PM ET
EDEN PRAIRIE, Minn. -- Wide receiver
Jerome Simpson
was back at the
Minnesota Vikings
' practice facility on Tuesday morning, confident he'd made his case that the NFL should lift his three-game suspension as best he could. But until the league makes a final decision on whether it will suspend Simpson for a drunken driving arrest last November, the Vikings have to hedge their bets about whether they'll have their No. 3 receiver at the start of the season.
"You have to have a varied plan," offensive coordinator Norv Turner said. "Unfortunately in this game, guys miss [time]. If it's a case where someone misses because of an off-the-field thing, that's one thing, but we could be in the opening game, and someone we're counting on to play a big role sprains his ankle on the third play. We have to have a plan to go play and do the things we want to do. There's certain plays that 'Simp' is really good on, and there's other guys that have to fill in if he's not in for that play."
[+] Enlarge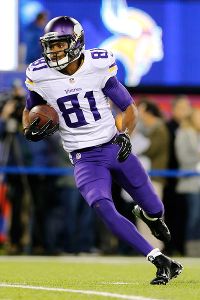 AP Photo/Ric TapiaJerome Simpson has made his appeal regarding a three-game suspension and now awaits word.
Simpson's attorney, David Valentini, said on Monday night that he was one of two attorneys representing the wide receiver at his appeal at NFL headquarters in New York, where the attorneys argued Simpson's suspension should be lifted after he pleaded guilty to lesser charges of careless driving and refusing to submit to a chemical test. The receiver, who was arrested Nov. 9, registered a blood-alcohol level of .095 on a breath test, which was above Minnesota's legal limit of .08, when an officer stopped him on Interstate 394 in Minneapolis, but Valentini has contended that if Simpson had taken a blood test the morning of his arrest, he would have passed it.
The receiver has completed his community service requirement after pleading guilty in January, and if the NFL decides not to officially hand down the three-game suspension, Simpson would be available at the start of the season.
For his part, Simpson said on Tuesday that his meeting with the league "went great" and he's now ready to move on. But if the league decides to suspend Simpson, it could put the Vikings in a bind at the beginning of the year, especially after wide receiver
Jarius Wright
left practice with an ankle injury on Monday.
Adam Thielen
and
Rodney Smith
have been battling for a fifth receiver spot -- and Turner said the Vikings could keep both of them if they're playing well enough -- but neither has caught a pass in a regular season game. The Vikings would also miss Simpson's downfield presence; the receiver might be the most natural deep threat on the Vikings' roster.
"I think we have a lot of guys who can stretch the field and get deep. Some of them do it in different ways," Turner said. "
Greg Jennings
has caught some deep balls out there against our top corners [in practice]. A lot of it depends on coverage, a lot of it depends on the play we have designed, but I think we have a number of guys that can make big plays down the field."
August, 14, 2014
Aug 14
7:30
PM ET
MANKATO, Minn. -- A daily review of the hot topics coming out of
Minnesota Vikings
training camp:
The Vikings will still be without safety Robert Blanton because of a hamstring injury on Saturday night against the Arizona Cardinals, and coach Mike Zimmer wants to use the exhibition game to get a long look at four safeties in particular: Chris Crocker, Jamarca Sanford, Andrew Sendejo and Kurt Coleman. It seems reasonable to conclude those four are the ones receiving the strongest consideration to start next to Harrison Smith (at least until Blanton comes back), and Zimmer said he hopes Saturday's game will help sort out the depth chart. "Right now, I am looking for the other safety. That is why I want to play these guys quite a bit this week. I want to see how it goes from there and then try to figure out the rest of the pecking order as we get going. Hopefully, this will be a big week for those safeties."
Injuries are also affecting the Vikings' plans at the cornerback spot opposite Xavier Rhodes, where the Vikings have indicated Captain Munnerlyn and Josh Robinson are sharing the No. 1 spot on their recent depth charts. That seems a bit unnecessary, especially since Munnerlyn has been getting many of the first-team snaps in the base defense, but Robinson has been playing outside when Munnerlyn slides into the slot in nickel, and a third cornerback is essentially a starter in the NFL these days, anyway. Robinson, though, was out of practice with a lingering hamstring injury again on Thursday, and Zimmer indicated that's making it tough for him to nail down a spot. "Well, it's hard to make the club in the tub," Zimmer said when asked if Munnerlyn was entrenched at the other cornerback spot. "I guess that would be a yes. I don't know if he's entrenched, but if you're not going out there and proving it every single day and proving it in the games then it's hard to know."
Zimmer has talked at various points about the advice he picked up from Bill Parcells when he was the Dallas Cowboys' defensive coordinator for four seasons under the Hall of Fame coach. He said on Thursday he was planning an end-of-training-camp call to check in with Parcells and talk about the Vikings at the end of his first camp as the head coach. "I had Coach Parcells' number on my phone today but I didn't push the button," Zimmer said. "I plan on calling either tonight or tomorrow, just to talk about things."
They've become good friends after two years of rooming together at training camp, and Cordarrelle Patterson went out of his way -- literally -- to stick up for Adam Thielen during a drill on Thursday. Both receivers were returning mock kickoffs, starting their runback with a ball in their hands as defenders tried to strip it away. Patterson was waiting in line for his turn when he thought players were trying to rip the ball away from Thielen a little too forcefully. "Get your hands off him," Patterson snapped. "That's a receiver. You don't touch my receivers like that."
In the final autograph session of training camp, things got a bit out of hand. Fans were leaning against a chain link fence to get Teddy Bridgewater's autograph when it collapsed, leaving a row of kids trying to pick themselves up and stay in line for Bridgewater's signature. St. Paul Pioneer Press photographer Ben Garvin has a fantastic photo of the scene here.
The Vikings will head back to the Twin Cities on Friday after a closed walk-through on Friday; Zimmer said the Vikings will go through a mock game, working through different situations and making sure they have the correct substitution packages for those situations. Then, they'll be back at the team facility in Eden Prairie, Minnesota, after Saturday's game. Asked how he thought his first camp went, Zimmer said, "I think it was productive. We were able to come out and work efficiently, work quickly, move to different spots. Hopefully I learned something every day about this team, but they haven't disappointed me. They have been very willing to do whatever. I heard someone say, 'Buy in;' I guess, maybe. There hasn't been any complaining, whether that is buying in or not. In training camp there is usually some complaining. I like this team; they are good guys and they work real hard. As long as we play together as a team, we play real hard, we do the things that we are trying to coach them to do, then we have a chance to be a good football team."
August, 10, 2014
Aug 10
8:05
PM ET
MANKATO, Minn. -- A daily review of the hot topics coming out of
Minnesota Vikings
training camp:
Coach Mike Zimmer said the Vikings came out of Friday's preseason opener relatively healthy, but the Vikings were missing several players at practice on Sunday afternoon. Defensive tackle Tom Johnson and linebacker Dom DeCicco weren't on the practice field, and safety Mistral Raymond (who suffered a concussion during Friday's game) was doing work on the side with safeties Robert Blanton and Jamarca Sanford, who missed Friday's game with hamstring and back injuries, respectively. Defensive tackle Linval Joseph, of course, was not practicing after a stray bullet struck him in the calf in a nightclub incident on Saturday morning. On a more positive note, cornerbacks Josh Robinson and Marcus Sherels returned from hamstring injuries, and tight end Chase Ford (broken foot) was once again out of a walking boot.
The Vikings began their practice outside, but had to move indoors for the first time during training camp thanks to a jagged bolt of lightning off to the west of their practice field. That turned Sunday's session into a glorified walk-through, and the Vikings were only able to do so much work inside the Minnesota State field house. Zimmer said he hadn't written practice schedules for this week until after Friday night's game, and the Vikings will have to resume the work of drilling their mistakes once they get back outdoors on Monday.
Zimmer wasn't thrilled with the way the Vikings' secondary played the run, particularly on Darren McFadden's 23-yard burst at the end of the first quarter. Safety Antone Exum had a shot at McFadden at the Raiders' 29, but came down with inside leverage and couldn't fight through McFadden's stiff arm to bring him down until the Raiders' 43. "I tell our guys all the time that long runs are typically because of the perimeter run force," Zimmer said. "We did not do a good job when the safety was coming downhill on that play, so we ended up giving him 14 more yards on that run than we should have."
Wide receiver Adam Thielen continued to win praise for his work on special teams, after returning three punts for 53 yards and making a tackle for a 4-yard loss on a punt at the end of the first half. Thielen was visibly upset he didn't score on his second return, which went for 26 yards, but special teams coach Mike Priefer said that was just a matter of Thielen making one more move. "He is probably disappointed that he didn't score on the one, but that's something that a young punt returner, that's a mistake they are going to make," Priefer said. "He saw the seam and he just went for it full speed. He's got to kind of dip and go to the outside or widen them and go back inside but it was a very, very well-blocked play." Priefer said Sherels is still entrenched as the Vikings' punt returner, but with Sherels fighting a hamstring injury, it's not bad for the Vikings to have another option they trust.
Rookie defensive tackle Shamar Stephen did well in Friday's game, Zimmer said. He wound up with five tackles in the game and showed some nice push up the middle on a couple run plays. With Joseph likely to miss some time, the seventh-round pick could see some more opportunities.
August, 1, 2014
Aug 1
8:20
PM ET
MANKATO, Minn. -- A daily review of the hot topics coming out of
Minnesota Vikings
training camp:
The Vikings had a hard, physical practice on Thursday, and Friday's high of 87 degrees made it the hottest day of training camp so far. Coach Mike Zimmer said he anticipated the team's practice level might drop off a bit on Friday afternoon, and he was correct. Asked to describe the day, Zimmer said, "Sloppy. I didn't think we were as precise as we've been on both sides of the ball. The effort was good, but we've got a lot of things in, so some of the stuff runs together for them. We're making way too many mistakes, though, for my liking, so we've got to keep working it, getting this stuff right."
Anthony Barr has continued to impress in practice, to the point where Zimmer said on Friday the rookie has a "strong" chance to start at linebacker. "I probably would have said that after the first minicamp," Zimmer said. "His alignments are just a tiny little bit off, so if he'll fix that, he's got good power when he punches, he did a couple nice things in that move-the-ball (drill). He's blitzing well. He's still got to learn some of the rush things in this league. But for the most part, he's advancing as well as expected."
The sloppy play certainly extended to the quarterbacks on Friday: Matt Cassel threw an interception to Kurt Coleman early in 11-on-11 work and had another pass batted down by Linval Joseph. Teddy Bridgewater went 10-for-17 (though one of his incompletions was called back for defensive holding) and was intercepted for the second straight day by Derek Cox, who stepped in front of a pass intended for Adam Thielen and returned it for a touchdown. "We gave them a lot of different looks on defense today, too," Zimmer said. "That's part of the evaluation. It's not to line up there in the same look every time, and they know where they're going before the ball (is snapped). It's great for a young quarterback like this to see some of the things we do on defense, because that's what people are going to do to him, early in the year anyway, if he's the guy. For me, if I'm the defensive coordinator, I'm going to give you a bunch of different looks." Christian Ponder went 5-for-5.
Zimmer unveiled a new toy on Friday: a siren he set to sound after five seconds at the end of every play near the conclusion of practice. He had used the tactic in Cincinnati to remind players they needed to go hard for at least that long on every play. "We can't block this guy and stop," Zimmer said. "Let's block him, keep blocking him, stay on him, stay on him, stay on him. Basically, finish."
Considering the overall feel of the day, it's appropriate that one of the Vikings' hydraulic camera cranes crashed into the chain-link fence at the back of their practice fields, leaving a sizable dent in the fence. After some effort, the Vikings were able to get the crane moved and in position to film the team's next drill. "Sloppy off the field, too," Zimmer deadpanned.
July, 31, 2014
Jul 31
7:40
PM ET
MANKATO, Minn. -- A daily review of the hot topics coming out of
Minnesota Vikings
training camp:
For the first time in Vikings training camp, we've seen an interception in full-team drills. Actually, there were two of them on Thursday, both coming off rookie Teddy Bridgewater. First, Audie Cole made what might have been the play of the day, jumping in front of a pass to the flat and picking it off with what would have been a clear lane to the end zone. Then, Derek Cox snatched away a short pass intended for Adam Thielen in a 2-minute drill. Matt Cassel was nearly picked off, as well, when Xavier Rhodes made a nice play to drive on a sideline throw intended for Jerome Simpson. He got his hands on the pass, but couldn't bring down the interception.
Captain Munnerlyn returned to team drills on Thursday, and got some work in the Vikings' base defense opposite Xavier Rhodes. The Vikings will need to see if Munnerlyn can play in their base defense, as opposed to only the nickel package, but they were treating him like a member of their top base defense on Thursday. Cornerback Josh Robinson had also returned from a minor hamstring injury that caused him to leave early on Wednesday. Tight end AC Leonard, who left Wednesday's practice with a headache, did not return on Thursday.
Adrian Peterson got most of the day off, with Matt Asiata and Jerick McKinnon getting most of the first-team work at running back. Asiata, to me, looks quicker through the holes than he was last year, when he averaged 3.8 yards on 44 carries. He could get some carries in relief of Peterson this year, and he's big enough to be a forceful downhill runner if he can do a better job of getting through the line with some speed this season.
Cordarrelle Patterson got his first work of camp on kick returns, after sitting out the first four practices with a minor foot injury. The Vikings have worked a number of other return men in his place -- Marcus Sherels, Thielen, Jarius Wright and McKinnon among them -- as they try to figure out who can take over if Patterson has a bigger role in the offense. But once he got back in his familiar position on Thursday, Patterson gave a brief reminder of what made him an All-Pro return man last year: He hit a hole on the left side of the Vikings' wall and surged down the sideline for a nice return.
Referee Carl Cheffers and his crew were in town for their first day of work with the Vikings on Thursday. They met with the media to outline rule changes this season and were scheduled to meet with the Vikings on Thursday night before doing some more work with the team on the practice field the rest of the week. In his presentation to the media, Cheffers spent a good deal of time covering the NFL's 2014 officiating points of emphasis: Cracking down on illegal hands to the face and taking a stricter view of contact between cornerbacks and receivers. He also covered the league's new replay policy, which will involved NFL vice president of officiating Dean Blandino in reviews. Officials will now be able to talk to the league office in New York, as well as other members of the officiating crew, via a "Janet Jackson headset," as Cheffers called it. Referees will still wear stadium microphones on their lapels, and both microphones will need battery packs. Of course, they'll carry a flag and a bean bag, and -- as everyone does in 2014 -- they'll carry a pager.
July, 27, 2014
Jul 27
8:00
PM ET
MANKATO, Minn. -- A daily review of the hot topics coming out of
Minnesota Vikings
training camp:
Robert Blanton's bid for the starting safety spot next to Harrison Smith continues to pick up steam; Blanton was again working next to Smith in the first unit on Sunday, while Jamarca Sanford -- who missed most of the Vikings' offseason program with a pulled muscle -- took second-team snaps. Coach Mike Zimmer said how impressed he was with Blanton's coverage skills on Sunday afternoon and wanted to see how the Notre Dame product fared in run support. Blanton came on strong at the end of last season after injuries forced a move to slot cornerback, and the coverage skills he flashed there could translate well to the safety position. The Vikings want to be able to put their safeties in man coverage at times so they can stay in their base defense and still handle three-receiver sets. "Robert has honestly impressed me with being in the right place all the time," Zimmer said. "He has really good ball skills, and he has made a couple really, really nice plays on the ball. He has been very solid and steady, he understands the checks and really the communication in the back end of where he is supposed to be."
Chad Greenway got some work at middle linebacker on Sunday, and it still seems possible he ends up there. The Vikings would be able to put Greenway in charge of their defensive huddle, knowing he'll likely stay on the field in nickel situations and could provide some continuity there. Greenway will have to earn the job, though, and he made a nice play in the Vikings' first padded practice on Sunday, driving Adrian Peterson back into Matt Cassel on the way to a sack. If the Vikings moved Greenway to the middle, they'd be able to put a couple of younger, athletic linebackers on either side of him. Gerald Hodges got some work at Greenway's usual weak-side linebacker spot, while Audie Cole continued to receive snaps on the strong side. Cole played in the middle last season, but if Anthony Barr isn't ready to grab the starting job, Cole could be a good option there.
It was another strong day for receiver Adam Thielen, who's easily become the darling of Vikings camp so far. Thielen, who went to college at Minnesota State and is going through training camp at his alma mater, has had a good connection with Teddy Bridgewater since this spring, and it showed again on Sunday, as Bridgewater hit him on a difficult deep out connection along the right sideline. Thielen said he spent his winter working out in the Twin Cities, trying to get faster and stronger, and he looks more impressive this year than he did last year. He also has some of the best hands on the team and has continued making the kinds of catches in traffic he was making during the Vikings' minicamp.
The Vikings' quarterbacks worked in the same order today, with Cassel running the first team, Bridgewater the second team and Christian Ponder the third. They started practice with a handful of screen passes, again setting up Peterson for a number of impressive gains, and didn't take many shots downfield on a windy and rainy day. In 11-on-11 drills, Cassel went 10-for-13, Bridgewater went 9-for-11 and Ponder went 6-for-7.
An odd day of weather made the Vikings' first padded practice feel more like October than July. The team started practice under a threatening sky, and the clouds opened up while the Vikings were still stretching, sending many of the fans and media members in attendance looking for shelter. Zimmer kept the Vikings on the field, though, and continued practice during a heavier period of rain later in the afternoon. In previous years, the Vikings have moved such practices inside, but it's worth remembering that the Cincinnati Bengals -- where Zimmer was the defensive coordinator the past six seasons -- are one of the only teams in the NFL without an indoor practice facility. Especially with the Vikings playing home games outdoors this season, the threshold for moving practices inside will likely be much higher.
July, 26, 2014
Jul 26
8:00
PM ET
MANKATO, Minn. -- A daily review of the hot topics coming out of
Minnesota Vikings
training camp:
The Vikings' quarterbacks were more efficient on Saturday than they were in the team's first practice on Friday, though we didn't see Matt Cassel, Teddy Bridgewater and Christian Ponder take quite as many shots down the field. Cassel again took most of the first-team snaps, finishing the day 10-f0r-13 in 11-on-11 drills, while Bridgewater went 8-for-11 and Ponder was 6-for-7. Cassel had one pass broken up by Linval Joseph, who had also batted down a pass on Friday, but he did connect with Greg Jennings on a long throw that drew one of the day's biggest rounds of applause. Bridgewater and Adam Thielen, who seemed to click during the Vikings' OTAs and minicamp, were in sync again on Saturday. Three of Bridgewater's last four passes were targeted for Thielen, and the two connected on a long play-action pass late in practice. Bridgewater mostly worked with the Vikings' second team, and Ponder's snaps were with the third team.
With Munnerlyn out, the Vikings tried several different players at the slot cornerback position; rookies Jabari Price and Kendall James got some work there, as did Shaun Prater. Price got some first-team snaps and handled himself well. He said he played the slot corner position as a junior at North Carolina before moving back outside as a senior, so as the Vikings try to identify players who can handle the job in the event Munnerlyn gets hurt, Price could make his case for a roster spot that way. "It's definitely a harder job, but you can't put it on the back burner," Price said. "Other teams get those fast receivers in on third down. It's definitely a change-up for corners, but it's something that's got to be done."
Nearly a third of the Vikings' 24 completions in team drills went to running backs, and they put a particular emphasis on setting up screens for Adrian Peterson. Peterson caught one from Matt Cassel, did a masterful job of letting his blockers get out in front of him and raced down the left sideline for a big gain. By my count, Peterson was targeted with four passes, catching three. "There are times where he'll double-catch it a little bit, but most of the time, he's pretty darn good," Zimmer said. "People are afraid of his speed, which gives him some areas to go underneath or beat people to the perimeter. I think he'll be a good weapon. I think when I was in Atlanta (in 2007), he caught a (60)-yard swing pass (in his first NFL game) for a touchdown. Once he gets the ball in his hands, if it's in the open field, it's bad news." Zimmer was also impressed with Matt Asiata, who's making a strong case at the moment to be the No. 2 running back. "He's elusive," Zimmer said. "He's got a little bit of shift, a sneakiness about him the way he goes. He's been good."
For the second day in a row, the Vikings used a nickel package with three safeties, and Zimmer said he also has a three-corner, one-safety base look that he'll unveil at some point. "We're introducing them, and we'll continue to add some," Zimmer said. "We'll get to some more exotic things, I guess you'd say, later on in camp."
It seems like Norv Turner's offense will employ pulling guards more often than Bill Musgrave's scheme did; the Vikings had rookie David Yankey pulling on a number of plays. There will still be some zone blocking, but it doesn't seem like the Vikings will be as married to that style of offensive line play as they were with Musgrave.
June, 6, 2014
Jun 6
8:00
AM ET
MINNEAPOLIS -- It will be months, if not longer, before we have a complete idea of where
Teddy Bridgewater
is at in his development as a NFL quarterback. But in an interview after his impressive showing at the Vikings' organized team activity on Thursday, Bridgewater offered a hint that he already understands an important key to success in the pros.

Bridgewater
Bridgewater went 9-for-9 in the Vikings' first 11-on-11 period on Thursday, taking one sack but connecting with
Adam Thielen
on a couple of tough throws against tight coverage. In a 7-on-7 drill red zone drill, he hit a couple of corner routes to
Kain Colter
and Thielen, and connected with
Jarius Wright
on a long pass during his two-minute drill. Afterward, when asked about his biggest challenge so far, he said this:
"The biggest challenge is just anticipating throws. In college, open was 10 feet. Now in the NFL, open can be just a couple of inches. So just being more decisive, anticipating throws more and I feel like I'm doing a great job learning from Matt (Cassel) and Christian (Ponder). Also, (quarterbacks) coach (Scott) Turner has been teaching me to throw it on time, trust your feet and everything will happen."
Any Vikings fan who's spent the last three years watching Ponder knows Bridgewater hit on a central trait of being an effective NFL quarterback. One of Ponder's biggest hindrances has been his inability to make throws into tight windows, or to trust himself enough to try them. Bridgewater completed 68.4 percent of his passes in college (compared to 61.8 percent for Ponder), and turned himself into a first-round pick by being one of the more accurate passers in the draft, so the Vikings have reason to be confident in his ability to hit tough throws. The job will ultimately require Bridgewater to be confident enough in himself to put the ball just beyond defenders, but he seemed to have little hesitation about doing that on Thursday. It's dangerous to assume too much before Bridgewater is throwing in live games, but the Vikings have to be encouraged by signs that their first-round pick is able -- and willing -- to make some of the throws that gave their last first-round QB trouble.
"I thought Teddy did a nice job in the 2-minute situation, had a nice long ball there, took them down and scored," coach
Mike Zimmer
said. "He left for those two days (for a NFL rookie marketing event in Los Angeles last week), he was a little rusty when he came back, (but) he's picked it up these last two days, so he's doing well."
May, 22, 2014
May 22
10:00
AM ET
»
NFC Wrap:
East
|
West
|
North
|
South
»
AFC:
East
|
West
|
North
|
South
»
Grades

With free agency and the draft in the rearview mirror and training camp just a couple of months away, we assess the
Minnesota Vikings
' offseason moves.
[+] Enlarge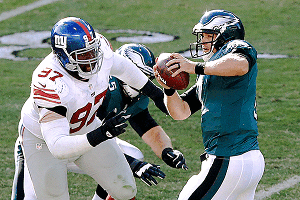 AP Photo/Matt RourkeIt's been a long time since the Vikings had a run-stuffing nose tackle like Linval Joseph.
Best move:
The Vikings needed a run-stuffing nose tackle as much as they needed anything else on their defense, and the signing of
Linval Joseph
gave them a big body for the middle of their defensive line. Joseph should provide a presence the Vikings haven't had since
Pat Williams
' time in Minnesota ended, and although his contract will pay him $31.75 million over the next five years, including $12.5 million guaranteed, it's structured in such a way that the Vikings would face minimal cap repercussions if they needed to cut Joseph as soon as 2016. He's just 25, and in an ideal world, he'll be playing nose tackle for the Vikings for the next five years.
Riskiest move:
It's based on the Vikings' high assessment of his potential, but giving $20 million guaranteed to defensive end
Everson Griffen
after four seasons of rotational duty was a gamble. The Vikings could insert Griffen in
Jared Allen
's old left end spot, and while sacks are an incomplete measure of performance for a defensive end in
Mike Zimmer
's scheme, Griffen will have to generate some pressure and be stout against the run. He has the talent to do both, but for him to be worth a contract that pays him like one of the league's top defensive ends, Griffen will have to showcase that talent more frequently than he's done so far in Minnesota.
Most surprising move:
In an offseason that followed a fairly sensible shopping list, there weren't too many out-of-character steps among the Vikings' decisions. But the team opting not to add another receiver was worth at least a second glance. The Vikings could have plucked one in the middle rounds of a deep draft, giving themselves another option at a position where No. 3 receiver
Jerome Simpson
is coming off his second arrest in three years. Instead, the team will hope that Simpson is available for the better part of the season, third-year man
Jarius Wright
can become a more consistent part of the offense, and practice squad holdovers like
Adam Thielen
can add something to an offense that should push the ball downfield more than it has in the past.
Quarterback plan in place:
The Vikings started their offseason by giving themselves some pre-draft insurance at quarterback, signing
Matt Cassel
to a new two-year, $10 million deal after he opted out of the contract he'd signed in 2013. They also traded back into the first round to take Louisville quarterback Teddy Bridgewater, meaning their succession plan is in place at the position, whether that happens sometime this year, in 2015 or in 2016. If the Vikings do want Bridgewater to sit for a year, they're making a leap of faith that Cassel can be reliable for a full season in Norv Turner's offense after starting just 23 games from 2011 to 2013. If he's not, the Vikings could have to decide whether to put Bridgewater on the field or see whether they can get through a few games with
Christian Ponder
. But Cassel was mostly solid in six starts last season, and with both him and Bridgewater in the building, the Vikings have more reason to feel comfortable at quarterback than they've had in a while.
August, 5, 2013
8/05/13
9:15
AM ET
We're Black and Blue All Over:
It looks like I picked a pretty, pretty, pretty, pretty good moment to turn over the majority of our Green Bay Packers coverage to new teammate Rob Demovsky. Two big stories broke Sunday night, one that provides some entertainment value but another that will have a deep impact on the team and the entire division.

As Demovsky wrote,
the Packers will work out free agent quarterback Vince Young on Monday. There are no quarterback controversies in Green Bay as long as Aaron Rodgers is healthy, and it's not clear if the Packers are even seeking competition for backup Graham Harrell, but it's not often that the Packers even work out a veteran free agent of Young's prominence.
More important, however,
the Packers might lose
left tackle Bryan Bulaga to a significant injury, news that would cripple the offseason overhaul of their offensive line.
As we noted earlier this summer,
the entire effort of flipping both tackles and guards centered around getting their best possible option -- Bulaga -- at left tackle.
If Bulaga is in fact lost for a long period of time, we'll see if the Packers have a better option than returning deposed starter Marshall Newhouse to the position. At the moment, it doesn't appear that they do.
Continuing around the NFC North:
May, 7, 2013
5/07/13
7:30
AM ET
We're Black and Blue All Over:
The Chicago Bears have completed a restructuring of their front office following the departure of two key employees.

According to the
team's website
, Kevin Turks has been promoted to director of pro personnel and Dwayne Joseph has been made the associate director of pro personnel. The pair moved up after the departure of director of pro personnel Chris Ballard, who is now the Kansas City Chiefs' director of player personnel.
As
Dan Pompei of the Chicago Tribune
notes, scout Ted Monago was allowed to depart for a promotion as the St. Louis Rams' new national scout. Earlier this offseason, the Bears let go of regional scout James Kirkland. Finally, the Bears have hired Ryan Kessenich as a new scout. He has spent four seasons with the Chiefs.
New general managers often shake up the front office after their first draft, and the Bears' Phil Emery made a number of changes last year at this time. These most recent adjustments appear to be the coincidental result of several promotions available to current staff.
Continuing around the NFC North: