NFC North:

Adewale Ogunley
December, 19, 2009
12/19/09
12:00
PM ET
We're all about communication here on the NFC North blog, even if it's sometimes one-way. You can get at me through the
mailbag link
, on
Facebook
or via
Twitter
.
Let's see what was on your mind this week:
Gary of Goshen, Ind., writes:
Is there really a chance that the Lions might trade Calvin Johnson? If it is true, wouldn't this be detrimental to their offense and the development of Matthew Stafford? Especially since Stafford and Johnson seemed to be making progress when they were healthy. This just seems like a move that would cause the Lions fans to have even less faith in the organization.
Kevin Seifert:
As best as I can tell, this whole discussion began last week via
Drew Sharp's column
in the Detroit Free Press. As a columnist, Sharp was doing his job by offering an opinion. Beyond that, however, there is no evidence the Lions would actually consider it.
Personally, I can only think of one reason to trade Johnson: To secure an overwhelming and unprecedented bounty that would dramatically accelerate the Lions' rebuilding process. I'm talking about three first-round picks and other considerations. Otherwise, there's every reason to think the Lions should build around Johnson rather than cash him in.
He's only 24 years old. If Johnson were a running back, you might be concerned that he would start declining by the time the Lions get their act together. But a receiver can be successful well into his 30's. And let's be clear. Johnson isn't just a good receiver. He's one of the most unique athletes in the game, one capable of making extraordinary plays well into the next decade.
I agree with you, Gary, on the Stafford angle. If you draft a rookie quarterback to play right away, you're committed to continue building around him. That can't include trading the one teammate who can consistently beat defenders. Even if a trade eventually brought more talent around Stafford, the interim could be devastating.
---
Kevin of Olathe, Kan., writes:
The Vikings have not allowed a 100 yard rusher in 35 odd games. What is the NFL record in that department?
Kevin Seifert:
Actually, the streak has now reached 36 games after Cincinnati's Cedric Benson fell four yards short Sunday at the Metrodome. Vikings media maven Jeff Anderson checked on this question with the Elias Sports Bureau, the official record-keeper of the NFL. According to Elias, numerous teams went more than 60 games without giving up a 100-yard rusher during previous eras when 100 yards was a much less common accomplishment. So we're a long way away from challenging history.
By the way, the last player to run for 100 against the Vikings? Green Bay's Ryan Grant, who managed 102 yards on Nov. 11, 2007. Don't say I never told you anything.
---
Billy of LaCrosse, Wis., writes:
The situation exists that two Week 17 games this year could be repeated the following week in the wildcard round of the playoffs. One such instance is Green Bay and Arizona. The way I see it, if both are in already, which they likely will be, and slated to face each other, and the result would make exactly zero difference as to home field advantage, wouldn't it be beneficial for both teams for either one to forfeit, or agree to tie?
Kevin Seifert:
Well, they wouldn't have that option. The NFL would require them to play the game to a final outcome. But I do think the scenario presents a number of interesting questions. Among them:
How much would each team play its regulars?
How do you game-plan for the first of a two-game series? Keep everything vanilla? Or do you throw a bunch of curveballs to give your opponent something to think about the following week?
If you're the Packers, do you stay in Arizona to practice for the week? Or do you make the round-trip twice in as little as six days, depending on the postseason schedule?
As a Midwest-based blogger, I would vote for a December week in Arizona. But that's just me.
---
Pat of Des Moines writes:
Let's face it, Lovie Smith is not cutting it for Chicago. I can't go on seeing him ruin my Bears. Is there any chance that he will actually get fired, and if so, will we see Mike Shanahan's name come up as a replacement given his previous experience with … Jay Cutler.
Kevin Seifert:
A few weeks ago, I felt pretty confident Smith's job was safe because the Bears would not want to pay the $11 million or so it would take to terminate his contract. Now, I wonder if the Bears will have a choice.
They've lost seven of their past nine games, their only victories coming against Cleveland and St. Louis in that stretch. The Bears defense has fallen to further depth despite Smith's decision to take over as the de facto defensive coordinator. Who else is there left to blame?
As for Shanahan, Washington might have
beat the Bears to the punch
.
---
Brandon of Calgary writes:
Hey Kevin, just wanted to point out a couple things you may want to mention in your blog. 1) Aaron Rodgers now has a winning record as a starter (15-14). 2) Mark Tauscher shut down Adewale Ogunleye (one tackle) after Ogunleye called him out of shape last week.
Kevin Seifert:
Thanks Brandon! I will say Tauscher probably still is out of football shape, and understandably so. That makes Ogunleye's quiet game Sunday even more suspect.
---
Dave of Eau Claire, Wis., writes:
I was under the impression that there were four teams in the NFC North, not one. Apparently three of them got sucked into the 11th dimension today and are considered lost?
Kevin Seifert:
I made a silent vow to avoid the Minnesota homer topic, but every Sunday I get 10-15 mailbag notes asking why I'm only focusing on one team. It's very simple: I can only be at one game at a time. I don't see much value in blogging expansively on a game I haven't seen.
My approach has always been to provide the best coverage I can from the game I attend. Eventually, I will follow up on the other games to give those fans a place to gather and discuss. And we always circle back on every team in Monday's Third and one feature. If anyone has any other suggestions, I'm all ears.
December, 11, 2009
12/11/09
4:00
PM ET
»
NFC Final Word
:
East
|
West
|
North
|
South
»
AFC
:
East
|
West
|
North
|
South
Five nuggets of knowledge about Week 14:
[+] Enlarge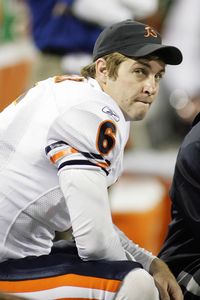 AP Photo/Andy KingJay Cutler, the NFL's INT leader, will face the No. 2 defense in takeaways.
First things first.
Somebody is going to be pretty happy Sunday at about 4:30 p.m. ET. Minnesota's matchup with Cincinnati carries significant playoff implications for both teams. The Vikings can clinch a playoff berth with a victory (or a tie, if the
New York Giants
lose to Philadelphia). They can clinch the NFC North with a victory and a Green Bay loss at Chicago. The Bengals face a similar opportunity. They will clinch the AFC North with a victory (or a tie, if Baltimore loses or ties Detroit). The Bengals can also win the division even with a loss if the Ravens are upset by Detroit. We'll keep you updated.
There are plenty of subplots to the Vikings-Bengals game,
not the least of which is the
expected brawl
between Cincinnati receiver
Chad Ochocinco
and Minnesota mascot Ragnar. But as
Steve Wyche of the NFL Network
pointed out earlier this week, this game will feature defensive coordinators whose names could be in circulation for head-coaching jobs this offseason. Minnesota's Leslie Frazier has interviewed for five jobs in the past two years and has the NFL's eighth-ranked defense. Cincinnati's Mike Zimmer has molded the Bengals into a hard-hitting group that ranks No. 4 overall, all while grieving the death of his wife.
One of the NFL's leading interception throwers will take the field Sunday
against the league's second-best takeaway defense. Somethin's got to give. Or something like that. No quarterback has thrown more interceptions than Chicago's
Jay Cutler
(20). And the only team that has intercepted more passes than Green Bay (21) is New Orleans (23). If their game plan is anything like what they used last week against St. Louis, the Bears won't give Cutler enough passing opportunities to throw a full complement of interceptions. The Packers have been stout against the run, but injuries to their top four defensive linemen might convince the Bears to pound the ball on the ground.
Chicago was the first team to expose Green Bay's pass protection problems,
coming in the teams' first meeting Sept. 13. Defensive end
Adewale Ogunleye
mauled right tackle
Allen Barbre
for much of the night, and the Bears sacked quarterback
Aaron Rodgers
four times. But the Packers have made several recent adjustments to mitigate those problems, emphasizing shorter drops and replacing Barbre with
Mark Tauscher
. Rodgers was sacked 37 times in the Packers' first eight games but only eight times over the past four. The Bears will do their best to make life difficult for Rodgers, but the Packers should be better equipped this time around.
It's not the ideal setting,
but Detroit quarterback
Daunte Culpepper
will get a chance to put a full December game on film for scouts and personnel executives who will be looking at veteran quarterbacks this offseason. We're assuming Culpepper won't be back in Detroit next season, and it's possible that starter
Matthew Stafford
(shoulder) will return to the starting lineup as early as next week. A strong game on the road, against a Baltimore team battling for a playoff spot, could put Culpepper back on the free-agent radar. Given the state of quarterbacking in the NFL, it's reasonable to think Culpepper could spark some interest from teams looking for depth.
October, 28, 2009
10/28/09
6:00
PM ET
Posted by ESPN.com's Kevin Seifert
Catching up on Wednesday's news in the Black and Blue:
Chicago Bears:
For the first time this season, defensive tackle
Tommie Harris
(knee) participated in all of a Wednesday practice. It appears the Bears are no longer going to require Harris to practice on a limited schedule every week. … Defensive end
Adewale Ogunleye
(ankle) sat out of practice. … If the Bears are planning a change at left guard this week from
Frank Omiyale
to
Josh Beekman
,
no one will say it
on the record.
Detroit Lions:
Quarterback
Matthew Stafford
(knee) practiced for the second consecutive day, but coach Jim Schwartz
isn't ready
to declare him the starter Sunday against St. Louis. "We'll wait and see," Schwartz said. "It's still a long way to go until Sunday and there's a lot of hurdles we'll need to cross before then." … Receiver
Calvin Johnson
(knee) again missed practice. So did defensive end
Jason Hunter
(ankle).
Green Bay Packers:
Tackles
Chad Clifton
(ankle) and
Mark Tauscher
(knee) got some work with the first team, but it's unclear whether either will play Sunday against Minnesota. … Tight end
Jermichael Finley
(knee) did not practice. Coach Mike McCarthy said Finley will be tested Sunday morning to determine whether he can play. It seems highly unlikely he'll be active. … Safety
Derrick Martin
(hamstring), center
Jason Spitz
(back) and center
Scott Wells
(personal) did not practice.
Minnesota Vikings:
Middle linebacker
E.J. Henderson
(knee) was a surprise addition to the injury report. He played all of Sunday's game at Pittsburgh but sat out practice Wednesday. So did cornerback
Antoine Winfield
(sprain) and receiver
Bernard Berrian
(hamstring).