July, 1, 2011
7/01/11
10:45
AM ET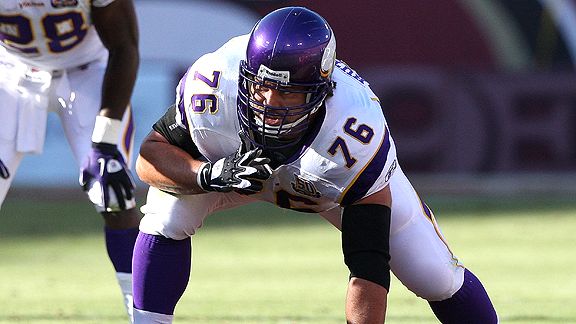 Tony Medina/Icon SMISteve Hutchinson has been named to seven Pro Bowls and seven All-Pro teams during his career.
Another in a series on NFC North players whose career trajectories put them on a path to consideration for the Pro Football Hall of Fame.
Of all positions and players we'll discuss in "Calling Canton," offensive line and
Minnesota Vikings
guard
Steve Hutchinson
will be the most difficult to quantify.
Offensive linemen compile no individual statistics. Evaluating them objectively is nearly impossible, and even subjective analysis is tricky. You could hand three knowledgeable football people a tape of an offensive lineman and get three different opinions. Knowing assignments and understanding the level of surrounding competence is crucial.
On top of it all, guard is the least visible position among the offensive line. Centers are typically leaders, make judgeable line calls and are the glue of a line. Tackles are scrutinized for their pass protection against elite rushers. Guards? They're in between, and that's part of why the
Seattle Seahawks
thought they could protect Hutchinson with a transition tag prior to his entrance into free agency six years ago.
Given that context, Hutchinson's 11-year career has without question has put him into discussion for enshrinement in the Pro Football Hall of Fame. He has been named to seven Pro Bowls and seven All-Pro teams. He didn't miss a game during his first 10 1/2 seasons. His teams have had a 1,000-yard rusher in each of his 10 full seasons and the NFL
named him to its all-decade team for the 2000s
.
As the chart shows, Hutchinson's postseason honors puts him in stride with the eight post-merger guards who have been enshrined. (For the purposes of this list, I left out two players: Billy Shaw, whose career ended in 1969, a year before the AFL-NFL merger, and Bruce Matthews, who played more than half of his career games at a position other than guard.)
For Hutchinson, the most relevant questions will be how he is judged against his contemporaries and how long he must wait to get the voting committee's attention.
On the latter, we should remember that even the best guards in NFL history had to be patient. Russ Grimm was enshrined last summer, 19 years after he retired. It took Larry Little 13 years to get in. Randall McDaniel and Mike Munchak waited eight years.
On the former, we can debate who Hutchinson's contemporaries should be. For now, let's consider the other three guards the NFL named to its all-decade team for the 2000s.
Considering the voting committee has elected eight guards in 41 post-merger years, it might be tough for all four guards of the 2000s to make it to Canton. More than with some other positions, the presentations and first-person testimonials given on behalf of Hutchinson, Allen, Shields and Faneca will play a big role. We can't predict the content of future election meetings, of course, but we can with some confidence state that Hutchinson has had a Hall of Fame-like career. His due seems mostly a matter of timing.
Earlier:
Aaron Rodgers
has
put himself on the path
toward Canton. Pass-rushers
Julius Peppers
and
Jared Allen
face
stiff competition
.
April, 28, 2010
4/28/10
7:19
AM ET
Tuesday was busy enough in Chicago that we need a clean-up session to wrap up all the goings-on. We covered the acquisition of safety Chris Harris pretty thoroughly, but in addition:

The Bears restructured Harris' contract
. According to
ESPN's Adam Schefter
, it is now worth a maximum of $3.5 million and expires after the 2011 season. But if the Bears pay an option bonus due in March 2011, they'll be required to extend the contract further.
Director of college scouting Greg Gabriel was informed his contract will not be renewed.
This continues an
expected shakeup
and clears the way for former Seattle general manager Tim Ruskell to join the team, as
Dan Pompei of the Chicago Tribune
writes.
Free-agent guard Alan Faneca signed with Arizona,
eliminating the possibility he might go to the Bears. It's not clear if the Bears ever got involved, however.
Finally, the Tribune's Brad Biggs suggests
that safety Kevin Payne is likely to
seek his release
following the Harris trade.
We shouldn't minimize the changes the Bears have made to their roster. As we
noted earlier this month
, only six starters remain from their 2006 Super Bowl team. But they've now overhauled their coaching staff and front office as well. More to come on these changes.
Continuing around the NFC North:
April, 27, 2010
4/27/10
7:18
AM ET
It was a bit of a comedown after the intensity of the NFL draft, but we did have a few minor roster moves Monday in the NFC North.
According to ESPN's John Clayton, Detroit released four players: receiver Michael Ray Garvin, running back Cedric Peerman, cornerback DeAngelo Smith and defensive tackle Terrance Taylor.
Meanwhile, in Green Bay, the Packers re-signed safety Charlie Peprah and released tight end Devin Frischknecht. Jason Wilde has more at
ESPNMilwaukee.com
.
Continuing around the NFC North:
April, 26, 2010
4/26/10
2:30
PM ET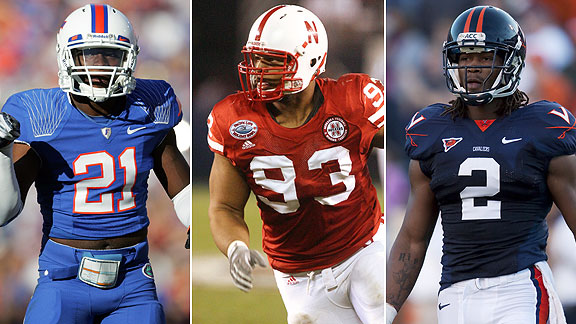 Icon SMIMajor Wright (Chicago), Ndamukong Suh (Detroit) and Chris Cook (Minnesota) all help fill voids for their new teams.
No point in the NFL year is filled with more optimism than the week after the draft, when every team is basking in what it considers undeniable across-the-board improvements. But unless the 2010 season is characterized by a rash of ties, we're going to have the same number of losses as we did last year -- some by chance, a few by strategy and many as a result of flawed team building.
So this is my opportunity to play
Scrooge
. (I believe I was born for the role, but that's another story.) We spent the past four days hyping the additions in Chicago, Detroit, Green Bay and Minnesota. Now, with the draft concluded and the top half of the free-agent market accounted for, we must acquiesce to reality and note where each team still falls short.
(A Scroogism: How shall I ever understand this world? There is nothing on which it is so hard as poverty, and yet, there is nothing it condemns with such severity as the pursuit of wealth.)
[+] Enlarge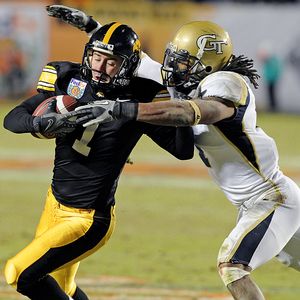 Richard C. Lewis/Icon SMIGeorgia Tech safety Morgan Burnett will have a chance to help improve Green Bay's pass defense.
We took an in-depth look last month at Green Bay's plans to improve its pass defense.
That plan, I think we can safely say, does not include significant personnel changes. In fact, the Packers have added only one player who could impact this segment of their team: Third-round safety
Morgan Burnett
, and that's if he beats out
Atari Bigby
for a starting job.
Many of us thought the Packers would target an outside linebacker at No. 23. I can't blame them for passing up
Sergio Kindle
or
Jerry Hughes
in favor of left tackle
Bryan Bulaga
, who filled what might have been the franchise's biggest single need. But wrapping up the draft without a single player at the position means that, for now, the Packers will look to
Brady Poppinga
and
Brad Jones
at the position manned for much of last year by
Aaron Kampman
.
The Packers also haven't addressed the cornerback position, putting a premium on their belief that veterans
Al Harris
,
Will Blackmon
and
Pat Lee
will all return healthy from major injuries this summer.
"I think we got guys that can come in and make an impact," general manager Ted Thompson said. "I've said all along I think we have a good team. I think we have a team that's going to be competitive week in and week out. And at those positions, we have some guys that are dinged up, but we don't necessarily think that's going to be an ongoing problem."
Thompson added that the Packers are "still doing some work at the outside linebacker spot," but it's uncertain if he meant adding rookie free agents or if he would target a veteran. Often a second wave of free agency occurs after the draft, and New England kicked it off Monday morning by
releasing
veteran
Adalius Thomas
.
Improving a segment of your team doesn't necessarily mean swapping out players. Last month, coach Mike McCarthy detailed some practice changes and new priorities for his pass defense. For the most part, the Packers will do it with the same players they had last year. Take that for what it's worth.
April, 25, 2010
4/25/10
10:00
AM ET
Let's clean out our notebook with the 2010 NFL draft in the books:
Many of us considered offensive tackle and outside linebacker as Green Bay's top two needs in this draft.
The Packers drafted Iowa's Bryan Bulaga to address the former, but they came up empty on the latter and don't have an obvious answer at the position shared last year by
Aaron Kampman
and
Brad Jones
.

That's a particular blow for a team that generally sits out veteran free agency. But general manager Ted Thompson and coach Mike McCarthy both hinted a linebacker move of some kind could be on the horizon.
"We didn't draft any linebackers this year," Thompson said, "but still we're going to be trying to add some stuff to that position, sure."
According to ESPN's Stats & Information, NFL teams drafted 36 linebackers over the past three days, more than any other position.
The Packers drafted a running back in the sixth round who missed the entire 2009 season after undergoing shoulder surgery.
McCarthy wouldn't commit to whether Buffalo's James Starks will be cleared for all of spring drills.
"We're very comfortable with his particular medical situation," McCarthy said, "but until he gets here and gets to work, we'll have a complete idea of where he is."
Starks, 6-foot-2 and 218 pounds, has the kind of size to make a difference
We discussed the inconsistency that dropped USC defensive end Everson Griffen from possible first-round status to Minnesota's fourth-round pick.
Speaking to local reporters, Griffen said he is "not a big guy to make excuses" but revealed he played half of last season with a turf toe.

"It was a bad turf toe," he said. "Two months ago, it finally started feeling better. You just got to want to play at that level and that's what I want to do. ... Coming off this injury affected me for about half of the year, but I'm feeling 100 percent. I'm ready to go. No new injuries."
Vikings director of college scouting Scott Studwell referred to Griffen as "a college student that enjoyed the college life a little bit," a nice way of saying his game might have been affected by his social life. To his credit, Griffen didn't dispute that notion.
"What college kid doesn't enjoy college?" he said. "College only happens one time, and you learn from your mistakes. I wouldn't take anything back from my college experience. You learn from your mistakes, and that's how you become an adult. That's what I did. I learned from my mistakes."
Detroit plans to work fourth-round pick Jason Fox on both the left and right side,
offensive line coach George Yarno told local reporters. Fox is still working his way back from a torn patella tendon.

"He'll rotate both tackles: Left and right and see where it goes from there," Yarno said. "I think with his injury and everything, it will take some time before he's ready to go. We're looking at him as kind of the third tackle right now [behind starters
Jeff Backus
and
Gosder Cherilus
] and see where the competition will go from there."
Lions general manager Martin Mayhew was at it again Saturday,
upgrading the throw-in draft pick he got in the
Tony Scheffler
-
Ernie Sims
trade earlier this month.
To review: As part of a
three-way deal
, the Lions sent Sims to Philadelphia and got Scheffler from Denver. The Broncos also gave the Lions their seventh-round draft pick, No. 220 overall. Saturday, the Lions sent that pick to Philadelphia in exchange for the Eagles' sixth-round pick in 2010. At this rate, it will be a first-rounder by the time next April rolls around.
We briefly touched on the possibility of Chicago pursuing Pro Bowl guard Alan Faneca,
who was released Saturday by the
New York Jets
. Asked about the possibility by Chicago reporters, Bears general manager Jerry Angelo wouldn't rule it out.

"I don't know who would not consider Alan Faneca, if you had a need at the offensive line," Angelo said. "Again, we'll look into some things, like we did before the draft."
Something to keep an eye on, for sure.
The Chicago scout that handled the report on Central Michigan quarterback Dan LeFevour referenced New England quarterback Tom Brady
during an interview with Chicago reporters. Scout Jeff Shiver said: "A long time ago, I missed a quarterback in the sixth round. I think he's still with the Patriots."
I think that was Shiver's way of suggesting the Bears did more than take a sixth-round flyer on a local kid who grew up with a Walter Payton jersey on his wall. They believe he can develop into a legitimate NFL quarterback.
April, 24, 2010
4/24/10
1:15
PM ET
The
New York Jets
just released
Pro Bowl guard
Alan Faneca
. Chicago recently moved left guard
Frank Omiyale
to right tackle. The Bears have no obvious replacement. Could Faneca come into play?

Faneca
That's the question the Bears are no doubt considering as the draft winds down Saturday. Faneca, 33, might not be at the height of his career but is clearly an upgrade over the Bears' current personnel. Still, I don't think it's a slam-dunk the Bears will pursue him.
First, the Bears took a similar approach last season by signing veteran left tackle
Orlando Pace
, whose skill slippage was clear from the start of last season. It took the Bears a while to get him out of the lineup, however, and they will have to make sure Faneca wouldn't put them in the same position.
Second, the Bears have hired an offensive line coach in Mike Tice who excels at developing young players. It's possible they will want to give Tice a chance to work with
Josh Beekman
and
Lance Louis
, among others, before deciding to plug in a veteran. Stay tuned.