April, 15, 2014
Apr 15
5:05
PM ET
MINNEAPOLIS -- The
Minnesota Vikings
made a pair of roster additions Tuesday, bringing back tight end
Allen Reisner
and claiming former
San Diego Chargers
linebacker
Terrell Manning
off waivers.
Reisner spent the 2011 and 2012 seasons with the Vikings, shuttling between the practice squad and the active roster after signing with the team as a rookie free agent. He signed with Jacksonville before the 2013 season and played five games for the Jaguars, starting three and catching five passes for 40 yards.
Manning played one game with the Chargers last season after being drafted by the
Green Bay Packers
in 2012. He played mostly special teams in five games with the Packers in 2012 and was let go by the team in the final round of cuts last August, after returning from a parasitic infection that caused him to lose 20 pounds during training camp. He was an outside linebacker at North Carolina State, and Packers general manager Ted Thompson thought enough of him to trade three picks in order to move up and draft Manning in the fifth round in 2012.
With competition likely coming at linebacker, Manning might have a chance to push for playing time.
September, 27, 2012
9/27/12
5:21
PM ET
Let's take a quick look at the Thursday practice report, which includes news of surgery for a starting defensive lineman and an addition for one starting quarterback:
Chicago Bears:
Tailback
Matt Forte
(ankle) again participated in a limited portion of practice and appears to be no worse for the wear. Tight end
Evan Rodriguez
(knee) hasn't practiced the past two days. Long-snapper
Patrick Mannelly
missed practice Thursday because of an illness.
Detroit Lions:
As we noted earlier, quarterback
Matthew Stafford
(strained leg muscle/hamstring/hip) returned to practice and appears on track to start Sunday at Ford Field. But defensive tackle
Corey Williams
won't play after having knee surgery earlier in the week. He'll be replaced by
Sammie Hill
and
Nick Fairley
. Tight end
Tony Scheffler
(calf) returned to practice after missing more than a week. Safety
Amari Spievey
(groin) was added to the injury report as a limited participant. Receiver
Titus Young
(knee) returned to practice.
Green Bay Packers:
All players again participated in at least a portion of practice except for safety
Sean Richardson
.
Minnesota Vikings:
Quarterback
Christian Ponder
(neck) was added to the injury report as a limited participant, but he is expected to start Sunday against the Lions. Linebacker
Erin Henderson
(concussion) has not yet been cleared to practice. Meanwhile, the Vikings waived tight end
Allen Reisner
to clear a roster spot for receiver
Jerome Simpson
.
August, 6, 2012
8/06/12
10:00
AM ET
MANKATO, Minn. -- The
Minnesota Vikings
carry absolutely zero national expectations with them to training camp this summer. They parted ways with a half-dozen key members of the 2008 and 2009 NFC North champion teams, shifting into a transition period that will make it difficult to compete in a division filled with elite quarterbacks and playoff contenders.

As it turns out, the Vikings are devoid of internal expectations as well. They have in no way conceded a last-place finish in the division, but they appear realistic about their situation. Three days at Minnesota State University, Mankato, revealed an emphasis on the process rather than bottom-line results.
"This is the most focused and probably unassuming camp I've been a part of," linebacker
Chad Greenway
said. "And that's great. The last three or four years, we've been surrounded by hype, whether it be right or wrong or good or bad. There's been a lot of media fanfare, sometimes for good reasons but sometimes for bad. "
Greenway paused to choose his words carefully.
"There's no good way to say this, but we've sort of regained the youthful focus of having so many guys that are trying to make the team and make an impression. When you have that, you have guys just coming to work. … It's just about our work, less about what's going on outside of us and more about how we can try to get better. We haven't had perfect practices. We have maybe had some exceptional periods here and there. But we're grinding it out and having fun doing it."
"The only thing we're trying to do," cornerback
Antoine Winfield
said, "is come out each day and work to get better at something, whether it's technique or studying film. We're just trying to get better."
It's obvious the Vikings are more organized and have a clearer vision after a full offseason under general manager Rick Spielman and coach Leslie Frazier. Their camp is less hectic than the one they put together after the 2011 lockout, and as a result, Frazier said, "We've hit the ground running."
That's a good thing, because everyone agrees they have some catching up to do.
"Nobody is going to sit here from the inside and say we're going to be 10-6 and make the playoffs," Greenway said. "No one is going to talk like that, because we know it's about nothing but grinding it out every day. We just want to stack good days on top of each other."
THREE HOT ISSUES
[+] Enlarge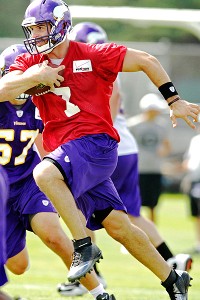 Bruce Kluckhohn-US PRESSWIREVikings quarterback Christian Ponder seems more comfortable with his teammates in his second season.
1. Quarterback Christian Ponder's progress:
By all accounts, including the amateur naked eye, Ponder has made strides since the end of an uneven rookie year. His throws in team drills came more often from the pocket than on the run. They were decisive and more accurate than what we saw last year, and Ponder has convinced most everyone surrounding the team that he will be better in his second season.
"He's much, much improved," Frazier said. "I was telling him the other day that we and his teammates all recognize how much more confidence he seems to have. He's communicating more as far as talking to players, telling them where to be and where to line up. He's in his second year. There is still some growth yet and some progress to be made, but he's come along."
During practice, Ponder circulates among veterans and young players with ease, discussing previous plays and keeping the mood light with a goofy but ever-present grin. After overthrowing receiver
Jerome Simpson
, Ponder stood next to him on the sideline, put his arm around him and said with a smile: "Well, I put it high and outside, just like you wanted it!"
Speaking later with reporters, Ponder said: "This is my team. I'm able to perform so much better and feel so much more comfortable knowing that, and knowing the situation I'm going to be in. I can play and I can prepare, and it's a good feeling."
2. Tailback Adrian Peterson's recovery:
Aside from a one-day setback following an allergic reaction, Peterson continued to demonstrate a fanatical determination to rejoin the team in time for its Week 1 game against the
Jacksonville Jaguars
. During the first day of my visit, Peterson spent more than 30 minutes trying to beat prescribed times in a 50-yard dash. The next day, he ran stairs at Blakeslee Stadium.
Although no one has an exact date in mind, the sense at camp is that Peterson's off-field recovery is nearing its end. Soon it will be time to be activated from the physically unable to perform (PUP) list and add football drills to his routine.
3. Changes up the middle:
An overhaul of the middle of the defense remains a work in progress. The Vikings debuted new starters at nose tackle (
Letroy Guion
) and middle linebacker (
Jasper Brinkley
), and it's expected that rookie
Harrison Smith
will soon take over one of the safety spots. "We knew we needed to get better up the middle," Frazier said.
Brinkley has allayed any short-term fear about his availability after injuries limited him during offseason practices. "We missed him this offseason and that was a little scary," Frazier said. "But he's come back this training camp and he's looked good. He hasn't missed a practice. Hasn't missed any drills. You can see that thump he had before his injuries, so we feel good about where he is right now."
Brinkley figures to have limited reps during the season because he has been coming off the field in nickel situations, and Guion probably will serve as a placeholder until the Vikings find a longer-term solution at nose tackle. But Smith projects as a cornerstone player whose ascension to the first team appears imminent. "Drafting Harrison is going to be a good move for us," Frazier said. "He has some range, the athleticism to really help us."
Mistral Raymond
appears to be the likeliest option to start alongside Smith.
REASON FOR OPTIMISM
[+] Enlarge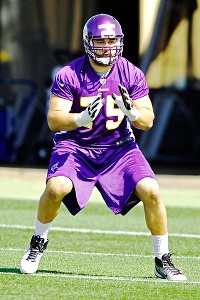 Bruce Kluckhohn-US PRESSWIRE Minnesota tackle Matt Kalil is a leader in a core of young players for the Vikings.
A favorable early schedule (at home against the Jaguars in Week 1 and at the
Indianapolis Colts
in Week 2) provides an opportunity for a 2-0 start, a confidence boost that could propel the Vikings to a more successful season than most have projected.
But from a big-picture perspective, the best thing you can say about the Vikings is they are following a clear long-term vision for the first time in years. They have rid themselves of players they believe no longer can contribute, pushed forward a core of young players -- a group that includes Ponder, Smith, tight end
Kyle Rudolph
and left tackle
Matt Kalil
-- and refused to overstep in their search for replacements at other positions.
What we've seen this summer isn't a finished product, but it can be viewed as a clearly identifiable step in building a winning program.
REASON FOR PESSIMISSM
No matter how much progress the Vikings make, they are in a tough division and will compete against teams whose program-building began years ago. The
Green Bay Packers
, under general manager Ted Thompson, have been at it for eight years. The
Chicago Bears
' core has been together since the mid-2000s, in most cases, and the
Detroit Lions
are in Year 4 under general manager Martin Mayhew and coach Jim Schwartz.
Meanwhile, it's important to view Ponder's progress in the context of division foes. Even if he is much better in 2012, Ponder likely still will be the fourth-best quarterback in the NFC North.
OBSERVATION DECK
New defensive coordinator Alan Williams isn't expected to make many schematic changes to the Vikings' Tampa 2 structure. "We're just going to try to take the things we've been good at in the past and do them better," Frazier said. With that said, Winfield said he has been encouraged by some minor tweaks that will allow corners "to play more aggressive and have a few more blitzes."

Winfield is healthy at 35 but the Vikings are protecting him with limited reps in camp. He has gotten some work as an outside cornerback, but it's expected he will serve mostly as a slot defender. "Who knows how much I'll be outside,'" he said, "but I'll definitely be inside. That's my home position."

It appears second-year player Brandon Fusco has won the right guard spot, even if by default. Veteran Geoff Schwartz was set to compete with Fusco for the job, but a sports hernia has put Schwartz behind and brought his availability for the start of the season into question.

Placekicker Blair Walsh, drafted to replace veteran Ryan Longwell, demonstrated an accurate and powerful leg early in camp. Unofficially, he missed only two of 26 kicks in team drills in the first nine days of practice, based on full-camp tracking from Tom Pelissero of 1500ESPN.com.

Tight end John Carlson's knee sprain provided extra practice repetitions for young tight ends Allen Reisner, Mickey Shuler and Rhett Ellison. It appears that Ellison, a fourth-round draft choice from USC, has quickly captured the imagination of his teammates. "We all love that kid," Ponder said. "He's got a little bit of [retired Vikings fullback] Jim Kleinsasser in him. He's tough. We watch his blocks, some of his one-on-one drills against linebackers. He's tough, man. He's got a little crazy in him. Great kid, too, and he's doing really good. ... He's got a little angry side to him. It's pretty cool."

Kalil's matchups with defensive end Jared Allen generated plenty of attention. But Kalil's early-camp performance was also notable for the energy with which he chased downfield blocks. "It's definitely an emphasis for me to finish downfield," Kalil said. "[Offensive line coach Jeff] Davidson makes a good point. You never know what can happen. You can grab a fumble or be there if something bad happens. It's always good to get downfield to be there or try to make that last block. Basically, the more effort, the better."

Greenway is among those who are trying to recalibrate the Vikings' locker room mentality to accommodate the influx of youth. "I think the biggest difference from years past," he said, "is that the veterans are trying to do a better job of embracing the rookies and help them. We need their help now, and we need their help to win now. We need them to come along as fast as possible."

The loss of receiver Greg Childs (knees) on Saturday night was a blow for the team's long-term plans, but in 2012 it's been expected that Simpson, Rudolph and Percy Harvin will be Ponder's top targets. Simpson has worked hard to earn Ponder's trust, while Rudolph's huge catch radius is a comfort for any young quarterback.
November, 23, 2011
11/23/11
5:47
PM ET
September, 6, 2011
9/06/11
6:55
AM ET
We're Black and Blue All Over:
How will the Green Bay Packers split carries between what amounts to their co-starting running backs? As equally as possible, according to
Lori Nickel of the Milwaukee Journal Sentinel
.

Here's what running backs coach Jerry Fontenot said: "They're both going to take pretty much all situations in the game. Evenly dispersed? I can't guarantee it. But I'm certainly going try to get each one of those guys an equal amount of opportunities to carry the football, to hold onto the football and to control the clock for us."
Obviously, the Packers aren't going to telegraph their game plan a few days before Thursday's preseason game against the New Orleans Saints. The truth is that Ryan Grant carried more in the preseason as the Packers tried to gauge his return from season-ending ankle surgery. But coach Mike McCarthy is clearly enamored with second-year back James Starks. I think the Packers will look for every opportunity to get Starks involved as often as possible, whether or not he is in the game on the first play as an official starter.
Continuing around the NFC North on back-to-school day for many of you:
September, 5, 2011
9/05/11
10:45
AM ET
We're Black and Blue All Over:
The NFC North will hum along Monday, Labor Day or not, so why not join us for the ride? We'll start by catching up on a series of interviews that
Minnesota Vikings
defensive tackle
Kevin Williams
conducted over the weekend in response to his two-game NFL suspension that begins this week.

Williams termed it "unbelievable" that the NFL added a two-game fine on top of the suspension, bringing his total bill to $1.4 million. Speaking to
Judd Zulgad of 1500ESPN.com
, Williams added: "At the end of the day, you can say from the outside that they cut us a break [by reducing the suspension from four games to two games.] But you look close, they're not putting that out there for the public to see that we're still going to get fined four games. Who wants to work for free?"
I can see where Williams is coming from. If the NFL wanted to keep in place the four-game fine Williams was originally on the hook for, it should have based on the total on his 2008 base salary ($1 million) rather than his 2011 total ($6 million). And tacking on the additional fine allows him to play an extra two games, but he won't be paid for them. In the end, however, Williams took a chance on the terms of his discipline changing when he mounted a 2 1/2-year legal challenge.
The NFL could have been more lenient, but I'm guessing it wanted to make clear that any future challenge to its discipline program will be dealt with in a similarly hard-edged manner.
Continuing around the NFC North:
August, 18, 2011
8/18/11
7:45
AM ET
We're Black and Blue All Over:
Most of the Green Bay Packers' starting positions were set long before training camp began, and now the two positions with legitimate competition are beginning to favor at least a mid-August winner.

T.J. Lang appears to have moved ahead of rookie Derek Sherrod at left guard, according to
Tom Silverstein of the Milwaukee Journal Sentinel
. And for at least the time being, the Packers have stopped their three-way rotation at right outside linebacker and installed Erik Walden as the player taking consistent first-team repetitions, writes
Bob McGinn
.
Obviously these arrangements could change at any time. Typically a first-round draft choice like Sherrod will have an advantage in a position competition, but the Packers aren't looking to make any projections when it comes to protecting quarterback Aaron Rodgers. Walden, meanwhile, probably has more playmaking ability than Frank Zombo or Brad Jones. Stay tuned.
Continuing around the NFC North:
NFC NORTH SCOREBOARD
Thursday, 9/4
Sunday, 9/7
Monday, 9/8