February, 1, 2012
2/01/12
11:13
AM ET
We spent probably too much time over the second half of the season debating the NFL's MVP award, which
Green Bay Packers
quarterback
Aaron Rodgers
is expected to win during a televised ceremony Saturday night. But what about arguably the NFL's second-most prestigious annual award? Will
Minnesota Vikings
defensive end
Jared Allen
win NFL Defensive Player of the Year?
We here in the NFC North are no strangers to the DPOY. Packers cornerback
Charles Woodson
won in 2009
, beating down East Coast support for
New York Jets
cornerback
Darrelle Revis
, and Packers linebacker
Clay Matthews
finished
a close second last season
to
Pittsburgh Steelers
safety
Troy Polamalu
.
Allen led the NFL with 22 sacks this season, one shy of breaking
Michael Strahan
's single-season record. He said late in the season that the Vikings' poor season would probably eliminate him from DPOY consideration, but I'm not sure if that will be the case.
This season, at least, I wouldn't say there is an obvious or runaway winner for the award. We discussed maybe a half-dozen credible names Wednesday morning over on Twitter. Below are four of them, for which I've identified some pros and cons.
Dallas Cowboys defensive end DeMarcus Ware
Pros:
Wasn't far behind Allen in the sack department with 19.5, a number that would catch anyone's attention.
Cons:
Could be viewed as a one-dimensional pass-rusher. Forced two fumbles and defended two passes as an outside linebacker.
Baltimore Ravens linebacker Terrell Suggs
Pros:
Career-high 14 sacks and seven forced fumbles. Took over leadership role of a dominant defense when middle linebacker
Ray Lewis
was injured.
Cons:
Perception, fair or otherwise, that Suggs is a secondary player to Lewis and safety
Ed Reed
on the Ravens' defense.
San Francisco defensive lineman Justin Smith
Pros:
Tremendous production for a 3-4 defensive end with 7.5 sacks, and his intensity set a tone for one of the NFL's best defenses.
Cons:
Smith might not be the best defensive player on his own team. Linebacker
Patrick Willis
is one of the NFL's top overall players, but he missed three games and was limited in others by injury
New York Giants defensive end Jason Pierre-Paul
Pros:
Recorded 16.5 sacks, anchoring one of the NFL's most disruptive defensive lines.
Cons:
Is only in his second season, and critics could point out the Giants' defensive line is too talented for offensive lines to double-team Pierre-Paul often.
January, 1, 2012
1/01/12
7:24
PM ET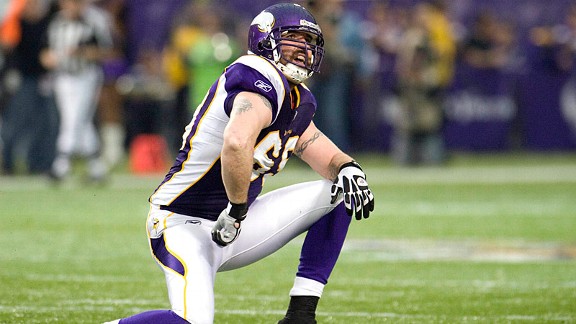 Marilyn Indahl/US PresswireJared Allen's 3.5 sacks Sunday left him one shy of breaking the NFL single-season record.
MINNEAPOLIS -- Maybe it's a good thing that
Jared Allen
fell one sack short Sunday of setting the NFL record for sacks in a season. Asked what he would have done after breaking
Michael Strahan
's record of 22.5, Allen laughed and offered a nearly -- nearly -- preposterous scenario that would have made for a new level of in-game pandemonium.
"I probably would have thrown my helmet into the crowd," Allen said, "jumped up, ran up, kissed my wife and my baby in the suite, walked into the locker room and quit. No, I might have done some turf angels. Probably would have cried. [The
Chicago Bears
] probably would have gotten a first down -- a 15-yard penalty on me. I probably would have taken my shoulder pads off. So probably a good thing I didn't get it, right?"
Ha. Allen injected some drama into an otherwise droll Week 17 game, sacking Bears quarterback
Josh McCown
3.5 times to finish the 2011 season with 22 sacks. That allowed him to surpass former Vikings record-holder
Chris Doleman
(21), whom the Vikings brought to the Metrodome for the occasion, and tie Mark Gastineau for the second-most in a 16-game season.
When
we first started "AllenWatch"
in October, I had my doubts that Allen or any other member of the Vikings could challenge the record. Sundays'
17-13 loss
left the Vikings with a 3-13 record. Rarely did the Vikings have opponents in must-pass situations, limiting the opportunities for pass rushers like Allen.
I'm not sure whether Allen himself thought it possible; he said Sunday that his goal was to get 17 sacks so he could eclipse 100 for his career. He said that finishing with 22 was like "being the runner-up at the prom" but added: "I know it's possible now. I know it's possible. I'm going to work my butt off this offseason to try to help my team get back to the playoffs and to try to get that sack title."
The Bears started Sunday's game by regularly chipping and double-teaming the Vikings' edge rushers, according to Allen. But Vikings defensive coordinator Fred Pagac -- in perhaps his last game with the team -- called some blitz combinations that committed the Bears' extra blockers to the inside.
"So I got some one-on-ones on the edge there," said Allen, who collected sack No. 22 by beating left tackle
J'Marcus Webb
with 4 minutes, 46 seconds remaining in the third quarter.
"I told him he had 20 minutes to get one sack," defensive tackle
Kevin Williams
said. "But they changed it up after that."
Indeed, according to Williams, Allen and others, the Bears regularly devoted two tight ends to help Webb the rest of the way. Allen got nowhere close to sack No. 23. The Bears weren't going to give him the record, as some would suggest
Green Bay Packers
quarterback Brett Favre did for Strahan in 2001.
Allen
said last week
that "a sack is a sack is a sack" and that Favre's "slip" didn't diminish Strahan's accomplishment. Had Favre not "fallen," Allen would have walked away from Sunday's game with a share of the record once held by Gastineau.
"It doesn't bother me at all," he said. "Just being in the same breath as Strahan, and Gastineau and Doleman. … Man."
December, 8, 2011
12/08/11
10:55
AM ET
Yes,
Minnesota Vikings
defensive end
Jared Allen
has fallen off the record-breaking pace he set earlier this season. Allen's total has leveled off at 14.5 sacks through 12 games, leaving him 8.5 away from breaking
Michael Strahan
's single-season record.
But let's not for a moment undersell the extraordinary season Allen has had, both from a production and effort standpoint. I've had a number of people around the league comment on how hard Allen has continued to play despite the Vikings' gloomy outlook. And when you look at his numbers, Allen is nothing if not a strong candidate for the NFL's defensive player of the year award.
Dallas Cowboys
linebacker
DeMarcus Ware
is the only player with more sacks. Allen also has a safety, an interception, four tipped passes, four forced fumbles and four fumble recoveries this season. His 51 tackles, though unofficial, are the third-most among defensive ends and rank fourth overall among defensive linemen.
His performance isn't getting much attention nationally, as is typical for players on losing teams. Speaking this week with Detroit-area reporters, Allen appeared at peace with his situation.
"If we were having a better [season], probably [would] be in the running for defensive player of the year," Allen said. "But you know what? There's a reason for it. Something good will come out of it, [and] we'll be a better team in the future for it."
Allen is under contract for two more years and will have a $14.2 million cap number in 2012. Some of you have asked if the Vikings should or would consider trading him this offseason to supplement what appears to be a significant rebuilding process. I wouldn't see the wisdom in that.
Allen is a relatively young 29 and is a good bet for double-digit sacks even in a down season for him. Some NFL teams go years without having a single player exceed 10 sacks. And the example Allen has set this season is something the Vikings should build around rather than use as a commodity.
October, 28, 2011
10/28/11
10:25
AM ET
You're probably aware that
Minnesota Vikings
defensive end
Jared Allen
grabbed two more sacks last Sunday against the
Green Bay Packers
, bringing his NFL-leading total to 11.5 through seven games. If you care to project, you know that Allen remains on pace to break the NFL single-season sack record.
So let's review one aspect of his dominance this season that you might not have noticed. I know I didn't until it was pointed out by ESPN Stats & Information.
All of Allen's sacks have come when lined up as a right defensive end, ostensibly facing the opponent's left tackle. That's more than double the next-highest total among NFL pass rushers; the
San Francisco 49ers
'
Aldon Smith
has 5.5 sacks when lined up across the opponent's left side.
Allen primarily plays the right end position, but like most teams, the Vikings move him around on occasion for matchup or stunt purposes. Generally speaking, an opponent's left tackle is its best pass blocker and is best equipped to compete with an elite pass rusher. As the discrepancy beween Allen and Smith shows, most of the NFL's top pass rushers generate at least some of their success elsewhere.
It's fair to point out that Allen hasn't played against many of the NFL's top left tackles. The Packers'
Chad Clifton
missed last weekend's game and was replaced by
Marshall Newhouse
. Allen had two sacks against the Packers, three against the
Detroit Lions
(
Jeff Backus
), and another two against the
Kansas City Chiefs
(
Branden Albert
) and the
Arizona Cardinals
(
Levi Brown
). He managed a half sack against the
San Diego Chargers
' Marcus McNeil, a two-time Pro Bowler.
Each team uses different blocking schemes, and sometimes the left tackle isn't assigned to block Allen -- at least not alone. But at the very least, however, we can say that Allen's elite-level success is coming exclusively against opponents' best pass blockers. No one else in the NFL can support that statement.
October, 20, 2011
10/20/11
12:45
PM ET
Minnesota Vikings
defensive end
Jared Allen
has an NFL-high 9.5 sacks this season. Allen is on pace to break the single-season record for sacks in a season and will play a
Green Bay Packers
team that won't have his nemesis available to keep him away from MVP candidate
Aaron Rodgers
.
That job will fall to second-year player
Marshall Newhouse
, who will make his second NFL start at left tackle while veteran
Chad Clifton
recovers from a hamstring injury. The matchup might not be one-sided enough to spring the Vikings to an upset victory, but it could help Allen pad his sack totals in a way not unlike his experience when Clifton was injured two years ago.
Clifton has generally held his own against Allen. But as you might recall, Clifton missed both of the Packers' games against the Vikings in 2009. Allen had 7.5 sacks in those two games. If you would prefer to see me tell you all about it, check out the video below.
Rodgers expressed confidence this week that Newhouse understands both the challenge he'll face and the Packers' history against Allen without Clifton. Coach Mike McCarthy, meanwhile, said Newhouse "has played well the last two weeks" but "clearly" faces his "greatest challenge."
It's interesting to me that the Packers have drafted left tackles in the first round of the past two drafts, but neither has replaced Clifton.
Bryan Bulaga
is locked in on the right side, while rookie
Derek Sherrod
remains a backup.
Newhouse was a left tackle at TCU, but at 6-foot-4 he is not built like a classic NFL left tackle. As per their philosophy, the Packers have worked him at a variety of positions, and he started two games earlier this season at right tackle after Bulaga's knee injury.
"We have a history of drafting left tackles and moving them either inside or keeping them outside based on the evaluation once they get here," McCarthy said. "But you always felt Marshall … definitely had the hands and the footspeed to play left tackle."
The Packers have noted the potential impact of crowd noise at the Metrodome, a factor that is always a consideration for a young tackle. For Packers-Vikings games, however, I think it can work both ways.
As we've noted before, the Twin Cities has more Packers fans than most people around the country realize. Many of them find their way into Metrodome for the game. It's difficult to forget the scene of last year's game, when the building filled at one point with chants of "Go Pack Go."
In the end, I think Allen will prove a far more formidable opponent for Newhouse than the Metrodome crowd noise. The Packers have five tight ends on their 53-man roster, and I imagine they'll be put to good use on the left side of the Packers' line on Sunday.