NFC North:

Alonzo Highsmith
May, 30, 2014
5/30/14
10:00
AM ET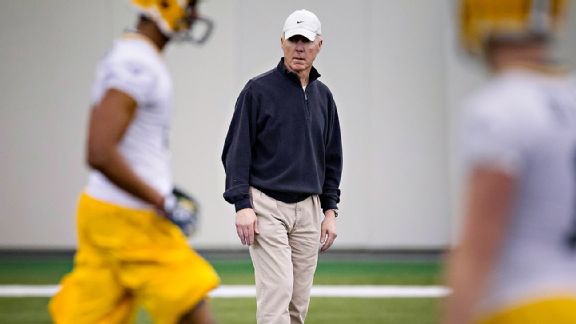 AP Photo/Mike RoemerUnder the direction of general manager Ted Thompson, the Green Bay Packers have maintained stability in the front office.
GREEN BAY, Wis. -- A month ago, Ted Thompson looked –- and sounded –- worn out.
In his annual pre-draft session with reporters, his speech was slower and more deliberate than usual, prompting whispers about his health and questions about how much longer he might continue as the
Green Bay Packers
' general manager.
Even Bob Harlan, the former Packers president and the man who hired Thompson in 2005, noticed a difference.
"I did see him on TV a couple of times where he seemed down, and I don't know if it was just exhaustion from the preparation for [the draft] and all the travel that he goes through because he just grinds all the time," Harlan said. "He's either in that room looking at video, or he's on the road."
At age 61, could Thompson have been showing signs that he was nearing the end of a successful run as general manager that has included one Super Bowl title?
Those close to him did not think so at the time, even when Thompson was forced to miss the NFL annual meetings in March because of an undisclosed personal matter. And they do not think so now, especially after he appeared energized following the draft.
So when Thompson joked a week after the draft
that he's "just getting started
," the Packers should hope there is more than just a shred of truth to his typically dry humor.
In many ways, Thompson is the key to keeping the Packers' successful leadership team intact.
Consider what happened when Thompson's mentor, Ron Wolf, retired in 2001: The Packers had a coach in Mike Sherman they wanted to keep. Harlan feared that if he went outside for a general manager, he might lose Sherman, so he added the GM role to Sherman's responsibilities. Four years later, it had become apparent it was too much for him, prompting Harlan to bring back Thompson, who had followed Mike Holmgren to Seattle and was the Seahawks' director of player personnel. Thompson and Sherman worked together for one season before Thompson fired him and hired coach Mike McCarthy.
All the while, some of quarterback Brett Favre's prime years passed without even reaching another NFC Championship Game during Sherman's tenure (2000-05).
It's not unreasonable to think the same problems could befall McCarthy and quarterback
Aaron Rodgers
if Thompson were to walk away anytime soon.
"That poses a problem; there's no doubt about it," Harlan said. "I guess because I saw it happen twice –- when Ron came in and Lindy [Infante] was here [as the coach] and with Ted, who tried very hard to make it work with Mike Sherman –- I know it can go downhill in a hurry. It is very difficult if the general manager cannot select his own coach."
No doubt, that's why current Packers president Mark Murphy indicated earlier this month that before any contract extension will be done for McCarthy, Thompson's situation will be taken care of first.
Like McCarthy, Thompson has two more years left on a contract he signed after the Packers won Super Bowl XLV. Thompson would not say how much longer he intends to work but added that he "wouldn't anticipate doing anything different."
When Harlan hired Thompson, he received no assurances of how long Thompson would stay on in the role, but Harlan considered Thompson -- who has never been married and does not have children – to be all football, all the time.
"I had watched him for all of those years when he was working for Ron in Green Bay, and his life was just football then as I'm sure it was in Seattle, too," Harlan said. "Ron was 53 when I hired him [in 1991], and I was shocked when he wanted to leave so early, but I understood. Frankly, what I was trying to do was make the move on Ted before it was time for me to go so that I could be sure football was good hands."
And Harlan's last major act as president did just that. Of the 53 players on the Packers' roster for Super Bowl XLV, 49 of them were acquired by Thompson, whose draft-and-develop philosophy has kept the Packers competitive on an annual basis.
If Murphy has a succession plan in mind for the GM job, he has not shared it. Perhaps he could try to lure former Packers scouts-turned-general managers John Schneider or John Dorsey back to town, but it might be tough to get Schneider out of Seattle or Dorsey out of Kansas City, where both have strong support from their owners.
It's possible he could maintain continuity by promoting vice president of player finance Russ Ball or one of Thompson's chief scouts –- Brian Gutekunst, Alonzo Highsmith or Eliot Wolf.
Some believe Murphy might hire a search firm -– as he has done with several other key front-office positions -– to identify candidates.
Or maybe, if the Packers are fortunate, Thompson will keep going strong.
One person close to him said recently that he does not see Thompson leaving anytime soon, unless the Packers win another Super Bowl, and that all the recent talk about him retiring "got him going."
When told of that, Harlan said, "I would think he'd at least go to 65, and then I think probably what he's going to do is become an area scout. He told me a long time ago that someday he might just go back to Texas and just be an area scout.
"Maybe he'd do it for the Packers. I would be surprised if he didn't work until at least 65. His health is good, and this is everything for him."
January, 10, 2014
1/10/14
8:00
AM ET
GREEN BAY, Wis. -- Lately, it seems like whenever a team goes looking for a general manager, their eyes turn toward the Packers.
In the last four years, three teams have plucked members of the Packers' personnel staff for GM hires. In 2010, the
Seattle Seahawks
hired John Schneider. In 2012, the
Oakland Raiders
hired Reggie McKenzie. And last year, the
Kansas City Chiefs
hired John Dorsey.
Could there be a fourth this year?
According to ESPN NFL Insider Adam Schefter, Packers senior personnel executive Alonzo Highsmith is
on the radar of two teams
, the
Miami Dolphins
and
Tampa Bay Buccaneers
, looking for new leadership in their scouting departments.
Highsmith is a Florida native and a University of Miami graduate. He has been with the Packers since 1999, when he was hired as an area scout. He was promoted to his current position in May 2012.
According to people around the league, it would not be surprising to see Highsmith or any of the other top-level scouts in the Packers' personnel department eventually get a chance at a general manager job. Director of college scouting Brian Gutekunst and director of pro personnel Eliot Wolf are also viewed as eventual GM candidates.
In case you missed it on ESPN.com
:
Best of the rest
:
In the Green Bay Press-Gazette, Weston Hodkiewicz looked at what the Packers might do with their center position going forward.
In the Milwaukee Journal Sentinel, Tyler Dunne wrote that it wasn't the fact that the Packers' safeties failed to intercept one pass this season that bothered position coach Darren Perry, but rather it was the overall quality of play from that position that wasn't good enough.
December, 31, 2012
12/31/12
1:30
PM ET
After the Green Bay Packers' 37-34 loss to the Minnesota Vikings, here are three issues that merit further examination:
ESPN.com

I spent most of Sunday chronicling Adrian Peterson's pursuit of history and the Vikings' surprising run to the playoffs. Frankly, I didn't think the Packers' loss revealed to us any unknown weaknesses. Nor did it set back what has the potential to be a deep playoff run. The Packers made multiple charges to get back into a game against a desperate team that was riding the wave of Peterson's performance as well as a frenzied crowd. If there is anything to be concerned about, as we noted Sunday, it's the Packers' total inability to slow down Peterson this season. He has rushed for 409 yards against them in two games, including 230 after contact.

Overshadowed by the commotion of Sunday's events was a strong season-ending performance by quarterback Aaron Rodgers. He lost a fumble on one of the five sacks he took, but otherwise he was laser-sharp in the second half. He completed 70 percent of his passes for 365 yards and four touchdowns overall. On the season, Rodgers led the NFL in passer rating (108.0) for the second consecutive season. His threw its second-most touchdown passes (39), compiled the third-highest completion percentage (67.2), had the fourth-fewest interceptions (eight) and ranked No. 8 in yardage (4,295). Not bad for a "down" year. According to statistics compiled by the Packers, Rodgers' combined passer rating of 114.9 since the start of the 2011 season is the highest two-year rating in NFL history.

At this point on Black Monday, there are five vacancies for general managers in the NFL. A few more jobs could open up in the coming days. It would be short-sighted of the league's owners not to at least scour the Packers' front office roster for candidates who have been trained in an approach that remains the envy of the league. General manager Ted Thompson recently has sent two assistants off into general manager jobs, John Schneider to the Seattle Seahawks and Reggie McKenzie to the Oakland Raiders, and his current group deserves its share of the credit for the NFC North title. I'm not sure if any of those assistants are ready to become general managers, but owners would be foolish if they didn't at least seek out conversations with members of a group that includes John Dorsey (football operations), Eliot Wolf (pro personnel), Brian Gutekunst (college scouting) and Alonzo Highsmith (senior executive).
And here is one issue I still don't get:
Is place-kicker Mason Crosby fixed? Both of his attempts Sunday, from 51 and 40 yards, were clean. That's the good news. The bad news: Crosby finished the season ranked a distant last among 31 qualified kickers with a conversion percentage of 63.6. Seven of his 12 misses came from outside of 50 yards, a figure that should placate some concerns. But at this point in Crosby's career, you wonder if he is just a streaky kicker. This isn't the first time he has had extended struggles during a season (see 2009), and his career conversion rate since joining the Packers in 2007 is 76.8. That ranks Crosby last among all place-kickers with at least 100 attempts over that span. If you're hoping to see Crosby turn into a lights-out and consistent place-kicker, it's just not in his history.
May, 8, 2012
5/08/12
8:30
AM ET
We're Black and Blue All Over:
We spent a good part of Monday night
following the Minnesota Vikings' stadium vote
in the state House of Representatives, so Tuesday morning we should shift to the other big story going on in the NFC North.
New Orleans Saints interim coach Joe Vitt said he did not tell current Green Bay Packers defensive lineman Anthony Hargrove to deny the existence of a bounty program when both were with the New Orleans Saints in 2010. Hargrove
made that claim
of Vitt and former Saints defensive coordinator Gregg Williams in a signed declaration that was leaked Monday.
Vitt told
Mike Triplett of the New Orleans Times Picayune
: "At no time did I ever tell Anthony Hargrove to lie or deny the existence [of the alleged bounty program]. He can say whatever he wants to say. It just didn't happen."
Consider it yet another twist in a story that doesn't seem to have a lot of indisputable truths.
Continuing around the NFC North: