NFC North:

Alterraun Verner
March, 13, 2014
Mar 13
5:33
PM ET
Chicago Bears
general manager Phil Emery offered no update on the team's chances of re-signing veteran cornerback
Charles Tillman
when he spoke with the Chicago media on a conference call on Thursday.
"No different than yesterday," Emery said. "It's an ongoing process."
Tillman
Tillman, 33, traveled to Tampa Bay for a visit with Bucs coach (and former Bears coach) Lovie Smith on Wednesday, but is believed to have left the building without a contract.
The Bucs released pricey veteran
Darrelle Revis
but signed Pro Bowl cornerback
Alterraun Verner
to a four-year, $25.5 million contract with $14 million guaranteed.
Tillman earned $8 million last season in the final year of his contract with the Bears but will be hard-pressed to find a similar market in free agency.
The Bears have made it seem that they want Tillman to return, although likely at a significantly reduced price.
Tillman started eight games for the Bears in 2013 until he landed on injured reserve (with the designation to return) due to a torn triceps muscle. However, Tillman never returned to action and finished the year with 52.5 tackles, 2.5 tackles for loss, three interceptions and three forced fumbles.
Tillman is arguably the greatest defensive back in the Bears' history. Since he entered the league in 2003, Tillman is tied for fifth in the NFL in interceptions (36), tied for second in interception-return touchdowns (eight), second in forced fumbles (42) and tied for fifth in passes defended (132) .
If Tillman wants to continue to explore his options, he has a large network of contacts spread out throughout the league, including Ron Rivera and Steve Wilks in Carolina, Bob Babich in Jacksonville and Rod Marinelli in Dallas. The
Washington Redskins
remain in the market for a cornerback after missing out on former Bears special-teams standout
Corey Graham
, who signed a four-year, $16 million deal with Buffalo.
March, 11, 2014
Mar 11
1:00
PM ET
As free agency begins Tuesday and the
Detroit Lions
figure out exactly how to fill their holes, certain players will stand out.
And over the past three days, the Lions have spent time in the beginnings of talks with free agents as they try to maximize about $11 million in salary-cap space.

It might sound like a lot -- and it will be enough to get a couple of deals done -- but the total is in the lower half of the NFL and could keep the Lions from being major movers in the market, at least until a new contract is worked out with defensive tackle
Ndamukong Suh
.
If that happens.
As everyone settles in for the insanity of free agency, here is a look at players the Lions could target on defense.
DEFENSIVE LINE:
Why:
This could be predicated on what happens with defensive end
Willie Young
. If the team is able to bring Young back, the Lions might be done at the position in the near term. If not, they might look for a replacement. At defensive tackle, the team already signed
Corvey Irvin
and has depth.
Two candidates:
Young: Last season was his first consistent extended action, and he was effective. He had 47 tackles and three sacks, but his size and speed make him an attractive free agent for teams. At 28, he is in his prime.
Brett Keisel: He is a 3-4 defensive end who can play defensive tackle in the 4-3. Though 35 years old, he had 29 tackles and four sacks in 12 games last season. He could be a cheap alternative if the team feels there is a need for another veteran on the line.
LINEBACKER:
Why not:
Sure, there could be a deal made with someone for cheap or a hybrid defensive end/linebacker, but with
DeAndre Levy
and
Stephen Tulloch
returning and the team playing more nickel than ever, it could be tough for them to lure a big-name player.
Two options:
LaMarr Woodley: Expected to be released by the Steelers later Tuesday, he has connections to the state and can play both linebacker and defensive end, making him a potentially cheap, versatile piece.
Larry Foote: Like Woodley, this is more about someone who has connections to Michigan. If Foote is planning on being a starter, he isn't going to come to Detroit -- and his price tag would likely be too much anyway.
CORNERBACK:
Why:
Despite the team having money wrapped up in
Chris Houston
and a bunch of younger cornerbacks ready to seek out playing time, the Lions might be wise to invest in another veteran, much like they did with
Rashean Mathis
a season ago.
Four candidates:
Mathis: He showed he can still play after becoming the team's top cornerback last season and was a steadying influence in the Detroit locker room for those younger cornerbacks. He would probably still come cheap.
Corey Graham: He played last season under new Detroit defensive coordinator Teryl Austin and has familiarity with Austin's schemes. At 6 feet, Graham has the height Austin wants, made 68 tackles and intercepted four passes a season ago. He could be a strong fit.
Alterraun Verner: The Lions reportedly reached out to the former Tennessee cornerback, but he is expected to be pursued heavily in free agency. Though the Lions could be a fit, Verner might end up being too expensive.
Charles Tillman: He told reporters during Super Bowl week that he wouldn't rule out playing for the Lions, and he could be an interesting cornerback/safety hybrid. He also has familiarity with the division, having played for Chicago, and has the respect of receiver Calvin Johnson.
SAFETY
Why:
Other than receiver, this might be the biggest need of all for Detroit after the team released starter
Louis Delmas
. Though the Lions could address this spot in the draft, they likely would like to put someone experienced opposite
Glover Quin
.
Some candidates:
March, 10, 2014
Mar 10
8:50
PM ET
MINNEAPOLIS -- It appears the
Minnesota Vikings
won't be bringing one of new coach Mike Zimmer's former defensive pupils to the Twin Cities.
Johnson
According to a league source, the team is out of the running for former
Cincinnati Bengals
defensive end
Michael Johnson
, who posted 11 ½ sacks in Zimmer's defense in 2012 and figures to be one of the hottest targets when free agency opens on Tuesday. The source said the Vikings didn't turn down Johnson; rather, things just didn't pan out between the two sides.
The Vikings had expressed interest in Johnson shortly after the start of the free-agency negotiating period on Saturday afternoon, but finished a five-year, $42.5 million deal with
Everson Griffen
on Sunday morning. That seemed to reduce the chances of Johnson coming to Minnesota, since the Vikings had committed $33.15 million in guaranteed money to Griffen and
Brian Robison
in a pair of contracts over the past five months. The Vikings would still have the cap room to pursue Johnson and possibly use Griffen in a variety of roles, but for whatever reason, Johnson won't be coming to Minnesota.
At this point, the Vikings might be better served spending a good chunk of their remaining money on their leaky secondary. They had expressed interest in
Tennessee Titans
cornerback
Alterraun Verner
, who is believed to have a number of suitors and could sign shortly after the start of free agency on Tuesday. The Vikings also could use a nose tackle, and brought in former
Baltimore Ravens
linebacker
D'Qwell Jackson
for a visit on Monday.
However they plan to stock their defense, they won't be doing it by bringing Johnson to Minnesota. We'll see how the rest of the Vikings' plan unfolds once free agency starts on Tuesday afternoon.
March, 9, 2014
Mar 9
4:05
PM ET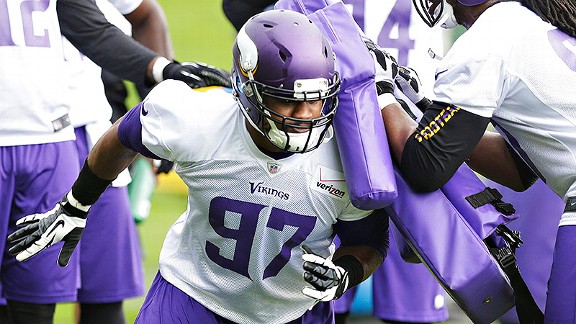 AP Photo/Jim MoneEverson Griffen's new contract could be followed by several more big moves by the Vikings.
MINNEAPOLIS -- The Vikings retained another one of their free agents on Sunday, giving defensive lineman
Everson Griffen
a
whopping $42.5 million over the next five years
, including $20 million guaranteed, according to a league source.
Now what?
In the past five months, they have signed
Brian Robison
and Griffen to contract extensions, committing a combined $33.15 million in guaranteed money to the players. That would seemingly set their defensive end tandem up for the next few years, with Griffen replacing
Jared Allen
on the line. But wait, there's more!
Once the NFL's three-day negotiating window opened on Saturday, the Vikings made it one of their first priorities to
express interest
in former
Cincinnati Bengals
defensive end
Michael Johnson
, and put themselves in the middle of what will likely be a heated race for Johnson. The 27-year-old stood out at right end for new Vikings coach Mike Zimmer in Cincinnati, and the Vikings would have been working on Griffen's deal while calling about Johnson. But wait, there's more!
They also called about former
Tennessee Titans
cornerback
Alterraun Verner
, who played for new defensive backs coach Jerry Gray while he was the defensive coordinator in Tennessee and who has to be feeling emboldened today after news that
Sam Shields
signed a four-year, $39 million deal to stay with the
Green Bay Packers
. While the Vikings had more than $41 million in cap space last week, they have since signed Griffen and quarterback
Matt Cassel
, not to mention restricted free agent cornerback
Marcus Sherels
. They also reportedly brought back linebacker
Jasper Brinkley
for his second stint with the team, and according to a league source, they will host former
Baltimore Ravens
linebacker
Jameel McClain
for a visit on Monday.
While the pertinent question might be, "Who can the Vikings afford?" a better one might be, "On what does it make sense for them to spend their money?"
Without having seen the full breakdowns of the new deals yet, let's assume they account for about $16 million of cap space. That would still leave the Vikings with about $25 million of room for next season, with the cap likely to go up over the next few years. Paying both Johnson and Verner would be doable, but it could also chew up another $16-20 million in cap space for 2014, meaning the Vikings wouldn't have much leeway to sign tight end
Kyle Rudolph
to an extension, pursue other needs like a big-bodied nose tackle, or pay their draft picks. And in the case of Johnson, there is also the question of where the Vikings would use all their toys if they signed him.
Let's say Johnson came to Minnesota, filling the right end spot he played for Zimmer in Cincinnati. If Robison stayed at left end, the Vikings would be looking to move Griffen around again. He played 60.1 percent of their defensive snaps without starting a game last season, according to Pro Football Focus, but the Vikings aren't giving him $20 million guaranteed to use him in a part-time role. I think it's possible they could experiment with him at linebacker -- Zimmer likes his linemen to occupy blockers and allow his linebackers to run free, which isn't that different from a 3-4 scheme and could actually utilize Griffen's talents well -- but the previous regime tried a similar experiment, and the Vikings would have to see if Griffen could hold up in pass coverage. And with cornerback being a bigger need at this point, the Vikings might be better-served using their money to ensure they get an upgrade there.
It's also worth considering what Zimmer said last week, arguing for a reasoned approach to free agency while stating his preference for something with the dependability of a Ford F-150 over the flashiness of a Maserati. To this point, all the Vikings have done -- in fact, all they have been allowed to do by NFL rules -- is retain their in-house free agents. While they have expressed interest in two of the top defensive players on the market, that hasn't cost them anything yet. They could always clear more room by restructuring the contract of 31-year-old linebacker
Chad Greenway
, who is to make $8.7 million next season, and the Vikings still have enough room to do some contract gymnastics and sign a couple free agents while staying well under the cap, but for a team that has gone back to a draft-and-develop philosophy after years of shelling out for free agents, it might make sense not to get too carried away.
Could the Vikings still sign both Johnson and Verner? Yes. Would they have checked in with both of them so early, knowing Griffen's deal might get done, if they didn't have a scenario where they could land them? Probably not. But the size of Griffen's deal does mean the Vikings would have some pieces to fit in place if they were to get aggressive on the open market, particularly at defensive end.
March, 8, 2014
Mar 8
5:20
PM ET
MINNEAPOLIS -- The
Minnesota Vikings
began the three-day negotiating window before the start of free agency by reaching out to a cornerback who could deliver an immediate jolt to the worst scoring defense in the league.
Verner
According to a league source, the Vikings called to express interest in
Tennessee Titans
cornerback
Alterraun Verner
, who played for new Vikings defensive backs coach Jerry Gray while Gray was the Titans' defensive coordinator the last three seasons. Verner intercepted five passes last season and made his first Pro Bowl, and might be the top cornerback on the market this spring. He doesn't turn 26 until December, and would seem to be a natural fit opposite
Xavier Rhodes
in new coach Mike Zimmer's defense.
The fact that Verner is so highly regarded could mean the Vikings are in for a tough fight -- or will have to write a big check -- to land the cornerback, but Verner's connection with Gray could give the Vikings some leverage. The Titans decided not to put the franchise tag on Verner last week, and the cornerback could command a salary in the neighborhood of $10 million a season, but the Vikings, who had more than $41 million in cap room before signing Cassel, should have enough money to make a run at Verner.
They wasted little time expressing interest in him on Saturday. It's worth noting that general manager Rick Spielman called agent Eugene Parker to express interest in wide receiver
Greg Jennings
shortly after the opening of the negotiating period last year, and it's safe to assume the Vikings used a similar approach to begin the day, contacting the top targets on their free agent lists.
That Verner would be near the top of such a list doesn't seem hard to imagine.
February, 22, 2014
Feb 22
2:15
PM ET
INDIANAPOLIS -- As the
Minnesota Vikings
started preparations for the 2014 league year, they always did so knowing they would have money to work with. The Vikings have just over $100 million in cap commitments heading into 2014, which is currently the sixth-smallest cap figure in the league. With
Jared Allen
's $17 million cap hit coming off the books, the Vikings could plan to have money to spend.
Allen
Now, it appears they might be able to plan on having a little more.
According to ESPN's John Clayton, the 2014 NFL salary cap is projected to rise to $132 million, up $9 million from 2013's cap figure. That would give the Vikings nearly $32 million to spend before 2014, putting them in position to improve their defense through a major free agent signing if they choose to do so.
Cincinnati Bengals
defensive end
Michael Johnson
(who played for coach Mike Zimmer) and
Tennessee Titans
cornerback
Alterraun Verner
(who played for new defensive backs coach Jerry Gray) could be candidates to join the Vikings. But the infusion of new cash, coming partially from the league's new TV deals, could also mean a more robust bidding war for free agents.
Assuming the cap figure is $132 million, 14 teams would have at least $20 million in cap room at the start of the new league year. There could be plenty of teams who would decide not to spend to the cap, but a $9 million spike in the cap certainly would provide players and agents with more leverage. The Vikings, though, are well-positioned for the 2014 market, and would be in even better shape if the cap figure winds up at $132 million.
The Vikings currently have just $1.78 million in dead money, which is the ninth-least in the league. They could clear more cap space by restructuring the deals of players like tight end
John Carlson
or linebacker
Chad Greenway
, but a cap figure that high might prevent the Vikings from having to redo many contracts.
September, 23, 2012
9/23/12
6:32
PM ET
A few thoughts on the Detroit Lions' wild overtime loss Sunday to the Tennessee Titans:
What it means:
The Lions fell to 1-2 amid game-long chaos and an injury to quarterback
Matthew Stafford
. The Lions became the first NFL team to score two touchdowns in the final 18 seconds of regulation to force overtime, according to the Elias Sports Bureau. They were also the first team in history to give up five touchdowns of at least 60 yards in one game. And in the end, neither of those facts impacted what happened in overtime to give the Titans victory.


StaffordWatch:
Stafford departed because of a strained leg muscle suffered as the Titans'
Alterraun Verner
returned a fumble 72 yards for a touchdown with one minute, 32 seconds remaining in regulation. He told reporters afterward that he wasn't sure if the injury was to his hamstring or glut muscle. Regardless, he couldn't finish the game and his status is uncertain.
Long scores:
In addition to Verner's return, the Titans also scored on a trick-play 65-yard punt return by
Tommie Campbell
, a 105-yard kickoff return by
Darius Reynaud
and touchdown passes of 71 and 61 yards by
Jake Locker
to
Nate Washington
and
Jared Cook
, respectively.
HillWatch:
Backup
Shaun Hill
proved how valuable he is, completing 10 of 14 passes for 172 yards and two touchdowns from that point. His 46-yard Hail Mary pass that landed in receiver
Titus Young
's hands sent the game to overtime.
"A miscommunication":
That's what Lions coach Jim Schwartz called the final play, one in which Hill surprisingly tried a quarterback sneak at fourth-and-1 from the Titans' 7-yard line. A chip field goal would have tied the game and extended overtime. Schwartz said the Lions were trying to draw the Titans offside and were planning to kick if the Titans stayed onside. Apparently, center
Dominic Raiola
didn't get the message and snapped the ball. To me, it was a foolish decision. With the game literally on the line, don't get cute. Make the kick and continue playing.
Leshoure debuts:
Tailback
Mikel Leshoure
gained 100 yards on 26 carries in his NFL debut. The Lions clearly wanted to focus on him in the first half to help open things up in the second. Leshoure had 17 carries and receiver
Calvin Johnson
had only one catch at halftime.
Injury report:
In addition to Stafford, the Lions also lost punter
Ben Graham
, who suffered a calf injury on Campbell's punt return. Place-kicker
Jason Hanson
punted three times for a 36-yard average.
What's next:
The Lions will host the
Minnesota Vikings
next Sunday at Ford Field.