November, 28, 2012
11/28/12
7:15
AM ET
We're Black and Blue All Over:

It appears that injuries and performance issues will leave the Chicago Bears with alternate starters at three of their five offensive line positions Sunday against the Seattle Seahawks.
Michael C. Wright of ESPNChicago.com
has the full story.
Right guard Lance Louis will miss the rest of the season because of a knee injury, and the Bears will continue to use former right tackle Gabe Carimi in his spot, according to Wright. That means Jonathan Scott will continue to start at right tackle. Meanwhile, left guard Chris Spencer will need a week or two to recover from a knee injury, leaving backup Edwin Williams to start in his place.
Backups will be undrafted rookie James Brown, who has not played in an NFL game, and veteran guard/center Andre Gurode, who was signed Tuesday. Gurode, 33, last played for the Baltimore Ravens in 2011.
The Seahawks are tied for ninth in the NFL with 29 sacks this season.
Continuing around the NFC North:
November, 25, 2011
11/25/11
8:00
AM ET
DETROIT -- It might be a few days before we learn whether NFL commissioner Roger Goodell will suspend
Detroit Lions
defensive tackle
Ndamukong Suh
for acts that led to his ejection from Thursday's 27-15 loss to the
Green Bay Packers
. It wouldn't at all be surprising to see a one-game penalty, but if Goodell's indignation matches that of his former head of officiating, it could be longer.
Mike Pereira, now an analyst for Fox Sports,
wrote a scathing column on Suh's actions
and explanations Thursday at Ford Field. I realize Pereira is now a member of the media, but it's fair to assume that his point of view is at least partially informed by knowledge of the NFL's inner operation.
The only question, Pereira wrote, is how many games Suh will be suspended for and added: "Suh's not dirty, he's filthy."
Thursday,
Suh said he "by no means" intentionally stepped
on Packers guard
Evan Dietrich-Smith
, the act cited by referee Terry McAulay for ejection from the game. "I'm on one leg and I'm trying to get off that myself and at the same time being pushed by his teammates. So where, how am I supposed to do anything else?"
Pereira rejected that explanation in a manner Goodell could as well. Pereira: "A personal foul is one thing, but what Suh did Thursday was a non-football act. When a player hits another player with a late hit or commits a helmet-to-helmet hit, those are considered football plays. Stomping on somebody or spitting on someone -- those are considered premeditated acts."
As precedent, Pereira cited the five-game suspension the NFL handed defensive tackle
Albert Haynesworth
for stomping on the throat of
Dallas Cowboys
center
Andre Gurode
in 2006. I don't think Suh's act matches what Haynesworth did, but the Lions might want to brace for a multiple-game suspension nonetheless.
January, 17, 2010
1/17/10
8:39
PM ET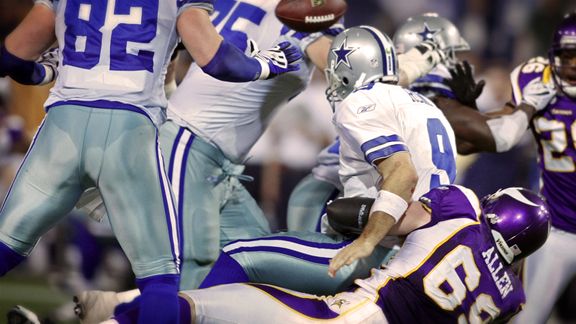 Bruce Kluckhohn/US PresswireJared Allen and the Vikings defensive line accounted for five of six sacks on Tony Romo.
MINNEAPOLIS -- I know, I know. We spent much of last week discussing Minnesota's
shaky pass protection
and its hit-or-miss
home-field advantage
. So let's be clear from the top:
Brett Favre
had enough time to throw four touchdown passes Sunday, and the Metrodome has never been louder.
From my vantage point, however, neither dynamic told the story of the Vikings'
34-3
victory. To me, it was this: Minnesota battered Cowboys quarterback
Tony Romo
, resurrecting its pass rush just in time to face the NFL's most explosive passing game for the right to play in Super Bowl XLIV.
The Vikings held Dallas' offense to a season-low in total yardage (248) and first downs (16), in the process sacking Romo six times and unofficially hitting him on 10 other occasions.
"He was wide-eyed a lot," defensive tackle
Kevin Williams
said. "We were getting after him from the start, and that's what it's going to take next week, too."
Indeed, the Vikings will take on New Orleans' top-ranked passing offense next Sunday at the Superdome. "If we do next week what we did today," said cornerback
Antoine Winfield
, "we'll be good."
And what exactly did the Vikings do Sunday?
They harassed Romo into three turnovers; on a fourth opportunity, he recovered his own fumble.
Left end
Ray Edwards
beat right tackle
Marc Colombo
for three sacks before leaving with a sprained knee.
Right end
Jared Allen
, capitalizing on an injury to Cowboys left tackle
Flozell Adams
, finished with a sack, a forced fumble and another tackle behind the line of scrimmage.
In all, the Vikings' defensive line totaled five of the Vikings' six sacks against a Cowboys group that seemed content to single block them for most of the game.
"They were trying to," nose tackle
Pat Williams
said. "But we've got the best defensive line in the league. Doesn't matter to us what anyone else says. We go into every game thinking that."
The Vikings led the NFL with 48 sacks this season, but like the entire team, their pass rush slipped over the final five games. During that stretch, they managed eight sacks.
Sunday, Allen traced that downturn in production to a significant adjustment from opposing offenses.
"I know everyone thinks you should get three sacks a game," he said. "but that's just not reality. … [In that stretch], we saw a lot of mass protection, a lot of three-step [drops]. You're getting chips from the tight end, chips from the back. When we're rushing four and they're blocking seven, you're just not going to get there."
The Cowboys, however, had different ideas. As he watched film during the Vikings' recent bye week, defensive coordinator Leslie Frazier noted how rarely the Cowboys kept tight end
Jason Witten
in the backfield to block. With Adams and two Pro Bowl players on their offensive line (center
Andre Gurode
and right guard
Leonard Davis
), the Cowboys didn't seem to be likely candidates for double-teaming the Vikings' defensive line.
"We liked our matchup from Day 1," Allen said. "We thought there were some things we could take advantage of and we knew that because they had so much confidence in their offensive line, that we were going to get some opportunities. That's exactly what happened."
And it was clearly a mistake. Anyone who watched Sunday's game can attest to how quickly Romo turned jittery. A quick recap:
Edwards ended the Cowboys' first drive with a strip sack of Romo.
On Dallas' second series, Romo recovered his own fumble on a 2nd-and-6 play, losing three yards. The Cowboys fell 1 yard short of converting the ensuing third down, and Shaun Suisham's 48-yard field goal was wide left.
Should I go on? Edwards sacked Romo on 2nd-and-goal from the Vikings' 8-yard line on the Cowboys' third series. Romo still looked stunned when he threw incomplete on 3rd-and-15.
On the second play of his fourth possession, Romo lost a fumble on Allen's sack.
"This game is not rocket science," Romo said. "If they have the ability to get pressure from the front four, it allows you to play a pretty sound game defensively."
How confident were the Vikings in their defense Sunday? Leading 17-3 at halftime, their offense went into a modified four-minute drill. In other words, they started trying to run out the clock. In their 13 third-quarter plays, Minnesota threw only four times.
Keep in mind, this was against a Cowboys offense that had scored 58 points in its past two games.
"They overlooked us," Pat Williams said, "and that's fine. Basically, that's how they ride down there. I don't blame them, I guess. They're young. They can be cocky. They've got a cocky owner, so that's how they ride. But they came into this dome, and it was hostile for them. "
They'll need a similar effort next Sunday in New Orleans, a topic I'm sure we'll revisit once or twice this week.
"We skidded a little bit toward the end of the season," Kevin Williams said. "And so all we heard last week was about Dallas. I'm sure all we'll hear about this week is New Orleans. All that matters to us is that we played the way we are capable of. We just need a chance to get after them."
That's the story -- and we're sticking to it.