NFC North:

Anthony Castonzo
May, 7, 2011
5/07/11
10:00
AM ET
Better late than never, let's take a moment to reflect on the highlights of
Tuesday's SportsNation chat
. I was too caught up in a whole lot of nothing this week to circle back on our chat, but you brought forth a number of interesting topics to continue mulling.
Topping the list was a surprising number of you who thought the
Detroit Lions
operated from miscalculated priorities during the draft. We also hit the
Minnesota Vikings
' quarterback situation, the
Chicago Bears
' plans for their offensive line and the
Green Bay Packers
' future returner.
We'll move through the issues one team at a time, adding a few extra smart-aleck comments and commentaries along the way.
Detroit Lions
Nathan (DC)
Everyone loves the Lions pick of [Nick[ Fairley in the first round. I don't. [Anthony] Castonzo and [Prince] Amukamara were still on the board. The Lions won't be able to afford to pay both [Ndamukong] Suh and Fairley in a few years. I think they blew it. Am I way off base?
Kevin Seifert (2:03 PM)
Well, I wouldn't assume they wouldn't be able to pay both of those guys. Even if there is a cap at that point, your management of it is strategic. You put your money in your priorities. The Lions have clearly prioritized their defensive line. And regardless, they should have at least four years of both guys signed to their rookie deals. Four years is about as far ahead as anyone in the NFL looks. I'm fine with them passing on Castonzo and Amukamara as long as they continue to address their needs in free agency. But I do agree it's a risk.
Andy (Arlington, VA)
Kev, Detroit is getting way too much love for their draft. They took their best position on defense, and bolstered it. They left their dreadful LB corps and secondary intact. I realize media types get all drooly thinking about Suh and Fairley together, but don't you think Mike McCarthy might have an idea how to gameplan that?
Kevin Seifert (2:26 PM)
Well, it's hard to gameplan to get around two monsters in the middle. That's why they're so valuable. They're the closest to the quarterback and the first opportunity to disrupt the play.
Further comment:
At some point, the Lions are going to have to address an offensive line that has a 33-year-old left tackle in
Jeff Backus
and a 32-year-old center in
Dominic Raiola
. But it's clear the Lions' consternation doesn't equal that of some fans. As for cornerback, the Lions might be prepared to make a significant financial investment in free agency. Don't forget they were willing, according to reports, to give up first-, second- and fourth-round draft picks to trade up for LSU cornerback
Patrick Peterson
.
Minnesota Vikings
doc (montana)
The Vikings have taken a lot of heat for there first round pick. I am old school and Bud Grant once told me the closer the player is to the ball the smarter he has to be, center and quarterback is what he is talking about and if you look a
Matt Birk
and some of the elite quarterbacks they are a lot smarter then they are physical specimens. If you buy into that in which I do ( think we may have the steal of the draft. What am I missing?
Kevin Seifert (2:16 PM)
Well, Ponder has the first part taken care of. There's no doubt he's a book-smart kid. He'll be able to learn the plays and know the reads without a doubt. But does that mean he can play? Two different issues. A smart quarterback can still get rattled in the pocket and can still make poor decisions. Difference between smarts and instincts.
Elliot (Toronto, ON)
Kevin, you may be no [Rick] Spielman, but if you were, would you have traded the 2nd-round pick to Dallas to get
Blaine Gabbert
? Getting [Kyle] Rudolph was important, but who'd you rather have, him and Ponder or Gabbert?
Kevin Seifert (2:24 PM)
I would have looked at it this way: Is the difference between Gabbert and Ponder worth a second-round pick? I think that's questionable. But if I felt it were, absolutely I would have done it. Drafting a quarterback in the first round should be a once-in-decade thing. You should do everything you need to do to get it right.
Further comment:
Ponder's intelligence is particularly important when you realize he'll be asked to absorb the Vikings' playbook after little to no offseason work and, the team hopes, win the starting job out of training camp. As for whether Gabbert is a second-round pick better than Ponder, I think that's questionable at best.
Chicago Bears
Paul (Denver)
What do you think of [Gabe] Carimi? Does he hold down LT for ten years or will he be shifted over to RT as a nasty run blocker?
Kevin Seifert (2:45 PM)
I'm thinking right tackle, especially this season. But it's incumbent on them finding someone to play left tackle. I wonder if that will be
J'Marcus Webb
.
Steve (NY)
I read a draft analysis on Yahoo! that said Carimi is overrated... thoughts?
Kevin Seifert (2:28 PM)
As always, it depends on who you talk to. Seems like a mean, tough guy. The Bears could use some more of that, even if he ends up on right tackle. Other than
Olin Kreutz
, a lot of the linemen they played last year were pretty passive.
Further comment:
When people say Carimi is a "Mike Tice" kind of offensive lineman, referring to the Bears' offensive line coach, they mean he is a blue-collar mountain mover who is strong enough to overpower opponents and thick-skinned enough to absorb Tice's barbs constructively. If he is who we think he is, Carimi will help set an important attitude tone for this line.
Green Bay Packers
Bryant (Milwaukee)
Does
Randall Cobb
instantly become the Packers best option to return punts and Kicks?
Kevin Seifert (2:49 PM)
I would think so, yes. Let's get
Tramon Williams
as far away from punt returns as possible.
Further comment:
The question isn't whether Cobb becomes the Packers' returner. It's the extent to which McCarthy can find an immediate role for him in the offense. Cobb has the potential to be a game-changer.
Bonus "question"
Peter (Atlanta, GA)
Is
Rashard Mendenhall
the dumbest athlete on the planet right now?
Kevin Seifert (2:46 PM)
I would say yes. Resoundingly.
Further comment:
Is any necessary? More than an intelligence issue, Mendenhall has a judgment issue. Free speech is great. Factual distortion, on the other hand, is not guaranteed by the First Amendment.
April, 30, 2011
4/30/11
6:30
PM ET
Normally the end of the draft provides an opportunity to reassess the NFC North teams and start assessing the division race. The task of roster building is largely complete. For the most part, we'll know which teams are stacked, which ones have big holes and who should be favored to win the title.
This year's lockout has turned that convention upside down. Draft weekend is a first step, not the last, in building rosters for the 2011 season. At some point, teams will have an opportunity to sign veteran free agents and collect a class of undrafted rookies. So we'll hold off on any prognosticating for now.
Instead, we'll just take this moment to pull some highlights -- and lowlights -- from the past three days:
BEST MOVE
The
Minnesota Vikings
had their choice of talented, game-changing players available to them when the No. 12 overall pick arrived. Nose tackle
Nick Fairley
, defensive end
Robert Quinn
and offensive lineman
Anthony Castonzo
all would have stepped in as immediate starters at positions where the Vikings needed help.
But in the NFL of 2011, no team is any better than its quarterback. And at that moment, the Vikings didn't have one. After an early run took the top three quarterbacks off the board, the Vikings -- based on their own evaluation -- were left to choose between Florida State's
Christian Ponder
or the likely prospect of leaving this draft without a quarterback they could build their future around.
They chose the former
, a decision that one way or the other will define the tenures of personnel man Rick Spielman and coach Leslie Frazier. There is
widespread debate
about Ponder's aptitude for future success, but in my view the Vikings are better off moving forward with him than sitting on their hands and hoping that a better option would present itself next month or next year or in 2013.
With Ponder in place, the Vikings can tailor their long-term offensive scheme and personnel to a tangible set of skills. And they have to trust their new coaching staff, including offensive coordinator Bill Musgrave and quarterbacks coach Craig Johnson, to finish the job by developing and refining Ponder's game.
It wasn't an easy choice, and there are plenty of knowledgeable football people who considered it a reach or worse. But I credit the Vikings for recognizing that the "when" in this equation was just as important as the "who."
RISKIEST MOVE
No one can argue the value that Fairley, receiver
Titus Young
and running back
Mikel Leshoure
will bring the
Detroit Lions
. But the Lions wrapped up an otherwise successful draft with the same roster holes they started it in. They didn't draft a cornerback and selected only one linebacker, Syracuse's
Douglas Hogue
, a converted running back, with the No. 157 overall pick.
General manager Martin Mayhew and coach Jim Schwartz have both preached patience, saying their only goal in the draft was to enhance the talent of their roster. "There's a lot of time between now and when the season begins to worry about our needs," Schwartz told Detroit-area reporters.
The Lions made
three great picks at the top of the draft
. The risk, however, is that in doing so they considerably narrowed their options to fill their other needs. They'll now have to recruit another team's discards through free agency and/or a trade, or they'll have to hope one of the players on their roster makes a significant jump during a lockout that has thus far canceled all team-sponsored offseason programs.
MOST SURPRISING MOVE
[+] Enlarge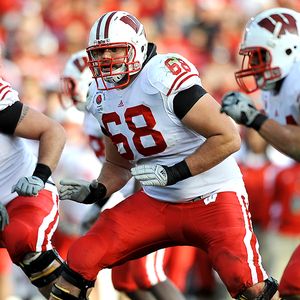 Patrick Green/Icon SMIDespite botching a trade with Baltimore, Chicago was still able to draft Gabe Carimi in the first round.
We spent plenty of time discussing the
Chicago Bears
good fortune Thursday night, when they were able to draft Wisconsin offensive lineman
Gabe Carimi
with the No. 29 overall pick even after botching a trade designed to secure him three picks earlier. But the episode revealed a mistake perhaps bigger than the Bears' failure to report the deal.
The trade wasn't necessary in the first place.
The Bears' "glitch," as general manager Jerry Angelo
later referred to it
, saved them from wasting a fourth-round pick. It saved them from themselves.
Why were the Bears trying to acquire the
Baltimore Ravens
' No. 26 overall pick? They were convinced that the
Kansas City Chiefs
planned to draft Carimi at No. 27. But as we saw, the Chiefs had no such plans. With Carimi on the board, the Chiefs surprised most everyone -- including the Bears -- by leap-frogging the Ravens to draft ... Pittsburgh receiver
Jonathan Baldwin
.
The Ravens followed by drafting Colorado cornerback
Jimmy Smith
and the
New Orleans Saints
traded up to select Alabama running back
Mark Ingram
at No. 28. That left Carimi for the Bears at No. 29.
I'm sure it wouldn't have been the first time a team traded up, and surrendered a second pick, on the false premise of another team's interest. But in the chaos of the moment, I'm sure the Bears were as surprised as anyone that Carimi was available at No. 29.
FILE IT AWAY
Some considered outside linebacker the
Green Bay Packers
' biggest need entering the draft, but they didn't draft a linebacker of any type until selecting Appalachian State's
D.J. Smith
near the end of the sixth round (No. 186 overall). The Packers drafted Arizona linebacker
Ricky Elmore
11 spots later, but I'm not sure we can project either as a possible starter.
We all know it's unlikely that general manager Ted Thompson will seek a starter via free agency, so the Packers most likely will need to find a starting right outside linebacker from an internal list of candidates. Speaking to Wisconsin reporters Saturday, defensive coordinator Dom Capers spoke highly of incumbent
Frank Zombo
.
"Frank Zombo played close to 600 snaps for us," Capers said,
via the Milwaukee Journal Sentinel
. "We have an awful lot more confidence in Frank than we did a year ago. He's another guy that got better as the season went on. I think he'll be head and shoulders where he was a year ago. I think we'll have good competition."
April, 28, 2011
4/28/11
11:10
AM ET
We've spent the past few months reviewing the various incarnations of mock drafts produced by ESPN analysts Mel Kiper and Todd McShay, so let's take a final look at their latest.
Kiper's went live

late Wednesday night, and
McShay's just posted

.
I should also note that one of the country's most respected draft predictors, Rick Gosselin of the Dallas Morning News,
published his mock draft
Thursday morning. You need Morning News subscriber access to read it, but
he did predict an early run on quarterbacks
that would leave the
Minnesota Vikings
choosing TCU quarterback
Andy Dalton
at No. 12 overall.
Onward...
Minnesota Vikings
Pick:
No. 12
Kiper:
Washington quarterback
Jake Locker
McShay:
Boston College offensive tackle
Anthony Castonzo

Seifert comment:
McShay's mock illustrates the Vikings' positional problem. By taking Castonzo at No. 12, they miss out on the top seven quarterbacks of the draft. By the time their No. 43 pick arrived in McShay's 7-round effort, the following quarterbacks were all off the board:
Cam Newton
,
Blaine Gabbert
, Locker, Dalton,
Christian Ponder
,
Ryan Mallett
and
Colin Kaepernick
.
Detroit Lions
Pick:
No. 13
Kiper:
USC offensive tackle
Tyron Smith
McShay:
Smith

Seifert comment:
Conventional wisdom has suggested the
Dallas Cowboys
will take Smith at No. 9. But if Smith falls to the Lions, they would be getting the player generally considered the top offensive tackle in the draft. There is every reason to believe that general manager Martin Mayhew would make this choice if Smith is his highest-rated player at the time, regardless of need at other positions.
Chicago Bears
Pick:
No. 29

Kiper:
Mississippi State offensive tackle
Derek Sherrod
McShay:
Sherrod
Seifert comment:
Obviously, trades weren't a part of these mocks. Sherrod is the best tackle available in each case, but it's not clear if the Bears value him as a first-rounder or if they would trade down in this scenario.
Green Bay Packers
Pick:
No. 32
Kiper:
Baylor guard
Danny Watkins

McShay:
Texas cornerback
Aaron Williams
Seifert comment:
It's almost impossible to predict what general manager Ted Thompson will do, given the relative balance of his roster, and it's very reasonable to expect him to consider a trade that would move out of the first round altogether.
April, 28, 2011
4/28/11
10:45
AM ET
Circling back one final time on draft issues we've discussed over the past few months:
As we speak on the first day of the NFL draft, the
Chicago Bears
haven't filled any of their five positions along the offensive line. They have candidates for each spot, and they're hoping to re-sign free-agent center Olin Kreutz, but the next three days will play a big role in determining how the lineup shakes out.
But the Bears face a practical dilemma with the No. 29 overall pick: Will an offensive lineman worthy of that spot still be on the board? And if not, should they trade down or take a player at another position? To be sure, the Bears also have needs at defensive tackle and linebacker, and I, for one, wouldn't hammer them for drafting a receiver at No. 29.
But first, the offensive line: Tackles are typically the most sought-after line position in the draft. Everyone has their own evaluation, but it's hard to imagine the top two -- USC's
Tyron Smith
and Boston College's
Anthony Castonzo
-- being available at No. 29. It also wouldn't be surprising if Colorado's
Nate Solder
and Wisconsin's
Gabe Carimi
were gone as well.
If that's the case, the Bears might have to decide between Mississippi State tackle
Derek Sherrod
, a marginal first-round pick, or move on to guard, where Baylor's
Danny Watkins
could be available. (Florida guard-center
Mike Pouncey
is probably a top-20 pick.) Other options include North Carolina defensive tackle
Marvin Austin
and even Pittsburgh receiver
Jonathan Baldwin
.
Depending on their partner, trading down could net the Bears anywhere from an extra sixth-round pick to a 2012 first-round pick. Such are the myriad options when a team is positioned so low in the first round. Hang on for the ride.
Earlier:
Solder is an
interesting prospect
. The Bears' offensive line
is in flux
.
Establishing the value
of the No. 29 pick. I
managed to draft Carimi
in the ESPN.com Blog Network mock draft. The Bears have spent
a lot of time researching Austin
.
April, 27, 2011
4/27/11
7:35
AM ET
We're Black and Blue All Over:
Another sign of the Detroit Lions' progress? We have our first evidence of higher expectations for general manager Martin Mayhew as the 2011 draft approaches. In rebuilding the Lions, writes
Bob Wojnowski of the Detroit News
, Mayhew has only accomplished "the easy part."

Wojnowski: Eventually, we'll learn to grade Mayhew on his own merits, not on the At-Least-He's-Not-as-Awful-as-Millen scale. On any scale, Mayhew and his scouting staff have done fine, as the Lions have risen from 0-16 to 2-14 to 6-10. But again, not to be flippant, that's the easy part. This is the hard part, when you're actually choosing with the masses. ... Mayhew, 45, has been with the franchise 10 years, but didn't get a chance to make an impact until now. He's part of the big five -- including [Jim] Schwartz, [Matthew] Stafford, [Ndamukong] Suh and [Calvin] Johnson -- that will determine if the Lions get back to the playoffs for the first time since 1999. Landing a "Monday Night Football" appearance was a nice little bauble, but they shouldn't crave nice little baubles anymore."
I'm sure Mayhew wouldn't have it any other way. The Lions are a better team than they were when he assumed control in 2008. But can they make the jump to "good" without the advantage of a top-10 draft position? That's a fair question to judge him on now.
Continuing around the NFC North:
April, 25, 2011
4/25/11
7:30
AM ET
We're Black and Blue All Over:
We spent considerable time this offseason discussing the Chicago Bears' refusal to grant offensive line coach Mike Tice permission to
interview for the Tennessee Titans' offensive coordinator job
. Shortly thereafter, the Bears
adjusted Tice's contract to add another year
and, presumably, more money.

Mike Mulligan of the Chicago Sun-Times
notes that the Bears didn't have as much success locking up another highly regarded assistant coach. Special teams coordinator Dave Toub turned down a contract extension because the Bears offered him what a source told Mulligan was a "minimal raise" that would not have put him among the top 10 highest-paid special teams coaches in the NFL.
I know no one wants to hear NFL coaches or players pleading poverty given their six-figure salaries, and it should be noted that Toub has made no public statement of dissatisfaction. The Bears certainly weren't obligated to give Toub a raise at a time of economic uncertainty caused by the lockout.
But as we always like to say, action and inaction have consequences. In this case, Toub's contract will expire after the 2011 season, making him eligible to leave the organization for another opportunity if he wants.
Continuing around the NFC North as we enter Draft Week 2011:
April, 20, 2011
4/20/11
4:30
PM ET
Todd McShay's
latest mock draft

, published Wednesday on ESPN.com, offers three scenarios for each spot before deciding on a selection. It's worth noting that,
hours after we asked you
about Clemson defensive end
Da'Quan Bowers
, McShay has both the
Minnesota Vikings
and
Detroit Lions
passing on him.
You'll need an Insider subscription to view the entire draft, but here's how it shook out for the four NFC North teams:
12. Minnesota Vikings
McShay's pick:
Cal defensive end
Cameron Jordan
Seifert comment:
The son of former Vikings tight end Steve Jordan would be a solid pick, but taking him ahead of Bowers? That can only mean the Vikings would have serious concerns about Bowers' knee. Another possibility: Boston College tackle
Anthony Castonzo
.
13. Detroit Lions
McShay's pick:
Nebraska cornerback
Prince Amukamara
Seifert comment:
This remains a dream scenario as far as I'm concerned. When
we discussed this issue earlier this month
, I wasn't considering Bowers as a true option. But the Lions' need for a cornerback is acute.
29. Chicago Bears
McShay's pick:
Baylor guard
Danny Watkins
Seifert comment:
I would be fine with a guard in this spot, especially considering that five offensive tackles are already off the board in this scenario. I wonder, however, if the Bears would trade out of the pick if that situation arises.
32. Green Bay Packers
McShay's pick:
UCLA linebacker
Akeem Ayers
Seifert comment:
As we've noted all along, outside linebacker is one of the Packers' few actual needs. Be it Arizona's
Brooks Reed
or Ayers, the pick makes sense.
March, 16, 2011
3/16/11
1:30
PM ET
ESPN analyst Todd McShay's latest mock draft

carries an added bonus for lockout-weary readers: Second-round projections! You'll need a subscription to see all 64 picks, but I'm authorized to provide you with the NFC North-related scraps. Let's get to it:
Minnesota Vikings
McShay's pick at No. 12:
Boston College offensive tackle
Anthony Castonzo
McShay's pick at No. 43:
TCU quarterback
Andy Dalton
Seifert comment:
In this scenario, McShay has the Vikings passing on Washington quarterback
Jake Locker
and grabbing a quarterback in the second round. The Vikings are one of the teams that have scheduled a private workout with Dalton; and in this mock, Arkansas'
Ryan Mallett
and Florida State's
Christian Ponder
were already off the board by the No. 43 pick. Castonzo would be the second offensive lineman chosen and could compete with right tackle Phil Loadholt for a starting job immediately.
Detroit Lions
McShay's pick at No. 13:
Nebraska cornerback
Prince Amukamara
McShay's pick at No. 44:
Baylor guard
Danny Watkins
Seifert comment:
Even McShay acknowledges that having Amukamara slip to No. 13 would be a "dream scenario." You wouldn't find many people who would pass him up at No. 13, and if this somehow happens, consider it a coup for the Lions. He would be an immediate starter and a huge upgrade. But I have my doubts about an elite cover cornerback with 4.37 speed getting out of the top 10 of the draft.
Chicago Bears
McShay's pick at No. 29:
Mississippi State offensive tackle
Derek Sherrod
McShay's pick at No. 62:
North Carolina defensive tackle
Marvin Austin
Seifert comment:
At this point in the mock, five offensive linemen were already off the board. That would put the Bears in a tough spot if they were determined to draft one with their top pick. Sherrod would be next in line, but maybe not worth a first-round positioning. It's an interesting scenario.
Green Bay Packers
McShay's pick at No. 32:
Arizona defensive end/linebacker
Brooks Reed
McShay's pick at No. 64:
Miami (Fla.) defensive end
Allen Bailey
Seifert comment:
McShay is joining colleague Mel Kiper Jr. in suggesting Reed as the Packers' top pick, a player who conceivably would fill the need for a consistent starter opposite Clay Matthews. Meanwhile, Bailey would give the Packers some added insurance against the expected loss of veteran free agent Cullen Jenkins.