April, 21, 2010
4/21/10
1:00
PM ET
Each Wednesday leading up to the NFL draft (April 22-24), the ESPN.com blog network will take a division-by-division look at key aspects of the draft. Today's topic: Dream scenario/Plan B.

Chicago Bears
Dream scenario:
Without a first- or second-round pick, Chicago's dreams are pretty muted this week. They have significant needs at guard and cornerback, but nothing would make them happier than having a starting-caliber safety fall to them at No. 75 overall. The nature of the position, and the depth of this draft, makes it possible. They might not get South Florida's
Nate Allen
, who is a likely second-round pick, but there should be other options. Finding a starter without having to sacrifice additional picks in a trade-up would be ideal.
Plan B:
Guards are not highly coveted from a draft perspective, and if the Bears don't like any of the safeties available to them at No. 75, they should be able to find someone to compete for their wide-open spot at left guard. As of now, the only veteran in the mix for that role is
Josh Beekman
.

Detroit Lions
Dream scenario:
This might be too dreamy to actually happen, but here goes: The Lions acquire Washington defensive tackle
Albert Haynesworth
for a third-round pick. They draft Oklahoma State's
Russell Okung
at No. 2 overall and grab Cal running back
Jahvid Best
at No. 34. Although they pass over arguably the two best prospects of the draft -- defensive tackles
Ndamukong Suh
and
Gerald McCoy
-- the Lions still get an elite defensive tackle, a fixture at left tackle and a playmaker in the backfield who would be ready to contribute immediately while starter
Kevin Smith
continues his knee rehabilitation. I've shied away from this scenario, believing the cost for Haynesworth would be too high, but a third-round pick is pretty reasonable here.
Plan B:
Frankly, getting a dynamic defensive playmaker at No. 2 -- Suh or McCoy -- is an awfully nice fallback position.

Green Bay Packers
Dream scenario:
The Packers need a left tackle of the future. As this year's draft class stacks up, there is a significant dropoff between the top four left tackles and whoever you consider to be No. 5. Currently situated at No. 23, the Packers probably aren't going to get a chance at Okung, Oklahoma's
Trent Williams
, Rutgers'
Anthony Davis
or Iowa's
Bryan Bulaga
. But as long as we're in a dream-like state, we can hope that one of those four -- Davis? -- somehow slips to No. 23 or close enough that the Packers can make a reasonable trade up to get him.
Plan B:
In our blog network
mock draft
, I proposed taking a chance on USC left tackle
Charles Brown
. He would probably get at least a year to develop, based on current starter
Chad Clifton
's contract, and would benefit from being in a stable offensive environment.

Minnesota Vikings
Dream scenario:
Vice president of player personnel Rick Spielman said this week that he is confident at least one of his four targeted players will be available with the No. 30 overall pick. I won't hazard a guess at their identities, but ideally one of them would be a quarterback and fall to their spot. More than anything, this franchise needs a young quarterback to build around. More often than not, those quarterbacks are found at the top of the draft and at least in the first round. There are no assurances about waiting for next year. Getting their quarterback of the future is the Vikings' dream scenario.
Plan B:
The Vikings have a relatively strong roster otherwise, and therefore can afford to draft for value at every spot if they choose. If their quarterback of the future isn't available at No. 30, or he can be selected lower in the draft, then they'll benefit from additional depth that the best available player will bring.
April, 20, 2010
4/20/10
1:00
PM ET
»
NFC Big Question
:
East
|
West
|
North
|
South
»
AFC
:
East
|
West
|
North
|
South
Packers general manager Ted Thompson traded into the bottom of the first round last year to select USC linebacker Clay Matthews, one of the NFL's top defensive rookies in 2009. Will Thompson make a similar attempt this year?
[+] Enlarge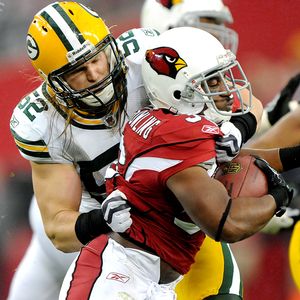 Kirby Lee/US PresswireMoving up in last year's draft paid off for the Packers when they selected Clay Matthews.
According to ESPN's Adam Schefter, the Packers have investigated the possibility of moving up from their current spot at No. 23 overall to the Nos. 10-12 range. You would assume the intent would be to draft one of the top four left tackles. Each player -- Oklahoma State's
Russell Okung
, Oklahoma's
Trent Williams
, Iowa's
Bryan Bulaga
and Rutgers'
Anthony Davis
-- is likely to be off the board well before No. 23 overall. That leaves the Packers in a
much-discussed no-man's land
when it comes to filling arguably their biggest need.
The cost would be considerable, however, and illustrates why such trades are far more discussed than actually executed.
We have acknowledged that the
traditional draft value chart
has its flaws, but let's use it as a guideline for this discussion. The chart assigns a point total to each pick. The No. 23 pick is worth 760 points. For argument's sake, let's consider the No. 11 pick. It's worth 1,250 points. That means the Packers would have to make up 490 points to make the deal work.
One way to do that: Giving up their second-round pick (No. 56 overall) and third-rounder (No. 86). Those picks add up to 500 points.
Would you give up your second- and third-round picks to move up 12 spots? First, it's possible the Packers could negotiate that price down. Second, remember that a true left tackle is one of the rarest of species. If you think you can get one, you might have to accept a premium price.
I still don't know if I see Thompson pulling the trigger on a deal that carries such a price tag, but it's certainly a big question with two days remaining until the first round begins.
April, 2, 2010
4/02/10
11:20
AM ET
I had an interesting conversation Thursday with a friend who posed this question: What does Green Bay do with the No. 23 overall draft position if the top four offensive tackles are already off the board?
(Yes, I know. I lead a really fascinating life.)
Seriously, I think it's an interesting and relevant debate with the draft three weeks away. We've discussed the Packers' clear need for a depth infusion at both tackle positions, where starters
Chad Clifton
and
Mark Tauscher
will be 34 and 33 years old, respectively, when the season begins. But take a look at
Mel Kiper's offensive tackle rankings

as they stood Thursday:
1. Oklahoma State's Russell Okung
2. Oklahoma's Trent Williams
3. Iowa's Bryan Bulaga
4. Rutgers' Anthony Davis
5. Indiana's Rodger Saffold
It's not out of the question that Okung, Williams, Bulaga and Davis all will be taken before No. 23. But there seems to be a consensus among media analysts, at least, that the drop-off after Davis is significant. Scouts Inc. ranks Safford as a mid-second round pick. The same goes for Maryland offensive tackle Bruce Campbell, whose draft value varies wildly depending on who you listen to.
The Packers could go with Campbell at No. 23. Or, if they like both him and Saffold, they could probably trade down and get one of them in the second round.
Packers general manager Ted Thompson has a well-earned reputation for the trade-down model. But what if he doesn't move? Where do the Packers go at No. 23 under this scenario?
I don't disagree with what Green Bay linebacker
Nick Barnett
tweeted
Friday morning:
Here is what is going to happen in the draft i think.. We will draft one or two things... Olb or o lineman... It depends which is avalible.
Yes, the Packers could also use an outside linebacker to replace the departed
Aaron Kampman
. Here are Kiper's top five outside linebackers:
1. Texas' Sergio Kindle
2. Missouri's Sean Weatherspoon
3. TCU's Jerry Hughes
4. South Carolina's Eric Norwood
5. Penn State's Sean Lee
Kindle would be quite a coup for the Packers at No. 23, especially considering his apparent aptitude for a 3-4 defense. Will he be available? It would only be a guess, but typically, anyone with elite pass rushing potential usually goes in the top half of the first round. I wouldn't want to speculate on which linebacker the Packers might like after Kindle, but the list above at least gives you an idea of the players who might be available.
Feel free to weigh in below.
April, 1, 2010
4/01/10
7:28
AM ET
Tom Kowalski of Mlive.com
makes an important point about the impact of Notre Dame quarterback Jimmy Clausen on Detroit's draft status.

No, the Lions aren't interested in drafting Clausen a year after selecting Matthew Stafford at No. 1 overall. But Clausen represents the Lions' best chance to trade down out of the No. 2 overall pick, allowing them to accumulate additional picks to re-stock their roster.
It would be much more likely for a team to trade up for a quarterback than it would be for any of the elite defensive tackles that will be available at No. 2 overall. That's the nature of the game. So it's in the Lions' best interest to hope that at least one team -- Washington? Seattle? Cleveland? -- falls in love with Clausen and decides it can't leave the draft without him. With St. Louis apparently poised to select Oklahoma quarterback Sam Bradford, the Lions' No. 2 overall pick is the first place to guarantee Clausen's availability.
Continuing around the NFC North:
March, 10, 2010
3/10/10
2:30
PM ET
Let's continue our (spontaneous) Draft Wednesday theme by taking a look at ESPN.com's
latest mock draft
. (It's 3.0 for those of you keeping track.) This one combines picks from analysts Mel Kiper and Todd McShay. You need an Insider subscription to view the entire list and accompanying analysis, but I can give you a sneak peek of the three NFC North-related picks.
Detroit Lions (No. 2)
Kiper:
Nebraska defensive tackle
Ndamukong Suh
McShay:
Suh
Seifert comment:
This assumes St. Louis takes Oklahoma quarterback
Sam Bradford
No. 1 overall. What a coup that would be for the Lions.
Green Bay Packers (No. 23)
Kiper:
Iowa tackle
Bryan Bulaga
McShay:
Rutgers tackle
Anthony Davis
Seifert comment:
Big discrepancy here. McShay has Bulaga going at No. 6 to Seattle. I myself have absolutely no idea, but it sure sounds like Bulaga's stock has moved above the No. 23 overall pick. I'm guessing the Packers will pounce if he falls this far.
Minnesota Vikings (No. 30)
Kiper:
Rutgers cornerback
Devin McCourty
McShay:
UCLA defensive tackle
Brian Price
Seifert comment:
At this point, the Vikings will take the best available player. But all things equal, a cornerback ranks higher than defensive tackle on their need list.
January, 14, 2010
1/14/10
3:00
PM ET
As we
noted
earlier this week, Green Bay will have the No. 23 overall pick in the draft. That's easy to figure out. Now the hard part: Who might they choose if they remain in that spot?
At this point in the draft season, it's nearly impossible to tell. But draft evaluation is a year-round business, so there is always a list. Below, I've given you two assessments of the players who enter the Senior Bowl ranked in the middle-to-end of the draft's first round. Remember, in some cases juniors haven't declared for the draft.
First, here is the 10 players ranked between No. 18 and No. 28 by
Scouts, Inc.
:
18.
USC safety Taylor Mays
19.
North Carolina outside linebacker Bruce Carter
20.
Florida inside linebacker Brandon Spikes
21.
Florida defensive end Carlos Dunlap
22.
California running back
Jahvid Best
23.
Oklahoma tight end
Jermaine Gresham
24.
Maryland offensive tackle Bruce Campbell
25.
Florida State cornerback Patrick Robinson
26.
Notre Dame receiver
Golden Tate
27.
Iowa offensive tackle Bryan Bulaga
28.
Notre Dame quarterback
Jimmy Clausen
Mel Kiper's
Big Board
only includes 25 players, so here are Mel's Nos. 18-25:
18.
Rutgers offensive tackle
Anthony Davis

19.
Mays

20.
Michigan defensive end Brandon Graham

21.
Texas linebacker Sergio Kindle
22.
Gresham
23.
Best
24.
Illinois receiver
Arrelious Benn
25.
Robinson