October, 29, 2014
10/29/14
7:00
PM ET
EDEN PRAIRIE, Minn. --
Minnesota Vikings
defensive end
Brian Robison
played only 40 of the team's 60 defensive snaps on Sunday in Tampa Bay after logging at least 60 in five of the team's previous six games. Robison didn't offer much detail on Monday about what was bothering him, saying only he was dealing with some "bruises."
Robison
Now we know. Robison did not practice Wednesday and was listed on the Vikings' injury report with a gluteal injury (which might also explain why the normally forthcoming defensive end didn't want to talk much about it). Considering Robison was able to play two-thirds of the Vikings' snaps on Sunday, the injury seems unlikely to keep him off the field, but the Vikings will have to monitor Robison's health in their final game before their bye week.
Situations such as these are why it's particularly useful for the Vikings to have
Corey Wootton
, who had 7 1/2 sacks two years ago with the Bears and has proved to be a capable backup for both Robison and
Everson Griffen
. Wootton played 24 snaps on Sunday, registering three tackles, and if he's asked to take on a larger role on Sunday, the Vikings should be in good hands. Rookie
Scott Crichton
could also get more work this week after playing eight snaps when Wootton was hurt two weeks ago. He returned to the inactive list last Sunday.
Cornerback
Jabari Price
missed practice with a lingering hamstring injury and tight end
Kyle Rudolph
also sat out, though he continued to do some conditioning work on the side as he recovers from sports hernia surgery. Tight end
Chase Ford
(foot) and cornerback
Josh Robinson
(ankle) both appeared to be struggling with their injuries in the portion of practice open to the media, and both were limited in practice. Safety
Antone Exum
(ankle/shoulder) and defensive tackle
Sharrif Floyd
(ankle/knee) also were limited.
October, 23, 2014
10/23/14
5:00
PM ET
EDEN PRAIRIE, Minn. --
Minnesota Vikings
center
John Sullivan
has passed the NFL's concussion protocol and is in line to play Sunday against the
Tampa Bay Buccaneers
, coach Mike Zimmer said Thursday.
Sullivan
Sullivan was a limited participant in practice Thursday, but Zimmer said the center "did everything."
Guard
Vlad Ducasse
also returned to practice in full after injuring his knee last Sunday in Buffalo. Zimmer, however, would not say for certain whether the Vikings would use the same five offensive linemen against the Buccaneers.
"Everything's a little in flux with the injuries, so we'll see," Zimmer said.
Linebacker
Gerald Hodges
(hamstring) returned to practice on a limited basis, and defensive end
Corey Wootton
was a full participant after the lower-back injury that kept him out of Sunday's game also limited him Wednesday. Safety
Antone Exum
missed practice with an ankle injury, however, and cornerback
Josh Robinson
left practice early after injuring his ankle in individual drills. Zimmer said he wasn't sure how the injury would affect Robinson's status for Sunday.
"He wasn't going very fast when he did it," Zimmer said.
August, 10, 2014
8/10/14
8:05
PM ET
MANKATO, Minn. -- A daily review of the hot topics coming out of
Minnesota Vikings
training camp:
Coach Mike Zimmer said the Vikings came out of Friday's preseason opener relatively healthy, but the Vikings were missing several players at practice on Sunday afternoon. Defensive tackle Tom Johnson and linebacker Dom DeCicco weren't on the practice field, and safety Mistral Raymond (who suffered a concussion during Friday's game) was doing work on the side with safeties Robert Blanton and Jamarca Sanford, who missed Friday's game with hamstring and back injuries, respectively. Defensive tackle Linval Joseph, of course, was not practicing after a stray bullet struck him in the calf in a nightclub incident on Saturday morning. On a more positive note, cornerbacks Josh Robinson and Marcus Sherels returned from hamstring injuries, and tight end Chase Ford (broken foot) was once again out of a walking boot.
The Vikings began their practice outside, but had to move indoors for the first time during training camp thanks to a jagged bolt of lightning off to the west of their practice field. That turned Sunday's session into a glorified walk-through, and the Vikings were only able to do so much work inside the Minnesota State field house. Zimmer said he hadn't written practice schedules for this week until after Friday night's game, and the Vikings will have to resume the work of drilling their mistakes once they get back outdoors on Monday.
Zimmer wasn't thrilled with the way the Vikings' secondary played the run, particularly on Darren McFadden's 23-yard burst at the end of the first quarter. Safety Antone Exum had a shot at McFadden at the Raiders' 29, but came down with inside leverage and couldn't fight through McFadden's stiff arm to bring him down until the Raiders' 43. "I tell our guys all the time that long runs are typically because of the perimeter run force," Zimmer said. "We did not do a good job when the safety was coming downhill on that play, so we ended up giving him 14 more yards on that run than we should have."
Wide receiver Adam Thielen continued to win praise for his work on special teams, after returning three punts for 53 yards and making a tackle for a 4-yard loss on a punt at the end of the first half. Thielen was visibly upset he didn't score on his second return, which went for 26 yards, but special teams coach Mike Priefer said that was just a matter of Thielen making one more move. "He is probably disappointed that he didn't score on the one, but that's something that a young punt returner, that's a mistake they are going to make," Priefer said. "He saw the seam and he just went for it full speed. He's got to kind of dip and go to the outside or widen them and go back inside but it was a very, very well-blocked play." Priefer said Sherels is still entrenched as the Vikings' punt returner, but with Sherels fighting a hamstring injury, it's not bad for the Vikings to have another option they trust.
Rookie defensive tackle Shamar Stephen did well in Friday's game, Zimmer said. He wound up with five tackles in the game and showed some nice push up the middle on a couple run plays. With Joseph likely to miss some time, the seventh-round pick could see some more opportunities.
August, 4, 2014
8/04/14
12:05
PM ET
MANKATO, Minn. -- For the first time on Monday,
Minnesota Vikings
coach Mike Zimmer will get to see safety
Andrew Sendejo
on the practice field.
Sendejo
The Vikings activated Sendejo from the physically-unable-to-perform (PUP) list on Monday, bringing him back from lower back and ankle injuries that had kept him out since the start of the team's offseason program. Sendejo started 10 games last year when injuries decimated the Vikings' secondary, but it had become apparent in recent days that he needed to get back on the field sooner than later to make an impression on Zimmer and assert himself in a crowded race for the starting safety spot opposite
Harrison Smith
.
It wouldn't be surprising to see the Vikings ease Sendejo back into practice for a day or two, but once he's up to full speed, it bears watching how the team will use him.
Robert Blanton
seemed to have the inside track on the starting spot until he strained his hamstring last Monday,
and a league source said last week
Blanton could miss several weeks with the injury. In his absence,
Mistral Raymond
has gotten some first-team work, and
Jamarca Sanford
has gotten a longer look after missing time with injuries of his own. Those two, plus
Kurt Coleman
and rookie
Antone Exum
, present plenty of competition for Sendejo.
The Vikings are back on the practice field on Monday afternoon, following a day off on Sunday. The team shortened its morning walk-through to special-teams work only, so Monday afternoon will be the first chance to see where Sendejo fits.
August, 1, 2014
8/01/14
9:45
AM ET
MANKATO, Minn. -- Setting up the day at
Minnesota Vikings
camp:
Today's schedule:
The Vikings have their normal routine of a 10:30-11:30 walk-through and a 3 p.m.-5:10 p.m. practice at Minnesota State University. Defensive coordinator George Edwards and special teams coordinator Mike Priefer are scheduled to talk to reporters after the morning walk-through.
More observations from Thursday's practice:
Xavier Rhodes, their talented second-year corner who still seems to be learning to trust his instincts in coverage. Rhodes is expected to be the Vikings' top cover corner this year, and while coach Mike Zimmer's defense typically doesn't ask corners to travel across the field with one receiver, Rhodes will undoubtedly see his share of difficult matchups this season. On Thursday, he drove on a route early in practice, but dropped an interception for the second consecutive day. Later, in a seven-on-seven red zone drill, he showed good technique against Jerome Simpson, playing with inside leverage that forced Matt Cassel to make a difficult throw to the back corner of the end zone, but Rhodes turned a split-second late for the ball and tried to swat it, rather than hitting Simpson's hands as he leaped to catch it. Defensive backs coach Jerry Gray explained to Rhodes afterward that he'd played the right technique in coverage, but he just needed to force the ball out, rather than trying to recover by batting it away. It was a vivid snapshot in what's been a camp full of learning for Rhodes.
The Vikings have been doing extensive work with
Zimmer continued to mix and match players in his first-team defense, giving Tom Johnson some work with the top unit at 3-technique tackle and rotating Jamarca Sanford, Mistral Raymond and rookie Antone Exum in the safety spot opposite Harrison Smith with Robert Blanton out because of a hamstring injury. Zimmer said he will release the Vikings' first formal depth chart sometime next week, and at certain positions it's probably dangerous to assume too much about a pecking order, when the Vikings are trying to get a look at a handful of different players in a variety of roles. ""Really, it's just about figuring out what guys can do," Zimmer said. "The more you can do, the more value you have to this football team."
The Vikings are experimenting with first-round draft pick Anthony Barr in a number of different ways. He's played linebacker in their dime package, has rushed from a defensive end position in the nickel, in addition to his normal work at linebacker in the base defense. He'll have to be able to hold up in coverage as a linebacker, but Zimmer's had no complaints there so far. "Coverage is great. He moves well. He's got a good idea," Zimmer said. "Somebody was telling me that he takes copious notes in the meetings. He's got pages and pages of them as we talk, so he's very, very into trying to learn what we're trying to do and teach. He's got a lot of raw, athletic ability that helps in the coverage aspect of things. There's times when he may pull off of somebody a little bit too soon that he's got to do better at. But for the most part, I've been very pleased with that."
They said it:
"I would say the sky's the limit, but there's no ceiling to his potential. There really isn't. If he's willing to put in the time, the potential is there. He has everything he needs. He's starting to mature as a player, as an individual, so his success is going to shoot straight through the roof. I'm excited. I told him this, and maybe it was a little premature, but I told him, 'At some point, I'm going to tell my kids I played with
Cordarrelle Patterson
.'" --Wide receiver
Greg Jennings
on Patterson.
June, 17, 2014
6/17/14
6:10
PM ET
EDEN PRAIRIE, Minn. -- A look at the highlights from the first day of the
Minnesota Vikings
' mandatory minicamp on Tuesday:
1. Loaded for Barr:
The Vikings got first-round pick
Anthony Barr
on the field for the first time with their full team on Tuesday, after he graduated from UCLA over the weekend, and head coach Mike Zimmer didn't hesitate to try out some of the different ways he wants to use the linebacker. Barr was at the strong-side linebacker position the Vikings expect him to play, but he also lined up as an edge rusher on some third downs. At 6-foot-4, he's taller than defensive ends
Brian Robison
and
Everson Griffen
, and if he can rush from the line of scrimmage, the Vikings can present a number of different looks to confuse opposing offenses, especially when Griffen's versatility enters the equation.
[+] Enlarge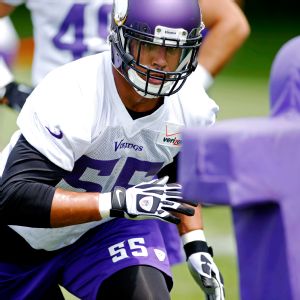 Bruce Kluckhohn/USA TODAY SportsFirst-round pick Anthony Barr participated on the field on the first day of Vikings' mandatory minicamp.
2. Robinson returns
: Cornerback
Josh Robinson
was back on the field on Tuesday, after missing the Vikings' organized team activities with a muscle pull. He was also back at an outside cornerback position, following last year's failed experiment at slot cornerback. Robinson got plenty of snaps in the Vikings' first-team defense on Tuesday, and could wind up playing in the nickel package once
Captain Munnerlyn
moves inside.
3. Quarterbacks look sharp:
The Vikings ran plenty of play-action and bootleg plays on Tuesday, and all three of their quarterbacks had a successful afternoon practice.
Matt Cassel
missed just one of the nine throws he attempted in 11-on-11 and was 5-for-5 in 7-on-7 work.
Teddy Bridgewater
was 15-for-17 in 11-on-11 action and 4-for-5 in 7-on-7, and
Christian Ponder
hit all four throws he attempted. Ponder again got fewer snaps than Cassel or Bridgewater, but he looked good in what he was asked to do. "Everyone's getting reps with the ones and twos," Ponder said. "I'm not getting as many reps as the other guys, but I'm trying to take full advantage, and we'll see what happens. I don't know how long the evaluation process is going to be. I'm hoping it goes into training camp and preseason games, but we'll see."
4. Jennings impresses:
Wide receiver
Greg Jennings
, who missed the Vikings' open OTA last week because of a charity event, caught four balls on the first day of minicamp, and saved his best for last, reaching out for a one-handed grab over the middle on a throw from Cassel in 7-on-7.
5. Middle linebacker plan emerges?
The Vikings used
Jasper Brinkley
,
Chad Greenway
and
Michael Mauti
at middle linebacker on Tuesday, noticeably keeping
Audie Cole
on the outside after Cole played the middle at the end of last season. Brinkley has gotten more first-team work than anyone else in the middle, so far, but Zimmer cautioned not to read too much into that. "We have to line them up somewhere when we go, but I don't look at this guy is the favorite or that guy is the starter," he said. "(Brinkley)'s lined up with the first team right now, but I don't know, once we get him in practice and games and the things that prepare us for games and for the season, that will determine who lines up there on Sept. 7."
6. Safeties still limited:
Jamarca Sanford
was able to do a little more work after missing OTAs with a muscle injury, but the Vikings were mostly using
Robert Blanton
,
Mistral Raymond
,
Antone Exum
and
Kurt Coleman
, with Blanton often pairing with
Harrison Smith
in 7-on-7 drills. Safety
Andrew Sendejo
was still limited with a back injury. Tight end
Allen Reisner
sat out, and running back
Joe Banyard
was a limited participant.
Matt Kalil
and
Linval Joseph
were again limited after
knee
and
shoulder surgeries
this offseason, but Zimmer said he expects both to be ready for training camp.
June, 13, 2014
6/13/14
8:00
AM ET
MINNEAPOLIS -- As the
Minnesota Vikings
' safeties learn a defense that should bring much more variety to their roles than they had in the team's old scheme, a group of them is also auditioning for a role alongside
Harrison Smith
in the Vikings' starting lineup.
Coleman
Blanton
The Vikings have been rotating a number of safeties through their first-team defense during organized team activities, with
Jamarca Sanford
and
Andrew Sendejo
sitting out with injuries.
Kurt Coleman
,
Robert Blanton
,
Brandan Bishop
and rookie
Antone Exum
have all gotten plenty of work in OTAs, and the Vikings figure to use a number of combinations next week during their minicamp. Coach Mike Zimmer said that the Vikings will likely run through more drills like they did on Thursday, when they had safeties working at something closer to game speed, without as much direction from coaches in between plays.
"I think we'll get a little bit better feel of how it goes the more of this stuff like we did today, where the coaches aren't out there helping them, 'Hey, move this way, move that way. Line up here, line up there,'" Zimmer said at the Vikings' charity golf tournament. "When all the things happen and they have to make adjustments and checks because those guys are a lot like the quarterbacks for the defense when they get back there."
In the Vikings' old Cover 2 scheme, safety was a relatively staid position. The team used a defensive back to rush the passer on just 46 snaps last season, which was the sixth fewest in the NFL. The
Cincinnati Bengals
, under Zimmer, sent a defensive back after the quarterback on 76 snaps, the 15th most in the league, and Smith said he expects a more diverse set of responsibilities in the Vikings' new defense. Defensive backs coach Jerry Gray has talked about how he'd like to be able to use safeties in man coverage, and even the Vikings' zone coverages will have safeties working more aggressively to eliminate space from receivers, so much so that some of the zones will look like man coverage to the naked eye, Smith said.
"The safeties get to do a lot more, whether it's in coverage, sometimes being the free guy, being able to go make a play on the ball, coming down in the box, getting involved in the run game, blitzing," he said. "You really get to do it all."
That means there's more to be gained from finding the right player to go next to Smith. The competition will get even thicker once Sanford and Sendejo are healthy, but it stands to reason the Vikings will take their opportunities to see a number of different safeties, especially when they'll ask them to be a more dynamic part of their defense.
"Harrison's a smart guy," Zimmer said. "Kurt Coleman's doing a good job. Robert Blanton's doing a good job. We've got a lot of guys who are continually working at those spots. We're just trying to get them in the right position where we can get them to go play."
May, 16, 2014
5/16/14
11:45
AM ET
MINNEAPOLIS -- The
Minnesota Vikings
continue their rookie camp Friday at their facility in Eden Prairie, Minn., getting their first chance to work with their 10 draft picks, 15 undrafted free agents and more than a dozen players from around the region who will receive tryouts.
Friday is the only day of media access to the Vikings' rookie camp. Here are a few things I'm particularly interested in seeing:

Bridgewater
Bridgewater's debut:
The Vikings are getting their first extended chance to coach first-round pick
Teddy Bridgewater
, and in light of how well the former Louisville quarterback responded to a little coaching at his private workout (according to general manager Rick Spielman), I'll be curious to see how he looks in his initial trips through the Vikings' playbook. He won't have any of the receivers he'll eventually be working with -- he'll be able to start throwing to them in the coming weeks -- but Friday will offer the first glimpse into Bridgewater's early development as a NFL quarterback.
Competition at corner:
The Vikings didn't add a defensive back in the draft until the sixth round, and the three they drafted in the final two rounds (Virginia Tech safety
Antone Exum
, Maine cornerback
Kendall James
and North Carolina cornerback
Jabari Price
) will have to fight for roster spots. But Spielman sounded optimistic about James (who called himself an "all-around great cover corner" in a conference call with reporters), and Exum could be an intriguing fit at safety. He's big and physical enough to play the position, but the Vikings also want to be able to do some of what we've seen Seattle do with their safeties, putting them in coverage against inside receivers and allowing their linebackers to stay on the field in passing situations. Defensive backs coach
Jerry Gray
talked about that with
Harrison Smith
last month, and Spielman mentioned that as a possibility for Exum, too. "What is intriguing about him, as we sit there and talk with our coaches, is that they also want guys at the safety position that can be cover guys," Spielman said. "This was kind of a unique player for us because he is physical on support. He has played corner, but because of his size and his physicality in the run game we feel he can maybe transition to safety."
Barr
Breaking in Barr:
Linebacker
Anthony Barr
's pass-rushing skills are what earned him headlines at UCLA, but the Vikings wouldn't have taken him ninth overall if they didn't think he could be a complete linebacker that can stay on the field for three downs. He's only been at linebacker for two years after switching from the running back position, and has shown good instincts at the position, but he'll need to get stronger and refine his technique at the NFL level. That begins this weekend, and as much as coach Mike Zimmer pays attention to details on defense, he'll likely spend plenty of time with Barr. "It's not that he is so raw that he is not a good football player, because he is a really good football player," Zimmer said. "I don't want anybody to think that because he is inexperienced that he is not a good football player. He will be good. I'm excited about the chance to take him and mold him into what I really envision him to be, which I think will be good."
Target at tight end:
Tennessee State tight end
AC Leonard
, whom the Vikings signed as an undrafted free agent, has the athletic ability to be an interesting option in Norv Turner's offense. He's only 6-foot-2 and 252 pounds, and could get swallowed up by defensive ends, but his 40 time (4.50), high jump (34 inches) and broad jump (128 inches) were the best of any tight end at the NFL scouting combine. Leonard played all over the field in college, and though he'll need plenty of work, both on and off the field (he was arrested for misdemeanor battery in 2012 and cited for driving with a suspended license three months later), his athletic ability could keep him around for an extended look.
Garoppolo's receiver tries to catch on
: You'll hear plenty of talk about former Northwestern quarterback
Kain Colter
, who signed with the Vikings as a receiver after leading the efforts for Northwestern players to unionize, but of the Vikings' three undrafted receiver additions, former Eastern Illinois receiver
Erik Lora
might have the best chance of sticking around. He caught 136 passes in 2012, setting a FCS record as
Jimmy Garoppolo
's favorite target, and scored 19 touchdowns in 2013. He's only 5-foot-10, and will have to show he can produce against better competition -- and in a more complex offense than he had in college -- but Lora might have potential as a slot receiver.
May, 14, 2014
5/14/14
11:45
AM ET
MINNEAPOLIS -- On a defense that had plenty of holes last year, it's difficult to argue the
Minnesota Vikings
' biggest problem was anything other than their secondary. They gave up more points than any team in the league, allowed the second-most passing yards and ranked in the bottom third in the NFL in touchdown-to-interception ratio, first downs per passing attempt and yards per attempt.
The Vikings signed
Carolina Panthers
cornerback
Captain Munnerlyn
to play the slot position after their experiment with
Josh Robinson
backfired last season, and they picked up former Chargers cornerback
Derek Cox
after San Diego released him in March. With other needs to address in the draft, though, the Vikings didn't add any help for their secondary until the sixth and seventh rounds, when they selected three defensive backs -- Virginia Tech's
Antone Exum
, Maine's
Kendall James
and North Carolina's
Jabari Price
.
Of the three, Exum might have the most immediate chance to contribute. He'll begin his time with the Vikings as a safety, and he's over a year removed from a torn ACL he sustained in a pickup basketball game in January 2013. Exum also missed time with a sprained ankle after his return from knee surgery last season, and he might have slipped in the draft due to concerns about his health and because he had so few chances to prove himself in front of scouts last season. The Vikings will have plenty of competition at safety opposite
Harrison Smith
, though, and Exum is impressive enough physically that he might attract attention in training camp.
"My strengths are my speed, my size, ball skills, physicality, point of attack and tackling," Exum said in a conference call Saturday. "I feel like I have unique covering ability and also to make the big play at the big moment."
As a whole, though, the Vikings will once again be betting on the ability of young players to develop quickly in the secondary -- and they'll be doing so without the help of another high pick at defensive back. New coach Mike Zimmer initially made his reputation coaching defensive backs, and secondary coach
Jerry Gray
was previously the
Tennessee Titans
' defensive coordinator, so the Vikings should be able to give their defensive backs plenty of help. General manager Rick Spielman also left the door open for a later addition in the secondary, adding "you are not done when the draft is done.
"There are going to be some things that happen through the rest of the season, but I know we don't play until September, so there can be a lot of things as we go through," he said.
Short of signing a veteran later in the offseason -- possibly after June 1, when salary cap rules make it easier for teams to shed large contracts -- the Vikings will need defensive backs to emerge quickly. That could be Robinson beating out Cox for playing time now that he's back outside, someone taking charge other safety position or one of the team's late-round picks catching on sooner than expected. Munnerlyn solved a major need in the secondary, but at least at this point, it appears the Vikings will be counting on player development to solve their other ones.