NFC North:

Antonio Freeman
July, 11, 2014
7/11/14
10:00
AM ET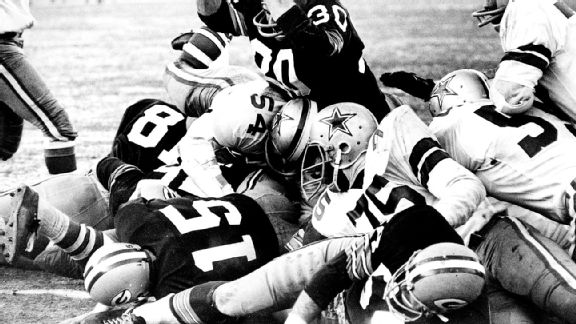 John Biever/Icon SMI
We have a winner. The voters picked Bart Starr's quarterback sneak for a touchdown to win the Ice Bowl as the Packers' most memorable play, and I applaud their selection.
Score:
Packers 21, Cowboys 17
Date:
Dec. 31, 1967
Site:
Lambeau Field
From the moment we began soliciting nominations for the
Green Bay Packers
' three most memorable plays, Bart Starr's quarterback sneak for a touchdown to win the Ice Bowl was mentioned more often than any other play.
So it should come as no surprise that it was the runaway winner in the voting.
Few NFL franchises have one defining play like that, but Starr's sneak ranks up there with
the Immaculate Reception
and
The Catch
.

When the voting closed on Thursday, Starr's play finished as a landslide winner over Brett Favre's 54-yard touchdown pass to Andre Rison in Super Bowl XXXI and
Aaron Rodgers
' third-and-10 completion to
Greg Jennings
to help clinch Super Bowl XLV.
What was most interesting in researching this project was that there was no consensus on the most memorable plays from Super Bowls XXXI and XLV. There was just as much support for Desmond Howard's 99-yard kickoff return for a touchdown that helped him win the Super Bowl XXXI MVP. Likewise in Super Bowl XLV, strong cases could be made for Nick Collins' interception return for a touchdown in the first quarter and
Clay Matthews
' forced fumble that thwarted a potential go-ahead drive by the Steelers in the fourth quarter.
Unlike Starr's sneak, no one play won Super Bowls XXXI or XVL.
And that is why Starr's play was so special.
As we wrap up this project, it's also worth noting some of the other plays that were considered, thanks in part to input from readers and other longtime observers of the team.
Among the others:
Don Hutson's first touchdown, an 83-yarder in 1935.

Dave Robinson drilling Don Meredith, leading to Tom Brown's interception to beat the Cowboys in the 1966 NFL Championship.

Herb Adderley's interception against the Lions in a 1962 regular-season game to set up the game-winning field goal in a 9-7 victory.

Chester Marcol's blocked field goal that he ran in for a touchdown to beat the Bears in 1980.

Don Majkowski to Sterling Sharpe for a 14-yard touchdown pass in 1989 against the Bears in what is known as the Instant Replay Game.

Favre to Sharpe in Detroit for a 40-yard touchdown with 55 seconds remaining in a 1994 playoff game.

Antonio Freeman's "Monday Night Miracle" catch to beat the Vikings in 2000.

B.J. Raji's interception return for a touchdown against the Bears in the NFC Championship Game in 2011.

The "Fail Mary" play against the Seahawks in 2012.
The problem with some of those plays is they were either flukes or meaningless plays in meaningless games. Oh, and there was one other play that a longtime Packers observer was convinced would be the most important play in team history if there more details about it were available. It was a punt, said to be nearly 90 yards by Verne Lewellen in a 1929 game against the
New York Giants
. That punt pinned the Giants deep in their own territory and helped secure a victory that was the difference between the teams in the standings (there were no playoffs at that time). The Packers, with a 12-0-1 record, won the championship over the Giants, whose only loss was to the Packers. It gave the Packers their first championship and, because it happened in New York, helped the Packers capture the attention of the powerful New York media. However, reports from that game do not clearly describe Lewellen's punt.
In the end, Starr's sneak is the play that has been, and likely will continue to be, the most memorable.
July, 8, 2014
7/08/14
10:00
AM ET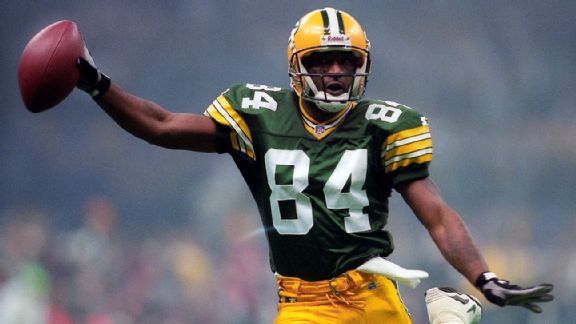 Matthew Emmons/USA TODAY Sports
»
VOTE HERE
»
NFC Plays:
East
|
West
|
North
|
South
»
AFC:
East
|
West
|
North
|
South
This is one of three nominations for the most memorable play in
Green Bay Packers
history. The others are: Bart Starr's quarterback sneak for a touchdown to win the Ice Bowl and
Aaron Rodgers
' third-and-10 completion to
Greg Jennings
in the fourth quarter of Super Bowl XLV that helped clinch the game. Please vote for your choice as the Packers' most memorable play.
Score
: Packers 35, Patriots 21
Date
: Jan. 26, 1997
Site
: Louisiana Superdome

You can argue that the most memorable play from Super Bowl XXXI was Desmond Howard's 99-yard kickoff return for a touchdown in the third quarter -- and many of you on Twitter did. After all, Howard was the game's MVP.
Or you can make a case for Antonio Freeman's 81-yard touchdown -- which at the time was the longest touchdown catch in Super Bowl history -- although none of you did.
But the ever-lasting memory from the Packers' third Super Bowl title was quarterback Brett Favre running like a wild-man, sans helmet, after his 54-yard touchdown pass to Andre Rison on the Packers' second play from scrimmage.
Favre, sensing a blitz from the Patriots, changed the play at the line of scrimmage. Rison, who joined the Packers midseason, ran a post route and found himself wide open down the seam.
Favre later revealed the play was rooted in something he had seen from the
San Francisco 49ers
when he was watching Super Bowl highlights during the week leading up to the game. He saw Joe Montana hit
Jerry Rice
in Super Bowl XXIV on a play the 49ers called "59 Razor." The Packers adopted it and called it "29 Razor." It was an audible to be used against a blitz that called for maximum blocking protection and only two receivers out in patters.
"Lo and behold, second play of the game, I checked to 29 Razor and hit Andre Rison for a touchdown," Favre said years after the game. "So when you see me running with my helmet off, I'm thinking, 'Can you believe I checked to this play?' It was amazing. And it worked, which was even more amazing."
Favre to Rison. #NFLNPackersTopPlays

— Alex Tallitsch (@AlexTallitsch) June 5, 2014
June, 29, 2012
6/29/12
9:58
AM ET
By
ESPN.com staff
| ESPN.com
Chicago Bears
Yahoo! Sports' Doug Farrar
recently caught up with linebacker Lance Briggs
, who touched on the team's consistency on defense during his nine-year NFL career: "We have a good core of players -- a leadership core. I think a lot of it starts with leadership; what your leaders allow and don't allow, and the rest of the players follow suit. I don't think there's a better leader out there than Brian Urlacher, and then you have Peanut Tillman, Julius Peppers, myself, and it starts with that core."
Julius Peppers ranks as the fourth-best defensive player
in the game today, according to CBS Chicago's Steve Silverman.
Detroit Lions
How does Jahvid Best stack up
against the other starting running backs in the division? Mlive's Anwar S. Richardson examines.
Second-year defensive tackle
Nick Fairley asked the NFL for permission to attend part of the rookie symposium
this week, and the league allowed him to attend alongside the AFC rookies, reports CBSSorts.com's Josh Katzowitz. Fairley did not attend the rookie orientation last year.
Receiver Nate Burleson doesn't shy away from mentoring teammate Titus Young
, a player who may eventually replace Burleson in the starting lineup, writes NFL.com's Dan Hanzus. "I told Titus, I said, 'Look. There's no question that you're brought here to take my position,'" Burleson said. "'That's what you're brought here to do. And by the time I'm done, you should be ready to take that and you should be on your way to a new contract. And if you're not in those two positions, I don't think I did my job well enough.'"
Green Bay Packers
Six Packers
made the NFL Network's list ranking the league's top 100 players
, and Tyler Dunne of the Milwaukee Journal Sentinel weighs in on whether the players who voted on the list got it right.
A group of local journalists and members of the Green Bay/Brown County Professional Stadium District
got a tour of Lambeau Field's south end zone expansion
, where nearly 7,000 new seats are being installed, reports Paul Srubas of Gannett Wisconsin Media. The tour group also got a peek at highlight film footage being displayed on the 48-by-108-foot scoreboard screen on the opposite end of the field.
When former Packers receiver Antonio Freeman came into the league, there was no NFL Rookie Symposium to help ease his transition. But Freeman has become a regular at the annual event and
he feels he's gotten as much out of it as the rookies
, writes Weston Hodkiewicz of the Green Bay Press-Gazette.
Minnesota Vikings
The Vikings
signed former Saints defensive end Jeff Charleston
, reports the Pioneer Press' Jeremy Fowler. To make room, the team waived defensive tackle Terrell Resonno.
What if running back Adrian Peterson misses the first six games
? The Star Tribune's Christian Peterson looks at the Vikings' first six opponents and gauges the effect Peterson's absence could have on the outcomes.
New stadium backers and downtown Minneapolis residents can agree:
No one wants another Metrodome
, which never spurred much economic development in the community, writes the Star Tribune's Janet Moore.
June, 28, 2012
6/28/12
9:32
AM ET
By
ESPN.com staff
| ESPN.com
Chicago Bears
ESPNChicago.com's Jeff Dickerson
says linebacker Brian Urlacher believes "this Bears team gives him the best chance for his first Super Bowl victory."
Urlacher on the NFC North race
: "Last year, Green Bay and Detroit were in the playoffs, so [the media] should be talking about them. I don't know if they got any better in the offseason, but I know we got better."
Detroit Lions
Calvin Johnson
came in at No. 3
on NFL Network's list of the top 100 players in the league.
Nick Fairley's arraignment
is set for Thursday. The Lions defensive tackle was arrested in Mobile County, Ala., on May 27 after a state trooper said he was traveling at 100 mph in his Cadillac Escalade. He was cited for reckless driving, no proof of insurance and open container.
Green Bay Packers
Former Packers receiver Antonio Freeman said Donald Driver "
made a smart decision
" in taking a pay cut to remain in Green Bay.
Coach Mike McCarthy touches on a variety of topics in a
wide-ranging Q&A
with the Milwaukee Journal Sentinel.
Minnesota Vikings
Making quarterback
Christian Ponder comfortable
will be one of the Vikings' top priorities during training camp.
What's on the
amenities wish list
in the new Vikings stadium? The Star Tribune has compiled some realistic and not-so realistic ideas.
October, 1, 2009
10/01/09
7:26
AM ET

Posted by ESPN.com's Kevin Seifert
I'm pretty convinced that current Minnesota and Green Bay players aren't nearly as affected by the rivalry between the teams as their predecessors were. Free agency, business arrangements and other modern-day advents have softened the emotions involved in such things.

But the feelings remain strong among alumni from both sides. We're already
well aware
what former Vikings quarterback Fran Tarkenton thinks of Brett Favre's arrival in Minnesota. Thursday,
Greg A. Bedard of the Milwaukee Journal Sentinel
published the reaction of former Packers players.
Hall of Fame defensive end Willie Davis said, "I just don't understand why he went to Minnesota." Former safety LeRoy Butler, meanwhile, said he cringes at the thought of watching ESPN highlights of Favre beating the Packers.
"It's going to be on every station, if they lose to the Vikings, for four days," Butler said. "I don't want to see that. I don't want to see the four-letter network have Brett's picture up and the lovefest. 'Ah, he's this. He's that. He just loves playing the game.' Nope, sorry Brett. You're on the other side now."
Former guard Jerry Kramer blamed the Packers' handling of the situation last summer for creating the vengeance he believes Favre feels now. And former receiver Antonio Freeman believes vengeance is the sole reason Favre decided to play this season in Minnesota.
Favre is scheduled to speak Thursday afternoon at the Vikings' training facility. I'll be there and will relay you the latest. For now, let's take a spin around the NFC North:
September, 30, 2009
9/30/09
3:56
PM ET

Posted by ESPN.com's Kevin Seifert
And on Wednesday, they rested -- at least from their media obligations. Minnesota players had Wednesday off, and their counterparts in Green Bay are going through a half-day of meetings in preparation for the Oct. 5 showdown at the Metrodome.
The breather gives us a chance to consider some of the bigger issues and larger implications of Favre-Packers I. ESPN's Jeffri Chadiha, for example, looked at what happens when
longtime stars relocate
to new cities. David Fleming of ESPN the Magazine
broke down
all 43 of
Brett Favre
's fourth-quarter comebacks, finding a few holes in the statistical compilation.
As a grunt blogger, I started making a chart that I'll invite you to complete. The major allure of this game is seeing Favre play against his former team. So before that takes place, let's take a moment to remember Favre's top performances against his current one. I'll list three Favre versus the Vikings' games that come to mind, and you're welcome to add your thoughts to the comments below. I'll complete the chart, with your help, by the end of the week.
Let's get to it.
1. The Antonio Freeman play
Date:
Nov. 6, 2000
What happened:
Favre tossed a 43-yard touchdown to Freeman in overtime during a driving rain at Lambeau Field. The ball bounced off Vikings cornerback
Cris Dishman
and into the hands of Freeman, who had slipped and was lying on his stomach when the ball arrived. Freeman jumped up, dashed into the end zone for a 26-20 victory. This play is more about Freeman than Favre, but it's the first play that popped in my head when I thought about Favre and the Vikings.
2. The Christmas (Eve) Miracle
Date:
Dec. 24, 2004

What happened:
In a Week 16 matchup to decide the NFC North, Favre brought the Packers back from a seven-point deficit midway through the fourth quarter. Included in that span was a fourth-down touchdown pass to receiver
Donald Driver
and a 2-minute drill that concluded with Ryan Longwell's 29-yard field goal on the last play of a 34-31 victory. Favre completed 30 of 43 passes for 365 yards and three touchdowns in the game.
3. "Yesterday's news"
Date:
Sept. 26, 1999

What happened:
With 12 seconds remaining, Favre threw a 23-yard touchdown pass to
Corey Bradford
to lift the Packers to a 23-20 victory. The play came on fourth down. After the game, then-Vikings coach Dennis Green ordered his players to move on quickly from the disappointment. Then, in a news conference minutes later, Green famously refused to discuss the play because he considered it "yesterday's news."
September, 16, 2009
9/16/09
7:17
AM ET

Posted by ESPN.com's Kevin Seifert
Chicago tight end Desmond Clark revealed on a radio show that he cracked a rib in the third quarter of Sunday night's 21-15 loss at Green Bay, making his status uncertain for this weekend's game against Pittsburgh.
Brad Biggs of the Chicago Sun-Times
has details.

Clark actually spent some time at a Green Bay hospital following the injury. He's only missed two games in his 11-year career, playing in 147 of a possible 149 contests.
The Bears do have decent depth at the position after deciding to keep four tight ends on their 53-man roster. Without Clark, starter Greg Olsen would be backed up by Kellen Davis and Michael Gaines. We should know more later Wednesday when the Bears distribute their first injury report of the week.
Continuing around the NFC North:
July, 20, 2009
7/20/09
10:53
AM ET
Posted by ESPN.com staff
Chicago Bears
Detroit Lions
Green Bay Packers
Minnesota Vikings
July, 17, 2009
7/17/09
10:46
AM ET
Posted by ESPN.com staff
Chicago Bears
Packers receiver Donald Driver may have angered some Bears fans with his harsh assessment of Chicago's receiving corps, but Brad Biggs of the Chicago Sun-Times points out that based on the performance of Bears pass-catchers against the Pack last season, Driver has a point.
In a SportsNation chat on ESPN.com Thursday, KC Joyner said the Bears have "the next Brian Westbrook" in running back Matt Forte.

Detroit Lions
Shutdown Corner had a Q&A with Matthew Stafford that kept things light. When asked who he'd dine with if he could chose any three dinner companions, dead or alive, Stafford chose Abe Lincoln, Michael Jordan and Tupac.
Tight end Casey FitzSimmons hopes he can continue to stick with the Lions -- he's the only tight end left who was with the club last season.
Green Bay Packers
Minnesota Vikings
NFL.com's Solomon Wilcots questions whether Brett Favre brings enough upside to the Vikings to make him worth signing.
Hall of Famer Paul Hornung doesn't have much faith is Favre succeeding in Minneapolis. "[Favre] ain't going to win in Minnesota," Hornung said at a Wisconsin sports banquet on Tuesday.
Single-game tickets for preseason and regular-season Vikings games will go on sale at 9 a.m. on Monday, July 20.
December, 17, 2008
12/17/08
5:30
PM ET
Posted by ESPN.com's Kevin Seifert
The two newest nominees to the Packers Hall of Fame added some credible voices to a growing theory about Green Bay's surprising downturn this season.

Favre
Former tailback Dorsey Levens and former receiver Antonio Freeman said Wednesday they were surprised at how distracted the Packers appeared during training camp while in the midst of a messy divorce from quarterback Brett Favre.
According to Jason Wilde of the Wisconsin State Journal, Levens said:
"I really didn't know what to expect. I knew the whole Brett Favre situation was going to loom heavy. I didn't know how the players would react, how the fans would react. It was a circus, to be quite honest, going up there in training camp and all the hoopla surrounding Brett and that situation."
Freeman added:
"It was more [of a distraction] than I expected. I knew it was pretty major. ... Talent-wise, I think they have a ton of talent. I think the whole ordeal of Brett Favre leaving might have had an effect on it. Next year, going forward, it'll be fresh. Maybe some of those distractions will be out of there and people will be more content and settled in with the fact that, 'Hey, [Aaron Rodgers] is our guy, we're going forward.'"
Again, few people have attributed the Packers' 5-9 record to a drop-off in quarterback play. But you can't easily measure the impact of the bizarre circumstances surrounding Favre's departure. Specifically, players arrived at training camp without knowing whether Rodgers or Favre would be their starting quarterback. And then they practiced for nearly a week before the team finally traded him to the New York Jets.
In Levens and Freeman, you have two respected veterans who were a part of some of the Packers' most successful teams in recent history. They know what a productive training camp looks like. Their observations on this season's camp should be considered accordingly.
Levens and Freeman will be inducted to the Packers Hall of Fame at Lambeau Field next summer.