November, 15, 2013
11/15/13
10:00
AM ET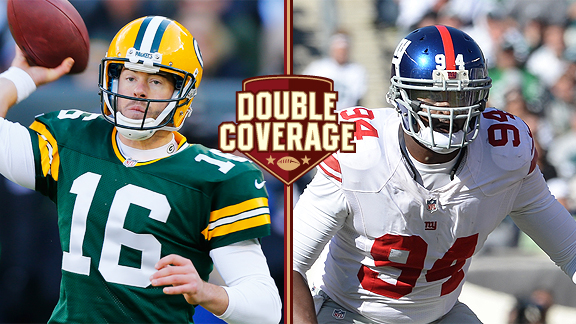 Gregory Shamus/Getty ImagesNew Packers quarterback Scott Tolzien will face Mathias Kiwanuka and an improved Giants pass rush.
.
The
New York Giants
will be looking for their fourth win in a row following an 0-6 start. The
Green Bay Packers
will be trying to snap their first two-game losing streak since 2010. The two teams square off Sunday at MetLife Stadium in East Rutherford, N.J. ESPN.com Giants reporter Dan Graziano and ESPN NFL Insider Matt Williamson (filling in for Packers reporter Rob Demovsky) break down the matchup for you.
Dan Graziano:
Hey, Matt. Thanks for filling in while Rob's on the inactive list this week. The big question the Giants have this week is: Who is
Scott Tolzien
and what can we expect to see from him? So let's start with that one.
Matt Williamson:
Well, Dan, that's a good question! I don't think we really know the answer, but he did move the team well and was generally a smart distributor of the football. And we know Green Bay has weapons to get the ball to. We obviously don't have a lot of tape to evaluate, but I think the Packers are better off with Tolzien over
Seneca Wallace
.
While we are talking quarterbacks, what on Earth is going on with
Eli Manning
? Despite this winning streak, he really has not played well at all.
Graziano:
Matt, my theory on Eli is that the protection issues at the beginning of the season were so egregious that he just fell into this zone of discomfort from which he's been unable to extricate himself. He just doesn't look right back there, and while the protection issues have improved some, they're still present. They've had no blocking help from the tight-end position at all. They're very vulnerable in the middle of the line, and I'm not sold on either tackle, to be honest. They haven't had reliable blitz pickup help from the running backs. Downfield,
Hakeem Nicks
isn't playing wide receiver the way he used to play it. A lot has gone on around Manning to make him far less comfortable with his surroundings, and I'm not sure what it's going to take before he starts playing with that old Eli confidence again. Great quarterbacks make the best of bad situations, and Manning has not done that this year. As the Giants' situation improves, they will need him to play much better if they're really going to make this miracle run they still believe they can make.
Now, they get another break this week with
Aaron Rodgers
out and Tolzien in, but they are already talking about that improved Packers running game. What do you see from
Eddie Lacy
& Co. and how do you think they'll attack the Giants, who have generally been pretty good against opposing running backs this season?
Williamson:
This Packers' running game is terrific and should continue to excel even with less of a passing threat with Rodgers sidelined. The left side of the Packers' offensive line is playing great, but -- as with the rest of the team -- isn't healthy on the right side and has had to do a lot of shuffling of personnel there. Still, Green Bay's rushing attack isn't easy to prepare for as they can run a wide variety of plays out of a wide variety of personnel groupings and formations. Lacy is quick to get downhill and is a punishing runner who can wear a defense down, and he also excels at reading his blocks and showing patience with the ball in his hands -- rare traits for a rookie running back. The Packers' ability to run the ball will probably be the most crucial component of this football game.
Along those lines, I feel like the Giants might actually have a respectable rushing attack of their own now with
Andre Brown
carrying the rock. Do you agree?
Graziano:
Yeah, the 30 carries and 115 yards for Brown on Sunday in his first game back off a twice-broken leg were eye-opening. I think the workload they gave him showed that the Giants knew just how much they were missing this season at running back.
David Wilson
never got going and then got hurt, and they patched it together with
Brandon Jacobs
and
Peyton Hillis
. But watching Brown run with vision and power and gain yards after contact Sunday, it was obvious that he's the Giants' best option going forward and the best they've had all season. The injury risk has to be considered, given Brown's history, but at this point the Giants need to win pretty much every game, and they're going to have to lean hard on Brown to do it. Even if he can't be as productive every week as he was against the Raiders, the legitimate threat he poses on film should open up the play-action passing game as a way for Manning to combat those protection issues.
So the Giants feel they can offer a balanced offensive attack against a Packers defense that couldn't get the ball back from the Eagles in the final 9:32 of Sunday's game. Was that a
LeSean McCoy
issue, or are the Packers really struggling on defense right now?
Williamson:
The Packers are struggling on defense and allowing too many big plays. I expected last week's return from injury by
Clay Matthews
to pay off much more than it did. However, we know that Matthews is a truly great player, and maybe he just needed a week to get back into the swing of things. I still expect Matthews to torment the Giants' tackles this week. On the inside of their defensive line, the Packers have a lot of sheer mass and power with guys like
B.J. Raji
,
Johnny Jolly
and
Ryan Pickett
. I also expect the Giants' interior offensive line to have a difficult time moving this group in the running game. This could be a bounce-back week for Green Bay on this side of the ball.
The Packers' run defense had a very difficult time when the Eagles stacked both of their offensive tackles on the same side of the formation. While I expect the Giants could use some personnel groupings with six offensive linemen, I don't see them duplicating what Philadelphia did to make room for McCoy.
Watching the Giants game from last week, I noticed they had a difficult time getting the Raiders'
Pat Sims
blocked. Sims is a big-bodied and powerful defensive tackle in much the same mold as the Packers' group. I think that bodes well for Green Bay this week.
And expect the Giants to have a difficult time blocking little-known
Mike Daniels
in the passing game. Daniels has taken over the
Cullen Jenkins
role in this defense -- a spot Green Bay drafted
Datone Jones
for in the first round -- as an interior pass-rusher, and he has excelled in that role.
The Giants' defense is based entirely on great defensive line play. This is a deep group with a ton of important resources tied up in it, but it hasn't been an elite group. It is improving, however. Where do you see this unit right now and this week against the Packers?
Graziano:
Well, the sack numbers have come up. The Giants had only six sacks in their first seven games, but then got eight in their past two games. So they've moved from last in the league in sacks, where they spent most of the season, to a tie for 30th in that category. Odd thing is, of the eight sacks in their past two games, only four have come from defensive linemen. Safety
Antrel Rolle
has as many sacks (two) in the Giants' past two games as defensive end
Jason Pierre-Paul
has in their past 16. Pierre-Paul did get one against the Raiders, and he says he's on the verge of a breakout. And the line has been very good, as I mentioned, against the run this year. But over the first seven games of the season, opposing quarterbacks did a good job of unloading the ball before the Giants' pass-rushers could stop them from doing so. Not sure they get the full test this week against Tolzien, but at some point we're going to find out whether the front four really has improved, or whether it's just been feasting on lesser competition.
Thanks again, Matt. Catch you online in one of our game chats soon, I'm sure.
.
January, 12, 2012
1/12/12
4:00
PM ET
From the sounds of it, many of you are falling for it. You're letting yourself fall victim to a perception that a dominant national storyline suggests the
New York Giants
will upset the
Green Bay Packers
on Sunday in the NFL's divisional playoff round.
Via Twitter,
@unwantedopinion
wrote: Have you ever seen a 15-1 OR a defending Super Bowl champ this disrespected in the media before a game?
I'm not totally sure if it's as widespread as some of you think, or if it really matters. We've no doubt heard opinions like that of ESPN's Herm Edwards, who said this week that the Giants are the "hot team coming into the playoffs," as the Packers were last season. Edwards added: "You look at the teams who are hot in the NFC. Who do you see? Saints. Giants."
But I feel like most fact-based assessments suggest the Packers should at least be the favorite to win this game. They're
giving nine points in Las Vegas
, where the operators aren't usually looking to lose money, and I've been forwarded two computer simulations of the game -- one from AccuScore and one from EA Sports -- that project a double-digit Packers victory.
The Giants are indeed on a hot streak, having won four of their past five games to advance to this game. But shouldn't any discussion about recent success note that the Packers have won 21 of their past 22 games, including two victories over the Giants in which they scored 83 points?
And yes, it's true. Giants quarterback
Eli Manning
had a career season and the Packers have given up more passing yards than any team in NFL history. Plus, Manning has only thrown one interception in his past three games. But in the same breath, shouldn't it also be noted that Manning
has thrown more interceptions (129)
than any NFL quarterback since he entered the league in 2004?
(Oh, by the way, the Packers led the NFL in interceptions this season with 31.)
I can't argue that the Giants have one of the league's best defensive fronts, one that gives them the luxury to rush four and keep seven players in coverage against the Packers' receivers and tight ends. But it might be worth considering that Packers quarterback
Aaron Rodgers
had the NFL's best passer rating against four-man pass rushes this season (118.3), completing 69.3 of his passes in those situations for 29 touchdowns and four interceptions.
The Giants are a confident bunch, as one would expect of a team that has made it to the divisional round of the playoffs. Defensive end
Jason Pierre-Paul
has predicted a victory, and as
Tom Canavan of the Associated Press
points out, their defense appears convinced it can stop Rodgers.
"I don't put any opponent on a pedestal," safety
Antrel Rolle
said. "I understand they have a lot of weapons on this team and they are an awesome opponent, and so are we."
I'm sure Antrel has done his research. No one needs to show him the chart accompanying this post, the one that documents Rodgers' performance in five career playoff games. His 112.6 rating over that span is an NFL record.
Look, I'm not trying to sound snarky, nor do I want to ridicule the Giants' chances of winning. I know there are smart people who think the Packers will lose Sunday. And perhaps they will. But that idea has just gotten too trendy for me. The reality is it would be a significant upset based on a substantial reversal of trends the Packers have spent most of the past 13 months developing. Moving on ...
June, 18, 2010
6/18/10
11:00
AM ET
The season-ending injury to
New York Giants
receiver
Domenik Hixon
comes at an interesting time for two NFC North teams.
The
Minnesota Vikings
' landlord is enmeshed in a lawsuit with the manufacturer of FieldTurf artificial surfaces, the same surface Hixon was practicing on Tuesday when his right knee crumpled. The
Chicago Bears
, meanwhile, recently decided against replacing the grass at Soldier Field with FieldTurf or a similar product
because of safety concerns
.
Hixon has been diagnosed with a torn anterior cruciate ligament. Giants safety
Antrel Rolle
told ESPNNewYork.com that
Hixon's leg got caught in the turf
just before he fell.
It's not unusual for players to complain about artificial turf, even the newer in-fill version that includes rubber pellets to make it softer. But it's interesting to note that when the Metropolitan Sports Facilities Commission reviewed bids for its upcoming turf replacement project, it chose a lesser-known company that submitted a higher bid because the Vikings, like the Bears, were concerned about the safety of FieldTurf.
The
Minnesota/St. Paul Business Journal describes the situation in detail
, noting the commission plans to pay Sportexe $495,000 for the project even after FieldTurf bid $458,561. FieldTurf is suing the commission for the way it conducted the bidding process. Here is a key passage:
The MSFC, however, says it rejected FieldTurf's bid after the Vikings expressed concerns about the safety of the company's product -- the main reason for replacing the Dome's existing turf in the first place. Therefore, the commission opted for Sportexe, which provided the second-lowest bid at $495,000; the Irving, Texas-based company also installed the turf at the Louisiana Superdome in New Orleans and M&T Bank Stadium in Baltimore. "Medically, FieldTurf has proven to increase risk and severity of injury in NFL players," the Vikings said, according to documents filed by the commission in response to FieldTurf's lawsuit.
A recent study showed that knee injuries were 88 percent more likely to occur on FieldTurf than natural grass. (Ask
Green Bay Packers
defensive back
Will Blackmon
about
that one
.) To be fair to FieldTurf, that study didn't include any other brands. There is no evidence that its product is different from that of any other in-fill company. But whether it's coincidence or otherwise, half of our teams have made a point to go in another direction this offseason.
March, 13, 2010
3/13/10
11:05
AM ET
Yes! The weekend mailbag, mourned by at least three people last week, returns after a
brief hiatus
. Remember, you can reach me through the
mailbag portal
, our massive
Facebook following
or via
Twitter
.
Let's get to it.
Responding to our post about Detroit's possibilities if St. Louis selects Nebraska defensive tackle Ndamukong Suh at No. 1 overall, Facebook friend Dowveido suggests the Lions take Tennessee safety Eric Berry:
He is to me the best player in the draft period.
Kevin Seifert:
Our original post focused on the disappointing bench press of Oklahoma defensive tackle
Gerald McCoy
and the clear signs that Suh had passed McCoy as the consensus best prospect in the draft. Public conversation has centered around St. Louis taking Sooners quarterback
Sam Bradford
at No. 1 overall, leaving the Lions to draft Suh.
But what if the Rams pass on Bradford and take Suh? Would it still be a no-brainer to take McCoy at No. 2? Dowveido, for one, votes for Berry.
We've all see how an elite safety can impact a defense, from the intimidation of
Ronnie Lott
to the playmaking of
Ed Reed
. But on average, it just seems to be an NFL maxim that safeties are rarely taken at the top of the draft. Like it or not, the position is behind at least five others in terms of typical NFL ratings.
Taking a safety at No. 2 overall would be quite a luxury for the Lions, who already have an up-and-coming player at the position in
Louis Delmas
. When you go back in the history of recent drafts, you'll only find one safety taken No. 2 overall:
Eric Turner
by Cleveland in 1991.
With all that said, I'm going to stick with what I came to believe last year about Detroit's drafting policy. The Lions aren't going to discriminate among positions. That's what led them to take tight end
Brandon Pettigrew
with the No. 20 overall pick last year, despite greater needs at other spots. If their talent evaluators determine Berry is the best player in the draft after Suh, then I believe they'll take him take him based on that scenario.
That's a big 'if,' of course. A week bench press alone shouldn't be enough to alter a team's perception of a potentially elite player like McCoy. If I had to guess, I would say it would be an upset for Berry to supplant McCoy in Detroit's eyes.
---
Mbearased of Clayton, Ind., writes:
If your team has no first or second round draft pick, does that mean they can not sign a restricted free agent with a first or second round compensation?
Kevin Seifert
: Correct. As my colleague Mike Sando
notes
, the collective bargaining agreement explicitly requires a team to have possession of the necessary draft pick in order to sign an RFA to an offer sheet.
Conceivably, however, there is a way around that rule. Here's how it work, using fake names that of course have no reflection in reality:
1. RFA receiver Landon Farshall signs his tender offer extended by his original team, the Donkos.
2. The Donkos trade Farshall to the Dears for first- and third-round picks in the 2011 draft.
3. The Dears sign Farshall to a long-term contract extension.
4. And all of Rhicago rejoices.
---
Mark of Denver offers this brain twister:
I was just reading the
conversation
between Mike Sando and John Clayton about the new proposed overtime rules, and I had a question that was not asked. What if, under the new rule, a team has to kick off, but they opt for an onside kick and recover. Then, said team then goes down and scores a FG. Technically, the game should be over, seeing as how the other team had a chance to have possession, but they were thwarted. (Don't they consider onside kicks turnovers?). Or, suppose a team scores a field goal, then they onside kick and recover, again, you would assume they would win, right?
Kevin Seifert:
Ultimately, this would have to be explicitly explained in the wording of the rule. But just my opinion, and Mike shares it as well: I would hope that a failed kickoff recovery wouldn't count as a possession. That would defeat the purpose of the rule by allowing a team to lose by an overtime field goal before its offense gets on the field.
I'm also not certain how often a team would try the onside-kick strategy. If the other team recovers, it has a short field to drive for a touchdown to win it, or a field goal to put serious pressure on the offense. It might not be the wise move, regardless.
---
On Minnesota's backup running back situation, Noah of St. Paul writes:
As a University of Iowa alum, I have to put in a good word for former Hawkeye
Albert Young
. I tend to think
Ian Johnson
would be better in this position, though, given how he was used as more of all-purpose back at Boise State. What are your thoughts on this? Is it that specialized of a role that we need to put a premium on
LaDainian Tomlinson
's proven ability (and risk that he's worn out)? Or are fresh legs equally important on third down? I see this potential signing as more of hype-generating tactic than an actual personnel strategy.
Kevin Seifert:
Interesting take, Noah. Pursuing Tomlinson has certainly generated hype, but I do think he has a lot to offer in the role the Vikings have mapped out for him. Remember,
Chester Taylor
got 94 carries last season behind
Adrian Peterson
. That's an average of less than six per game. I think Tomlinson has six decent carries per game in him.
On third downs, the most important word is "reliable." The third-down back must be able to pick up blitzes, and he must have good hands. Making people miss and breaking big plays is secondary. As a veteran, Tomlinson is a more than competent pass-protector and his hands are trustworthy.
I would have some reservations about putting an unproven player like Ian Johnson in charge of protecting
Brett Favre
on third downs, assuming Favre plays in 2010. (Johnson spent last season on the Vikings' practice squad.) But with that said, there are a lot of people -- including Favre himself -- who think Albert Young could be ready for the job.
During his recent visit with coach Brad Childress, Favre mentioned Young's name several times.
Said
Childress: "Albert Young is a guy that has developed here tremendously in the last two years. As a matter of fact, Brett Favre and I had a long conversation about him when we were down south and he believes he's got a chance to be a good back in this league."
So I understand why the Vikings have pursued Tomlinson. But if it doesn't work out, Young could be the guy.
March, 4, 2010
3/04/10
8:28
PM ET
We are entering a highly fluid time period, even by NFL standards, and so it's possible this post could be moot in a matter of minutes. But as of this moment, it appears Chicago is making a legitimate attempt to sign free agent safety
Antrel Rolle
.

Rolle
Arizona released Rolle earlier Thursday, making him immediately eligible to begin negotiating with other teams. The Cardinals could re-sign him, but the Bears are one team that would like to pry him away.
Brad Biggs of the Chicago Tribune
reports the Bears are "actively involved" in negotiations with agent Drew Rosenhaus.
Rosenhaus is typically a quick deal maker when a team reaches the number he is looking for. None of us can honestly handicap how likely Rolle is to end up in Chicago, but the Bears are making a big effort to make it happen.
March, 4, 2010
3/04/10
4:34
PM ET
Two Thursday afternoon developments of note:
1. San Diego's surprise decision to place a high tender on running back
Darren Sproles
likely removes one viable candidate from the class of running backs that will hit the free-agent market Friday morning, an advantage for pending free agent
Chester Taylor
.
The Vikings retain exclusive negotiating rights to Taylor for another seven hours or so. If he is unsigned at that point, Taylor will be in position to net a pretty decent payday if he wants.
Andrew Brandt of the National Football Post
suggests Taylor could fetch a deal similar to the four-year, $17 million contract Tampa Bay gave
Derrick Ward
last year. That deal included $6 million in guarantees.
2. Arizona's official release of safety
Antrel Rolle
puts him in position to be wooed by Chicago, among other teams. Contacted by
Brad Biggs of the Chicago Tribune
, agent Drew Rosenhaus said: "The Bears would be an attractive team. Stay tuned."
I imagine Rolle will have other suitors as well, but you can already see a major free-agent effort materializing in Chicago.
As always, stay tuned.
March, 4, 2010
3/04/10
9:17
AM ET
Chicago Bears

Potential unrestricted free agents:
Linebacker
Darrell McClover
, defensive end
Adewale Ogunleye
, running back
Adrian Peterson
, linebacker
Pisa Tinoisamoa
.
Potential restricted free agents:
Defensive end
Mark Anderson
, safety
Josh Bullocks
, safety
Danieal Manning
, linebacker
Nick Roach
, linebacker
Jamar Williams
.
Franchise player:
None
What to expect:
With no picks in the first or second round of next month's draft, the Bears are gearing up for a relatively major jump into free agency. They're expected to bid for defensive end
Julius Peppers
and possible safety
Antrel Rolle
and would also like to re-sign linebacker Pisa Tinoisamoa. Tight end
Brandon Manumaleuna
could also be a target. Manumaleuna played for new offensive coordinator Mike Martz in St. Louis.
Detroit Lions

Potential unrestricted free agents:
Linebacker
Vinny Ciurciu
, offensive lineman
Damion Cook
, quarterback
Daunte Culpepper
, tight end
Casey Fitzsimmons
, linebacker
Larry Foote
, tight end
Will Heller
, cornerback
Anthony Henry
, cornerback
Will James
, offensive lineman
Jon Jansen
, safety
Marquand Manuel
, quarterback
Patrick Ramsey
.
Potential restricted free agents:
Defensive end
Copeland Bryan
, offensive lineman
Dylan Gandy
, defensive lineman
Jason Hunter
, offensive lineman
Daniel Loper
, offensive lineman
Manny Ramirez
, safety
Ko Simpson
, linebacker
Cody Spencer
.
Franchise player:
None
What to expect:
The Lions aren't likely to be as active as they were last year, but general manager
Martin Mayhew
said over the winter that he could envision a five- or six-man free agent class. Running back, defensive end and defensive back are all positions they will investigate. They'll also need to find a backup quarterback, assuming Daunte Culpepper moves on.
Green Bay Packers

Potential unrestricted free agents:
Offensive lineman
Chad Clifton
, running back
Ahman Green
, linebacker
Aaron Kampman
, offensive lineman
Mark Tauscher
.
Potential restricted free agents:
Safety
Atari Bigby
, defensive back
Will Blackmon
, offensive lineman
Daryn Colledge
, safety
Nick Collins
, defensive end
Johnny Jolly
, running back
John Kuhn
, offensive lineman
Jason Spitz
, cornerback
Tramon Williams
.
Franchise player:
Defensive tackle
Ryan Pickett
What to expect:
The Packers will have a demanding offseason filled with difficult decisions. To this point, they haven't re-signed either of their starting offensive tackles. They are clearly approaching injured linebacker Aaron Kampman with caution. And they have a long line of restricted free agents who would like long-term contracts, starting with Pro Bowl safety Nick Collins. The Packers have more than enough to keep them busy, but they haven't dabbled much in free agency in recent years, anyway.
Minnesota Vikings

Potential unrestricted free agents:
Offensive lineman
Artis Hicks
, defensive tackle
Jimmy Kennedy
, cornerback
Benny Sapp
, running back
Chester Taylor
.
Potential restricted free agents:
Offensive lineman
Ryan Cook
, defensive end
Ray Edwards
, defensive tackle
Fred Evans
, safety
Eric Frampton
, quarterback
Tarvaris Jackson
, fullback
Naufahu Tahi
.
Franchise player:
None.
What to expect:
The Vikings are awaiting word from quarterback
Brett Favre
on the 2010 season, a decision that could impact their offseason plans. They would like tailback Chester Taylor back, but it's possible Taylor will at least test his value on the open market. As a Final Four team, the Vikings will be limited to signing players that have been released by other teams unless they lose one of their own unrestricted free agents first.
March, 1, 2010
3/01/10
10:15
AM ET
The following three notes arrived through the mailbag portal back-to-back-to-back over the weekend.
Chris of Madison Lake, Minn.: You think the Vikings will go after Antrel Rolle? That would shore up the safety position for sure with him and Antoine Winfield. What are your thoughts?
Joel of Minneapolis: I'm a Detroit fan. Just saw Antrel Rolle is being released. How would he fit in Detroit?
Enzo of Porto Alegre, Brazil: If the Cardinals really release Antrel Rolle, is there any chance he could arrive in Chicago?
What? No Green Bay fans want Antrel Rolle?
OK, let's go through the basics first. Arizona
will release
Rolle, a Pro Bowl alternate as a safety for the Cardinals, before he is due a $4 million roster bonus. It's possible he could return to the Cardinals, but he will be a free agent if, as my NFC West colleague Mike Sando
points out
, he clears waivers first. At that point, he'll be free to sign with any NFL team -- even those who finished in the
Final Eight
-- because he
won't be classified
as an "unrestricted" free agent.
This is the silly season in the NFL, the time when fans consider the players on other rosters more attractive than incumbents. But there's no reason to avoid a Rolle discussion with an NFC North context, especially given the questions directed our way. So let's go team-by-team, looking at the chances each NFC North team could sign Rolle, here as we await official word from Arizona.
Minnesota Vikings:
Joel is one of many Vikings fans who are jumping the gun on Antoine Winfield's move to safety. From everything I know, Winfield will remain a cornerback for the foreseeable future. His contract
contains a de-escalator
if he becomes a full-time nickel back in 2011, but there is no language about moving to safety that I'm aware of. Moving Winfield to safety is an option for the distant future.
I was
critical
of the Vikings' safety play at times last season, but I do think strong safety
Tyrell Johnson
deserves more time to develop. Rolle might be an upgrade over
Madieu Williams
, but that would require the Vikings giving up on a player they committed $13 million in guaranteed money two years ago. It's possible, but not likely. Rolle is worth watching from a Vikings angle only in the sense that he is among a smaller group of free agents they can sign even if they don't lose one of their own.
Chances: Not high.
Chicago Bears:
I think Enzo's suggestion makes the most sense. At the scouting combine, Bears coach Lovie Smith admitted "we need to improve the safety position" either by bringing in new players or at least increasing competition. I'm guessing they'll try the former.
Rolle has 12 interceptions and four touchdowns over his four-year career. I don't think he's a perfect player, but put in the right situation, he would be a significant upgrade for the Bears.
Chances: Pretty high.
Detroit Lions:
Rolle would be a decent complement to
Louis Delmas
, and certainly an upgrade over the revolving door the Lions used opposite Delmas last season. But at this point, it appears the Lions are
focused on acquiring
Antonio Cromartie
from San Diego.
There's nothing preventing the Lions from signing Rolle even if they do trade for Cromartie. But assuming they don't have unlimited financial assets, it might make more sense to balance out their offseason acquisitions to positions other than safety.
Chances: Possible.
January, 8, 2010
1/08/10
4:17
PM ET
We're no
closer to knowing
whether Arizona receiver
Anquan Boldin
(knee, ankle) will play in Sunday's wild-card matchup against Green Bay.
Boldin missed a third consecutive day of practice Friday but is listed as questionable on the Cardinals' injury report. By NFL definition, that means it's a 50-50 proposition. Boldin has been noted for playing with injuries on multiple occasions in his career, and Cardinals coach Ken Whisenhunt told reporters a decision won't be made until Sunday morning.
Here's how Boldin put it, courtesy
Tom Pelissero of the Green Bay Press-Gazette
: "If I can go, I'll be out there. I'm doing everything within my power to make sure I'm on the field Sunday. If I'm not able to go -- trust me, it won't be nothing that I didn't do. I have doctors at my house at night, poking and prodding, acupuncture -- everything that's possible. I'm trying to make sure that I'm on the field."
Cardinals beat writer Darren Urban, writing on the
team's Web site
, notes that Boldin's status "wouldn't even be a question" if this were a regular season game. Indeed, if Boldin plays, it will be an exceptional effort by a big-time player in a sudden death game.
Without Boldin, the Cardinals would rely more heavily on receivers
Steve Breaston
and
Early Doucet
.
The Cardinals also listed safety
Antrel Rolle
(thigh) and cornerback
Dominique Rodgers-Cromartie
(toe/knee) as questionable. But both players practiced Thursday and Friday and are expected to play.
Meanwhile, only one Packers player could miss Sunday's game because of injury. Safety
Derrick Martin
(ankle), primarily a special teams player, is listed as doubtful. Nose tackle
Ryan Pickett
(hamstring), who has missed three of the past four games, is probable.
January, 7, 2010
1/07/10
5:58
PM ET
Two of Arizona's three injured players got back on the practice field Thursday, but the most significant one remained sidelined.
That's the upshot of Thursday's injury report as we're now three days from Green Bay's wild-card matchup against the Cardinals. Receiver
Anquan Boldin
remained sidelined by knee and ankle sprains, and coach Ken Whisenhunt is appealing to Boldin's well-chronicled toughness.
Speaking to Arizona reporters
, Whisenhunt said: "He's proven time and time again … what he's all about as far as how tough he is and his ability to come in and play."
Safety
Antrel Rolle
(thigh) and cornerback
Dominique Rodgers-Cromartie
(toe/knee) participated in a limited portion of Thursday's practice after sitting out Wednesday. Both appear on track to play Sunday.
Meanwhile, the Packers had all hands practicing fully Thursday except for safety
Derrick Martin
(ankle).