NFC North:

Antuan Edwards
January, 30, 2013
1/30/13
4:00
PM ET
NFC West colleague Mike Sando is handling our coverage of
Randy Moss
' continued assertions that he is the best receiver in NFL history. Based on Twitter, at least, it seems clear that NFC North blog readers remain interested in Moss' comments as well as the larger issues they spawn.
[+] Enlarge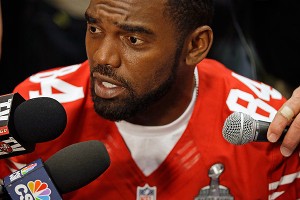 AP Photo/Mark Humphrey49ers receiver Randy Moss has scored 10 or more touchdowns in a season nine times.
During Super Bowl XLVII media access periods on Tuesday and Wednesday, Moss has struggled to explain why he believes he has been a superior player to Hall of Fame receiver Jerry Rice. There are no statistics to back his claim; Rice played longer, caught more passes for more yards and more touchdowns, and also won three Super Bowl titles.
To me, there is at least one subjective argument Moss could make -- one I think he was implying
with his quotes in Sando's latest post on the topic.
In short, Moss might well have changed the game to a greater degree than Rice did. To be clear, the West Coast scheme Rice helped popularize forced fundamental transformations from NFL defenses. But Moss has never been part of a revolutionary scheme. The changes he effected resulted from his unique individual skills. As Moss once joked during his time in Minnesota, the offenses he played in were best called "Moss, Go Deep."
As we discussed in 2011,
when he announced a retirement that became a one-year hiatus, Moss forced opponents to develop and enhance new coverages to cover him. At the time, brackets, clouds and regular safeties over the top were exotic defenses rarely seen in the NFL. Moss forced them on a weekly basis.
Moreover, at least one team -- the
Green Bay Packers
-- changed their draft philosophy in response to Moss' arrival in 1998. The following year, the Packers drafted three cornerbacks. Two of them, Mike McKenzie and Antuan Edwards, were at least six feet tall, a size range the Packers deemed better suited to defend Moss.
Here's how Moss put it Wednesday, via Sando: "… Do you understand what a Cover 2, two-man, 3 Cloud, Tampa 2 is?"
Moss suggested that those defenses made it tougher to put up the kind of numbers that Rice did.
"Well, I think over the course of my career," he said, "it's not very smart for an offense to design a whole offense [around me] knowing that I'm going to be taking two and three and four guys here and there, on each and every play. It's hard for me to be able to put up numbers knowing that I have multiple guys guarding me on plays. But what I've been able to do, I'm happy with it."
I don't think that element alone elevates Moss above Rice, nor does the fact that Rice played most of his career with Hall of Fame quarterbacks Joe Montana and Steve Young. (Moss said Wednesday, via
ESPN's Rick Reilly,
that: "Jerry Rice had two hall of fame QBs his whole career. Give me that and see where my numbers are." But this argument isn't as much of a landslide toward Rice as many would suggest.
August, 1, 2011
8/01/11
2:58
PM ET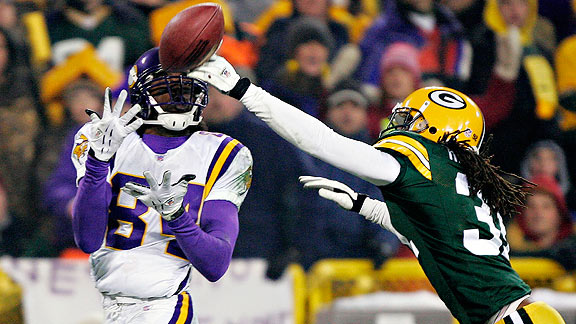 Brian Bahr/Getty ImagesRandy Moss' legacy is that he forced opposing defenses to devise new coverages and lineups.
GREEN BAY, Wis. -- Maybe it's appropriate that I was sitting at Lambeau Field when
Randy Moss
announced
his retirement
. No, not because Moss famously pretended to moon the crowd during a playoff game. It's because the
Green Bay Packers
were the first team to recognize that Moss had fundamentally changed the game.
As a rookie in 1998, Moss caught 13 passes for 343 yards and three touchdowns for the
Minnesota Vikings
in two games against the Packers.
In 1999, the Packers responded with the most transparent draft strategy imaginable: They selected a cornerback with each of their first three picks. Two of them,
Antuan Edwards
and
Mike McKenzie
, were over 6 feet tall. They landed in Green Bay with the specific hope of matching up against Moss, who at 6-foot-4 had dominated smaller cornerbacks throughout his rookie season.
As his career went on, opponents devised new coverages and exotic lineups in an attempt to slow down a unique physical specimen who referred to himself as "The Freak." Vikings offensive coaches often considered it a waste of time to scout their opponents' previous games because they never used traditional schemes against the Vikings when Moss was in the lineup.
[+] Enlarge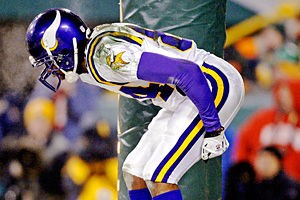 AP Photo/Morry GashRandy Moss famously pretended to moon the crowd at Lambeau Field.
These days, it's common to hear football people refer to having a safety "over the top" to cover the deep part of the field in case a receiver runs past the cornerback. It can also be known as a "bracket." These coverages were popularized because of Moss, whose combination of height and 4.35 speed made him uncoverable by one defender.
Rare is the player who can force draft decisions or schematic innovations, and to me that will be Moss' greatest legacy. I know there are many of you who think Moss will return to the game in the coming months, but I won't begin to try to guess what's going on inside his head. He is, however, fully capably of storming away from the game, never to be heard from again.
If Moss' career is in fact finished, he should go down as one of the best receivers ever to play the game.
As it stands, Moss is tied for second on the NFL's all-time list for touchdown receptions (153). He has the fifth-most receiving yards (14,858) and eight-most receptions (954).
History, of course, will intertwine Moss' football success with his personal failings. He wasn't an enigma, which most people associate with "unique." Moss was a flat-out mystery, and anyone who tried to figure him out was wasting brain cells.
On the 10th anniversary of
Korey Stringer
's death, I'm reminded of Moss sobbing hysterically at a nationally televised news conference. At the same time, I'm reminded that he once lost his temper in downtown Minneapolis traffic and felt compelled to nudge a traffic officer with his car.
I recall him tossing NFL awards in the locker room trash can. I can't avoid the conclusion that he undermined every coach he played for in Minnesota, including Dennis Green -- the man who put his own reputation on the line by drafting him in 1998. Moss' verbal harangue at a group of corporate sponsors on the Vikings' team bus enraged then-owner Red McCombs and played a role in Green's ultimate departure from the organization in 2001.
I will remember some hilarious interview moments, including the time Moss detailed how he taunted then-coach Mike Tice with words from a boyhood bully who once, in Moss' words, "broke Tice's face." In truth, Moss had no respect for authority and resented its existence.
His respect for the game was circumspect as well. Pro Football Hall of Fame voters shouldn't consider his off-field issues when discussing his candidacy, but they absolutely should note how often Moss loafed on plays that weren't designed for him and how, early in his career, he walked off the field before the game's conclusion in several instances.
Moss won't, and shouldn't, be elected to sainthood. There is no way to sweep away his stunning lack of personal decorum. In all ways -- on the field and off -- Moss was one of a kind.
I think he will be elected to the Hall of Fame. But even that day will be wrapped in mystery. I used to joke with colleagues that Moss would probably skip his enshrinement ceremony into the Hall of Fame. I don't actually think he will. But if there is anyone who would ...