September, 17, 2013
9/17/13
3:50
PM ET
MINNEAPOLIS -- The call for rookie receiver
Cordarrelle Patterson
to become a bigger part of the Vikings' offense, it seems, is getting louder.
When he was asked why the first-round pick only got five snaps in the Vikings' first game against the
Detroit Lions
, coach Leslie Frazier and offensive coordinator Bill Musgrave said the team had more in its playbook for Patterson than it got to use on a day where the Vikings ran just 39 plays in the first 3 1/2 quarters. Then Patterson ran the game's opening kickoff back 105 yards for a touchdown against the Bears on Sunday -- and got just six snaps.
[+] Enlarge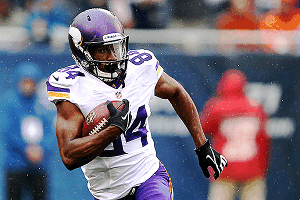 Jerry Lai/USA TODAY SportsVikings rookie Cordarrelle Patterson has shown glimpses of his potential, including a kickoff return for a TD against the Bears.
Frazier didn't mince words when asked about it on Monday.
"We're going to get that rectified," Frazier said. "He definitely deserves to be on the field more. He's shown that in the few snaps he's gotten in the first two ball games. Hopefully, everything being equal, that should not be a part of the conversation next week. We want to get him on the field. He's one of our explosive players, for sure. We see what he does when he gets the ball in his hands so we have to get him on the field."
It's not often Frazier is that frank in his calls for a certain player to see a bigger role in the game plan, and given the fact Frazier said it after answering a series of questions about how often he's willing to interject with his coordinators, it stands to reason that Patterson won't be so hard to find on the field going forward. It is interesting, though, that the Vikings have been so slow to use Patterson, given what they gave up to get him.
On draft night in April, general manager Rick Spielman was talking to reporters about the Vikings' other two first-round picks -- defensive tackle
Sharrif Floyd
and cornerback
Xavier Rhodes
-- when he got word that the
New England Patriots
were open to dealing the 29th overall pick to the Vikings for a second- , third- , fourth- and seventh-round pick. Spielman sprinted back to the Vikings' draft room, completed the deal and minutes later, Patterson was headed to Minnesota.
In making that trade, the Vikings effectively forfeited their chance to use one of their top picks on a middle linebacker after both Frazier and linebackers coach Mike Singletary said the team planned to go after one. Spielman said after the draft that Patterson was the only player the Vikings liked enough to move back into the first round and take, and in finalizing the Patterson pick, the Vikings assured themselves they wouldn't get Georgia linebacker
Alec Ogletree
(who went 30th overall to the Rams), Notre Dame's
Manti Te'o
(38th overall to the Chargers), LSU's
Kevin Minter
(45th to the Cardinals), Florida's
Jonathan Bostic
(50th to the Bears) or Kansas State's
Arthur Brown
(56th to the Ravens). Only Brown would have been available with the Vikings' second-round pick, but with two fourth-rounders, the team would have had some collateral to move up if it wanted a linebacker.
As it is, the Vikings have looked like they might need a little help at the position.
Erin Henderson
moved from weakside linebacker to the middle and has struggled his first two weeks (Pro Football Focus currently ranks Henderson 47th among the 50 inside linebackers who have played 25 percent of their team's snaps). The two Penn State linebackers the Vikings did draft -- fourth-rounder
Gerald Hodges
and seventh-rounder
Michael Mauti
-- haven't seen the field yet.
Desmond Bishop
, whom the Vikings signed in the offseason, is sitting behind
Marvin Mitchell
at weakside linebacker and has played just two snaps. And the two dual-threat running backs the Vikings have faced --
Reggie Bush
and
Matt Forte
-- posted 191 and 161 rushing and receiving yards against the Vikings, respectively.
None of this is to say the Vikings won't improve at linebacker or that Patterson won't become a bigger part of the game plan soon. But as much as the Vikings gave up to get him, and as highly as they valued his explosiveness both as a receiver and a kick returner, it's been interesting to watch how little they've used him in their first two losses, particularly when he's given them some glimpses of what he can do.
"We're well aware of his talents -- even on the smoke screen when we threw it out and he got 14 yards [on Sunday]," Frazier said. "He doesn't get lost. We'll get it rectified."
April, 12, 2013
4/12/13
4:55
PM ET
Earlier this week
, I posed a number of NFC North-centric draft scenarios to Scouts Inc.'s Steve Muench. Friday, I got the chance to do the same with ESPN draft analyst Todd McShay.
I'm going to spread McShay's answers over a few posts, but we'll start with his take on the middle linebacker situation after Georgia's
Alec Ogletree
. If Ogletree is drafted before the
Chicago Bears
' No. 20 overall pick, which is quite possible given his skill set, would any of the remaining middle/inside linebackers be worthy of a first-round draft pick? And who would be worth looking at later in the draft?
[+] Enlarge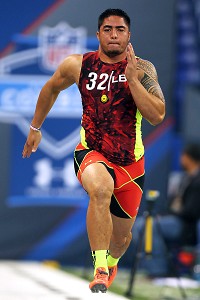 Brian Spurlock/USA TODAY SportsAfter Alec Ogletree "it's Teo and that's it," says Todd McShay of the middle linebackers worthy of a first-round pick.
The list of possibilities includes Notre Dame's
Manti Te'o
, LSU's
Kevin Minter
, North Carolina's
Kevin Reddick
, Oregon's
Kiko Alonso
and Kansas State's
Arthur Brown
. McShay was unequivocal in his answer.
"I think it's Te'o and that's it [in the first round]," he said. "I know specifically at least one other team that has Minter and Te'o neck-in-neck and are debating the two. But that's a 3-4 team, not a 4-3 team, and at least in my opinion Te'o fits better as a 4-3. …
"For 4-3 teams, I think Te'o would have the advantage, but Minter is not that far behind in some team's minds. After that, there is a bigger dropoff and you get into the third round before get into Kiko Alonso from Oregon or Kevin Reddick from UNC."
Minter, according to McShay, is "maybe on the same part athletically and quickness-wise with Te'o." But Te'o "diagnoses things a lot quicker when you watch the tape." In the end, Te'o has a better chance of being a three-down linebacker in the NFL than Minter does, McShay said, and that is what you would want if you're drafting an inside linebacker in the first round.
I asked McShay specifically about Brown, who many of you suggested would be a good fit for the Bears and Vikings given their schemes. McShay projects Brown as a middle- second-round value for teams who play the Tampa-2 scheme.
"He fits the Tampa 2," McShay said. "But you've got to cover him up. You have to cover up Arthur Brown. He is a speedser that can go sideline to sideline and you get guys out on him and he gets in trouble fast."
We've long since set an ESPN.com NFL blog network record for attention spent to middle linebackers in this run-up to the draft, and I'm sorry, but I'm not expecting it to end today. Hang on if you can.
April, 8, 2013
4/08/13
12:50
PM ET
New
Chicago Bears
linebacker
D.J. Williams
didn't officially
sign his contract until last Thursday
, and I've finally gotten a look at the specifics via ESPN Stats & Information resources. The structure of Williams' one-year, $1.75 million deal further confirms that the Bears don't view him as a long-term replacement for
Brian Urlacher
.

The contract does not include any guaranteed money. Williams' base salary is $900,000, and there are two sets of roster bonuses that will pay him $23,437 for every game he is on the 53-man roster and another $23,437 each time he is on the game-day 46-man roster. So if he is active for all 16 games, those roster bonuses would total $750,000.
There is also a $100,000 workout bonus tied to offseason work.
There are reasons why Williams was available for such a relative bargain. Most notably, he only played seven games last season for the
Denver Broncos
because of a pair of suspensions. But the Bears still got what
Matt Bowen
,
writing for ESPN Insider

, suggests will be a 2013 upgrade over Urlacher because of Williams' "short area change-of-direction skills and speed to the ball."
As with any business, NFL teams don't want to make any more of a financial commitment than they have to. In Williams' case, the only thing the Bears are required to do is devote a low salary-cap figure ($1.328 million).
And as we noted earlier Monday
, the Bears are hosting a potentially longer-term answer at the position in Kansas State's
Arthur Brown
. The Bears have kept all options open.
April, 8, 2013
4/08/13
10:35
AM ET
This draft season has harkened thoughts of the old days in the Black and Blue division: lots of middle linebacker talk. With half of the NFC North seeking long-term answers at the position, we've discussed some of the best-known middle/inside linebacker prospects in the draft, from Notre Dame's
Manti Te'o
to Georgia's
Alec Ogletree
.
The
Minnesota Vikings
hosted both Te'o and Ogletree last week at their annual "Top 30 event," and the
Chicago Bears
are bringing in another prominent prospect for a visit starting Monday. The Bears are getting a closer look at Kansas State's
Arthur Brown
, projected by
Scouts Inc. as a second-round draft pick

, according to
Jeff Dickerson of ESPNChicago.com
.
Brown has been
on the radar for a while
but he opened more eyes at Kansas State's pro day by running his 40-yard dash in the 4.56-4.66 range, according to Dickerson. Scouts Inc.'s Insider report notes that Brown is a bit undersized at 6-feet 3/8th-inches and suggested he is best suited for a system that "protects" its linebackers with two-gapping defensive tackles. On the other hand, his speed gives him "sideline-to-sideline range," according to the analysis.
From a bigger picture, Brown's visit indicates the Bears are not sitting pat at linebacker even after signing free agents D.J. Williams and James Anderson, a topic
we discussed last week
. Even if they intend for Williams to be their starting middle linebacker in 2013, they still need to make plans to find a longer-term replacement for Brian Urlacher.
April, 8, 2013
4/08/13
7:50
AM ET
We're Black and Blue All Over:
Last month
, Minnesota Vikings general manager Rick Spielman was asked if veteran punter Chris Kluwe would be with the team in 2013. Spielman wouldn't answer. Kluwe has the highest gross average (44.4 yards) in team history, but he was inconsistent last season and is entering the final year of his contract.

Late last week, there were indications that the Vikings have worked out one of the highest-rated punters available in the draft. On
his verified Twitter account
, LSU punter Brad Wing
re-tweeted a follower's wish
of good luck Thursday in a workout with the Vikings. Later Thursday,
Wing tweeted
: "Had a good workout today! #blessed."
Private workouts with punters aren't common, but there are several reasons why a team might want to follow up with Wing. He didn't punt at LSU's pro day last month
because of a strained hamstring
. Also, there is a character question to at least investigate after he was
suspended from the Dec. 31 Chick-fil-A Bowl for violating team rules
.
ESPN analyst Mel Kiper
lists Wing as the draft's second-best punter

. A native of Australia, Wing averaged nearly 45 yards per punt over two seasons at LSU. It's important to remember that workouts don't indicate a team's plan to draft a particular player. Sometimes they prompt a team to look elsewhere.
Continuing around the NFC North:
March, 20, 2013
3/20/13
10:45
PM ET
HIGH ABOVE THE UPPER MIDWEST --
Earlier this month
, we took a sneak peek at Mel Kiper's top five inside/middle linebackers in the 2013 draft. On the occasion of the
Chicago Bears
' decision to move on without
Brian Urlacher
, and with the
Minnesota Vikings
also in search of a new starter at the position, I figured I would revisit Kiper's ranking for those who didn't think it would be as relevant as it has become:
(Insider subscribers
can see the full Kiper analysis here
.

)
On Twitter, many of you are asking about Kansas State's
Arthur Brown
. Obviously, Kiper doesn't rank him among his top five.
Scouts Inc. rates him in its top 10

inside/middle linebackers and projects him as a second-round draft pick.
We discussed Te'o at the scouting combine, noting
his smooth performance
in a media setting
but a disappointing workout
. I left the combine under the assumption that Ogletree is
the best player at this position in the draft
, but his value has been affected by several off-field incidents in the past year, most recently a drunken-driving arrest.