March, 30, 2012
3/30/12
9:30
AM ET
By
ESPN.com staff
| ESPN.com
Chicago Bears
Bears GM Phil Emery is already
putting his stamp on the team
, writes the Chicago Sun-Times' Sean Jensen.
How will the Bears
utilize Devin Hester
in 2012? Lester A. Wiltfong Jr. at Windy City Gridiron examines the possibilities.
Detroit Lions
The Lions
aren't interested in trading
for Eagles cornerback Asante Samuel, reports NFL.com's Jason La Canfora.
Lions GM Martin Mayhew will
attend this weekend's Super Regional Combine
at Ford Field, which is expected to include more than 100 draft prospects, reports Dave Birkett of the Detroit Free Press. "Some of them [the prospects] have played at good schools and played good football and been productive, so I'm excited about who that crop of guys is, or who those players are. Looking forward to getting over there," Mayhew said.
Look for the Lions to
pick a developmental quarterback late
in the draft, writes Tim Twentyman for the team's website.
Green Bay Packers
Coach Mike McCarthy will
shake up his normal training camp practice schedule
after the new collective bargaining agreement banned true two-a-day practices, writes Tom Silverstein of the Milwaukee Journal-Sentinel.
Is automatic replay review for turnovers a
good rule change
? Packers.com's Mike Spofford and Vic Ketchman debate.
Minnesota Vikings
Matt Kalil, Morris Claiborne, and other top draft prospects are scheduled to attend
the team's annual Top 30 event
at the Winter Park practice facility, reports Jeremy Fowler of the St. Paul Pioneer Press.
Linebacker Chad Greenway told 1500ESPN.com that he thought
Roger Goodell made the right move
by coming down hard on the Saints for their bounty program. "I think you need to have them learn their lesson, and have it be a lesson to everybody else in the NFL that this is just not going to be happening," Greenway said. "Even though it may have been the culture 30 years ago, it's not the culture anymore, and the game has changed a lot."
July, 11, 2011
7/11/11
12:45
PM ET
In kicking off our summer
Calling Canton series
, we noted there are a number of ways for players to gain critical acclaim. Some generate immediate attention, others blossom later in their career and a few benefit from adjusted judgments over time.
A few of you tripped over that final category, but I think we have an excellent example in
Minnesota Vikings
cornerback
Antoine Winfield
. To be clear, I'm not including Winfield in this series. Fair or not, a player with three Pro Bowl selections in 13 seasons isn't likely to draw the serious attention of the voting committee.
[+] Enlarge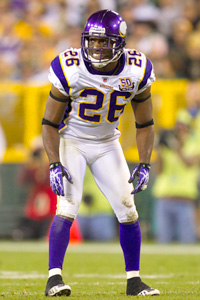 Jeff Hanisch/US PresswireAntoine Winfield has been a steady presence in the Minnesota secondary since joining the team for the 2004 season.
With that said, I'm happy to see Winfield benefiting from adjusted judgment over time in the final years of his career.
Cornerbacks with low interception totals are often bypassed for postseason awards, and Winfield played 10 years before his first Pro Bowl recognition. Even Winfield has admitted his Pro Bowl years weren't necessarily his best, but it takes time for some less tangible attributes to be evident on a national scale.
To that end, I thought
Sam Monson of Pro Football Focus
did an excellent job putting together a comprehensive analysis to demonstrate why and how Winfield is a special player. In describing him as the NFL's "most complete" cornerback of the 2010 season, Monson noted:
Winfield's well-known but often devalued tackling ability allowed him to lead the league, in PFF's analysis, in tackles by a cornerback that resulted in an offensive failure on the play.

He was not penalized last season, one of two cornerbacks with at least 1,000 snaps to do so.

PFF's film study revealed Winfield did not give up a touchdown last season, and the longest pass completed against him was 27 yards. Obviously there is some subjectivity to that analysis because only players and coaches know who was responsible for whom in coverage. Winfield allowed 7.8 yards per reception by this analysis, however, and on a relative scale the only cornerback with a lower figure was Asante Samuel of the Philadelphia Eagles. It's only fair to point out that Winfield's figure was skewed downward because of how often he lines up in the slot. The Vikings don't often match him up on the outside against speed receivers.

Winfield blitzed 32 times, picking up two sacks, seven pressures and one fumble/touchdown return against the Eagles.
Monson makes clear Winfield is not the best cornerback in the NFL, a point I would agree with. But the numbers illustrate a cornerback who tackles well, is disciplined if not elite in coverage and has playmaking instincts on the blitz.
Winfield has averaged 1.8 interceptions per season in his career, a figure that has often clouded judgment of his overall game. There are many observers, including some NFL coaches, who can't understand this late-career fascination. To me, it's overdue. It might sound strange, but here's what I've always thought: Winfield is a better football player than he is a cornerback.
April, 19, 2011
4/19/11
1:00
PM ET
From an NFC North perspective, I found myself in a bit of a box while power ranking the cornerback position this week.
[+] Enlarge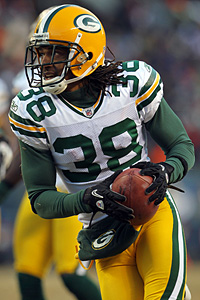 Jamie Squire/Getty ImagesTramon Williams' play down the stretch helped the Packers win Super Bowl XLV.
On more than one occasion last season, I suggested that cornerback
Tramon Williams
was the
Green Bay Packers
' top pass defender. In December, it was my contention that Williams
was the most deserving Pro Bowl candidate
in a Packers secondary that also included fellow cornerback
Charles Woodson
and safety
Nick Collins
.
It wasn't a slight on Woodson or Collins, but rather a belief that Williams had developed into an elite-level cover man who was probably a year or so away from national recognition of what we in the NFC North saw all season. So when it came down to voting, I felt I had to stay true to that belief -- Williams ahead of Woodson -- while also accounting for some of the other top cornerbacks around the NFL.
I felt pretty strongly about
Darrelle Revis
,
Nnamdi Asomugha
,
Asante Samuel
and
Champ Bailey
as my top four cornerbacks. So ultimately, the highest I could get Williams was No. 5 overall. It was the top ranking he received in an exercise that ultimately placed him No. 7. (Had I voted him lower, Williams would have finished no better than No. 8.) If there were any doubts about Williams' value, remember he sealed two of the Packers' four playoff games, including Super Bowl XLV, with strong plays on the ball.
But after placing Williams at No. 5, I was forced to give Woodson his lowest ranking at No. 6 overall. (He finished No. 4.) That left another deserving NFC North cornerback, the
Minnesota Vikings
'
Antoine Winfield
, at No. 7. Winfield finished No. 6 overall despite his absence on two ballots.
So in the end, my rankings helped maneuver Williams to a spot I strongly think he deserves and hurt neither Woodson nor Winfield. That's my story, and I'm sticking to it.
For the record, my full ballot is below. I didn't vote for
Chicago Bears
cornerback
Charles Tillman
, who appeared on one ballot and technically finished tied for No. 15 overall.
Darrelle Revis

Nnamdi Asomugha

Asante Samuel

Champ Bailey

Tramon Williams

Charles Woodson

Antoine Winfield
January, 24, 2011
1/24/11
10:00
AM ET
CHICAGO -- It's not surprising that
Chicago Bears
fans
are lashing out
over the knee injury that prevented quarterback
Jay Cutler
from returning to Sunday's NFC Championship Game. As would be expected, fans are angry and frustrated and found an easy target. It happens.
What has been stunning to me, however, is the volume of NFL players who joined the chorus. This might not have happened even two years ago, but the advent of Twitter has given players a voice at a time when they used to be out of the public eye and, like us, are caught up in the emotion of watching a game on television.
[+] Enlarge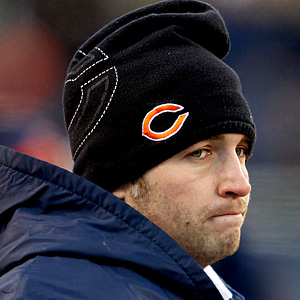 Jonathan Daniel/Getty ImagesJay Cutler spent the majority of the second half Sunday on the sideline.
As we noted Sunday
, Jacksonville Jaguars running back
Maurice Jones-Drew
said he thought Cutler should have finished the game. Colleague Mike Sando put together an item just of
NFC West players
who ripped him, from
Arizona Cardinals
defensive tackle
Darnell Dockett
to
Seattle Seahawks
linebacker
Aaron Curry
to Seahawks defensive end
Raheem Brock
-- who called him a "sissy."
Philadelphia Eagles
cornerback
Asante Samuel
wrote
Bears players should look at Cutler "sideways
." Jaguars linebacker
Kirk Morrison
wrote
: "If my knee was hurt or acl/mcl/pcl sprain, I would not be standing up on the sideline."
The criticism aimed at Cutler wasn't limited to current players. Former Tampa Bay linebacker
Derrick Brooks tweeted
:
BEARS fans I am so SORRY, I have to be crawling and cant get up to come off field,Josh Freeman would not come out, MEDS ARE AVAILABLE
Brooks followed-up that tweet with
the following
:
HEY there is no medicine for a guy with no guts and heart
Future Hall of Famer
Deion Sanders echoed
Brooks' remarks.
Folks i never question a players injury but i do question a players heart. Truth
It should be noted that no NFC North players have jumped into the fray; they have played Cutler more often than any other group. And Bears players were ruthless in defending him. We noted the angry responses from center
Olin Kreutz
and linebacker
Brian Urlacher
on Sunday.
Via Twitter
, safety
Chris Harris
wrote:
I will defend my QB all day. He was injured and he couldn't go. No one on our team questions his toughness POINT BLANK! He's a tough SOB

To all of u assaulting Jay's toughness. Are we 11-5 and NFC North Div Champs without him? No I think not. Please think before tweeting!
Thanks to social media, this really is an unprecedented situation. To have a wide swath of players criticizing another in real time, without the benefit of first-hand knowledge of the situation, is both dangerous and fascinating. What did Jones-Drew or Dockett or Brock base their opinions on? I'm guessing it was the mentality that players share of playing through injuries when at all possible.
So what do we make of the conclusions so many of them drew? Did they observe some kind of sideline activity that suggested Cutler wasn't injured enough to leave the game? Did the circumstances of the game mandate a different set of injury standards? Would Cutler have been better off flopping to the turf and then being been helped off the field?
If there were simply one or two players speaking out, maybe you could write them off as extremists. But the cross-section that we've already heard from suggests Cutler's departure struck a true nerve not just among fans but among his peers as well. Part of me wonders if it was more an indictment of Cutler's standing with his peers than it was a serious questioning of his toughness. If you don't like someone, you're going to be much less likely to give him the benefit of the doubt.
As we
discussed Sunday
, I'm not sure it's fair to Cutler. But this thing has gotten too big for rational thought and cooler heads to prevail. Time will tell whether the sting fades or if Cutler's reputation will take a permanent hit.
November, 29, 2010
11/29/10
12:00
PM ET
After the Chicago Bears' 31-26 victory against the Philadelphia Eagles, here are three issues that merit further examination:
Kevin SeifertThe Chicago Bears take their turn in the examination room after beating Philadelphia.

Hooray to whoever convinced offensive coordinator Mike Martz to re-balance his offense and keep it that way. Sunday, the Bears once again kept an opposing defense honest with enough use of their running game. Bears tailbacks Matt Forte and Chester Taylor combined to carry on 20 of the team's offensive snaps. (Devin Hester had one run and quarterback Jay Cutler scrambled seven times.) I don't care that Taylor finished with -3 yards. Forte's 61-yard run in the first quarter surely caught the Eagles' attention, and thereafter Cutler had a field day with play-action passes. Three of his four touchdown passes came after a fake to a back, notes ESPN Stats & Information. That's why you don't ignore the run game.

The Bears benefited from the absence of Eagles cornerback Asante Samuel. Before Sunday, the Eagles had not given up a touchdown to the right side, where Samuel typically lines up. ESPN Stats & Information reports that Eagles opponents were completing 47.5 percent of their passes with three interceptions in that direction over that stretch. With Samuel sidelined by a knee injury Sunday, however, the Bears completed 71.4 percent of their passes to the right side, including three of their touchdowns. Take that for what you will.

The Bears defense did exactly what the Tampa 2 is designed to do: Discourage opposing quarterbacks from taking deep shots down the field. Vick's desperation 30-yard touchdown pass to tight end Brent Celek, a pass that middle linebacker Brian Urlacher nearly batted down, was the Eagles' longest play of the game. For the most part, the Bears kept the Eagles offense in front of them. Entering Sunday, 34 percent of Vick's attempts had traveled at least 11 yards in the air. Sunday, according to ESPN's Stats & Information, that figure was 27 percent.
And here is one issue I don't get:
Since joining the Bears last season, Cutler has thrown at least four touchdown passes in three games and four interceptions in three others. Are those numbers simple by-products of each other? Are they the unavoidable epitome of a high-risk, high-reward gunslinger mentality? Or is Cutler simply that inconsistent? The answer is probably both. Whenever we suggest Cutler has turned a corner, either toward consistently fewer mistakes or complete Armageddon, he produces a game that reverses the trend. I'm inclined to believe that Sunday was a "Good Jay" day and that some "Bad Jay" days loom somewhere on the horizon, but no one can know for sure.
November, 27, 2010
11/27/10
12:57
PM ET
By
ESPN.com staff
| ESPN.com
Philadelphia Eagles
cornerback
Asante Samuel
(knee) has been ruled out for Sunday's game against the
Chicago Bears
at Soldier Field.
The Eagles will play without either of their Week 1 cornerbacks.
Ellis Hobbs
went on injured reserve this week because of a neck injury.
Samuel's absence rids the Bears of the Eagles' top turnover threat. He has seven interceptions this season.
November, 26, 2010
11/26/10
4:54
PM ET
Getting inside a pretty light Friday injury report:
Chicago Bears:
Nada. That's right. The Bears listed no players on their final injury report of the week. Linebacker
Pisa Tinoisamoa
(knee) was removed, meaning all 53 players will be available for Sunday's game against the
Philadelphia Eagles
. The biggest injury question of this game is whether Eagles cornerback
Asante Samuel
(knee) will be able to play. He is officially listed as questionable but didn't practice all week.
Green Bay Packers:
Safety
Atari Bigby
(hamstring) had already been ruled out. Safety
Anthony Smith
(ankle) was listed as doubtful, so it's likely the Packers will enter Sunday's game against the
Atlanta Falcons
with three healthy safeties.
Jarrett Bush
would be the primary backup to starters
Nick Collins
and
Charlie Peprah
. All other players should be available.
Minnesota Vikings:
Receivers
Sidney Rice
(hip) and
Bernard Berrian
(groin) are listed as questionable. But interim coach Leslie Frazier said Rice "is going to be fine" for Sunday's game against the
Washington Redskins
. Berrian's status will be determined Saturday. Cornerback
Chris Cook
(knee) was added to the injury report and listed as questionable. If he can't play, the Vikings probably would use
Frank Walker
at nickel and
Lito Sheppard
in the dime.
January, 21, 2009
1/21/09
6:48
AM ET
Posted by ESPN.com's Kevin Seifert
Here's a somewhat ominous sign if you're following the Minnesota Vikings' drive for a new stadium. Voters in the tiny town of Industry, Calif., approved $150 million in infrastructure improvements Tuesday to the site where a billionaire developer wants to build an $800 million privately-financed stadium.
The next step is for city officials to certify the plan. If they do, developer Ed Roski will have what he needs to begin building if and when a team agrees to move to the Los Angeles area. (The NFL is aware of the plan but has yet to endorse it.)
The Vikings are unlikely to get approval for a new stadium in Minnesota this year, leaving them with two years remaining on their lease at the Metrodome. Owner Zygi Wilf has pledged not to move, but his stadium point man suggested last month Wilf could "throw in the towel" and sell to someone who might move if a Minnesota stadium is not approved.
The big issue has always been whether the team will have legitimate leverage if it does eventually threaten to move. Tuesday's developments put them one step closer.
Continuing around the NFC North:
January, 4, 2009
1/04/09
6:20
PM ET
Posted by ESPN.com's Kevin Seifert
MINNEAPOLIS -- Some halftime observations from the Metrodome:
Minnesota did a nice job rebounding from Asante Samuel's interception return. Quarterback Tarvaris Jackson collected himself and led a 64-yard drive, culminating in Adrian Peterson's three-yard scoring run. The Vikings have the ball to start the second half after deferring the opening kickoff, and are in decent shape considering the mistakes they've made.
Among those mistakes: Giving the Eagles another possession at the end of the half. The Vikings took over with 1:10 remaining, and Philadelphia had only one timeout. Perched at the 13-yard line, coach Brad Childress made the understandable decision to run the clock out. But an incomplete short pass on second down stopped the clock, allowing the Eagles to get the ball back with 29 seconds left. Philadelphia didn't score, but those are the kinds of exchanges that often decide playoff games.
The Vikings have given up 37 rushing yards with nose tackle Pat Williams sitting out, at times using a three-man defensive line. The Eagles have thrown 19 passes against only nine runs, minimizing the loss of Williams.
Receiver Bernard Berrian's juggling 27-yard reception converted a third down and set up Peterson's second touchdown. That play, coming at the Vikings' low moment following Samuel's score, might be most responsible for keeping the Vikings in the game.
Still waiting for an explanation on why Childress turned down that holding penalty in the first quarter.
January, 4, 2009
1/04/09
5:57
PM ET
Posted by ESPN.com's Kevin Seifert
MINNEAPOLIS -- You won't see a more inexperienced throw than the one Minnesota quarterback Tarvaris Jackson just delivered into the hands of Philadelphia cornerback Asante Samuel.
I suppose it's possible that receiver Sidney Rice broke toward the sideline late or ran his pattern too deep. But it sure looked like Jackson telegraphed the sideline throw. Samuel easily detected it and raced 44 yards for a touchdown. The play gave the Eagles a 16-7 lead and totally deflated this Metrodome crowd.
It's one of the few rookie-like throws Jackson has made since returning to the starting lineup. But needless to say, it couldn't have come at a worse time for Minnesota.
January, 4, 2009
1/04/09
11:24
AM ET
Posted by ESPN.com's Kevin Seifert
This is more of an NFC East story line, but it's worth noting that Philadelphia cornerback Asante Samuel is expected to start Sunday afternoon at the Metrodome.
Samuel, who was named to the Pro Bowl for the first time this season, injured his hip in practice Thursday and had been listed as questionable. You would think Samuel will spend much of the game locked up with Minnesota receiver Bernard Berrian.