March, 10, 2011
3/10/11
10:45
AM ET
It's probably worth your time to listen to
this podcast
of
Detroit Lions
defensive end
Kyle Vanden Bosch
, who spoke this week with the
Tennessee Titans
' radio network. I think it will help you understand some of the intangibles the Lions picked up when they signed him as a free agent last season, as well as illuminating the key team role he could play this offseason.
[+] Enlarge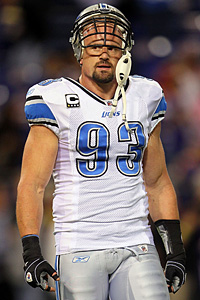 Jeff Gross/Getty ImagesDetroit Lions defensive end Kyle Vanden Bosch has been a leader of the defense in the midst of a possible lockout.
Vanden Bosch said he has organized group workouts for Lions players in the Detroit area if a lockout takes place. (During a lockout, all conditioning and any other player contact would be banned at team facilities.) They could range from lifting sessions to 7-on-7 drills, he said, and presumably would include drafted rookies if a lockout extends that long.
"We've taken some big steps," Vanden Bosch said. "We ended last season on a high note. We need to continue to take those steps. Regardless of the labor situation, my responsibility, as a captain and a leader of this team, is to make sure we're moving forward."
Players from many NFL teams have made similar plans, but given the Lions' meandering leadership in recent years, I wonder if anyone else would have taken charge this offseason the way Vanden Bosch has. There is no doubt he was a big part of the Lions' elevated defensive line play before injuring his neck last season, but
I remain convinced
that Vanden Bosch's top contribution was adding a new level of intensity and leadership to the defense and locker room.
"Anybody that's been around Kyle Vanden Bosch understands why I was at his doorstep last year," Lions coach Jim Schwartz said last month at the scouting combine.
If there is a lockout, Vanden Bosch will be busy organizing Lions team events. But he said he could also make time for a wrestling match against
New York Jets
linebacker
Bart Scott
, who recently made a TNA wrestling appearance. In 2008, you might remember, Vanden Bosch organized "KVB Birthday Brawl" with NFL players and TNA wrestlers in Nashville. The event raised $90,000 for charity.
"There's no question I'd win," Vanden Bosch said. "Bart Scott, I guarantee you he can get on the microphone and he can definitely out-talk me. But if it came down to just pure wrestling, I'd whoop him."
January, 16, 2011
1/16/11
8:15
PM ET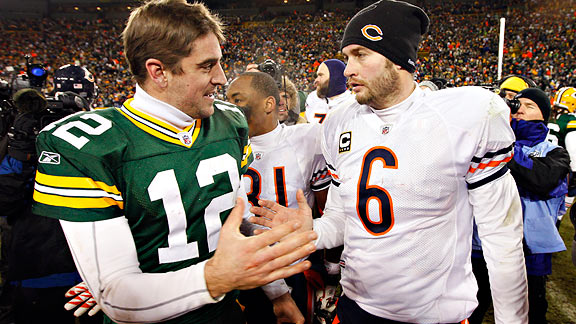 AP Photo/Mike RoemerPackers QB Aaron Rodgers and Bears QB Jay Cutler share text messages off the field, not insults.
CHICAGO --
Chicago Bears
safety
Chris Harris
was jogging off the field last month in Green Bay when he stopped Packers receiver
Donald Driver
.
"I said, 'We'll see y'all in Chicago in the NFC Championship Game,'" Harris recounted Sunday after the Bears secured their spot in that game with a
35-24
divisional playoff victory against the
Seattle Seahawks
.
"I had a feeling that they would make it," Harris added. "I was very confident in what we could do, so we got that rematch."
To me, that encounter illustrated everything the run-up to Packers-Bears III will -- and won't -- be.
You'll hear about two teams that have peaked in the playoffs. The Packers have won four consecutive "elimination games," dating to Week 16 of the regular season, while the Bears have scored at least 35 points in five of their past six contests.
You'll hear more history than you probably ever associated with professional football. The Bears and Packers have played 181 games against each other, dating to 1921. The Bears hold a 92-83-6 advantage, including the only playoff meeting between the rivals.
But it would be a shock if you hear any of the raw trash-talking that took place last week between the
Pittsburgh Steelers
and
Baltimore Ravens
. I would be stunned if you hear any of the threats that shuttled between the
New York Jets
and
New England Patriots
.
The Packers and Bears are direct division competitors, and it can get ugly between their fans. (A "Green Bay sucks" cheer surfaced in the second half at Soldier Field.) But from a player perspective, I don't sense anything close to the hatred that exists between those AFC teams.
In this rivalry, players stop before, during and after games to chat and exchange friendly barbs. Packers quarterback
Aaron Rodgers
has often expressed his appreciation to Bears quarterback
Jay Cutler
for helping his brother get assimilated at Vanderbilt University. And Sunday, Cutler acknowledged he sent Rodgers a congratulatory text message this weekend after the Packers' 48-21 divisional playoff victory against the
Atlanta Falcons
.
"I'll probably have a few text messages from him, so we'll have friendly banter, I'm sure," Cutler said.
About the worst thing anyone in the Bears' locker room could muster was this from linebacker
Brian Urlacher
: "It's our closest rival. They're right up the street, so it's a big deal. We have a lot of history with them. I think it's the oldest rivalry in NFL history, so it's a big deal. We don't like them. They don't like us. I'm sure there's going to be a lot of hype around this game building up to it."
Indeed, there will be ungodly hype, especially on this blog. From this point forward, I'm tagging this game
"Epicenter of Humanity."
So I don't want to minimize how big and fun this is going to be for fans and media members alike.
But I also think it's important to draw a distinction between the history and physicality of Bears-Packers games and the kind of silly, attention-grabbing verbosity that consumed the AFC games last week. Sorry, the Packers and Bears don't hate each other.
"I don't think there is hatred," Bears place-kicker
Robbie Gould
said. "We have a lot of respect for their organization and they have, I'm sure, a mutual respect for us. It's just that they're not going to like us and we're not going to like them -- this week."
There is a big difference between that sentiment and the kind that left Jets linebacker
Bart Scott
threatening to end the career of Patriots receiver
Wes Welker
. Scott's comments came after Welker seemingly went out of his way to take subtle shots at Jets coach Rex Ryan. It might have been entertaining to some people. But to me, the regular season is
the time for sideshows
. The playoffs are all about the games.
We are by no means holier than thou here in the NFC North. But I don't think anyone is going to be making any jokes this week about the other team, either. From a football perspective, this is too good of a matchup to waste time on mind games.
"We just look at this as another obstacle," Packers cornerback
Charles Woodson
said Saturday night about the possibility of playing the Bears. "It doesn't matter who we're playing. The object is to win. Whoever it is, we look to play our game and come out on top."
Bears cornerback
Charles Tillman
, a veteran of eight years of these games, said he'll look at this game as "Bears-Packers." With a smirk and wide eyes, Tillman added: "But I think the media will create 'IT'S BEARS-PACKERS. THE BIGGEST RIVALS IN HISTORY OF THE NFL SINCE 1900-SOMETHING.' I think at the end of the day it's still football. They're a great football team. They're in the playoffs. ... If you flip a coin, it's 50-50."
We're in an age where prominent players shift teams often via free agency and trades. They share agents and train together in the offseason regardless of team affiliations. In fact, Rodgers and Tillman have been a part of an offseason training group in California. NFL players sport far more commonalities than differences, and I'm always skeptical when they express hatred for teams or players based simply on affiliations.
To me, Harris got it right. This week will be the Epicenter of Humanity for us, but for the players it will simply be another week of playoff intensity.
"This will be great for TV," Harris said. "FOX is probably licking its chops. ... [But] it will be very respectful. We're not a team that does a lot of trash talking. We'd rather show it on the field. They're the same way. Two teams that definitely respect each other. Maybe I'll have a dislike for them, but you don't have to publicly come out and tell how bad we hate them, or whatever the case may be."
As a blog community, we most definitely are going to get it on this week. The players? Let them know when it's Sunday.
March, 14, 2009
3/14/09
12:00
PM ET
Posted by ESPN.com's Kevin Seifert
For your peace of mind, I've separated this week's mailbag into two categories. You'll see "Objections to the Matthew Stafford/ESPN Research post" on Sunday. Today is "All Others."
Jessie of Sacramento writes: I'm a lions fan who has the opinion that we should draft matthew stafford. however, many of my fellow lions fans believe aaron curry should be the pick. now while i know he's going to be a stud in the NFL, his contract may be too large to be drafted at number 1. if he gets number 1 money, he will be instantly the highest paid LB in the league. how could anyone possibly justify picking him at 1 then? what kind of a contract would you expect him to demand at #1?
Kevin Seifert: That's an interesting angle to take. The NFL's rookie pay scale is so out of whack that the No. 1 pick almost always becomes one of the league's highest-paid players at his position. If Curry goes No. 1, he would be in line for a contract that includes about $30 million in guaranteed money. That's more than twice what Baltimore linebacker Ray Lewis got in his latest contract. As it stands now, the league's highest-paid linebacker is Bart Scott of the New York Jets, who got $22 million guaranteed in his new contract.
---
Steve of Burlington, Ontario, writes: Do you anticipate the Lions releasing their new logo and colors prior to the draft to boost new jersey sales... hopefully Curry jerseys...they seem to be treating it like a bride on her wedding day and us long suffering fans are the groom. Give us something. We've been waiting for over a decade.
Kevin Seifert: The whole situation has been curious. Teams often acknowledge that they are planning a change to help build anticipation toward an unveiling, but the Lions have just been pretty quiet on the topic. There has been a lot of circumstantial evidence -- a big sale on 2008 merchandise and an apparent slip of the tongue by newcomer Grady Jackson -- but nothing definitive. The Lions will want to have this resolved one way or the other before the draft. Here's one cynical suggestion: Keep the old uniforms for one more year, forcing those who want to root for the No. 1 overall pick to buy an old one in 2009 and a new one in 2010.
---
Josh of Tuscaloosa writes: Kevin, I am a student at the University of Alabama and a Packer fan! My insight from a student stand point is that Andre Smith let his team down in their biggest moment. He is not the most loved guy on campus, or in the state for that matter. However, I can say that before he went somewhat off the deep end, he as far as we know was a model citizen here. Nick Saban has cracked down hard on players who don't tow the line but Andre was never one of those until January. I think he is young and dumb to be honest. His work ethic IS a problem. He is blessed with tremendous skill, I have watched him destroy opponents, but maybe he never took that skill to the weight room. My second part of this is as a Packer fan. As much as I want Andre to succeed, I DO NOT WANT HIM TO BE A PACKER. If you did not know, Ted Thompson was here right across the street from me. I know that he was here for Andre. Andre is not the answer to Cheeseheads' prayers Kevin. Thank you for your wonderful work. Have a good day!
Kevin Seifert: You're right, Josh. Ted Thompson himself was at the Alabama pro day, and I would imagine he wasn't happy to see Smith so out of shape. This will be a classic risk-reward decision. There seems to be little doubt that Smith can play the game. And offensive linemen don't necessarily have to be in Olympic shape to play at a high level. But what Thompson will have to determine is whether Smith's lack of conditioning is a result of laziness, bad advice or the need for a change of scenery. I just think what Smith has shown on tape is enough to merit a long look at him with the No. 9 overall pick.
---
Mike of Sacramento writes: Thanks for the breakdown on Andre "You Gonna Eat That?" Smith's chances of falling to the Packers at pick 9. I think we'd be better off going with defense on the first pick, then trying to get Beatty out of UConn. On that note, the ol' married couple of Kiper/McShay amazingly have formed a consensus in their latest mock that Tyson Jackson out of LSU is the best DE prospect in this year's draft for a 3-4 defense (they both have him going to Denver at 12). With Cullen Jenkins having injury problems and Johnny Jolly's interactions with Texas law enforcement, would it be considered a reach for the Packers to take Jackson at the 9 slot? Keep up the great work.
Kevin Seifert: Actually, Kiper likes Texas' Brian Orakpo as an end and McShay is high on Penn State's Aaron Maybin. I won't pretend to try to break down the pluses and minuses of Jackson, Maybin and Orakpo other than to say I think the Packers should draft the best pass-rusher and not necessarily the one they believe fits best into a 3-4 alignment. Get the player, then design a scheme around him.
---
Steve of Rochester writes: Kevin, I find the speculation that Jay Cutler might be available to the Vikings via trade very intriguing since I've had a private theory that in the 2006 draft Vikings coach Brad Childress was hoping to draft Cutler. Many thought Cutler was the best prospect but was predicted (correctly) to be the 3rd QB taken that year. In 2006 the Vikings had the 17th pick. Should be good enough to get the 3rd QB selected, right? After all in 2005 the 2nd QB (Rogers) was not drafted until the 24 selection and no team from the 11-16 picks should be looking to draft a QB in the first round. But the smarter Shanahan traded up from the 15th pick to the 11th to ensure that he would get Cutler. There goes Childress' franchise QB that he was going to brilliantly pick up in his first draft as an NFL head coach. So the Vikings, in a panic, have to trade up to take Jackson in round 2. Childress can't say he blew it with missing Cutler so he tells everyone (and himself) that he can mold Jackson into a starting QB. Your thoughts?
Kevin Seifert: Sounds like a good theory to me, although I've never had anyone tell me that in so many words. I think the Vikings were genuinely interested in Cutler back then, but they also put in a lot of work on Tarvaris Jackson. I believe they thought there was a pretty good chance they wouldn't get Cutler -- and/or wouldn't be willing to trade up to get him -- and would have to look elsewhere for a quarterback. That all said, I continue to think the Vikings would be silly not to explore every possibility if Cutler becomes available.
---
Alex of Kenosha, Wis., writes: Kevin: Huge Minnesota fan. Are the Vikings going to throw any money around this offseason? I know they were going for TJ, and lost out on Nate Washington. Harrison and Garcia are still out there, any chance they will give either of these guys a look? Thanks. Alex.
Kevin Seifert: After trading for Sage Rosenfels, I'd be shocked if they pursued Jeff Garcia. As for receiver, I'm guessing they're going to look at the draft. That could change if Torry Holt is released as expected, but at this point I'm not sensing any desire on their part to spend money just for the sake of spending.
---
Niraj of Chicago writes: Hi Kevin, I've been extremely disappointed that my beloved Chicago Bears have done next-to-nothing in the free agency market. Do you have any indication why this has been the case? Thanks, Niraj.
Kevin Seifert: What, you didn't like the Josh Bullocks signing? My only guess is that the Bears have committed themselves to getting better with their own players, especially the ones they signed to lucrative extensions last summer. That includes Lance Briggs, Brian Urlacher, Devin Hester and Tommie Harris. They chose to put their money into those players, and very few teams spend lavishly on their own players while also acquiring big-name talent on the free-agent market as well.
---
Brad of Collinsville writes: Kevin, what is your view about Chicago's Quarterback situation. Do you think their sitting around and letting good prospects escape them or do you think they might be thinking about Michael Vick, since he might have 4 or 5 years good playing time left in him and that he is very athletic in the way he can run out of the pocket.
Kevin Seifert: No, I think they are committed to giving Kyle Orton one more year to prove himself. If he falters in 2009, you'll see a more aggressive search for a new quarterback. I assume.
---
Holgate writes: What are the chances of the Lions passing on a Qb with the first pick, and possibly landing Matthew Stafford or Mark Sanchez with the 20th pick they have in the first round?
Kevin Seifert: These things change every day, but as of now I'd say it's pretty unlikely either guy would be available at No. 20.
---
Tom of Midland writes: Kevin, read the blog daily and love it. Thanks! Here's a question. Why don't the Lions have an all out 2009 defensive draft. I'm talking no QB's, no OL's, just defense. We scored a decent number of points last year and even with switching quarterbacks every week. Look at the Ravens. They get pretty far with a lot of defense and a little O. That would shore up our D for years to come!
Kevin Seifert: Interesting. The only flaw is I think the Lions do need some work on the offensive line. They're not in shambles there, but the strength of the offensive tackles class means they should really take advantage to shore up that position. Otherwise, I agree the Lions have many more needs on defense than they do on offense.
---
John of Winston-Salem writes:
With Cassel going for the #34, and Cutler upset in Denver. Is it even a reasonable speculation that Detroit could trade for Cutler by swapping their #1 for Denver's #12 and #48?
Kevin Seifert: So, basically, the Lions would get Cutler and a second-round pick in exchange for moving down 12 spots in the first round. I think it's going to take more than that. Cutler has more of a pedigree than Cassel at this point.