NFC North:

Bengals-Vikings 121309
December, 13, 2009
12/13/09
7:42
PM ET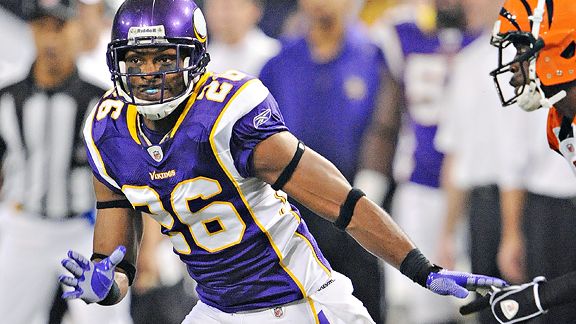 Tom Dahlin/Getty ImagesAntoine Winfield picked up where he left off as the NFL's best tackler.
MINNEAPOLIS -- A few minutes passed Sunday before
Antoine Winfield
arrived at his moment of truth. It had been two months since he last attempted a tackle, a gap caused by a slow-healing sprained foot. So on a third-down play during Cincinnati's second series, Winfield saw a screen play coming his way.
"I've pretty much perfected the art of tackling," Winfield said. "I wrap up. Usually when I hit you, you'll go down."
But no one knew if that would be the case when the Vikings' Pro Bowl cornerback finally returned to the field. Would he pick up where he left off as the NFL's best tackler? Would he be rusty? Would the foot hamper his movement?
Winfield answered those questions and much more as Minnesota clinched a playoff berth with
a 30-10 victory over Cincinnati
. After catching the screen pass, Bengals tailback
Brian Leonard
attempted to jump over a pile of potential tacklers. Winfield grabbed his leg and pulled him down for no gain. The play was the first of Winfield's nine solo tackles in the game, the key part of a defensive effort that harassed the Bengals' offense into its worst game of the season.
The Vikings' defense has played winning football without Winfield. But Sunday, there was little doubt about how he elevates it to another level. As you can see in the chart below, the Bengals managed only 36 yards on the nine plays where Winfield made the tackle. He stopped the ball carrier short of a first down on seven of those plays.
Perhaps the most significant instance came just before halftime, when Winfield upended Leonard on another pass and forced a fumble. The Vikings recovered in time for
Ryan Longwell
to kick a 44-yard field goal, giving Minnesota a 16-7 lead at halftime and permanently swinging the momentum of the game.
"When you lose a key guy like Antoine, there is just a void on your team," defensive coordinator Leslie Frazier said. "You can't fill those voids. There are intangibles that guys bring to the position that you can't see on paper. You might have another guy in there, but he can't make the kind of splash plays that an Antoine Winfield can make. It has a domino effect and makes everybody better."
Indeed, Winfield helped the Vikings hold what has been a potent Cincinnati attack to a season-low 210 yards. Minnesota also dramatically improved its perimeter run defense with Winfield in the lineup.
According to ESPN Stats & Information, the Vikings entered Week 14 allowing the second-highest average per rush (4.8) outside the numbers of the field this season. Although Bengals tailback
Cedric Benson
rushed for 96 yards on 16 carries, most of the damage came in the middle of the field. The Bengals averaged 2.7 yards outside the numbers.
"Those are the kinds of things you miss from him," Vikings coach Brad Childress said. "Those splash plays that happen on the edge when he approaches a sweep, usually those are lost yardage plays. It has a tendency to elevate the rest of the defensive guys."
That seemed to occur even in the passing game, where the Bengals smartly schemed themselves away from Winfield. But fellow cornerback
Cedric Griffin
limited receiver
Chad Ochocinco
to three receptions for 27 yards while also teaming with Winfield for two key plays early in the fourth quarter.
The Bengals were threatening to make it a one-score game after getting a first-and-goal at the 8. Winfield diagnosed their second-down play, abandoning coverage on a tight end to stop Benson for a 5-yard gain. On third down, Griffin knocked away a pass intended for Ochocinco in the end zone.
"Antoine is just an exciting player," Griffin said. "We feed off of him and his intensity."
Winfield, in fact, said he hoped to bring "energy" to the defense after watching from the sidelines as it got steamrolled last week in Arizona.
"Last week," he said, "we didn't really feel it and came out and got our butts whupped. Today was different."
Although Winfield's injury isn't likely to heal completely until after the season, there's little doubt he brought the Vikings a big lift at the lowest point of their season. Defensive end
Jared Allen
, for one, said the Vikings have "so much confidence" when Winfield is on the field and defending the perimeter.
They also have a few more laughs.
Winfield had everyone smiling in the second quarter when he dropped an easy interception at midfield. After watching the replay on the Metrodome video board, Winfield dropped to the ground and performed 10 pushups. A sellout crowd of 63,854 roared in approval.
"That's the thing I just automatically thought to do," he said. "In practice, when you drop a ball, you go down and get your 10 pushups in. I mean, the ball hit me right in the chest."
It was his only mistake during an otherwise glistening return. There was no doubt Sunday. Winfield is back.
December, 13, 2009
12/13/09
4:07
PM ET
MINNEAPOLIS -- For the second consecutive season, Minnesota is in the playoffs.


That's the bottom line after Sunday's action in the NFC North, which included the Vikings' convincing victory over Cincinnati. Minnesota never trailed in the process of handing the Bengals their first loss to a North team -- NFC or AFC -- this season.
Green Bay's victory at Soldier Field prevented the Vikings from clinching the NFC North, but at 11-2 they secured at least an NFC wild-card berth. Their magic number to win the division is now 1, meaning they can clinch next Sunday with a victory at Carolina or a Packers loss at Pittsburgh.
The Vikings haven't won more than 10 games in a season since 2000.
We'll have plenty more about the Vikings' dismantling of the Bengals in a few hours. I thought it was one of their best defensive performances of the season, especially after getting steamrolled in Arizona last week. The return of cornerback
Antoine Winfield
(nine solo tackles) made a huge difference. Meanwhile, tailback
Adrian Peterson
set a franchise record with his 13th and 14th rushing touchdowns of the season.
Back with you a in a bit.
December, 13, 2009
12/13/09
3:21
PM ET
MINNEAPOLIS -- I'll preface this with the usual "we have a long way to go" caveat. But while we have a moment, let's just set the stage here in the NFC North.

Minnesota is holding a 16-point lead here in the final minutes of the third quarter at the Metrodome. Green Bay is trailing Chicago by one point at Soldier Field.

If the Vikings win and the Packers lose, Minnesota will clinch the NFC North championship. Even if the Packers win, the Vikings can clinch a playoff spot with a victory. We'll keep you updated.
December, 13, 2009
12/13/09
3:07
PM ET
MINNEAPOLIS -- Minnesota tailback
Adrian Peterson
just scored from a yard out to give the Vikings a 23-7 lead. But I thought it was quite appropriate when coach Brad Childress first congratulated backup tailback
Chester Taylor
on the sideline.
Taylor turned in three big plays on the drive, converting two third downs with receptions that totaled 33 yards and also busting a 17-yard run to put the Vikings in the red zone. Taylor is perpetually the forgotten man in the Vikings offense, but he routinely makes critical conversions during the course of the game.
The Bengals could certainly come back from this deficit, but we're approaching the point of the game -- midway through the third quarter -- when they'll have to go to a pass-only mentality to do it. The Vikings' NFL-leading pass rush often has its way in those situations.
December, 13, 2009
12/13/09
2:47
PM ET
MINNEAPOLIS -- A few halftime thoughts from the Metrodome:
The Vikings established a cushion on the scoreboard by converting two field goals in the final 38 seconds of the half, the latter after a bizarre stretch of game management from the Bengals. I have no idea why Bengals coach Marvin Lewis didn't use one of his two timeouts during his team's final possession, but it cost his team.
Vikings cornerback Antoine Winfield continued celebrating his return by upending Bengals running back Brian Leonard and forcing a fumble with 4 seconds remaining. Linebacker Chad Greenway recovered at the Bengals' 26-yard line to give Ryan Longwell a 44-yard field goal opportunity.
Unofficially, Winfield has four solo tackles in his first game in nearly two months. He also dropped a sure interception in the second quarter, but had the Metrodome crowd on its feet after he dropped to the ground to do pushups in mock punishment.
We're on pace for more penalties than we saw in Monday night's game at Lambeau Field (23). Cincinnati had eight in the first half and Minnesota had five. That puts us on pace for 26 penalties if my Black and Blue math is accurate.
The Bengals have 56 yards rushing against Minnesota's E.J. Henderson-less defense. For what it's worth, it looks like outside linebacker Ben Leber is calling the defensive signals -- not rookie linebacker Jasper Brinkley.
Minnesota quarterback Brett Favre made a slick play to buy time on a 9-yard touchdown pass to receiver Sidney Rice. But overall, this has not been one of Favre's sharpest games. He's thrown one interception and had another dropped. Overall, he's completed 11 of 20 passes for 118 yards.
Favre's biggest gainers have been short passes to tailback Adrian Peterson, who has three receptions for 40 yards. Peterson has 57 relatively quiet rushing yards.
December, 13, 2009
12/13/09
2:20
PM ET
MINNEAPOLIS -- Cincinnati managed 32 total yards on its first four possessions before moving 82 yards on its fifth possession, which ended with a strange-looking 15-yard touchdown pass to receiver
Chad Ochocinco
.
(If Ochocinco plans a celebration, we haven't seen it yet.)
It appeared that Ochocinco was preparing to run a reverse behind quarterback
Carson Palmer
before he stopped, pivoted toward the sideline and caught a swing pass. No Vikings defensive player was with 10 yards of him at the time, and Ochocinco cruised into the end zone.
I thought the Vikings defense had been doing an excellent job against the Bengals' unbalanced line, filling every hole, but Palmer found his form on that drive. We've got a 10-7 ballgame here with about 3 minutes left in the half.
December, 13, 2009
12/13/09
1:35
PM ET
MINNEAPOLIS -- We've seen at least one play here at the Metrodome where Minnesota quarterback
Brett Favre
clearly missed receiver
Percy Harvin
.
On a 3rd-and-5 situation at the Bengals' 36-yard line, Favre was under heavy pressure and didn't have much time to scan the field. More than anyone else in 2009, Harvin has been his target in those situations.
But with Harvin sitting out this game because of migraine headaches, Favre forced the ball toward receiver
Bernard Berrian
. Cincinnati cornerback
Leon Hall
stepped in front of Favre to make a pretty routine interception.
Both offenses have been out of sort so far in this game. For his part, Favre has missed on four of his first five throws.
December, 13, 2009
12/13/09
10:39
AM ET
MINNEAPOLIS -- Greetings from the Metrodome press box, where things got off to a hectic start but just took a fun turn.

Ochocinco
As we noted earlier, it already appears evident that Minnesota receiver
Percy Harvin
won't
play against Cincinnati
because of migraine headaches. One receiver who will play, however, is the Bengals'
Chad Ochocinco
, who has already found and "confronted" Minnesota mascot Ragnar.
As you might remember, Ochocinco said earlier this week that he wanted to steal Ragnar's Viking horn and motorcycle when and if he scores in this game. Ragnar responded with a
challenge of his own
. At about 10:15 a.m. ET on Sunday morning -- almost three hours before kickoff -- a few of us noticed Johnson checking out the "
Gjallarhorn
" on the Vikings' sideline.
A moment or two later, Ragnar came out of a tunnel good-naturedly gesturing toward Ochocinco. The two men hugged, spoke for a minute and then parted ways. I tried to take a picture with my cell phone, but apparently cell phone cameras aren't good from 200 yards away.
I'm told by reliable sources that the Gjallarhorn will be locked up during the game. Ragnar? It appears that he's ready to participate in any skit Ochocinco might have cooked up. Stay tuned.
December, 13, 2009
12/13/09
10:14
AM ET
MINNEAPOLIS -- Barring a last-minute change of plans, Minnesota receiver
Percy Harvin
will miss Sunday's game against Cincinnati.
ESPN's Adam Schefter
and correspondents with NFL Network, among other news outlets, are reporting the news.

Harvin
Harvin has been dealing with migraine headaches and didn't practice all week, Needless to say, it would be a significant loss for the Vikings. Among many other roles, Harvin has been quarterback
Brett Favre
's favorite target on third down. Through 12 games, Favre has targeted Harvin on 35 third-down passes -- fourth-most in the NFL.
Veteran backup
Greg Lewis
is the likeliest player to serve in Harvin's role as the third-down/slot receiver. Punt returner
Darius Reynaud
would also be in line for more playing time and could fill in for Harvin on kickoff returns as well.
We'll know Harvin's status for sure at about 11:30 a.m. ET. The same goes for Vikings cornerback
Antoine Winfield
, who told
ESPN's Rachel Nichols
this morning that he's ready to return after missing six games with a foot sprain.

NFC NORTH SCOREBOARD
Thursday, 9/4
Sunday, 9/7
Monday, 9/8