July, 3, 2012
7/03/12
7:00
AM ET
We're Black and Blue All Over:
Minnesota Vikings coach Leslie Frazier is spending this July 4th week in the Persian Gulf,
visiting U.S. troops as part of a USO tour
. Former NFL coaches Bill Cowher and Eric Mangini, now television analysts, are also among the group.

From an Associated Press story:
"Frazier said when he got back, he'd remind his daughter that whenever she sees servicemen and women, to thank them. And he won't have much patience if his players gripe about the heat during training camp.

'It just puts in perspective that there's nothing you should ever complain about,' he said."
We're in the midst of the only downtime that NFL coaches have during the year -- the time between the end of offseason workouts and the start of training camp. There are lots of ways to spend that time, but I would imagine Frazier couldn't find anything more rewarding.
Continuing around the NFC North:
February, 2, 2011
2/02/11
3:48
PM ET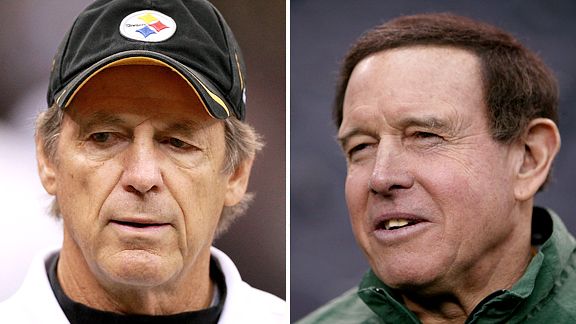 US Presswire/Getty ImagesTwo of the NFL's most-experienced defensive coordinators -- Pittsburgh's Dick LeBeau, left, and Green Bay's Dom Capers -- will square off Sunday in Super Bowl XLV.
IRVING, Texas -- On a bitterly cold day two years ago, Mike McCarthy pulled up to Green Bay's Austin Straubel Airport to meet a candidate for his open defensive coordinator job. Dom Capers stood waiting with two bags. One was an overnight suitcase. The other, in McCarthy's words, was "a humongous bag of books."
"Let's just say he's old school," McCarthy said.
Within those spiral-bound books were Capers' football life and the symbol of everything he's about. Some were nearly 20 years old, including the original 3-4 defensive scheme that he and longtime collaborator Dick LeBeau wrote in longhand when both were with the
Pittsburgh Steelers
in 1992. They contain philosophical tomes, terminology and as many as 21 diagrams per page. Those who have original copies say the margins are littered with edits in LeBeau's or Capers' handwriting.
Super Bowl XLV will feature two of the most innovative defensive coordinators in NFL history. Neither uses a computer for much more than ambient light in a dark office. In a victory for old-schoolers everywhere, they have surrounded themselves with technology-savvy assistants who, in Capers words, "take care of the computer stuff for me" while they handle the important and irreplaceable tasks of critical thinking and planning.
"It's kind of funny," Capers said. "The young guys now are computer gurus, so they come to a job interview with a computer. But Dom still comes in with a bag full of notebooks. You do something a certain way and you know how you like to do it, and that's the way I learn and prepare to call a game. I need it in terms I understand."
(For clarity's sake, yes, Capers referred to himself in the third person in the preceding quote.)
You might expect such reluctance from LeBeau, who at 73 is the NFL's oldest defensive coordinator. Capers, on the other hand, is still spry at 60. But he long ago passed on the computer age that has overtaken the NFL, and to this day still hand-writes every game plan and compiles his own postgame statistics by manual arithmetic.
Technologically stuck sometime in 1982, Capers refers to "computer printouts" and doesn't care to distinguish the difference between a USB card -- which players now store their playbooks and game film on -- and what he calls a "computer chip."
"I'm always teasing him," Packers defensive line coach Mike Trgovac said. "He works up these stats and everything after the game. He's hand-drawing them himself and working them all out. I always tell him, 'Hey, the computer can figure that all out in two minutes.' But he's just got his way to do it. You can punch that into the computer in one second. But he's not going to do it. He's not going to change the way he does it, because it works."
Capers' current "computer guy" is Packers quality control coach Scott McCurley, 30. Every Monday, McCurley walks into Capers' office and sets up a series folders on his computer desktop. One might contain files of game video, another might have a practice schedule.
"Then he can double-click on whatever he wants and is off and going," McCurley said.
To be clear, we aren't attempting to paint Capers as a bumbling or washed-up figurehead. In speaking to people about him this week, it was a joy to discover the value of a timeless scheme that had enough staying power that it drove two teams to the Super Bowl 18 years after it was devised.
Yes, in 1992, new Steelers coach Bill Cowher hired Capers as his defensive coordinator and LeBeau as his secondary coach. Marvin Lewis was the linebackers coach. Together, they literally wrote the scheme that both teams will play in Sunday's game.
"I think history has proven that we had some good ideas," LeBeau said.
Depending on who you ask, the notebooks that comprise the scheme add up to anywhere from 750-900 pages. Packers safeties coach Darren Perry, whom the Steelers drafted in 1992, has an original copy.
"It's my bible," Perry said. "You know you have an original when you see their handwriting. Nothing in it is typed out. ... If it's a new book you can tell it's typed. If you get an original, it's handwritten."
There have been revisions and tweaks, most of which are based on the reports Capers hand-writes after every game. But at the same time, Capers gives his assistants the latitude to present and teach the scheme on their own terms.
"We've had numerous talks about updating our installation schedules," Trgovac said. "You have to know your players, and these guys grew up playing Madden football. They're not used to 'X' and 'O's' on a sheet of paper. They need those kinds of graphics to understand. As coaches, you have to keep up with these players, what they do and how they learn. Dom does a good job of surrounding himself with guys to do that."
When you see the Packers' defense jog onto the field Sunday, rest assured they will be guided neither by statistical tendencies nor computer "readouts." Their game plan will be the work of a man who literally wrote the book on this system, a man who sat at a desk last week with a pen and an bag of multicolored highlighters and wrote down his plan to help win a Super Bowl championship. Based solely on his own knowledge, instincts and a file of reports from every game he has coached, Capers will almost certainly make a call or two that the NFL has never seen.
Occasionally, he'll pull linebacker
Desmond Bishop
aside with an idea.
"He'll write down something in what looks like chicken scratch," Bishop said. "But it's amazing how he can point to something that you never, ever would have seen on your own. That's how locked in he is with this defense."
It's all there for the reading, quite literally in black and white. No readouts. No computer chips. Just a man, his brain a pen and paper. How novel.
November, 22, 2010
11/22/10
3:08
PM ET
EDEN PRAIRIE, Minn. -- We've reviewed the
presumed thought process
of Zygi Wilf and
the tenure
of former
Minnesota Vikings
coach Brad Childress. We're going to shift gears to interim coach Leslie Frazier after his 4 p.m. ET news conference. In the meantime, here are some random thoughts pinging through my brain:
I'm stunned at how many people are hoping/believing that quarterback Brett Favre will follow Childress out the door. (Favre said Sunday that he would re-evaluate his future after a 31-3 loss to the Green Bay Packers). Many of you are clamoring for Frazier to bench Favre and give backup Tarvaris Jackson a chance. Come on. The only coach in the NFL who considered Jackson a viable long-term starter got fired Monday. Do you really think Frazier's first decision as a head coach will be to put his career in Jackson's hands?
As ESPN.com's John Clayton noted last week, the buyout on Childress' contract is relatively reasonable considering he signed an extension just over a year ago. The Vikings will owe Childress the remainder of his 2010 salary, plus $6.6 million to cover the 2011 and 2012 seasons.
Clayton is working on a speculative list of candidates to replace Childress on a permanent basis, of which Frazier is one. I'll say this off the top: Wilf will have to make substantive changes to his leadership structure if he wants to hire a veteran, accomplished coach. As of now, the Vikings' coach shares responsibility with vice president of player personnel (Rick Spielman) and vice president of football operations (Rob Brzezinski). It's doubtful that a Jon Gruden or Bill Cowher would agree to work under that structure.
While we're on that topic, here's another thing to consider about the attractiveness of the Vikings' head-coaching job: They have no long-term answer at quarterback. Quarterback issues are the No. 1 coach-killer in the NFL.
Atlanta Falcons coach Mike Smith might want to start looking for real estate agents. Surely he knows that his next opponent, the Packers, have now gotten two consecutive head coaches fired. First it was the Dallas Cowboys' Wade Phillips, then it was Childress. Now Smith is on the Packers' hot seat. After that, we'll have Mike Singletary of the San Francisco 49ers and Jim Schwartz of the Detroit Lions. Not saying anything. Just sayin.'
More in a bit.
November, 22, 2010
11/22/10
2:06
PM ET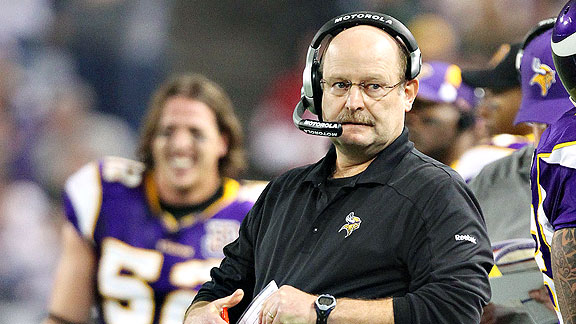 AP Photo/Andy KingBrad Childress had a cold and distant relationship with his players even when the team was winning.
EDEN PRAIRIE, Minn. -- Five years ago, the
Minnesota Vikings
swept up Brad Childress during what they believed was a frenzied, multi-team competition for the man they considered the hottest coaching candidate on the market. They flew him into town less than 24 hours after firing Mike Tice and kept him sequestered in a Twin Cities hotel while they half-heartedly interviewed the remaining candidates on their list.
Owner Zygi Wilf triumphantly lauded Childress as a disciplinarian who would restore order to the franchise on and off the field. "Brad Childress is a winner," Wilf famously said.
But Wilf could never answer the follow-up question: How do you know?
At 49, Childress had never been a head coach at any level. He had been the offensive coordinator of the highly successful
Philadelphia Eagles
, but coach Andy Reid called almost all of the plays over that period. Childress' ability to relate with players was also a debatable proposition; among other stories, it was public knowledge that mercurial receiver
Terrell Owens
had asked Childress to stop talking to him during the 2005 season.
If I had to sum up why Childress failed in Minnesota, my tight answer would include those two reasons. He had a distant relationship at best with players, feuding with most key veterans at one point or another. And his schemes were uninspiring and rigid, routinely minimizing the skills of talented players.
Few coaches bring both of those disparate skills to the table, but having one can usually mitigate the need for the other. You can inspire players to excel by reaching them personally, or you can put them in position to play well with smart schemes that maximize their skills.
Childress, however, did neither consistently. It's true that his teams won consecutive NFC North titles, something that hadn't happened in Minnesota since 1977-78. But starting with his first season and continuing through those title years, we heard the same complaints about his program.
Veteran quarterbacks from
Brad Johnson
to
Kelly Holcomb
to
Gus Frerotte
chafed in an offense they believed could have been much better if allowed more in-game freedom. When
Brett Favre
brazenly freelanced last season, Childress angrily
considered benching him
.
That rigidity wasn't limited to quarterbacks, however. In 2006, Childress minimized receiver
Marcus Robinson
because his best route -- the fade in the end zone -- wasn't a part of his red zone offense. The scheme provided no avenue to get tailbacks
Adrian Peterson
and
Chester Taylor
on the field at the same time.
If you searched hard enough, similar whispers could be heard before Childress' arrival. I doubt Wilf heard any of them. Why? His coaching search committee included no one with a football background. The primary interviewers were Wilf, his brother Mark, vice president of football operations Rob Brzezinski and vice president of operations Kevin Warren.
Brzezinski and Warren are experts in their fields, but neither was qualified to assess if Childress' football acumen was as good as advertised. It's almost as if they assumed it based on Childress' stature as a "hot" coaching candidate. I once asked a high-ranking team official this question: Whom did you use for the "football" portion of the interview, the part where Childress' schematic and actual coaching talents would be measured?
The answer?
Hall of Fame coach Bud Grant, who had been retired for 20 years. My understanding is that it was a cursory conversation, and it's interesting to note that Grant has always been silent about Childress and his performance.
Some successful coaches channel Bill Belichick, attempting to out-think and out-scheme opponents. Others emulate Bill Cowher, whose motivational skills kept his teams playing hard for more than a decade. Childress didn't fall in either category, and ultimately that's why his players turned on him this season. They felt neither inspired nor challenged.
Childress began clashing with players on a personal level early in his first season, starting with cornerback
Antoine Winfield
, and even in the best of times had what players described as a cold and distant relationship.
Without a foundation of trust and loyalty, Childress watched as his players reached near-mutinous levels at the first sign of adversity this season. It
led to a confrontation
with receiver
Percy Harvin
, among many other incidents. It all culminated Sunday when the Vikings sideline fell into chaos during a 31-3 loss to the
Green Bay Packers
. It's rare when you see a coach keep his job under those conditions.
Childress did make a positive impact in many areas of the organization, cleaning up his team's off-field behavior and professionalizing the team's organizational culture. But without a so-called hook to hang his hat on -- an attribute that could help him navigate tough waters -- he ultimately failed.
November, 16, 2010
11/16/10
11:13
AM ET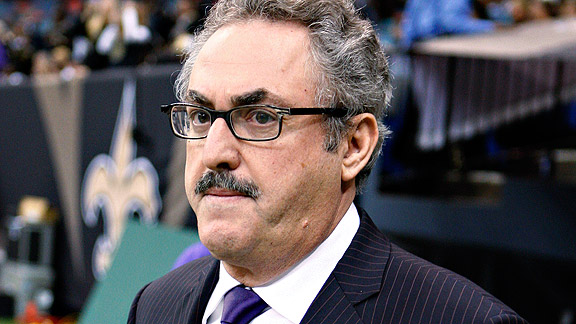 John David Mercer/US PresswireVikings owner Zygi Wilf values organizational continuity and isn't one to make rash personnel moves.
It's time for the spotlight to shift in Minnesota. During the highly scrutinized past few weeks, we've confirmed all we need to know about Vikings coach Brad Childress -- for better and for worse. (And yes, there are factors on both sides.) Further examination would only repeat the previous points.
So as Childress' tenure continues, it's fair to ask what owner Zygi Wilf is thinking and what it says about his stewardship of the franchise. After all, the window seems shut on firing Childress with an eye toward salvaging the 2010 season. It's not happening this week, and if it's prompted by a loss Sunday to the
Green Bay Packers
, the next coach would be saddled with a near-hopeless 3-7 record.
To be sure, the Vikings' disappointing season doesn't necessarily mandate the dismissal of a coach who has won consecutive NFC North titles. But Wilf's resistance to change, even amid a nationally watched soap opera, reinforces what I would call his aggressive approach to continuity since purchasing the team in June 2005.
Those hoping or believing Wilf would fire Childress after the bungled acquisition of receiver
Randy Moss
are ignoring history. For the most part, Wilf has worked hard to retain his organizational leaders and seems determined to avoid quick-trigger decisions that often define professional sports. (His 2006 dismissal of former personnel chief Fran Foley after three months of work has proved an aberration and was prompted by other members of the organization.)
[+] Enlarge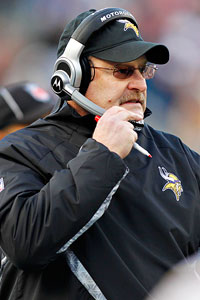 Greg M. Cooper/US PresswireUntil this season, Brad Childress had improved the Vikings' record every year since he was hired.
Vice presidents Rick Spielman and Rob Brzezinski have received at least two new contracts apiece in the past five years, and Childress re-signed through 2013 during last season's 12-4 campaign. The Vikings' current vice presidents of finance, marketing, public affairs and operations all date to Wilf's first days of ownership or before.
Wilf doesn't often speak publicly and rarely offers deep insight into his operation. But as Childress begins another week of game preparation, let's take some guesses at what Wilf is thinking and where he might be going with the football side of his franchise.
Wilf has a unique business background, having assumed control of a real estate company founded by his father and uncle. His principal partners are his brother, Mark Wilf, and cousin, Leonard Wilf. The loyalty and management style derived from a family business are instructive when analyzing the Vikings' coaching situation.
When disagreement arises between family members with relatively equal stake in a company, dismissal or departure aren't options. Issues are worked through, and I believe that is what Wilf thinks he is doing now. Childress was Wilf's hand-picked coach in 2006, and he is hoping the coach can navigate the franchise through a rough patch.
In the big picture, Wilf views Childress as a coach who accomplished one of his biggest goals: Cleaning up off-field player behavior that culminated in the 2005 Love Boat cruise. On the field, Childress improved his record in every season from 2006-09, earning the extension. I don't think Wilf is willing to abandon the results of those first four years based solely on a stumble in the fifth.
Many people have noted the $12-plus million Wilf would owe Childress if he fired him. Based on how he has thrown around money during his ownership, I don't think that figure is anywhere near the top of the list of why Childress remains employed. Much more important, at least to Wilf, is the symbolic commitment Wilf made in executing the deal.
Wilf grew up and remains a huge football fan, and he proudly applies those sensibilities to his management of the Vikings. But there are different categories of fans, and Wilf clearly resides under the eternally hopeful category much more often than the knee-jerk reaction group. The most recent example was Wilf's ecstatic response to the Vikings'
27-24 comeback victory
Nov. 7 over the
Arizona Cardinals
.
Afterward, his face flush, Wilf stood at the door of the Vikings' locker room and greeted each player and coach with a version of the phrase "great heart!" His conviction of the Vikings' potential that day was obvious, overshadowing all of the well-chronicled issues Childress has encountered with players, game management and his offensive scheme.
That's my read on Wilf's mentality over the past few weeks. If you want to be more cynical -- and I'm always up for a good conspiracy theory -- you could suggest that Wilf already knows he will replace Childress after the season and that he doesn't want presumptive interim coach Leslie Frazier to succeed him. For all we know, Wilf could already be studying the available candidates -- Super Bowl winners Bill Cowher, Jon Gruden and Brian Billick are all in hibernation -- with an intention to pounce after the season.
If he fires Childress now and Frazier executes a miracle turnaround, Wilf might feel compelled to hire him permanently even while casting his gaze elsewhere. I have no idea if that's actually the case, but we shouldn't rule out the possibility that Wilf has a larger plan already in place.
Why? Because in November 2005, about two months before he fired coach Mike Tice, Wilf dispatched several team officials to a clandestine meeting with agent Bob LaMonte. At the time, LaMonte represented Childress and then-
Philadelphia Eagles
personnel executive Tom Heckert.
The day after they fired Tice, the Vikings flew Childress to Minnesota for an interview and worked feverishly to do the same with Heckert, who ultimately re-signed with the Eagles and is now the
Cleveland Browns
' general manager.
Again, I have no evidence that a similar contingency plan is under way now. But if you want to know why Childress remains employed, you should know it fits with Wilf's larger management style. Wilf is patient, but he is far from passive. I don't think he'll stand for long-term underperformance, but to this point it's clear he doesn't classify Childress in that way.
August, 20, 2010
8/20/10
3:50
PM ET
My efforts to unload the notebook from our 2010 training camp tour coincided nicely with
Friday's SportsNation chat
. First, the relevant exchange:
jason (south carolina)

If lovie is out at the end of the year is Bill Cowher next in line

Kevin Seifert (2:22 PM)

An interesting line of thought has developed about that. Lovie Smith is signed through the 2011 season. So if they fire him after this year, they'll still owe him one more year's worth of salary. With a lockout looming, many people think no teams will be looking to pay two coaches (the fired one and the new one). So, the lockout could earn Smith one more year.
I've been meaning to touch on this issue ever since ESPN's Adam Schefter wrote
this July 31 postcard
from the
Chicago Bears
' training camp. The opening theme of Bears camp centered on the win-or-else mandate that coach Lovie Smith appears to be facing. Schefter suggested the situation might not be that simple:
Should there be an extended lockout, which many around the league anticipate, it will make it difficult for any team to change head coaches, be it in Chicago or Cleveland or Jacksonville.

The reasoning is simple: When coaches are fired, new coaches must be hired. And when new coaches are hired, new offenses and defenses must be implemented. But a new coach cannot implement his program when players are locked out and cannot learn their new systems, as they well could be.

Thus Smith's future, as well as the future of any other head coach on the hot seat, could be tied to the lack of a new collective bargaining agreement. As long as there is no football, it will make it difficult to have any firings.
I'm sure this is the last thing Bears fans want to hear -- something other than wins and losses could affect football decisions -- but I'm sure it makes a lot of sense to some NFL owners.
December, 26, 2009
12/26/09
10:00
AM ET
I appreciated your seemingly genuine interest in this week's
Have at It topic
and found your responses laced with thought.
When we asked which NFC North franchise is closer to the playoffs, Chicago or Detroit, a few of you felt compelled to inject the standard cheap shot/dose of realism.
Larry1811D
put fair words to that sentiment: "You need to take into consideration that Detroit's organization just doesn't know how to produce a winner. They've only had fleeting successes in their entire history. That puts the odds in the Bears' favor ... as much as I hate to say it."
Similarly,
adambballn
suggested that the Bears "seem to have a cycle where they're bad for a couple years then get things going again." On the other hand, wrote adambballn, "The Lions just lose. They excel at losing."
But when you actually sat down and compared the tangible situations, many of you believe the Lions leading this race because they've already taken the first step in a rebuilding process both franchises appear to need. The Lions have their coach in place, wrote
jrick45
, while the Bears seem destined for future change. Coach Jim Schwartz is "the man for the job," jrick45 wrote, meaning the Lions "already have their coaching staff set … whereas Chicago will have to start that process and implement a new system all over again."
Even with the Lions' present and future coach in place, a change in Chicago could accelerate the Bears' fortunes because they have a shorter path back to the playoffs. Wrote
smartaleck99
: "A coaching change in Chicago would go a LONG way to making their shot at the playoffs better. Would [Mike Shanahan] or [Bill Cowher] make them better? I would think certainly."
From a personnel standpoint, many of you agreed that both teams have work to do on both lines. But from the big picture, wrote
machinemankse
: "It's safe to say youthful talent contributes greatly to the future of any team. That said, the Lions have more of it than the Bears and will only accumulate more in the 2010 draft."
The Bears, wrote
CASPIANMAFIA
, have been falling for a while and haven't finished: "It seems that this trend in Chicago has been building for some time. I blame Jerry Angelo more than anyone else. The trading of all these picks seem to me like a last grasp to try and hold on."
My take?
I can't disagree that the Bears could take a further (albeit temporary) step back if they change coaches this offseason. I'm assuming that if they decide to pay coach Lovie Smith $11 million to leave, they're not going to pay Shanahan or Cowher another $8 million to $10 million annually to replace him. So the Bears' next coach is more likely to be a lesser-known candidate whose success will be more difficult to predict.
And it's true that the Lions have some interesting offensive parts, including one -- a legitimate No. 1 receiver -- that the Bears do not. But I'm always more interested in the state of a team's offensive and defensive lines. And to that end, I think the Bears are a bit ahead.
The biggest advantage the Bears have is they appear to have their left tackle of the future already on the field in
Chris Williams
. The Lions do not. Detroit also doesn't have one defensive lineman I would consider a future pass rusher. The Bears have at least given themselves some intriguing options with
Gaines Adams
and
Jarron Gilbert
.
The point of this post remains valid: There isn't much disparity between the franchises. But if I had to answer the question I posed, I would say the Bears. Take that for what it's worth, of course. I'm the guy who, at midseason, thought the Bears had a better chance
to make the playoffs
than Green Bay.
September, 25, 2008
9/25/08
2:48
PM ET
Posted by ESPN.com's Kevin Seifert
I thought we went pretty hard at the Matt Millen story on Wednesday, but I've gotten more than a few mailbag notes asking for more. Frank of Los Angeles noted that I said "absolutely nothing" in Wednesday's coverage and suggested I put a little more meat on the bone.
I can't tell you whom Detroit's next football boss will be, primarily because the Lions themselves don't know. But one thing we can do is flesh out the structural possibilities we broached Wednesday. After all, the first thing the Lions must do is determine whether they want to hire another all-powerful leader, whether they want to shift into a more traditional general manager/coach relationship or even whether a committee system will work.
Let's take a look at the pros and cons of each approach, and then I'll offer my opinion on each.
All-powerful team president/CEO
Definition: One person heads the entire franchise, including the usually-separate football and business sides.

Pros: No one has any doubt who is in charge, who the boss is and to whom they're accountable. It allows for a single vision to permeate the entire organization, even the business side. Because one person does all the hiring, or at least signs off on it, there is a decent chance of collecting a group of people who all fit and work well together.

Cons: Putting so much responsibility on one person, with no checks and balances, is inherently risky. Football teams have such a unique mix of operations that finding one person with enough expertise to manage all areas is difficult. There aren't many personnel experts with strong finance backgrounds, and not many salary cap analysts know the game well enough to make draft decisions. And sometimes you can understand finance and talent evaluation but be a terrible manager of people.

NFL examples: There aren't many. Kansas City's Carl Peterson is one. Perhaps the most successful is Indianapolis president Bill Polian.

My take: This approach sounds great in theory, and I'm a big fan of vertical leadership. But in reality, the pool of candidates for an all-powerful team president is minuscule. I can think of only one qualified candidate: New England's Scott Pioli.
General manager/coach
Definition: The general manager runs the football operations, hires the coach and supervises the scouting staff.

Pros: The coach works for someone who shares a professional background in strategy and personnel. The general manager can be a confidant and a credible sounding board. Likewise, the general manager with a football background can knowledgeably evaluate the coach and his team and provide accurate feedback to his boss, the owner. In this model, all of the people involved in football decisions are football people. And there are no football people trying to run the business side of the organization.

Cons: Sometimes this structure limits the pool of coaching candidates. Not all coaches, especially those with experience, want to work for a general manager. They prefer to deal directly with the owner. A common complaint in these arrangements arises when a coach doesn't like the players he's given. On the reverse side, a general manager might not appreciate the way a coach develops the players he drafts.

NFL examples: Green Bay has a model with general manager Ted Thompson and coach Mike McCarthy. Similar arrangements also exist with the New York Jets, Baltimore, San Diego and Chicago.

My take: This approach is the most traditional but also the most proven. It makes sense to have everyone on the football side of the organization working for one person who shares a football background and has strong management skills. There are usually a number of qualified people to pick from. Former Tennessee general manager Floyd Reese is available, and there is an annual group of young up-and-comers who could be interviewed. The Lions have one in-house: recently promoted general manager Martin Mayhew.
Coach/general manager
Definition: The coach doubles as the top football executive, hires the general manager and has authority over him.

Pros: Because the coach has ultimate authority, he can acquire exactly the type of players he wants on his team. He can provide scouts their marching orders during the college season, make the final decision on free agents and even decide the makeup of the video and equipment staffs if he wants. In this arrangement, the coach has no limitations except for what he places on himself, theoretically giving him every opportunity he needs to win.

Cons: Some coaches aren't good administrators, tending to hire friends and yes-men in important positions. Few of them have the right mindset for making good draft decisions, taking a short-term or risky approach when a steady hand is needed. They rarely have enough time to fulfill all of their organizational duties while still coaching the team.

NFL examples: Denver's Mike Shanahan and Philadelphia's Andy Reid. New England's Bill Belichick fills this role the best.

My take: This hybrid role is a dying breed. It's too difficult of a job and there are too many instances of coaches who got in over their heads. Interestingly, though, some exciting coaching candidates would probably command this type of power in order to work in Detroit. Former Pittsburgh coach Bill Cowher is among them.
Committee
Definition: The coach, personnel director and salary cap analyst all have equal authority and made organizational decisions jointly.

Pros: Everyone focuses on their areas of expertise. It's a natural system of checks and balances, guarding against people reaching out of their professional comfort zone. Promotes teamwork and healthy discussion.

Cons: Requires multiple high achievers to work together and share, a combination that doesn't always go together. Lends itself to backstabbing and infighting as everyone jostles for position. Needs a strong owner to ensure that everyone plays nice.

NFL examples: Houston Texans, Minnesota Vikings, Jacksonville Jaguars, Detroit Lions (for now).

My take: If you have the right people, including the right kind of owner, this approach can work well. But it's like a complicated offensive game plan: It must be executed flawlessly to succeed. It's rare for high-ranking sports officials to subordinate their egos indefinitely. Everyone has their own ideas.