July, 26, 2013
7/26/13
8:45
AM ET
We're Black and Blue All Over:

Training camp PUP lists can empty quickly as players prove they are healthy and/or pass conditioning tests, but based on the numbers at least, it's going to take a while for that to happen for the Green Bay Packers. On the eve of training camp, the Packers placed seven players on the PUP and an eighth (linebacker Jamari Latttimore) on the non-football injury list.
Jason Wilde of ESPNMilwaukee.com
has the full list, which includes important names such as running back DuJuan Harris (cyst) to offensive lineman Dererk Sherrod (leg) to defensive lineman/linebacker Mike Neal. Harris and Sherrod weren't a total surprise, but it's not clear what is Neal's ailment.
Often players are activated within days of the start of camp, so I wouldn't get too worked up yet. All four NFC North teams will have their first training camp practice Friday.
Continuing around the NFC North:
June, 7, 2013
6/07/13
8:45
AM ET
By
ESPN.com staff
| ESPN.com
Chicago Bears
What can the Bears expect out of second-year wideout Alshon Jeffery? The Chicago Tribune's Dan Pompei says Jeffery should take "
a significant step forward
."
Defensive backs Tim Jennings and Charles Tillman
talked with NBC Chicago about managing expectations
coming off career years. Tillman: "I wouldn't say pressure's the word. You always want to outdo yourself. That was last year. Each year, you have to create an identity for yourself. Every year, I think about having a career year."
Detroit Lions
The Lions had the league's third-ranked offense last season, but that didn't always translate to points scored and at least
some of the blame lies with the defense
, according to Mlive.com's Justin Rogers. "The unit lacked big plays in 2012, finished 27th with just 17 takeaways. Even worse, Detroit scored just two points -- on a meaningless safety late in a Week 16 loss to Atlanta -- on defense and special teams," Rogers writes.
Offensive lineman Bill Nagy is
still working his way back
from a severe ankle injury he suffered in Cowboys training camp that cost him the entire 2012 season, reports Rogers.
Micheal Spurlock is the latest free agent the Lions have brought in to
shore up a special-teams unit that struggled last season
, writes Dave Birkett of the Detroit Free Press.
Green Bay Packers
Brett Favre took the blame
for his rift with the Packers during an interview with WGR 550 AM, reports Weston Hodkiewicz of the Green Bay Press-Gazette. Favre: "It's over and done with. I was at fault. I feel that both sides had a part in it. If you can go back would I or them have done things differently? I'm sure both sides would have, but you can't."
During a team physical Monday, running back DuJuan Harris found out he had a fist-sized cyst on his lung, the AP reports. The cyst, which was not cancerous, was removed Tuesday morning, and
Harris should be fully recovered before training camp opens next month
. "Thank God for team physicals!!!" Harris tweeted.
The contract of second-round draft pick Eddie Lacy
is worth $3.392 million, including $1,402,208 in guaranteed money, reports Rob Demovsky of the Green Bay Press-Gazette.
Minnesota Vikings
Tight end Kyle Rudolph was
energized by his performance in last season's Pro Bowl
, when he caught five passes for 122 yards and a touchdown, writes the Pioneer Press' Ben Goessling. Rudolph: "Just to be over there was an honor with all the great players in our game, and then to be named MVP was not in my wildest dreams; would not have expected it. To go out there and perform the way I did, it was a lot of fun and definitely a big confidence boost."
John Carlson's first season with the Vikings was derailed by injuries, but the tight end says
he's 100 percent healthy now
, writes the Star Tribune's Sid Hartman. Carlson: "My focus right now is to own a role in this offense. I'm going to try and improve every day and develop a rapport with Christian [Ponder] and Matt [Cassel] and the other quarterbacks. I can't change the past, so I'm looking forward."
May, 3, 2013
5/03/13
12:00
PM ET
»
NFC Eight in the Box
:
East
|
West
|
North
|
South
»
AFC
:
East
|
West
|
North
|
South
With the draft in the rearview mirror, what is the most pressing issue on each NFC North team's agenda?

Chicago Bears:
The top priority at Halas Hall, from now until the start of the season, is getting the offense organized in Marc Trestman's new scheme. This task has appeared annually for the Bears in recent years, but the failure to accomplish it played a big role in the firing of former coach Lovie Smith. There is also an additional level of urgency as quarterback
Jay Cutler
enters the final year of his contract. The Bears might not want to make a decision on Cutler's future until seeing him adjust successfully to this scheme, but will he do it in time for the Bears to make a decision?

Detroit Lions:
The next order of business in Detroit is to set up a plan for settling on the new right side of their offensive line. Right tackle
Gosder Cherilus
departed via free agency, right guard
Stephen Peterman
was released and right guard candidate
Riley Reiff
is likely to play left tackle. Rookie
Larry Warford
will compete with
Bill Nagy
and perhaps
Rodney Austin
at right guard, while right tackle will be a competition between
Jason Fox
and
Corey Hilliard
, among others.

Green Bay Packers:
Suddenly, the Packers have an offseason-long project on their hands: making a reconstructed offensive line work. After the draft, Packers coach Mike McCarthy moved
Bryan Bulaga
from right tackle to left tackle and flipped guards
Josh Sitton
and
T.J. Lang
. McCarthy now has his two best offensive linemen on the left side, with Lang pairing with a yet-to-be-named right tackle. There is no substitute for time when establishing continuity for an offensive line, so the Packers' next and continued order of business is getting Bulaga and Sitton comfortable on the left side. They'll also need to decide whether
Marshall Newhouse
,
Don Barclay
,
Derek Sherrod
or even rookie
David Bakhtiari
are best suited to be the right tackle.

Minnesota Vikings:
Identifying the 2013 middle linebacker is the Vikings' most unanswered question. After allowing 2012 bridge starter
Jasper Brinkley
to depart via free agency, the Vikings set their sights on the draft to find a longer-term replacement for
E.J. Henderson
. There was widespread and justified speculation that the Vikings would draft Notre Dame's
Manti Te'o
, but the unpredictable first round brought them three players they ranked higher on their board. Without second- or third-round picks, the Vikings weren't able to draft a starting-quality prospect. Veteran outside linebacker
Erin Henderson
told reporters this week that he was
preparing to take on the role
, apparently at the suggestion of coaches, but this is the time of year for experimenting with position changes that could be reversed before training camp. To this point, the Vikings haven't shown serious interest in free agent
Brian Urlacher
.
April, 26, 2013
4/26/13
11:30
PM ET
If it wasn't apparent already, the
Detroit Lions
made it clear Friday evening:
Riley Reiff
will be their left tackle in 2013.

The Lions could have drafted a left tackle in either the second or third rounds of this draft, but instead they selected Mississippi State cornerback
Darius Slay
and Kentucky guard
Larry Warford
, respectively. Both players fill needs and were better value picks than a left tackle, a position that drops off significantly after the top of the first round, and the Lions weren't in desperate shape there to begin with.
As we discussed Thursday
, we'll never know how interested the Lions were in drafting an elite left tackle and moving Reiff to right guard or right tackle. The draft's top three left tackles were all off the board when the Lions' turn arrived at No. 5. Conventional wisdom suggested they would have taken advantage of the opportunity to have a stronger line across the board, but they have no incentive to confirm that now.
Lions coach Jim Schwartz told Detroit-area reporters, in fact, that the Lions were prepared to use Reiff at left tackle as soon as they learned of
Jeff Backus
' retirement.
"That's why we drafted him," Schwartz said. "Again, when Backus got hurt last year, that's why we played [Reiff] there. You never say never. You never know who is going to become available, what's going to happen. But we drafted him as a left tackle. We thought he could play right tackle, we think he can play guard.
"You know, Riley, if you gave him time, could probably play center too. He played tight end for us. He's that kind of athlete. He's a guy that can move around and do those things, but we drafted him as a left tackle. Probably, with the way things ended up here, we'll probably start him off there. We have a lot of confidence in him. I mean, that's why we drafted him last year. Last year, Riley was the second offensive lineman picked."
Reiff will play next to veteran left guard
Rob Sims
, and it's assumed that veteran
Dominic Raiola
will hold on to his job for another year. Warford could compete at right guard with
Bill Nagy
and
Rodney Austin
. Meanwhile,
Jason Fox
and
Corey Hilliard
could compete at right tackle.
The Lions have five draft picks remaining Saturday, but it's difficult to expect a rookie starter coming after the third round. It happens, but not enough to count on it. Unless the Lions decide to jump back into free agency, chances are they'll roll this season with the offensive linemen now on their roster.
March, 21, 2013
3/21/13
1:15
PM ET
Everyone and their brother is excited about the
Detroit Lions
' potential
for a balanced and explosive offense
after the acquisition of running back
Reggie Bush
. It all makes perfect sense. What could go wrong?
One overlooked aspect, at least from a national perspective, is that the Lions will have a majority of new starters on the offensive line. Replacements for left tackle
Jeff Backus
, right tackle
Gosder Cherilus
and right guard
Stephen Peterman
won't be veteran free agents with years of experience. They will be former backups, spot starters and possibly a rookie as well.
[+] Enlarge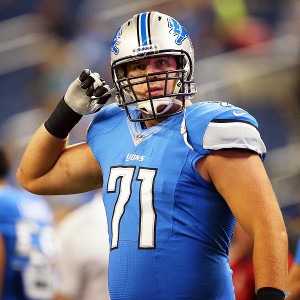 Mike Carter/USA TODAY SportsThe Lions aren't ready to committ to using Riley Reiff at one particular position on the offensive line.
The Lions have expressed confidence in their succession plan, although the details of it remain contingent on the draft and offseason competition. So I'll just say this: The Lions will have done an exceptional job in transition if they don't experience at least a few bumps from their offensive line in 2013.
"We have confidence in the guys that we've had there and that we've worked hard to develop," Lions coach Jim Schwartz said this week at the NFL owners meeting. "We've been prepared for it. Last year, if it had happened, we would have been prepared for it. We had what we considered good depth on our offensive line. It just wasn't tested. It didn't mean we weren't prepared for it to be. We've been comfortable with all of those guys."
To this point, however, the Lions aren't ready to start assigning positions to a group of starting candidates that includes
Riley Reiff
,
Jason Fox
,
Corey Hilliard
,
Bill Nagy
and
Rodney Austin
. Most notably, the Lions won't say if Reiff will play left tackle, the position he was drafted at last year, because he can also play right tackle and right guard.
In my experience, no teams consider using a true, genuine, franchise left tackle at another position. They are so difficult to find, and so unique in many ways, that it would make no sense to waste the qualities necessary to play there on a position that doesn't require them.
So that leaves us to draw one of two conclusions on Reiff: Either the Lions aren't convinced he is a long-term answer at left tackle or they don't want to tip their draft strategy by locking him in there publicly. As it stands now, the Lions could be in the market for one of the draft's blue chip left tackles with the No. 5 overall pick in next month's draft.
Lions general manager Martin Mayhew
told reporters
he "could see" Reiff playing left tackle this season but couldn't commit to that. Schwartz said Reiff's versatility makes him a candidate to play left tackle, right tackle or right guard.
"So it is a little bit in limbo I guess," Schwartz said. "But we're not practicing right now. It's not like he's being set back right now. It's not like we're spinning our wheels with him playing defensive line or something like that. All the guys right now are training and doing conditioning on their own."
If the Lions don't draft a left tackle in the first round, you would have to assume Reiff will open the season there. The dominoes should start falling next month.
February, 5, 2013
2/05/13
2:16
PM ET
The
Detroit Lions
' release of receiver
Titus Young
on Monday was
a purely character-based decision.
Tuesday, the Lions are continuing to slash their roster -- but in this case with an eye toward the salary cap.
Peterman
Releasing right guard
Stephen Peterman
, as first reported by
Dave Birkett of the Detroit Free Press
, would save the Lions $3.25 million in cap space for 2013, according to data I've seen. Peterman started 48 consecutive games for the Lions over the past three years, but he is 31 and struggled as a pass blocker in 2012. According to
Pro Football Focus,
he allowed more combined sacks, hits and hurries (45) than any NFL guard last season.
It's worth keeping an eye on several other veterans as the Lions seek additional cap space. The team could shave about just under $5 million of defensive end
Kyle Vanden Bosch
's projected $10.6 million cap hit if they release him before a $2 million roster bonus is due next month, and they could get another $4 million if they release center
Dominic Raiola
.
*Update: The Lions will release Vanden Bosch today, according to the team's web site reporter. I'll have more in a bit on this.
More than anything, those moves would give the Lions a much different look at offensive line after three full seasons of the same group. I'm not sure if they're prepared to initiate a full-scale overhaul of their offensive line this offseason, but hopefully you recall
John Clayton's "Rule of 150" for offensive lines.
It's coming at some point, if not immediately.
Clayton believes that if the combined ages of your starting offensive line is above 150, it's time to start rebuilding. The group the Lions finished the season with have a combined age of 157.
You figure that 2012 first-round draft pick
Riley Reiff
will be a starter in 2013, but it's not clear where. Peterman will soon be officially off the books. Right tackle
Gosder Cherilus
is a pending free agent, and left tackle
Jeff Backus
will be 36 in September. About the only lock to return is left guard
Rob Sims
.
As we discussed last summer
, the Lions claimed former
Dallas Cowboys
center
Bill Nagy
and stashed him on injured reserve. He could figure in the mix at guard or center. We'll update as warranted.
January, 11, 2013
1/11/13
8:40
AM ET
We're Black and Blue All Over:
Longtime head coach and current Fox broadcaster Jimmy Johnson caused a stir early Friday morning
with this tweet:

"Looks like 2 of my guys getting NFL jobs..Chud Cleveland and my QB coach at U Trestman to Chicago"
The Chicago Bears portion of that tweet refers to Marc Trestman, who was with Johnson at the University of Miami in the early 1980's and then spent nearly 20 years as an NFL assistant -- including two stints with the Minnesota Vikings and another with the Detroit Lions. He has spent the past the past five years as the head coach of the CFL's Montreal Alouettes and is known as a creative offensive mind.
The Cleveland Browns hired the other coach in that tweet, Rob Chudzinski, late Thursday night. Does that mean the Bears are going to hire Trestman? He was scheduled to interview earlier this week, but I honestly have no confirmation that the Bears have developed a list of finalists, much less zeroed in on a likely hire. At last check, they still had multiple first interviews with other candidates scheduled through the weekend.
At the same time, Johnson remains plugged into the league rumor mill and his thoughts aren't to be dismissed. So we will have to stay tuned on that one.
Continuing around the NFC North:
August, 27, 2012
8/27/12
4:17
PM ET
We noted the first phase of the
Detroit Lions
' roster cutdown earlier Monday. The second phase, spelled out in full
on the team's website
, mostly consisted of placing injured players on various reserve lists.
At the top of list is running back
Jahvid Best
, who ended up on the physically unable to perform (PUP) list, as
ESPN's Adam Schefter
reported he would two weeks ago. Best, who hasn't been cleared for contact 10 months after suffering a concussion, is ineligible to play for the first six weeks of the season. At that point, a three-week window will open during which he can begin practicing. After that, another three-week window opens for the Lions to either add him to their roster or end his season.
The Lions also placed cornerback
Chris Greenwood
, their fifth-round draft pick, on the PUP list because of an abdominal injury. Offensive lineman
Bill Nagy
, a
promising prospect
claimed earlier this month from the
Dallas Cowboys
, was placed on injured reserve and will miss the season.
Meanwhile, the Lions have yet to confirm reports from Washington, D.C., where Redskins cornerback
Kevin Barnes
told
multiple media outlets
he had been traded to the Lions.
August, 17, 2012
8/17/12
3:45
PM ET
As the
Chicago Bears
stare nervously at their linebacker depth during
Brian Urlacher
's recovery from knee surgery, it's worth pointing out the myriad of ways teams can begin succession planning for key players. Sometimes it happens years in advance of the actual transition.

As we noted during the offseason
, the
Detroit Lions
' offensive line is old enough that soon several positions will need to be turned over. Barring a surprise, the Lions will start the same five linemen this season as they did in 2010 and 2011. But the transition process has already begun.
We all know the Lions made Iowa's
Riley Reiff
their first-round draft pick in April. Reiff can play both tackle positions and has gotten a bit of work at guard in training camp, and it's fair to expect him to be a long-term starter beginning in 2013, if not before.
In addition, this week the Lions made the kind of low-level move that has helped them beef the roster throughout the tenure of general manager Martin Mayhew. They claimed offensive lineman
Bill Nagy
off waivers from the
Dallas Cowboys
, who were trying to place him on injured reserve after he had left ankle surgery. He started four games as a rookie in 2011 and was competing for the starting center job this season. He can also play guard.
Nagy has now had two surgeries
on his left ankle, and he might not play for the Lions this season. But he is 24 and, if he can stay healthy, could be an option for the Lions as center
Dominic Raiola
(33) and right guard
Stephen Peterman
(30) approach the 2013 expiration of their contracts. The Cowboys were willing to risk losing him by trying to place him on injured reserve this week, requiring a trip through waivers, and that speaks to their assessment of him over the past 15 months.
But you have to start somewhere, and at this point, claiming Nagy costs nothing more than one spot on a 90-player roster. He could add to the Lions' options or he could leave them where they were before this week. Regardless, if you don't at least start the process until the established player is injured or can't play any longer, your options are limited.