January, 30, 2015
Jan 30
12:00
PM ET
GREEN BAY, Wis. -- Even if Ron Wolf's career included only his 10-year run as general manager of the
Green Bay Packers
, his impact on the NFL would have been monumental.
What he did in Green Bay had a long-lasting impact. He saved a franchise that was going nowhere. In between the Packers' last Lombardi-era championship in 1967 and Wolf's first full season in 1992, they had only three winning seasons.
After Wolf hired Mike Holmgren as head coach and traded for quarterback Brett Favre in early 1992, the Packers didn't have another losing season until 2005 -- four years after Wolf had retired.
"I think it's one of the great resurrection jobs this league has ever seen," said Bob Harlan, the former Packers president who hired Wolf on Nov. 27, 1991. "We had 24 years of mediocre football, and we had a fan base that was very upset and a fan base that was thinking we were never going to succeed again."
Wolf's impact on the Packers was so great that in 2006 Harlan put his name up on the ring of honor in the newly renovated Lambeau Field, something that previously had been reserved only for those in the Pro Football Hall of Fame.
"The fact that we were successful on the football field in the late 1990s was a big factor in us passing the stadium [renovation] referendum," Harlan said. "If we didn't have that stadium, I don't know where this franchise would be. It totally stabilized the financial future, and Ron and the success we had was a big part of that."
But there's more to Wolf than just his decade-long run with the Packers, which included two Super Bowl appearances (with one victory). He spent 23 years helping to build the Raiders' roster that won nine division titles and played in eight AFL/AFC Championship Games and three Super Bowls. At age 37, he was hired as GM of the expansion
Tampa Bay Buccaneers
.
Wolf and Bill Polian are finalists in the contributor category.
December, 2, 2014
12/02/14
12:40
PM ET
ALLEN PARK, Mich. -- Jim Caldwell likes to spin this one yarn whenever he talks about his receiver,
Golden Tate
. This particular tale happened before Caldwell was a head coach in Indianapolis and then Detroit.
[+] Enlarge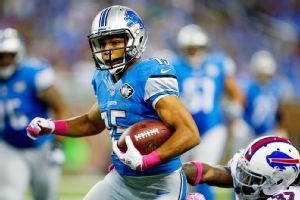 Jeff Haynes/AP Images for PaniniGolden Tate's emergence as a receiver took some time, but the results are paying off for the Lions.
Caldwell's old boss, Bill Polian, would come back from his two-plus hour drive south from South Bend, Indiana to Indianapolis and tell Caldwell about this player his son, Brian, continually raved about.
"Every week he'd come in with a new story about something that Golden did," Caldwell said. "And obviously, Bill being one of the great evaluators of all time, had nothing but great things to say about him, even though I didn't have a chance to watch him play much in college."
Caldwell didn't, but part of the reason Polian had so many stories about Tate was because his ascent was
that
rapid in college, and it helps explain what the
Detroit Lions
are seeing now. Golden Tate is naturally gifted as an athlete -- good enough to be drafted in baseball as well as football -- but what he's been doing as a wide receiver is all him.
When Tate began his career at Notre Dame in 2007, he was recruited as an athlete, not a pure receiver. He hadn't played the position much, if at all, in high school. As a true freshman during a disastrous 3-9 season, the Irish eventually had to put him in games at receiver due to injuries.
Against Purdue, in his first real work at receiver, Tate had the first of many moments that led to his current role with the Detroit Lions, where he has already set career-highs for receptions (80) and yards (1,136) with four games to go.
Back then, though, Tate didn't know how to run routes well.
"It got to the point where we were yelling to Golden from the sideline what the route was and so we yelled at Golden, 'Run a go,' " Brian Polian, now the head coach at Nevada, said recently. "And he ran a go and Jimmy [Clausen] threw the ball up and the sucker just jumped up in the air between two DBs and caught it.
"Later on in the game, we did the same thing. The Purdue DB looked over at Charlie [Weis] or Ron Powlus and kind of gave him this look. Someone said, 'Hey man, it doesn't matter, he's going to catch it anyway.' Sure enough, he ran a go, the DB knew the route, and we just threw the ball up in the air, and he just went up and grabbed it. That's who Golden is to me. That's one of my all-time favorite memories of coaching." Tate finished with three catches for 104 yards in that game.
It was a spark in an otherwise dismal season, but to understand the level Tate reached now, that moment -- and that season -- is critical. Tate learned how to become a receiver in 2007, and that has led to everything since. The Biletnikoff Award honoring the top receiver in college in 2009. A Super Bowl championship last season with Seattle. His status as one of the NFL's emerging receivers with Detroit.
As Tate makes his way through, around and opposing defenders (he has 583 yards after the catch this year), understand it wasn't always this way. The athleticism was there, but everything else took time to develop. Tate said he actually practices his evasive maneuvers by treating every practice he's in like the game he'll play Sunday.
His competitiveness -- Tate abhors losing at
anything, ever
-- helps explain how he reached this point.
"When you think of this day and age of eighth-grade kids getting sent off to wide receiver camp and this guy showed up at a highly-regarded FBS program and had no clue how to play receiver, and now he's turned into a really good pro, that's because the guy worked at it," Polian said. "He took coaching at every level, in college and obviously in the National Football League, and he turned himself into a heck of a player."
In Seattle, he started to evolve as a NFL receiver. In Detroit, he's become the most consistent part of an offense finding itself in the midst of a playoff race. And Tate, who learned to play his position in college, might be the best free agent signing by any team last offseason.
"Very, very happy that neither party has any regrets," Tate said. "I hope I exceed expectations of this city and this organization, and I know that I'm doing the things that I envisioned myself to do and like I keep saying, most important, we're winning ball games. At the end of the day, that's all that matters. I was OK with catching, having 30 yards a game last year because we were winning.
" ... But the fact that I get to ball out and also win games, it doesn't get better."
Even if Tate's personal history suggests there's a chance he might actually improve as a receiver.
May, 9, 2014
5/09/14
4:00
PM ET
GREEN BAY, Wis. -- Here's what two of ESPN's resident analysts had to say about the
Green Bay Packers
' pick of
Ha Ha Clinton-Dix
at No. 21 in the first round of the NFL draft on Thursday.
Bill Polian, former Indianapolis Colts general manager
"He will fit perfectly into Dom Capers' defense. He's the perfect free safety in the sense that he has great instincts, great tackling ability, sure tackling ability, very good ball skills, great recognition skills in reading and reacting to offensive patterns. A little bit short in the speed department, but he makes up for that with instinct. This is a position that the Packers needed to upgrade, and he's right from central casting according to Dom Capers."
Mel Kiper Jr., NFL draft expert
"Clinton-Dix fills a huge need for this team, and I consider him a great value at this slot. I don't even know what else to say about it, except for the fact that I thought Dallas could go with Clinton-Dix, and he also could have been in play for the Jets. So to have your No. 1 need filled by what I consider the safety they had rated as the best guy to fill that need makes for a pretty good night."
April, 18, 2012
4/18/12
11:30
AM ET
Texas A&M quarterback
Ryan Tannehill
has gotten an awful lot of discussion on the NFC North blog for a player who presumably has no chance to join one of our teams next week. His status as arguably the third-best quarterback in the draft has made the
Minnesota Vikings
' No. 3 overall pick a possible trade target for any team that wants to secure him.
ESPN analyst Bill Polian
has suggested the
Miami Dolphins
swap picks with the Vikings to ensure they can draft Tannehill, whose college head coach (Mike Sherman) is now the Dolphins' offensive coordinator.
In the clip, Gruden praises Tannehill's understanding of NFL concepts and we get a glimpse of him in his former role as a receiver.
April, 11, 2012
4/11/12
1:03
PM ET
We've been following with interest the increasing chatter on the apparently rising draft status of Texas A&M quarterback
Ryan Tannehill
. In the most dramatic scenario imaginable, an interested team would trade up to the
Minnesota Vikings
' No. 3 overall pick to ensure it could draft him.
Longtime NFL executive and current ESPN analyst Bill Polian
strongly advocated that path Tuesday
for the
Miami Dolphins
, predicting the Vikings could net the Dolphins' No. 8 pick along with their second- and third-round picks in return. Wednesday,
Indianapolis Colts
owner Jim Irsay veered from the usual bizarre nature of his Twitter feed
to suggest a similar tack
:
Tannehill is a hidden gem in this draft, a quiet secret who was always sneaking up to #3..you want him, you better talk to Zigi The Biggie!
"Zigi The Biggie" presumably is Vikings owner Zygi Wilf, whom I'm guessing would be thrilled to pick up the phone and find a team desperately hoping to move up to No. 3.
So what do we make of this chatter? For the most part, quarterbacks and top-of-the-draft trades are the hottest topics in the final weeks before the actual event. So it's no surprise that so many people are discussing Tannehill's final destination. But what started out as a theory has at least advanced into public discussion among a wide swath of people who know more about it than you or I. Take that for what it's worth.
April, 10, 2012
4/10/12
12:20
PM ET
We've discussed on several occasions
the possibility of the
Miami Dolphins
, the
Cleveland Browns
or perhaps another team trading up in the draft to select Texas A&M quarterback
Ryan Tannehill
. The safest way to secure him, of course, would be to swap positions with the
Minnesota Vikings
at No. 3.
We've debated the pros and cons of that scenario, but it's worth nothing that longtime NFL executive and current ESPN analyst Bill Polian strongly advocated for it in
his latest Insider column

. You'll need a subscription to read the entire analysis, but Polian thinks the Dolphins need to make the trade and suggests the Vikings would receive the Dolphins' pick at No. 8, along with their second- and third-round selections as well.
Here's a portion of what Polian wrote:
The most likely competition for Tannehill is the Cleveland Browns at No. 4 overall. That means, in order to assure themselves of selecting Tannehill, the Dolphins would need to move up to the No. 3 pick in a trade with the Vikings. In my mind, this is a trade you must make if you're the Dolphins. There is no reason to gamble and hope that he falls to No. 8. With the new CBA, Tannehill's position as a QB and his contract wouldn't be an impediment to moving up to No. 3 to select him. And even if the Browns do pass on Tannehill at No. 4, there's no guarantee a team like Kansas City won't trade up to take him.

With the Dolphins owning a plethora of reasons to trade up, does their potential trade partner -- the Vikings -- have an incentive to make a deal? In short, yes they do. Minnesota has a clear-cut need at left tackle and at the top of the draft, there are two such prospects that could fill that void: Matt Kalil of USC and Riley Reiff of Iowa. Given the current draft order, it's likely that the Vikings will be able to get at least one of them with the Dolphins' No. 8 pick.

However, it may not be Kalil, the prospect many grade as the draft's top tackle. If the Vikings believe the trade package from the Dolphins to be worth the drop off in grade from Kalil to Reiff, I think they'd move the pick.
It seems clear the Vikings would like to make a deal. How would you feel if it went the way Polian describes? Additional second- and third-round picks, in exchange for moving down five spots, seems like a nice outcome to me.
January, 4, 2012
1/04/12
7:15
AM ET
We're Black and Blue All Over:
It's understandable if, in yesterday's flurry of news, you missed Green Bay Packers quarterback Aaron Rodgers' always-interesting weekly radio show on 540 ESPN in Milwaukee. As always,
you can listen to the podcast
, where among other things you can hear a discussion about the
very issue we hit on Monday
.

Namely: Would the events of Week 17 in any way impact MVP voting? As you know, Rodgers sat out the Packers' 45-41 victory over the Detroit Lions, during which backup Matt Flynn threw for 480 yards and six touchdowns. Meanwhile, New Orleans Saints quarterback Drew Brees played almost all of a 45-17 blowout of the Carolina Panthers, adding another 389 yards and five touchdowns to his totals.
Asked about the MVP impact, Rodgers said: "I don't really see how that comes into play when you're talking about a most valuable player vote. I think the way that we've gone about it and the games that we've won, I don't think you can say in any way that we've tried to get late points or late yards or late touchdowns. Look at the film. I'm not sure if that's the case for every team in the league."
In addition to playing most of Week 17, Brees also remained in the Saints' Week 16 blowout of the Atlanta Falcons as he pursued the NFL's single-season record for passing yards. All told, Brees threw 155 more passes than Rodgers this season.
Continuing around the NFC North:
September, 16, 2010
9/16/10
7:10
AM ET
We're Black and Blue All Over:
Green Bay Packers linebacker A.J. Hawk didn't play a single defensive snap in last Sunday's 27-20 victory over the Philadelphia Eagles, and you wouldn't expect that to go over well. Hawk, sidelined because the Packers played the entire game in their nickel and dime packages, told
Tom Silverstein of the Milwaukee Journal Sentinel
that "I'm sick of it, but who wouldn't be?"

Hawk is technically a starter in the Packers' 3-4 base scheme, but coordinator Dom Capers didn't use that package at all in Philadelphia. It's unclear how Capers will deploy personnel moving forward, but Hawk added: "What I'm playing in now, the package I'm in, is not my football destiny. It's not to be a part-time guy. As of today, that's how it goes. I'll stick with it and do my thing."
Hawk would be open to a trade, agent Mike McCartney told
Rob Demovsky of the Green Bay Press-Gazette
. McCartney: "A.J. is a pro's pro and wants to do his part to help the team win, and his first priority is to be the best Packer he can. But if some team called and wanted him to play on all three downs, I think he'd be excited about that."
Hawk was reported to have had an outstanding training camp, but the Packers emerged from the preseason with Brandon Chillar taking his place in the nickel. I can't say I disagree with that decision. Chillar seems pretty good in coverage. And I would be surprised if Hawk were traded. Beyond this year, however, you would have to assume his days with the Packers are numbered if the defensive coordinator can find no suitable role at any part of a game, no matter what the defensive calls are.
Continuing around the NFC North:
April, 21, 2009
4/21/09
12:30
PM ET
Posted by ESPN.com's Kevin Seifert
Martin Mayhew seemed prepared for the question. Detroit's new general manager was more than ready to address concerns about his apprenticeship in the failed tenure of predecessor Matt Millen.
"I would say this: Judge me by what I do," Mayhew said, "and don't judge me by who my friends are or how I got here. Judge me by my actions. To me, at the end of the day, that's what it's about. It's what happens here."
| | |
| --- | --- |
| | |
| | AP Photo/Carlos Osorio |
| | There is a lot riding on who Martin Mayhew and the Lions select with their No. 1 pick. |
Mayhew spoke those words in January. Three months later, Judgment Day has arrived. Mayhew's clean slate, assuming you gave him one, is about to receive its most significant etch. He has directed the Lions to an internal decision on whom to select with the No. 1 overall pick in Saturday's draft, and while the choice has yet to be revealed publicly, it will forever define his career in Detroit.
A good decision will jumpstart the Lions' resurgence. A poor choice, or even one that goes awry for reasons unforeseen today, will cement his connection to Millen and dig an even greater hole for the franchise.
Consider the shining moment in the career of Indianapolis general manager Bill Polian: Choosing quarterback Peyton Manning over Ryan Leaf with the No. 1 overall pick in the 1998 draft. Polian already had built a strong reputation by then, but the success of his decision catapulted him to at least 11 more years of employment with the Colts.
On the other hand, can you even name the general manager who selected quarterback Alex Smith with the top pick in 2005? (San Francisco coach Mike Nolan made the final decision.) What about the man who drafted defensive end Courtney Brown in 2000? (Cleveland general manager Dwight Clark.)
Such polarity prompted Polian to offer some sobering advice earlier this winter. Asked what he would say to Mayhew as the Lions contemplate their options at No. 1, Polian said: "Pray a lot. And recognize that you can't be right [all the time]. You're going to be wrong 50 percent of the time."
November, 9, 2008
11/09/08
8:43
AM ET
Posted by ESPN.com's Kevin Seifert
MINNEAPOLIS -- We'll be inside the Metrodome in a few hours for the big Border Battle, but before then let's take a spin around the division on an important and in some cases dramatic Sunday in the NFC North.
Appropriate to our featured game this weekend, Jason Wilde of the Wisconsin State Journal offers a fair look at a topic we neglected to touch on this week: The cold relationship between Packers coach Mike McCarthy and Vikings coach Brad Childress -- which seemed to spill over into the public when Childress failed to shake McCarthy's hand after the Packers' 24-19 victory Sept. 8 at Lambeau Field.
Childress said last week that incident was "over-reported," but Wilde's story has a couple of measured quotes from McCarthy.
When asked about the coaches' personal rivalry, McCarthy said: "There's no good answer for that. Let's not go there."
Childress has said he didn't shake hands because he wanted to talk to quarterback Tarvaris Jackson immediately after the game. The pair eventually exchanged telephone messages but did not speak about it. On the issue, McCarthy said: "I thought it was odd. I think it's part of our professional etiquette. So, I thought it was odd. But he called. We exchanged messages."
Just another subplot to keep in mind as the Packers try for their sixth consecutive win against the Vikings.
Continuing around the division:
September, 25, 2008
9/25/08
2:48
PM ET
Posted by ESPN.com's Kevin Seifert
I thought we went pretty hard at the Matt Millen story on Wednesday, but I've gotten more than a few mailbag notes asking for more. Frank of Los Angeles noted that I said "absolutely nothing" in Wednesday's coverage and suggested I put a little more meat on the bone.
I can't tell you whom Detroit's next football boss will be, primarily because the Lions themselves don't know. But one thing we can do is flesh out the structural possibilities we broached Wednesday. After all, the first thing the Lions must do is determine whether they want to hire another all-powerful leader, whether they want to shift into a more traditional general manager/coach relationship or even whether a committee system will work.
Let's take a look at the pros and cons of each approach, and then I'll offer my opinion on each.
All-powerful team president/CEO
Definition: One person heads the entire franchise, including the usually-separate football and business sides.

Pros: No one has any doubt who is in charge, who the boss is and to whom they're accountable. It allows for a single vision to permeate the entire organization, even the business side. Because one person does all the hiring, or at least signs off on it, there is a decent chance of collecting a group of people who all fit and work well together.

Cons: Putting so much responsibility on one person, with no checks and balances, is inherently risky. Football teams have such a unique mix of operations that finding one person with enough expertise to manage all areas is difficult. There aren't many personnel experts with strong finance backgrounds, and not many salary cap analysts know the game well enough to make draft decisions. And sometimes you can understand finance and talent evaluation but be a terrible manager of people.

NFL examples: There aren't many. Kansas City's Carl Peterson is one. Perhaps the most successful is Indianapolis president Bill Polian.

My take: This approach sounds great in theory, and I'm a big fan of vertical leadership. But in reality, the pool of candidates for an all-powerful team president is minuscule. I can think of only one qualified candidate: New England's Scott Pioli.
General manager/coach
Definition: The general manager runs the football operations, hires the coach and supervises the scouting staff.

Pros: The coach works for someone who shares a professional background in strategy and personnel. The general manager can be a confidant and a credible sounding board. Likewise, the general manager with a football background can knowledgeably evaluate the coach and his team and provide accurate feedback to his boss, the owner. In this model, all of the people involved in football decisions are football people. And there are no football people trying to run the business side of the organization.

Cons: Sometimes this structure limits the pool of coaching candidates. Not all coaches, especially those with experience, want to work for a general manager. They prefer to deal directly with the owner. A common complaint in these arrangements arises when a coach doesn't like the players he's given. On the reverse side, a general manager might not appreciate the way a coach develops the players he drafts.

NFL examples: Green Bay has a model with general manager Ted Thompson and coach Mike McCarthy. Similar arrangements also exist with the New York Jets, Baltimore, San Diego and Chicago.

My take: This approach is the most traditional but also the most proven. It makes sense to have everyone on the football side of the organization working for one person who shares a football background and has strong management skills. There are usually a number of qualified people to pick from. Former Tennessee general manager Floyd Reese is available, and there is an annual group of young up-and-comers who could be interviewed. The Lions have one in-house: recently promoted general manager Martin Mayhew.
Coach/general manager
Definition: The coach doubles as the top football executive, hires the general manager and has authority over him.

Pros: Because the coach has ultimate authority, he can acquire exactly the type of players he wants on his team. He can provide scouts their marching orders during the college season, make the final decision on free agents and even decide the makeup of the video and equipment staffs if he wants. In this arrangement, the coach has no limitations except for what he places on himself, theoretically giving him every opportunity he needs to win.

Cons: Some coaches aren't good administrators, tending to hire friends and yes-men in important positions. Few of them have the right mindset for making good draft decisions, taking a short-term or risky approach when a steady hand is needed. They rarely have enough time to fulfill all of their organizational duties while still coaching the team.

NFL examples: Denver's Mike Shanahan and Philadelphia's Andy Reid. New England's Bill Belichick fills this role the best.

My take: This hybrid role is a dying breed. It's too difficult of a job and there are too many instances of coaches who got in over their heads. Interestingly, though, some exciting coaching candidates would probably command this type of power in order to work in Detroit. Former Pittsburgh coach Bill Cowher is among them.
Committee
Definition: The coach, personnel director and salary cap analyst all have equal authority and made organizational decisions jointly.

Pros: Everyone focuses on their areas of expertise. It's a natural system of checks and balances, guarding against people reaching out of their professional comfort zone. Promotes teamwork and healthy discussion.

Cons: Requires multiple high achievers to work together and share, a combination that doesn't always go together. Lends itself to backstabbing and infighting as everyone jostles for position. Needs a strong owner to ensure that everyone plays nice.

NFL examples: Houston Texans, Minnesota Vikings, Jacksonville Jaguars, Detroit Lions (for now).

My take: If you have the right people, including the right kind of owner, this approach can work well. But it's like a complicated offensive game plan: It must be executed flawlessly to succeed. It's rare for high-ranking sports officials to subordinate their egos indefinitely. Everyone has their own ideas.