November, 5, 2010
11/05/10
4:00
PM ET
»
NFC Final Word
:
East
|
West
|
North
|
South
»
AFC
:
East
|
West
|
North
|
South
Five nuggets of knowledge about Week 9:
Bring earplugs.
That's usually the advice to opponents who arrive at the Metrodome. This weekend, however,
Minnesota Vikings
coach Brad Childress might want to join in. At the very least, there is a rabid and vocal minority of Vikings fans whose discontent is running deep following Childress' decision to waive receiver
Randy Moss
. Sunday, we'll find out how widespread their displeasure is. Two years ago, fans
rained down chants of "Fire Childress"
during a sloppy victory over the
Detroit Lions
. At least in the early going Sunday, the Vikings face the possibility of a toxic atmosphere that offers little home-field advantage. It's nothing that a few early touchdowns couldn't eradicate, but remember this: The Vikings have scored only 21 points in the first quarter of their seven games this season.
Brett Favre is still here.
The Childress-Moss brouhaha all but eclipsed the fact that the Vikings quarterback practiced sparingly this week while dealing with elbow tendinitis, two fractures in his foot and a gash in his chin that required 10 stitches to close. We all know Favre is the Bionic Man and all, but at what point will all the king's horses and all the king's men not be able to put him back together again? We all know Favre is struggling to make it through games based on performance alone, having thrown 11 interceptions in 211 attempts. His 5.4 interception percentage would be the worst of his career. But in all seriousness, how many times will Favre bounce back from the type of hits he's taking? I have no doubt the
Arizona Cardinals
want to find out.
[+] Enlarge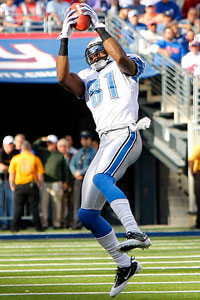 Jim O'Connor/US PresswireJohnson has a huge catch radius.
Switch-up.
There has been a lot of talk about the presumed matchup between Detroit Lions receiver
Calvin Johnson
and All-Pro
New York Jets
cornerback
Darrelle Revis
. But are we 100 percent certain that it will happen? It was only a month ago, after all, that the Jets assigned the bigger
Antonio Cromartie
to Minnesota Vikings receiver Randy Moss and had Revis chase slot man
Percy Harvin
. Cromartie did an excellent job on Moss for the most part, although Moss did beat him for a third-quarter touchdown. You wonder if the Jets won't repeat that pattern when they go to single coverage. Cromartie has more size to battle Johnson than Revis does. Just a thought.
Relief.
You have to wonder if the
Dallas Cowboys
' defense will be the necessary tonic to get the
Green Bay Packers
' offense on track heading into their bye. The Cowboys are allowing nearly 27 points per game and have generated only 10 turnovers, the ninth-lowest mark in the league. The Packers are in position to take some control of the NFC North by taking a game they should win at Lambeau Field. A victory would put them at 6-3 heading into their bye week with the prospects of getting a number of injured players back into the rotation afterward. Receiver
Donald Driver
(quadriceps) should be back in action by then, and the Packers should also have safety
Atari Bigby
(ankle) and cornerback
Al Harris
(knee) back no later than then.
The value of a bye.
It will be fascinating to see what the
Chicago Bears
come up with Sunday against the
Buffalo Bills
. The Bears have had two weeks to study their offensive problems, and it would be a case of gross negligence should no adjustments be obvious. Here's what quarterback
Jay Cutler
told Buffalo-area reporters
: "We've tried getting rid of the ball quicker and quicker so it's something that we definitely went into detail about over the bye week and we think that we've got everything solved."
He also said
that the Bears' pass-protection problems at times have distracted him from reading defenses downfield. All of that needs to end. The Bears have to find a way to get Cutler functioning at a higher level immediately. They might be able to beat the Bills no matter how Cutler plays, but there aren't many other teams on their schedule you can say that about.
October, 31, 2010
10/31/10
10:28
PM ET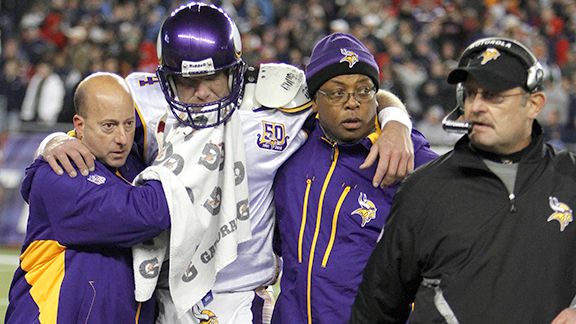 AP Photo/Michael DwyerBrett Favre had to be helped off the field after taking a hit that would require eight stitches.
FOXBOROUGH, Mass. -- It's official. There is no debate. The
Minnesota Vikings
, who
produced some pretty fine Masterpiece Theatre
last week, have taken it up a notch. (Or down, depending on your perspective.)
It's still Theatre ... but of the Absurd.
I don't know how else to describe what happened during and after the
Vikings' 28-18 loss
Sunday to the
New England Patriots
. In the span of about four hours, you had:
Quarterback Brett Favre playing perhaps his best game of the season despite two fractures in his left foot, only to be felled by a brutal fourth-quarter hit under the chin that left him woozy and needing a cart to get off the field.

Coach Brad Childress describing Favre's face as "a pretty good shade of white" after the play, and Favre appearing nearly unconscious as he lay on the cart. But after taking eight stitches to close the wound and a dose of numbing agent -- while apparently also making a quick trip to the Fountain of Youth -- Favre dragged himself in front of reporters and made clear he would play next Sunday against the Arizona Cardinals. In his affected state, perhaps Favre thought the Metrodome was hosting open casting calls for the Bionic Man. In all seriousness, it was stunning to see him standing upright and answering questions after the hit he took from defensive lineman Myron Pryor.

Finally, you had receiver Randy Moss offering a nearly five-minute statement in which he took oblique shots at Childress and the entire team while suggesting he wished he had not sulked his way out of New England earlier this month.
The only thing missing was a car full of clowns speeding through the locker room. Or maybe I just missed that one.
Favre said afterward that "hopefully our guys don't go south" after losing for the fifth time in seven games this season, leaving them tied with the
Detroit Lions
for the worst record in the NFC North. I really don't know if Moss became the first player to bag the season, or if his episode reflected a man so far off the deep end that his thoughts can't stand for those of the entire franchise.
Hopefully you read the
entire transcript of Moss' statement
, which he said would be his new way of interacting with the media following the NFL's decision to fine him $25,000 last week. (In true Theatre of the Absurd fashion, Moss said the only questions he would answer this season would be the ones he posed to himself.)
Of particular concern Sunday, however, were two of his sentiments: That Childress erred by not taking a short field goal just before the half, and that the Vikings didn't value his insight into the Patriots' schemes and tendencies.
With the score tied 7-7 late in the second quarter, Childress elected to run tailback
Adrian Peterson
on fourth-and-goal from the Patriots' 1-yard line. The play lost 2 yards, and ultimately the second half might have played out differently had the margin been three points closer. I think you could debate the decision reasonably on both sides, but it's not often that you hear a veteran player say what Moss uttered.
"I wish we could have had that three at the end of the half," he said. "Maybe it could have been different. Maybe not."
(Moss also referred to Patriots coach Bill Belichick as "the best coach in football history," leaving Childress no better than No. 2 on that list.)
For his part, Childress said he wanted to "just be aggressive" and added: "We were going to need seven points there, we thought, as opposed to those threes."
More notable, however, was Moss' "disappointment" that players and coaches didn't heed the information he provided during the week, a contribution Childress noted publicly several times.
"Tried to prepare, tried to talk to the players and coaches about how this game was going to be played," Moss said. "[A] couple tendencies here and a couple tendencies here. The bad part about it, is you have six days to prepare for a team, and on the seventh day, that Sunday, meaning today, I guess they come over and say, 'Dag Moss, I guess you was right about a couple plays and a couple schemes they were going to run.'
"And it hurts as a player, that you put a lot of hard work in during the week, and at the end of the week, Sunday, when you get on the field, that's when they acknowledge ... the hard work that you put in throughout the week. That's actually a disappointment."
The Vikings actually controlled the game for much of the first half, utilizing Peterson to consume the clock for nearly 20 of the first 30 minutes. They took a 10-7 lead with 9 minutes, 37 seconds remaining in the third quarter but couldn't regain the lead after
Tom Brady
's acrobatic 65-yard touchdown pass to receiver
Brandon Tate
.
But Moss' decision to lash out at least calls into question whether Childress still has the attention of a locker room filled with talented veterans who believe they know what it takes to win. Moss was targeted only twice and caught one pass for 8 yards in the game. Afterward, Childress referred to him as a "decoy" and Favre suggested there might be avenues to utilize Moss more frequently.
Favre noted that the Patriots, like the
Green Bay Packers
and
Dallas Cowboys
before them, had played a safety over top of him for most of the game. But, Favre added, there are ways to get around that.
"Now, maybe we can scheme up ways to move him around," Favre said, "or maybe even when it's two-deep coverage you buy enough time in protection by some type of play-action. I don't know."
In any event, this team sure looked on the brink of collapse as it departed Gillette Stadium. Favre admitted that, as he rode off the field a bloody mess, a dark thought briefly crossed his mind. "What in the world am I doing?" Favre said he was thinking at the moment.
But Favre insisted that "I'm in it to win it," and here is the reality: Even with two teams at 2-5, the NFC North remains a four-team race. But I was struck, and even felt a pang of sympathy, as Favre closed out his news conference.
"There have been plenty of times I should have been knocked out," Favre said. "But I wasn't. I think I'm all right."
A member of the Vikings' public relations staff called an end to the interview, but Favre wouldn't leave the podium. As the numbing agent caused him to slur a bit, Favre continued. Even now, he was still in character.
"I'll be ready to play next week," he said quietly, staring at the ground.
On this day, however, it hardly mattered. There are no roles for a Bionic Man in this show. We've moved from standard drama to
The Endgame
.