October, 15, 2012
10/15/12
6:59
PM ET
Before I run out of gas on what has been what I'll call Sonday -- a Sunday that never really ended and has bled into Monday -- let's review what we know about the
Green Bay Packers
' long list of injuries and personnel questions stemming from their 42-24 victory against the
Houston Texans
on Sunday/Monday.

Courtesy the
Twitter feed of ESPNMilwaukee.com reporter Jason Wilde
:
OK. Barring more breaking news, I'll be back with you Tuesday morning.
August, 20, 2012
8/20/12
10:00
AM ET
Another in a series of NFC North rookies who have generate
d buzz.
(Full series here.)
You saw it. I saw it.
Minnesota Vikings
coach Leslie Frazier saw it. There is no doubt that rookie linebacker
Audie Cole
returned interceptions for touchdowns on consecutive defensive plays from scrimmage Friday night in the Vikings' 36-14 preseason victory over the
Buffalo Bills
.
[+] Enlarge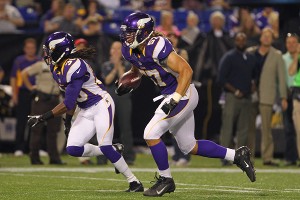 Brace Hemmelgarn/US PresswireRookie linebacker Audie Cole, who had only one career collegiate interception, had two picks Friday night against the Bills.
What each of us does with that information, however, could be substantively different. Many of you are calling for Cole -- a seventh-round pick from North Carolina State -- not only to earn a spot on the roster but to unseat starter
Jasper Brinkley
, who hasn't had an impressive preseason. I'm including Cole in a series previously reserved for high draft choices. Frazier? He's doing exactly what you would expect from a coach: Tempering expectations and politely reminding everyone that "we'll look at his entire body of work as we're trying to make a decision on what's best for our team," as he told reporters Sunday.
Cole is a big dude; he measured a bit over 6-foot-4 and weighed in at 246 pounds at the February scouting combine. But a relatively slow performance in the 40-yard dash (4.81 seconds) gave teams reason for pause when considering whether he had the range that today's NFL linebackers need. (Consider that the draft's top middle linebacker,
Luke Kuechly
, ran a 4.58.) Here's a sample of
Scouts Inc.'s report

on Cole prior to the draft:
"Makes plays in pursuit but effort has more to do with it that anything else. Not a sideline-to-sideline player and has to take sound angle or risks getting sub-par range exposed. Doesn't have the burst to chase NFL backs down from behind. Gets caught up in the wash a little too much."
Cole had one interception in his college career, but when you look back at the two he managed Friday night, you see a player who anticipated throws from two veterans --
Tyler Thigpen
and
Brad Smith
-- and didn't have much doubt about where he should go after he caught the ball.
"What some people think is a lack of speed," Frazier said, "he's really closing and moving fairly quickly. His length makes a big difference. Those quarterbacks who think they can line-drive a ball in like they did the other night because of his length, all of a sudden that pass is not a completion. It could be an interception. But he has good instincts, he has good anticipation, he's a smart football player and that can offset a guy who doesn't have blazing speed."
Like most low-round draft picks, Cole's immediate future -- whether he makes the roster or is shuffled to the practice squad -- will be determined by his ability to contribute on special teams. But you don't have to spend much time with the Vikings' depth chart to realize that even a seventh-round draft pick has a good chance to win a roster spot this summer.
Brinkley's backup is technically first-year player
Tyrone McKenzie
, but it's thought that weakside linebacker
Erin Henderson
or veteran backup
Marvin Mitchell
would step in first for Brinkley if necessary.
We hadn't heard much about Cole before now, but it's hard not to take notice after Friday night's events. Preseason flashes don't always foreshadow productive careers, but they're always preferable to the alternative.
"It's what you sit the night before and think about," Cole said. "Doing stuff like that. I am trying to make the team, and I hope that helps my cause."
July, 28, 2011
7/28/11
4:51
PM ET
Thursday afternoon marked the opening of the NFL's official waiver season, when teams can formally release players and begin adjusting their salary cap structure.
We've already discussed
the
Chicago Bears
' now-official decision to release tight end
Brandon Manumaleuna
, and now we'll hit some other NFC North-related personnel moves in quick-hitting fashion.
Item:
The
Green Bay Packers
have informed linebacker
Brady Poppinga
and defensive tackle
Justin Harrell
they will be released, according to
Jason Wilde of ESPNMilwaukee.com
.
Comment:
Poppinga was coming off a serious knee injury. Harrell now qualifies as the biggest bust of general manager Ted Thompson's tenure. Drafted with a history of injuries, Harrell couldn't stay on the field for the Packers.
Item:
The
Minnesota Vikings
released safety
Madieu Williams
.
Comment:
Williams was due $5.4 million in 2011, a high price for a player who might not have made the team. He was originally signed on the advice of now-coach Leslie Frazier, but a 2008 neck injury seemed to rob him of some aggressiveness as a tackler. I'm not sure if his replacement is on the roster yet, but
Tyrell Johnson
might get a chance.
Item:
The
Detroit Lions
will release linebacker
Jordon Dizon
.
Comment:
Dizon was a vestige of Rod Marinelli's Tampa 2 defense and too small to fit into the Lions' current scheme.
Item:
The Bears lost out on two free agents they have been reported to have interest in, receiver
Brad Smith
and offensive lineman
Jermon Bushrod
.

Comment:
They're too busy getting straight at tight end to worry about all that.
July, 26, 2011
7/26/11
9:57
PM ET
I'm continuing to get my head around the
Minnesota Vikings
'
reported pursuit
of quarterback
Donovan McNabb
, which to this point qualifies as the biggest NFC North development on Day 1 of the 2011 free-agent market. We've also discussed issues from
Matthew Stafford
's
swagger
to
Aaron Rodgers
'
free-agent wish list,
and I'm sure there will be much more to come.
McNabb
For now, let's review in rapid-fire fashion a number of other developments that merit comment but maybe not their own blog post:
Item:
Former Vikings quarterback
Tarvaris Jackson
agreed to terms
with the
Seattle Seahawks
, where he will reunite with offensive coordinator Darrell Bevell.
Comment:
Someone in the Seahawks' building clearly wants someone else to win the starting job, be it
Charlie Whitehurst
or
Matt Leinart
. As much as I respect Jackson as a person, I don't see him as an NFL starter -- and neither do many other people in the league.
Item:
The Vikings
agreed to terms
receiver
Devin Aromashodu
, formerly of the
Chicago Bears
, to a one-year contract.
Comment:
Aromashodu isn't a possible replacement for
Sidney Rice
or even
Bernard Berrian
, should he be released. Aromashodu remains an intriguing big target who had a career game against the Vikings in 2009, catching seven passes for 150 yards and a game-winning touchdown. Opponents don't forget games like that.
Item:
Free agent receiver
Santana Moss
agreed to terms
with the
Washington Redskins
.
Comment:
Send your condolences to Bears receiver
Devin Hester
, who
publicly lobbied
the team to sign Moss.
Item:
The Bears have interest in free-agent receiver
Brad Smith
, according to a report by
ESPNChicago.com's Michael C. Wright
.
Comment:
Smith offers a bigger look than the rest of the Bears' receivers and could also return kickoffs following the expected departure of
Danieal Manning
. Bring him on.
Item:
The Bears want free-agent linebacker
Nick Roach
to return as a backup, according to a report by
ESPNChicago.com's Jeff Dickerson
.
Comment:
That means the Bears still need a starter at strong-side linebacker. They are interested in
Jacksonville Jaguars
linebacker
Justin Durant
, according to a
ESPNChicago.com
report.
Item:
The
Detroit Lions
will release
receiver
Bryant Johnson
, according to report by Dave Birkett of the Detroit Free Press.
Comment:
It wouldn't have made sense to bring Johnson to training camp after drafting
Titus Young
as the likely No. 3 receiver. That gives a player many of you have asked about,
Derrick Williams
, a fighting chance to make the team as a No. 4 receiver.
Item:
The Vikings have told defensive tackle
Jimmy Kennedy
he won't return in 2011, according to
Kennedy's Twitter feed
.
Comment:
Cross off another candidate to start at defensive tackle if free agent
Pat Williams
signs elsewhere and during
Kevin Williams
' expected four-game suspension.
Item:
The Bears are the only NFC North team to release a list of undrafted free agents they have signed.
Comment:
All 26 names are
published over at ESPNChicago.com
for your enjoyment.
Item:
And today will be better than yesterday.
Comment:
That's my friend Buster Olney's
signature blog sign-off
. I like it.
May, 2, 2011
5/02/11
2:40
PM ET
Cleaning out my notebook with the 2011 NFL draft in the books:
The Chicago Bears love their safeties.
Cal's Chris Conte is the ninth they've drafted since general manager Jerry Angelo took over in 2002.
(Extra credit if you can name all nine. They're at the bottom of this post.)
The Bears have given most of the players on that list a chance to start, and there's no reason to think they have a different plan for Conte. The Bears are targeting 2010 third-rounder
Major Wright
as a starting safety, and it's only fair to note that his presumed 2011 partner -- veteran
Chris Harris
-- is entering the final year of his contract. Is Conte the long-term replacement for Harris?
Bears general manager Jerry Angelo said the Bears "spent a lot of time" scouting Conte and noted that his conversion from cornerback means he has some cover skills. Bears defensive backs coach Jon Hoke received a strong recommendation from Cal defensive coordinator Clancy Pendergast, and Angelo said it's "very, very hard to find free safeties." Call me crazy, but I'm thinking we'll see Conte on the field sooner rather than later.
[+] Enlarge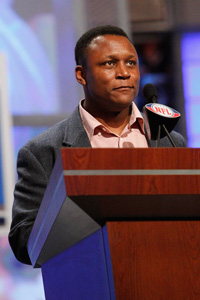 AP Photo/Frank Franklin IIFormer Lions running back Barry Sanders said via Twitter that he might visit Detroit's training camp this offseason.
It was nice to see Hall of Fame running back Barry Sanders announce the Detroit Lions' choice of Boise State receiver Titus Young in the second round.
Sanders hasn't taken much of a public profile in recent years, so it was interesting to follow his draft thoughts via Twitter (
@BarrySanders
). I noticed
this tweet
in particular:
"Very impressed with what the team has done over the past few drafts.... I might even stop by training camp to see the guys this year..."
The Lions have a distinguished history that predates that disastrous Matt Millen era that many modern-day fans associate them with. The endorsement of one of their best-ever players shouldn't be taken lightly.
Only a few minutes after drafting Illinois running back Mikel Leshoure, Lions coach Jim Schwartz was already facing the question:
How will he dole out playing time between Leshoure and incumbent
Jahvid Best
?
Schwartz said he won't use a "Randy Ratio," the
Minnesota Vikings
' ill-fated attempt to ration throws to receiver
Randy Moss
in 2002. (Current Lions offensive coordinator Scott Linehan was in the same position with the Vikings at the time.) Schwartz said there was "definitely a possibility" of using both in the same backfield, but made clear that the approach could "change from week to week."
Schwartz: "It might change due to injuries and player availability. It might change based on opponent. I think there's a lot of different things that happen in our division. We see a 4-3 team like the Chicago Bears. We see a 3-4 team like the
Green Bay Packers
. That's a different style of running back. [You] play 3-4 teams that are two-gapping, that are holding on -- you need a big back who can run through some arm tackles. You want to get guys matched up on different teams, you need guys who can match up and beat linebackers and people that want to play man and trick coverage up for a certain player."
A few years ago, we celebrated when the Bears drafted the "pool guy."
Defensive lineman
Jarron Gilbert
had made waves during the pre-draft process by jumping out of a pool and posting the video on YouTube. Unfortunately, Gilbert couldn't play and was waived last summer.
The Green Bay Packers drafted their own pool guy, Arizona defensive end/linebacker Ricky Elmore, but there is reason to believe he has a better future than Gilbert.
True, Elmore
has posted videos
of him both jumping out of a pool and into a truck on YouTube. But it's also worth noting that Elmore actually had more production last season than his more-famous teammate, defensive end/linebacker
Brooks Reed
.
Elmore finished last season with 11 sacks and a total of 13 tackles behind the line of scrimmage. Reed had six sacks and 10 tackles behind the line. At 6-foot-5 and 255 pounds, I'm eager to see if Elmore's athleticism and college production can translate in the Packers' 3-4 scheme.
Vikings rookie quarterback Christian Ponder is expected to be the starter sooner than later, if not immediately.
Assuming that's the case, it's quite possible the Vikings will look for other ways to get
Joe Webb
onto the field -- possibly in a way that reflects the
New York Jets
' use of
Brad Smith
. In either event, it's likely the Vikings will need a veteran backup.
Offensive coordinator
Bill Musgrave
endorsed that suggestion,
saying over the weekend that it "balances out a position." There continue to be reports, most recently
from NFL.com
, that the Vikings' most likely target is Washington's
Donovan McNabb
. If Ponder is going to take over at some point in 2011, that wouldn't make much sense to me.
But
what do I know
?
The Vikings might be the only NFC North team looking to add to its quarterback depth chart. Angelo strongly indicated that rookie
Nathan Enderle
will be the Bears' No. 3 quarterback behind
Jay Cutler
and
Caleb Hanie
. The Packers seem set with
Aaron Rodgers
,
Matt Flynn
and
Graham Harrell
. And Lions general manager
Martin Mayhew
has said he plans no changes from the trio of
Matthew Stafford
,
Shaun Hill
and
Drew Stanton
.
South Florida safety Mistral Raymond, drafted by the Vikings with the No. 170 overall pick, has endured an incredible three years.
As
Vaughn McClure of the Chicago Tribune
explains, a group vowing retaliation for a shooting mis-identified Raymond's childhood home in Florida and burned it down using Molotov cocktails. No family members were killed, but one of Raymond's sisters was shot four times and airlifted to a trauma center for emergency surgery.
Then, last month,
another sister was murdered
. Raymond said over the weekend that he hoped his selection in the draft provided a joyful outlet for his family.
"Just having my family here with me, having them see my name come across the screen and seeing the excitement that it brought them, I think it was a relief for all of us," he said. "It helped me realize what type of position that the Lord has put me in. He has blessed me to be an outlet for my family. For them to have excitement no matter what at any given time of the day. It's just a great feeling for me personally, and I'm very grateful to be in the position I'm in."
And finally, your trivia answer:
Bobby Gray
(2002),
Todd Johnson
(2003), Chris Harris (2005),
Danieal Manning
(2006),
Kevin Payne
(2007),
Craig Steltz
(2008),
Al Afalava
(2009), Major Wright (2010), Chris Conte (2011).
December, 27, 2010
12/27/10
12:00
PM ET
After the Chicago Bears' 38-34 victory over the New York Jets, here are three issues that merit further examination:
Kevin SeifertThe NFC North champs take their turn in the exam room.

Here is some context for how unusual Sunday's offensive output was: This season, the Jets had won every game in which they had scored at least 10 points. In other words, that's all their defense has needed to lock down opponents. But against the Bears, not even 34 points was enough. You have to assume the Bears will advance in the playoffs as far as their defense and special teams can take them. But it's now comforting to know their offense has progressed to the point where it can compete in, and win, a shoot-out.

Quarterback Jay Cutler is getting all kinds of praise for his three-touchdown performance, and rightfully so. The Jets had allowed only two passing touchdowns all season that traveled more than 20 yards in the air, and Cutler had three of them Sunday. I give some credit to Cutler for identifying single coverage in each instance, but for me the more impressive play came from the receivers. Johnny Knox (twice) and Devin Hester weren't necessarily open but made exceptional adjustments on the ball in the end zone. The plays were a combination of a quarterback's growing confidence and the receivers' growing skill level.

Rashied Davis did what any smart and experienced special-teams player would do Sunday: He took a double-take as soon as he noticed Jets quarterback Mark Sanchez hadn't left the field on a fourth-down situation from the Jets' 40-yard line early in the third quarter. Davis immediately recognized the fake and made sure to cover receiver Brad Smith and break up the play. I don't blame the Jets for trying a fake rather than punting to Hester, but come on. A fake with your quarterback as the upback? That's not going to surprise a well-coached special-teams group like the Bears'.
And here is one issue I still don't get:
What's gotten in to Chris Harris? The Bears' veteran safety collected a season-high 11 tackles and made another key interception, this time ending the Jets' final possession and sealing the victory. Over his past eight games, Harris has five interceptions. I'm sure Pro Bowl voters had already started making their minds up before the final month of the season, but Harris sure has put on a nice run. Initially, it was assumed that Harris' return to the Bears was a stopgap measure. But Brad Biggs of the Chicago Tribune pointed out in April that Harris could play his way into a nice extension, and now it appears he will.