NFC North:

Branden Albert
October, 28, 2011
10/28/11
10:25
AM ET
You're probably aware that
Minnesota Vikings
defensive end
Jared Allen
grabbed two more sacks last Sunday against the
Green Bay Packers
, bringing his NFL-leading total to 11.5 through seven games. If you care to project, you know that Allen remains on pace to break the NFL single-season sack record.
So let's review one aspect of his dominance this season that you might not have noticed. I know I didn't until it was pointed out by ESPN Stats & Information.
All of Allen's sacks have come when lined up as a right defensive end, ostensibly facing the opponent's left tackle. That's more than double the next-highest total among NFL pass rushers; the
San Francisco 49ers
'
Aldon Smith
has 5.5 sacks when lined up across the opponent's left side.
Allen primarily plays the right end position, but like most teams, the Vikings move him around on occasion for matchup or stunt purposes. Generally speaking, an opponent's left tackle is its best pass blocker and is best equipped to compete with an elite pass rusher. As the discrepancy beween Allen and Smith shows, most of the NFL's top pass rushers generate at least some of their success elsewhere.
It's fair to point out that Allen hasn't played against many of the NFL's top left tackles. The Packers'
Chad Clifton
missed last weekend's game and was replaced by
Marshall Newhouse
. Allen had two sacks against the Packers, three against the
Detroit Lions
(
Jeff Backus
), and another two against the
Kansas City Chiefs
(
Branden Albert
) and the
Arizona Cardinals
(
Levi Brown
). He managed a half sack against the
San Diego Chargers
' Marcus McNeil, a two-time Pro Bowler.
Each team uses different blocking schemes, and sometimes the left tackle isn't assigned to block Allen -- at least not alone. But at the very least, however, we can say that Allen's elite-level success is coming exclusively against opponents' best pass blockers. No one else in the NFL can support that statement.
September, 28, 2011
9/28/11
5:25
PM ET
EDEN PRAIRIE, Minn. —
Jared Allen
will return to Kansas City this weekend with the NFL's second-most sacks on the season. It's been more than three years since the
Minnesota Vikings
acquired him in one of the most expensive trades in recent NFL history, but it's clear that Allen hasn't fully gotten over the event.
Speaking in a conference call
with members of the Kansas City media, Allen hammered former Chiefs president Carl Peterson and team owner Clark Hunt. He said Peterson "lied" to him about plans to offer him a contract extension and criticized Hunt for "choosing Carl over me."
I don't usually get too excited about this kind of cliché story line. Every now and then,
it's special
. But in the NFL's salary cap era, it's routine for players to change teams. If they continue playing long enough, they're bound to face their former team. Sometimes they perform well. Sometimes they don't.
In this particular case, Allen is already a high-energy player. Do we really think he'll step it up another notch because he's playing the Chiefs? After all, Peterson has long since left the team. Allen is four years removed from donning a Chiefs uniform and almost all of his former teammates have moved on as well.
What this occasion does provide, however, is a chance to recognize the extensive return the Vikings have gotten on their investment.
As you recall, the Vikings sent the Chiefs four draft picks -- including the No. 17 overall pick of the 2008 draft -- in exchange for Allen and a sixth-round pick that became center
John Sullivan
. Then they signed Allen to a six-year contract that paid him $25 million in 2008 and will be worth a total of $73.26 million if he's with the Vikings through its final season in 2013.
The Chiefs used two of the draft picks to select left tackle
Branden Albert
and running back
Jamaal Charles
, but I'm guessing the Vikings would pay the same price again. As the chart shows, only one NFL player --
Dallas Cowboys
linebacker
DeMarcus Ware
-- has recorded more sacks than Allen (44.5) since the trade.
Allen didn't speak with Twin Cities reporters Wednesday. What's left to say?
February, 12, 2010
2/12/10
12:58
PM ET
My AFC West colleague, Bill Williamson,
took a detailed look
at the upcoming two-year anniversary of the
Jared Allen
trade, and I have a few Minnesota-centric thoughts to add.
First, let's review the terms of the April 2008 deal. The Vikings got:
Defensive end Jared Allen

Kansas City's sixth-round pick in the 2008 draft. (It became starting center John Sullivan.)
The Chiefs got:
[+] Enlarge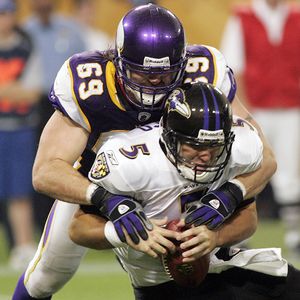 AP Photo/Paul BattagliaMinnesota's Jared Allen has at least 14.5 sacks in each of the past three seasons.
It would be tough to argue that Minnesota didn't win this trade, and Bill never made that claim. He does point out that Allen wouldn't be an ideal fit for the Chiefs' new 3-4 scheme, and notes that Charles seems set to be their tailback of the near future.
But while the Chiefs did get good value, they traded away a then-26-year-old player who will go down as one of the best defensive players in his era. No NFL player has more than Allen's 72 sacks over the past six years, the type of figure that voters will one day consider when measuring Allen's candidacy for the Pro Football Hall of Fame.
After quarterbacks, outside pass-rushers are the second-most valuable commodity in the NFL. They can change a game in an instant, and there are only a handful who consistently can put up 10-sack seasons, let alone Allen's production.
And it's not as if Allen has dropped off since the trade. He has 29 sacks in his first 32 games with the Vikings. Only Dallas'
DeMarcus Ware
(31) has more sacks over that span. Allen, in fact, is one of only two players in NFL history to have three consecutive seasons with more than 14 sacks. Reggie White was the other.
The Chiefs will be hard-pressed to match that value even with the bounty they extracted from the Vikings. I'm not even considering that Minnesota also got its starting center in the trade; the Vikings liked Sullivan entering the draft and probably would have drafted him without the trade.
We're only two years in, but I don't think Allen could have given the Vikings anything more than what they've gotten. They were seeking one of the rarest NFL commodities, regardless of cost, and that's exactly what Allen has been.