NFC North:

Brando Jackson
October, 7, 2010
10/07/10
11:30
AM ET
Sometimes, a relatively harmless penalty can mark a significant shift in the flow of a game. Consider tight end
Jermichael Finley
's first-quarter holding call Sunday in the
Green Bay Packers
' 28-26 victory over the
Detroit Lions
at Lambeau Field.
[+] Enlarge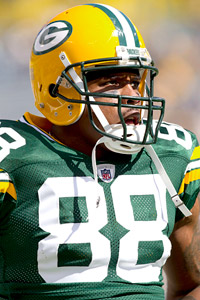 Jeff Hanisch/US PresswireDid Jermichael Finley's penalty drastically alter the course of Sunday's game against Detroit?
The Packers had cruised to a touchdown on their opening possession, and they started their second with an 11-yard pass to Finley. Then, on first-and-10 from the Packers' 33-yard line, tailback
Brandon Jackson
sprinted around right end for 12 yards. Lions defensive end
Kyle Vanden Bosch
committed a silly personal foul at the end of the play, bumping Packers tight end
Tom Crabtree
, and the Packers could have resumed play at the Lions' 40-yard line.
But referee Mike Carey's crew whistled Finley for holding during a key block on Lions linebacker
Zack Follett
, creating an offsetting situation and wiping out the play entirely. The Packers technically weren't backed up, as they resumed play with another first-and-10 at the 33, but they realistically lost 27 yards on the exchange. And more important, it was one of the last successful runs the Packers would have until the final minutes of the fourth quarter. Of their next 22 plays before their final possession, only two were a designed run of more than three yards.
Worse, the call was shaky at best. When you watch the replay, you see Finley blocking down on Lions defensive end
Cliff Avril
, helping right tackle
Mark Tauscher
push him inside, and then peeling off toward Follett as Jackson runs by.
Finley engages Follett for several seconds before Follett breaks away to chase the play. As the outside linebacker, Follett was responsible for containing Jackson toward the sideline.
The block looked pretty good to me. I suppose there are two possibilities to explain the call. Finley's right hand landed on the outside of Follett's shoulder pads, creating the often-called visual of a player blocking "outside of the opponent's frame." Here's how the NFL rule book defines that scenario:
A blocker may use his arms, or open or closed hands, to contact an opponent on or outside the opponent's frame (the body of an opponent below the neck that is presented to the blocker). If a blocker's arms or hands are outside an opponent's frame, it is a foul if the blocker materially restricts him. The blocker immediately must work to bring his hands inside the opponent's frame, and as the play develops, the blocker is permitted to work for and maintain his position against an opponent, provided that he does not illegally clip or illegally push from behind.
While Finley didn't immediately bring his hand back inside, I also didn't think he was "materially restricting" Follett from the play, either.
Second, the replay shows Follett having some difficulty breaking away from Finley after turning to run. Did Finley grab him, another fair cause for a holding penalty? I didn't see that, either. Sometimes, a defender using substandard technique to separate from a blocker is rewarded when an official assumes he can't break away because he is being held.
The Packers finished the drive poorly, and
Tim Masthay
's 21-yard punt gave the Lions good field position for a touchdown drive of their own. What started as a possible early blowout became a competitive game. Would that have happened had officials passed on the Finley hold? It's hard to say, of course. But in retrospect, it changed the early direction of the game.
Now, on to our updated Challenge Tracker: