December, 28, 2014
12/28/14
10:15
PM ET
»
Wild-Card Round
:
Schedule
»
AFC
:
BAL-PIT
|
CIN-IND
»
NFC
:
DET-DAL
|
ARI-CAR
GREEN BAY, Wis. – Three things to know about Sunday's Detroit Lions-
Dallas Cowboys
wild-card playoff game at AT&T Stadium:
1. Familiar faces:
Although the Lions and Cowboys didn't play this season, there will be a lot of familiar coaching ties for Detroit on the sideline. Former Lions offensive coordinator Scott Linehan spent 2009-2013 with Detroit, including mentoring
Matthew Stafford
through the first five years of his career. He led Dallas to the No. 8 offense this season. The Cowboys' defensive coordinator, Rod Marinelli, was Detroit's head coach from 2006-2008 and has coordinated the NFL's No. 20 defense this season.
2. Calvin vs. Carr could be interesting:
When these teams played last season at Ford Field, Dallas chose to single-cover
Calvin Johnson
with
Brandon Carr
for most of the game, and it resulted in a 14-catch, 329-yard performance from Johnson in a 31-30 Lions victory. How Dallas chooses to cover Johnson and
Golden Tate
could be one of the more intriguing matchups.
3. Dallas is hot right now:
The Cowboys have scored 31 or more points in six of the past seven games, including more than 40 points in three of the past four. The Lions will also have to contend with the NFL's leading rusher,
DeMarco Murray
, who finished the regular season with 1,845 yards and a league-leading 13 touchdowns. To put Murray's season in context, the Lions gained 1,422 yards rushing as a team this season. Of course, Murray will also have to face the NFL's top run defense.
August, 18, 2014
8/18/14
5:30
PM ET
GREEN BAY, Wis. --
Green Bay Packers
cornerback
Sam Shields
broke in to the top 100 on
ESPN's #NFLRank project
, but just barely.
It remains to be seen how many cornerbacks will check in higher than Shields as the rest of the list is unveiled over the next two weeks. The fifth-year cornerback was No. 95 on the
list of top defensive players
in the league as polled by 85 ESPN NFL contributors, including all 32 NFL Nation reporters.
But the four-year, $39 million contract he signed as a free agent in March suggests the Packers expect him to be even better than that.
Based on average per year, Shields' $9.75 million pay ranks tied for sixth among all NFL cornerbacks behind
Darrelle Revis
($16 million),
Richard Sherman
($14 million),
Patrick Peterson
($14.01 million),
Joe Haden
($13.5 million) and
Brandon Carr
($10.02 million).
According to ESPN Stats & Information, since Shields' rookie season of 2010, no player has more postseason interceptions than he does (four).
This is the second year of this ESPN project, and Shields did not make the top 100 last year. Over the next two weeks, the list of players will be revealed 10 at a time. The Packers did not have any players in the 91-100 category on the offensive side of the ball.
March, 17, 2014
3/17/14
8:00
AM ET
On the eve of free agency last week, our four NFC North reporters -- Rob Demovsky (
Green Bay Packers
), Ben Goessling (
Minnesota Vikings
), Michael Rothstein (
Detroit Lions
) and Michael C. Wright (
Chicago Bears
) -- compiled a list of
the top-15 free agents
in the division.
A week has passed and nine of them already have come off the market, including six who re-signed with their old teams.
Perhaps the biggest-name free agent from the NFC North, former Bears defensive end
Julius Peppers
, did not make the original list because he was not a free agent until he was released last week. He
signed with the Packers
on Saturday.
You can follow all of the NFL free-agent moves in
Bill Polian's free-agent tracker
, but let's revisit the NFC North top 15 and see what has changed:
1.
Sam Shields, Packers CB
: Signed a four-year, $39 million contract just a few hours into the open negotiating period on March 8. His $9.75 million per year average made him the fourth-highest paid cornerback in the league behind
Darrelle Revis
($16 million),
Brandon Carr
($10 million) and
Aqib Talib
($9.8 million).
2. Brandon Pettigrew, Lions TE
: Re-signed with the Lions for four years and $16 million, including a $4 million signing bonus.
3. Jermichael Finley, Packers TE
: Remained unsigned after a visit to the
Seattle Seahawks
last week. It's not known what the Seahawks' medical staff thought of Finley's C-3/C-4 neck vertebra fusion surgery that he had last November following his season-ending neck injury.
4. Charles Tillman, Bears CB
: Signed a one-year contract to return to Chicago last Friday after missing half of last season because of a torn triceps. The deal is worth about $3.5 million.
5. B.J. Raji, Packers DT:
Less than a year after reportedly turning down a multi-year offer that averaged $8 million per season, he returned to the Packers for a one-year deal signed on Friday that was believed to be worth $4 million plus incentives.
6. Matt Cassel, Vikings QB
: Opted out of his 2014 contract after the Super Bowl but signed a new two-year, $10.5 million deal with the Vikings on March 7, just before teams could start contacting his agent and will likely head into training camp with the inside track on the starting job.
7. Willie Young, Lions DL
: Signed a three-year, $9 million contract with the Bears. Former seventh-round pick received his first extensive playing time with the Lions in 2013, becoming a full-time starter after
Jason Jones
was injured for the season in Week 3.
8. James Jones, Packers WR
: Remained unsigned after the first week of free agency and has not had any known visits even after he ranked second on the Packers last season in receptions (59) and yards (817), the latter of which was a career high despite missing nearly three full games because of a knee injury. Three years ago, coming off the NFL lockout, Jones did not draw strong interest on the free-agent market and re-signed with the Packers for three years and $9.6 million. Could the same thing happen again?
9. Jared Allen, Vikings DE
: Remained unsigned after the first week of free agency but reportedly visited the Seattle Seahawks over the weekend. After three All-Pro selections in six years, Allen's time in Minnesota is over.
10. Josh McCown, Bears QB
: Signed a two-year, $10 million contract to rejoin his old coach, Lovie Smith, with the
Tampa Bay Buccaneers
.
11. Henry Melton, Bears DL
: Coming off a torn ACL, Melton went unsigned during the first wave of free agency but has a visit scheduled with the
Dallas Cowboys
this week.
12. Devin Hester, Bears KR
: Remained unsigned more than a week after the Bears said they would not bring him back.
13. Rashean Mathis, Lions CB
: Remained unsigned after playing in 15 games and taking over as a starter early in the season last year.
14. Everson Griffen, Vikings DE
: Cashed in on March 9th by signing a five-year, $42.5 million deal that included $20 million guaranteed to return to Minnesota.
15. Louis Delmas, Lions S
: Signed a one-year, $2.25 million contract with the
Miami Dolphins
after the Lions released him with one year remaining on his contract in February, in part because of a cap number of $6.5 million in 2014.
December, 12, 2013
12/12/13
10:00
AM ET
IRVING, Texas -- The
Green Bay Packers
and
Dallas Cowboys
are two of the most storied franchises in NFL history, but with three games to play in the 2013 season both are on the outside of the playoff chase and in need of a win.
The Packers have fallen on hard times without
Aaron Rodgers
but won last week against the
Atlanta Falcons
. The Cowboys are coming off a humiliating loss to the
Chicago Bears
and have a short week to get ready.
ESPN.com Packers reporter Rob Demovsky and Cowboys reporter Todd Archer debate the matchup in this week's Double Coverage.
Archer:
I'll skip the "What's Aaron Rodgers status?" and ask about Ted Thompson's approach to the backup quarterback. The Cowboys pay
Kyle Orton
a lot of money to hopefully never throw a pass. Is there any regret form the Packers that they did not have a better backup quarterback situation behind Rodgers, considering their struggles without him?
[Editor's note: Rodgers was officially ruled out for Sunday's game on Friday.]
Demovsky:
Thompson admitted at the end of training camp that he probably should have signed
Vince Young
much earlier than he did, although after watching Young for about a month, I'm not sure he would have been any better had the Packers signed back in the spring. Where they probably erred was in not drafting a quarterback. They overestimated what they had in
Graham Harrell
and B.J. Coleman, and neither one developed enough. When Ron Wolf was the GM, he made it a regular practice to draft a quarterback in the middle-to -late rounds. Not all of them worked out, but guys like
Ty Detmer
,
Mark Brunell
,
Matt Hasselbeck
and
Aaron Brooks
all came up through the Packers' system.
Packers defensive coordinator Dom Capers said
Tony Romo
is "playing probably as good as he has in his career." Do you agree with that assessment?
Archer:
I'd agree with that, sure. It's hard to argue against his numbers. He has 3,244 yards passing with 27 touchdowns and seven interceptions. He's taking care of the ball. He had one really careless throw and it cost the Cowboys big-time in their loss to the
Denver Broncos
. Romo gets most of the blame for the December/January woes this team has had, but in his last 16 games he has 34 touchdowns and seven picks. It's hard to play better than that. But you know what? He has to. This defense is so bad that Romo has to be nearly perfect. There can be no poor drives. If they don't get points they at least need to chew up time because there's not an offense the Cowboys can slow down right now.
When the Packers won Super Bowl XLV at AT&T Stadium they were able to overcome so many injuries, especially on defense as we talked about. The difference this year is Rodgers missing time, but is there anything more to it than that?
Demovsky:
They did end up with 15 players in injured reserve in their Super Bowl season, and then during that game itself they lost
Charles Woodson
to a broken collarbone. But you know what? This defense played fine early this season and even during the stretch
Clay Matthews
missed because of his broken thumb. Capers said last week that losing Rodgers had nothing to do with the Packers' defensive slide, but I'm not buying it. The Packers' defense got four turnovers in the Thanksgiving game at Detroit and still got walloped 40-10 because the offense couldn't do a darn thing with them. To be sure, there are issues on defense. Their failure to address needs at safety has hurt them up the middle, where their inside linebackers also haven't played well enough.
It sounds like Monte Kiffin is already taking heat, but how much of it is personnel? When I saw Packers castoff
Jarius Wynn
playing Monday night against the Bears, to me that was a red flag that there are talent issues, perhaps some of them caused by injuries.
Archer:
There are talent issues and there are depth issues. Blame the owner and GM who constructed this team. Blame the coaches -- Kiffin and Rod Marinelli -- for saying the line was a position of strength. The Cowboys thought they had pieces to fit Kiffin's scheme at the start of the year.
DeMarcus Ware
has not been DeMarcus Ware in part because of injuries, but he acknowledged he has to play better.
Bruce Carter
was supposed to be the ideal weak-side linebacker and he just has not made any plays. The corners are more man corners and Kiffin has tried to play more man but all of them --
Brandon Carr
,
Morris Claiborne
and
Orlando Scandrick
-- have had issues.
Sean Lee
has been hurt and could miss Sunday's game with a neck injury. He's been good but the defense has been lit up with him on the field, too. It's just a mess. Until Jerry Jones realizes he needs better players, not necessarily better schemes, it will be a mess.
Let's stick with the defensive coordinators. From the outside looking in, it appears Capers is catching a lot of grief too. Are the Packers committed to the 3-4 regardless or could they pull a Dallas and move to a 4-3 in the future?
Demovsky:
When the cornerstone of the defense is Matthews, an outside linebacker, I would think they'd have to stick with the 3-4 even if they part ways with Capers, which I'm not sure will happen anyway. Mike McCarthy has continually praised Capers and the defensive staff. It's probably more about personnel. They need a few more playmakers to help out Matthews. They haven't gotten enough production from their defensive front. I'd look for an overhaul in personnel more than a coaching change.
Knowing the temperature in the Cowboys locker room like you do, how do you think they will react to getting steamrolled Monday night? Is this a group that will fight? Or will they pack it in?
Archer:
This is where I have to give Jason Garrett credit. This team has fought. Maybe they didn't fight all that much in the losses to New Orleans and Chicago, but they have not packed it in. You saw the last time the Cowboys packed it in in 2010 at Lambeau Field when Wade Phillips was the coach. The Cowboys lost 45-7 and were completely disinterested. Phillips was fired the next day and Garrett took over. There is some gumption to this team. They do work hard. They do the right things. I'll say it again: Most of it is a talent issue. I'd expect the Cowboys to come out with the effort Sunday because they're still very much in the playoff chase. But do they believe they can really make a run? I don't know about that.
October, 24, 2013
10/24/13
12:00
PM ET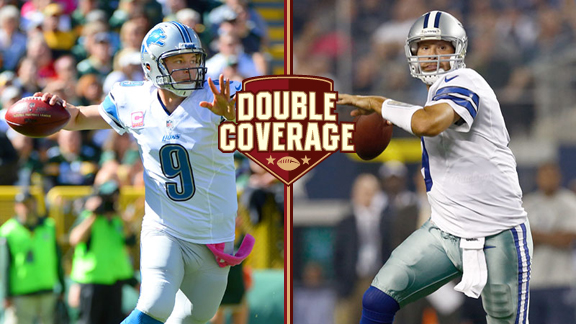 Getty ImagesBoth Dallas quarterback Tony Romo and Detroit quarterback Matthew Stafford have seen needed improvements in certain aspects of their games this season.
It is a matchup between two potential playoff teams and two of the best wide receivers in the game,
Calvin Johnson
and
Dez Bryant
.
But the Dallas-Detroit game on Sunday has other twists, too. For the Lions, Sunday is a chance to grab back some momentum from a strong start to the season. For the Cowboys, it could be a chance to widen their lead on their NFC East opponents.
Dallas NFL Nation reporter Todd Archer and Detroit NFL Nation reporter Michael Rothstein break down what you might see Sunday afternoon.
Rothstein:
Let's start here -- last week in Detroit there was a lot of discussion of
A.J. Green
and Johnson as two of the best receivers in the league. Now it is Bryant and Johnson this week. What is it that Bryant does that should really concern Detroit's cornerbacks, who let Green go for 155 yards Sunday?
Archer:
Bryant can go get the ball. He is virtually impossible to defend in the red zone (and sometimes he'll push off too), but cornerbacks just don't have a chance on him. He's a better route runner now than he was last year and the Cowboys are using him on more varied routes. When he came into the league he would make the spectacular play but couldn't make the boring play consistently. Now he's doing both. But his No. 1 attribute is his physical style. He will fight for the ball and fight for yardage. He's special in that regard.
The Cowboys have had
Brandon Carr
follow Demaryius Thomas,
Pierre Garcon
and
DeSean Jackson
the past three games. I'm sure they'll do the same with Calvin Johnson. When teams have matched up with Johnson like that, how has or hasn't it worked?
Rothstein:
There haven't been too many teams that have single-covered Johnson -- at least not for extended periods of the game. The closest would have been against Arizona in Week 2, but the Cardinals have
Patrick Peterson
and Johnson had six catches for 116 yards and a touchdown against him. Really, the only thing that has slowed Johnson this season was a knee issue that kept him out of the loss to Green Bay and limited him against Cleveland a week later. Not surprisingly, Johnson still draws a ton of attention with a safety rolling to him over the top.
What that has done is opened up the offense underneath for
Reggie Bush
and, to an extent,
Joique Bell
. When both are healthy and playing well, the Lions have had a pretty strong offensive threat from deep threats to short bursts. How does Dallas plan on dealing with that, especially considering
DeMarcus Ware
's questionable status?
Archer:
Running backs and tight ends have hurt the Cowboys in the passing game this year. The safeties have been only OK but are coming off a pretty good game at Philadelphia against
LeSean McCoy
, who's as shifty or more than Bush. The Cowboys had their best tackling game last season against the Eagles.
Sean Lee
and
Bruce Carter
have played better here lately and will be largely responsible for the backs, but safeties
Barry Church
and
J.J. Wilcox
will be a presence too. Losing Ware would be a big blow to a defense that has to get pressure on
Matthew Stafford
. The Cowboys have been rolling in new guys pretty much every week across the defensive line, and added Marvin Austin this week to help at tackle.
Speaking about the defensive line allows me to talk about Rod Marinelli. He has been nothing but great here with those no-name guys, but what's the feeling of him up there considering that 0-16 season?
Rothstein:
That was before my time -- I was still covering the Charlie Weis Notre Dame years when Marinelli was in Detroit -- but I can say I have not heard anything about that season in my short time here and most of the current team arrived in 2009 or later.
But the 0-16 season contributes to the typical angst the Lions fan base has over any success the team has -- as in waiting for the bottom to drop out. But most of this team is so new, there isn't much of that feeling. Plus, as injured receiver
Nate Burleson
said earlier this year, when you go to play in Detroit, you know there are going to be questions about losing streaks to be broken and demons to be exorcised.
Since we're chatting a little bit about defense,
Tony Romo
is being sacked on 6 percent of his attempts, so is Dallas' line doing a good job protecting him or are these more coverage sacks? What's going on with the protections?
Archer:
The line has improved a lot from recent years, especially in pass protection. They revamped their interior line with
Travis Frederick
, their first-round pick at center,
Ronald Leary
at left guard and
Brian Waters
, who did not play last season, at right guard. Tackles
Tyron Smith
and
Doug Free
are performing better than they did a year ago. Romo has taken a number of coverage sacks this year, and he's also elusive for a guy who does not appear to be the most athletic. He has terrific vision and a quick release that can bail him out of trouble. As strange as it sounds, I think Romo also has seen the value of taking a sack and not forcing a throw.
Let's stick with the quarterback play. Stafford is a Dallas kid, so we know his background. He likes to throw it around, but like Romo, his interceptions are down. Is he just being more careful with the ball or has the attack changed a little?
Rothstein:
Having Reggie Bush in the offense has allowed Stafford to throw the ball shorter more often and as an old coach I used to cover once said, "Short passes are happy passes." They are also more likely to be completed passes. Here's something to consider with Stafford as well. His numbers could be much better, but his receivers have dropped 6.9 percent of his passes. Hold on to even half those and he's completing around 65 percent of his passes this season. He also has gotten much better at throwing the ball away instead of forcing passes. That's been a big change. There is an accuracy component to it as well, but he isn't taking nearly as many downfield chances.
Speaking of semi-homecomings, you mentioned Carr earlier. Does this game mean more to him because he is coming home as he grew up and played his college ball in Michigan? And second thing on that, has Dallas changed a lot from last season or can a guy like
Kevin Ogletree
help this week?
Archer:
I'm sure it does but Carr will attempt to downplay it. He still carries that Grand Valley State/fifth-round pick chip on his shoulder even if the Cowboys gave him a $50 million deal last year as a free agent. He has done a terrific job here the past three weeks as we talked about earlier. Jason Garrett even went out of his way to praise Carr's work on special teams, so you can see the Flint in him hasn't left. As for the Ogletree angle, he had a hard enough time with the offense that I don't think he would help with the defense. The Cowboys have a completely different scheme from Rob Ryan's 3-4 to Monte Kiffin's 4-3. Ogletree will know some personnel, but the corners are playing a little different than they did a year ago so I don't think it will matter much.
I haven't asked about the Lions defense yet. Just by looking at the numbers they seem to be pretty good situationally: third down, red zone. Is that the wrong read here?
Rothstein:
The defense is kind of a little bit of everywhere. Great on third down over the first month of the season -- not as much over the past three weeks. Perhaps a corollary here is the defensive line not getting quite as much pressure on opposing quarterbacks the past three weeks as it did during the first month of the season. Red zone defense has been pretty good. Overall, it is a decent Lions defense.
DeAndre Levy
is having a Pro Bowl-caliber season at linebacker and the defensive line and safeties have been good. Cornerback has been a bit up-and-down, though.
My final question to you sticks with this theme. We touched on the Dallas offensive line earlier, but how do the Cowboys deal with
Ndamukong Suh
? He is a guy who can change games on his own.
Archer:
This is part of the reason why the Cowboys wanted Frederick, Waters and Leary. They're stout players. The Cowboys have not had much power in the middle and it has hurt the running game as well as pass protection. Suh, obviously, offers a different challenge. Waters has the strength necessary but he does not move like he did a few years ago. The Cowboys will give him some help but not all the time. And I think Romo can help out the line as well by getting rid of the ball quickly. The Cowboys only take a handful of downfield shots a game, relying mostly on underneath stuff to work their way down the field.
The Lions are 4-3 like the Cowboys and this is a huge game for both when you start thinking about December and playoff chases. You touched on this earlier, but is the town ready to get behind the Lions, especially because the Tigers aren't in the World Series and it's still early in the Red Wings' season?
Rothstein:
I think there is some of that, for sure, and I think there is the hope among the fan base that this year's Lions team is for real. But as I mentioned earlier, there is going to be that sense of dread -- which is why a win for Detroit on Sunday would really go a long way to bolster that fan base confidence. And probably to maintain the confidence in the locker room as well.
.
October, 23, 2013
10/23/13
5:00
PM ET
IRVING, Texas -- One of the discussions this week regarding the
Dallas Cowboys
-
Detroit Lions
game is centered on wide receiver
Calvin Johnson
and how cornerback
Brandon Carr
will handle him.
Carr
Johnson
Cowboys defensive tackle
Jason Hatcher
said forget about any potential problems Carr is gonna have.
"It should be the other way around in my book," Hatcher said after Wednesday's practice. "How difficult Megatron's job gonna be, that's what I think. Brandon is playing lights out. It's going to be a battle. I'm really looking forward to it. I really appreciate what those guys do, but I'm pretty sure Megatron is looking at tape thinking about Brandon Carr. He's playing unbelievable. There's not a corner playing like him right now."
Johnson is considered one of the top receivers in the NFL.
Cornerback
Orlando Scandrick
said Johnson stretches the defense like Pittsburgh's
Mike Wallace
but attacks the ball like
Dez Bryant
.
"He looks like a machine," Scandrick said of Johnson, who has six touchdowns this season.
Carr has faced Johnson before, in 2011 when he played with the
Kansas City Chiefs
, but he wasn't totally on Johnson the entire game. He might get that assignment on Sunday.
"My philosophy is keep the deep ball off your head," Carr said. "A guy with that size and speed, it's easy for him to get past you. You know the ball is going up so you have to work hard this week. It's important for us to prepare well. The little details are going to be important. You may get some calls. You may anticipate what's coming. You may jump the route or get a head start on him trying to run down field, so it's just everything I have learned so far in my career and what I'm learning still is going to come into play in this game."
October, 6, 2012
10/06/12
8:00
AM ET
When it is legal for a defensive player to interfere with an eligible receiver once the ball is in the air? Many of you asked that question this week after referee Walt Anderson overturned a pass interference penalty on the
Dallas Cowboys
during the
Chicago Bears
' 34-18 victory.
Anderson's crew initially flagged Cowboys cornerback
Brandon Carr
for interference on Bears receiver
Brandon Marshall
, a third-down penalty in the end zone that would have set up the Bears with first-and-goal. Cowboys coach Jason Garrett challenged the call, noting that safety Darren McCray -- who was about two yards inside the end zone -- tipped the pass before it reached Marshall and Carr in the back of the end zone.
The rule in these situations seems clear. According to NFL Rule 8, Section 5, Article 1: "Defensive pass interference rules apply from the time the ball is thrown until the ball is touched." Therefore, any contact that occurs after it is touched -- i.e., McCray's tip -- is legal. A case example provided includes this assertion: "Interference rules ended when defensive player touched the pass."
But what happens when the contact occurs
before
the tip? A closer look at the replay indicates that's what happened. Carr had his left hand on Marshall's back and then used it to grab the front of Marshall's jersey. He also used his right arm to pin Marshall's left arm before Marshall dove for the ball. If interference rules end when a defensive player touches the pass, doesn't that mean they are still enforced before that point?
That's what I thought, as did longtime NFL executive Mike Perreira, who was
analyzing the game on Twitter.
Pereira examined the play several times and concluded: "the interference clearly occurred before the tip." But when Anderson announced the reversal, he said the ball was tipped "prior to the pass interference." The pass was ruled incomplete, and the Bears were left to attempt a field goal on fourth down instead of getting a first-and-goal.
Pereira acknowledged he was surprised by the decision. There are only two explanations here: Anderson couldn't find irrefutable evidence that the tip occurred before the contact, or he simply made a mistake. The number of camera angles available on Monday night makes the first possibility highly unlikely.
Now on to our weekly Penalty Tracker:
March, 17, 2012
3/17/12
8:00
AM ET
Given how fluid this time of year is, I once again mined the mailbag for questions and topics that didn't figure to be impacted by breaking news over the weekend. You can get in touch with me
via the mailbag
,
Twitter
or our
nearly full Facebook page
.
Onward….
Mark of San Diego writes:
I've seen several columnists comment on the high amount of drops
Brandon Marshall
has had in his career, but they all mention in almost the same breath how many targets he gets. Is there a chart someplace (like maybe a future blog post) that shows drops as a percent of targets?
Kevin Seifert:
That's a good and fair question, Mark. Statistics are always more valuable when viewed in context, and it stands to reason that the more passes a player is thrown, the more likely he'll have a higher number of drops.
The raw number, according to ESPN Stats & Information, is that Marshall has dropped 26 passes since 2008, the third-highest total in the NFL over that stretch. I don't have his total targets over that stretch, but I can give you a glimpse into his drop percentage over the past two seasons and how that fits into the league rankings.
In 2010, Marshall had a drop percentage of 8.5, which ranked 60th in the NFL that season. That means 59 receivers caught a higher percentage of the catchable passes thrown their way.
In 2011, Marshall's drop percentage was 6.9, ranking him No. 52 in the league.
In this case, the percentage confirms what the raw numbers suggest. Marshall's drops weren't only a function of his high involvement in the
Miami Dolphins
offense. He missed more catchable passes than dozens of other NFL receivers.
To be clear, that shouldn't take away from Marshall's accomplishments as one of the league's most productive receivers over that period. The percentages merely give us a broader view of his performance.
---
Matt of Appleton, Wis.,
is curious about the long-term salary cap implications of
Detroit Lions
receiver
Calvin Johnson
's new contract.
Kevin Seifert:
Johnson signed what is technically an eight-year, $132 million deal. Deals that long often get restructured before the end, but usually teams at least leave the first three years intact before going back at it.
To that end, former agent Joel Corry provided a three-year cap breakdown
for the National Football Post
. The deal will count $11.5 million against the cap in 2012, $12.2 million in 2013 and $12.2 million in 2014, according to Corry.
It's never ideal to have a player count more than $10 million against the cap, especially in the case of the Lions, who have three players -- Johnson, quarterback
Matthew Stafford
and defensive tackle
Ndamukong Suh
-- who will always have high cap numbers because they were top draft picks under the previous NFL system for rookie contracts.
But remember, Johnson was going to count $22 million this season against the cap, and if he received the franchise tag, $26.4 million in 2013 and $31 million in 2014. Considered that way, his new cap charges seem quite reasonable.
---
Eric of Fariview Heights, Ill.,
isn't satisfied with
our explanation
for why the
Minnesota Vikings
didn't participate more actively in the opening days of free agency.
Carl Nicks
is 26 and probably if not absolutely is the best guard in the league. A five year deal helps Ponder and Peterson, neither of which are getting protected. Talks with an aged, twice injured TE is more important than a top WR signing? Explain! So we want
Percy Harvin
,
John Carlson
, and
Kyle Rudolph
clogging up the middle? Where is our deep threat? How can you write an article defending not going after Nicks, a top receiver, OR one of the top cornerbacks? I mean seeing how we've been HORRIBLE in the secondary... It's a joke. Let's hear the true talk on this inactivity please!?
Kevin Seifert:
That's fair. First I'll give you a rundown of what I would guess the Vikings were thinking, and then I'll offer my own comments.
Six years ago, the Vikings signed
Steve Hutchinson
to the biggest contract for a guard in NFL history. Historically, however, NFL teams don't like to devote cap space to the guard position. There are too many instances of success when inserting younger, cheaper players into those jobs while spending your money on left tackle and center. Hutchinson, the Vikings thought then and now, was a once-in-a-generation player.
Rather than devoting $47.5 million to Nicks over the next five years, the Vikings figure they can move
Charlie Johnson
to left guard. Johnson signed a three-year, $10 million contract last summer. He might not perform to Nicks' level, but is the difference between Nicks and Johnson worth, say, twice or three times the salary cap space? The Vikings didn't think so.
The same goes for cornerback. The Vikings will get the promising
Chris Cook
back on the field in 2012, which is an automatic upgrade from what they finished with. I can only assume that they didn't think any of the cornerbacks available on the market, most notably
Brandon Carr
and
Cortland Finnegan
, were worth the $10 million annual salaries they eventually received.
As for Carlson, none of us can pretend to understand whether he is a risk for injury moving forward. Beyond that, the Vikings saw him as a polished 27-year-old pass-catcher who could make their offensive more dynamic. Does he solve all of their problems, including the deep threat issue? No. But that doesn't mean he can't help.
General manager Rick Spielman said last week that the team wasn't "one player away" from contending for the Super Bowl. That's one of the reasons the Vikings weren't more aggressive. A fair counterargument, of course, is this: What if they are? What if quarterback
Christian Ponder
develops quickly, and tailback
Adrian Peterson
returns to form and the offensive line improves with the presumed drafting of Matt Kalil?
In that case, the Vikings would be vulnerable in their otherwise unaddressed secondary, and a chance to have a better-than-expected season could be quashed. I'm fine with the Vikings sitting out the crazy receiver market. I do question if they're going to be able to field a competitive defensive secondary, but we'll withhold final judgment until the full players acquisition period is complete.
---
Grayson of Roseville, Calif., writes:
Why wouldn't the Packers have made a play for
Mario Williams
? I know they don't often do anything in free agency but Williams seems too good to pass up, like Reggie White and
Charles Woodson
were. It makes so much sense!
Kevin Seifert:
It makes sense from the standpoint of the Packers needing a pass rusher (or two) and Williams is the best pass rusher on the market. Williams has more experience as a 4-3 end rather than a 3-4 outside linebacker, but perhaps the idea of playing opposite
Clay Matthews
-- and the presumably favorable matchups that would go with it -- might have been enough to lure him to the Packers.
But as we noted during the week
, the Packers aren't really in position to start handing out $100 million contracts to free agents -- at least, not if they plan to re-sign a trio of players who are in line for extensions. Matthews, receiver
Greg Jennings
and quarterback
Aaron Rodgers
could have their deals addressed in the next calendar year. I'm guessing the Packers prioritized them over any free agent.
With that said, it doesn't mean the Packers couldn't afford to investigate other free agent pass rushers. I wouldn't be opposed to them pursuing
Kamerion Wimbley
, whom the
Oakland Raiders
released Friday.
March, 13, 2012
3/13/12
6:21
PM ET
Amid the chaos of the
Brandon Marshall
trade and the start of NFL free agency,
Seth
sent over a tweet that I'm guessing represented many of your thoughts: "Make me feel better about my Vikings doing absolutely nothing. Please."

I'm not sure if anyone expected the rebuilding
Minnesota Vikings
to jump into the first-hour bidding of free agency. But it's true they were quiet while many of the market's top receivers and cornerbacks -- two positions of acute need -- made plans to visit elsewhere.
Let's revise
our list of the top seven receivers available
with the best information we have on them, based mostly on the fast-moving Twitter feed of
ESPN's Adam Schefter
. At the moment, the Vikings aren't in on any of them.
Meanwhile, cornerback
Brandon Carr
is receiving interest from the
Dallas Cowboys
and
San Francisco 49ers
, among other teams. Cornerback
Cortland Finnegan
is expected to visit the St. Louis Rams.
With all of that said, Seth and other Vikings fans, I wouldn't fall into hysterics quite yet. All the Vikings have done at this point is sit out the madness of the first few hours of free agency, a time best reserved for teams with fewer roster holes than the Vikings. I would frankly feel more critical if they had jumped out and paid, say, Garcon $20 million in guarantees. We'll judge the Vikings over time, but not based on the past two hours. As always, there will be value deals available in the coming days and weeks.
Feel any better, Seth?
March, 8, 2012
3/08/12
12:00
PM ET
»
AFC Free-Agency Primer
:
East
|
West
|
North
|
South
»
NFC
:
East
|
West
|
North
|
South
Free agency begins Tuesday at 4 p.m. ET
Chicago Bears

Key free agents:
Tight end
Kellen Davis
, running back
Matt Forte
(franchise), cornerback
Corey Graham
, quarterback
Caleb Hanie
, defensive end
Israel Idonije
, cornerback
Tim Jennings
, quarterback
Josh McCown
, safety
Brandon Meriweather
and receiver
Roy Williams
.
Where they stand:
The Bears will have the most salary-cap space among NFC North teams, upwards of $30 million, and have plenty of potential uses for it. Quarterback
Jay Cutler
needs more targets in the downfield passing game, whether it's at the receiver or tight end position. And new general manager Phil Emery must start restocking a defense led by four players more than 30 years old: Linebackers
Brian Urlacher
and
Lance Briggs
, defensive end
Julius Peppers
and cornerback
Charles Tillman
.
What to expect:
It's widely believed the Bears will be in the running for free-agent receiver
Vincent Jackson
. But Jackson's price tag could be steep and no one knows if Emery will prove to be a big spender. It seems likely he will re-sign Davis, and Emery should also save some of his cap space to extend Forte's contract. Secondary receiver targets could include
Marques Colston
. Bears fans are hoping the team will pursue defensive end
Mario Williams
, but it's hard to imagine the Bears budgeting for Williams two years after breaking their bank on Peppers.

Detroit Lions
Key free agents:
Defensive end
Cliff Avril
(franchise), left tackle
Jeff Backus
, safety
Chris Harris
, quarterback
Shaun Hill
, linebacker
DeAndre Levy
(restricted), running back
Maurice Morris
, running back
Kevin Smith
, quarterback
Drew Stanton
, linebacker
Stephen Tulloch
and cornerback
Eric Wright
.
Where they stand:
The Lions are tight against the salary cap after franchising Avril and aren't likely to be big spenders on the free-agent market. They could relieve the situation by reaching long-term agreements with Avril and/or receiver
Calvin Johnson
, who has a $22 million cap figure for 2012. Tulloch made a big impact last season after signing a one-year deal, but so far the Lions' attention has turned elsewhere.
What to expect:
The Lions' best-case scenario is to keep their 2011 core together without mortgaging their future relative to the salary cap. That would mean getting Tulloch re-signed to preserve the linebacker group they upgraded last season by signing him and veteran
Justin Durant
, moves that allowed Levy to play on the outside. Hill seems likely to re-sign as
Matthew Stafford
's backup, while Stanton might test the free-agent waters to see if he has a chance to do better than third on a team's depth chart.

Green Bay Packers
Key free agents:
Cornerback
Jarrett Bush
, quarterback
Matt Flynn
, running back
Ryan Grant
and center
Scott Wells
.
Where they stand:
The Packers took care of a big challenge by signing tight end
Jermichael Finley
to a two-year contract last month. They will let Flynn depart for a possible starting job elsewhere and it appears Grant will test the free-agent market. Discussions with Wells haven't led to an agreement, but the Packers often go to the final moments before reaching a deal. There are no obvious internal replacements for Wells, making his return a priority.
What to expect:
The Packers will have some flexibility with the salary cap, but general manager Ted Thompson's aversion to veteran free agency is well known. It's been three years since he signed a veteran unrestricted free agent in the offseason. The Packers have needs at defensive line, outside linebacker and possibly at center if Wells leaves. But let's put it this way: Thompson's strong preference is to find depth and future replacements in the draft, not on other teams' rosters.

Minnesota Vikings
Key free agents:
Safety
Husain Abdullah
, receiver
Devin Aromashodu
, receiver
Greg Camarillo
, defensive lineman
Fred Evans
, defensive lineman
Letroy Guion
, linebacker
E.J. Henderson
, linebacker
Erin Henderson
, safety
Tyrell Johnson
, quarterback
Sage Rosenfels
, cornerback
Benny Sapp
and tight end
Visanthe Shiancoe
.
Where they stand:
The Vikings seem poised for a major roster overhaul in their first offseason since Rick Spielman was promoted to general manager. Players like Shiancoe, E.J. Henderson, Camarillo and Johnson all seem poised to move on. There aren't many positions on the team that appear secure.
What to expect:
If the Vikings don't plan to draft USC left tackle Matt Kalil at No. 3 overall next month, the first clue will be if they pursue a free-agent left tackle. That seems unlikely. But they'll need to combine their draft with at least a few veteran free agents if they intend to compete for a playoff spot in 2012. Cornerback could be a point of focus, where
Brandon Carr
and
Cortland Finnegan
are among those available. Another could be receiver. The Vikings had major interest in Jackson two years ago.
February, 20, 2012
2/20/12
4:39
PM ET
As we noted from the start
, there was never any indication that free-agent cornerback
Stanford Routt
would land with one of the NFC North's cornerback-deficient teams. But could Routt's
decision to sign
with the
Kansas City Chiefs
put another player on our division map?
Conventional wisdom suggests the Chiefs won't break the bank on re-signing cornerback
Brandon Carr
, 25, who has started every game for them in the past four years. I'm not sure if that's a safe bet, considering the Chiefs had a
monstrous $67 million in salary-cap space
before Routt signed a three-year deal that will pay him $11 million in 2012.
In other words, the Chiefs can keep Carr if they want him. We'll soon find out if they do. If he reaches the open market, however, Carr will be an attractive option for the
Minnesota Vikings
, who need multiple layers of help at the position, and the
Chicago Bears
, who might be looking for an upgrade alongside
Charles Tillman
. It's hard to imagine the
Detroit Lions
finding the salary-cap space to sign Carr, assuming they retain defensive end
Cliff Avril
in one way or another, but stranger things have happened.
July, 28, 2011
7/28/11
10:26
PM ET
The available free agent cornerbacks for the
Detroit Lions
to choose from are dwindling. The latest name off the board is
Johnathan Joseph
, whose monster agreement with the
Houston Texans
reportedly
includes $23.5 million guaranteed
.
Earlier this week, we posted Scouts Inc.'s top 10 free agent cornerbacks, including those who are restricted free agents. That list is down to seven, and there is no indication the Lions are in on negotiations for
Nnamdi Asomugha
. I've published the amended list below.
Let's not consider these names the Lions' only possibilities. General manager
Martin Mayhew
is well known for his trading prowess, and it's possible 2010 starter
Chris Houston
will return. But if you were hoping they would splurge on one of the top two or three cornerbacks available, you're probably going to be disappointed.
Nnamdi Asomugha
Brent Grimes (RFA)
Brandon Carr (RFA)
July, 27, 2011
7/27/11
10:50
AM ET
Via Twitter,
@gregfairbanks
expressed a common refrain from the fan base of any team that didn't make a Day 1 splash in free agency: "Awfully quiet on the lions front -- any news brewing??"
I haven't abandoned my expectation that the
Detroit Lions
will add at least one free-agent cornerback in the coming days. We should point out that one candidate is already off the market; the
Pittsburgh Steelers
agreed to terms
with incumbent
Ike Taylor
late Tuesday night. Other than an expectation that the Lions won't "go big," there is no clear indication what direction they're headed in here.
So until we get a better feel for their approach, I'll leave you with the top 10 remaining cornerbacks on the free-agent market,
as ranked by Scouts Inc
.

(You need an Insider subscription to see the entire list.)
Note that
Chris Houston
, the Lions' ostensible No. 1 cornerback last season, isn't in this ranking. And remember that restricted free agents require draft-pick compensation if the current team chooses not to match an offer sheet extended by the new team: