NFC North:

Brandon Jacobs
November, 15, 2013
11/15/13
10:00
AM ET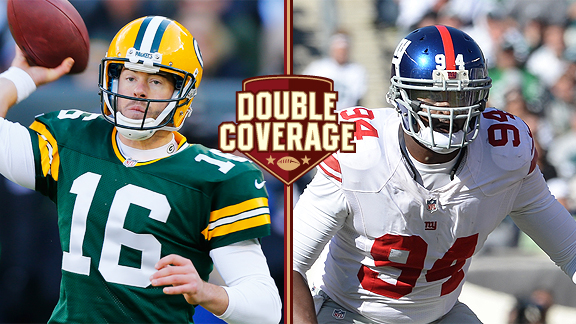 Gregory Shamus/Getty ImagesNew Packers quarterback Scott Tolzien will face Mathias Kiwanuka and an improved Giants pass rush.
.
The
New York Giants
will be looking for their fourth win in a row following an 0-6 start. The
Green Bay Packers
will be trying to snap their first two-game losing streak since 2010. The two teams square off Sunday at MetLife Stadium in East Rutherford, N.J. ESPN.com Giants reporter Dan Graziano and ESPN NFL Insider Matt Williamson (filling in for Packers reporter Rob Demovsky) break down the matchup for you.
Dan Graziano:
Hey, Matt. Thanks for filling in while Rob's on the inactive list this week. The big question the Giants have this week is: Who is
Scott Tolzien
and what can we expect to see from him? So let's start with that one.
Matt Williamson:
Well, Dan, that's a good question! I don't think we really know the answer, but he did move the team well and was generally a smart distributor of the football. And we know Green Bay has weapons to get the ball to. We obviously don't have a lot of tape to evaluate, but I think the Packers are better off with Tolzien over
Seneca Wallace
.
While we are talking quarterbacks, what on Earth is going on with
Eli Manning
? Despite this winning streak, he really has not played well at all.
Graziano:
Matt, my theory on Eli is that the protection issues at the beginning of the season were so egregious that he just fell into this zone of discomfort from which he's been unable to extricate himself. He just doesn't look right back there, and while the protection issues have improved some, they're still present. They've had no blocking help from the tight-end position at all. They're very vulnerable in the middle of the line, and I'm not sold on either tackle, to be honest. They haven't had reliable blitz pickup help from the running backs. Downfield,
Hakeem Nicks
isn't playing wide receiver the way he used to play it. A lot has gone on around Manning to make him far less comfortable with his surroundings, and I'm not sure what it's going to take before he starts playing with that old Eli confidence again. Great quarterbacks make the best of bad situations, and Manning has not done that this year. As the Giants' situation improves, they will need him to play much better if they're really going to make this miracle run they still believe they can make.
Now, they get another break this week with
Aaron Rodgers
out and Tolzien in, but they are already talking about that improved Packers running game. What do you see from
Eddie Lacy
& Co. and how do you think they'll attack the Giants, who have generally been pretty good against opposing running backs this season?
Williamson:
This Packers' running game is terrific and should continue to excel even with less of a passing threat with Rodgers sidelined. The left side of the Packers' offensive line is playing great, but -- as with the rest of the team -- isn't healthy on the right side and has had to do a lot of shuffling of personnel there. Still, Green Bay's rushing attack isn't easy to prepare for as they can run a wide variety of plays out of a wide variety of personnel groupings and formations. Lacy is quick to get downhill and is a punishing runner who can wear a defense down, and he also excels at reading his blocks and showing patience with the ball in his hands -- rare traits for a rookie running back. The Packers' ability to run the ball will probably be the most crucial component of this football game.
Along those lines, I feel like the Giants might actually have a respectable rushing attack of their own now with
Andre Brown
carrying the rock. Do you agree?
Graziano:
Yeah, the 30 carries and 115 yards for Brown on Sunday in his first game back off a twice-broken leg were eye-opening. I think the workload they gave him showed that the Giants knew just how much they were missing this season at running back.
David Wilson
never got going and then got hurt, and they patched it together with
Brandon Jacobs
and
Peyton Hillis
. But watching Brown run with vision and power and gain yards after contact Sunday, it was obvious that he's the Giants' best option going forward and the best they've had all season. The injury risk has to be considered, given Brown's history, but at this point the Giants need to win pretty much every game, and they're going to have to lean hard on Brown to do it. Even if he can't be as productive every week as he was against the Raiders, the legitimate threat he poses on film should open up the play-action passing game as a way for Manning to combat those protection issues.
So the Giants feel they can offer a balanced offensive attack against a Packers defense that couldn't get the ball back from the Eagles in the final 9:32 of Sunday's game. Was that a
LeSean McCoy
issue, or are the Packers really struggling on defense right now?
Williamson:
The Packers are struggling on defense and allowing too many big plays. I expected last week's return from injury by
Clay Matthews
to pay off much more than it did. However, we know that Matthews is a truly great player, and maybe he just needed a week to get back into the swing of things. I still expect Matthews to torment the Giants' tackles this week. On the inside of their defensive line, the Packers have a lot of sheer mass and power with guys like
B.J. Raji
,
Johnny Jolly
and
Ryan Pickett
. I also expect the Giants' interior offensive line to have a difficult time moving this group in the running game. This could be a bounce-back week for Green Bay on this side of the ball.
The Packers' run defense had a very difficult time when the Eagles stacked both of their offensive tackles on the same side of the formation. While I expect the Giants could use some personnel groupings with six offensive linemen, I don't see them duplicating what Philadelphia did to make room for McCoy.
Watching the Giants game from last week, I noticed they had a difficult time getting the Raiders'
Pat Sims
blocked. Sims is a big-bodied and powerful defensive tackle in much the same mold as the Packers' group. I think that bodes well for Green Bay this week.
And expect the Giants to have a difficult time blocking little-known
Mike Daniels
in the passing game. Daniels has taken over the
Cullen Jenkins
role in this defense -- a spot Green Bay drafted
Datone Jones
for in the first round -- as an interior pass-rusher, and he has excelled in that role.
The Giants' defense is based entirely on great defensive line play. This is a deep group with a ton of important resources tied up in it, but it hasn't been an elite group. It is improving, however. Where do you see this unit right now and this week against the Packers?
Graziano:
Well, the sack numbers have come up. The Giants had only six sacks in their first seven games, but then got eight in their past two games. So they've moved from last in the league in sacks, where they spent most of the season, to a tie for 30th in that category. Odd thing is, of the eight sacks in their past two games, only four have come from defensive linemen. Safety
Antrel Rolle
has as many sacks (two) in the Giants' past two games as defensive end
Jason Pierre-Paul
has in their past 16. Pierre-Paul did get one against the Raiders, and he says he's on the verge of a breakout. And the line has been very good, as I mentioned, against the run this year. But over the first seven games of the season, opposing quarterbacks did a good job of unloading the ball before the Giants' pass-rushers could stop them from doing so. Not sure they get the full test this week against Tolzien, but at some point we're going to find out whether the front four really has improved, or whether it's just been feasting on lesser competition.
Thanks again, Matt. Catch you online in one of our game chats soon, I'm sure.
.
October, 21, 2013
10/21/13
2:45
PM ET
NEW YORK -- We're about six hours away from kickoff between the
Minnesota Vikings
and
New York Giants
at MetLife Stadium tonight, as both teams try to begin the process of turning around seasons that have gone well off-course. I'll be heading to the Meadowlands in a couple hours to write about this one, as will ESPN New York's Dan Graziano, but in the meantime, here are a few things to keep in mind from the Vikings' perspective:
Hillis
Reprieve for run defense?
The Vikings have been uncharacteristically bad against the run this season, ranking 20th in the league in yards allowed and 29th in touchdowns after years of being in the top 10. Minnesota will be without safety
Harrison Smith
-- one of the team's top run defenders -- but could catch a break with the absence of bruising Giants running back
Brandon Jacobs
, who will likely miss the game with a hamstring injury. That means
Peyton Hillis
gets the start for the Giants, and while Hillis can be a sledgehammer between the tackles, it's tough to say how he'll fit with the Giants' offense and what he'll bring to the team after signing with them five days ago. If the Vikings can stop the run, they might have more luck making the Giants one-dimensional and capitalizing on
Eli Manning
's penchant for turnovers. Speaking of that ...
Manning
Picking off Eli:
The Vikings have said all week that Manning looks like the same quarterback who has won two Super Bowls, but even that quarterback was prone to interceptions at times. And behind a shaky offensive line, Manning has thrown a league-worst 15 interceptions, becoming the first quarterback to hit that total in six games since Dan Fouts in 1986, according to ESPN Stats and Information. Smith is the only Vikings defensive back with an interception this season, and Minnesota's depleted secondary could have its hands full with
Victor Cruz
,
Hakeem Nicks
,
Rueben Randle
and others, but the Vikings haven't won a game where they lost the turnover battle since 2010, and that required Brett Favre to throw for a career-high 446 yards. For the Vikings, winning the turnover battle has been the most direct route to success in the past few years, as it is for many teams. They need to take advantage of the opportunities Manning gives them tonight.
Freeman
Freeman's debut:
With quarterback
Josh Freeman
making his first start, the Vikings will likely run with a slightly leaner game plan than usual, though Freeman and coach Leslie Frazier both downplayed how much the team will have to change things to get Freeman up to speed. The biggest challenge for the 25-year-old quarterback, who signed with Minnesota on Oct. 7, will be verbalizing changes to plays and protection schemes, especially if the Vikings end up in a two-minute offense. "Some of these plays get somewhat lengthy, and there's stuff within the play," Freeman said. "You understand exactly where everyone is going whether it's a motion, whether it's a route tagged in there, whether it's a concept, you understand what everybody is doing, but being able to spit that out when you're on the clock, when it's loud, when stuff is going on, when you're out of breath, whatever is going on, being able to spit that out and knowing exactly what you're saying." Freeman has emphasized this week how he's got some familiarity with the Vikings' scheme after working with Ron Prince -- who previously coached with Vikings offensive coordinator Bill Musgrave -- at Kansas State. His ability to recall it on the fly could be a key for the Vikings tonight.
Improvement on third downs:
Both the Vikings and Giants have had atrocious third-down defense this season -- they have the two worst opponents' conversion rates in the league -- and whichever team can break that trend might have a chance to turn the game tonight. Third downs could be especially important on offense for the Vikings, who are at their best when they can get a lead, extend drives and run
Adrian Peterson
. Considering how thin the Vikings are defensively, and how much they've struggled with time of possession this season, they'll need to give their defense a break by draining the clock on offense.
October, 18, 2013
10/18/13
12:00
PM ET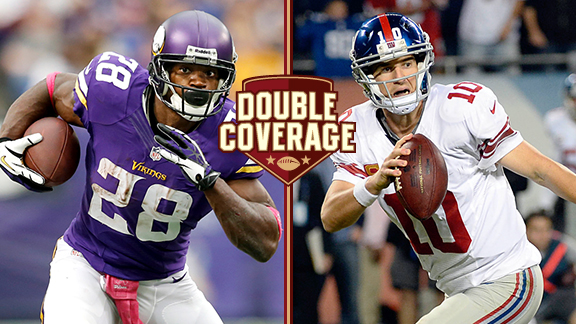 USA TODAY SportsAdrian Peterson and Eli Manning will likely have to carry the offenses on Monday night.
This time last year, the
New York Giants
and the
Minnesota Vikings
were both 4-2 and headed for winning seasons. But as they get set to square off on "Monday Night Football" at MetLife Stadium, the Vikings are 1-4 and the Giants an even more miserable 0-6.
ESPN.com Giants reporter Dan Graziano and ESPN.com Vikings reporter Ben Goessling break down the matchup of NFC disappointments.
Dan Graziano
: Ben, the Giants only have four interceptions and five sacks, so I imagine there were a lot of people in the Vikings locker room interested in playing quarterback in this game. Why did the Vikings pick newcomer
Josh Freeman
, and what do you expect their offense to look like with him running it for the first time?
Ben Goessling:
A lot of this, I think, is an attempt to make a quick-course correction after things with
Christian Ponder
didn't pan out. If it works, GM Rick Spielman can make people forget about the Ponder pick, the Vikings might win a few games to keep coach Leslie Frazier's job and they could have a solution to their quarterback problem for next season. If it doesn't work? They're only out $3 million.
As for Monday night, I'd expect the Vikings to try to limit how much they put on Freeman, so I expect we'll see plenty of
Adrian Peterson
(not that we wouldn't anyway). Considering how bad the Giants have been at stopping the run, that could be a good approach for the Vikings. They're always better when they can get a lead and let Peterson go to work, and they haven't done a good job of controlling the clock so far this season. This matchup might give them a shot to do that.
Now back to the quarterbacks: We know
Eli Manning
has a tendency to turn the ball over, but this has been strange even by his standards. What has been his biggest problem?
Graziano
: Yeah, 15 interceptions in six games is stone-cold ridiculous, and I think it speaks to a general lack of comfort for Manning, who for years has thrived on comfort and routine and familiarity. The Giants started the season with major problems on the offensive line, and they have continued (and in some cases worsened) as the year has gone along.
The inability to establish any kind of run game, combined with the early-season failures in pass protection, rattled Manning, and even though the protection has improved overall and
Brandon Jacobs
managed to rush for 106 yards against Chicago, Manning still just doesn't seem right. He's not making those great, deep sideline throws he used to make, he's missing too many easy throws, and even when he's throwing well, he's staring down receivers and isn't setting his feet. He's just been erratic, and the result the past couple of weeks has been interceptions in the worst possible spots. The Bears didn't really pressure him that much, but he coughed it up anyway in the clutch. Just not himself.
Will he have a chance to get comfortable at all Monday night? How's that Minnesota pass rush these days?
Goessling
: It hasn't been up to the Vikings' normal standards, which has been one of their biggest issues on defense. In the past, the Vikings have been able to survive because their pass rush generated enough pressure to mask issues in the linebacking group and the secondary. But the Vikings have just 10 sacks this season, and what's worse, they've had to bring pressure to get some of them -- three of the 10 are from linebackers
Chad Greenway
and
Erin Henderson
. They shouldn't have to bring extra pressure with
Jared Allen
,
Brian Robison
,
Everson Griffen
& Co. on the defensive line, and having to do so exposes a porous secondary, which might be even worse this week with
Harrison Smith
battling turf toe. So, yeah, I think this might be a good week for Manning to get on track.
The Vikings also haven't been as good as they're accustomed to being against the run. Is Jacobs in line to hurt them, or do you see his game against the Bears being a fluke?
Graziano
: Got to be a fluke, Ben. The Bears are down to third-stringers in the middle of that defensive line, and the Giants' game plan wisely took advantage of it for Jacobs' throwback-to-2008 game. His 106 rushing yards against Chicago represent 26 percent of the Giants' team total for the season. And, perhaps, most importantly, both he and
Da'Rel Scott
injured their hamstrings in that game. Scott has been released, and Jacobs didn't practice Monday. Even if he does play, they may not want to work him as hard as they did in Chicago.
The backups are rookie
Michael Cox
, who doesn't have an NFL carry yet, and
Peyton Hillis
(yeah, same guy), who signed Wednesday and is no sure thing to even get a uniform for this game. New fullback
John Conner
looked to be an asset as Jacobs' lead blocker in Chicago, so it's possible things are getting better for the Giants in the run game. But based on their options for carries, this has to come down to Manning and the passing game getting on track.
But I'd like to get back to something you said in your last answer. Ten sacks! That's twice as many as the Giants have. Oddly, in spite of the overall yardage totals, one thing they have done well on defense is stop the run up the middle. They're allowing just 3.9 yards per carry and have held
Matt Forte
,
LeSean McCoy
and
Jamaal Charles
to 67, 46, 65 yards, respectively, in the past three weeks. Peterson is obviously his own special case, but he didn't have a big game Sunday. Do you think the off-field tragedy was or could be a factor in his performance?
Goessling
: I didn't see that as a huge issue on Sunday, though I'm sure it was on his mind. It had more to do with the Panthers' stout run defense and the inability of an offensive line that was pretty good last season to open holes for Peterson. As a result of that, he has gotten anxious at times, trying to turn every run into a big play, and he just hasn't looked as fluid this year as he did last season. Missing
Jerome Felton
, his Pro Bowl fullback, for the first three games didn't help, but now that Felton is back, Peterson has everything he had last year.
If the Giants have been able to hold the point of attack up the middle, Peterson might not have as much success as I would have initially thought. He's obviously capable of breaking a big run at any time (he has touchdown runs of 78 and 60 yards this season), but we're still waiting for him to control a game like he did so often last season.
To wrap this up, complete this sentence for me: The Giants will win on Monday if they ...
Graziano
: Get some pressure on Freeman and don't turn the ball over more than once. I'm not holding my breath. Thanks, Ben. This has been fun. See you Monday night.
.
August, 11, 2012
8/11/12
8:07
AM ET
Reviewing Friday's action at Candlestick Park:
San Francisco 49ers 17, Minnesota Vikings 6


Preseason record:
0-1
Of interest:
Quarterback
Christian Ponder
had a solid preseason debut, completing a 52-yard deep post to receiver
Stephen Burton
-- who started for an inactive
Percy Harvin
-- and moving the team in position for two field goals. Ponder completed 4-of-9 passes overall, but two clearly qualified as drops by Burton and receiver
Jerome Simpson
. His chemistry with tight end
Kyle Rudolph
was clear. … The defense played without defensive end
Jared Allen
, defensive tackle
Kevin Williams
and cornerback
Antoine Winfield
, all of whom were healthy scratches, and was gashed in the running game, giving up nearly 200 yards in the first half alone.
Brandon Jacobs
hit them for a 23-yard gain,
Rock Cartwright
had a 19-yarder and backup quarterback
Colin Kaepernick
ran 78 yards for a touchdown. Safety
Mistral Raymond
took a poor angle on Jacobs' run, and cornerback
Chris Cook
couldn't tackle Kaepernick near the end of his run. … Rookie placekicker
Blair Walsh
drilled attempts from 39 and 26 yards and also had two touchbacks. … Nose tackle
Letroy Guion
suffered a knee injury that likely will sideline him for a few weeks. … The scattered performance of backup quarterback
Joe Webb
was concerning. The Vikings have limited him to quarterback this summer, electing against using him at other positions, but thus far he appears to have taken a step back if anything.
Local coverage:
The Vikings need to elevate rookie safety
Harrison Smith
to the first team, writes
Tom Pelissero of 1500ESPN.com.
…
Jeremy Fowler of the St. Paul Pioneer Press
: "The Vikings left Webb in for nearly half the game, likely hoping he'd end on a high note. But his last two possessions ended in incompletions on third down." … Ponder, via
Dan Wiederer of the Star Tribune
: "I thought it was a pretty good start. Obviously we'd rather come out with touchdowns rather than two field goals. But I thought we moved the ball pretty well against a good defense. A lot of positives. It also gives us a lot of film to look at come Sunday." … It's possible that tailback
Adrian Peterson
could be activated to the roster as early as Sunday,
notes Pelissero
.
Up next:
Friday, Aug. 17 against the
Buffalo Bills
January, 15, 2012
1/15/12
11:44
AM ET
GREEN BAY, Wis. -- The
New York Giants
are a confident bunch, aren't they?
They began expressing it early last week, when defensive end
Jason Pierre-Paul
guaranteed a victory Sunday over the
Green Bay Packers
. So you won't be surprised to hear that running back
Brandon Jacobs
turned up the heat this weekend.
"The Packers' time was last year," Jacobs
told ESPN's Rachel Nichols
. "It's our time now."
My guess is the Packers grin and file away each of these statements. They haven't won 21 of their past 22 games by overreacting to their opponents. Fortunately, everyone involved will have an opportunity to settle this in the only way that matters -- on the field -- later Sunday afternoon.
Back with you soon from Lambeau Field.
January, 13, 2012
1/13/12
10:10
AM ET
Sunday afternoon at Lambeau Field, two sons of Louisiana who played on the same high school team will face each other for the right to play in the NFC Championship Game. David Fleming of ESPN the Magazine brings us the story of
Green Bay Packers
cornerback
Tramon Williams
and
New York Giants
running back
Brandon Jacobs
, teammates at Assumption High School in 2000.


An excerpt:
Every season more than 250,000 high school seniors play football, but only one out of every 10,000 actually makes it to the NFL. Of those lucky few, about half of 1 percent go on to earn a Super Bowl ring. Put another way, a high school football player is nearly five times more likely to be hit by lightning than to one day hoist the Lombardi trophy.

So the story of Jacobs, the blue chip running back who fulfilled his destiny with the Giants in Super Bowl XLII, and Williams, the walk-on corner who won a ring last year with Green Bay, is nothing less than remarkable. And not just because they were high school teammates who both beat the enormous odds, but also because of the way they did it. "You couldn't find two more different players, or people, who took two more different paths to the top," says Herb Washington, Assumption's quarterback in 2000 and now the school's offensive coordinator. "The way I describe it is, football fell in love with Brandon and bent over backwards for him, while Tramon fell in love with football and had to bend over backwards for it."
The full story is here
. It's worth your time.
December, 5, 2011
12/05/11
1:50
PM ET
After Green Bay Packers' 38-35 victory over the New York Giants, here are three issues that merit further examination:
Kevin SeifertFollowing their big win against the Giants, the Packers take a seat in the examination room.

With the San Francisco 49ers at 10-2, the Packers aren't going to clinch home-field advantage throughout the playoffs this week. But coach Mike McCarthy appears to have made up his mind on how he would approach the Packers' remaining regular season games if and when that does occur. As much as I would like to take an educated guess in hopes of looking good when it happens, it really would only be a guess. If McCarthy has confided in anyone, his decision hasn't leaked out. Most reads of his personality would suggest McCarthy would want to keep playing his starters, keeping the proverbial pedal to the metal in his aggressive Pittsburgh mindset. That's what helped the Packers get to and win the Super Bowl last season. But you also wonder if McCarthy will at least consider protecting quarterback Aaron Rodgers from a hard hit or two on the cold turf at Lambeau Field in December. Remember, the suspension of Detroit Lions defensive tackle Ndamukong Suh will be over by the teams' Week 17 matchup.

The performances of backup linebackers D.J. Smith and Robert Francois were admirable considering the circumstances, but let's not fool ourselves into thinking that starters A.J. Hawk and Desmond Bishop weren't missed. Giants running back Brandon Jacobs totaled 59 yards on just eight carries, and quarterback Eli Manning threw all of his touchdown passes against the Packers' base 3-4 scheme that included Smith and Francois. The Packers had given up only two touchdown passes against their base 3-4 scheme in the first 11 games of the season. Nothing is official, but Bishop said on Twitter last week that he would return to the lineup Sunday against the Oakland Raiders.

Receiver Greg Jennings' juggling 20-yard touchdown in the third quarter stirred some debate, but referee Jeff Triplette got the call right. First, in a nuance that I myself had to brush up on, the so-called "process" requirement only applies in instances when the receiver falls to the ground, which Jennings did not. Second, Jennings intentionally used his left hand to secure the ball and didn't want to move it close to his body for fear it would appear as though he didn't have control. Here's how Jennings put it: "I was able to catch the ball, and I caught it on my fingertips, and all I could think was, 'Don't let the ball move.' I didn't want to pull it in, I didn't want to do anything. I'm thinking, 'Don't let the ball move.'" It worked.
And here is one issue that I still don't get:
I guess I hadn't been keeping track, so I'm glad that Bob McGinn of the Milwaukee Journal Sentinel was. Before Sunday, Packers place-kicker Mason Crosby hadn't hit a game-winning field goal since Week 1 of his rookie season in 2007. And Sunday was only Crosby's fifth opportunity in so-called decisive moments of Crosby's career. He had previously missed from 52 against Minnesota in 2008 and had a 38-yarder blocked by Chicago in 2008. He also missed a 53-yarder in 2010 at Washington. It's worth noting that Crosby admitted he was rooting for the possibility Sunday, going so far as to say that he was "glad" that receiver Jordy Nelson "didn't keep running down the sideline" on the 27-yard play that got the Packers into field-goal position. That's the kind of mentality you want from your place-kicker.
August, 23, 2011
8/23/11
12:00
PM ET
I'll admit I was a bit groggy by the time I posted
Monday night's Observation deck
on the
Chicago Bears
' 41-13 loss to the
New York Giants
. My general impression of the Bears' defense was pretty neutral, especially on a night when the opponent rang up 41 points, and I wrote as much. I saw what I thought was some really sharp play in the first couple of series and thought the Bears' performance dipped at about the same time that coach Lovie Smith began removing his starters.
So I was surprised Tuesday morning to see the teeth-gnashing and general concern about the way the Bears' defense played and, especially, tackled. And I agree with
Brad Biggs of the Chicago Tribune
on this much: Smith's postgame criticism is as rare as it gets.
(While talking about the health of his team, Smith interjected: "You've got to tackle a little bit better before you start talking about injuries and things like that." Smith almost never criticizes his players, assistants or team in public.)
[+] Enlarge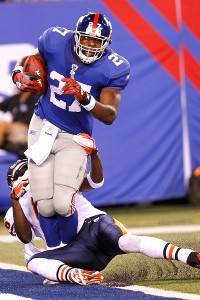 Tim Farrell/The Star-Ledger via US PresswireBrandon Jacobs
Maybe my expectations for preseason games are too low, but I go into them thinking they will be sloppy and light on fundamentals. You can get a sense for individual skills and competence in some instances, but once coaches begin sitting their starters, you're riding a slippery slope on any subsequent judgment from a team perspective.
But just for fun, I went back and re-watched the Bears' first four defensive series, after which middle linebacker
Brian Urlacher
departed. Remember, linebacker
Lance Briggs
was already sidelined for the game. What I saw confirmed my original thoughts: The Bears' starters missed maybe three tackles, one of them glaring, but also made more than a few secure stops to minimize or break up plays in the early going.
Here's what I saw:
First possession
Second possession
Third possession
Defensive end Israel Idonije missed a backfield opportunity on tailback Brandon Jacobs, who went on to a 7-yard gain on first down.

Nobody missed a tackle on Jacobs' 18-yard run on third-and-1. The Giants caught the Bears in a man defense, and linebacker Brian Iwuh followed the receiver in motion away from the point of attack.

Peppers rushed Manning on two other plays, contributing to incompletions.

Jennings tackled Bradshaw 4 yards short of a first down on third-and-10.

The Giants caught the Bears in another favorable matchup on fourth-and-4. Manning lofted a nifty 21-yard pass over Moore to receiver Victor Cruz.

Urlacher tackled Jacobs after a 4-yard gain in the red zone.

Iwuh knocked away Manning's pass for Manningham on third-and-goal, forcing a field goal.
Fourth possession
The Giants took over at the Bears' 31-yard line following Devin Thomas' 73-yard kickoff return.

Linebacker Nick Roach stuffed a Jacobs run for a 1-yard loss.

Harris stopped a reverse to Manningham after a 1-yard gain.

Bradshaw gained 13 yards on a screen play largely because center David Baas drilled Iwuh to the turf.

On the next play, Wright whiffed on Jacobs at about the 10-yard line and Jacobs dragged Harris about 4 yards into the end zone for an 18-yard scoring jaunt.
To be sure, the night didn't end well for the Bears' defense. Maybe you can excuse a safety getting dragged a few yards by a 275-pound back, but never do you want to see a safety juked by the same guy. Considered as a whole, however, I didn't see nearly enough to panic during those four possessions.
You could make the argument that backups should play better than the way the Bears' did Monday night. You can question whether they have the depth to withstand any significant injuries. Specifically, you could argue that Wright shouldn't have continued to miss tackles later in the second quarter just because he was playing with some non-starters.
But you're on your own there. In my experience, you're much better off under-analyzing preseason games than overanalyzing them. I understand why Smith was upset. He is a stickler for physical football, and he can't excuse the play of backups and mishmash lineups. But we can. So let's everyone calm down and move on.
August, 23, 2011
8/23/11
8:30
AM ET
We're Black and Blue All Over:
We all know most NFL players stay on the field when they suffer mild injuries. But over the weekend, two from the NFC North pushed through in quite unbelievable fashion before getting a serious postgame diagnosis.

We've
already discussed
Green Bay Packers linebacker Frank Zombo, who fractured a shoulder blade during pregame warm-ups but still saw significant action in the Packers' preseason game against the Arizona Cardinals. Zombo could miss the season.
Now, as
Tom Pelissero of 1500ESPN.com
reports, we know that Minnesota Vikings guard Scott Kooistra suffered an injury to the C-2 vertebrae near the top of his spinal cord after starting against the Seattle Seahawks. As of Monday night, he was hospitalized in stable condition in the Seattle area. The Vikings, who might have called upon Kooistra as their starting right guard while Anthony Herrera rehabilitates his knee, have already placed him on injured reserve.
And you think preseason football doesn't mean anything to anyone? Wow.
Continuing around the NFC North:
February, 18, 2009
2/18/09
7:30
PM ET
Posted by ESPN.com's Kevin Seifert
We offered a thorough breakdown of Detroit's situation heading into this week's scouting combine, but we've recently learned there are three other teams in the NFC North. So let's play a little catch-up and check in with Chicago, Green Bay and Minnesota on the eve of the year's greatest draft-related event held during the third week of February:

CHICAGO BEARS
Three points of interest:
The Bears must prepare for right tackle John Tait to retire, even though general manager Jerry Angelo has said he hopes Tait plays at least one more season. As we noted, the free-agent market at right tackle is pretty thin. But 2009 might prove to be a strong year for tackles in the draft. It's not out of the question, according to ESPN.com's Todd McShay, that four tackles could be off the board by the time Chicago picks at No. 18. In either event, McShay has five offensive linemen with first-round grades.
The Bears signed free-agent quarterback Brett Basanez earlier this month, but at this point you have to assume they will further stockpile their depth. The free-agent market should continue to clarify as the weekend approaches, giving us a better idea if players like Chris Simms plan to re-sign with their current teams or test the market.
The draft rarely offers immediate impact at the receiver position, so the Bears almost certainly will have to scour the free-agent market if they want to upgrade their corps. We've suggested Pittsburgh's Nate Washington as a potential fit, but there are plenty of other possibilities. Here are the receiver rankings from Scouts Inc.

GREEN BAY PACKERS
Three points of interest:
We should get a better sense of how much, or little, personnel turnover the Packers are planning as part of their shift to the 3-4 defense. General manager Ted Thompson isn't a big fan of free agency, and he offered a bit of a winding answer when Jason Wilde of the Wisconsin State Journal asked about the Packers' personnel plans.
Many mock drafts are suggesting the Packers will draft Ohio State cornerback Malcolm Jenkins with the No. 9 overall pick. Some analysts have suggested Jenkins might project better as an NFL safety. This topic should be well-discussed at the combine.
The Packers used tailback Ryan Grant an awful lot in 2008, giving him 312 carries. You would think they'll look to spread the ball out a bit more in 2009. Will Grant's partner be backup Brandon Jackson? Or will the Packers seek help from elsewhere? Here's a link to Scouts Inc.'s ranking of running backs.

MINNESOTA VIKINGS
Three points of interest:
The big question is whether the Vikings will pursue a starting-caliber quarterback or merely look to add depth behind starter Tarvaris Jackson. At least two veteran starters are available. Will we get any hint that the Vikings are going to pursue Matt Cassel, New England's franchise player? Or will they attempt to sign Jeff Garcia?
The Vikings will join the Bears in the hunt for a right tackle. Starter Ryan Cook is under contract for 2009, but it's possible he'll be moved to center to replace veteran free agent Matt Birk. If not, Cook is one of the few personnel weak links on the Vikings' otherwise talented roster.
It'll be interesting to see how the Vikings will approach their defensive tackle position with the suspension of Pat Williams and/or Kevin Williams still a possibility. (Their legal cases remain under consideration.) Both of their 2008 backups, Fred Evans and Ellis Wyms, are pending free agents. Evans is restricted, so the Vikings could match any offer he receives. The Vikings might need to amplify their depth when it's available so they aren't caught surprised later if either Williams loses his legal case.

December, 28, 2008
12/28/08
11:10
AM ET
Posted by ESPN.com's Kevin Seifert
MINNEAPOLIS -- ESPN's John Clayton just reported that New York tailback Brandon Jacobs (knee) is unlikely to play Sunday against Minnesota. Jacobs is here at the Metrodome but probably will be among the Giants' game day inactives, Clayton reports.
We'll get you the entire list of inactives, in addition to all lineup changes, at about 11:45 a.m. ET.