November, 7, 2013
11/07/13
12:00
PM ET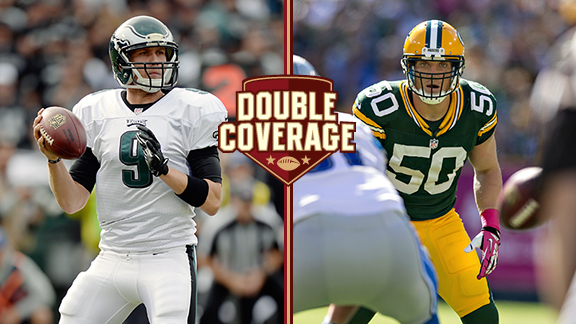 Getty ImagesNick Foles and A.J. Hawk meet Sunday in Green Bay in a game that's turned in the Eagles' favor.
If you expected the
Philadelphia Eagles
to have the edge at quarterback for their Week 10 meeting against the
Green Bay Packers
at Lambeau Field, go to the head of the class.
The teams play Sunday, a week after their quarterbacks made headline news. The Pack's
Aaron Rodgers
broke his collarbone in Monday night's loss to the
Chicago Bears
, a day after the Eagles'
Nick Foles
tied the NFL record with seven touchdown passes against the
Oakland Raiders
.
A game that looked to be safely in the Packers' column is suddenly wide open. NFC North aficionado and all-around NFL expert Kevin Seifert breaks down the game with ESPN.com Eagles reporter Phil Sheridan.
Phil Sheridan:
I'll start with the obvious one: Can the Packers win without Rodgers? Did they take his durability for granted in not having a better backup in place?
Kevin Seifert:
On a local level, the backup quarterback has been an annual source of controversy for the Packers throughout Rodgers' career as a starter. Nationally, most people didn't find out about it until Monday night.
Seneca Wallace
is the backup only because he was available when they realized none of the players they took to training camp was up to the job. He is 6-15 in his career as a starter, and his career seemed over in August 2012 when the
Cleveland Browns
released him.
The Packers' entire scheme is built around Rodgers doing things that only Rodgers can do. Think of what happened when the
Indianapolis Colts
played without
Peyton Manning
in 2011. The Packers will need to make fundamental changes to their offense -- and expect substantial elevation in other areas of their team -- to make it through this wilderness.
I have to imagine the Eagles can't believe their luck to be facing Wallace instead of Rodgers, huh?
Sheridan:
They are saying all the right things about wanting to face the best and never wanting to see anyone get hurt, but they aren't oblivious. This game looked like a double-digit loss the day the schedule came out, and it still looked like an easy Packers home win until Rodgers' collarbone broke Monday night. So it not only becomes a winnable game for the Eagles, it comes when a win, combined with a Dallas loss (the Boys are in New Orleans), would move them even with the Cowboys at 5-5.
And it's not like the Eagles owe anybody an apology when it comes to luck. They haven't had a quarterback start and finish two games in a row since September, and they've been down to
Matt Barkley
twice.
They may not have a starter as good as Rodgers, but their backup isn't half bad. Foles threw for seven touchdowns Sunday against an Oakland defense that didn't blitz or, at times, even cover receivers. Given Dom Capers' background, how would you expect him to respond to a challenge like this?
Seifert:
Capers is known for major scheme changes from week to week, depending on matchups. But as usual, the Packers are dealing with injuries that will limit his options. They are down four linebackers at the moment, although the Packers are hopeful that
Clay Matthews
can return soon -- if not Sunday -- and play with a club to protect his broken thumb.
In short, I'm not sure how many options Capers will have. He does have a group of talented cornerbacks --
Tramon Williams
,
Sam Shields
,
Casey Hayward
and
Davon House
. Capers will have to hope that they can stick with the Eagles' group of perennial All-Pros and future Hall of Famers better than the Raiders did.
Are the Eagles' receivers really that good?
Sheridan:
If they are, they have managed to keep that greatness a secret until Sunday in Oakland.
DeSean Jackson
is a dynamic player, no question about that, but he has been taken out of games in the past when cornerbacks get physical with him. The Raiders did not, and Jackson went off.
As for
Riley Cooper
and
Jason Avant
, they have not made up for the loss of
Jeremy Maclin
to a torn ACL during training camp. Cooper had great numbers Sunday -- five catches, three touchdowns, 139 yards -- but he has been neutralized more often than not during the season.
Tight ends
Brent Celek
and
Zach Ertz
had big numbers at Oakland too. So either the Eagles offense really turned a corner or the Raiders just didn't have anyone playing corner. Maybe a bit of both.
The Packers have added a more robust running game to their offense this season. Now that Rodgers is hurt, can
Eddie Lacy
& Co. carry the team until the quarterback is back? Is that even possible in this pass-happy league?
Seifert:
I tend to doubt it. Up until Monday night's game against the Bears, much of the Packers' success in the run game came against light boxes (six men or fewer) designed to focus first on the pass, according to the charting we get from ESPN Stats & Information. The Bears brought a safety into the box Monday night and the Packers still rushed for 199 yards, but we should note that the Bears have the NFL's fourth-worst rush defense this year.
And even when you run successfully, it usually takes longer to score and thus your total points can drive down. The Packers were averaging 30 points per game before scoring 20 Monday night against the Bears.
How do you think the Eagles will approach it? Eight men in the box? Nine? How about 11?
Sheridan:
This sets up a bit like the Tampa Bay game, I guess.
Mike Glennon
was making his second start, and the Bucs' passing game was not expected to be a big threat. The Eagles focused on shutting down
Doug Martin
, and they did, holding him to 67 yards on 16 carries. It helps, of course, to get a lead and force the opponent to throw the ball more.
All season, the Eagles' focus has been to stop the run while limiting big pass plays downfield. That made them vulnerable to intermediate passing and runs after the catch. Tampa Bay's
Vincent Jackson
, for instance, had nine catches for 114 yards and two touchdowns while the Eagles were focused on Martin.
That has to be the Packers' blueprint for success. If Wallace can get the ball out quickly and catch
Jordy Nelson
and
Andrew Quarless
in stride, the Packers can move the ball. The Eagles are better at tackling and covering underneath than they were, but there's opportunity there.
October, 17, 2012
10/17/12
10:30
AM ET
When do NFL coaches use a challenge for purposes other than overturning a call? When they're looking to channel their inner
James Naismith
, of course.
We've written on this topic before, but it merits reinforcement because you don't see it often. When
Detroit Lions
coach Jim Schwartz challenged an incomplete pass Sunday at Lincoln Financial Field, he did so as much to give his tired defense a breather -- "one of those basketball-type challenges," Schwartz said -- as to seek reversal.
Let's set up the decision.
[+] Enlarge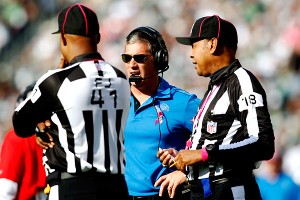 AP Photo/Mel EvansJim Schwartz bought his defense three minutes to regroup with a challenge during an Eagles trip into the red zone.
The Lions were trailing 10-6 with four minutes, 35 seconds remaining in the third quarter. The
Philadelphia Eagles
had a first-and-goal at the 3-yard line, and the Lions defense had already been on the field for about 25 of the game's first 40 minutes. A touchdown would have given the Eagles a two-score lead against a Lions offense that was struggling to get moving.
On first down, quarterback
Michael Vick
threw a hurried pass to running back
LeSean McCoy
in the left flat. The ball arrived before McCoy turned around, and it bounced off his back. As the whistle blew, Lions linebacker
Stephen Tulloch
grabbed the ball off the ground in the event the play was ruled a backward pass and therefore a fumble.
Referee Bill Vinovich ruled the pass incomplete, and replays made clear the ball traveled nearly two yards forward -- from almost the 12-yard line, where Vick threw it, to inside the 11, where it hit McCoy.
So why did Schwartz use one of his two challenges, and risk one of his three timeouts, to seek reversal? As Schwartz explained afterward, his defense needed a physical and mental regrouping -- much like a basketball team that has withstood an extended run of points from its opponent. Schwartz also noted how important a red zone turnover would have been at that point if officials saw something different in a further examination of the replay.
Here's how Schwartz explained his thought process:
"It was at least a little bit close. We had clear recovery and they had made a good drive to that point, and I was talking to the guys upstairs and I said 'Do you have a replay?' And they didn't. And I said 'Well, what did it look like?' and they said 'Well, it's close.' And I said 'If it's close, I'm going to throw it.' Because ... the reward is so great, if we're able to get a turnover.
"Imagine if it had been the other way and it had been slightly backwards and we didn't get a replay and we didn't challenge it and we were sick to our stomachs after the game saying, 'Jeez, we could have gotten a turnover in the red zone, taken points off the board and everything else.'
"And literally part of the thought process there was 'Hey, look, we could use a timeout now anyway,' and a challenge is always a long time out. You know, they go under the hood and give everybody a chance to regroup and things like that. You can sort of, you know, catch your breath and think about your next call and things like that. So, more of looking at it as an extended timeout. Might not have done it if that was our last challenge but it was our first challenge, we still had another one that we could handle it."
I went back and timed the break the Lions' defense got as a result. Nearly three minutes elapsed from the moment the play was over until the Eagles broke the huddle for their next play. The Lions ended up making a stand, benefiting from an offensive pass-interference call on tight end
Brent Celek
's apparent touchdown and also getting a sack from defensive end
Cliff Avril
on third down. An ensuing field goal left the Lions with a more manageable 13-6 deficit, and
we know what happened after that
.
From time to time, I'll provide updates on how NFC North coaches are faring with their challenges. Below is a six-week glimpse.
November, 29, 2010
11/29/10
12:00
PM ET
After the Chicago Bears' 31-26 victory against the Philadelphia Eagles, here are three issues that merit further examination:
Kevin SeifertThe Chicago Bears take their turn in the examination room after beating Philadelphia.

Hooray to whoever convinced offensive coordinator Mike Martz to re-balance his offense and keep it that way. Sunday, the Bears once again kept an opposing defense honest with enough use of their running game. Bears tailbacks Matt Forte and Chester Taylor combined to carry on 20 of the team's offensive snaps. (Devin Hester had one run and quarterback Jay Cutler scrambled seven times.) I don't care that Taylor finished with -3 yards. Forte's 61-yard run in the first quarter surely caught the Eagles' attention, and thereafter Cutler had a field day with play-action passes. Three of his four touchdown passes came after a fake to a back, notes ESPN Stats & Information. That's why you don't ignore the run game.

The Bears benefited from the absence of Eagles cornerback Asante Samuel. Before Sunday, the Eagles had not given up a touchdown to the right side, where Samuel typically lines up. ESPN Stats & Information reports that Eagles opponents were completing 47.5 percent of their passes with three interceptions in that direction over that stretch. With Samuel sidelined by a knee injury Sunday, however, the Bears completed 71.4 percent of their passes to the right side, including three of their touchdowns. Take that for what you will.

The Bears defense did exactly what the Tampa 2 is designed to do: Discourage opposing quarterbacks from taking deep shots down the field. Vick's desperation 30-yard touchdown pass to tight end Brent Celek, a pass that middle linebacker Brian Urlacher nearly batted down, was the Eagles' longest play of the game. For the most part, the Bears kept the Eagles offense in front of them. Entering Sunday, 34 percent of Vick's attempts had traveled at least 11 yards in the air. Sunday, according to ESPN's Stats & Information, that figure was 27 percent.
And here is one issue I don't get:
Since joining the Bears last season, Cutler has thrown at least four touchdown passes in three games and four interceptions in three others. Are those numbers simple by-products of each other? Are they the unavoidable epitome of a high-risk, high-reward gunslinger mentality? Or is Cutler simply that inconsistent? The answer is probably both. Whenever we suggest Cutler has turned a corner, either toward consistently fewer mistakes or complete Armageddon, he produces a game that reverses the trend. I'm inclined to believe that Sunday was a "Good Jay" day and that some "Bad Jay" days loom somewhere on the horizon, but no one can know for sure.
December, 2, 2009
12/02/09
7:10
AM ET
We still haven't gotten any official word on the condition of Chicago linebacker Lance Briggs, but
Vaughn McClure of the Chicago Tribune
reports he has a mild left knee sprain and a hip pointer that could affect his availability for Sunday's game against St. Louis.

Whatever the injury, the Bears were concerned enough about it to sign free agent Cato June for extra depth.
Brad Biggs of the Chicago Sun-Times
suggests June's arrival coincides more with his medical clearance last week after recovering from a broken arm. The Bears will spend the next five weeks evaluating June to determine if he could have a role for them next season.
We'll keep you updated.
Continuing around the NFC North: