September, 16, 2014
Sep 16
8:00
AM ET
PITTSBURGH -- Recent player arrests and -- the NFL's response to ones related to domestic abuse and child abuse -- has led to an avalanche of criticism of the billion-dollar league.
But Steelers defensive end
Brett Keisel
defended the NFL and said the actions of a few are not representative of most of the players.
Keisel
"There is a lot of negativity out right now in the league but I hang my hat on every day knowing there are a lot of good guys in this game, too," Keisel said on Monday. "There's a lot of guys that do the right thing, that act the right way, that are living productive and charitable lives. Negative news sells. It's the world we live in."
Negative news has engulfed the NFL since last Monday when TMZ released a video of Ray Rice punching his then fiancÚ and knocking her out in an Atlantic City, New Jersey, hotel elevator.
Rice was released by the Ravens and suspended indefinitely by the NFL. But an investigation has been commissioned to review the NFL's conduct in the Rice case.
Its handling of abuse cases has also been questioned following a bench conviction of
Carolina Panthers
defensive end
Greg Hardy
for assaulting his former girlfriend. Hardy played in Carolina's season opener but was deactivated Sunday as was
Minnesota Vikings
running back
Adrian Peterson
following his arrest late last week for child abuse.
The Vikings have said Peterson will play this week. Hardy is practicing this week, though his status for a Sunday night game against the Steelers has not been decided.
Steelers safety
Troy Polamalu
shrugged off a question about what impact the negative publicity has had on the NFL.
"To be honest, I don't pay attention to any (media coverage) whether it's good or bad," the eight-time Pro Bowler said. "I'm not concerned with the image of the league. That's what (NFL commissioner) Roger Goodell's concern is and the league owners' concern is. I am concerned with the image of this team and this organization and our program and whether we win or not."
Keisel and Polamalu are two of the Steelers' leaders and among their players who are most active in the community.
Both are past Steelers' winners of the Walter Payton Award, which recognizes players for their charitable contributions.
"There's a lot of guys in this locker room and locker rooms throughout the league that try and do the right thing," Keisel said. "That's really all I think about is making a positive impact when I can and being a good productive player at the same time."
March, 11, 2014
Mar 11
1:00
PM ET
As free agency begins Tuesday and the
Detroit Lions
figure out exactly how to fill their holes, certain players will stand out.
And over the past three days, the Lions have spent time in the beginnings of talks with free agents as they try to maximize about $11 million in salary-cap space.

It might sound like a lot -- and it will be enough to get a couple of deals done -- but the total is in the lower half of the NFL and could keep the Lions from being major movers in the market, at least until a new contract is worked out with defensive tackle
Ndamukong Suh
.
If that happens.
As everyone settles in for the insanity of free agency, here is a look at players the Lions could target on defense.
DEFENSIVE LINE:
Why:
This could be predicated on what happens with defensive end
Willie Young
. If the team is able to bring Young back, the Lions might be done at the position in the near term. If not, they might look for a replacement. At defensive tackle, the team already signed
Corvey Irvin
and has depth.
Two candidates:
Young: Last season was his first consistent extended action, and he was effective. He had 47 tackles and three sacks, but his size and speed make him an attractive free agent for teams. At 28, he is in his prime.
Brett Keisel: He is a 3-4 defensive end who can play defensive tackle in the 4-3. Though 35 years old, he had 29 tackles and four sacks in 12 games last season. He could be a cheap alternative if the team feels there is a need for another veteran on the line.
LINEBACKER:
Why not:
Sure, there could be a deal made with someone for cheap or a hybrid defensive end/linebacker, but with
DeAndre Levy
and
Stephen Tulloch
returning and the team playing more nickel than ever, it could be tough for them to lure a big-name player.
Two options:
LaMarr Woodley: Expected to be released by the Steelers later Tuesday, he has connections to the state and can play both linebacker and defensive end, making him a potentially cheap, versatile piece.
Larry Foote: Like Woodley, this is more about someone who has connections to Michigan. If Foote is planning on being a starter, he isn't going to come to Detroit -- and his price tag would likely be too much anyway.
CORNERBACK:
Why:
Despite the team having money wrapped up in
Chris Houston
and a bunch of younger cornerbacks ready to seek out playing time, the Lions might be wise to invest in another veteran, much like they did with
Rashean Mathis
a season ago.
Four candidates:
Mathis: He showed he can still play after becoming the team's top cornerback last season and was a steadying influence in the Detroit locker room for those younger cornerbacks. He would probably still come cheap.
Corey Graham: He played last season under new Detroit defensive coordinator Teryl Austin and has familiarity with Austin's schemes. At 6 feet, Graham has the height Austin wants, made 68 tackles and intercepted four passes a season ago. He could be a strong fit.
Alterraun Verner: The Lions reportedly reached out to the former Tennessee cornerback, but he is expected to be pursued heavily in free agency. Though the Lions could be a fit, Verner might end up being too expensive.
Charles Tillman: He told reporters during Super Bowl week that he wouldn't rule out playing for the Lions, and he could be an interesting cornerback/safety hybrid. He also has familiarity with the division, having played for Chicago, and has the respect of receiver Calvin Johnson.
SAFETY
Why:
Other than receiver, this might be the biggest need of all for Detroit after the team released starter
Louis Delmas
. Though the Lions could address this spot in the draft, they likely would like to put someone experienced opposite
Glover Quin
.
Some candidates:
November, 15, 2013
11/15/13
4:25
PM ET
ALLEN PARK, Mich. -- After missing two days of practice and then saying Thursday he anticipated playing Sunday against Pittsburgh,
Detroit Lions
wide receiver
Calvin Johnson
is officially listed as probable on the team's injury report Friday.
Johnson
Defensive end
Ziggy Ansah
(ankle), who returned to practice Friday on a limited basis, is officially listed as questionable but had not practiced for almost two weeks before Friday. Also listed as questionable is right tackle
Corey Hilliard
(knee).
Cornerback
Bill Bentley
(knee), who hasn't practiced all week, is listed as doubtful along with receiver
Nate Burleson
(forearm), who is still recovering from his injury.
The only player ruled out for the Lions is running back
Montell Owens
, who hasn't practiced all week.
Interesting to note, especially since he likely would have faced rookie right tackle
LaAdrian Waddle
, but linebacker
LaMarr Woodley
(calf) is officially doubtful for Pittsburgh on Sunday. Also, defensive end
Brett Keisel
(foot) is questionable for the Steelers.
September, 21, 2013
9/21/13
5:00
PM ET
CHICAGO BEARS (2-0) at PITTSBURGH STEELERS (0-2)
7:30 p.m. CT Sunday at Heinz Field on NBC
February, 1, 2011
2/01/11
6:00
PM ET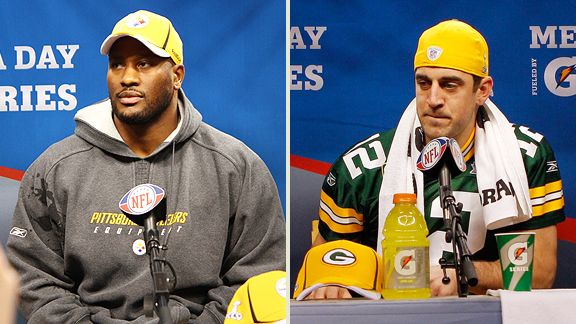 Icon SMI, Getty ImagesThe Steelers' James Harrison intimidated, while Aaron Rodgers reflected on family at Monday's Super Bowl media day.
ARLINGTON, Texas -- Hopefully everyone enjoyed
Tuesday's Countdown Live coverage of Super Bowl XLV media day
, which remains archived for those who want to read through our conversation. Media day gets a bad rap because there are always a handful of quasi-celebrities who try to make the event more about them than the game. But I find that the chaos of it often compels our familiar cast of characters to say and do unexpected things during the hour they spend in the stadium.
So in no particular order, here is what I found interesting while circulating among the
Green Bay Packers
and
Pittsburgh Steelers
on Tuesday:
Steelers linebacker
James Harrison
is easily and without question the meanest and craziest man who will play in this game. If I didn't know any better, I would guess he purposefully made headlines Tuesday in an effort to solidify that title.
In the five minutes I stood near his podium, I heard Harrison mock the NFL, its commissioner and anyone who believes the game has gotten too rough. He asked if Goodell wants him to put a pillow down on the field before tackling someone. Harrison, who was fined $100,000 for what the NFL deemed illegal hits during the season, said his subsequent meetings with Goddell were "a waste of time" and that he is back to playing the way he did before the league started fining him.
As a small group of reporters stood stunned, Harrison went on. I was busy typing away on my ESPN-issue iPad for Countdown Live and wasn't recording. So let's give a hat tip to Kareem Copeland of the Green Bay Press-Gazette
for transcribing what we heard.
A sampling:
On if he thinks the NFL cares about keeping players safe:
JH: "The league is doing whatever they need to do that helps them make more money. If you hit Tom Brady [or] Peyton Manning and you concuss them and they can't play the next game, a lot of people might not [tune] in to see that."
On if the NFL made an example of him:
JH: "They needed somebody to make a poster-guy for their rule, and I seemed to be the most recognizable guy at the time. So, they went with me."
It's noteworthy when any player, let alone one on Harrison's level, takes a strong public stance against the league. For it to happen a few days before the Super Bowl only adds to its significance.
Still, it seems to me that above all else, Harrison views himself as a football warrior more than a victim. Taking a strong stand against limitations on hitting quarterbacks was, in my view, an effort at intimidation as much as anything. Some of his strongest comments came in that vein.
Harrison said he has suffered a concussion in an NFL game but it was "not bad enough to come out of a game." He added: "Put it like this: If you don't tell them, they don't know unless you get knocked out and you sitting there with your arms stuck in the air."
In mocking Goodell, Harrison said: "I don't want to hurt nobody. I don't want to step on nobody's foot or hurt their toe. I don't want to have no dirt or none of this rubber on this field to fly into their eye and make their eye hurt. I just want to tackle them softly on the ground and if y'all can, lay a pillow down where I'm a tackle them so they don't hit the ground too hard. OK, Mr. Goodell?"
Harrison's comments were spoken to the media, but I'm betting they were directed at the Packers. As in: Buckle up, boys. The NFL's meanest player is headed your way.
Some shorter tidbits:
The grandfather of Packers quarterback Aaron Rodgers earned a Purple Heart in World War II after he was shot down. Rodgers said that he was giving "serious thought" to joining the military himself after school before deciding to pursue football.

Packers tight end Tom Crabtree has tattoos up and down both arms. He said he tries to get a one "every time I go somewhere new" but that he might be too busy to pull it off this week in Texas.

A number of Packers players and their wives got together for a "dance-off" using "Dance Central" on Xbox360, receiver Donald Driver said. It was players versus wives. Driver: "We are football players and we thought we could dance. But they smashed us." Driver said a re-match is scheduled for this week at his Dallas-area home.

Packers nose tackle B.J. Raji faced all kinds of questions that were variations of this one: "Not that you're fat, but all big people who are slow and lack the skills, you brought them to another spectrum." Raji's response to that one: "You're a real charmer, man."

Naturally, the gnarly beard of Steelers defensive lineman Brett Keisel drew plenty of attention. I thought Steelers safety Ryan Clark had some of the funniest comments about it. Clark said the only way for Keisel to put his mouthpiece in is to "shove half of his beard in his mouth."

Clark also said the Steelers would hold a "beard-cutting ceremony" if they win Sunday's game. Clark envisioned a ceremony similar to the one college basketball champions use to cut down the nets at the end of the NCAA tournament. "But instead of everyone taking a little bit of the net," Clark said, "we'll all take a piece of the beard."