April, 6, 2012
4/06/12
12:00
PM ET
I think we're close to moving on from
Thursday's debate
on how typical the
now-infamous speech
of former
New Orleans Saints
defensive coordinator Gregg Williams is on a relative scale. The initial reaction of many was to suggest Williams was speaking in metaphor and that the general populace would be stunned to know what is routinely said behind the closed doors of NFL locker rooms.
I fully accept that the violence of football starts at the top and is a central factor in the popularity of the game. But it also seems reasonable to make a distinction between accepted violence and inexcusable thuggery, and that's why I was so glad to see
Green Bay Packers
guard
Josh Sitton
speak out early Thursday on that issue.
Most every defensive coach encourages violence and intimidation, but it's flat-out apocryphal to suggest they all target individual players for serious and specific injuries as Williams did. That's not how everyone plays the game. But I don't want Sitton to stand as the sole representative of that viewpoint, so let's pass along similar thoughts from a number of other sources.
[+] Enlarge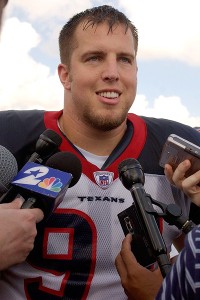 AP Photo/Pat SullivanFormer NFL defensive lineman Seth Payne tweeted that Gregg Williams' behavior was not "business as usual in the NFL."
Via Twitter
, former All-Pro defensive end/linebacker
Jason Taylor
said Williams is "trippin'." He added: "Playing hard and hitting hard is one thing. Going after ACL's and heads......not cool. … Saying someone flinches..ok. Wanting to hit everything moving and intimidate...ok. Calling someone a prima donna..fine ACL and Head... NO!"
Former NFL defensive lineman Seth Payne, who had a 10-year career with the
Jacksonville Jaguars
and
Houston Texans
,
tweeted
: "Guys claiming Gregg Williams' behavior was normal in NFL are out of line. Played for 5 DC's and never heard anything remotely like that. … I'm not saying it didn't happen elsewhere. I'm just saying you can't claim it's business as usual in the NFL."
Meanwhile, speaking on the NFL Network, former
Detroit Lions
coach Steve Mariucci said he heard portions of Williams' speech on the radio while in the car and "almost drove off the road." Mariucci said he "was shocked and disturbed" and that Williams "obviously crossed the line."
Former
Baltimore Ravens
coach and
Minnesota Vikings
offensive coordinator Brian Billick expressed similar disdain during an NFL Network appearance.
"I've been in this game, man and boy, for better than 40 years," Billick said, "and the back of my hair bristled up a little bit. Because this whole process, people say, everybody does that. Well, no we don't. I've never in my 40 years heard or heard of somebody talking with that specificity, the intent to injure a player. That was shocking to me."
Surely these coaches have an interest in protecting how people view the profession. But let's not get caught up in self interest here.
Look, I realize reasonable people can debate both sides of almost any issue. We can all get along here. I guess I'm just challenging you to avoid assumptions and generalizations based on what might appear to be a consensus view coming from those with better access than you or I to the innermost sanctums of the game. There might be a consensus on the commonality of Williams' aggressive style, but as you can see, there are people with insider credibility who disagree about the normalcy of his methods.
November, 16, 2010
11/16/10
11:13
AM ET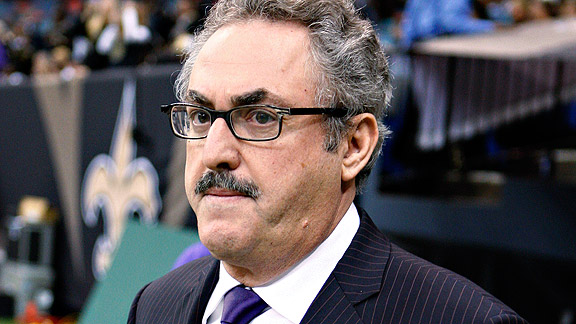 John David Mercer/US PresswireVikings owner Zygi Wilf values organizational continuity and isn't one to make rash personnel moves.
It's time for the spotlight to shift in Minnesota. During the highly scrutinized past few weeks, we've confirmed all we need to know about Vikings coach Brad Childress -- for better and for worse. (And yes, there are factors on both sides.) Further examination would only repeat the previous points.
So as Childress' tenure continues, it's fair to ask what owner Zygi Wilf is thinking and what it says about his stewardship of the franchise. After all, the window seems shut on firing Childress with an eye toward salvaging the 2010 season. It's not happening this week, and if it's prompted by a loss Sunday to the
Green Bay Packers
, the next coach would be saddled with a near-hopeless 3-7 record.
To be sure, the Vikings' disappointing season doesn't necessarily mandate the dismissal of a coach who has won consecutive NFC North titles. But Wilf's resistance to change, even amid a nationally watched soap opera, reinforces what I would call his aggressive approach to continuity since purchasing the team in June 2005.
Those hoping or believing Wilf would fire Childress after the bungled acquisition of receiver
Randy Moss
are ignoring history. For the most part, Wilf has worked hard to retain his organizational leaders and seems determined to avoid quick-trigger decisions that often define professional sports. (His 2006 dismissal of former personnel chief Fran Foley after three months of work has proved an aberration and was prompted by other members of the organization.)
[+] Enlarge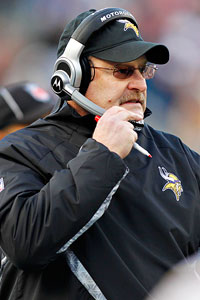 Greg M. Cooper/US PresswireUntil this season, Brad Childress had improved the Vikings' record every year since he was hired.
Vice presidents Rick Spielman and Rob Brzezinski have received at least two new contracts apiece in the past five years, and Childress re-signed through 2013 during last season's 12-4 campaign. The Vikings' current vice presidents of finance, marketing, public affairs and operations all date to Wilf's first days of ownership or before.
Wilf doesn't often speak publicly and rarely offers deep insight into his operation. But as Childress begins another week of game preparation, let's take some guesses at what Wilf is thinking and where he might be going with the football side of his franchise.
Wilf has a unique business background, having assumed control of a real estate company founded by his father and uncle. His principal partners are his brother, Mark Wilf, and cousin, Leonard Wilf. The loyalty and management style derived from a family business are instructive when analyzing the Vikings' coaching situation.
When disagreement arises between family members with relatively equal stake in a company, dismissal or departure aren't options. Issues are worked through, and I believe that is what Wilf thinks he is doing now. Childress was Wilf's hand-picked coach in 2006, and he is hoping the coach can navigate the franchise through a rough patch.
In the big picture, Wilf views Childress as a coach who accomplished one of his biggest goals: Cleaning up off-field player behavior that culminated in the 2005 Love Boat cruise. On the field, Childress improved his record in every season from 2006-09, earning the extension. I don't think Wilf is willing to abandon the results of those first four years based solely on a stumble in the fifth.
Many people have noted the $12-plus million Wilf would owe Childress if he fired him. Based on how he has thrown around money during his ownership, I don't think that figure is anywhere near the top of the list of why Childress remains employed. Much more important, at least to Wilf, is the symbolic commitment Wilf made in executing the deal.
Wilf grew up and remains a huge football fan, and he proudly applies those sensibilities to his management of the Vikings. But there are different categories of fans, and Wilf clearly resides under the eternally hopeful category much more often than the knee-jerk reaction group. The most recent example was Wilf's ecstatic response to the Vikings'
27-24 comeback victory
Nov. 7 over the
Arizona Cardinals
.
Afterward, his face flush, Wilf stood at the door of the Vikings' locker room and greeted each player and coach with a version of the phrase "great heart!" His conviction of the Vikings' potential that day was obvious, overshadowing all of the well-chronicled issues Childress has encountered with players, game management and his offensive scheme.
That's my read on Wilf's mentality over the past few weeks. If you want to be more cynical -- and I'm always up for a good conspiracy theory -- you could suggest that Wilf already knows he will replace Childress after the season and that he doesn't want presumptive interim coach Leslie Frazier to succeed him. For all we know, Wilf could already be studying the available candidates -- Super Bowl winners Bill Cowher, Jon Gruden and Brian Billick are all in hibernation -- with an intention to pounce after the season.
If he fires Childress now and Frazier executes a miracle turnaround, Wilf might feel compelled to hire him permanently even while casting his gaze elsewhere. I have no idea if that's actually the case, but we shouldn't rule out the possibility that Wilf has a larger plan already in place.
Why? Because in November 2005, about two months before he fired coach Mike Tice, Wilf dispatched several team officials to a clandestine meeting with agent Bob LaMonte. At the time, LaMonte represented Childress and then-
Philadelphia Eagles
personnel executive Tom Heckert.
The day after they fired Tice, the Vikings flew Childress to Minnesota for an interview and worked feverishly to do the same with Heckert, who ultimately re-signed with the Eagles and is now the
Cleveland Browns
' general manager.
Again, I have no evidence that a similar contingency plan is under way now. But if you want to know why Childress remains employed, you should know it fits with Wilf's larger management style. Wilf is patient, but he is far from passive. I don't think he'll stand for long-term underperformance, but to this point it's clear he doesn't classify Childress in that way.
October, 5, 2010
10/05/10
1:00
PM ET
»
NFC Decisive Moments
:
East
|
West
|
North
|
South
»
AFC
:
East
|
West
|
North
|
South
The
Detroit Lions
trailed by five points early in the fourth quarter Sunday at Lambeau Field when they achieved first-and-goal at the
Green Bay Packers
' 6-yard line. They had slowly nipped away at a 14-point lead and, as it turned out, had encountered their best chance of taking a lead in hopes of winning their first game in Wisconsin in nearly 20 years.
Offensive coordinator Scott Linehan called three consecutive shots into the end zone against a Packers defense that stayed back in coverage while rushing no more than four players.

On first down, the Lions tried what should be their best red zone play this season: Play-action to tailback
Jahvid Best
, and then a high pass to receiver
Calvin Johnson
. The Packers had Johnson double-teamed with cornerback
Charles Woodson
and safety
Nick Collins
, although Collins was a bit late.
Shaun Hill
's pass, however, was too high for Johnson and glanced off his fingertips.
On second down, the Packers tripled-teamed Johnson in the middle of the field. Hill rolled to his left and threw a late pass to receiver
Bryant Johnson
on the left side of the end zone. Cornerback
Tramon Williams
recovered to knock away the ball. On the game broadcast, analyst Brian Billick suggested Hill could have run the ball for a score. Based on the replay, I would say it was possible but debatable.
On third down, Hill again found no open receivers. This time, he floated a pass to the back of the end zone for tight end
Tony Scheffler
. Williams broke up that pass as well.
The Lions settled for a 24-yard field goal from
Jason Hanson
, their final score. It's true they had one more possession that could have given them the winning score, but in retrospect, failing to get a touchdown on first down from the 6-yard line was the decisive moment of Sunday's game.
December, 16, 2009
12/16/09
10:15
AM ET
Hopefully you got a chance to listen to
Brian Billick's interview
Tuesday morning on ESPN Radio, especially the segment where he discussed
Jay Cutler
's first season in Chicago.
[+] Enlarge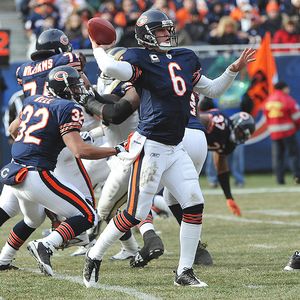 G. Newman Lowrance/Getty ImagesJay Cutler has thrown 19 touchdown passes and 22 interceptions in his first season with the Bears.
Most notably, Billick said Cutler is "beginning to feel Jeff Georgish." Yikes. The reference, of course, is to former NFL quarterback Jeff George --
the No. 1 overall pick in 1990
who was known more for his strong arm than he was for winning games. His career record as a starter was 46-78.
Billick isn't the first person to make that comparison, but his stature as a Super Bowl-winning coach brings a level of credibility to the observation. Here's the full quote, spoken after Billick worked Sunday's Green Bay-Chicago game as a FOX analyst:
"I was a huge Jay Cutler fan, and I'm not ready to bail on him yet. But I'm going to make an analogy here that's going to scare a lot of people. He's beginning to feel Jeff Georgish. Tremendous talent. The two interceptions, two touchdowns in the game [Sunday]. The interceptions, you just scratch your head and say, 'Where exactly were you going with this ball?' And then the two touchdown throws … there is probably not four guys in this league that could make the kind of throws that he made to get those two touchdowns. So it's a head-scratcher. Obviously huge, huge potential. But right now, it's only potential I think."
More importantly, what do you think? Cutler
has started 50 NFL games
and has a record of 22-28. Based on what you've seen this season, do you think he's going to make it? Will Cutler be a winning quarterback in Chicago? The bounty the Bears gave up for him, along with an October contract extension, suggests he'll get every opportunity to do it.
I've provided Cutler's rankings in key quarterback measurements below. Let me know what you think in the comments area below. As always, I'll publish a representative sample, along with my own take, Friday morning. Have at It.
December, 15, 2009
12/15/09
12:18
PM ET
Make sure you listen to the
end of this interview

former Baltimore coach Brian Billick gave Tuesday morning on ESPN's "Mike & Mike in the Morning."
Billick, now an FOX game-day analyst, made a scary comparison between Chicago quarterback
Jay Cutler
and a former NFL quarterback whose name will draw a shiver. (Hint: His name rhymes with Beff Beorge.) Billick also offered an analysis of Green Bay's potential to make a deep playoff run.
July, 11, 2009
7/11/09
12:00
PM ET
Posted by ESPN.com's Kevin Seifert
We had a little action last week in the NFC North, but as expected, the news certainly slowed as all four teams enjoyed some time away from their practice facilities. We got an update on the Williams Wall story, debated the pressure on Detroit quarterback Matthew Stafford and argued over the identity of the NFC North's breakout player in 2009. (I say Minnesota receiver Percy Harvin, you say Chicago tight end Greg Olsen.)
But there's always material for the mailbag, thanks to your intrepid participation. Remember, you can contact me through said mailbag, our lightning-fast Facebook page or Twitter. Phones? They're, like, sooooo 2008. I don't even know why I have one.
OK, let's get on with it:
Brad of Chicago notes our breakdown of Detroit's drafts this decade, hooked to the release of linebacker Alex Lewis, and asks for a comparison with the rest of the division.
Kevin Seifert: Thanks for the assignment, Brad. Seriously, it's a good idea. As it turns out, the Lions rank last among the four NFC North teams in this category. The Packers lead with 33 players. Of course, these numbers can be skewed based on the total number of draft choices. But over time, it's at least a decent gauge of overall draft success.
Here's the team-by-team breakdown:
---
Dictionary Guy objects to our use of "apocryphal" in a post about Brett Favre's appearance in the iconic "There's Something About Mary." Writes DG: Think about your demographic for about 5 seconds, then think about whether they know what apocryphal means. If you're not sure about the intelligence of your readers, try reading the comments sections. I have a college degree and I had to look it up. might want to dumb it down at least a LITTLE.
Kevin Seifert: What "college" did you go to, DG? Seriously, I get this type of note more often than you might care to believe -- and I hardly consider myself a wordsmith. My reading of the comments section reveals pretty much what we already know: The world is made up of geniuses, yokels and a lot of people in between. On this blog, we'll cater to everyone. And if you occasionally have to consult a dictionary, by gosh, consider making it a habit. It won't bite you.
---
VikingJ of Wausau, Wis., writes: Saw an ESPN story yesterday about certain teams allowing seasoned vets to go home during camp and not force them to stay in a college dorm room. You then hear coaches say that training camp is a period to build team unity (whatever that means). What are your thoughts on this subject, and what direction are the NFC north teams taking?
Kevin Seifert: You probably were reading about Washington coach Jim Zorn following in the footsteps of what ex-Baltimore coach Brian Billick once did with the Ravens.
I have often heard veterans complaining about off-site training camps. Some players don't like being away from their families. Many are uncomfortable in tiny dorm rooms and old mattresses, a legitimate concern when you consider how much energy they must expend during practice. For those reasons, I can see how it might help to sleep in your own home and bed. And to me, relationships can be formed during training camp whether you're sleeping at home or in the dorms.
Because let's be clear: Regardless of where you sleep, camp is a daily 18-hour affair. Typically, players are scheduled from about 7 a.m. to 11 p.m. If you're not practicing, you're either eating or in meetings or napping. For that reason, some players would prefer staying and sleeping in dorms because they're the closest thing to them. The long hours wouldn't really give them much chance to see their families anyway.
I'm not aware of a sleep-on-your-own policy in the NFC North. Everyone sleeps in dorms (Chicago, Minnesota and Green Bay) or in a hotel (Detroit).
---
Jimbo of Chicago writes: Kevin, what's the inside scoop on the other Adrian Peterson? With Matt Forte and Kevin Jones getting the bulk of the carries, and the Bears talking about how they need to get Garrett Wolfe on the field more this year, where does that leave a veteran like AP? Does he even have a spot on this team? Do they really hold a spot for him just to play special teams?
Kevin Seifert writes: Jimbo, there are a couple of interesting factors in play here. First, you wonder if the Bears really would keep four tailbacks on the 53-man roster. If they only keep three, the competition conceivably would be down to Wolfe and Peterson. To me, we'll find out once and for all if the Bears are serious about using Wolfe on offense. That would be the primary reason to keep him over Peterson.
Second, Wolfe showed proficiency as a special teams player last season, leading the team with 21 tackles. The Bears put a strong emphasis on coverage and wouldn't part easily with Peterson. But at least they would know that Wolfe can handle coverage assignments.
---
Randall of Monoma, Wis., writes: If the Williams Wall wins, why couldn't the Wisconsin legislature pass legislation forbidding the calling of penalties against the Packers in home games at Lambeau Field, as a violation of their employee rights?
Kevin Seifert: Haha. (I think. I'm presuming you're joking.) Randall, of course, is referring to the lawsuit filed by Minnesota defensive tackles Kevin Williams and Pat Williams. Essentially, the players are arguing that the NFL's steroid testing policy violates Minnesota state law. (The NFL contends the policy, which is part of the NFL's collective bargaining agreement, should be subject only to federal laws.)
But I cordially invite the Wisconsin legislature to take a break from its busy schedule to pursue such a law. Just to see what happens. And I'm guessing there would be more than a few legislators willing to take up the issue. Revolution!
---
Joseph of Fort Meade, Md., writes: As a Bears fan I'm glad to see the "Williams Wall" case delayed. At the end of the day, the NFL doesn't care about the state of Minnesota's stance on drug testing. The wall will lose. So hopefully they can be suspended at a more critical time in the season.
Kevin Seifert: Joseph, you actually bring up a good point. We have no way of predicting how long the legal process will take here. One month? Three months? Six months? Who knows with these things. But if you strictly go by the regular season schedule, the Vikings' first four games might represent the best stretch for them to miss if it comes to that.
None of their first four opponents -- Cleveland, Detroit, San Francisco and Green Bay -- had winning records last season. And from a preseason perspective, at least, the only running game I would fear in that group is the Packers'. If the players' legal case ultimately results in them missing games later in the season, it could play a more important role in the Vikings' playoff aspirations. No doubt.
January, 29, 2009
1/29/09
12:54
PM ET
Posted by ESPN.com's Kevin Seifert
In an appearance earlier this month on Minnesota's KFAN-1130, former Baltimore coach Brian Billick brought some quantitative analysis to the Vikings' current quarterback quandary.
(Click here for the audio. The interview is about two-thirds of the way into the clip.)
| | |
| --- | --- |
| | |
| | Tom Dahlin/Getty Images |
| | Tarvaris Jackson's future in Minnesota remains unclear. |
Billick said he abides by the Bill Walsh theory that you can usually tell if a quarterback is going to be a long-term success somewhere during his second year as a starter. "Between the 24th and the 30th game," Billick said.
Vikings quarterback Tarvaris Jackson has started 20 games and played in 25 during his three-year career. That puts him right in the Walsh/Billick wheelhouse for the Vikings to make a permanent decision about his career. Will they enter 2009 with him as their starter? Or will they pursue a temporary option and regroup in the draft?
Vikings coaches and front office officials are having that conversation as we speak. (For now, I'm going to consider it a coincidence that Sports Illustrated's Peter King suggested that Minnesota is the place that Brett Favre would "really like to play" during an appearance on ESPN's Pardon the Interruption. There are so many obstacles to Favre ever donning a Minnesota uniform that it's not worth a detailed discussion at this point.)
The Vikings will have a couple of other options should they push Jackson down the depth chart, starting with free agent and West Coast specialist Jeff Garcia. But here in the final week of January, I don't think the Vikings themselves know exactly what they will do.
In his radio interview, Billick self-deprecatingly noted that "I pretty much in nine years in Baltimore proved I knew nothing about quarterbacks." But if the Vikings were to ask him, Billick said he has two concerns about Jackson's long-term: His career completion percentage (58.4) and his dwindling accuracy in the fourth quarter of games.
Here's the way Billick put his thoughts on Jackson:
"Looking at Tarvaris Jackson, I've seen him play. I think he's an impressive young man. Certainly adds some dimension to the game. The thing that concerns me is the completion percentage. Over his career, he's less than 60 percent. And there may have been a lot of reasons for that. The other thing is that as the games went on and the difficult situations began to mount, that that's when his accuracy seemed to suffer. Couple games that I saw, third-down conversions were pretty good early, then at the end of the game things got tight. Those are all things that have to be factored in."
Jackson's performance at the end of the regular season provided the Vikings a glimpse of what he could be, but as we've noted before, they can't afford to be wrong about him anymore.