NFC North:

Brian De La Puente
August, 20, 2014
Aug 20
5:24
PM ET
LAKE FOREST, Ill. – Nearly five months since undergoing shoulder surgery,
Chicago Bears
free safety
Chris Conte
will make his preseason debut Friday night against the defending Super Bowl champion
Seattle Seahawks
.
"I feel good. I'm excited to go out there and play," Conte said Wednesday. "I can't wait to get back out there on the field and play football."
Conte
Conte, along with fellow safety
Craig Steltz
, were activated off the physically unable to perform list on Aug. 10, but both sat out against Jacksonville. Safety remains unsettled, although
Ryan Mundy
and
Danny McCray
have started in each of the two previous preseason games. Veteran
Adrian Wilson
is another candidate in the mix, but no final decision can be reached at safety until the Bears determine if Conte can bounce back from a difficult 2013.
Conte has been a mainstay in the Bears' secondary the last three seasons, recording 230 tackles, six interceptions and one forced fumble in 40 career starts.
"Chris had a good week of practice," Bears head coach Marc Trestman said. "He's running around. He's involved in terms of what we're doing. So we'll see. He's going to play. It looks certainly that he's going to play. And we haven't decided how much yet. But he'll be out there and he'll be competing and he's back in it to try to show us what he can do and we're excited to have him back."
Barring a setback, Steltz is also expected to play on Friday, along with wide receiver/kick returner
Chris Williams
, who seems to be recovered from a hamstring injury that he suffered in the preseason opener.
The Bears held five players out of Wednesday's practice: cornerback
Kyle Fuller
(ankle), guard
Eben Britton
(hamstring), center/guard
Brian de la Puente
(knee), cornerback
Isaiah Frey
(hamstring) and Mundy (excused).
August, 10, 2014
Aug 10
3:46
PM ET
BOURBONNAIS --
Chicago Bears
center/guard
Brian de la Puente
suffered a Grade 2 left MCL sprain in the preseason opener versus the
Philadelphia Eagles
and is expected to be sidelined for a couple of weeks, the veteran offensive lineman told reporters on Sunday.
"My knee feels good," de la Puente said. "It was a scary deal getting [my knee] rolled up on like that [against the Eagles], but the MRI was promising. The big stuff and the ACL were all right, so it'll just be a couple of weeks getting it back strong."
A former starting center for the
New Orleans Saints
, de la Puente has spent much of camp working at first-team right guard in place of
Kyle Long
, who's been forced to miss time due to a viral infection and a sore ankle.
Meantime, starting right tackle
Jordan Mills
was spotted in a walking boot prior to Sunday's practice. Mills injured his left foot earlier in the week and did not play against Philadelphia. It's unclear when he is expected to return to the field. Veteran guard/tackle
Eben Britton
remains classified as day-to-day with a hamstring injury.
July, 28, 2014
Jul 28
5:05
PM ET
BOURBONNAIS, Ill. -- A daily review of the hot topics coming out of
Chicago Bears
training camp:
Expectations are sky high for a Bears offense that ranked No. 2 in the NFL last year in points scored (27.8 per game) and No. 5 in passing yards (267.6 per game), but the opening four days of practice have produced a mixed bag of results from a unit that is expected to return all 11 starters. Monday's performance was no different. At certain points of the session, quarterback Jay Cutler ran the offensive scheme to perfection, firing completions to wide receivers Brandon Marshall and Marquess Wilson and tight end Martellus Bennett that went for huge gains. On the flip side, Cutler badly underthrew Marshall on a deep route into double coverage that should've been intercepted by Bears defenders who were stationed in the area. Veteran cornerback Kelvin Hayden later picked off a deflected Cutler pass in full-team 11-on-11, Hayden's third interception since the start of camp. There were also batted-down balls at the line of scrimmage and botched snaps from the center to the quarterback that resulted in Cutler describing the offense as "good and bad." Cutler continued: "That is to be expected taking the time off in July. We're getting better and better. There's been some sloppy stuff out there. We've got to clean it up. I think the guys are doing a really good job of just recognizing the plays and getting lined up and knowing the concepts and knowing the checks and everything. So if we just clean up some of the little things as we go, we'll be all right."
The Bears desperately need their top three draft choices to step in and make immediate contributions on defense. First-round pick cornerback Kyle Fuller looks the part and continues to receive extensive reps on the first team in base and nickel with Tim Jennings temporarily sidelined due to a sore groin. Third-round choice Will Sutton got thrown into the fire on Monday at three-technique defensive tackle as the coaching staff decided to give Jeremiah Ratliff a veteran's day off. Sutton appeared to hold up OK versus the heightened competition. Rookie nose tackle Ego Ferguson flashes the ability to get up-field in one-on-one individual pass-rush drills, but Ferguson has ended up on the ground on at least three separate occasions since the pads came on. Ferguson needs to find the perfect combination of speed and balance to ensure he doesn't take himself out of the play when games begin for real next month.
Fans chanted "Mega-Punt" whenever first-year punter Pat O'Donnell connected with the football on Sunday. Not to be outdone, punter Tress Way won the matchup between the two aspiring kickers on Monday. As a sixth-round draft choice, O'Donnell is considered the favorite to win the job, but Way has proved to those in the organization that he is an NFL-caliber punter. Even if Way is eventually released, he can still make it in the league. Former Bears "camp legs" have found gainful employment in the league: Spencer Lanning (Cleveland Browns) and Ryan Quigley (New York Jets).
Most of the wideouts competing for the final roster spots have done little to distinguish themselves. The two exceptions are Eric Weems and Chris Williams. Not only are Weems and Williams natural fits in the return game, they have managed to catch the football in camp. The other reserve receivers have been plagued by drops.
Pro Bowl right guard Kyle Long (viral infection) visited doctors on Monday, but the team cannot say if Long will be back on the field when it returns to work on Wednesday. With Long out, the Bears have worked various combinations at guard, with Eben Britton, Michael Ola and Brian de la Puente all seeing time with the starters.
Wide receiver Alshon Jeffery (sore foot), receiver Terrence Toliver (toe), safety Chris Conte (PUP) and safety Craig Steltz (PUP) were all spectators on Monday.
The Bears are off on Tuesday. The next practice is scheduled for Wednesday at 9 a.m. CT.
June, 17, 2014
Jun 17
5:56
PM ET
LAKE FOREST, Ill. --
Jordan Palmer
's return from a minor strain to his right throwing shoulder did little to clear up the Bears' fuzzy picture at the backup quarterback position.
Limited by the injury the last two weeks of organized team activities (OTAs), Palmer had full participation in the Bears' first of three mandatory minicamp workouts held on Tuesday, but he seemed to struggle with his accuracy at times, although Palmer reported no issues with his shoulder when he spoke with reporters after the practice.
"I felt great," Palmer said. "It was good to be back in the mix. I thought we had a pretty good practice today. [There wasn't] too much [rust]. It's still football. We're still wearing shorts and T-shirts, but it was good to be back out there with the guys."
[+] Enlarge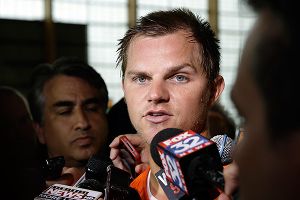 AP Photo/Nam Y. HuhWith the addition of Jimmy Clausen, the Bears now have quarterbacks under contract.
Meantime, newcomer
Jimmy Clausen
made the most of his limited reps, and even spent the end of practice occasionally working in with Palmer and starter
Jay Cutler
, while developmental quarterbacks
David Fales
and
Jerrod Johnson
took turns running the scout team offense on the other side of the field.
Clausen signed a one-year deal with the Bears on June 7.
"I watched Jimmy when he was at Notre Dame," Cutler said. "Liked him. He was in a tough situation out there in Carolina. Offensive line was pretty rough; he was getting hit a lot. The system turned over on him. He throws the ball well. I didn't have any input on bringing him here, though. Once he did get here, though, he was in the quarterback room over the weekend three straight days grinding way, trying to figure out this offense. He was peppering me and David Fales, [quarterbacks coach] Matt Cavanaugh, all questions. So he's been working hard. I think he likes the opportunity he has here. He's a little bit humbled going through the experience of being on the streets and getting picked up again. He's got a good attitude. Training camp and preseason, we'll see how it works out."
Clausen's first task is sticking on the roster long enough to report to training camp with the club on July 24. But the odds of that happening seem promising. However, with five quarterbacks currently under contract, the Bears are likely to jettison at least one reserve quarterback in the coming weeks.
"I don't know if that's ever happened [going to camp with five quarterbacks], not in the times I've coached the position," Bears head coach Marc Trestman said. "These next two days are certainly critical; we've got to continue to analyze the situation. It would be hard to, we need legs at camp, but we'll see. We'll make that decision, and we don't even have to make that decision this week, we'll make it before the start of training camp. I think we've got five viable guys. You take Jay out of it and we've got four guys that are really competing hard and all have the requisite skill set to play in the National Football League, we've just got to continue to watch it and see how it unfolds."
Here are other observations from the Bears' opening minicamp practice:
• The Bears rested starting right tackle
Jordan Mills
(foot) after the second-year offensive lineman returned from offseason surgery in May to participate in OTAs. Mills called his absence "precautionary," but wasn't sure if he'd practice on Wednesday or Thursday before the team breaks for the summer.
"It's just a little precaution, nothing major," Mills said. "I'm 100 percent. I was kind of mad I couldn't go out there and practice today with them but the trainers know best. They just wanted to rest my foot a little bit.
• Safety
Chris Conte
, linebacker
Khaseem Greene
and defensive tackle
Will Sutton
were all excused for "family reasons" according to Trestman.
Matt Slauson
(shoulder) was present but continued to sit out. Safety
Craig Steltz
took part in certain individual drills as he recovers from an offseason leg issue.
• Veteran
Kelvin Hayden
was the Bears' fourth cornerback when the team went to its dime package on defense.
• Trestman called D.J. Williams "the lead dog" at middle linebacker, but 2013 second-round pick
Jon Bostic
took reps with the first team at linebacker in the nickel package, and could definitely still challenge for the open outside linebacker spot if Williams manages to stay healthy and solidifies the middle in the club's base defense.
• Safety
Ryan Mundy
dropped an easy pick when a Cutler pass sailed off its mark close to the right hash.
• Linebackers
Jerry Franklin
and
Christian Jones
saw action with the No. 2 group. Jones, an undrafted rookie free agent out of Florida State, has opened some eyes in the offseason program.
• With Mills out,
Michael Ola
spent time at right tackle with the starters. Brian de la Puente continued to take reps at left guard.
• Converted running back
Jordan Lynch
ran a wheel route out of the backfield and caught a diving touchdown pass from Johnson late in the session.
• Rookie cornerback
Kyle Fuller
broke up a pair of passes in team drills.
•
Brandon Marshall
burned
Tim Jennings
for a long touchdown reception. On the play, the Bears had speedster
Chris Williams
lined up in the slot.
• The Bears invited numerous NFL player agents to Halas Hall on Tuesday to watch practice inside the Walter Payton Center. Agents are frequently spotted catching up with their clients at training camp, but rarely are large groups of agents permitted to observe a workout held at the team's facility.
June, 3, 2014
Jun 3
4:39
PM ET
LAKE FOREST, Ill. -- A brief skirmish broke out at Tuesday's organized team activity during a team drill between members of the
Chicago Bears
' starting offense and defense. Involved in the short-lived fracas was defensive end
Lamarr Houston
, right tackle
Jordan Mills
, tight end
Martellus Bennett
and defensive end
Jared Allen
.
Teammates quickly intervened to end the fight, but not before Bennett slammed his own helmet to the ground in frustration.
[+] Enlarge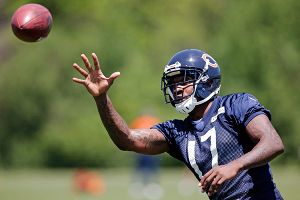 Nam Y. Huh/AP PhotoChicago Bears wide receiver Alshon Jeffery had some outstanding catches during Tuesday's organized team activities in Lake Forest, Illinois.
"We are just competing," Houston said afterward. "This is a competitive sport. That's the atmosphere Coach Trestman wants. We are competing every day to get better. Sometimes people get heated, but all we are doing is competing out there. It's exciting out there. It's a competitive atmosphere. We're having fun in practice.
"That's football. We just go back to the next play and keep working. It's nothing personal. Marty is a good guy. He's a good friend of mine. I'm going to go in there with him after this. Everything is all good."
Bennett later tweeted: "I go hard every [expletive] day. No doubt about that. Not a single ounce of [expletive] in me."
Here are several other observations from Tuesday's voluntary session:
• Former
New Orleans Saints
center
Brian De La Puente
split reps with
Eben Britton
at left guard with starter
Matt Slauson
sidelined due to a shoulder injury.
• Middle linebacker
D.J. Williams
worked out in front of the media for the first time in the offseason. Williams was absent from last Tuesday's open OTA, but did participate in practices later in the week that were closed to the media.
•
Charles Tillman
's absence on Tuesday opened the door for veteran cornerback
Kelvin Hayden
to receive a look on the first team at cornerback in the base defense and in the nickel package. Hayden missed the entire 2013 regular season after tearing his hamstring in training camp. Rookie first-round pick
Kyle Fuller
still worked with the starters in nickel when
Tim Jennings
bumped inside to cover the slot.
• Hall of Famer Mike Ditka watched Tuesday's workout from the sidelines in Lake Forest. Ditka addressed the team last year following a practice at Halas Hall, and had his number retired by the Bears during halftime of the team's Monday night Dec. 9 game versus the
Dallas Cowboys
at Soldier Field.
• Wide receiver
Alshon Jeffery
flashed his strong hands when he went up and snagged a red-zone pass over Jennings.
• Safeties
Ryan Mundy
and
Brock Vereen
had blanket coverage on
Brandon Marshall
on a deep
Jay Cutler
ball down the middle of the field. The pass fell incomplete.
• Rookie
David Fales
and second-year quarterback
Jerrod Johnson
received extra reps in team drills as No. 2 QB
Jordan Palmer
took a backseat to allow the young quarterbacks to get extended looks.

NFC NORTH SCOREBOARD
Friday, 8/22
Saturday, 8/23