February, 13, 2014
Feb 13
10:00
AM ET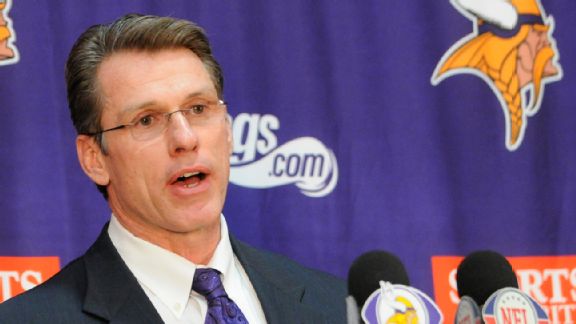 AP Photo/Jim MoneThe success of the next Minnesota Vikings quarterback may determine the legacy of general manager Rick Spielman.
MINNEAPOLIS -- In his 17 years as a member of NFL front offices, through a career that's spanned three teams and taken him through two convoluted power structures,
Minnesota Vikings
general manager Rick Spielman might never have had more influence over a team than he does right now.
Vikings ownership scrapped its disjointed "triangle of authority" structure in 2012, elevating Spielman from vice president of player personnel to general manager and giving him full control over personnel decisions. The Wilf family decided not to give coach Leslie Frazier a contract extension after a surprising 10-6 season in 2012 and fired him after a 5-10-1 season in 2013. Spielman got to pick his own coach for the first time in his career, hiring well-respected former
Cincinnati Bengals
defensive coordinator Mike Zimmer, and heads into the 2014 draft with four of the top 100 picks, including the No. 8 overall selection.
Spielman could use that pick to take the highest-drafted quarterback in Vikings history. If he does, he could also be making the selection that defines the rest of his tenure as the Vikings' GM.
The biggest hole in Spielman's résumé with the Vikings -- which includes an otherwise commendable record on first-round picks, a shrewd trade for DE
Jared Allen
, and what appears to be a good return on dealing WR
Percy Harvin
-- is his inability to find a long-term solution at quarterback. Spielman came to the Vikings shortly after the team had used a second-round pick on
Tarvaris Jackson
, and didn't have to devote a high pick in the draft to a QB until the end of
Brett Favre
's two-year run triggered a youth movement in 2011. And now the Vikings appear to be acknowledging that the decision to pick
Christian Ponder
12th overall in 2011 was a mistake.
"I haven't got it right yet. We've worked as hard as we could to try to get that right," Spielman said after the Vikings fired Frazier on Dec. 30. "I wish that you could get a quarterback [easily], and it's not. It's maybe the most difficult position to fill, but we're going to do everything and use every resource we can to try to get that corrected."
Spielman will have veteran offensive coordinator Norv Turner helping him this time, and the GM might rightly conclude that the best decision is to take a defensive player in the first round, come back to draft a quarterback later and let him develop without the expectations (and guaranteed money) that often drive a first-round pick into action right away. But the Vikings would have to bring
Matt Cassel
back on a new deal or go another route if they want to have a veteran quarterback on their roster next year, and trading for a player like
Kirk Cousins
or
Ryan Mallett
would cost the Vikings at least a midround pick while offering few guarantees. More than ever, it's incumbent upon Spielman to get it right at a position he's struggled to fill since his days in Miami.
During his five seasons with the Dolphins, Spielman initiated the first of his two trades for
Sage Rosenfels
, a move he'd repeat with the Vikings. Spielman had a hand in the acquisitions of
Ray Lucas
and
Brian Griese
, and in 2004 -- his only season as the Dolphins' full-fledged GM -- Spielman dealt a second-round pick to Philadelphia for
A.J. Feeley
, only to watch the quarterback fail to hold the starting job as the Dolphins slipped from 10-6 to 4-12.
The Dolphins' 2004 season went awry in part because running back
Ricky Williams
went AWOL before the season, but a clear direction at quarterback might have helped the offense weather the loss of its best player. And for all of the Vikings' defensive issues -- and running back
Adrian Peterson
's nagging injuries -- along the way in their fall from 10-6 to 5-10-1 in 2013, there's a convincing argument to be made that the team could have won a mediocre NFC North if it had stability at quarterback. Frazier seemed to be making that point on his way out of town, leaving some strong hints that responsibility for the quarterback situation -- and who started games there in 2013 -- should be borne by more people than just him.
Frazier, of course, is gone now, and Spielman got his chance to build a more seamless football department by picking his own coach. He has outlived his gaffe on Ponder, and he has more than $20 million of cap space with which to mold the roster this spring. Ownership seems firmly behind him, and as the Vikings move toward the opening of their new stadium in 2016, their direction is firmly under Spielman's control.
But the stigma of his misses at quarterback still follows him around, and if he can't get the position right this time around -- especially if he makes what turns out to be a bad investment with the eighth overall pick -- he likely won't get another chance to change his reputation. General managers can often survive at least one coaching change, but the best ones extend their careers by finding quarterbacks.
To his credit, Spielman seems to know he needs to fix the position. All that's on the line is all he's built for himself in his time with the Vikings.
"I have confidence we'll get this quarterback situation resolved. I really do," he said on Dec. 30. "What that answer is right now, I'm not going to have those answers until we get the coach in place. And when we sit down and delve into what we have at this position -- what is potentially out there in free agency? What is the draft class? Those answers will all come in time."
May, 21, 2012
5/21/12
9:51
AM ET
Fans of NFC North teams might be aware of the Griese-Hutchinson-Woodson fundraising weekend, which includes a gala and a golf outing to benefit the University of Michigan C.S. Mott Children's Hospital. The headliners include former
Minnesota Vikings
guard
Steve Hutchinson
and
Green Bay Packers
cornerback
Charles Woodson
, both of whom played at Michigan along with former NFL quarterback
Brian Griese
.
Stafford
Based on local reports, it sounds as if another NFC North player made a really nice charitable gesture during the Saturday auction.
Detroit Lions
quarterback
Matthew Stafford
bid $15,000 for a gift that included six tickets to the Lions' Oct. 22 game against the
Chicago Bears
on ESPN's "Monday Night Football," according to
Angelique S. Chengelis of the Detroit News
.
Stafford had already donated the tickets to the event and, along with his girlfriend Kelly Hall, had been sitting with a girl named Faith Falzone, who is scheduled to have surgery this week. Stafford plans to give the tickets to Falzone and her family.
In a text message to the News, Stafford said: "They have been through so much in the past couple years, and to see how much they all supported each other and faith through their tough times was really inspiring. I wanted to give them something they could really be excited about and something I know they deserved."
Hutchinson was particularly moved by Stafford's commitment to being involved in the Michigan community. Stafford is from Texas and played at Georgia.
"Let's be honest," said Hutchinson, who is now with the
Tennessee Titans
. "The state of Michigan hasn't gone through the greatest times with the economy and the jobs around here. To have a guy that's from Georgia get drafted by the Lions and be a very integral part of that team turning their franchise around and then to be able to come to a U-M event that he has no affiliation with and donate $15,000 and buy his own tickets that he donated and then give them to a family whose daughter is going to have surgery in the next couple days here ... you couldn't write a better fictional story if you had to."
This is not to single out Stafford as the only charitable player in our division. As we've noted before, Vikings running back
Adrian Peterson
donated
$1 million
to the University of Oklahoma last month. Lions defensive tackle
Ndamukong Suh
has
pledged more than $2 million
to the University of Nebraska. And Woodson has
given $2 million
to the Michigan children's hospital that benefited from this weekend's efforts.
But impact comes in all shapes, sizes and denominations. Stafford's gift will no doubt leave an intense impression on one family, giving it something to look forward to and cherish for some time.
April, 20, 2011
4/20/11
2:00
PM ET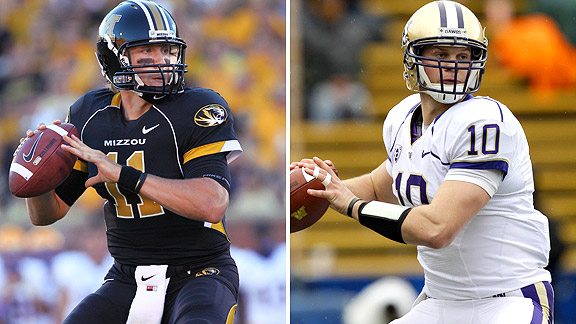 AP Photo/Icon SMIBlaine Gabbert and Jake Locker are expected to be high picks in next week's draft despite concerns about accuracy during their collegiate careers.
Enough
, wrote
Scott of Harrisonburg, Va
. Apparently I had referenced one too many times that accuracy rates among college quarterbacks typically translate when they reach the NFL.
Prove it
, Scott said. Here's what he dropped in the mailbag:
My first born if you compile a list of *all* the quarterbacks that rolled through the NFC North (as starters since 2000?) and rank them by their college completion rate.
I've got my hands full already, so I won't be collecting that bounty or any other reward for this post. But Scott's question intrigued me. Accuracy is the single-most important characteristic of any quarterback, especially when you expand the definition to include decision-making. After all, throwing to the right person should increase the chances of a completion.
If a college quarterback finishes his career with a relatively low completion percentage, is it reasonable to expect he can elevate it at the professional level? Research performed by actual football statisticians,
most notably the David Lewin
, has suggested college quarterbacks who complete less than 60 percent of their passes at least warrant closer inspection by NFL teams considering drafting them.
There are obvious 2011 angles to this theory as the
Minnesota Vikings
plan to draft a quarterback next week. Washington's
Jake Locker
finished his career with a 53.9 completion percentage, having never completed better than 58 percent of his passes in any season. Meanwhile, Missouri's
Blaine Gabbert
has raised questions among those who have pulled apart his college career
to find he completed only 44.3 percent
of his third-down throws. Last season, he completed only 38 percent of his throws that traveled at least 15 yards.
So here's what I decided to do from an NFC North angle. Using Scott's suggestion as a guide, I looked up the college completion percentages of the 31 quarterbacks who were either drafted by one of our teams since 1999 or were the primary quarterback for at least one season in this division over that stretch. (Hat tip to
totalfootballstats.com
for the information and to ESPN.com blog editor Brett Longdin for helping me compile it.)
I'm not a statistician, and I don't think we should consider the information below a representative trend for the entire game. I just think it's an enlightening illustration from a pool of players most of us are familiar with. First, here is a ranking of NFC North quarterbacks based on their NFL accuracy, organized to show how the division's most accurate quarterbacks fared in college.
Again, we should be careful about drawing any firm conclusions from this data. But here are some points worth noting:
Five quarterbacks brought their completion percentage from below 60 percent to above 60 percent, with Brett Favre forging the most dramatic path. Jay Cutler was another notable climber. I didn't include the Minnesota Vikings' Joe Webb in that count because of his small sample size. The other 11 sub-60 percent quarterbacks remained there when they reached the NFL.

Context is critical for evaluating college completion percentages. In his original paper, in fact, Lewin noted that Cutler's 57.2 college completion percentage was misleading given the long history of much lower rates on Vanderbilt's perennially undermanned teams in the decade before Cutler arrived.

The most accurate college quarterback on this list is Brian Brohm, who completed 65.8 percent at Louisville. We all know how that worked out for Brohm, who was stunningly inaccurate during his practice time with the Packers and hasn't been much better in several stints with the Buffalo Bills. Another example of college completion rates not translating is Drew Stanton, who hit 64.1 percent of his throws at Michigan State but hasn't come anywhere close to that with the Detroit Lions.

Overall, 12 of the quarterbacks currently have higher completion percentages in the NFL than they did in college. A total of 16 dropped and three have not yet thrown an NFL pass. I realize there are huge discrepancies between the number of throws made by, say, Brad Johnson and Matt Flynn, but those are the raw numbers.

It's worth nothing that the NFC North's most accurate quarterback over this stretch, Aaron Rodgers, finished his college career at 63.8 percent.
If our small sample leads us in so many directions, I think it's fair to assume that NFL teams will look well beyond the percentages. Ultimately, teams must decide what factored in to both high and low percentages. Did Locker play on an overmatched team, as Cutler did? Were Gabbert's downfield receivers substandard?
On the other side of the spectrum, TCU's
Andy Dalton
completed 66.7 percent of his passes last season. Was that performance the result of pinpoint throwing and smart decisions? Or is he the next Brian Brohm or even a
Tim Couch
, quarterbacks who benefited from a college scheme that facilitated a high completion rate?
[+] Enlarge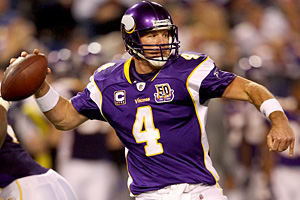 Matthew Stockman/Getty ImagesBrett Favre, who had a 52.4 completion percentage in his college career, is proof quarterbacks can become more accurate in the NFL.
Once NFL teams establish that context, then they can begin examining the prospect's raw throwing skills. This is where concerns have arisen about Locker, especially. Why did he have so many passes that simply failed to hit their mark during his career?
ESPN analyst Jon Gruden made clear that "accuracy can be improved" but that Locker needs to "work hard" at re-establishing his fundamentals.
"Sometimes it's because of your fundamentals," Gruden said. "Sometimes you're out of rhythm, you're in the shotgun, you're underneath the center. Sometimes you're under duress and out of rhythm. Sometimes you're hurrying, you're playing too fast. You're anticipating congestion around you when maybe there isn't."
But Gruden warned: "Accuracy sometimes can be terminal. Sometimes you can't cure that. I think that's a big concern with Jake Locker, because he does miss some throws."
We can't conclude that Locker or Gabbert are destined for NFL failure because they sometimes struggled to complete throws in college. The necessary improvement has been made over the past decade in this division, be it from a Hall of Fame quarterback like Favre or a journeyman like
Brian Griese
.
But it's also a reason for pause. Based on our sample size, at least, it's more likely that a relatively inaccurate college quarterback will be inaccurate at the NFL level. Scott of Harrisonburg probably didn't need me to tell him that.
January, 19, 2011
1/19/11
1:00
PM ET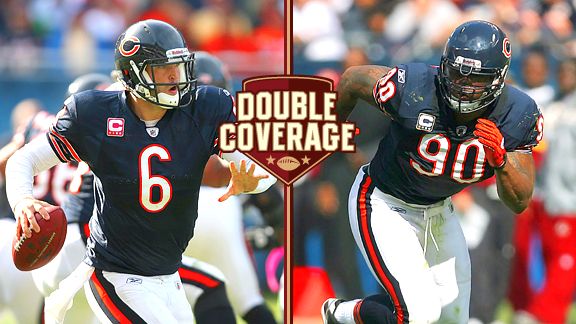 US PresswireThe Bears gave up two first-round draft picks and a third-rounder for Jay Cutler. Is he the reason Chicago is on the brink of the Super Bowl? Or does the credit go to Julius Peppers and the defense?
Let's play a game of addition.
The starting quarterback is the most important player on any football team.

The Chicago Bears finished the regular season 11-5, won the NFC North division title and will host the NFC Championship Game on Sunday at Soldier Field.

Jay Cutler is the biggest reason why.
So, in this case, does 1+2=3? Did the Bears need Cutler as their quarterback to advance this far? Was he the key to their resurgence this season? Or could they have followed the same path without making the 2009 blockbuster trade that cost them three high draft choices? In today's Double Coverage, ESPNChicago.com's Jeff Dickerson and ESPN.com NFC North blogger Kevin Seifert discuss that very question.
Kevin Seifert:
Jeff, you've been covering the Bears for years. You saw them go to Super Bowl XLI with
Rex Grossman
as their quarterback. You've lived through Kordell Stewart, Craig Krenzel, Chad Hutchinson,
Brian Griese
and
Kyle Orton
. You've seen a team win in spite of its quarterback, and you've seen quarterbacks single-handedly lose games. Let's start it off this way: How much credit do you think Cutler should get for the Bears sitting one step from the Super Bowl?
[+] Enlarge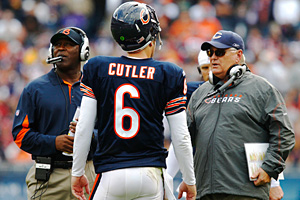 AP Photo/Nam Y. HuhBears quarterback Jay Cutler has thrived in Mike Martz's offense.
Jeff Dickerson:
Cutler deserves plenty of credit, Kevin. As much as we want to hammer Cutler for his mistakes -- more on that later, I'm sure -- you can't overlook the fact his quarterback rating was above 100 six times in the regular season. And you guessed it: the Bears won all six of those games.
So if the most important player on the field was arguably the best player on the field nearly half the time, I find it impossible to minimize the positive impact Cutler had on the Bears' playoff run. Is he going to run for public office after he's finished playing football? No. Does he care that we're talking about him today, either good or bad? No. But to sit back and say Cutler was simply along for the ride wouldn't be doing his contributions much justice.
And by the way, thanks for bringing up Chad Hutchinson. I was trying to suppress that memory. What's next? Are we going to break down the NFL career of Jonathan Quinn? I could talk bad Bears quarterbacks all day.
KS:
Any time. How about this: Cade McNown, Henry Burris, Shane Matthews and Steve Stenstrom. That pretty much covers it for our generation, I think.
Anyway, I agree it would be wrong to overlook some of Cutler's individual performances this season. He bounced back from some early hits in Week 2 to throw three touchdown passes against the
Dallas Cowboys
in a 27-20 victory. He forgot about the early interception against the
New York Jets
and went on to throw for another three touchdowns in a 38-34 victory. His performance against the
Philadelphia Eagles
-- four touchdown passes, 146.2 passer rating -- was superb. And don't forget his late-game drive against the
Detroit Lions
in Week 13, the one that locked up the division title.
But I think the question at hand is whether the Bears would have won 11 games with, say, Orton at quarterback. To me, Cutler was not among the top two reasons for the Bears' success this season.
More important was the defense, which limited opponents to 17.9 points per game, and the best special teams in the NFL. As a result of those two factors, Cutler and the rest of the Bears' offense had the best head start in the NFL. No offense had a
better average start of its drive
(33.7-yard line) than the Bears'.
Do you think the Bears win those games with Orton?
JD:
I must first admit to being a card-carrying member of the Kyle Orton fan club. Is there a more underappreciated quarterback in the NFL? That being said, I think you could make the playoffs with a guy like Orton, but the Bears are in a better position to potentially win a Super Bowl with a guy like Cutler.
Let me explain.
I firmly believe if Orton quarterbacked the Bears in 2009 they probably would have won three more regular-season games (against the Packers,
Atlanta Falcons
and
San Francisco 49ers
). They would have finished 10-6 and perhaps earned an NFC wild-card playoff berth. Cutler cost the Bears those games because of a barrage of turnovers and terrible decisions. But that's where the ride would've ended with Orton, in my opinion.
Could Orton have beaten the Cowboys, Eagles or Jets in 2010? Maybe. But with apologies to Jim Mora, we're talking playoffs, Kevin, playoffs!
[+] Enlarge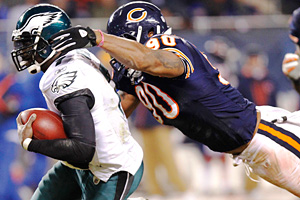 Mike DiNovo/US PresswireThe Bears' defense, led by Julius Peppers, gave the offense a head start on most drives.
Believe me, I know Cutler's only career postseason victory came against Seattle this past weekend, and he could easily go out Sunday and throw five interceptions against the Packers. But he could just as easily throw five touchdowns.
That's why the Bears are better off with Cutler -- because Orton hit his glass ceiling as an NFL quarterback. Cutler has not. Look at how Cutler tore up the Jets. The defense struggled, and it needed a lift from the quarterback position to beat a tough opponent. Cutler delivered. I'm not saying Orton is incapable of leading a team to victory over playoff-quality teams, but the chances Cutler can do it are greater.
Sorry, Kyle. I loved your neck beard. But I have to go with Cutler on this one.
KS:
It's all fantasy talk, of course. We'll never know if Orton would have played well enough last year to compel the Bears to keep offensive coordinator Ron Turner this season. We also don't know if Mike Martz would have wanted Orton this season.
But the Bears gave up two first-round draft picks and a third-rounder for Cutler. Has he provided them enough value for those picks? Or could they have used those draft picks to improve themselves in other areas?
It would be wrong to say that Cutler hasn't had a positive impact on the Bears this season, but I'm not willing to say he was the key to the Bears' division title, either. But if the Bears go to the Super Bowl, no one is going to care about that distinction.
JD:
And you know Cutler is happiest when nobody cares!
I guess it's possible Jerry Angelo would have turned those two first-round selections into starting-caliber players. But I've seen the Bears use high draft choices on the likes of Michael Haynes, Roosevelt Williams,
Mark Bradley
,
Dusty Dvoracek
, Dan Bazuin, Michael Okwo,
Jarron Gilbert
and
Juaquin Iglesias
. So to assume Angelo would've waved his magic draft wand and taken the right guys? Well, that would be misguided, to say the least. Despite all the warts, I'm happy with Cutler and feel the Bears are now in a better position to win their first Super Bowl since the 1985 season because of him.
I could talk bad Bears draft picks all day.
KS:
Spoken like a longtime Bears follower. Basically what you're saying is that while Cutler has demonstrated some flaws, his acquisition nevertheless prevented the Bears from making another series of draft mistakes! Perfect. I love it.
On that note, Jeff, this has been fun. I think we can agree Cutler has made a positive impact on the Bears' run to the NFC Championship Game. Could they have done it without him? That's up for debate.
April, 2, 2009
4/02/09
9:04
PM ET
Posted by ESPN.com's Kevin Seifert
"He's like everybody: A little bit in shock."
That's how Chicago general manager Jerry Angelo described the initial reaction from quarterback Jay Cutler upon completion of Thursday's historic trade. And if I didn't know any better, I'd say Angelo was still a bit stunned himself as he conducted an evening teleconference.
| | |
| --- | --- |
| | |
| | NFL.com Video |
| | The Broncos traded Jay Cutler to the Bears. |
I'm guessing that when Angelo woke up Thursday morning, he had no idea he would acquire a quarterback that would end the Bears' organizational drought at the position. He couldn't have predicted that with one mid-afternoon decision, he could upend his reputation as a conservative talent evaluator who eschewed bold moves in favor of developing his drafted players.
"Really, it came together unexpectedly," Angelo said. "... This is the first time for me. You look at the history of the league. I can't recall a situation quite like this. How it matriculated and came to the point it got to, I can't answer to any of that. All we did is react to a situation that we felt could help our football team."
The Cutler drama has played out for more than a month, and so Angelo has had plenty of time to think rationally and thoroughly about the issue. But when Denver announced that Cutler was on the trading block this week, Angelo reacted with a swiftness and aggression he has rarely displayed since the Bears hired him in 2001.
The Bears performed background work on Cutler's history of immaturity, but Angelo said they didn't speak to him directly until after the trade agreement. With at least three other teams hounding the Broncos, there wasn't time to dally. A man who has always cherished his draft picks increased his offer to a staggering two first-round picks, plus a third-rounder, to drop everything and follow his gut instinct.
"The rarity of this opportunity made it unique," Angelo said. "Really, being in this situation as long as I have, you just know when things are right. Part of it is ... feeling you've done a lot of homework. And we talked internally quite a bit as an organization. We try to measure twice to cut once, and everybody felt good about this. But we just said as an organization that we were only going to get into it to win it."
This is the same general manager who, up until this week, was prepared to enter a critical year with the unproven Kyle Orton as his quarterback. He's the same guy who has tried to get it done with Jim Miller and Kordell Stewart and Rex Grossman and Brian Griese. Jerry Angelo is the same man who chose a defensive coaching overhaul this winter over replacing some members of his aging defense. And a few people are still wondering how he expects his passing game to succeed with Devin Hester and Earl Bennett as his starting receivers.
Angelo, however, has made clear since the end of the 2008 season quarterback was his primary focus. That he stood by Orton for the ensuing three months generated further questions about his judgment, but he deserves credit for recognizing the rarity of Cutler's availability and taking full advantage.
"You can't minimize the importance of the position," he said. "We've talked about that. I know personally that's been something that's been my goal for the organization, and I felt that this was the right thing to do."
Shocking, but true.
September, 28, 2008
9/28/08
7:02
AM ET
Posted by ESPN.com's Kevin Seifert
We're headed off to Chicago in a few hours for the Bears' nationally-televised matchup against Philadelphia. Don't have to remind anyone how big a difference there is between 2-2 and 1-3 for the Bears.
(One game, to be exact).
We'll do our best to keep an eye on Minnesota-Tennessee and Green Bay-Tampa Bay, both of which are early games. We'll bring you a (pretty) Rapid Reaction on those results and then set the scene for you at Soldier Field.
In the meantime, here's a jaunt around the division:
September, 21, 2008
9/21/08
6:35
PM ET
Posted by ESPN.com's Kevin Seifert


The Chicago defense was on the field for only 10 minutes, 48 seconds in the first half Sunday. That's about half as much as the Tampa Bay defense, for you non math-majors. (Me: History. Helps a lot).
And yet the Bears looked tired, old and a half-step slow during the fourth quarter and in overtime in their 27-24 collapse. Unable to get a consistent pass rush from their front four -- paging Tommie Harris -- the Bears blitzed liberally and opened themselves up to slant and crossing patterns over the middle of the field.
As a result, Bucs quarterback Brian Griese actually dinked and dunked his way to a 407-yard day. (He needed 67 attempts and 38 completions to get it).
A few fingers should be pointed toward the Bears' offense, which couldn't run out the clock late in the fourth quarter. But a 24-14 lead with 6:38 remaining in regulation should have been enough.