October, 30, 2013
10/30/13
2:35
PM ET
GREEN BAY, Wis. -- For the third straight week, the
Green Bay Packers
are preparing for a quarterback they probably did not expect to face.
Is that a disadvantage for the Packers?
It hasn't been so far. They beat both the
Cleveland Browns
and
Minnesota Vikings
-- two teams that were forced to change quarterbacks because of injuries.
They face the same task Monday night at Lambeau Field against the
Chicago Bears
.
However, the Bears, coming off their bye week, have had plenty of time to prepare veteran backup
Josh McCown
for Monday night. McCown, who finished the Oct. 20 loss to Washington after
Jay Cutler
sustained a torn groin muscle, will make his first start since the 2011 regular-season finale.
Here's a look at how the opposing quarterback dynamics have changed over the past three weeks:
McCown
Cutler
Chicago Bears
Who the Packers thought they'd face
: Cutler, under new coach Marc Trestman, was off to a solid start. With a passer rating of 91.7, he was on pace for the best mark of his career. Trestman was hired in large part because of his work with quarterbacks, and he made an immediate impact on Cutler, who had only one game with more than two interceptions this season. Other than his three-interception game in a 40-32 loss to the
Detroit Lions
in Week 4, Cutler had largely avoided those disastrous stretches that have plagued him during his tenure as the Bears' starter. The Packers will likely still see Cutler this season. They don't play the Bears again until the regular-season finale on Dec. 29, and Cutler is expected to return well before that game.
Who they will face:
The 34-year-old McCown, a third-round pick of the
Arizona Cardinals
in 2002, is not a complete stranger to the Packers. He started for the Bears at Lambeau Field on Christmas night 2011, only a month after he was signed following a thumb injury to Cutler. In a 35-21 Packers victory, McCown threw one touchdown and two interceptions. He has played in only two regular-season games since then, including 2½ quarters this season against the Redskins after Cutler's injury. In relief, McCown completed 14 of 20 passes for 204 yards with one touchdown and no interceptions for passer rating of 119.6 -- his highest mark in a game since Dec. 2, 2007.
Freeman
Ponder
Minnesota Vikings
Who the Packers thought they'd face
: The Monday night before the Packers' Oct. 27 game at Minnesota, the Vikings turned over the offense to
Josh Freeman
, who had been signed two weeks earlier. Though Freeman was horrific in his debut, completing just 20 of 53 passes in a 23-7 loss to the
New York Giants
, he was expected to start against the Packers until it was discovered after the fact that he sustained a concussion in the loss to the Giants.
Who they faced
: The Vikings decided to go back to opening day starter
Christian Ponder
rather than veteran
Matt Cassel
, who led them to their only win this season. The Packers had plenty of film on Ponder, who took over as the Vikings' starter on Oct. 23, 2011, against Green Bay and held the job through the first four games of this season. In perhaps his last shot to regain the starting job, Ponder was ineffective against the Packers on Sunday, throwing for just 145 yards on 14-of-21 without a touchdown or an interception in the Packers' 44-31 victory.
Hoyer
Weeden
Cleveland Browns
Who the Packers thought they'd face:
The Browns had seemingly resurrected their season when they benched starter
Brandon Weeden
in favor of journeyman
Brian Hoyer
. After an 0-2 start with Weeden, the Browns went to Hoyer. He won his first two starts but then sustained a torn ACL in his third start, an Oct. 3 win over the
Buffalo Bills
.
Who they faced
: Weeden came on in relief and led the Browns to a win over the Bills and then was named the starter against the Lions on Oct. 13, the week before the Browns came to Green Bay. Weeden lost to the Lions and then was so bad against the Packers, throwing two interceptions while completing just 17 of 42 passes, that the Browns benched him in favor of
Jason Campbell
the following week.
October, 18, 2013
10/18/13
12:00
PM ET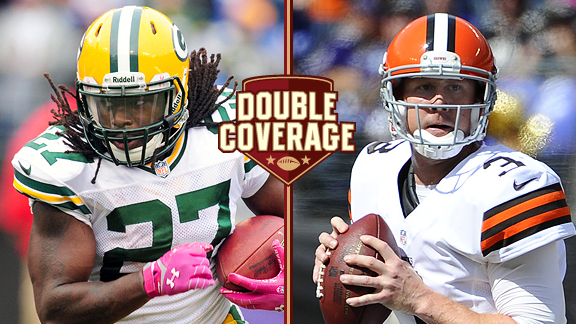 USA TODAY SportsThe Packers may have to rely more on their run game, while Browns QB Brandon Weeden seeks to recover from a forgettable outing.
The
Green Bay Packers
have made it past a difficult stretch in which they played four playoff teams from last season in their first five games.
And they came out of it with a respectable 3-2 record.
The
Cleveland Browns
, despite going from
Brandon Weeden
to
Brian Hoyer
and now back to Weeden at quarterback, also aren't out of anything yet at 3-3.
ESPN.com Packers reporter Rob Demovsky and Browns reporter Pat McManamon break down the matchup:
McManamon:
Rob, what will Green Bay do at receiver with all those injuries, and how much will it affect the offense?
Demovsky:
It's bound to have a significant impact.
Randall Cobb
more or less became the focal point of the passing game last season and if anything, that intensified this season. Sure, he's only a slot receiver and the Packers still have the deep threat of
Jordy Nelson
on the outside. But in this offense, a lot of those quick-hit passes -- especially against teams that blitz -- are directed to the inside. No team used more three-receiver sets than the Packers had until Cobb went down last week against the Ravens. They had used a three-receiver set on 90 percent of their snaps. That number likely will go down beginning this week against the Browns. They might have to rely on their new-found running game more than ever. But with fewer threats in the passing game, teams might be able to load up to stop running back
Eddie Lacy
.
The Browns have offensive issues of their own, Pat. Brandon Weeden's turnovers in the loss to the Lions looked like killers, especially that backhanded, underhand flip. How can they get him to play smarter?
McManamon:
That backhanded, underhand flip will live for a long time in the annals of Cleveland Browns misplays since 1999, Rob. A lengthy list just got longer. As for getting him to play smarter, that's the challenge. And the challenge has gone on for 18 starts. Weeden actually started fairly well as a 29-year-old rookie, but he struggled the end of last season and this season he's played in fits and starts. Which of course won't be good enough against Green Bay. With Brian Hoyer injured, the Browns have few other options -- it's not like
Tom Brady
is on the streets waiting for a job -- so they will stick with Weeden. But you have to wonder whether the Browns aren't coming to the conclusion that what they see is what he'll be when it comes to this 30-year-old quarterback.
Rob, Weeden does not read the rush well and does not move well. The Packers are ninth in the league in sacks. Is that yet another bad recipe for Weeden and the Browns offense?
Demovsky
: It remains to be seen whether they can keep up their sack pace. They did it without
Clay Matthews
last week, getting five sacks at Baltimore, but now they're going to be without another outside rusher,
Nick Perry
. Matthews and Perry each have three sacks on the season, which ties
A.J. Hawk
for the team lead. At some point, those injuries have to slow down their pass rush. The one thing that's helping them is they're playing the run very well, probably the best they have since they led the league in rushing defense in 2009. After shutting down
Ray Rice
last week, they're up to third in the NFL in rushing yards allowed per game (78.2). That's putting teams in a lot of third-and-long situations, which allows defensive coordinator Dom Capers to blitz. That's how Hawk got all three of his sacks against the Ravens.
Perhaps the Browns can help protect Weeden if they run the ball effectively to keep the Packers from rushing like crazy. What are their prospects for doing that?
McManamon:
Running the ball would protect Weeden. But it helps to have a ... well ... a running game. At present, the Browns are in make-do mode with the running game, and as the season continues that will more and more become a problem. Since the trade of
Trent Richardson
the Browns have relied on aging
Willis McGahee
, young
Bobby Rainey
and fullback
Chris Ogbonnaya
. These guys give effort, but there's only so much they can give. McGahee can't run outside, Rainey is inexperienced and Ogbonnaya is what he is. The Browns rank 22nd in the league by running for 86.8 yards per game -- though they are averaging 3.9 yards per carry. If the Browns want to run, they will have to commit to it and pound it out, something I am not sure they can do.
Rob, the Browns have had 19 starting quarterbacks since 1999 -- and it appears next year or soon after that number will hit 20. Do the Packers and their fans realize just how fortunate they have been these many years to have
Brett Favre
and
Aaron Rodgers
?
Demovsky:
They should. There are only a handful of organizations who can say they've had the kind of quarterback transition that the Packers had. The 49ers with
Joe Montana
to
Steve Young
come to mind. Maybe the Colts have that now with
Andrew Luck
following
Peyton Manning
. Not only was Favre a great quarterback, but he was there week in and week out. Rodgers is pretty much the same way. Those guys rarely get injured and when they do, they still play.
Most Packers fans here are still fond of Mike Holmgren, for leading them to the Super Bowl XXXI title. His tenure with as a Browns executive was much shorter. What impact, if any, did he have on the organization?
McManamon
: Let's just say the feelings for Holmgren are a lot warmer in Green Bay -- odd as that sounds -- than in Cleveland. Many fans feel Holmgren's epitaph with the Browns should be "As a president, he was a great coach." A lot of that is frustration at constant losing. Some is frustration at the job title and salary scale Randy Lerner gave Holmgren. More still that Holmgren never took on the coaching duties himself. On balance, Holmgren's tenure was no worse than many, and better than some. He and GM Tom Heckert brought in some good players who are helping the team win now. But with any regime change comes more change, and Joe Banner has gotten rid of some of Holmgren's guys -- notably Richardson. Holmgren's biggest gamble was selecting a quarterback in the first round a year ago who is now 30. But Weeden clearly would have been helped by more continuity in the front office.
.
September, 22, 2013
9/22/13
6:02
PM ET
MINNEAPOLIS -- Observed in the locker room following the
Minnesota Vikings
'
31-27 loss
to the
Cleveland Browns
:
Challenge controversy:
The Vikings -- who felt like they were victimized against Green Bay in the NFL's last incident involving an automatically reviewable play -- might have gotten burned by a misinterpretation of the league's new rule on Sunday. Coach Leslie Frazier challenged
Travis Benjamin
's fumbled punt near the end of the second quarter, mistakenly arguing that the Vikings had returned the loose ball for a touchdown, but was penalized 15 yards for challenging the play, which was set for a booth review since it involved a change of possession. By rule, the Vikings could not advance the fumbled punt, but referee Bill Leavy admitted after the game that he should have charged the Vikings a timeout, not 15 yards. That pushed the Vikings from the Browns' 26-yard line to their 41, and the Vikings wound up with a
Blair Walsh
field goal.
Allen
'Terrible' two-minute drill:
For the second time in two weeks, the Vikings gave up a last-minute touchdown on their way to a loss. On Sunday, that came against third-string Browns quarterback
Brian Hoyer
, who hit tight end
Jordan Cameron
for a touchdown with just under a minute to play. The Vikings put pressure on Hoyer in the second half with some well-timed blitzes, but they weren't able to get to him on the final drive. "Our two-minute drill is actually terrible right now and it cost us, in my opinion, three games," defensive end
Jared Allen
said. The Vikings gave up a touchdown with 10 seconds left in the first half in Week 1 against Detroit, too, and allowed the Lions to head into halftime down by a point instead of trailing by eight.
Frazier backs Ponder, for now:
Frazier said
Christian Ponder
is "still our starting quarterback," but the coach's defenses of Ponder -- who went 10-for-20 for 63 yards and was sacked three times in the second half -- were more lukewarm than usual. "I've got to go back and look at it, see what's creating the inconsistency, why we're not executing as well as we need to in certain situations," Frazier said. "We'll evaluate it, and make the decision that you have to make. But as we speak, I don't see [a quarterback change] happening."
September, 22, 2013
9/22/13
4:24
PM ET
MINNEAPOLIS -- My thoughts on the
Cleveland Browns
'
31-27 win
over the
Minnesota Vikings
at Mall of America Field on Sunday.


What it means:
The Browns pulled out their first victory of the season days after trading running back
Trent Richardson
, with third-string quarterback
Brian Hoyer
shaking off three interceptions to lead a late-game scoring drive. The Vikings, meanwhile, blew a lead and gave up a last-minute touchdown for the second straight week. A team that went 10-6 last season is now 0-3, heading into a quasi-home game in London, and the loss to the Browns exposed serious issues on both sides of the ball.
Vikings stock watch:
Falling -- Vikings' secondary. Minnesota lost
Chris Cook
,
A.J. Jefferson
and
Jamarca Sanford
to injuries, and while it remains to be seen if any of them are long-term problems, the injuries left an already-thin secondary vulnerable to Hoyer, who recovered from a miserable second half to stun the Vikings at home.
Antoine Winfield
is sitting at home, and though the Vikings so far have been reluctant to talk their former Pro Bowl defensive back out of retirement, Sunday's events could change their minds.
Browns stock watch:
Rising -- Browns' run defense. Cleveland had given up an average of just 59.5 yards per game in its first two losses, and even though
Adrian Peterson
ran for 88 on Sunday, the Browns made sure they didn't come easy. Peterson's longest gain of the day was 9 yards, and the Vikings had to rely on
Christian Ponder
and their passing game more than they would have liked to.
Hoyer Watch:
In the first half, Hoyer looked capable of pulling out a surprising victory, making a number of effective throws on rollouts to keep him away from the Vikings' defensive line and burning cornerback A.J. Jefferson on a stop-and-go route to
Josh Gordon
for a 47-yard touchdown. He threw a pair of interceptions in the second half, when the Vikings turned up the heat with blitzing linebackers, but he rebounded to lead an 11-play, 55-yard drive for Cleveland's final touchdown, finding
Jordan Cameron
in the corner of the end zone.
Ponder Watch:
In a game that exposed plenty of issues for the Vikings, Ponder's play was what got fans the most riled up. He crumbled after leading a couple of drives early in the game, throwing for just 7 yards in the third quarter, and was unable to direct a late-game drive to put the game away after the Vikings took a 27-24 lead on a
Blair Walsh
field goal. The Vikings' play calling will come into question after the team handed Peterson the ball just five times in the fourth quarter, and the team's offensive line again left Ponder running for his life. But a quarterback the Vikings drafted 12th overall still has not shown any signs of being a fixture at the position, and on Sunday, a quarterback making his second career start got the last laugh on Ponder.
What's next:
The Vikings (0-3) head to London to take on the
Pittsburgh Steelers
at Wembley Stadium, while the Browns return home for their first division home game of the season, playing host to the
Cincinnati Bengals
next Sunday afternoon.
September, 22, 2013
9/22/13
2:15
PM ET
MINNEAPOLIS -- The Vikings' secondary depth, which already looked like an issue early this season, is being tested against the
Cleveland Browns
today.
Right cornerback
Chris Cook
is questionable to return with a groin injury, and
A.J. Jefferson
-- who got beat on a stop-and-go move for a 47-yard
Josh Gordon
touchdown after he replaced Cook -- has also received treatment on the sideline for an apparent leg injury.
Marcus Sherels
, the team's fifth cornerback, is currently playing the right cornerback spot in the Vikings' base defense while first-round pick
Xavier Rhodes
is only on the field in the team's nickel package, playing left cornerback while
Josh Robinson
moves to the slot.
All that has helped the Browns -- who are starting third-string quarterback
Brian Hoyer
-- tally up 161 yards passing and 17 points in the first 1 1/2 quarters of the game.
The Vikings' cornerback situation seemed like it could become an issue when the team cut
Antoine Winfield
in March, but what's been puzzling so far today is how the Vikings have used Rhodes. Evidently, they aren't comfortable moving him across the field in their base defense and asking him to play a different side of the field than what he's done in the nickel. Cook is usually responsible for facing an opposing team's best receivers, so the Vikings might not trust Rhodes to handle that yet.
In any case, they're struggling with Hoyer in their home opener, and their cornerback depth is a big reason why.
September, 19, 2013
9/19/13
2:37
PM ET
EDEN PRAIRIE, Minn. -- In the hyper-regimented world of the NFL, a team trading its top running back hours after naming its third-string quarterback the starter qualifies as a major disruption: not just for the
Cleveland Browns
, but for the
Minnesota Vikings
, who play them this weekend. In fact, it's such a departure from the normal routine that the Vikings spent more time on Thursday morning talking about the hardship of trying to find film on
Brian Hoyer
and
Willis McGahee
more than the help of not facing the injured
Brandon Weeden
or the departed
Trent Richardson
.
[+] Enlarge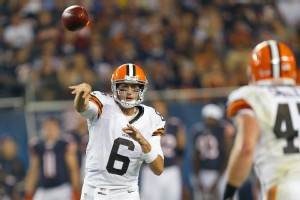 AP Photo/Scott BoehmBrian Hoyer will be making just his second career start on Sunday.
Only defensive end
Jared Allen
would admit a little joy about the news -- "I'm not going to say I didn't smile about it," he said -- but the rest of the talk from the Vikings' defense about the Richardson trade was centered on what an inconvenience it is.
"It's a little bit mixed up right now, but it's the NFL. I think everybody has to adjust at some point in some phase," defensive coordinator Alan Williams said. "It's tough, but preparing for a team, knowing what they have, is tough also. The coaches are good about doing the research, seeing what guys can do. It's a (Rob) Chudzinksi, Norv Turner-type of scheme. They do have some characteristics they've shown in the past."
That might be enough to keep the Vikings from drifting to the school of thought that the Browns, who are also 0-2, will be a pushover this weekend. Hoyer is making just his second NFL start, and McGahee -- who was reportedly set to sign with the Browns pending a physical -- has only started more than 10 games in a season once since 2007.
But the Vikings, who are also 0-2, can ill afford to take anyone lightly at the moment. Williams said they'll focus more on the Browns' scheme than the people running it, while looking at tape of Hoyer in the team's fourth preseason game and whatever they can find of the Browns' running backs.
In the process, the Vikings hope they'll avoid turning the Browns' turmoil into an advantage.
"They know," Williams said. "I know our guys are mature enough and professional enough to not fall into the trap that maybe my boys at home, looking at fantasy football, think that, 'Oh, Dad, you've got 'em.' Our guys are brighter and smarter than that."
September, 19, 2013
9/19/13
12:00
PM ET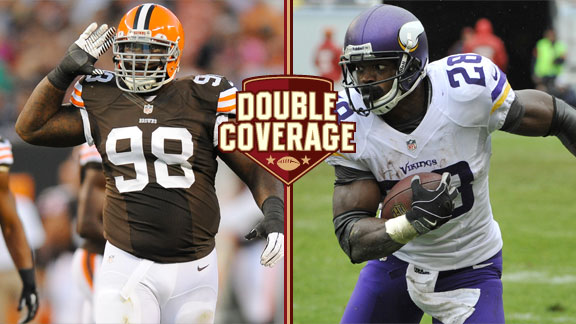 Getty ImagesPhil Taylor and the thus-far stout Browns run defense gets a major test in Adrian Peterson.
A pair of teams desperate for their first victory square off in Minneapolis this weekend when the
Minnesota Vikings
host the
Cleveland Browns
.
The Vikings are coming off a last-second loss in Chicago, after which players were venting about the defensive call that led to the Bears' touchdown with 10 seconds left. Minnesota goes from Minneapolis to London for a date with the
Pittsburgh Steelers
, and the Vikings are in dire need of some positive momentum.
The Browns, meanwhile, have scored just 16 points in a pair of losses, and already have made major changes. They will start
Brian Hoyer
at quarterback this weekend with starter
Brandon Weeden
out because of a thumb injury. Meanwhile, the Browns traded running back
Trent Richardson
on Wednesday, parting with their top playmaker in exchange for the
Indianapolis Colts
' 2014 first-round draft pick.
As the teams meet for the first time since 2009, ESPN.com Vikings reporter Ben Goessling and ESPN NFL Insider Matt Williamson break down the game:
Goessling:
Matt, the last time these two teams faced each other, it was on opening day in 2009,
Brady Quinn
was under center for the Browns and Brett Favre was playing his first regular-season game in a Vikings uniform. How things have changed since then. The Vikings have their own quarterback issues --
Christian Ponder
probably keeps his job for now after a solid second half in Chicago last week, though he's in serious need of some consistency. With Hoyer at quarterback, Richardson gone to Indianapolis and
Josh Gordon
coming back from a suspension, what can we expect from the Browns' offense?
Williamson:
I was feeling optimistic about Cleveland's offense going into Week 3 with Gordon returning and the disaster at the right guard position seemingly resolved. But now Weeden is out and Hoyer is in. That doesn't bother me nearly as much as the loss of Richardson, who should be the foundation of this offense as a runner and underrated receiver. I truly think the Colts got themselves a great young back. But that leaves the Browns in a very precarious situation in the backfield. It is going to be a long year on this side of the ball.
The Vikings had an outstanding rookie class in 2012 and made three picks in the first round of this latest draft. Although there are obvious concerns at the quarterback position, Minnesota has quietly established a fine young nucleus. What roles do you see for its three first-round picks for this game, as well as going forward in 2013?
Goessling:
It's interesting you bring that up, because
Cordarrelle Patterson
's role -- or perhaps his absence -- has been a big topic of conversation this week. He got only five snaps in the Vikings' first game, and had just six as a receiver last Sunday, even after he ran the opening kickoff back 105 yards for a touchdown. He's young, and raw, but he might also be one of the most dangerous players the Vikings can put on the field, aside from
Adrian Peterson
. Coach Leslie Frazier all but called for Patterson to be on the field more during his news conference Monday. The challenge for the Vikings is to either work him into their base offense or go to enough multiple-receiver sets that they can use him, but I don't doubt we'll see him more going forward.
That could be especially important considering how good the Browns have been against the run in their first two games. They've allowed just 59.5 yards per game -- how will they fare against Peterson this weekend?
Williamson:
Well, facing Peterson is obviously the ultimate challenge, and his run blocking, including the tight ends and fullbacks, is quite good as well. But I am very impressed with the Browns' run defense -- and it starts up front. I believe that
Phil Taylor
is on the verge of stardom; his battle with
John Sullivan
, an excellent center in his own right, in the middle of the formation, will be crucial for the success of Cleveland's interior run defense. But the Browns also have very good size at outside linebacker and do a nice job containing the outside run; their second- and third-level defenders get to the ball carrier well.
I mentioned before that the right guard position has been a nightmare, but the Browns' excellent set of offensive tackles,
Joe Thomas
and
Mitchell Schwartz
, also has struggled much more than would be expected against two formidable defenses. As you know,
Jared Allen
is still playing at a very high level. But as some might not know,
Brian Robison
is also excelling this year and
Everson Griffen
is a highly athletic and intriguing end, too. Could Minnesota's defensive ends rule the day?
Goessling:
They certainly could. They struggled in Week 1 in Detroit, as
Matthew Stafford
found
Reggie Bush
on a number of early screen passes before the rush could get home. But the Vikings put consistent pressure on
Jay Cutler
last week, and Allen caused a Cutler fumble that Robison returned 61 yards for a touchdown. The Vikings also have not played at home yet, which means they will have the advantage of the crowd disrupting the opposing offense's snap count for the first time this year. Minnesota has enough issues on the back end of its defense that it needs a strong pass rush to cover up for some of those deficiencies, and if the defensive line can get to Hoyer, the Vikings should be able to slow the Browns down and win the game.
To close this up, what's the biggest thing you think the Browns need to do to win the game? What kind of a shot will they have without Weeden and Richardson?
Williamson:
I really don't like Cleveland's chances at all, but its defense could keep this game close and limit Peterson's production. Of course, Ponder could have a very poor game, or the Browns could score on defense or special teams. But I can't see their offense this week moving the football with any sort of consistency. As Cleveland's front office is doing, it is time to start looking toward next year.
November, 30, 2011
11/30/11
1:10
PM ET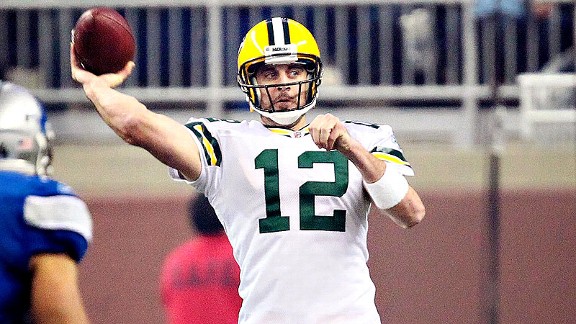 Mike Carter/US PresswireAaron Rodgers has thrown at least two touchdown passes in every game this season.
I get it. I understand we live in a free country with free speech and free thought and unlimited bandwidth. Life would be boring if everyone thought the same way and agreed on everything.
With that said, I'm calling on the NFL world to stop with this insanity. Even in America, there are some truths that should be self-evident. One in particular: By every measure imaginable and based on any definition of the award you choose,
Green Bay Packers
quarterback
Aaron Rodgers
has been the league's MVP so far this season.
My friend and NFC South blogger Pat Yasinskas
made a case Monday night
for
New Orleans Saints
quarterback
Drew Brees
, who is having arguably the best season of his career. ESPN analyst/provocateur Skip Bayless has been questioning Rodgers' credentials for weeks and on Monday suggested
New England Patriots
quarterback
Tom Brady
for the award. (Bayless also said he would choose
Denver Broncos
quarterback
Tim Tebow
at the end of a game over Rodgers. You'll have to watch the video below to see that for yourself.)
It's quite possible to have this discussion without saying a single bad thing about Brees or noting one derogatory aspect about Brady's season. All we have to do is recite this litany: Rodgers has completed a higher percentage of his passes, thrown for more touchdowns, tossed fewer interceptions and won more games than either of them.
Brees (3,689) and Brady (3,627) both have thrown for more yards than Rodgers (3,475), but there is an easy explanation: They both have more attempts. Brees, in fact, has thrown 98 more passes than Rodgers and Brady has 59 additional attempts. A better way to look at their raw production is scaling it to their average yards per attempt. Rodgers (9.6) is averaging a full yard more per attempt than Brady (8.6) and 1.6 more yards than Brees (8.0).
Observers could note that Rodgers has the benefit of playing with an elite collection of offensive players and a program good enough to have won 17 consecutive games. There is no doubt that Rodgers has a deep and diverse group of weapons, but let's also acknowledge that only three of them -- receiver
Greg Jennings
, receiver
Donald Driver
and injured left tackle
Chad Clifton
-- have ever been voted to a Pro Bowl.
Let's at least consider whether their success is as attributable to Rodgers as his is to them. And let's not hold the Packers' winning streak against Rodgers in the MVP argument, especially when you realize they are 11-0 with a defense that has given up the second-most passing yards of any NFL team. Rodgers and the Packers' offense have averaged 31.5 points per game, not including the team's defensive and special-teams touchdowns, to help mitigate those issues.
It's true that Rodgers hasn't led a classic fourth-quarter comeback victory this season. There's a good reason for that: The Packers have outscored opponents 103-27 in the third quarter this season and have never, not once, trailed in the fourth quarter this season. In fact, the Packers haven't trailed in the fourth quarter at all in their ongoing 17-game winning streak, an NFL record. We're going to hold that against Rodgers?
There is no credible statistical or competitive measure that places Rodgers anywhere but the top of the league's best-performing players this season. The quarterback is the most important position in the game. No one is playing it better than Rodgers, and no team has performed at a higher level than the Packers with him as their quarterback.
You might consider the MVP to be the player who provides the most value to his team, and not necessarily the best-performing player in the league. You could argue that the Packers would be better off with backup
Matt Flynn
at quarterback than the Saints would be with
Chase Daniel
or the Patriots with
Brian Hoyer
. But none of them would be Super Bowl contenders without their starting quarterback, and I'm not sure it's fair to diminish Rodgers' value because he might have a better backup.
I almost feel foolish for taking this argument to such great lengths. There really is no reason to overthink this. A lot could happen between now and the end of the regular season. But let's not spend any more time grasping for ways to be fresh or free-thinking. For 11 weeks, no matter how you look at it, Aaron Rodgers has been the best and most valuable player in the NFL.

NFC NORTH SCOREBOARD
Thursday, 9/4
Sunday, 9/7
Monday, 9/8