November, 29, 2011
11/29/11
6:00
PM ET
September, 3, 2011
9/03/11
6:45
PM ET
Check here
for a complete list of the
Chicago Bears
' roster moves.

Surprise move:
The Bears have now bid farewell to three locker room stalwarts: Center
Olin Kreutz
, receiver
Rashied Davis
and now tight end
Desmond Clark
. The Bears released Clark as part of Saturday's roster cutdown, deciding to keep undrafted rookie
Kyle Adams
instead. Clark
said via Twitter
that "I played my butt off but sometimes it's more about the business." The Bears indicated that he was released with an injury. Regardless, intentionally or otherwise, the Bears have at least temporarily created a player leadership void.
No-brainers:
After last week's communication fiasco, there was little doubt that running back
Chester Taylor
would be
part of this cutdown
. The Bears need only two tailbacks behind starter
Matt Forte
, and those roles will be filled by
Marion Barber
and
Kahlil Bell
. They also kept fullback
Will Ta'ufo'ou
. I don't know if the Bears entered training camp planning to keep undrafted rookie receiver
Dane Sanzenbacher
, but his quick ascension as a slot receiver was obvious by the midpoint of the preseason. Quarterback
Jay Cutler
loves throwing to him.
What's next:
The Bears' depth at linebacker is a little scary. They kept only five at the position, with
Brian Iwuh
and undrafted rookie
Dom DeCicco
as the reserves behind
Lance Briggs
,
Brian Urlacher
and
Nick Roach
. You would think the Bears would at least scan the waiver wire for additional depth, especially with Briggs nursing a knee injury. And with Barber and Bell having suffered preseason injuries, the Bears might check out emergency running back depth as well.
August, 23, 2011
8/23/11
12:00
PM ET
I'll admit I was a bit groggy by the time I posted
Monday night's Observation deck
on the
Chicago Bears
' 41-13 loss to the
New York Giants
. My general impression of the Bears' defense was pretty neutral, especially on a night when the opponent rang up 41 points, and I wrote as much. I saw what I thought was some really sharp play in the first couple of series and thought the Bears' performance dipped at about the same time that coach Lovie Smith began removing his starters.
So I was surprised Tuesday morning to see the teeth-gnashing and general concern about the way the Bears' defense played and, especially, tackled. And I agree with
Brad Biggs of the Chicago Tribune
on this much: Smith's postgame criticism is as rare as it gets.
(While talking about the health of his team, Smith interjected: "You've got to tackle a little bit better before you start talking about injuries and things like that." Smith almost never criticizes his players, assistants or team in public.)
[+] Enlarge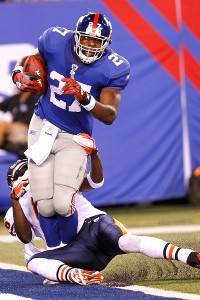 Tim Farrell/The Star-Ledger via US PresswireBrandon Jacobs
Maybe my expectations for preseason games are too low, but I go into them thinking they will be sloppy and light on fundamentals. You can get a sense for individual skills and competence in some instances, but once coaches begin sitting their starters, you're riding a slippery slope on any subsequent judgment from a team perspective.
But just for fun, I went back and re-watched the Bears' first four defensive series, after which middle linebacker
Brian Urlacher
departed. Remember, linebacker
Lance Briggs
was already sidelined for the game. What I saw confirmed my original thoughts: The Bears' starters missed maybe three tackles, one of them glaring, but also made more than a few secure stops to minimize or break up plays in the early going.
Here's what I saw:
First possession
Second possession
Third possession
Defensive end Israel Idonije missed a backfield opportunity on tailback Brandon Jacobs, who went on to a 7-yard gain on first down.

Nobody missed a tackle on Jacobs' 18-yard run on third-and-1. The Giants caught the Bears in a man defense, and linebacker Brian Iwuh followed the receiver in motion away from the point of attack.

Peppers rushed Manning on two other plays, contributing to incompletions.

Jennings tackled Bradshaw 4 yards short of a first down on third-and-10.

The Giants caught the Bears in another favorable matchup on fourth-and-4. Manning lofted a nifty 21-yard pass over Moore to receiver Victor Cruz.

Urlacher tackled Jacobs after a 4-yard gain in the red zone.

Iwuh knocked away Manning's pass for Manningham on third-and-goal, forcing a field goal.
Fourth possession
The Giants took over at the Bears' 31-yard line following Devin Thomas' 73-yard kickoff return.

Linebacker Nick Roach stuffed a Jacobs run for a 1-yard loss.

Harris stopped a reverse to Manningham after a 1-yard gain.

Bradshaw gained 13 yards on a screen play largely because center David Baas drilled Iwuh to the turf.

On the next play, Wright whiffed on Jacobs at about the 10-yard line and Jacobs dragged Harris about 4 yards into the end zone for an 18-yard scoring jaunt.
To be sure, the night didn't end well for the Bears' defense. Maybe you can excuse a safety getting dragged a few yards by a 275-pound back, but never do you want to see a safety juked by the same guy. Considered as a whole, however, I didn't see nearly enough to panic during those four possessions.
You could make the argument that backups should play better than the way the Bears' did Monday night. You can question whether they have the depth to withstand any significant injuries. Specifically, you could argue that Wright shouldn't have continued to miss tackles later in the second quarter just because he was playing with some non-starters.
But you're on your own there. In my experience, you're much better off under-analyzing preseason games than overanalyzing them. I understand why Smith was upset. He is a stickler for physical football, and he can't excuse the play of backups and mishmash lineups. But we can. So let's everyone calm down and move on.
August, 22, 2011
8/22/11
10:00
AM ET
Three things to watch for in the Chicago Bears' preseason game at the New York Giants on Monday night. Kickoff is set for 8 p.m. ET. The game will be televised on ESPN.


1. Offensive line progress.
No shocker here. The Bears gave up nine sacks in their preseason opener, including four by the first team, and have yet to soothe fears about the state of their biggest question mark. The hold of two starters on their respective positions is tenuous at best, and the future of left tackle
J'Marcus Webb
and right guard
Lance Louis
could ride on demonstrable improvement against the Giants. (Yes, the Giants are the team that sacked quarterback
Jay Cutler
nine times in one half last season.) Otherwise, the Bears might be tempted to fall back on Plan B, which would include sliding center
Roberto Garza
to right guard, inserting
Chris Spencer
as the center and/or replacing Webb with veteran
Frank Omiyale
. It might be now or never for this group.
2. Defensive replacements.
Linebacker
Lance Briggs
won't play because of a bruised knee and likely will be replaced by
Brian Iwuh
. More interesting to me, however, will be the play of two young defensive starters the Bears have put in important positions this summer. Defensive tackle
Henry Melton
and free safety
Major Wright
both had nice debuts last week, but preseason or not, it will be important to see them take the next step of starting a night game on the road. Both are in playmaking roles in the Bears' scheme.
3. Using the big receiver:
The Bears inserted
Roy Williams
into their starting lineup earlier this month, displacing former starter
Johnny Knox
. But by all accounts, Williams and Cutler are still developing an on-field relationship. Williams didn't catch a pass last week, and it's fair to expect at least a hint of the production the Bears are expecting out of him.
Knox had a strong week of practice
last week and has not willingly accepted his demotion, so stay tuned.
August, 3, 2011
8/03/11
7:52
PM ET
In this topsy-turvy post-lockout world, we have all assumed that the new collective bargaining agreement (CBA) would be formally ratified by Thursday. In turn, all players who agreed to new contracts since last Monday would finally be allowed to begin practicing.
While there has been no formal announcement, it is by far a done deal that those players will be on the field Thursday -- especially for teams that have morning practices. Wednesday evening, NFL commissioner Roger Goodell told The NFL Network that
free agents might not be eligible to practice
Thursday. As a result the
Minnesota Vikings
have pushed their main practice to a 4 p.m. ET start, hoping the CBA will be ratified by then.
In the NFC North, some big names have been standing on the sideline awaiting final ratification. I've included an extended, but not necessarily all-inclusive, list below. We'll keep you updated when and if final word comes down Wednesday night.
Chicago Bears:
Defensive tackle
Anthony Adams
, running back
Marion Barber
, defensive end
Vernon Gholston
, cornerback
Corey Graham
, receiver
Sam Hurd
, linebacker
Brian Iwuh
, defensive tackle
Amobi Okoye
, punter
Adam Podlesh
, linebacker
Nick Roach
, tight end
Matt Spaeth
, center
Chris Spencer
, receiver
Roy Williams
Detroit Lions:
Receiver
Rashied Davis
, cornerback
Chris Houston
, place-kicker
Dave Rayner
, linebacker
Justin Durant
, quarterback
Drew Stanton
, linebacker
Stephen Tulloch
, cornerback
Eric Wright
Green Bay Packers:
Place-kicker
Mason Crosby
, tight end
Spencer Havner
, running back
John Kuhn
, receiver
James Jones
.
Minnesota Vikings:
Safety
Husain Abdullah
, receiver
Devin Aromashodu
, nose tackle
Remi Ayodele
, receiver
Bernard Berrian
, receiver
Michael Jenkins
, offensive lineman
Charlie Johnson
, place-kicker
Ryan Longwell
, quarterback
Donovan McNabb
.
October, 15, 2010
10/15/10
4:30
PM ET
Getting inside a lengthy and star-studded Friday injury report.
Chicago Bears:
Linebacker
Lance Briggs
(ankle) is officially listed as questionable but did not practice at all this week and is highly unlikely to play Sunday against the Seattle Seahawks. Instead,
Brian Iwuh
is the likely starter at weak-side linebacker. It will be only the fourth game Briggs has missed in his career. The Bears kept Iwuh on their 53-man roster over special-teams ace
Tim Shaw
because they thought Iwuh was a better defensive replacement. We should find out if that's a wise decision.
Detroit Lions:
Middle linebacker
DeAndre Levy
(ankle/groin) is out and backup
Landon Johnson
(concussion) is questionable. If Johnson can't play Sunday against the
New York Giants
,
Ashlee Palmer
is the likely starter. Defensive end
Turk McBride
(ankle) and cornerback
Nathan Vasher
(nose/biceps) have also been ruled out. Receiver
Calvin Johnson
(shoulder) is questionable but would be limited at best if he plays. The Lions listed quarterback
Matthew Stafford
(shoulder) as questionable, but there is no way he plays Sunday.
Green Bay Packers:
First, the good news: Quarterback
Aaron Rodgers
(concussion) practiced for the second consecutive day and is listed as probable for Sunday's game against the
Miami Dolphins
. Now for the bad news. Linebacker
Clay Matthews
(hamstring) is doubtful and seems highly unlikely to play.
Brady Poppinga
will likely still take his spot in the starting lineup. Right tackle
Mark Tauscher
(shoulder) is also doubtful and will miss his second consecutive game. Defensive lineman
Ryan Pickett
(ankle) and
Mike Neal
(shoulder) are both questionable, which is why the Packers re-signed veteran
Mike Montgomery
on Friday morning.
Minnesota Vikings:
Quarterback
Brett Favre
is questionable because of elbow tendinitis that coach Brad Childress has downplayed all week. Friday, Childress admitted Favre struggled with his accuracy this week, but there seems to be no chance Favre will miss Sunday's game against the
Dallas Cowboys
.
Jon Cooper
is expected to start at center for
John Sullivan
(calf). Cornerback
Chris Cook
(knee) is listed as questionable but would have to make a lot of progress by Sunday morning in order to play.
September, 5, 2010
9/05/10
5:05
PM ET
If the
Green Bay Packers
are planning any significant player moves before resuming practice this week, it won't be through the initial waiver process. Packers general manager Ted Thompson
said Sunday during a news conference
that the team did not put in a claim after NFL teams cut down their rosters to 53 Saturday.
The Packers did have a number of their cuts claimed by other teams, however, and there has been a good level of activity in and around all four NFC North teams Sunday. I'll keep a running list on this post of the most significant players involved:
September, 4, 2010
9/04/10
8:42
PM ET
Check
here
for a full list of Chicago's roster moves.

Biggest surprise:
There were no earth-shattering moments Saturday for the Bears. But it was sobering to see them give up on three members of their 2009 draft class, including defensive end
Jarron Gilbert
, receiver
Juaquin Iglesias
and safety
Al Afalava
. Defensive lineman
Henry Melton
squeezed onto the roster, and the class did produce two 2010 starters: Receiver
Johnny Knox
and right guard
Lance Louis
. Meanwhile, guard
Josh Beekman
was put out of his misery. The Bears have been trying to replace Beekman for two years and finally released him. Finally, the Bears kept four tailbacks --
Matt Forte
,
Chester Taylor
,
Kahlil Bell
and
Garrett Wolfe
. Forte and Taylor are expected to get all of the offensive snaps, but Bell and Wolfe have special teams value.
No-brainers:
There was plenty of excitement when the Bears drafted quarterback
Dan LeFevour
, an Illinois native, but it was apparent early in training camp that he wasn't destined to make the roster. The Bears devoted all of their offensive reps to starter
Jay Cutler
and then-backup
Caleb Hanie
.
Todd Collins
has taken over at No. 2 because of Hanie's shoulder injury, and there was no way the Bears were going to release Hanie and keep LeFevour. You wonder if he won't end up back on their practice squad.
What's next:
The Bears are going to have to get their special teams re-situated after releasing
Tim Shaw
, who led the team with 30 special teams tackles last year. It appears Shaw was released to make room for linebacker
Brian Iwuh
, who the team believes is more suited for its defensive scheme.
August, 4, 2010
8/04/10
7:30
AM ET
We're Black and Blue All over:
A plea for everyone: Hold on. I can't always control the tilt toward Brett Favre coverage on this blog, but rest assured that my training camp tour schedule remains intact this year. That means I'll be with the Detroit Lions for another day before heading off to spend three days with the Green Bay Packers.

But we do have a couple of new Favre angles to touch on since we last met. First, as you might recall, we discussed the possibility Tuesday of the Vikings
offering Favre more money
to ensure he plays this season.
Judd Zulgad of the Star Tribune
reports they have already done just that.
According to the report, the Vikings are offering him a $3 million raise with another $4 million in incentives. That means he would earn at least $16 million and up to $20 million this season. We'll see if that entices him.
We also
expressed caution
in ever trusting a Favre retirement announcement, much less indications he might be giving behind the scenes. According to
former NFL coach Steve Mariucci
, Favre is telling some people that he simply wants more time to let his ankle heal. If that's the case, it's unclear why he would be telling some players that he's not planning to play. He has at least one week and probably more before the Vikings would need him to start practicing.
Again, I'll be out at Lions practice this morning and am ready to see defensive tackle Ndamukong Suh on the field, probably for the afternoon session. For now, let's catch up on the rest of the division:
May, 24, 2010
5/24/10
8:10
AM ET
Hope everyone had a pleasant weekend. Those of us who stayed with
LOST to The End
are a bit bleary-eyed here Monday morning. But then again, what is a Monday without a few yawns?

In the offseason, Monday morning "Black and Blue all over" entries (BBAO!) are about catching up from the weekend, and so we'll start by noting
this tweet
from longtime NFC North friend and current New Orleans safety Darren Sharper. Here's what Sharper had to say late Friday night after learning of quarterback Brett Favre's left ankle surgery:
sharper42

Well y'all seen Brett had surgery on that ankle we got after in the championship game. Come Thursday night 1st game. X marks the spot.
Sharper, of course, is referring to the Minnesota-New Orleans season opener Sept. 9. It was also a nod to a third-quarter play in the NFC Championship Game, when Saints defensive end Bobby McCray grabbed the same ankle and yanked down Favre after a pass. The NFL later fined McCray $20,000 and said he
should have been penalized
for the play.
You don't hear players speaking publicly about it often, but this is a standard part of what the NFL game has come to -- and it's why some coaches are so hesitant to release injury information. When a player is reported to have a weakness, real or imagined, you can expect opponents to pounce.
Continuing around the NFC North:
May, 20, 2010
5/20/10
7:25
AM ET
The
position swap
between Green Bay Packers defensive linemen B.J. Raji and Ryan Pickett wasn't the only newsworthy change visible at Wednesday's organized team activity. As
Rob Demovsky of the Green Bay Press-Gazette
notes, the Packers have also moved Will Blackmon from cornerback to safety.

Blackmon is rehabilitating a torn anterior cruciate ligament and above all else is considered a kickoff and punt returner. But the move is interesting in the sense that Blackmon had been thought to be among the group of players the Packers were counting on for cornerback depth after struggling with that in the second half of last season.
At this point, the Packers have Charles Woodson at one cornerback position. Fellow starter Al Harris is also working back from a knee injury, and Tramon Williams is not participating in OTAs. Depth behind Williams includes Jarrett Bush, Pat Lee and Brandon Underwood. Bush worked with the first team Wednesday, according to Demovsky.
Continuing around the NFC North: