August, 1, 2012
8/01/12
7:50
AM ET
We're Black and Blue All Over:
It was a busy Tuesday at the Minnesota Vikings' training camp, from Adrian Peterson recounting a scary allergic reaction that landed him in the hospital and owner Zygi Wilf telling reporters that he wants to contend for the NFC North title. But the most significant event might have been the sprained MCL suffered by tight end John Carlson, an injury that will probably keep him from practicing for a few weeks.

(More from
Tom Pelissero of 1500ESPN.com
.)
Sprained knees are commonplace in the NFL, but it's particularly notable for Carlson because it extends a rough stretch of injuries that began in the 2010 playoffs. He suffered a serious concussion against the Chicago Bears in the divisional round while playing for the Seattle Seahawks, and then missed
all of the 2011 season because of a shoulder injury
.
The injuries aren't related, but when an oft-injured player suffers a new ailment early in training camp, it makes you wonder if he has simply hit a stretch of bad luck or if his body isn't holding up. Time will tell on that one.
Continuing around the NFC North:
July, 30, 2012
7/30/12
10:00
AM ET
BOURBONNAIS, Ill. -- Summer visitors to Olivet Nazarene University are greeted by navy blue banners promoting the
Chicago Bears
' training camp. Bears logos are plastered all around town. Marquees invite the hungry and thirsty to patronize local establishments.
In 2012, there was a notable addition to the welcoming committee. Emboldened by a newly fortified offense and a veteran defense that hasn't gotten old yet, the Bears opened training camp with the highest of expectations.
Overt talk of a Super Bowl run hits you from every angle. You see it on a
championship prediction
posted outside an elementary school near campus. You hear it chanted from 12,000 fans attending practice. You notice the Bears' normally mild-mannered place-kicker drawing powerful conclusions.

"There's no doubt that this year by far is our best chance to win a Super Bowl," kicker
Robbie Gould
said on the eve of camp

. "We have the talent. Yeah, we do have to earn it on the field, but when it comes to putting the pieces together, this is definitely the year that we have the pieces. … I think everyone understands that this is an opportunity and that we might only get that one chance to make it to the Super Bowl and win it."
Indeed, the long-term future of this team is murky, with linebacker
Brian Urlacher
entering the final year of his contract and five other starters -- including quarterback
Jay Cutler
, linebacker
Lance Briggs
, receiver
Devin Hester
and Gould -- facing a 2013 expiration. But for the short term, the Bears couldn't be more enthused.
"I'm definitely excited about how stacked we are at each position," cornerback
Charles Tillman
said.
The pieces are in place, and nothing in the early days of training camp suggests otherwise.
THREE HOT ISSUES
[+] Enlarge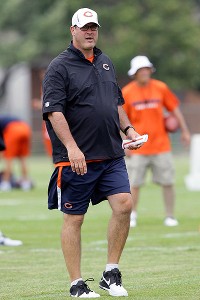 AP Photo/Nam Y. HuhWith several new weapons, Bears offensive coordinator Mike Tice is optimistic that his "Duh offense" won't be a dud.
1. Adding explosion to offense:
I lost track of how many people used a form of the word "explosion" to describe the Bears' hope for their new offense. Offensive coordinator Mike Tice said he wants to be explosive in both the running and passing games, adding, "We have too many athletes not to be able to."
The key to explosive plays -- usually defined as runs of 12 or more yards and passes of at least 16 yards -- is getting those athletes into empty space. Tice has a simple approach to doing that, one he began preaching in the spring and continued during the early days of camp. He affectionately calls it the "Duh offense."
In essence, Tice will give Cutler the responsibility of changing plays at the line of scrimmage based on the "number count" of the defense. If a defense is aligned against the pass, Cutler can call a run. If it is stacked at the line of scrimmage, Cutler will have the ability to switch to a pass. The approach requires the type of balanced personnel the Bears have and produces volume mismatches at the point of attack.
2. Play calling:
Tice's experience in developing successful offenses is unquestioned, as is his expertise in matching a scheme with the capability of an offensive line. The one thing Tice hasn't done in 30-plus years in the NFL is be a team's primary playcaller over the course of a season, a task he is preparing for in training camp.
Quarterbacks coach Jeremy Bates will relay the call to Cutler during games, but the calls will originate with Tice.
"It's all about rhythm," Tice said. "It's all about good installation. It's about the right balance and making sure you understand what your opponent is trying to do in certain situations. It'll be fine."
3. Defensive assumptions:
Optimism about the Bears has been generated mostly by additions they made to their offense, such as receiver
Brandon Marshall
, running back
Michael Bush
and Bates. It has been assumed that the Bears' special teams will maintain its annual strength and that an aging defense has at least one more top-level season in it.
Urlacher (34) looked like his usual self after rehabilitating a knee injury all offseason. Defensive end
Julius Peppers
(32), Briggs (31) and Tillman (31) all appear to be in excellent shape.
"I don't feel like it's my 10th year," Tillman said. "My body doesn't feel like it. My mind doesn't feel like it. I feel good -- mind, spiritually."
REASON FOR OPTIMISM
No one is going to confuse Cutler with Alvin Wong,
aka "the happiest man in the world,"
but Cutler arrived at camp and moved through its first few days with the buoyancy of a man who has been placed squarely in position to succeed.
"This is the most comfortable I think I've been going into a camp with the offense and what we are doing scheme-wise and the talent around me," Cutler said.
Those who know him best agree.
"He looks a lot more comfortable," said receiver
Earl Bennett
, Cutler's longtime teammate dating to their Vanderbilt days. "He just looks ready to go. He's excited about the new toys he has on offense and the guys surrounding him, and he's just excited about the season."
Arriving at training camp, Cutler said, "was like Christmas."
REASON FOR PESSIMISM
[+] Enlarge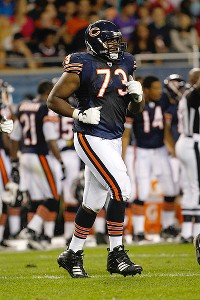 Scott Boehm/Getty ImagesCan the Bears count on J'Marcus Webb to consistently protect the blind side of QB Jay Cutler?
Left tackle is one of the most important positions on a team, and it is one of the Bears' few legitimate question marks. A competition between
J'Marcus Webb
and
Chris Williams
is
probably Webb's to lose
, but at the very least, it's nerve-wracking to launch a Super Bowl run without an established starter to protect a quarterback's blind side.
Webb and Williams alternated with the first team during the practices I watched, and it's clear that Webb has the physical tools to play the position. Williams, on the other hand, hasn't played left tackle in two years and might be a fallback if Webb can't eliminate the mental and technique mistakes that plagued him in 2011.
"We'll turn the heat on both of them," Tice said. "We want to see who is going to block our good pass-rushers."
Competition isn't a bad thing, but the Bears need a winner to emerge, rather than being left to select the less-damaging option.
OBSERVATION DECK
We've discussed the likelihood of Bush serving as the Bears' short-yardage and goal-line back. At 245 pounds, Bush is better suited and has had more career success in that role than starter Matt Forte. But Bush made clear he would rather not be pigeon-holed in that manner. "That's the role I've been stuck with because of my size," Bush said. "If that's what I've got to do, then that's what I've got to do. … No one likes to be a battering ram. It just happens that way." Regardless, it makes too much sense not to give that arrangement a long look.
Cutler and Marshall arrived for lunch together on the first day of practice. They broke open a new critical-thinking board game at night, which Marshall referred to as "Q." (Cutler won the first two games.) Marshall said the pair's much-discussed friendship is "not always fun." He added: "In any relationship, when you take two people from two different places and you put them together, you butt heads. Because sometimes we try to impose our own wills on each other. But sometimes you understand there is no right and wrong. It's just two different people. I think that's when the relationship gets better. With Jay and I, it's always some work."
Perhaps their friendship made expectations unreasonably high, but I was surprised by how many miscommunications Cutler and Marshall had in their first few practices. On Day 1, I counted five passes that either hit the ground or were intercepted because Cutler threw one way and Marshall ran another. We found out in the third practice how little that mattered. Cutler and Marshall put on a show in full pads, wowing fans and players who can't remember the last time the Bears had a true No. 1 receiver.
Tice will undoubtedly use tight ends more in the passing game than predecessor Mike Martz, and the Bears have accumulated an interesting group to deal with. Kellen Davis figures to be the starter, with Matt Spaeth as the top blocker. But it's worth pointing out that rookie Evan Rodriguez, a fourth-round draft pick from Temple, appeared in much better shape than he was reported to be in this spring and seemed to have a knack for turning upfield quickly after the catch. "This game is about explosion," Rodriguez said. (There's that word again.) He added: "Everybody in this league is so fast. You've really got to push to get that five yards, and then after that, it's every inch that matters."
Rookie safety Brandon Hardin is getting work on all four special teams, including a role as the personal protector on punts. And when free safety Chris Conte briefly left practice Saturday night, it was Hardin who stepped in with the first team. "I'm looking forward to helping the team in that special-teams aspect until I get on the field as a safety," Hardin said.
Although there is uncertainty at left tackle, the return of 2011 draft choice Gabe Carimi has added a level of stability to the right side. Carimi reported to training camp in excellent condition, having dropped his weight to 308 pounds and lowered his body fat from 26 percent to 19 percent by changing his diet. "The goal was to have more muscle mass," he said.
The Bears' immediate plans are to use rookie defensive end Shea McClellin as a situational pass- rusher. In that scenario, Israel Idonije would hold a starting spot opposite Peppers. I didn't see any examples of it early in camp, but you wonder if the Bears would be tempted to use Idonije as an inside pass-rusher, with McClellin on the edge, on passing downs. Another candidate to be an inside pass-rusher is newcomer Brian Price.
July, 27, 2012
7/27/12
7:09
PM ET
BOURBONNAIS, Ill. -- Let's roll through some thoughts and observations after watching the
Chicago Bears
' second training-camp practice:


One of the prettiest plays in 1-on-1 drills came when receiver Earl Bennett hauled in a long pass down the right sideline from quarterback Jay Cutler. Bennett used some crafty veteran contact with his left arm to keep cornerback Kelvin Hayden at bay.
After fans cheered Bennett's catch, cornerback Tim Jennings turned to the crowd and said: "Hey, we [cornerbacks] play for you guys, too." Jennings drew a laugh.
The Bears' three-receiver set has been pretty consistent: Brandon Marshall, Devin Hester and Bennett usually in the slot. When Hester was shaken up briefly during team drills, rookie Alshon Jeffery replaced him on the outside. So that gives you a clear sense of the depth chart as it stands now. If the Bears keep veterans Devin Thomas and Eric Weems for special-teams purposes, and that is quite possible, it will be difficult for 2011 slot receiver Dane Sanzenbacher to make the team.
Special-teams coordinator Dave Toub put out some interesting lineups during kickoff-return drills. Bennett was among those manning a front-line position. Two others were rookies, safety Brandon Hardin and tight end Evan Rodriguez. Historically, it's fair to make assumptions about a young player's chances to make the team based on his standing on special teams. In other words, it's looking good very early for Rodriguez, especially. Hardin was already a lock to make the team.
We didn't see new defensive tackle Brian Price on Friday, a day after the Bears acquired him in a trade from the Tampa Bay Buccaneers, because his physical was not complete. The Bears indicated that should happen Saturday. According to the collective bargaining agreement, however, Price must ease into training camp with three unpadded practices before he can join the team fully. So it will be a bit of time before Price is up to speed.
For those interested in such things, during team drills, it was quarterbacks coach Jeremy Bates who relayed plays via radio to Cutler. Bates stood next to offensive coordinator Mike Tice during the process.
In person, running back Michael Bush proved to be a much bigger dude than I thought he was. The Bears list him at 6-foot-1 and 245 pounds, but when you see him in a T-shirt on rather than a jersey, you could easily mistake him for a linebacker or even a small defensive end.
The Bears' first full-pads practice is scheduled for Saturday night. I won't miss it.
July, 26, 2012
7/26/12
8:30
PM ET
BOURBONNAIS, Ill. -- Let's roll through some thoughts and observations after watching the
Chicago Bears
' opening practice:

It wasn't surprising to see the Bears use a seventh-round draft pick to acquire defensive tackle Brian Price from the Tampa Bay Buccaneers, a move that was announced during practice. Matt Toeaina was working with the first team, opposite Henry Melton, even with a rather hefty cast around a broken right hand. Stephen Paea, the Bears' second-round draft pick in 2011, also got onto the field. But the Bears seemed thinner than they would like to be at the position.
Price is actually a pretty good player who needed a fresh start. Once he gets comfortable, I would consider him a candidate for substantial playing time, if not a starting job.
The Bears' passing offense looked more discombobulated than I expected it would. Quarterback Jay Cutler and receiver Brandon Marshall crossed each other up on three passes that I saw, resulting in two incompletions and one interception. To be fair, the offense was operating on a month of rust. Offensive coordinator Mike Tice, however, made clear: "We're going to have a higher bar than that."
The other possibility is that the Bears' defense was exceptionally sharp for an opening practice of camp. I will say that the secondary aggressively pursued pass break-ups, beginning with D.J. Moore's interception of Cutler on a sideline pass intended for rookie Alshon Jeffery.
Linebacker Brian Urlacher practiced for the first time since spraining his knee in the 2011 season finale against the Minnesota Vikings. It's worth noting that Urlacher was wearing a brace, presumably as a precaution.
Jeffery might have played too heavy in college, but Thursday he appeared to be a typical gangly rookie. He certainly passed the eyeball test and also looked good on a deep slant, a route that will be particularly difficult to defend with his 6-foot-3 frame.
Rookie tight end Evan Rodriguez is a load. He is listed at 239 pounds, but he looked pretty imposing running seam routes during offensive drills and caught my eye with aggressive post-catch runs. We'll keep an eye on him.
March, 10, 2010
3/10/10
2:30
PM ET
Let's continue our (spontaneous) Draft Wednesday theme by taking a look at ESPN.com's
latest mock draft
. (It's 3.0 for those of you keeping track.) This one combines picks from analysts Mel Kiper and Todd McShay. You need an Insider subscription to view the entire list and accompanying analysis, but I can give you a sneak peek of the three NFC North-related picks.
Detroit Lions (No. 2)
Kiper:
Nebraska defensive tackle
Ndamukong Suh
McShay:
Suh
Seifert comment:
This assumes St. Louis takes Oklahoma quarterback
Sam Bradford
No. 1 overall. What a coup that would be for the Lions.
Green Bay Packers (No. 23)
Kiper:
Iowa tackle
Bryan Bulaga
McShay:
Rutgers tackle
Anthony Davis
Seifert comment:
Big discrepancy here. McShay has Bulaga going at No. 6 to Seattle. I myself have absolutely no idea, but it sure sounds like Bulaga's stock has moved above the No. 23 overall pick. I'm guessing the Packers will pounce if he falls this far.
Minnesota Vikings (No. 30)
Kiper:
Rutgers cornerback
Devin McCourty
McShay:
UCLA defensive tackle
Brian Price
Seifert comment:
At this point, the Vikings will take the best available player. But all things equal, a cornerback ranks higher than defensive tackle on their need list.