February, 22, 2012
2/22/12
3:00
PM ET
The NFL's annual scouting combine opens Wednesday and will conclude next Tuesday. I wouldn't miss it for the world. Media interviews begin Thursday morning and continue through Sunday, and I'll be on hand for an access schedule that should net us time with the general manager and/or coach of every NFC North team over the next few days.
Although we don't have access to most of the workouts themselves, dozens of players should be available for interviews. I'll feed the blog with zeal, of course, but to help sharpen our focus, let's consider a few important NFC North storylines to follow. If you have other ideas,
hit the mailbag
.
[+] Enlarge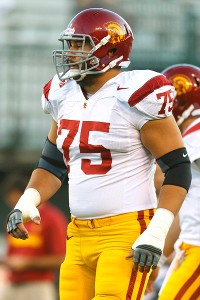 Jason O. Watson/US PresswireWill USC left tackle Matt Kalil be available for Minnesota to draft with the No. 3 pick in April?
The value of the No. 3 position:
Historically, the combine has helped solidify the top of the draft. We don't always leave Indianapolis knowing the order of the top few picks, but we generally know which players will comprise that pool -- knowledge that should help the
Minnesota Vikings
determine who they'll have to choose from at No. 3 and how intense trade interest will be.
We should know, for example, if USC's
Matt Kalil
is unquestionably the draft's top left tackle, or if there are any lingering doubts about his status. Is Kalil good enough that the
St. Louis Rams
will consider him at No. 2 overall? We'll get a better idea of interest in Baylor quarterback
Robert Griffin III
. Would the Rams trade out of No. 2 with a Griffin-infatuated team?
Finally, what other options would the Vikings have if they neither draft Kalil nor trade out of the spot? Is LSU cornerback
Morris Claiborne
a top-3 pick? What about Oklahoma State receiver
Justin Blackmon
or Alabama running back
Trent Richardson
?
That Mega-contract:
The
Detroit Lions
' tight
salary cap situation
has been one of our top offseason storylines, and presumed relief would begin with extending the contract of receiver
Calvin Johnson
. As it stands, Johnson is scheduled to have
a cap number of around $22 million
in 2012 and, if unaddressed, would be eligible for a franchise tag of around $26 million in 2013. The proximity of agents and team executives at the combine often fosters productive negotiations, and it's safe to assume that Lions president Tom Lewand will have some talks with Johnson's agent, Bus Cook.
The Lions aren't yet in crunch time with Johnson, but reducing his cap number by March 5 would make it easier for them to use the franchise tag on defensive end
Cliff Avril
, as they reportedly plan to do. Johnson has most of the leverage in this situation and figures to emerge, eventually, as the NFL's highest-paid receiver and possibly the best-paid non-quarterback in the league.
Second-tier pass rushers:
The
Green Bay Packers
certainly will spend time negotiating with their free agents, from tight end
Jermichael Finley
to center
Scott Wells
to special teams ace
Jarrett Bush
. But it's also safe to assume they'll focus on prioritizing the pool of pass rushers who could be available to them at the bottom of the first round, or possibly in a trade to move up in the second round.
Elite pass rushers usually don't get past the top half of the first round, putting the Packers in a race to find the next
Brooks Reed
, the
Houston Texans
' second-round pick in 2011 who started 11 games and had six sacks as a rookie. Scouts Inc. currently has two defensive ends with grades that would give them value at the end of the first round: Syracuse's
Chandler Jones
and USC's
Nick Perry
.
Secondary help:
To varying degrees, all four NFC North teams could use an influx of defensive backs. Given the league-wide passing explosion in recent years, it's fair to say there are plenty of other teams on that list as well. That means searching far and wide for talent, and to that end, Scouts Inc.'s Kevin Weidl
offers a list of 12 small-school defensive backs

who should get attention.
You'll need an Insider subscription to see the entire list, but it's topped by former Florida cornerback
Janoris Jenkins
, who spent last season at North Alabama. It also includes Montana cornerback
Trumaine Johnson
and Coastal Carolina cornerback
Josh Norman
.
WR depth:
If new
Chicago Bears
general manager Phil Emery takes to heart a suggestion from his quarterback, he'll have an interesting group of big receivers to evaluate this week. "Anyone really over 6-2 at this point is going to look good,"
Jay Cutler
said this week on ESPN 1000.
It's safe to assume that Blackmon won't be available when the Bears draft at No. 19 overall. The rest of ESPN anlayst
Mel Kiper's list top five receivers

looks like this: Baylor's
Kendall Wright
, Notre Dame's
Michael Floyd
, LSU's
Rueben Randle
and South Carolina's
Alshon Jeffery
. Wright is a 5-10 speedster, so if the Bears truly focus on big receivers, our combine focus will be on Floyd (6-3), Randle (6-4) and Jeffery (6-4).
Related:
For those interested,
here is a comprehensive schedule
for the players invited to Indianapolis, beginning with medical testing for three position groups who will arrive Wednesday.
May, 12, 2011
5/12/11
11:00
AM ET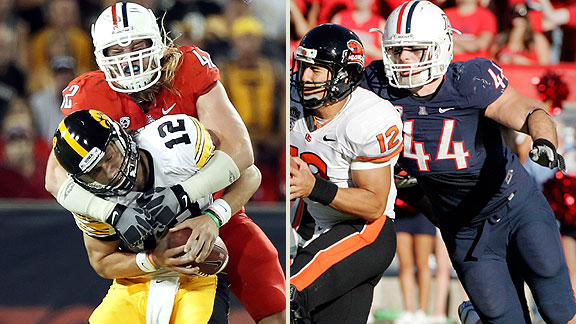 Getty Images, AP PhotosArizona defensive end Brooks Reed, left, was drafted 155 spots ahead of teammate Ricky Elmore, because scouts believe Reed's workout numbers trump Elmore's on-field production.
Another in a periodic series examining the roles of NFC North newcomers.
In the weeks and days leading to the NFL draft, public discussion centered the
Green Bay Packers
' interest in an Arizona defensive end who projected as an outside linebacker in their 3-4 scheme.
Brooks Reed
was a 263-pound pass-rusher who displayed superior speed and initial acceleration at the scouting combine.
As it turns out, the Packers drafted an Arizona defensive end who projects as an outside linebacker. But it wasn't Reed, who went to the
Houston Texans
with the No. 42 overall pick. Instead, it was a player who more than doubled Reed's sack total for the Wildcats during the past two seasons.
Ricky Elmore
posted 21.5 sacks to Reed's 8.5 over that stretch, but Elmore was still available late in the sixth round (No. 197).
That production disparity jumped out right away to a number of you.
Pat of St. Paul
wanted to know: "How did Ricky Elmore get pushed to the sixth round with his fantastic production in college? Do you think this was a steal for the Packers?"
Andy of Anew Berlin, Wis.
, wrote: "I was wondering why everyone was so high on Reed and why have I never heard of Ricky Elmore until the Packers drafted him. I listen to a lot of sports talk radio and I haven't heard anyone bring up the comparison of Reed to Elmore and I am interested in what your opinion was for the vast differences in where they were drafted especially because of the numbers they put up at Arizona."
Actually,
Pete Dougherty of the Green Bay Press-Gazette
broached the subject shortly after the draft. But I think the question brings a classic draft argument into specific relief: How should college production be weighed versus athleticism and potential? When should production matter and when shouldn't it?
First, let's review a series of test results that absolutely swayed NFL scouts and their respective general managers.
Reed ran the fourth-fastest time in the 40-yard dash (4.68 seconds) among defensive linemen at the February scouting combine. He covered the first 10 yards in 1.54 seconds, tops among defensive linemen and an important tool for scouts to evaluate initial burst from pass-rushers.
Although he weighed in at eight pounds less than Reed (255 pounds versus 263), Elmore
tested substantially worse in speed drills
. He ran the 40-yard dash in 4.96 seconds and his 10-yard split was 1.70 seconds. Elmore subsequently improved those times during private workouts, but the die was cast: Elmore was slow for a projected 3-4 linebacker.
You might scoff at those numbers. It's true, the NFL is populated by hundreds of successful players once deemed too slow. It's also littered with the remains of those who are fast but can't play the game. But in the world of scouting, which includes equal parts evaluation and projection, speed is one of the most important attributes of a potential draft pick at most positions.
I reached out to Steve Muench of Scouts Inc., whose job is to mirror the work of NFL scouts, making his own evaluations while also trying to project what the league will think of prospects. Steve's evaluation will help you understand why Elmore was still on the board 155 spots after the Texans selected Reed:
"Elmore was the more productive player the past two years but production can be, and in this case is, misleading. Reed recorded the quickest 10-yard split out of all the defensive linemen at the combine last year. He is substantially faster than Elmore, and he is eight pounds heavier despite measuring two inches shorter. He also has longer arms and superior upper-body strength.

None of this would matter much if it didn't translate to the film. But Reed is quicker off the line and closes better than Elmore, who benefited from the attention that Reed drew from opposing teams. Reed is noticeably stouter against the run."
Elmore was one of the first to recognize how the NFL was viewing him, going to the very 2011 lengths of
posting YouTube videos
depicting him jumping out of a pool and later into a truck.
"I was just trying to show that I'm athletic and I'm explosive," Elmore told Wisconsin reporters. "... It's the difference between a sack and not getting a sack. If you can't be explosive off the line, an offensive tackle is going to beat you back and you're already one step behind. ... Being explosive is probably the No. 1 most important thing to being an outside linebacker."
Elmore also spent five weeks working with the father of Packers outside linebacker
Clay Matthews
to help make the transition to linebacker. It's been well-chronicled that the Packers don't have a starter locked in opposite Matthews, and as the chart shows, the Packers could stand to shore up their outside run defense in 2011.
But can Elmore be the answer? Did the Packers unearth a player who simply knows how to get to the quarterback and play the game? Or is Elmore too slow, and were his college production numbers too skewed to consider that outcome a realistic possibility?
From a scouts' perspective, Muench said that Elmore has the "size and toughness to be an effective run-stopper" but needs technique work. Ultimately, Muench concluded: "Elmore has enough quickness and the motor to develop into an effective role player in Green Bay's 3-4 scheme. However, I don't think he has enough speed or agility to develop into a difference-maker like Clay Matthews and he may not even develop into a quality starter."
That's a scout's take, and it clearly mirrors those in the league considering Elmore was still available late in the sixth round. Now you have a better idea of why Reed was more highly regarded. What we don't and can't know is this: Can the Packers develop Elmore into a player who could one day approach his college production? Coaching, heart and circumstances can't be judged before a draft. Check back in three years on that one.
Earlier:
The
Detroit Lions
needed an explosive receiver
like
Titus Young
. The
Chicago Bears
think defensive tackle
Stephen Paea
can be a disruptive force
, not just a space-eater.
April, 28, 2011
4/28/11
10:00
AM ET
We're Black and Blue All Over:
Day 1 of the NFL draft is always wild, and the
extra layer of labor chaos
will only add to the drama.
No matter what happens on the labor front, I'll be stationed Thursday evening at the Minnesota Vikings' practice facility to find out once and for all if they'll draft their quarterback of the future. That issue will be one thrust of our coverage, but I'll also provide timely analysis of all NFC North moves (and non-moves) in the first round.
For now, however, let's take a tour of how the local media markets see this draft shaping up:
April, 25, 2011
4/25/11
7:30
AM ET
We're Black and Blue All Over:
We spent considerable time this offseason discussing the Chicago Bears' refusal to grant offensive line coach Mike Tice permission to
interview for the Tennessee Titans' offensive coordinator job
. Shortly thereafter, the Bears
adjusted Tice's contract to add another year
and, presumably, more money.

Mike Mulligan of the Chicago Sun-Times
notes that the Bears didn't have as much success locking up another highly regarded assistant coach. Special teams coordinator Dave Toub turned down a contract extension because the Bears offered him what a source told Mulligan was a "minimal raise" that would not have put him among the top 10 highest-paid special teams coaches in the NFL.
I know no one wants to hear NFL coaches or players pleading poverty given their six-figure salaries, and it should be noted that Toub has made no public statement of dissatisfaction. The Bears certainly weren't obligated to give Toub a raise at a time of economic uncertainty caused by the lockout.
But as we always like to say, action and inaction have consequences. In this case, Toub's contract will expire after the 2011 season, making him eligible to leave the organization for another opportunity if he wants.
Continuing around the NFC North as we enter Draft Week 2011:
April, 20, 2011
4/20/11
4:30
PM ET
Todd McShay's
latest mock draft

, published Wednesday on ESPN.com, offers three scenarios for each spot before deciding on a selection. It's worth noting that,
hours after we asked you
about Clemson defensive end
Da'Quan Bowers
, McShay has both the
Minnesota Vikings
and
Detroit Lions
passing on him.
You'll need an Insider subscription to view the entire draft, but here's how it shook out for the four NFC North teams:
12. Minnesota Vikings
McShay's pick:
Cal defensive end
Cameron Jordan
Seifert comment:
The son of former Vikings tight end Steve Jordan would be a solid pick, but taking him ahead of Bowers? That can only mean the Vikings would have serious concerns about Bowers' knee. Another possibility: Boston College tackle
Anthony Castonzo
.
13. Detroit Lions
McShay's pick:
Nebraska cornerback
Prince Amukamara
Seifert comment:
This remains a dream scenario as far as I'm concerned. When
we discussed this issue earlier this month
, I wasn't considering Bowers as a true option. But the Lions' need for a cornerback is acute.
29. Chicago Bears
McShay's pick:
Baylor guard
Danny Watkins
Seifert comment:
I would be fine with a guard in this spot, especially considering that five offensive tackles are already off the board in this scenario. I wonder, however, if the Bears would trade out of the pick if that situation arises.
32. Green Bay Packers
McShay's pick:
UCLA linebacker
Akeem Ayers
Seifert comment:
As we've noted all along, outside linebacker is one of the Packers' few actual needs. Be it Arizona's
Brooks Reed
or Ayers, the pick makes sense.
April, 16, 2011
4/16/11
12:00
PM ET
No fanfare.
No quotes.
No song lyrics.
(We had our fun a few hours ago.)
Just some hardcore mailbagging.
Access is granted via the
mailbag
,
Facebook
and
Twitter
.
Zac of Sidelionreport.com writes:
Interesting factoid I realized today that I don't remember coming up:
Matthew Stafford
is about the same age as current draft prospects
Ryan Mallett
,
Christian Ponder
and
Andy Dalton
. Hard to argue that his first two years in the NFL have been wastes considering he will go through next season as just a 23-year-old.
Kevin Seifert:
Indeed, as Zac noted in his
accompanying blog post
, Stafford turned 23 on Feb. 7. He's 15 months older than Auburn quarterback
Cam Newton
, four months older than Arkansas' Mallett, 18 days older than Florida State's Ponder and is actually younger than TCU's Dalton and Nevada's
Colin Kaepernick
.
Stafford didn't redshirt at Georgia and left after his junior year, making him barely 21 when the Lions drafted him April 2009. His first two seasons have been most notable for the number of injuries he's suffered, but it's comforting to know that his early entrance to the NFL has paid at least one dividend. He's two years ahead in exposure to the NFL game and way of life than he would have been had had spent the maximum five years at Georgia instead of three.
On the other side of the spectrum -- and yes, leave it to me to find a pocket of cynicism -- Stafford is behind some of the quarterbacks he entered the league with as well as some that came after him. If for no other reason than their health,
Mark Sanchez
(
New York Jets
),
Josh Freeman
(
Tampa Bay Buccaneers
) and
Sam Bradford
(
St. Louis Rams
) have made more of their NFL careers thus far.
---
Craig of Braintree notes our coverage of the NFL's potential rookie wage scale and writes:
I'm for allowing teams to lock rookies in for five years but the pay should be flexible each year. A judge should decide between a team's offer and the player's offer like baseball.
Kevin Seifert:
Craig is proposing arbitration for the NFL. Generally speaking, players with at least three accrued seasons (and fewer than six) can file for arbitration by proposing their salary for the following season. The team also proposes a salary. An arbitrator listens to arguments and chooses a "winner" if the sides can't compromise first.
According to the NFL's proposal, only rookies drafted in the first round would be locked in for five years. The league has circulated information suggesting the average career span of
a first-round pick is 9.3 years
.
But I think Craig's point is a valid one. Traditionally, a player's most lucrative contract is his second. It comes when he still has the projected physical capacity to perform at a high level for several years to come, and generally it comes no later than the fourth year of his career. Locking players in to five years of a rookie deal could diminish the value of their second contracts.
Ultimately, I hope that five-year number is negotiable. I'd prefer to see it lower rather than go to an arbitration system. In baseball, arbitration is an awkward and confrontational process dreaded by both sides.
---
Daniel of New Mexico notes my request for suggestions should Green Bay Packers quarterback Aaron Rodgers and Minnesota Vikings tailback Adrian Peterson be matched up in the finals of ESPN.com's tournament to determine the cover of 'Madden 12.' Daniel writes:
"The "Epicenter of Inanity" has a better ring to it."
Kevin Seifert: NOTHING is inane in a lockout. See for yourself.
---
Via Twitter, Jdub300C asks if a completely canceled season would push back the expiration of the Vikings' lease at the Metrodome.
Kevin Seifert:
The last time I checked on this issue, I
was flatly told no
. The lease is set to expire on Feb. 1, 2012, whether or not the Vikings play their full slate of games this season. I suppose that an enterprising government attorney could go back and scour the lease for loopholes, but as of now none has been found.
---
Roy of Hampton, Va., writes:
Kevin, as a Packer fan I have been seeing Danny Watkins and Brooks Reed pop up on the radar. The odd thing is that I am seeing them in round 1 and round 2 mocks. Some have them going as high as 25 and as low as 64 for the Pack. Do you see these prospects as round 1 picks or will the be available in round 2.Theve projected all over and I need the official word!
Kevin Seifert:
Watkins is a guard from Baylor, while Reed is a defensive end/linebacker from Arizona. For what it's worth,
Scouts Inc.
has given each player a grade of 89, which by definition is a late first-round grade. Slides occur every year, but if the Packers want to draft either player, they'll need to take him at No. 32 or trade up in the second round. It would seem unlikely either Watkins or Reed would be available at No. 64.
---
Via Twitter, Packers linebacker
Nick Barnett
notes the
mini-story that emerged
when
Chicago Bears
tight end
Greg Olsen
said he was kicked off a high school practice field this week. Writes Barnett: Whats big deal about Greg olsen getting Locked out of a school If that was my kids school I would want the same Don't want no grown man dere.
Kevin Seifert
: Yikes. We could go in plenty of directions after that one. But let's just agree that, indeed, this story wasn't that big of a deal.
April, 13, 2011
4/13/11
7:30
AM ET
We're Black and Blue All Over:
Most media analysts have pegged outside linebacker as the Green Bay Packers' biggest offseason need, if only because none of the four players who saw time opposite Clay Matthews last season made it through 16 games. To that end, Todd McShay of Scouts Inc. has
ranked the top 3-4 outside linebackers in this draft
.

You'll need a subscription to view the entire piece, but I can tell you that McShay has Arizona's Brooks Reed ranked No. 3, ahead of UCLA's Akeem Ayers. Many media mock drafts have suggested Reed as a possible Packers choice. He is being projected as a defensive end in 4-3 schemes.
Continuing around the NFC North:
April, 12, 2011
4/12/11
7:30
AM ET
We're Black and Blue All Over:
With little fanfare, two Minnesota state legislators submitted a stadium financing bill for a new Minnesota Vikings facility last Friday. The bill was officially introduced Monday, and it was met with significant skepticism by three local media outlets that regularly cover this issue. A sampling:

Jay Weiner, MinnPost.com: "If you call a flawed proposal after nearly 10 years of discussion and lobbying at the Legislature and at county boards and city councils from Blaine to Minneapolis, from St. Paul to Arden Hills, a 'start,' OK, we'll permit that. But 'good'? No. Workable? Passable? Not close."
St. Paul Pioneer Press: "A Hennepin County official whose support was crucial for the construction of the new Minnesota Twins ballpark said Monday that a deal to finance a new Vikings stadium was a 'long shot.' ... 'I don't think the state's funding sources are very reliable right now, and the state doesn't have enough money on the table for a local partner to get serious about it,' county board Chairman Mike Opat said from Target Field."
Mike Kaszuba of the Star Tribune: "The legislative proposal for a new Minnesota Vikings stadium is already showing signs that it will push deadlines as well as emotional buttons at the State Capitol."
Remember, all legislative bills are subject to political rhetoric and negotiation. But time is now a factor, regardless of anyone's true motives. Kaszuba reports that the bill won't reach its first committee until April 26 at the earliest, a month before the legislative session is scheduled to end.
Continuing around the NFC North:
March, 16, 2011
3/16/11
1:30
PM ET
ESPN analyst Todd McShay's latest mock draft

carries an added bonus for lockout-weary readers: Second-round projections! You'll need a subscription to see all 64 picks, but I'm authorized to provide you with the NFC North-related scraps. Let's get to it:
Minnesota Vikings
McShay's pick at No. 12:
Boston College offensive tackle
Anthony Castonzo
McShay's pick at No. 43:
TCU quarterback
Andy Dalton
Seifert comment:
In this scenario, McShay has the Vikings passing on Washington quarterback
Jake Locker
and grabbing a quarterback in the second round. The Vikings are one of the teams that have scheduled a private workout with Dalton; and in this mock, Arkansas'
Ryan Mallett
and Florida State's
Christian Ponder
were already off the board by the No. 43 pick. Castonzo would be the second offensive lineman chosen and could compete with right tackle Phil Loadholt for a starting job immediately.
Detroit Lions
McShay's pick at No. 13:
Nebraska cornerback
Prince Amukamara
McShay's pick at No. 44:
Baylor guard
Danny Watkins
Seifert comment:
Even McShay acknowledges that having Amukamara slip to No. 13 would be a "dream scenario." You wouldn't find many people who would pass him up at No. 13, and if this somehow happens, consider it a coup for the Lions. He would be an immediate starter and a huge upgrade. But I have my doubts about an elite cover cornerback with 4.37 speed getting out of the top 10 of the draft.
Chicago Bears
McShay's pick at No. 29:
Mississippi State offensive tackle
Derek Sherrod
McShay's pick at No. 62:
North Carolina defensive tackle
Marvin Austin
Seifert comment:
At this point in the mock, five offensive linemen were already off the board. That would put the Bears in a tough spot if they were determined to draft one with their top pick. Sherrod would be next in line, but maybe not worth a first-round positioning. It's an interesting scenario.
Green Bay Packers
McShay's pick at No. 32:
Arizona defensive end/linebacker
Brooks Reed
McShay's pick at No. 64:
Miami (Fla.) defensive end
Allen Bailey
Seifert comment:
McShay is joining colleague Mel Kiper Jr. in suggesting Reed as the Packers' top pick, a player who conceivably would fill the need for a consistent starter opposite Clay Matthews. Meanwhile, Bailey would give the Packers some added insurance against the expected loss of veteran free agent Cullen Jenkins.
March, 14, 2011
3/14/11
12:15
PM ET

ESPN is running through its annual "On the Clock" preview in reverse draft order, so on Monday the
Green Bay Packers
led off the festivities. In the video below, ESPN draft analyst Mel Kiper Jr. explains why he thinks Arizona linebacker
Brooks Reed
might be the Packers' target at No. 32 overall. Reed was the player Kiper had going to the Packers in
his most recent mock draft
.
March, 9, 2011
3/09/11
2:15
PM ET
Mel Kiper's latest ESPN.com mock draft

features a mixture of need and value for the NFC North teams. Let's take a look:

12. Minnesota Vikings
Kiper's pick:
North Carolina defensive end
Robert Quinn
Seifert comment:
Kiper had the draft's top two quarterbacks off the board with the first four picks. He doesn't consider his third-ranked quarterback, Washington's
Jake Locker
, a smart choice at No. 12. That order of events would leave the Vikings with a talented player, but not a clear answer at quarterback. Quinn is well-regarded edge rusher who is suited for either a 3-4 or 4-3 scheme, and the Vikings are expected to bid farewell to starting left end
Ray Edwards
. They would have to thoroughly investigate Quinn, who did not play in 2010 because of an NCAA suspension for accepting gifts from an agent.

13. Detroit Lions
Kiper's pick:
USC offensive tackle
Tyron Smith

Seifert comment:
For months, media draft analysts have seen offensive line value at this segment of the draft. In this mock, Smith is the first offensive lineman off the board. Smith's stock hasn't dropped despite a limited showing at the scouting combine, and he could figure as a long-term replacement for left tackle
Jeff Backus
. Kiper didn't give the Lions a cornerback here because LSU's
Patrick Peterson
and Nebraska's
Prince Amukamara
are already off the board. Kiper has his next cornerback, Colorado's
Jimmy Smith
, going late in the first round.

29. Chicago Bears
Kiper's pick:
Colorado offensive tackle
Nate Solder
Seifert comment:
Going this late would represent a significant slide for Solder, an athletic 6-foot-8 mammoth who could play left or right tackle. The Bears should be pretty happy if this scenario occurs. Solder would give the Bears additional flexibility to arrange their best five linemen in a coherent Week 1 starting group.

32. Green Bay Packers
Kiper's pick:
Arizona outside linebacker
Brooks Reed

Seifert comment:
Kiper refers to Reed as a "sleeper" in his class with strong instincts and good enough speed to get to the passer in a 3-4 scheme. My guess is the Packers will take an outside linebacker here only if value suggests they should. It's a need, but not to the extent that general manager Ted Thompson will move past his core philosophies.