September, 3, 2014
Sep 3
4:15
PM ET
GREEN BAY, Wis. – If
Seattle Seahawks
linebacker
Bruce Irvin
is trying to intimidate
Green Bay Packers
center
Corey Linsley
, he might be messing with the wrong rookie.
There's no getting around the fact that Linsley, a fifth-round draft pick, will be making his NFL debut on Thursday against the Seattle Seahawks.
And he'll do it without having ever snapped a ball in a preseason game to quarterback Aaron Rodgers.
And he'll do it against the Seahawks' Legion of Boom defense.
And he'll do it in one of the loudest stadiums anywhere.
But time and again in the two weeks since Linsley inherited the starting job after
JC Tretter
's knee injury, his Packers coaches and teammates have raved about Linsley's toughness – both physically and mentally.
[+] Enlarge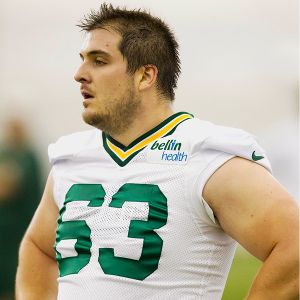 AP Photo/Mike RoemerRookie Corey Linsley stepped right in as the first-team center and impressed his Green Bay Packers teammates.
So when the Seahawks' Irvin said
he's going to pray for Linsley
because "it's going to be a long night, man. We've just got to take advantage of it," don't be surprised if Linsley was unaffected.
He has handled everything else just fine so far, something backup quarterback
Matt Flynn
noticed when the coaches moved Linsley into the starting lineup.
"They're like, 'All right, you're the starter,' so he just quietly walked up there and started taking reps," Flynn said. "He's been impressive."
When Mike McCarthy announced Linsley as the starter, without a burble in his voice he pronounced: "He's going to do a heck of a job."
In fact, it started even before Linsley became a starter. In the first two weeks of training camp, when the Packers conducted the one-on-one pass blocking/pass rushing drill day after day, Linsley took on all comers and lost only two of 10 reps
in the drill
.
Linsley's task on Thursday at CenturyLink Field will be two-fold: Dealing with the crowd noise and handling the Seahawks' defensive front, specifically nose tackle
Brandon Mebane
– something that apparently Irvin thinks should make Linsley shudder.
"All the weaknesses that [Linsley] shows us, we've got to expose it," Irvin told reporters in Seattle this week. "Hopefully, 'Bane' is going to do what I know he's going to do to him. So, we've just got to be ready."
If you ask the Packers, Linsley will be ready, too. He will have Rodgers and two established guards in T.J. Lang and
Josh Sitton
to help him along.
"He's a guy we're confident in, and I know he's got a lot of confidence in himself and you never want to put too much pressure on a guy, especially a rookie making his first start, but he's doing a solid job for us," Packers guard T.J. Lang said. "He's making all the right calls, doing all the right things. We have high expectations for him, and he's going to do a lot of good things."
September, 2, 2014
Sep 2
2:45
PM ET
GREEN BAY, Wis. -- The way
Green Bay Packers
coach Mike McCarthy sees it, Seattle is the perfect place for
Bryan Bulaga
's first game in nearly 22 months.
And he might be right.
Bulaga
The last time Bulaga played against the Seahawks at CenturyLink Field, it was perhaps the low point of his career. The right tackle was responsible for two of the eight first-half sacks of quarterback
Aaron Rodgers
in the Packers' 14-12 loss to Seattle in Week 3 of the 2012 season on Monday Night Football.
Bulaga had allowed just one sack in 12 starts the previous season and didn't have another game in which he allowed more than one sack the rest of the 2012 season.
Several demons from that night in the Seattle still torment the Packers (see Mary, Fail), and Bulaga's uncharacteristic performance remains one of them, in part because of what he went through in the two years that have followed.
"I think Bryan needs to go back to Seattle, just like we all do," McCarthy said Tuesday, two days before the Packers open the season against the Seahawks.
Seemingly on the way to becoming one of the premier right tackles in the NFC, Bulaga's career path changed significantly shortly thereafter. He has not played in a regular-season game since Nov. 4, 2012, when he sustained a season-ending hip injury that was followed by a knee blowout the following summer that cost him the entire 2013 season.
Although he insisted this week that he has not given the last Seattle game much thought, it's hard to forget just what the Seahawks did to Bulaga and the rest of the Packers' offense in the din of the boisterous crowd at CenturyLink Field. The problems started almost immediately. On the Packers' third play from scrimmage, then-rookie
Bruce Irvin
tossed Bulaga aside like it was nothing and sacked Rodgers 2.5 seconds after the ball was snapped.
As if to show it was no fluke, Irvin beat Bulaga on the next series with an up-and-under move and got to Rodgers in 3.4 seconds for his second sack.
When the night was over, Bulaga had been charged not only with the two sacks but also with another quarterback hit and eight hurries allowed, according to ProFootballFocus.com.
"I really don't go back [two] years and look at game tapes, I really don't," Bulaga said. "Obviously it needs to be better than what it is; I knew that after the game, but I really don't compare years to years, especially single games. But yeah, overall individually, I definitely do [need to protect better] and as a group, we just need to be more solid. The more time we can give Aaron the better."
Against the Seahawks, even that might not be enough given how well their secondary covers. On four of the sacks in that game two years ago, Rodgers held the ball longer than 3.5 seconds (including longer than 4.8 on two of them).
Bulaga wasn't responsible for any of the four sacks
Chris Clemons
had that day, and Clemons has now moved on to the
Jacksonville Jaguars
, but there's still plenty of motivation for Bulaga -- and the rest of the Packers' offensive line. The environment will be just as difficult, as loud or louder than it was in 2012, and the opponent just as capable. The Seahawks fielded the league's top-ranked defense last season on the way to their Super Bowl title.
"That game is a great example of getting out of your fundamentals, and when those things happen, it can snowball on you," Packers offensive line coach James Campen said. "That's certainly a lesson learned."
This is the start of an important season for Bulaga, the 25-year-old, fifth-year tackle. The former first-round pick is in the final year of his contract. According to McCarthy, Bulaga has come back in better shape than ever -- "He's 15 pounds heavier," McCarthy said -- while Campen insists Bulaga's level of play is back to where it was before the injury.
"He looks better than he did," Campen said.
And what better place to show it than in Seattle.
May, 1, 2013
5/01/13
10:50
AM ET
Another in a periodic series examining the roles of NFC North newcomers:
We have all debated the potential for
Ziggy Ansah
's immediate impact as a
Detroit Lions
defensive end in 2013. Ansah was a late arrival to football, a late bloomer on the NFL scouting scene and was drafted based on his athletic potential rather than his college body of work.
With that in mind, I thought it would be worth looking at how a few other NFL teams have approached the rookie years of pass-rushers drafted under similar circumstances. For various reasons, we can classify the
New York Giants
'
Jason Pierre-Paul
, the
San Francisco 49ers
'
Aldon Smith
and the
Seattle Seahawks
'
Bruce Irvin
in a similar category with Ansah.
Each player has his own story, but generally speaking, all three were drafted in the first half of the first round with limited résumés but extensive projections based on their physical attributes. The chart shows that none of them started a game and each played less than half of his team's defensive snaps. But even with that controlled playing time, they still combined to post 26.5 sacks between them as rookies.
The Lions have bid farewell to both of their 2012 starters at defensive end,
Cliff Avril
and
Kyle Vanden Bosch
, so there is plenty of opportunity for a rookie to earn a starting job. Veterans
Jason Jones
and
Willie Young
are also in the mix, and the Lions drafted an imposing defensive end in 6-foot-7
Devin Taylor
who could also compete for playing time.
If nothing else, we know a template exists for a developing pass-rusher to be used in a focused way while still having a highly productive rookie season. I wouldn't be too worried about whether Ansah will be on the field for the first play of games. More important to me is if he is out there for the most important ones -- and if he can influence them.
Earlier:
The
Minnesota Vikings
know
they need to have a plan
for receiver
Cordarrelle Patterson
's rookie season.
September, 28, 2012
9/28/12
7:20
AM ET
We're Black and Blue All Over. (We're also on Facebook and Twitter.)

Minnesota Vikings tailback Adrian Peterson has noted often that he does not consider himself 100 percent recovered from major knee surgery in December. I suppose you could say he hasn't demonstrated the same burst he had before the injury, but how is Peterson measuring this recovery?
I thought he had an interesting response while speaking with reporters Thursday. Via
Judd Zulgad of 1500ESPN.com
, Peterson said: "It's just me knowing my body. When I look in the mirror, I'm like, 'OK, my right leg is obviously bigger than my left.' I know it's not as strong as far as different things that I do. That's when I'll be able to tell, when I won't be able to tell the difference between the strength of both legs."
Fortunately for the Vikings, a less-than-100-percent Peterson is still a quite serviceable NFL running back. But the answer on when, or if, he will approach his pre-injury levels remains elusive.
Continuing around the NFC North: