February, 1, 2014
Feb 1
7:30
PM ET
Only the members of the Pro Football Hall of Fame selection committee know why former
Green Bay Packers
outside linebackers coach
Kevin Greene
came up short again in his bid for induction on Saturday.
Greene, who stepped away from coaching last month after a five-year stint with the Packers, probably has a good idea.
Not that he agrees with it.
But given the fact that of the NFL's top-five career sack leaders Greene is the only one not in the Hall of Fame, he seems aware of the perception that he was a one-trick pony during his 15-year career. That's something Greene vigorously disputed during an interview late last season.
"You know this position, there's three phases," Greene said at the time. "To be successful at this position, you've got to be able to do all three. You can't just do one, and really suck at playing the run and suck at covering people. It just doesn't jive at this position. If you have success at one of the areas of this position, chances are you're doing a pretty good job in the other two as well. So it is what it is."
Greene, who was a finalist each of the past three years, leads all NFL outside linebackers with 160 sacks, and ranks third on the list behind defensive ends Bruce Smith (200 sacks) and Reggie White (198), both of whom are in the Hall of Fame.
Chris Doleman, who is fourth on the all-time list with 150.5, also is in the Hall of Fame. Michael Strahan, who is fifth on the list with 141.5, was voted in on Saturday.
Greene made the cut from the 15 finalists down to 10, but did not make the cut to the final players to be voted on for this class.
"I can tell you first of all that I truly have a peace about what I was able to accomplish," Greene said late last season. "I know, really, inside, how I played and the time that I put in, the film that I studied. The countless hours on the field, in the workout room -- all those things. I've got a peace about that. It's not something I regret. Should I have done more? Could I have done more? No. I did everything I possibly could to try to be the best at the position in all three phases of the game. Not just one phase."
August, 2, 2012
8/02/12
1:20
PM ET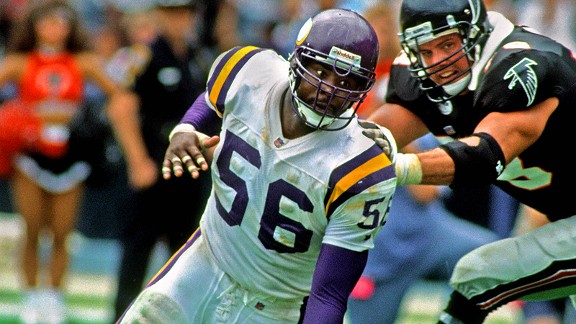 Manny Rubio/US PresswireChris Doleman had a knack for getting to the quarterback and jarring the ball loose.
Chris Doleman was a long-armed pass rusher with the height (6-foot-5) to match up with big left tackles and the speed to run around them. He retired in 1999 with 150.5 sacks, which at the time qualified as the second-most in NFL history, while playing two stints for the
Minnesota Vikings
.
What you might not know: Doleman also retired with the most forced fumbles of any player since the NFL began tracking the statistic. He forced 44 fumbles in 232 career games, and on the eve of his enshrinement in the Pro Football Hall of Fame, it might be Doleman's most enduring legacy.
As fun and momentum-shifting as a violent sack might be, Doleman was among the first to realize that pulling back a bit on the force provided a better opportunity to achieve a more impactful play.
"The era that I played in, we had some pretty good defensive linemen," Doleman said in a conference call this week. There was Bruce Smith. Reggie White. They had their own style. When I was at that defensive end position, I definitely wanted to be perceived as a pass-rusher. But would I be a speed rusher? A power rusher? A guy that takes plays off? One of the things I found I [had a knack for] was separating the quarterback from the ball.
"When you separate the ball from a running back, you just have a fumble. But for a quarterback, that's a sack and a fumble. That's a much bigger play. It wasn't about putting brutal hits on them, but controlling them and getting the ball from them."
As the chart shows, the recently-retired
Jason Taylor
passed Doleman on the all-time list, and the latest generation of pass-rushers have achieved a higher ratio of forced fumbles per game. Players like Taylor,
Dwight Freeney
and
Robert Mathis
made an art of reaching their hand toward the ball even when they're being blocked away from the quarterback. Doleman deserves his share of credit for proving the value of those efforts.
February, 4, 2012
2/04/12
6:56
PM ET
We spent plenty of time in recent days discussing
the tough road for wide receivers
making the Pro Football Hall of Fame. In the process, we ignored where the selection committee has turned its attention: pass-rushers.
Not one receiver made the last cut to five modern-day finalists in Saturday's balloting in Indianapolis. But former Minnesota Vikings defensive end Chris Doleman became the third consecutive NFC North pass-rusher
to earn enshrinement
, following Richard Dent in 2011 and John Randle in 2010. Former Minnesota Vikings receiver Cris Carter again failed to make the cut, a victim of the perceived value between pass-rushers and wide receivers.
[+] Enlarge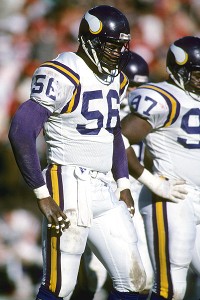 AP Photo/NFL PhotosNot only was Chris Doleman a sack specialist, but the former Vikings star is also among the NFL career leaders in fumble recoveries.
At least one pass-rusher has won election in each of the past five years. Bruce Smith and Derrick Thomas were part of the 2009 class, and Fred Dean was in the class of 2008.
Doleman's 150.5 career sacks rank fourth in NFL history, behind Smith (200), Reggie White (198) and Kevin Greene (160). Smith and White are both in Canton, and as of Saturday, five of the top eight players with the highest career sack totals have or will be enshrined. Greene, Michael Strahan (eligible in 2013) and the recently retired Jason Taylor (139.5) are the only players who have been left out.
(More on Greene, who didn't even make the cut from 15 finalists to 10, in the coming days.)
I don't want to take anything away from Doleman, who was a pass-rushing force for an extended period in the NFL. His two best seasons -- 21 sacks in 1989 and 15 sacks in 1998 -- came nine years apart. Doleman was part of four teams that finished the season with the NFL's top-ranked defense, recovered the seventh-most fumbles (24) in league history and was an eight-time Pro Bowler.
But with the exception of Greene, it's clear that sack totals are among the most reliable tickets to the Hall of Fame. Minutes after Doleman's election was announced, longtime Twin Cities sports analyst Patrick Reusse (also a colleague of mine at ESPN 1500)
tweeted
: "Apparently, it's all about sacks, since in his absolute prime, Doleman was 2nd best D-lineman on his team, behind Keith Millard."
To me, the definition of a Hall of Fame player is that he was one of the best of his era. Doleman was named to the NFL's 1990's All-Decade team, along with three other defensive ends. Was he one of the best players of that generation? He was if you accept that pass-rushing is as important as the voting committee considers it.
But enough of that. I'm not going to diminish Doleman's big day by questioning his credentials. There is little doubt he was a great player for a long time in this league.
Yes, the beauty of the annual Hall of Fame announcement is that it produces as much debate afterward as it did beforehand. Doleman is a Hall of Fame player because the voting committee places premium value on his particular skill set. (Again, Greene appears to be the lone exception to that rule.)
Carter isn't in the Hall of Fame because the voting committee doesn't value his position and corresponding statistics nearly as much. There are still only 21 receivers in Canton, the lowest total of any position other than tight end and kicking specialist. That's the deal -- no more and no less.
February, 5, 2011
2/05/11
8:56
PM ET
DALLAS -- Saturday was old hat for
Richard Dent
. For six of the past seven years, he sat idle while the Pro Football Hall of Fame selection committee passed on his candidacy. He passed through the expected phases of disappointment: From anger to frustration to confusion to tranquility.
[+] Enlarge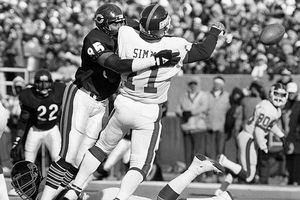 Jonathan Daniel/Getty ImagesOver 13 years, Richard Dent recorded 137.5 sacks and forced 37 fumbles.
It seemed hard to believe that any man of Dent's generational impact would be excluded indefinitely from the game's highest individual honor. So Dent jetted off to Las Vegas for a weekend of golf. What the heck? If it happened this year, great. If not, well, Vegas is nice this time of year.
Dent's patience was rewarded Saturday when he finally received his invitation. Coincidentally, it came 25 years after he was named the MVP of Super Bowl XX.
"I'm just so thankful," Dent said. "My daughter Mary called me and everything was happening just at that time, and I kind of went into tears. ... It's very appreciated and I'm very happy. It's been a long time coming."
Indeed, Dent was one of the most dangerous pass rushers of his era, beginning with the
Chicago Bears
in 1983 and finishing with the
Philadelphia Eagles
in 1997. He was part of two Super Bowl champions, retiring with the NFL's third-highest sack total (137.5) and the second-most forced fumbles by a defensive lineman (37) at the time.
Hall of Fame quarterback
Steve Young
, who worked as part of the NFL Network crew that announced Saturday's elections, suggested Dent transformed the game as one of the first ultra-athletic defensive ends who were just as comfortable rushing the passer as they were reaching up for an interception or poking the ball loose from the quarterback.
"I got a sense of that from watching [former
New York Giants
linebacker
Lawrence Taylor
]," Dent said. "He was the only other guy that was quick enough that he could decide whether to hit the guy or take the ball from him. If you're in it for yourself, you just care about sacks. But I kind of thought like him, that taking the ball away was the best thing because it got you off the field and getting turnovers."
In his most memorable game, Dent forced two fumbles and was credited with 1.5 sacks in the Bears' 46-10 Super Bowl XX victory over the
New England Patriots
. He is one of three defensive linemen in history to win MVP honors in the Super Bowl.
"You can get sacks," he said, "but if you want to take your game to the next level, it's all about turnovers."
Hall voters first tapped several other pass rushers from Dent's era, including Fred Dean,
Bruce Smith
and
John Randle
. The voting committee works in mysterious ways, but there was little doubt it would eventually happen for Dent. This was his year.
Note:
Dent is the 27th Bears players to be elected to the Hall of Fame, the highest number among NFL franchises.
February, 4, 2011
2/04/11
10:10
AM ET
DALLAS -- The Pro Football Hall of Fame voting committee will gather here Saturday morning to determine the class of 2011. Three players with significant NFC North ties are finalists: Receiver
Cris Carter
, defensive end
Richard Dent
and defensive end
Chris Doleman
.
Handicapping their chances for enshrinement requires the acknowledgment that two other finalists, cornerback
Deion Sanders
and running back
Marshall Faulk
, are widely considered to be locks for election. That leaves 13 men competing for three spots, and a tremendous campaign is under way to push NFL Films founder Ed Sabol into one of those positions.
Regardless of the politics involved, let's stay in our lane (for now) and consider our neck of the woods. The announcement is scheduled for Saturday at 7 p.m. ET.

Carter
Cris Carter
Key qualification:
When he retired after the 2002 season, he ranked second on the NFL's all-time list of receptions (1,101) and touchdowns (130).
Working against him:
Receivers historically have a tougher time than at other positions. There are currently 21 receivers in the Hall of Fame, fewer than running backs (27), quarterbacks (23), offensive linemen (35) and defensive linemen (28). I refuse to believe that Carter's at-times caustic personality has impacted anyone's view of his on-field performance. But you never know for sure. Carter also will be competing with fellow receiver
Tim Brown
on this ballot.

Dent
Richard Dent
Key qualification:
When he retired after the 1995 season, his 137.5 sacks ranked third all-time in the NFL, thanks in part to a run of five consecutive seasons with 10 or more sacks.
Working against him:
There is nothing from a statistical standpoint to argue for Dent's continued exclusion. But for whatever reason, he has been passed over by other 100-sack players like Fred Dean,
Bruce Smith
and
John Randle
in recent years. This year, he is competing against two others in Doleman and
Charles Haley
. Sometimes players get lost in the maze. In the end, you hope that voters decide Dent has waited long enough.

Doleman
Chris Doleman
Key qualification:
You might not realize it, but Doleman's 150 career sacks rank fourth all-time in the NFL. Only Smith,
Reggie White
and
Kevin Greene
had more.
Working against him:
He's competing with two other high-sack players in Dent and Haley who have more ballot tenure. Also, Greene's exclusion demonstrates that voters don't always reward sack totals in a vacuum.
February, 5, 2010
2/05/10
2:00
PM ET
FORT LAUDERDALE, Fla. -- There appear to be only two locks this year for the 2010 class of the Pro Football Hall of Fame, set to be announced Saturday. Based on informal conversations during this Super Bowl hype week, there is little doubt that receiver Jerry Rice and running back Emmitt Smith will get elected.

By definition, that means the three finalists with NFC North ties are on the bubble. So with a little more than 24 hours left until the 5 p.m. ET (Saturday) announcement, let's take a look at the pros and cons of each player's candidacy. In alphabetical order:

Cris Carter
Key qualification: When he retired after the 2002 season, he ranked second on the NFL's all-time list of receptions (1,101) and touchdowns (130).
Working against him: Receivers historically have a tougher time than other positions, and Rice is already a lock. There are currently 20 receivers in the Hall of Fame, less than running backs (25), quarterbacks (23), offensive linemen (34) and defensive linemen (27).

Richard Dent
Key qualification: When he retired after the 1995 season, his 137.5 sacks ranked third all-time in the NFL, thanks in part to a run of five consecutive seasons with 10 or more sacks.
Working against him: From a statistical standpoint, there's nothing to argue against here. Dent was a Hall of Fame player. In recent years, however, he seems to have fallen victim to competing against other 100-sack players like Fred Dean, Bruce Smith and John Randle. This year, Charles Haley will be added to that list. Sometimes those players cancel each other out in the eyes of some voters.

John Randle
Key qualification: Had more sacks (131) between the years 1991-2002 than any other NFL player.
Working against him: Has the exact career sack total as Dent (137.5), which means he falls in the same category: A player with Hall of Fame sack totals competing against others with similar qualifications. Not everyone gets in.
February, 3, 2009
2/03/09
4:00
PM ET
Posted by ESPN.com's Kevin Seifert
I admit it. I clicked on this podcast to see if there were any hints of bitterness from former Minnesota receiver Cris Carter, who was excluded Saturday from the annual Pro Football Hall of Fame class for the second consecutive year.
I listened closely to a guy who doesn't usually have a problem speaking his mind. But Carter's reaction was classy, genuine and confident at the same time. Here's the full transcript of what he said this week on ESPN's "Mike and Mike in the Morning" radio show (emphasis is mine):
(Asked his feelings now that two years have gone by without getting into the Hall)
"Well, I ain't going to get no better next year, either [laughing]. I don't plan on having a big year. So it might be tough next year. Man, at this stage, I've been hanging out with [Mike] Golic and eating and everything. The thing about the Hall of Fame is, really, the news is not me not getting in. The news is the class that is going in -- all guys that did deserve to go in.
"I would probably start with my teammate Randall McDaniel, who was a dominant, consistent player. Undersized. Phenomenal teammate. He's everything you want in a teammate. He's everything you want in a Hall of Famer. ... I played with him for 10 years. He made the Pro Bowl every year. There was no down that I played with him that I didn't know I was playing with a Hall of Famer. Just like when you play with Reggie White.
"And Ralph Wilson Jr., him getting in, 90 years old. Give the man a chance to enjoy it. He should have been in. He's one of the pioneers and why we have success in the National Football League. The story is not me not getting in. The story is celebrating these guys: Bruce Smith, Rod Woodson, who I competed again. Bob Hayes, who finally got in. His sister was there. Big Derrick Thomas -- we saw him, Golic, unbelievable player.
"The story is not me. It's really not. I've done all I can do. Whenever the Hall of Fame calls, I'm pretty certain I'm going to answer."
February, 1, 2009
2/01/09
1:18
PM ET
Posted by ESPN.com's Kevin Seifert
One NFC North alumnus (guard Randall McDaniel) got into the Pro Football Hall of Fame on Saturday while another (receiver Cris Carter) absorbed a significant snub. Here's another disappointment that didn't get quite as much attention on Sunday: Defensive end Richard Dent, who was turned away for the fifth consecutive year.
Dent finished his career with 137.5 sacks, which at the time ranked third in NFL history. He made it past the first round of cuts Saturday, an advance that Brad Biggs of the Chicago Sun-Times considers an important milestone. But Dent, in an interview with David Haugh of the Chicago Tribune, seemed to take the news pretty hard.
"I don't feel much at all," Dent said. "I'm just numb to the situation. I really don't have much to say."
Dent has lost out to four other pass-rushers in the past two years: Fred Dean, Andre Tippett, Bruce Smith and Derrick Thomas.
Continuing around the NFC North on Super Bowl Sunday:
Minnesota has approached Fox Sports reporter Jay Glazer for help in getting quarterback Tarvaris Jackson involved in a mixed martial arts program. But Jackson doesn't seem too interested. Asked by Sean Jensen of the St. Paul Pioneer Press, Jackson said: "Nah. I'm not planning on it."
Detroit was focusing its personnel search on former Jacksonville executive James "Shack" Harris late last week, and now it seems likely that Harris is the Lions' choice. Nicholas J. Cotsonika of the Detroit Free Press confirms the hire.
Former Lions offensive lineman Mike Utley, paralyzed during a 1991 game, was a guest of Pittsburgh executive Kevin Colbert at the Steelers' practice Saturday. Colbert worked for the Lions front office earlier in his career.

January, 7, 2009
1/07/09
11:30
AM ET
Posted by ESPN.com's Kevin Seifert
This year's Hall of Fame ballot includes four players with NFC North ties, a list headed by former Minnesota receiver Cris Carter. What are the chances of a Black and Blue representative heading to Canton this summer? Let's take a look at each player:
Wide receiver Cris Carter
Pros: Retired in 2002 with the second-most receptions (1,101) in NFL history. Only player in NFL history with two seasons of 120-plus receptions.
Cons: Not many. His exclusion last year was a surprise and attributed to some voters' desire to protect "first-ballot" designations.
Chances in 2009: High.
Defensive end Richard Dent
Pros: Retired in 1997 with 137.5 sacks, which at the time ranked third in NFL history. Won two Super Bowls, including the MVP in Super Bowl XX. Was one of the key elements in the "46" defense that dominated the game in the mid 1980's.
Cons: Named to the Pro Bowl in only four of 13 seasons, raising the question of the longevity of his dominance. Has been eligible since 2003 and is competing with a shoo-in, all-time sacks leader Bruce Smith.
Chances in 2009: Moderate.
Guard Randall McDaniel
Pros: Nine-time All-Pro and 12-time Pro Bowler. Technique and athleticism made him one of the best guards of his era.
Cons: Quiet demeanor and distaste for campaigning has made him easy to overlook. This year, competing with two other guards on the final ballot: Russ Grimm and Bob Kuechenberg.
Chances in 2009: Moderate.
Defensive lineman John Randle
Pros: Coincidentally finished career with Dent's exact sack total of 137.5 sacks. Six-time All-Pro and seven-time Pro Bowler. Played tackle and end during his career.
Cons: Competing with Smith, who finished career with 63 more sacks during the same approximate era. First appearance on ballot.
Chances in 2009: Unlikely.