NFC North:

Byron Leftwich
August, 15, 2010
8/15/10
9:00
AM ET
All four NFC North teams made their preseason debuts Saturday night. Hooray and yippee.
As we
discussed last week
, preseason games don't rank high on my list of NFL excitement. But I understand not everyone feels this way, so what follows is an attempt to reasonably account for each game while giving direction to those seeking more information. We'll tweak and continue this format throughout the preseason.
San Diego Chargers 25, Chicago Bears 10
Preseason record:
0-1

Of interest:
Quarterback
Jay Cutler
played only one series and threw only two passes, but it was notable that both went to receiver
Johnny Knox
. Early in training camp,
Cutler clearly was favoring Knox
, and many people around the NFL consider Knox the Bears receiver who best fits this offense. On the other side of the ball, the Bears had to be happy with rookie safety
Major Wright
's debut. In limited action, he was credited with seven tackles before leaving with a left hand injury. And, finally we heard from the long-forgotten
Al Afalava
. The 2009 starter intercepted a pass, but also appeared responsible for a blocked punt when he let San Diego's
Brandon Lang
pass into the backfield easily.
Local coverage:
Wright had a "pad-popping" debut, according to
Michael C. Wright of ESPNChicago.com
. Special teams coordinator Dave Toub is still looking for the right combination, writes
Jeff Dickerson of ESPNChicago.com
. Offensive coordinator Mike Martz went with a vanilla approach, writes
Sean Jensen of the Chicago Sun-Times
. Backup quarterback
Caleb Hanie
suffered a right shoulder injury of undetermined severity, according to
Brad Biggs of the Chicago Tribune
.
Next:
Saturday vs.
Oakland Raiders
Pittsburgh Steelers 23, Detroit Lions 7
Preseason record:
0-1

Of interest:
The Lions' new defensive line performed as advertised. Right end
Kyle Vanden Bosch
got to Steelers quarterback
Byron Leftwich
twice, forcing poor throws, and left end
Cliff Avril
had a sack.
As we discussed during our camp tour
, that's the kind of game-to-game performance the Lions' defense will need to improve this season. Quarterback
Matthew Stafford
's interception came off a rushed, high pass that was tipped by his receiver. Call it a wash. On the other hand, his 2-yard touchdown pass to
Calvin Johnson
clearly reflected elevated communication.
Local coverage:
Running back
Jahvid Best
's quickness was as advertised, writes
Drew Sharp of the Detroit Free Press
.
Chris McCosky of the Detroit News
: "Several of the players and position groups the Lions are counting on to push them toward respectability made encouraging first impressions Saturday. However, there were still too many remnants of the old horror show on display." The Lions lost linebacker
Jordon Dizon
(knee) for the season, according to
Tom Kowalski of Mlive.com
.

Next:
Saturday at
Denver Broncos
Cleveland Browns 27, Green Bay Packers 24
Preseason record:
0-1

Of interest:
You're reading this right: The Packers' starters were down 14-0 midway through the first quarter of this game. And I wouldn't say their defense was playing vanilla schemes, either. I know I saw cornerback
Charles Woodson
on at least one blitz. Take that for what you will. More concerning to me was the night of tailback
Ryan Grant
, who lost a rare fumble on his first carry and later stumbled to the sideline after a head injury. It's not believed serious, but it was a reminder of the Packers'questionable depth behind him. Oh, and quarterback
Aaron Rodgers
completed 12 of 13 passes for 159 yards. Ho hum.
Local coverage:
Pete Dougherty of the Green Bay Press-Gazette
: "[T]he Packers were looking to be better than they showed entering their second year in defensive coordinator Dom Capers' 3-4 defensive scheme." The Packers' performance "made it clear that the team has some work to do before making travel plans for Dallas in February," writes
Jason Wilde of ESPNMilwaukee.com
.
Tom Silverstein of the Milwaukee Journal Sentinel
: "There's no shame in giving up an 80-yard drive to crafty veteran
Jake Delhomme
, who probably will be the Cleveland Browns' starting quarterback opening day, but when your starters give up 162 yards and three touchdowns, it makes it look as though you've been pussyfooting around all summer."
Next:
Saturday at
Seattle Seahawks
Minnesota Vikings 28, St. Louis Rams 7
Preseason record:
1-0

Of interest:
Six players didn't make the trip because of injury, and two others -- middle linebacker
E.J. Henderson
and running back
Adrian Peterson
-- were in uniform but didn't play. The Vikings followed through on their plans to play quarterback
Sage Rosenfels
for most of the game, but to me it was odd that
Tarvaris Jackson
, who would be the team's starter if
Brett Favre
retires, got only one series. Doesn't he need more repetitions? And even though Rosenfels finished with 310 yards and three touchdowns, television cameras caught Brad Childress giving him an animated, one-sided coaching point in the first quarter.

Local coverage:
Rosenfels downplayed his discussion with Childress and a separate incident with offensive coordinator Darrell Bevell, according to
Bob Sansevere of the St. Paul Pioneer Press
.
Chip Scoggins of the Star Tribune
: "With their stars either in Mississippi, on the sideline or sitting at home, the Vikings early on looked like a team playing its first preseason game without its best players." Rosenfels exploited blown coverages, according to
Tom Pelissero of 1500ESPN.com
.
Next:
Aug. 22 at
San Francisco 49ers
April, 21, 2010
4/21/10
9:00
AM ET
»
NFC Draft Tale
:
East
|
West
|
North
|
South
»
AFC
:
East
|
West
|
North
|
South
Entering the 2003 draft, Minnesota targeted
Kevin Williams
, a little-known defensive tackle from Oklahoma State. The team's decision-makers were convinced Williams would be an elite playmaker, and they were equally confident there were few other teams in the draft's top 10 who thought the same way.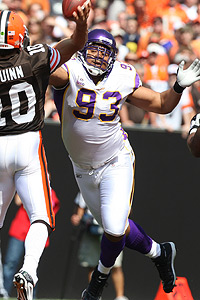 Matthew Emmons-US PRESSWIREThe Vikings almost missed out on drafting Kevin Williams in the 2003 draft.
The Vikings' master plan was to trade down from their No. 7 overall position and still snag Williams later in the first round. That was music to the ears of then-owner Red McCombs, who had placed severe financial restrains on a franchise he was hoping to sell. McCombs figured to save millions of dollars by trading down.
Trade discussions heated up as the Vikings' 15-minute window opened on draft day. Team officials were close to completing a trade with Baltimore, allowing them to move down two spots to No. 9 overall. The Ravens reportedly wanted to draft quarterback
Byron Leftwich
.
With about a minute left in the window, however, the Vikings still hadn't confirmed the trade. They had reported it to the appropriate league official but the Ravens had not, later saying the phone line had been busy.
Panicked, team officials wanted simply to draft Williams at No. 7 overall. But according to reports, a McCombs representative in the draft room ordered trade discussions to continue.
In the confusion, the Vikings' time expired. Jacksonville, holding the No. 8 pick, leapfrogged them to select Leftwich. Carolina jumped up and took tackle
Jordan Gross
before the Vikings finally nabbed Williams at No. 9.
The mistake could have been more damaging, but the Vikings had been correct: Neither the Jaguars nor the Panthers were interested in Williams.
March, 13, 2009
3/13/09
11:00
AM ET
Posted by ESPN.com's Kevin Seifert
Sean of St. Paul is one of several readers who is surprised by; (A) Chicago's apparent lack of interest in pursuing a veteran backup quarterback and; (B) that Byron Leftwich hasn't received any interest -- from the Bears or elsewhere:
I think Byron Leftwich is a good quarterback with lots of years left in him. While he's had some ups and downs, he would be a quality quarterback to have on any team. Why haven't the Bears pursued him at this point?
It's surprising to see Leftwich sitting idle while the likes of Dan Orlovsky, Ryan Fitzpatrick, J.T. O'Sullivan and others have signed new contracts. (And Leftwich is not the only one: See the charts for this month's transactions and non-transactions.)
But when you look at it, there are at least three distinct market timings for free agent quarterbacks.
The first is just as free agency begins, when teams looking for a new starter scramble for the one or two top-tier quarterbacks available. (See: Matt Cassel.) Then there is a market for players who are strictly backups and would not challenge the team's established starter. (See: Orlovsky, Fitzpatrick and O'Sullivan.)
Then it starts getting interesting. The quarterbacks remaining on the market now must decide how long they're willing to wait. Typically, the market expands a bit late in the spring and into the summer when a handful of teams' plans change -- or are changed. Some grow dissatisfied with their depth chart after offseason workouts. Others experience an injury early in training camp or in the preseason.
Leftwich has bounced around since Jacksonville released him, but he adjusted quickly to Pittsburgh's system after joining the Steelers late in training camp last year. Waiting until the summer can be nerve-wracking, but ultimately it can put the player in better position either to get on the field or otherwise play a significant role in the upcoming season.
I don't have an explanation for why no team has pursued Leftwich to this point. Are they concerned he won't view himself as a compliant backup in the way Orlovsky, Fitzpatrick and others would? Possibly. It also should be noted that the Steelers haven't re-signed the other candidate to back up Ben Roethlisberger in 2009, Charlie Batch. At this point, Leftwich's most fruitful route might be patience.

As for the Bears, coach Lovie Smith said last month that he felt comfortable entering training camp with Caleb Hanie and Brett Basanez competing for the No. 2 job behind Kyle Orton. Smith might have a different opinion after minicamp next week, or possibly after the April draft. But as long as there is a glut of free agents available, there isn't a huge urgency for the Bears to get a veteran backup onto their roster.
The only downside arises in a diminished span of offseason work. A quarterback who joins his team after minicamp and Organized Training Activities faces a steeper learning curve when training camp opens. But is that challenge worth rushing into a contract agreement for either side? I don't think so.
March, 9, 2009
3/09/09
6:55
AM ET
Posted by ESPN.com's Kevin Seifert
Hope everyone had a pleasant weekend. It was decidedly quiet in these parts after Friday's flurry of moves.
Yes, the second tier of NFL free agency has begun. The big names are off the board, and now teams are filling in their depth and shifting gears to the draft. The college Pro Day schedule is kicking into gear, and executives like Minnesota vice president Rick Spielman plan to hit the road Monday.
What's left? You have to imagine that Chicago will address its right tackle position in some way, most likely by re-signing free agent John St. Clair. Green Bay will continue to sift through the rubble for players with experience in the 3-4 defense. They still have interest in free-agent linebacker Kevin Burnett.
Detroit, meanwhile, has indicated an interest in adding to its quarterback depth. Will the Lions help release the logjam of veterans available on the free-agent market, a group that includes Jeff Garcia, Rex Grossman, Byron Leftwich, J.P. Losman and others? And will the Bears join that pursuit or settle in with Caleb Hanie as their No. 2 quarterback? Those are some of the questions we will be following this week.
But first, let's catch up on the highlights of NFC North weekend coverage:
Tom Silverstein of the Milwaukee Journal Sentinel wonders if Packers cornerback Tramon Williams will hold out for a multiyear contract this offseason. Williams is an exclusive rights free agent, which means his contract has expired but he is not eligible to sign with another team. It's the same situation Packers running back Ryan Grant found himself in last offseason.
Tim Froberg of the Appleton Post-Crescent wants an apology from former Packers offensive lineman Tony Mandarich, who has admitted to steroid use during his playing days.
It's pretty clear Minnesota has no interest in re-signing safety Darren Sharper. Judd Zulgad of the Star Tribune wonders where Sharper will end up.
As it turns out, tight end L.J. Smith did visit Detroit last week. Carlos Monarrez of the Detroit Free Press reports Smith hasn't ruled out signing with the Lions.
Jerry Green of the Detroit News debunks, once and for all, the "curse" of Bobby Layne.
Mitch Albom of the Detroit Free Press on former Lions defense end Corey Smith: "I have been more stung by the thought that someone I met -- not a friend, not a close associate, just someone I spoke with a few times -- suddenly could be whisked away, not even a body to confirm the death. He's here. Then he's gone?"
Brad Biggs of the Chicago Sun-Times is confident the Bears will soon sign St. Clair.

February, 21, 2009
2/21/09
2:23
PM ET
Posted by ESPN.com's Kevin Seifert
INDIANAPOLIS -- A day after one NFC North coach suggested he is satisfied with the status quo at quarterback, another expressed similar sentiments.
Chicago's Lovie Smith went out of his way Saturday to say he would be comfortable entering training camp with an inexperienced backup for starter Kyle Orton. His roster currently includes Orton, second-year player Caleb Hanie and newcomer Brett Basanez. Asked if he would be fine with that trio in 2009, Smith said:
"Yes I would," Smith said. "I mean, everybody wants a veteran. And that's good. And who knows? We haven't shut the door on any of our positions right now. But I think sometimes you have to go with young talent. Of course, Brett has played a little bit in the league. And what I saw from Caleb Hanie last year, it gets you excited."
The Bears have been connected in media reports to a handful of veteran free agents, including Byron Leftwich and Chris Simms. It's always possible that Smith is positioning the Bears to reduce the leverage of any veteran they might enter into negotiations with. And on follow-up, Smith didn't rule out pursuing a veteran, saying: "In the offseason we don't shut the door on anyone."
If necessary, however, Smith is ready to let Basanez and Hanie compete for the No. 2 position this summer.
February, 20, 2009
2/20/09
3:15
PM ET
| | |
| --- | --- |
| | |
| | AP Photo/Andy King |
| | Brad Childress indicated on Friday that the Vikings are considering bringing back QB Gus Frerotte to compete with Tarvaris Jackson. |
Posted by ESPN.com's Kevin Seifert
INDIANAPOLIS -- Forgive my geekdom, but as I considered Minnesota's quarterback situation Friday, I couldn't stop thinking of a phrase we had to learn in middle school Latin:
Morturi te salutamus.
(Translation: We who are about to die salute you.)
Whoops! Not that one.
Let's try again:
Tempus iter nunc.
(Translation: The time of the journey is now.)
Yes, the Vikings are on the verge of the most important offseason decision in their recent history: Should they give quarterback Tarvaris Jackson another chance to prove he can be their long-term starter? Or do they acquire a veteran to replace him and guide an otherwise skilled roster for the next few years?
On the second full day of the annual scouting combine, Vikings coach Brad Childress came as close as he ever will to tipping his hand. Childress said he wants to create training camp competition for the position, but his first candidate for Jackson's foil is the man who finished the 2008 season as Jackson's backup.
Childress confirmed has had multiple conversations in recent weeks with veteran Gus Frerotte, who went 8-3 as a starter in 2008 but expressed public displeasure when Childress re-established Jackson as the starter in December. There have been indications that Frerotte might seek his release or retire, but Childress said there is an "open door" for Frerotte to return and said, "That could be the source of the competition."
Whether or not Frerotte agrees to the arrangement -- and I have my doubts about how authentic the competition would be -- it seems clear the Vikings have no interest in pursuing a blockbuster deal to find a new starter. That would seem to rule out a run at New England's Matt Cassel, and as of Friday the team had displayed no indications it would pursue pending free agent Jeff Garcia.
In fact, during an extended interview with a small group of reporters, I asked Childress if he could envision a scenario in which the Vikings would pursue a player to be their new and unquestioned starter. Childress paused several seconds and said: "There might be." Then, he added: "But right now I would be honest with you and tell you I wouldn't know who that person would be."
A day earlier, Vikings vice president Rick Spielman also downplayed the Vikings' realistic chances of finding a new starter:
"I think you ask yourself this: How many quarterbacks do you face in a year that you are actually scared of playing? There's maybe a handful that you say, 'Yeah, this guy can carry a team for you.' But if there's a guy that's unique out there and you think he's going to be out on the free-agent market ... the last guy that was o
ut there was Drew Brees and he had a shoulder [injury]. Quarterbacks don't get out there that are unique."
So let's quickly review. Without mentioning Cassel, Garcia or Cleveland's Derek Anderson by name, the Vikings' top two decision-makers are on record saying they don't believe there is a difference-making quarterback available to them. And their first option is to make no changes to their 2008 depth chart.
There's only one conclusion to draw.
The Vikings are giving Jackson another chance.
This decision is borne of the mentality that could allow Jackson to enter three consecutive training camps as the Vikings' most likely starter. Childress believes deeply both in Jackson's ability and his own history in developing quarterbacks. He noted Friday that "we need him [Jackson] to improve" but quickly added: "I believe he will."
This quote neatly encapsulates Childress' thoughts on the situation:
"I think [Jackson] gave some glimpses coming in off the bench and doing the things he did. Obviously he needs to eliminate some of those turnovers. We need him to change that touchdown-to-turnover ratio. And then we need to put somebody in place that will push him and compete with him, and I think competition is the nature of the game. At some places it may not be ... [but] in our situation we need to have a good healthy competition because I think that makes everybody better."
Some optimists will read that quote and believe Childress will simply pick the best training camp performer to start. But Childress made clear at the end of last season that he believed Jackson gave the Vikings a better chance to win than Frerotte.
So I think it's only fair to question how legitimate a summer competition between Jackson and Frerotte would be. Wouldn't Jackson need to slump badly to change the dynamic? And if it's not Frerotte, who could the Vikings sign to bring true competition? Chris Simms? Byron Leftwich, who has never played in a West Coast offense? Kerry Collins, who has already been promised Tennessee's starting job?
Childress said "it's up to me" to facilitate a fair fight. But knowing Childress' history with Jackson and the Vikings' desire to lock down the position long term, well, it's only fair to conclude Jackson is the odds-on favorite.
I asked Childress what he would say to convince Frerotte that he wouldn't face a stacked deck. Childress offered a winding answer, but it boiled down to this: "We've always had a relationship based on honesty."
In other words, Childress will ask Frerotte -- or whichever other veteran the Vikings ultimately bring in -- to take his word. The journey has already begun.
February, 10, 2009
2/10/09
6:59
AM ET
Posted by ESPN.com's Kevin Seifert
Hi there. As we move into this fine Tuesday, I'll be working on a few projects that will limit the frequency of posting Tuesday morning and early afternoon. I expect to be back at full blogging strength by mid-afternoon. Please plan your day accordingly.
Among other tasks, I'll be searching out some of the blogroll information you requested after last week's post. To review, we have the ability to link to reference material or other areas of note along the right hand side of this blog. The list has slowly been growing. If you haven't already, let me know in the mailbag what you'd like to see. I'll accommodate as much as I can.
For now, let's take a quick tour through most of the NFC North:
January, 29, 2009
1/29/09
6:51
AM ET
Posted by ESPN.com's Kevin Seifert
Two of the more prominent names circulating as possible quarterback targets for Chicago are pending free agents Chris Simms (Tennessee) and Byron Leftwich (Pittsburgh). Brad Biggs of the Chicago Sun-Times takes the pulse of both situations in his Inside the Bears blog.
Leftwich is two years removed as a starter. But speaking to reporters in Tampa this week, he said his year with the Steelers has made him a better quarterback:
"Just picking up from a Pro Bowl quarterback like Ben [Roethlisberger], the way he does things. And just being around good football players, any time you are around good football players, the Troy Polamalus and Hines Wards, you become a better player by understanding guys who have been in this league longer than you and what they do on a day-to-day basis."
Meanwhile, Simms' father said he is unaware of any interest the Bears might have in his son but said he is the "wrong guy to ask." Phil Simms, who was in Tampa this week as part of his broadcasting duties with Inside the NFL, also said he believes that potential free agents won't view Chicago as a place they can go to win a job:
"I was on the record all year, I know Kyle Orton. I followed him through college, I saw him early with the Bears and I thought he grew up. He was a different-looking guy this year. I thought he had a little moxie to him. There is a little something he has that I like. Whoever goes in there, it would be awfully tough to think that you're going to take Kyle Orton's job. I know that.''
Orton will be the Bears' starter in 2009, but backup Rex Grossman is likely to depart and the Bears probably don't want to enter training camp with second-year player Caleb Hanie as their backup. Simms is right: Whomever Chicago signs will almost certainly be in line for a role as a strict backup.
Continuing around the NFC North on a Thursday morning:
January, 23, 2009
1/23/09
7:09
AM ET
Posted by ESPN.com's Kevin Seifert
If Chicago officials are looking for a blue-chip quarterback, they weren't likely to find it at the Senior Bowl this week, reports Mike Mulligan of the Chicago Sun-Times.
Two of the top quarterback prospects, Georgia's Matt Stafford and USC's Mark Sanchez, didn't attend and thus couldn't be evaluated. Mulligan suggests the Bears remain most likely to seek a mid-level veteran quarterback this offseason to back up Kyle Orton rather than draft a high-caliber rookie.
Free agents Chris Simms and Byron Leftwich are two likely targets, with Simms the "clear leader," Mulligan reports. The Bears are certain to allow Rex Grossman to depart via free agency.
Continuing around the NFC North on a Friday morning:
January, 12, 2009
1/12/09
7:19
AM ET
Posted by ESPN.com's Kevin Seifert
Green Bay apparently has missed out on its top candidate to replace defensive coordinator Bob Sanders.
Mike Nolan, the first known candidate to interview for the job last week, will be hired as Denver's defensive coordinator under new coach Josh McDaniels, according to Adam Schefter of NFL.com. That means that Packers will shift their attention to former Jacksonville defensive coordinator Gregg Williams, who also interviewed with Packers coach Mike McCarthy and likely is weighing offers from other teams as well.
According to Greg A. Bedard and Tom Silverstein of the Milwaukee Journal Sentinel, the Packers are also considering Philadelphia defensive backs coach Sean McDermott, who cannot be hired until after the Eagles' season ends.
No one is commenting yet on the Nolan situation. Did he turn down an offer from the Packers? Did McCarthy's interest cool after the interview? The answers to those questions are unknown. All we know for sure is that Nolan won't be the Packers' next defensive coordinator.
Continuing around the NFC North on a manic Monday: