NFC North:

C.J. Fiedorowicz
May, 9, 2014
5/09/14
1:15
PM ET
GREEN BAY, Wis. -- Armed with three selections on Day 2 of the NFL draft, the
Green Bay Packers
are spending the day plotting their strategy for picks Nos. 53 (second round), 85 and 98 (both in the third round).
After taking Alabama safety
Ha Ha Clinton-Dix
in the first round -- a move that ESPN draft analyst Mel Kiper Jr. called
one of the winners of Day 1

-- the Packers reset their draft board to reflect the best players still available.
If their grades on the players still available at 53, 85 and 98 fit their needs, here is who they might consider:
Linebackers
:
Notes:
Borland, Brown and Skov would all project as inside linebackers in the Packers' 3-4 scheme. Kiper Jr. ranked Van Noy, an outside linebacker, as
the fifth-best player still available

, and Borland as the 12
th.
In his
second-round mock draft

, Kiper Jr. predicted Borland to the Packers at No. 53. He wrote: "This would be a steal. He's not a physical freak, but Borland is a football freak. Slots in next to A.J. Hawk."
Tight ends
:

Amaro
Notes:
If the Packers are going to get an impact tight end, they probably need to do it on Friday, because the drop off after these four is significant. Seferian-Jenkins and Amaro are receiving tight ends in the mold of
Jermichael Finley
, while Fiedorowicz and Niklas are more traditional players. Scouts Inc. has the Packers taking Amaro in its
updated second-round mock draft

.
Receivers
:
Lee
Notes:
Lee could be one of the first players off the board when the draft resumes, so it's unlikely the Packers would be in position to take him unless they traded up. Keep in mind that they cannot trade No. 98 because it is a compensatory pick at the end of the third round. Lee and Landry are smaller receivers in the 5-foot-11 range, and Ellington is even smaller at 5-9 3/8. The Packers might want to go bigger at this spot, because they already have a dynamic slot receiver in
Randall Cobb
.
Centers:
Notes:
The Packers are high on second-year pro
JC Tretter
as their possible next starting center, but the former collegiate tackle has yet to play an NFL snap at any position. There is a good chance all of these centers will be available at No. 53, with Martin and Richburg as likely late second-round picks who also could slip into the third round.
May, 2, 2014
5/02/14
12:30
PM ET
GREEN BAY, Wis. -- The last time the
Green Bay Packers
had four picks in the first 100 selections of the NFL draft, they came away with two quality starters and two players who never made an impact.
That was 2008, when they drafted receiver
Jordy Nelson
(No. 36 overall), quarterback
Brian Brohm
(No. 56), cornerback
Pat Lee
(No. 60) and tight end
Jermichael Finley
(No. 91).
General manager Ted Thompson will take a similar haul into this year's draft. With the addition of a third-round compensatory pick, the Packers have pick Nos. 21, 53, 85 and 98 in the first three rounds.
"It's good," Thompson said during his pre-draft news conference this week. "If we could, we'd have more. More is better. It gives you better odds. It wouldn't be any different if it were this year or last year or the year before or that sort of thing."
Can Thompson do better in the top 100 than he did in 2008? Nelson and Finley became major contributors while Brohm flamed out and Lee was only a short-term backup.
On Thursday night, ESPN draft analysts Mel Kiper Jr. and Todd McShay went through the top 100,
selecting players for teams
as if they were in charge of the draft rooms.
For the Packers, they came away with this:
Kiper and McShay alternated picks, so it worked out that McShay made the Packers' first three selections, while Kiper picked their fourth.
Looking at the first round, the top two safeties were both off the board before the No. 21. Kiper had Louisville's
Calvin Pryor
at No. 14 to the
Chicago Bears
and Alabama's
Ha Ha Clinton-Dix
gone two picks later to the
Dallas Cowboys
.
In picking Mosley, McShay said he had Mosley rated as the 12th-best player on his board and called him a relentless, tough playmaker. What isn't known is how the Packers feel about Mosley from a medical standpoint. There are concerns about a knee injury, which kept him from running at the combine, and other injuries during his college career.
If the Packers don't feel comfortable with Mosley's medical history but still want a linebacker at that spot, they could go with Ohio State's
Ryan Shazier
. McShay had Shazier at No. 31 to the
Denver Broncos
.
Nix has been described as a perfect 3-4 nose tackle.
"This is a value pick, as Nix merits late first-round consideration," McShay said. "Between first-rounder C.J. Mosley and Nix, we've now drafted the No. 12 and No. 30 players on my board, respectively, at No. 21 and No. 53."
Vereen and Fiedorowicz would fill clear holes at safety and tight end, respectively. However, waiting until late in the third round to address safety seems a little late considering that might be the Packers' greatest need in this draft.
April, 3, 2014
4/03/14
12:15
PM ET
The
Green Bay Packers
have four picks in the first 100 selections of the upcoming NFL draft -- something they haven't had since 2008, when they drafted receiver
Jordy Nelson
(36th), quarterback
Brian Brohm
(56th), cornerback
Pat Lee
(60th) and tight end
Jermichael Finley
(91st).
If draft analyst Mel Kiper were in charge of the Packers' draft room, he'd find plenty of defensive help along with an intriguing tight end prospect. In an ESPN Insider exclusive, Kiper put a different twist on the mock draft. Rather than predicting who he thinks the Packers will pick, he detailed who he would pick if he were in charge.
February, 21, 2014
2/21/14
8:00
AM ET
INDIANAPOLIS -- One by one, the top tight ends in this year's NFL draft rolled through Lucas Oil Stadium as part of Thursday's interview session at the scouting combine.
There was
Eric Ebron
of North Carolina,
Jace Amaro
of Texas Tech,
Austin Seferian-Jenkins
of Washington,
Troy Niklas
of Notre Dame,
C.J. Fiedorowicz
of Iowa and on and on.
Most, if not all, were asked which NFL tight end they admired, emulated or resembled.
For some, like Ebron, it was
San Francisco 49ers
tight end
Vernon Davis
.
[+] Enlarge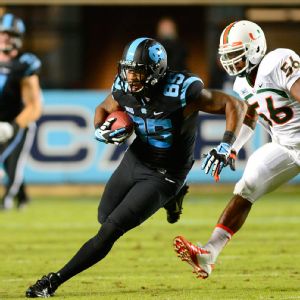 Bob Donnan/USA TODAY SportsCarolina likely would have to trade up in the first round of the NFL draft to have a shot at selecting Eric Ebron.
For others, like Amaro and Fiedorowicz, it was the New England Patriots'
Rob Gronkowski
.
For Seferian-Jenkins, it was the New Orleans Saints'
Jimmy Graham
and the Denver Broncos'
Julius Thomas
, who like him had a background in basketball.
Not one of them, however, mentioned
Jermichael Finley
.
Yet if the
Green Bay Packers
don't bring back their starting tight end, which is a likely course of action given his neck injury and his expiring contract, one of those players could become the next Finley.
Most of the top tight end prospects said Thursday that they had either visited with the Packers or planned to talk with team representatives this week at the combine.
So too will Blake Baratz, the agent who represents Finley, but the Packers may have already decided that Finley's neck fusion surgery was too much of a risk to bring him back. If that's their plan, then there are plenty of viable options in this draft, which features playmaking tight ends of all sizes.
It starts with the 6-foot-4, 250-pound Ebron, who likely will be the first tight end taken in the draft and could be gone before the Packers pick at No. 21.
"I'm very fast; I'm very different," said Ebron, who along with the other tight ends will do their on-field testing this weekend. "I play the tight end role like no one else."
In some ways, he plays it like Finley, whose physical presence is similar to Ebron's.
Amaro (6-5, 255) is as much receiver as he is tight end. Most of last season, when he caught 106 passes for 1,352 yards (the NCAA record for a tight end), he played standing up away from the line of scrimmage.
"That's why I'm so unique," Amaro said. "It's kind of a revolution into the game and how the tight ends are coming in across the board. I like to see myself as both a tight end and a receiver."
But can he block?
That's not an issue with Fiedorowicz (6-5½, 265), who was more of a blocking tight end in Iowa's run-heavy offense.
"A lot of tight ends in the NFL are either blocking tight ends or receiving tight ends," Fiedorowicz said. "I like watching Rob Gronkowski. He can dominate both the line of scrimmage and down the field."
Seferian-Jenkins (6-5, 262) said he was asked to do both last season at Washington, where he played basketball as a freshman.
"At the tight end position, you've got a lot of great players [in this draft]," he said. "But what I think I do is if you watched me play, I split out and played receiver. I've done fullback. I've played in line. I think I've showed I'm very capable of being a playmaker down the seam and run regular routes as a receiver, and I've shown the capability of being a blocker."
Niklas (6-6½ , 270) might be the biggest bruiser of this bunch. He began his college career as an outside linebacker.
"I can block, and I enjoy blocking," Niklas said. "I think it's something I can use to my advantage."
Further down the tight end pecking order is Jacob Pedersen of Wisconsin. He grew up just north of Green Bay in Michigan's Upper Peninsula. He's a late-round prospect who would love the chance to be the Packers' next tight end.
"Growing up 45 minutes away from Green Bay, obviously it'd be a childhood dream to play for your home team," said Pedersen, one of six Badgers invited to the combine. "But I'm just hoping to get drafted by a team. Whoever takes me, they're going to get my best effort."