NFC North:

Cameron Jordan
April, 23, 2011
4/23/11
9:00
AM ET
If this week's
return of "Have at It"
is any indication, most of you are hoping the
Minnesota Vikings
and
Detroit Lions
pass on Clemson defensive end
Da'Quan Bowers
if he slides out of the top 10 of the draft. The Vikings are scheduled to pick No. 12 and the Lions have the No. 13 pick.
Our friends at Scouts Inc. rank Bowers as the best outside pass rusher available, but a few of you are concerned about Bowers' recent right knee surgery. Just so we're all clear, here's what Scouts Inc. wrote about his knee in its
2011 scouting report

:
Missed two games due to a knee injury (MCL and PCL strain) in 2009. Also underwent arthroscopic knee surgery following the 2010 season and could not workout at NFL combine as a result. Appeared to still be favoring the knee during his April 1 workout for NFL scouts, which has only added to his long-term durability concerns. Some believe knee will eventually require microfracture surgery.
Bowers' agent has denied that microfracture surgery is an option, but
welfarecheese
wrote: "That's a risky procedure and I think [New York Knicks center] Amare Stoudemire is about the only guy I know of that has had that type of surgery and come back all the way for any length of time. As I always say, why take a risk when there are similar players without the flags?"
More of you question whether Bowers is truly a can't-miss pass rusher, the type whose promise would outweigh the concerns of future knee injury.
"Bowers is overrated," wrote
KirmieBo
. "Didn't play RE. Didn't get double-teamed. Sometimes didn't even get single-teamed. Poor technique. His upside/athleticism is the only thing making him valuable but [Robert] Quinn, [J.J] Watt, [Ryan] Kerrigan,
Aldon Smith
, and
Cameron Jordan
are all better 1st round prospects than him without the knee injury. With it I think he is a 2nd rounder. Though the guy did have a whopping 4 total sacks in the two years before this."
Indeed, Bowers had four sacks in his first two seasons before breaking through for 15.5 in 2010. Is that a warning sign or just the illustration of a blossoming player?
It was the former, wrote
Nolomite2010
: "Would rather have Aldon Smith or Cameron Jordan than Bowers even if his knee is healthy."
But it's not always wise to let medical concerns override big-picture evaluations, wrote
AjP
: "It's a risk. It's like signing
Drew Brees
with his injury concerns a few years ago. It's a decision that makes or breaks GMs. If the Lions are sitting at thirteen and the top players they want are off the board, instead of reaching for someone not worth the thirteenth pick you take the risk and take Bowers if you have the opportunity."
Indeed,
Sunburn74
viewed the middle of the first round a reasonable place to take a risk: "I'd take him. Missing on a middle of the first round pick isn't the end of the world. I'd say easily half the 1st round picks in the top 15 from last year seriously underperformed ... The upside with Bowers beats the risk imo."
And for the Lions, at least, a pass-rushing defensive end should be more valuable than a cornerback. Writes
TJPizza98
: "Definitely take Bowers. That's what BPA is all about. Yeah [Prince] Amukamara looks like a great fit, but a guy who can get double digit sacks every year is more valuable than a good corner. Plus when you factor in how a D-line works as a team, it solidifies the reason for taking him."
My take?
Ultimately, both the Vikings and Lions will establish an evaluation for Bowers that takes into account all of these factors, including his health. If that final grade is anywhere close to the grade of another player still available at No. 12 or No. 13, it makes sense to draft that other player and avoid the injury risk.
To be clear, no NFL team -- including the Vikings and Lions, who have three All-Pro defensive linemen between them -- can afford to pass on a player who grades out as an elite pass rusher. But in order to qualify under that category, Bowers would have to completely pass every medical question a team has.
If the Vikings or Lions have no question about the long-term prognosis of his knee, I wouldn't have a problem if they draft him. (I would reserve the right to change my mind, however, if the Vikings were unable to find a quarterback prospect in the second round as a result.)
But if there is any doubt about the knee, both teams should look in other directions.
April, 20, 2011
4/20/11
4:30
PM ET
Todd McShay's
latest mock draft

, published Wednesday on ESPN.com, offers three scenarios for each spot before deciding on a selection. It's worth noting that,
hours after we asked you
about Clemson defensive end
Da'Quan Bowers
, McShay has both the
Minnesota Vikings
and
Detroit Lions
passing on him.
You'll need an Insider subscription to view the entire draft, but here's how it shook out for the four NFC North teams:
12. Minnesota Vikings
McShay's pick:
Cal defensive end
Cameron Jordan
Seifert comment:
The son of former Vikings tight end Steve Jordan would be a solid pick, but taking him ahead of Bowers? That can only mean the Vikings would have serious concerns about Bowers' knee. Another possibility: Boston College tackle
Anthony Castonzo
.
13. Detroit Lions
McShay's pick:
Nebraska cornerback
Prince Amukamara
Seifert comment:
This remains a dream scenario as far as I'm concerned. When
we discussed this issue earlier this month
, I wasn't considering Bowers as a true option. But the Lions' need for a cornerback is acute.
29. Chicago Bears
McShay's pick:
Baylor guard
Danny Watkins
Seifert comment:
I would be fine with a guard in this spot, especially considering that five offensive tackles are already off the board in this scenario. I wonder, however, if the Bears would trade out of the pick if that situation arises.
32. Green Bay Packers
McShay's pick:
UCLA linebacker
Akeem Ayers
Seifert comment:
As we've noted all along, outside linebacker is one of the Packers' few actual needs. Be it Arizona's
Brooks Reed
or Ayers, the pick makes sense.
March, 16, 2011
3/16/11
7:45
AM ET
We're Black and Blue All Over:
As draft preparations continue around the NFL, the Detroit Lions hosted Nebraska cornerback Prince Amukamara and Cal defensive end Cameron Jordan at their workout facility Tuesday. According to
the team's website
, it was the first team visit for both players.

The Lions have traditionally hosted a number of top prospects heading into the draft, and each team is allowed a total of 30 individual visits. It's tricky to read much into them; sometimes they can be for matters as simple as a medical re-check. The Lions were also reported to have hosted Colorado cornerback Jimmy Smith on a visit last week.
Cornerback is probably the Lions' top need this offseason, and Amukamara is arguably the second-best cornerback in the draft. Will he be available at the Lions' No. 13 overall pick?
Doubtful, but you never know
.
Meanwhile, Scouts Inc. ranks Jordan
as the No. 15 overall prospect in the draft
.
Continuing around the NFC North:
March, 1, 2011
3/01/11
9:50
AM ET
February, 27, 2011
2/27/11
11:00
AM ET
INDIANAPOLIS -- We've spent some time discussing the
top quarterbacks here at the NFL scouting combine
, especially those who could fit into the
Minnesota Vikings
' future plans. We've looked at the dramatic, if fantastical, possibility of Oregon linebacker
Casey Matthews
joining his brother
with the
Green Bay Packers
.
[+] Enlarge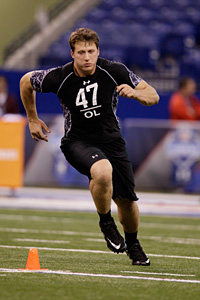 AP Photo/Darron CummingsColorado's Nate Solder recorded the top 40-yard dash time among offensive tackles (5.05).
Among all the angles I encountered in Indianapolis, one of the more intriguing is Colorado offensive tackle
Nate Solder
, who has a mammoth frame combined with high-end athleticism, a combination that could put him into play for multiple NFC North teams.
He would be a nice value pick at No. 12 for the Vikings, who might want to start a succession plan for left tackle
Bryant McKinnie
or challenge right tackle
Phil Loadholt
. The
Detroit Lions
could target him at No. 13,
as several early mock drafts have suggested
. And there is no doubt the
Chicago Bears
would benefit from a left tackle prospect of Solder's level, even if they have to trade up to do it.
A converted tight end, Solder measured 6-foot-8 1/4 and a lean 314 pounds. Despite his frame, he also recorded the top 40-yard dash time among offensive tackles (5.05) and had the best 10-yard split among all offensive linemen (1.63).
(As Scouts Inc. points out, the 10-yard split measures an offensive lineman's burst and explosion.)
Need more numbers? Solder was tied for the third-best vertical jump among offensive linemen (32 inches) and the third-best broad jump (9-2). His bench press results were disappointing -- he managed only 21 reps of 225 pounds -- but it's safe to say he still needs to fill out his frame.
So we know Solder is an athletic specimen. But can he play? That's what I asked ESPN analyst Todd McShay during a break in the action this weekend.
"The biggest thing with him is his ability to move laterally and bend," McShay said. "He plays high too much of the time and you see him get in trouble when he does. But he's close. If he gets with a good coach, he could be a good starting left tackle for a long time in this league."
In honor of Solder's unique match with the NFC North, let's proceed with our three-question format, and add one more for good measure.
On moving from tight end after his freshman season:
Nate Solder:
Some things came naturally. It takes a lot of athleticism to become a left tackle, same as a tight end. But some things didn't come natural -- knee bend, using your hands, those sort of things.
On his height:
NS:
I think the worry of being a taller guy is not being able to bend and the thing I've done to counteract that is to show I can bend, work on staying bent. Now, the advantages are you've got a lot bigger wingspan and it's a lot harder to run around you.
On if he ever wanted to play basketball:
NS:
I was a decent basketball player, I had much more potential at football, and that's kind of the way I was offered. And no it wasn't hard to give up, because I had an outlet in football and I love it now.'
On his 2010 game against Cal, when defensive end Cameron Jordan beat him for a sack and two tackles behind the line of scrimmage.
NS:
Well, that was a breakdown in technique from me. You learn not to take anyone for granted and that guy played a heck of a game, and you've got to give it to him and no matter who you go against, you can't break down in your technique. That was just a fundamental error on my part.