NFC North:

Captain Munnerlyn
June, 17, 2014
Jun 17
6:10
PM ET
EDEN PRAIRIE, Minn. -- A look at the highlights from the first day of the
Minnesota Vikings
' mandatory minicamp on Tuesday:
1. Loaded for Barr:
The Vikings got first-round pick
Anthony Barr
on the field for the first time with their full team on Tuesday, after he graduated from UCLA over the weekend, and head coach Mike Zimmer didn't hesitate to try out some of the different ways he wants to use the linebacker. Barr was at the strong-side linebacker position the Vikings expect him to play, but he also lined up as an edge rusher on some third downs. At 6-foot-4, he's taller than defensive ends
Brian Robison
and
Everson Griffen
, and if he can rush from the line of scrimmage, the Vikings can present a number of different looks to confuse opposing offenses, especially when Griffen's versatility enters the equation.
[+] Enlarge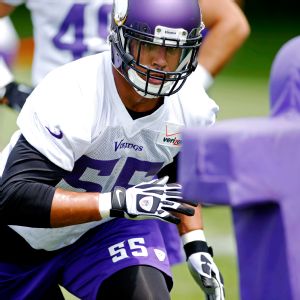 Bruce Kluckhohn/USA TODAY SportsFirst-round pick Anthony Barr participated on the field on the first day of Vikings' mandatory minicamp.
2. Robinson returns
: Cornerback
Josh Robinson
was back on the field on Tuesday, after missing the Vikings' organized team activities with a muscle pull. He was also back at an outside cornerback position, following last year's failed experiment at slot cornerback. Robinson got plenty of snaps in the Vikings' first-team defense on Tuesday, and could wind up playing in the nickel package once
Captain Munnerlyn
moves inside.
3. Quarterbacks look sharp:
The Vikings ran plenty of play-action and bootleg plays on Tuesday, and all three of their quarterbacks had a successful afternoon practice.
Matt Cassel
missed just one of the nine throws he attempted in 11-on-11 and was 5-for-5 in 7-on-7 work.
Teddy Bridgewater
was 15-for-17 in 11-on-11 action and 4-for-5 in 7-on-7, and
Christian Ponder
hit all four throws he attempted. Ponder again got fewer snaps than Cassel or Bridgewater, but he looked good in what he was asked to do. "Everyone's getting reps with the ones and twos," Ponder said. "I'm not getting as many reps as the other guys, but I'm trying to take full advantage, and we'll see what happens. I don't know how long the evaluation process is going to be. I'm hoping it goes into training camp and preseason games, but we'll see."
4. Jennings impresses:
Wide receiver
Greg Jennings
, who missed the Vikings' open OTA last week because of a charity event, caught four balls on the first day of minicamp, and saved his best for last, reaching out for a one-handed grab over the middle on a throw from Cassel in 7-on-7.
5. Middle linebacker plan emerges?
The Vikings used
Jasper Brinkley
,
Chad Greenway
and
Michael Mauti
at middle linebacker on Tuesday, noticeably keeping
Audie Cole
on the outside after Cole played the middle at the end of last season. Brinkley has gotten more first-team work than anyone else in the middle, so far, but Zimmer cautioned not to read too much into that. "We have to line them up somewhere when we go, but I don't look at this guy is the favorite or that guy is the starter," he said. "(Brinkley)'s lined up with the first team right now, but I don't know, once we get him in practice and games and the things that prepare us for games and for the season, that will determine who lines up there on Sept. 7."
6. Safeties still limited:
Jamarca Sanford
was able to do a little more work after missing OTAs with a muscle injury, but the Vikings were mostly using
Robert Blanton
,
Mistral Raymond
,
Antone Exum
and
Kurt Coleman
, with Blanton often pairing with
Harrison Smith
in 7-on-7 drills. Safety
Andrew Sendejo
was still limited with a back injury. Tight end
Allen Reisner
sat out, and running back
Joe Banyard
was a limited participant.
Matt Kalil
and
Linval Joseph
were again limited after
knee
and
shoulder surgeries
this offseason, but Zimmer said he expects both to be ready for training camp.
April, 24, 2014
Apr 24
11:55
AM ET
MINNEAPOLIS -- Perhaps the sternest test of Mike Zimmer's ability to remake the
Minnesota Vikings
' defense will come in an 18-day stretch from Sept. 14 to Oct. 2, when the Vikings will play four consecutive games against
Tom Brady
,
Drew Brees
,
Matt Ryan
and
Aaron Rodgers
, effectively staking their playoff hopes on their ability to stand up to some of the best quarterbacks in the NFL.
In many ways, the Vikings will have to fix two of their biggest problems from last season in the first month of the season if they're going to have any shot at relevance. They didn't win a road game last season (their victory in London was technically a "home" game), and they'll start the year against a
St. Louis Rams
team that went 5-3 at home last season before playing games at the Superdome and Lambeau Field in the next five weeks.
[+] Enlarge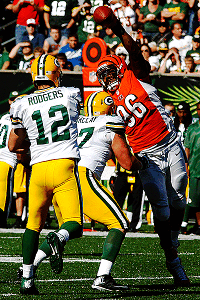 AP Photo/David KohlMike Zimmer's defense made things challenging for Aaron Rodgers last season.
But the Vikings' struggles against top quarterbacks, if left unchecked, will be an even more pervasive problem in the first part of the season. The Saints, Packers, Falcons and Patriots were the league's second-, sixth-, seventh- and 10th-best passing teams last season, and the Vikings come out of that stretch with an Oct. 12 game against the
Detroit Lions
, who threw for the third-most yards in the league. Essentially, the message of the Vikings' 2014 schedule is this: Fix your defense and fix it quickly.
Fortunately for the Vikings, Zimmer's had some success slowing down the quarterbacks the Vikings will face -- particularly Rodgers. The Packers quarterback faced the
Cincinnati Bengals
twice while Zimmer was their defensive coordinator, and lost both games. Last year, he hit 26 of 43 passes for 244 yards, a touchdown and two interceptions against the Bengals, and was sacked four times. And while he threw for 311 yards against the Bengals in 2009, he was sacked six times and fumbled twice (losing one) in a 31-24 loss.
Brady also faced the Bengals twice in that time, with unimpressive results. He went 1-1 in a pair of games against Cincinnati, completing 43 of his 73 passes for 455 yards, three touchdowns and an interception. After picking them apart in a 2010 win, he had arguably his worst game of the season against them last year, completing just 18 of his 38 passes for 197 yards and an interception in a 13-6 loss.
Brees and Ryan both fared well in their lone efforts against Zimmer's defense, each beating a 4-12 Bengals team in 2010. They were two of just four quarterbacks to surpass 290 yards against Cincinnati that season, posting 313 and 299, respectively.
Zimmer's defense employs plenty of man coverage, mixed with some zone principles, and counts more heavily on cornerbacks winning one-on-one matchups than the Vikings' old scheme did. That seems like a good fit for second-year cornerback
Xavier Rhodes
, and
Captain Munnerlyn
should help the Vikings' defense, as well, but secondary depth is paramount to surviving matchups with teams that will put as many receivers on the field as the Vikings' early-season opponents will.
The other thing to watch is how effectively the Vikings can pressure the top quarterbacks they'll face, particularly with some of Zimmer's creative blitzes. The Bengals didn't bring extra pressure after Brady and Rodgers all that often last year -- on just 12 and 11 dropbacks, according to ESPN Stats & Information -- but what's worth noting is just how much they rattled those two quarterbacks. Brady had just a 2.2 QBR against the Bengals' blitzes last year, and Rodgers' QBR was only 8.0, as he was forced into checkdowns and didn't complete a pass of longer than 8 yards against the blitz. Considering how lethal those two quarterbacks have been against the blitz in their careers -- to the point where many teams don't try to send extra pressure -- Zimmer's ability to throw them off is impressive. He did it well against
Matthew Stafford
last season, too, holding the Lions quarterback to just 33 yards and a 5.0 QBR on 13 blitzes.
The key variable to all this, of course, is talent, and it remains to be seen if the Vikings' personnel is as effective in Zimmer's scheme as what the Bengals had last season. But the additions of Munnerlyn and defensive tackle
Linval Joseph
, the development of Rhodes and defensive tackle
Sharrif Floyd
and the health of safety
Harrison Smith
should help. If Zimmer and defensive coordinator George Edwards can coax more out of players like defensive end
Everson Griffen
and figure out the Vikings' linebacker situation, they'll likely receive credit for it early, because the Vikings' progress will be graded against some of the toughest opponents they'll see all season.
April, 24, 2014
Apr 24
8:00
AM ET
MINNEAPOLIS -- The fact that the
Minnesota Vikings
head into the 2014 season in need of secondary help should come as no surprise -- not for a team that allowed the most passing touchdowns, the second-most passing yards and the most points in the NFL last season. What might be more startling is just how long the Vikings have had a blighted secondary, and how unable they've been to alleviate at least some of the problem through a favorite method of some of their rivals.
The last time the Vikings had a player intercept more than four passes in a season was 2005, when
Darren Sharper
marked his migration from Green Bay to Minnesota with a nine-interception, two-touchdown season in just 14 games. Since then, the Vikings have intercepted just 104 passes -- the third-fewest in the league, according to ESPN Stats & Information -- and have been unable to use turnovers to mask the league-worst 30,875 passing yards they've allowed.
[+] Enlarge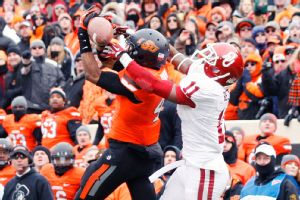 J.P. Wilson/Icon SMIThe Vikings could turn to Oklahoma State cornerback Justin Gilbert in the draft as a solution to their turnover problem.
The Packers and
Chicago Bears
haven't been much better, allowing the 15th- and 11th-most passing yards since 2006, but unlike the Vikings, they've had secondaries able to stop drives with turnovers. Green Bay's 178 interceptions are the most in the league since 2006, followed by Chicago's 159. In fact, the three teams with the most interceptions since 2006 -- the Packers, Bears and
New England Patriots
-- all rank in the bottom 15 of yards allowed, and the Packers and Patriots have given up the 5th- and 12th-most touchdown passes, respectively (the Vikings have allowed the third-most).
What can change the Vikings' long-running turnover drought? New coach Mike Zimmer's defensive scheme won't necessarily accomplish it naturally; the
Cincinnati Bengals
tied for 16th in interceptions since Zimmer took over in 2008, though they did pick off 23 more passes than the Vikings in that time. A Minnesota defense that ranked even in the middle of the league in takeaways would be a major improvement.
Safety
Harrison Smith
has shown signs of being a ballhawk -- he tied for the team lead in interceptions as a rookie (with three), brought two of them back for touchdowns and posted two more interceptions in just eight games last season. Cornerback
Captain Munnerlyn
also returned his last four interceptions with the
Carolina Panthers
for touchdowns. Though cornerback
Xavier Rhodes
doesn't have a NFL interception after posting only eight in three years at Florida State, he's got the height and leaping ability to take passes away from receivers.
But the Vikings' lack of takeaways are part of the reason a player such as Oklahoma State's
Justin Gilbert
could make so much sense in the draft, particularly if Minnesota trades back from the eighth pick. Gilbert had seven interceptions last season for the Cowboys, bringing two back for touchdowns, and has both the closing speed and vertical leap to create turnovers. Putting him opposite Rhodes, with Munnerlyn in the slot, would give the Vikings a nice setup for years to come: two physical corners and a heady slot corner, all with Smith playing behind them. That kind of a secondary would have enough big-play ability that a rise in takeaways would seem likely, along with a decrease in porous pass coverage.
That was particularly evident last season when opponents tried to stretch the Vikings deep; they allowed a league-worst 14 touchdowns on passes that traveled 15 yards or more last season, according to ESPN Stats &Information, while intercepting just six passes. Those long-traveling passes can naturally turn into interceptions, and it's probably no coincidence that five of the nine teams that picked off the most deep passes -- including the Bengals -- went to the playoffs last year. Even if the Vikings' secondary isn't completely airtight next season, turnovers can be a salve, as the
Kansas City Chiefs
proved; they allowed 11 touchdowns of 15 yards or more, but intercepted 10 such passes on their way to an 11-5 record.
As the Vikings assess their secondary needs, finding a way to create more turnovers is certainly worth their consideration, especially when some of the teams around them have been so effective at using them to paper over some of their own flaws.
March, 20, 2014
Mar 20
8:45
PM ET
MINNEAPOLIS -- It has been fairly clear from the Vikings' early forays into free agency that shoring up the defensive line was among the biggest priorities for new coach Mike Zimmer. The Vikings re-signed defensive end
Everson Griffen
before the start of free agency, gave former
New York Giants
defensive tackle
Linval Joseph
a five-year deal on the day the market opened, and on Thursday, they added two more free agents to build the depth of the group.
Wootton
The second of those two, former
Chicago Bears
lineman
Corey Wootton
, signed a one-year deal with the team on Thursday night, his agent
Mike McCartney announced on Twitter.
The 26-year-old end is coming off hip surgery, but seems like a solid fit in Zimmer's system; at 6-foot-6 and 271 pounds, he's got a similar lean, long-armed build to
Michael Johnson
, and has also played defensive tackle for the Bears. He had 7.5 sacks in 2012, starting seven games that season, and gives the Vikings a versatile reserve who's also, at the moment, the tallest defensive end on their roster.
Wootton also is the proprietor of a fairly significant footnote in Vikings -- and NFL -- history. The Vikings will play their next two seasons at the University of Minnesota's TCF Bank Stadium, where they played one game against the Bears after the Metrodome roof collapsed in 2010. Wootton was a rookie that season, and got the first sack of his career that night, on what turned out to be the final play of Brett Favre's career. When Wootton took Favre down, he banged his head on the frozen field, sustaining a concussion that would usher him into retirement.
The Vikings have now signed six free agents from other teams: Wootton, Joseph, former Saints lineman
Tom Johnson
, Panthers cornerback
Captain Munnerlyn
, Chargers cornerback
Derek Cox
and Cardinals linebacker
Jasper Brinkley
(who's returning for his second tour with the Vikings). All six are defensive players, three are defensive linemen and four are playing on one-year deals. There's been a clear strategy to remake the defense to suit Zimmer's scheme, and with the exceptions of Joseph and Munnerlyn, the Vikings have done it with few long-term commitments.
We won't know for months how much Zimmer can use the pieces to improve the league's worst scoring defense, but the Vikings' free-agent strategy has been clear and decisive. The team had just over $13 million in cap space left before signing Wootton, and we're mostly in the bargain phase of the free-agent period at this point, so it's hard to see more splash signings. But the Vikings have added some youth to their defense, and they're betting on Zimmer's ability to put together a cohesive product out of those pieces. There have been teams with more high-profile signings than Minnesota, but the Vikings have moved efficiently through their shopping list.
March, 18, 2014
Mar 18
9:00
AM ET
Munnerlyn
Most significant signing:
The Vikings filled two major holes on defense last week, adding former
New York Giants
defensive tackle
Linval Joseph
and former
Carolina Panthers
cornerback
Captain Munnerlyn
. As important as both will be to the roster, Munnerlyn should help solve one of the Vikings' biggest problems from last season. He can line up at slot cornerback on third downs, where teams routinely targeted
Josh Robinson
last season. Munnerlyn also gives the Vikings the kind of scrappy tackler against the run they had for years in
Antoine Winfield
.
Most significant loss:
Jared Allen
will be the Vikings' most high-profile departure, but it's difficult to tell yet how much that will affect the team. New coach Mike Zimmer's system wouldn't have featured Allen the way he'd been used over the past six years in Minnesota, and the Vikings should have their starting defensive line in place with
Everson Griffen
,
Sharrif Floyd
, Joseph and
Brian Robison
. Still, it will be strange not to see Allen lining up at right end in a Vikings uniform this fall.
Griffen
Biggest surprise:
It's been clear for some time that the Vikings wanted to re-sign Griffen, but the value of his contract -- which puts him among the highest-paid pass-rushers in the league -- was something of an eye-opener. Griffen will get $20 million guaranteed as part of his deal, though the Vikings put all that guaranteed money in the first two years of the deal. Griffen's best year in the NFL came in 2012, when he posted eight sacks in a part-time role, and he's yet to become the kind of dominant force the Vikings are paying him to be. The contract is a gamble on potential, but the Vikings are obviously confident in Griffen's ability to fulfill it.
What's next:
The Vikings still need help at linebacker, though general manager Rick Spielman sounded confident in his young linebackers last week. They remain in contact with former Bears defensive tackle
Henry Melton
after hosting him on a visit last week, and they will bring in Jets offensive lineman
Vlad Ducasse
for a visit this week. It's also possible the Vikings look at a corner, and they'll still be in the hunt for a young quarterback come draft time.
March, 13, 2014
Mar 13
10:45
PM ET
MINNEAPOLIS -- Shortly after they finished a deal with former
Carolina Panthers
cornerback
Captain Munnerlyn
, the
Minnesota Vikings
were preparing to add another cornerback to their roster. According to a league source, the Vikings were finalizing a deal on Thursday night with former
San Diego Chargers
cornerback
Derek Cox
, who could add some depth to their group of defensive backs next season.
Cox
The 6-foot-1 Cox began last season as a starter for the Chargers, but lost his starting job for good after he was benched three times in four weeks last November. Cox gave up three catches and a touchdown on three targets last Nov. 24 against Kansas City, and didn't play a significant role after that. Still, he had been a serviceable player in 2012, and intercepted four passes that season for the Jaguars. He'd give the Vikings another big corner, and he'd represent a low-risk gamble by the Vikings on the ability of coach Mike Zimmer and defensive backs coach Jerry Gray to get something out of Cox.
He might also represent another closed door for a return by
Chris Cook
to the Vikings. The four-year player's future seemed uncertain after a conversation with Zimmer last week, and though Zimmer mentioned his ability to improve players who have a history of underachieving, like Cook does, the Vikings' order of business might tell the story better than anything else. They signed Munnerlyn and Cox on the same day Cook was scheduled to visit the
San Francisco 49ers
, and the Vikings now have eight cornerbacks signed for next season.
Of those eight -- Munnerlyn, Cox,
Xavier Rhodes
,
Josh Robinson
,
Marcus Sherels
,
Shaun Prater
,
Robert Steeples
and
Kip Edwards
-- only a handful might make the team, but the Vikings could also take another cornerback high in the draft. Those players might occupy whatever real estate and cap space was remaining for Cook to make a return to Minnesota.
March, 13, 2014
Mar 13
8:50
PM ET
EDEN PRAIRIE, Minn. -- When the
Minnesota Vikings
began contract negotiations with cornerback
Captain Munnerlyn
, they were initially looking for a longer deal than the three-year contract worth up to $15 million that they eventually gave him.
Munnerlyn
Munnerlyn liked the Vikings, had heard good things about them from former college roommate
Jasper Brinkley
, but had another reason for wanting a shorter contract: He was essentially betting on his own ability to get more money down the road.
"[I wanted] to get another contract before I'm 30," he said. "That was the key -- just to go out here for three years and see if I can win them over a little bit more, get an extension after Year 2 or something. Just try to go out here and make plays and win games."
Time will tell if that was the best strategy for Munnerlyn, but it does reflect a bit of the edginess that has gotten the 5-foot-9 cornerback from the seventh round of the draft to this point. Vikings fullback
Jerome Felton
, his former teammate with the
Carolina Panthers
, called Munnerlyn a "bulldog" in a tweet on Thursday, and Munnerlyn said he's patterned his game after former Vikings cornerback
Antoine Winfield
, who also stands 5-9 and played bigger than that.
"I'm tough and I'm feisty and I love getting after people," Munnerlyn said."That's what I do. I get after people and I don't shy down from nobody. I don't care if you're a 6-7, 6-8 lineman, I'm not shying down from. I going to try to make plays and I'm going to hit you."
If his feisty approach sounds similar to the one taken by new coach Mike Zimmer, Munnerlyn recognized it, too. "I think I've met my match. We're a perfect match for each other, man. I'm excited about that," he said.
They'll both be counted on to help refine a defense that allowed more points than any in the league last season, largely because of its leaky secondary. Munnerlyn said he expects to start in the Vikings' base defense and move inside on third downs, which is what he said he'd done with the Panthers. And while he hadn't seen where the Vikings' defense ranked last season, he vowed it wouldn't stay that way for long.
"It's just in the back end, I think we've just got to make more plays on the ball. I think that's why they signed me and I'm sure they'll probably some more guys or bring some more guys in or something," Munnerlyn said. "I'm sure with these signings and with these people they [brought] in, we'll [be] ranked in the top 10."
March, 12, 2014
Mar 12
5:45
PM ET
EDEN PRAIRIE, Minn. -- The
Minnesota Vikings
will continue their attempt to bolster their defense through free agency on Wednesday and Thursday, bringing in former
Carolina Panthers
cornerback
Captain Munnerlyn
for a visit, according to an NFL source.
Munnerlyn
Munnerlyn would fill one of the Vikings' most glaring needs from last season: slot cornerback. The team cut veteran
Antoine Winfield
last March, gambling on
Josh Robinson
's ability to move from the outside to the slot position. The Vikings tried to bring Winfield back on a reduced contract, and when Robinson struggled to pick up the position last September, the team nearly signed Winfield out of retirement before their Sept. 29 game against the
Pittsburgh Steelers
in London. Now, they will have a shot to get a younger fit at the position.
The 25-year-old Munnerlyn has started the past three seasons for the Panthers, intercepting two passes -- and returning both interceptions for touchdowns -- each of the past two seasons. He was a key cog on a Panthers team that reached the division playoffs last season, and allowed an 81.7 passer rating when in slot coverage last season, according to Pro Football Focus. Robinson, on the other hand, allowed a 127.2 passer rating.
The Vikings will also bring former
Chicago Bears
defensive tackle
Henry Melton
in for a visit on Thursday, and hosted former
Baltimore Ravens
linebacker
Jameel McClain
on Monday. They signed
New York Giants
defensive tackle
Linval Joseph
to a five-year, $31.5 million deal shortly after the start of free agency on Tuesday.
March, 12, 2014
Mar 12
12:05
AM ET
MINNEAPOLIS -- For as much as the first day of free agency was marked by the Vikings' ability to add a critical piece to their defense in former
New York Giants
tackle
Linval Joseph
, it ended with several cornerbacks finding other teams. Indianapolis'
Vontae Davis
re-signed with the Colts for $39 million over the next four years, New England's
Aqib Talib
got $57 million over six years from Denver, while Tennessee's
Alterraun Verner
-- in whom the Vikings had expressed interest on Saturday -- signed not to play with his old defensive coordinator (new Vikings defensive backs coach
Jerry Gray
) in Minnesota, but with former Vikings coach Leslie Frazier in Tampa Bay.
Verner only got $26 million over four years (with $14 million guaranteed), which might reflect some teams' apprehension about putting him in a man coverage scheme. The Titans had used man coverage more often early last season, but Verner's best work there had been as a zone corner, and teams that plan to play a good chunk of man coverage -- like the Vikings now do -- might have decided Verner wasn't their best fit. That won't be a problem in Tampa, where the Buccaneers will lean heavily on the Cover-2 scheme used by Frazier and head coach Lovie Smith in their previous stops. But it does leave the Vikings still looking elsewhere for a corner.
So where might they look? Denver's
Dominique Rodgers-Cromartie
could be an option, especially now that the Broncos spent their money on Talib. He's 6-foot-2, is only 28 and was compared to
Terence Newman
(a Mike Zimmer favorite in Dallas and Cincinnati) when entering the draft in 2008. Miami's
Nolan Carroll
is another big corner who has essentially played in Zimmer's scheme; Dolphins defensive coordinator Kevin Coyle was Zimmer's defensive backs coach in Cincinnati before going to Miami, and Vikings defensive coordinator George Edwards was brought to town in part because he'd been working in the same scheme as the Dolphins' linebackers coach. Carroll would be cheaper than Rodgers-Cromartie, and he's a couple years younger, too. Cincinnati's
Brandon Ghee
could fit, for obvious reasons. And if the Vikings are looking for a slot corner after
Josh Robinson
struggled there last year, Carolina's
Captain Munnerlyn
could be an option, as Andrew Krammer of 1500ESPN.com
points out.
One thing I don't see happening -- and the thing I probably got more questions about today than anything else -- is
Darrelle Revis
coming to Minnesota. Revis is only 28, and might be the best man coverage corner in the game when he's on, but he's had lots of contract squabbles, and will probably have more interest from teams closer to a championship than the Vikings.
Lastly, it's important to remember what Zimmer said last week about how he wanted to build his defense. "My thing has always been play good team defense, not just be great players, but be good as a team," he said. "I do believe you can be real good, if you get the correct guys in there that buy into the system, that want to play for one another, that want to take ownership in something bigger than themselves. Everybody sees that Maserati and they want to go buy it and you know you probably shouldn't. You should probably buy a Ford F-150 like I got. Because if you get the F-150, you can keep building the pieces you need. So I think we have to be smart about it."
The Vikings could still draft a corner like
Justin Gilbert
in the first round. They could sign someone like Rodgers-Cromartie or Carroll, or possibly take a look at Seattle's
Brandon Browner
(who will be suspended for the first four games of the season). The position remains at or near the top of the Vikings' list of needs, but it might not get fixed with a $40 million investment on the free-agent market.
We'll see how things develop over the next few days, but options still remain for the Vikings at corner.
September, 23, 2011
9/23/11
11:00
AM ET
Even with Week 3 games nearly upon us, many of us in the NFC North are still exchanging pleasantries about a series of Week 2 officiating calls.
Jason Wilde of ESPNMilwaukee.com
has a nice review of a questionable unnecessary roughness penalty against
Green Bay Packers
linebacker
Desmond Bishop
, and I'll take another look at two other calls that piqued my interest.
The first: An end zone pass ruled incomplete during the Packers' 30-23 victory over the
Carolina Panthers
. I'm guessing you've seen the play.
The Packers were facing third down from the Panthers' 19-yard line with 10 minutes, 33 seconds remaining in the third quarter. Quarterback
Aaron Rodgers
lofted a high pass down the left sideline to tight end
Jermichael Finley
, who had lined up as an outside receiver. At about the 2-yard line, Finley jumped in front of Panthers cornerback
Captain Munnerlyn
. Finley got two hands on the ball, tucked it in his right arm and braced for impact with the ground.
[+] Enlarge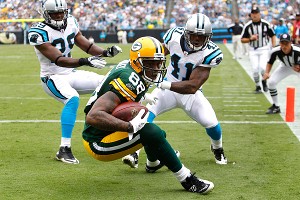 Bob Donnan/US PresswireThe pass to Jermichael Finley was ruled incomplete after the tight end lost the ball when he hit the ground.
The photograph accompanying this post shows Finley had possession with two feet in the end zone. But a moment later, the ball squirted free when his right arm hit the ground. Referee Alberto Riveron ruled the play incomplete, and Packers place-kicker
Mason Crosby
booted a 37-yard field goal on the next play without a challenge from coach Mike McCarthy.
As we Black and Bluers
learned in Week 1 last season
, the call was correct based on a rule the NFL considered changing during the offseason but ultimately left intact. It's the same rule that forced officials to call an apparent touchdown catch by the
Detroit Lions
'
Calvin Johnson
incomplete against the
Chicago Bears
.
A reminder of how the rule is worded, straight from the NFL's official 2011 rulebook: "It is a catch if in the process of attempting to catch the ball, a player secures control of the ball prior to the ball touching the ground and that control is maintained after the ball has touched the ground."
The Johnson play generated controversy because he lost "possession" by intentionally placing the ball on the ground after what he thought was a legal catch. Hence, our education on the "process" of securing possession.
The Finley play was more straightforward. He unintentionally lost possession when his right arm touched the ground. During his weekly radio show at ESPN 540,
Rodgers said
: "It's an incompletion by the rules." But he also added that the rule "is a little bit ridiculous."
I agree. My view on this play remains the
same as it was last year
. It makes sense to me, at least, for the NFL to acknowledge the fact that possession standards in the end zone should be different than they are in the field of play.
If a running back carries the ball into the end zone, it's a touchdown no matter what happens thereafter. If a defender knocks the ball out of his hands after it crosses the plane, it's still a touchdown. So why are the standards higher for a receiver on a pass play? Once the receiver establishes possession, as Finley clearly did based on the photograph, why isn't the play over at that point? Why does he have the additional burden of maintaining possession until the end of an arbitrarily-determined process? Beats me.
Meanwhile, the second play came in the fourth quarter of the
Minnesota Vikings
' 24-20 loss to the
Tampa Bay Buccaneers
. Referee Jeff Triplette's crew called Vikings defensive end
Jared Allen
for roughing the passer with six minutes, 45 seconds remaining in the game. The play added 15 yards to a 19-yard pass and put the Buccaneers in position for the first of two fourth-quarter touchdowns.
When you watch the replay, you see Bucs quarterback
Josh Freeman
scramble to the right sideline and fire a pass to receiver
Dezmon Briscoe
. A moment after release, Allen hit Freeman in the chest with his right shoulder. In announcing the call, Triplette said Allen "turned and lowered his shoulder into the quarterback."
"That's a new one," Allen said after the game. For what it's worth, I couldn't find anything in the rule book that specifically addresses a defensive player lowering his shoulder into a quarterback. There are references to hitting a quarterback's helmet or neck, to clubbing his arm and to driving him into the ground at the end of a hit, but nothing that addresses the use of a shoulder in any way.
The closest applicable language was this:
"A rushing defender is prohibited from committing such intimidating and punishing acts as 'stuffing' a passer into the ground or unnecessarily wrestling or driving him down after the passer has thrown the ball, even if the rusher makes his initial contact with the passer within the one-step limitation provided for in (1) above. When tackling a passer who is in a defenseless posture (e.g., during or just after throwing a pass), a defensive player must not unnecessarily or violently throw him down and land on top of him with all or most of the defender's weight. Instead, the defensive player must strive to wrap up or cradle the passer with the defensive player's arms."
Allen didn't stuff Freeman or wrestle him to the ground, but those are only examples of the NFL's definition. Officials have some discretion to determine what an "intimidating and punishing" act is. In this case, Triplett ruled that Allen intentionally lowered his shoulder in an attempt to elevate the force he hit Freeman with. It was a subjective judgment call that apparently doesn't have to be spelled out in the rulebook.
On to our updated penalty tracker:
October, 11, 2010
10/11/10
11:10
AM ET
After the Chicago Bears' 23-6 victory Sunday over the Carolina Panthers, here are three issues that merit further examination:
Kevin SeifertThe Chicago Bears are back in the examination chair.

Before we say anything else, let's take a moment to step back and establish the 4-1 Bears are tied for the best record in the NFC with the Atlanta Falcons. I can't say I saw that coming as the Bears struggled through the preseason and won their season opener by the slimmest of margins. But the more I watch the Bears, the more I wonder if they aren't simply following the formula they used to great success during the last decade. Their defense- and special teams-dominated victories might not be easy on the eye, and might provide a weekly field day for aesthetic connoisseurs, but ultimately the end result is all that matters.

Quarterback Todd Collins took a page from the Jonathan Quinn handbook. Like Quinn, Collins is a veteran backup who made his coaches feel better about emergency situations. Until he actually gets into a game. Collins' horrid performance Sunday -- four interceptions, six passes completed to his own team -- should guarantee that he never gets on the field again this season as long as the Bears have another option. Backup Caleb Hanie probably benefits from the excitement of the unknown, and it's fully possible that the only difference between him and Collins is that Collins has already shown us he can't play. But if starter Jay Cutler needs another week to recover from a concussion, or if there is another time this season when he can't start, I think we can all agree it's now Hanie's turn. By the way, here's some trivia for you. There have been five quarterbacks in the past 20 years who have thrown four interceptions without a touchdown pass in a game. Two of them did it for the Bears: Collins on Sunday and Rex Grossman in 2006. (Thanks to Keith Hawkins of ESPN's Stats & Information for passing that along.)

Julius Peppers got plenty of attention in his return to Carolina, but how about the performance of fellow defensive end Israel Idonije? Five days after the Bears released former starter Mark Anderson, Idonije collected three sacks and a team-high seven tackles as well as a forced fumble. It's not fair to expect that kind of production every week, but it's about time someone took advantage of the mismatches created when opponents prioritize Peppers in their blocking schemes.
And here is one issue I still don't get:
Will offensive coordinator Mike Martz consider Sunday's 218-yard rushing effort a mirage against a bad defense, or will he work harder to incorporate the running game into his scheme? Matt Forte looked like a gamebreaker Sunday, scoring on first-half runs of 18 and 68 yards. (Be sure to credit receiver Johnny Knox with a strong block of Panthers cornerback Captain Munnerlyn on the first run.) Meanwhile, backup Chester Taylor helped the Bears run out the clock with 10 carries in the second half. With or without Cutler down the road, the Bears should take careful notes on this performance.
NFC NORTH SCOREBOARD
Thursday, 9/4
Sunday, 9/7
Monday, 9/8