NFC North:

Casey Matthews
August, 19, 2014
Aug 19
8:00
AM ET
GREEN BAY, Wis. -- Maybe you've seen
the picture from Super Bowl I
, when
Kansas City Chiefs
quarterback Len Dawson was photographed in full uniform, sitting on a chair in the locker room and taking a drag off a cigarette during halftime of the game against the
Green Bay Packers
.
Or perhaps you've heard the story of Packers defensive end Ezra Johnson
scarfing down a hot dog
on the sideline during a preseason game in 1980.
That is not the NFL that Chip Kelly and Mike McCarthy believe in.
"Not to say that stuff didn't work," Packers outside linebacker
Clay Matthews
joked.
[+] Enlarge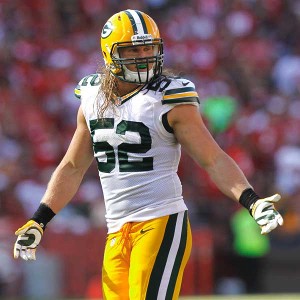 Cary Edmondson/USA TODAY Sports"There was a point where you'd smoke cigarettes and eat hot dogs at halftime," Clay Matthews said. "Now, we have specifically designed drinks for us and stuff that gets you up and going."
There has been much written of late about how Kelly, the
Philadelphia Eagles
' second-year coach, has brought an element of science to the NFL game. An
ESPN the Magazine profile
of Kelly by Seth Wickersham detailed how the Eagles players "wear mandated heart monitors and GPS devices. Trainers carry water bottles labeled with each player's name and after practice ask the players to pee into a cup, part of Kelly's plan to track hydration. A monitor on a wall in the facility ranks the most hydrated players. Drinking water is now a drinking game."
In a
recent Grantland.com story
, Chris B. Brown devoted a part of his Kelly profile to explaining how the Eagles take part in a full-speed practice the day before games "rather than the leisurely walk-throughs run by essentially every other team in the league."
If much of this sounds familiar, it's because in preparing for his ninth season as Packers coach, McCarthy has adopted some of the same practices in Green Bay.
This offseason, the Packers hired Catapult Sports, an Australian-based company that uses GPS technology to compile live data on athletic exertion and help determine how injuries can be prevented.
Nearly a month into training camp, and the Packers, who have been
crushed by injuries in recent years
, had just seven players who sat out of practice on Monday. Only one of them, defensive tackle
Letroy Guion
, had a muscle pull.
"I don't want to really talk about it, honestly," McCarthy said Monday of the relatively low injury totals. "We have a lot of football left."
McCarthy also altered his weekly routine that will put the players through a practice the day before a game. Previously, all of the Packers' on-field work was completed about 48 hours before kickoff.
"Here we are now getting it going on Saturday," Matthews said. "It's a fast, crisp practice. The next thing you know [the game is] the following day. So it doesn't feel like there's a lull. It doesn't feel like there's a wait until the game. You just kind of roll right into it."
And then this summer, the
Packers hired nutritionist
Adam Korzun, who previously worked at the University of Oregon, where it just so happens Kelly coached before jumping to the NFL in 2013. Korzun has been working closely with strength and conditioning coach Mark Lovat.
"These are … discussions that have been going on for some time," McCarthy said when asked about the comparisons to Kelly's program. "Mark Lovat does a great job staying on the front end of the research and the stuff that's out there. We've done a pretty good job around here training our players and winning games.
"We're about winning championships. Anything we feel we can do better, we're going to do our due diligence, go through it. Never want to just do something because someone else did it. But if they're doing something that's better than what we're doing, then we're going to do it. This is the Green Bay Packers. We have tremendous resources and our organization gives us that each and every year, and we feel the changes we made have been for the best."
Matthews' younger brother Casey is a linebacker for the Eagles, but he said the two have not spent much time discussing the similarities of their respective team's use of sports science. Clay Matthews said he has done some reading about what the Eagles are doing, and it sounds a lot like what's going in Green Bay. Matthews said the Packers are monitoring players' hydration levels by checking urine samples on a regular basis just like the Eagles do.
"Seeing this change, I'm able to buy into it," Matthews said. "And I think the other players are too just because of the science behind it."
Receiver
Randall Cobb
, who said he has changed his eating habits and has not eaten red meat in three months, said the team has done sleep studies to give players more information about their health and conditioning.
"Now it's on us as pros to go out and do those things," Cobb said. "They're giving us the education and helping us understand that what we can be doing to help ourselves."
This is not the NFL of Dawson and Johnson, of halftime smoke breaks and sideline sausages.
"I just think it's the natural progression of the league," Matthews said. "There was a point where you'd smoke cigarettes and eat hot dogs at halftime. Now, we have specifically designed drinks for us and stuff that gets you up and going."
February, 27, 2011
2/27/11
8:05
AM ET
We're Black and Blue All Over:
INDIANAPOLIS -- On Saturday, former Chicago Bears safety Dave Duerson was
laid to rest
. On Sunday,
the Chicago Tribune
published a chilling account of the final days before his Feb. 17 suicide. Among other points, the story made clear that Duerson had displayed evidence of diminished mental capacity in recent years. An excerpt:
About three years ago -- more than a decade removed from an 11-year career that took him from the Bears to the Giants to the Cardinals -- Duerson noticed something was not right.

It started mildly. Progressively, it became more problematic. Blurred vision. Headaches. Memory loss. Problems spelling common words. He talked specifically of pain on the left side of his brain.

When he was in Chicago not long ago, the former hard-hitting safety couldn't remember how to get places. "That aggravated him because he could always go anywhere in the city or state without having to look at a map," [ex-wife] Alicia Duerson said.

He couldn't remember when and where [daughter] Taylor's volleyball tournament was. His ex-wife had to remind him, repeatedly.
Duerson was 50.
Continuing around the NFC North as the media portion of the NFL scouting combine concludes:
February, 26, 2011
2/26/11
4:28
PM ET
INDIANAPOLIS -- It makes sense from a dramatic perspective and would be the latest chapter in a storybook period. In 2011, the
Green Bay Packers
could pair All-Pro linebacker
Clay Matthews
with his look-alike little brother, Casey, with but a simple draft-day decision.
[+] Enlarge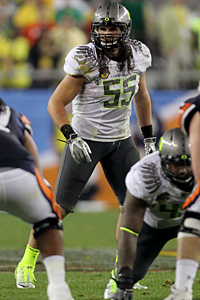 Matthew Emmons/US PresswireOregon linebacker Casey Matthews has similar hair, but a different playing style than his brother, Packers linebacker Clay Matthews.
Many of you have asked if the Packers might draft
Casey Matthews
, a question that remains elusive here at the NFL scouting combine. Here is what I can report: Casey seems to have his brother's subtle, smirking sense of humor. He also has followed the family tradition by growing his hair long enough to flow from the back of his helmet.
But that's where the similarities seem to end. Casey is more of an inside linebacker, a position that currently is overstocked in Green Bay. At 235 pounds, he is at least 20 pounds lighter than Clay, and probably doesn't have the same pass-rushing capacity.
"Clay, he's more of an explosive athlete," Casey said Saturday. "I think my position requires a little more instinctive side and getting to the ball quick. I think that's a part of my game that Clay doesn't necessarily have as well ..."
Casey allowed that final sentence to hang in the air a minute. Realizing it could be construed as a shot, he chuckled and quickly added: "He has a pretty good game though."
The Packers finished the 2010 season with
A.J. Hawk
and
Desmond Bishop
as their two inside linebackers. Veteran
Nick Barnett
(wrist) was on injured reserve, but is expected to be fully healed when preparations resume for the 2011 season. That glut means the Packers could part ways with Barnett or Hawk. Would they re-stock depth with Casey Matthews? That's a question we won't be able to answer for months.
If it did happen, though, Casey admitted he would have mixed feelings.
"I guess it goes both ways," he said. "I would definitely like to go play with Clay. That would be fun [and] easy on my family. But then, again, I don't know how people might perceive it. You're playing in the shadow of your brother. That's what it would start out as. I would like to prove them wrong. I want to prove a name for myself, and not be known as Clay's son or Clay's little brother ..."
Another hanging sentence.
"It's definitely a compliment, though," he added.