NFC North:

Cassius Vaughn
August, 7, 2014
Aug 7
2:40
PM ET
ALLEN PARK, Mich. – Since the start of the offseason and really, continuously for the last decade, the
Detroit Lions
have been searching for a way to solidify their secondary.
They've tried mid-round draft picks coupled with free agent signings, with some minimal success, for the most part.
It worked for Detroit last season, when the Lions signed
Rashean Mathis
in the middle of training camp. The veteran made the roster and ended up as one of the team's starters, along with
Chris Houston
, for the majority of the season.
Florence
Now general manager Martin Mayhew is at it again, hoping he can pull off the same veteran trick for the second straight season. The Lions signed veteran corner
Drayton Florence
on Thursday. The 33-year-old played one season in Carolina and was an occasional starter.
This is Florence's second stint with the Lions -- he played eight games during the 2012 season under former coach Jim Schwartz.
This time, this is a signal that the Lions at least have some concern about the depth on the back end of their cornerback chart. Starters
Darius Slay
and Mathis are locks to make the roster. So, too, is rookie fourth-rounder
Nevin Lawson
, who is likely a backup cornerback and nickelback this season.
Bill Bentley
, last season's starting nickelback, also will likely make the team.
Depending on whether or not the Lions keep five or six cornerbacks, Florence is likely competing with
Cassius Vaughn
,
Jonte Green
and
Chris Greenwood
for one or two roster spots. Vaughn and Green have had good moments during training camp; Greenwood has struggled throughout most of it.
If Florence shows he can still play at age 33 – somewhat ancient by standards of cornerbacks – he could end up stealing a spot from one of those guys. Florence also joins Mathis, 33, as the oldest members of the secondary and the defense and second-oldest on the Lions roster in general, behind veteran center
Dominic Raiola
, who is 35.
Typically, cornerbacks don't stick this late in their careers, but considering Florence's experience and skill, he'll have a shot to make an impact if he shows he can still play. Florence has not been a full-time starter, though, since the 2011 season, when he started all 16 games for Buffalo, making 50 tackles and intercepting three passes.
It will be interesting to see how Detroit uses Florence.
August, 2, 2014
Aug 2
3:00
PM ET
ALLEN PARK, Mich. -- A daily review of the hot topics coming out of
Detroit Lions
training camp:
The Lions had a scrimmage Saturday during their yearly family day, dividing the roster into the first-team offense and second-team defense on one side and the second-team offense and first-team defense on the other. The first-team offense and defense had all the typical players save Calvin Johnson, who did not practice Saturday. That wasn't surprising considering the Lions' focus on keeping their star as fresh as possible. In their daily switch, LaAdrian Waddle lined up with the first team at right tackle and Corey Hilliard with the second team, but that competition between two players who will make the roster continues. Defensively, Tahir Whitehead received a lot of time at linebacker spelling Stephen Tulloch.
Big day for Eric Ebron, who caught a really long pass from Matthew Stafford and appeared to be more confident on the field than he has at any point this camp. It's still going to be a learning process for him for a bit and there will certainly be mistakes, but Saturday was encouraging. Lions coach Jim Caldwell also seemed comfortable with Ebron's progress as he learns the multitude of spots he is expected to line up at this fall. Ebron's play was one of the highlights for the Lions' offense of the scrimmage considering his issues with drops.
The Lions had some issues snapping the ball when Dominic Raiola was not part of the scrimmage. Both Darren Keyton – playing with the first group – and Travis Swanson had bad snaps to quarterbacks, causing issues. In Swanson's case, it led to a fumble recovery for a touchdown by rookie Larry Webster, one of the better plays the defensive end has made during camp. While Swanson is still expected to be the backup center when everything shakes out a month from now, those issues amplified the importance of Raiola and his presence again this season.
Detroit's cornerback situation behind Darius Slay and Rashean Mathis could get interesting. Jonte Green had his best day of camp thus far, breaking up two passes intended for receiver Ryan Broyles, who has not run with the first team much this camp. Chris Greenwood struggled again Saturday as well as those two potentially compete for one roster spot. Slay, Mathis, Bill Bentley, Nevin Lawson and probably Cassius Vaughn appear to be ahead of both Green and Greenwood on the depth chart – although Lawson is going to mostly play nickel. Still a long way to go in this competition with not much settled in the first week.
Another good day for Detroit's kickers as Nate Freese and Giorgio Tavecchio made all their field goals attempted during the scrimmage, including a 50-yarder from Tavecchio that sailed through the uprights with ease. Unlike last season, when David Akers won the kicking job fairly easily, this season it seems like this could go on for a while. A wrinkle here could be something Caldwell said Saturday – that the team would consider using punter Sam Martin on extremely long field goal attempts. He compared it to his situation in Indianapolis, where Caldwell considered using punter Pat McAfee on long field goals. McAfee never attempted a field goal in a game, though. So something to consider as this competition progresses -- especially as Martin has an extremely impressive camp punting.
The Lions will take Sunday off before practicing again Monday at 8:30 a.m.
July, 17, 2014
Jul 17
10:00
AM ET
»
NFC Preview:
East
|
West
|
North
|
South
»
AFC:
East
|
West
|
North
|
South
NFL Nation's Michael Rothstein examines the three biggest issues facing the
Detroit Lions
heading into training camp:
Offensive knowledge:
The Lions looked better over the final two weeks of spring workouts than they did during the first few weeks, when the offense and quarterback
Matthew Stafford
looked completely out of rhythm. However, there is still a lot of learning and adjusting to go, including the re-entry of receiver
Golden Tate
and running back
Joique Bell
into the offense after they sat out part (Tate) or all (Bell) of the spring with injury. By the time training camp begins, the terminology for the new Detroit offense should be down. It'll be the implementation and the repetition of it that likely will still need some work, this time against a defense that eventually will be allowed to bump, press and blitz. The key here, as it always is lately when it comes to Detroit, will be Stafford and his comfort level with the new offense. Most of the players remain the same for him -- but making sure the routes and terminology are correct is going to be one of the most important things for the Lions as they prepare for the season.
What's up at corner:
Chris Houston
is gone.
Darius Slay
, barring injury, will almost certainly be a starter in his second year with the Lions. So, too, will
Rashean Mathis
, who spent almost all of the spring as the cornerback opposite Slay. The question is who ends up behind them. While looking at backups might seem an odd issue for camp, the Lions have been struggling at corner for years now, and having depth there is going to be a key.
Bill Bentley
will likely end up in the slot -- although expect him to be pushed at least a little by safety
Don Carey
and rookie
Nevin Lawson
. The outside cornerback roles, though, will be interesting to see.
Cassius Vaughn
had a good spring, and the veteran could end up earning a roster spot with a strong summer.
Jonte Green
and
Chris Greenwood
both enter their third seasons with the club and could be fighting for one roster spot between the two of them, especially if the Lions choose to keep Vaughn. This is also an area for which Detroit could end up trying to find a veteran upgrade through the free-agent wire, much like the team did with Mathis a season ago. A signing during camp, he turned into the leader of the Lions' cornerbacks and the team's top performer at the position by midseason.
The kicker:
For almost two decades, this was not a problem position for the Lions. Jason Hanson showed up to camp. Jason Hanson kicked the ball. Jason Hanson won the job. Simple. Done. Last season, the Lions went with veteran
David Akers
, a situation that didn't work out. Now, the Lions are hunting for a player they hope will have the same consistency and longevity of Hanson, who retired after the 2012 season.
Nate Freese
, on whom the team spent a seventh-round pick, and
Giorgio Tavecchio
, a former Cal kicker who has bounced around training camps the past two years, are the candidates. Tavecchio has the stronger leg. Freese is likely the more accurate kicker and, due to having a draft pick invested, would appear to be the favorite. However, Detroit understands the importance of having a strong kicker.
Justin Tucker
made six field goals against the Lions last season to help crush their playoff hopes. That was just the latest example of a strong kicker hurting the Lions. So figuring out which player gives the team the best shot will be an underrated -- but vital -- portion of camp.
June, 13, 2014
Jun 13
3:55
PM ET
Part of the reason the
Detroit Lions
essentially ignored addressing the secondary in the 2014 draft was because of the faith general manager Martin Mayhew had in the potential of his young cornerbacks.
That trust is sure to be tested now.
The Lions have released their top cornerback,
Chris Houston
, after an inconsistent 2013 and offseason surgery for a toe that just wouldn't heal.
Darius Slay
and
Rashean Mathis
would now likely be the team's opening day starters at cornerback and the move increases the pressure on an untested group of players.
Houston
Bill Bentley
has experience in the slot and is probably best suited there instead of on the outside.
Jonte Green
started games the past two seasons when players went down to injury, but has not been consistent.
Chris Greenwood
can't stay healthy and has minimal experience.
Cassius Vaughn
had a good spring, but was used to primarily used to provide depth at cornerback in Indianapolis.
The one pick the Lions did use on the secondary, corner
Nevin Lawson
in the fourth round, should have been more of a developmental selection.
At least one of those players will need to be counted on this fall. The early guess would be Vaughn, who has some experience and had moments where he looked extremely sharp in the spring. He likely won't be a starter, but he at least feels like part of the reason the team could have felt comfortable releasing Houston without even seeing him in training camp.
Now, unless the Lions sign a cornerback before camp, they will have to use this group to forge a cornerback corps. It is a unit with some talent, but short on experience. In a division with receivers like
Randall Cobb
,
Jordy Nelson
,
Brandon Marshall
and
Alshon Jeffery
, that is not the type of situation you want to have.
Yet this is where Detroit is in the middle of June.
Something like this -- and Detroit had to have an inkling of concern here considering Houston did not play well in 2013 and had surgery -- was part of why it was so confusing how the Lions handled the secondary in the draft. Yes,
Justin Gilbert
was off the board when Detroit picked, but the team wasted little time before drafting tight end
Eric Ebron
, who the team opened up money to sign by cutting Houston.
They didn't seem to consider either selecting or trying to trade down to nab cornerbacks
Kyle Fuller
,
Darqueze Dennard
or even
Jason Verrett
from TCU or
Bradley Roby
from Ohio State. Or the team could have drafted Ha Ha Clinton-Dix from Alabama or
Calvin Pryor
from Louisville at safety and moved
Don Carey
, the team's third safety, to cornerback -- a position he previously played.
After Ebron, the team went with an interior lineman,
Travis Swanson
, in the third round and traded their fourth round pick to move up for
Kyle Van Noy
. The move possibly cost them one of the litany of defensive backs who went off the board before the team took Lawson with a supplemental pick in the fourth round.
Any of those first three picks could have been used on a secondary player that could have helped.
Of course all of this is hindsight now. Yet the Lions knew this possibility existed because of Houston's past few months. And that possibility became reality Friday -- even if it was somewhat predictable after Houston was excused from mandatory minicamp.
It leaves Detroit either hunting on the free agent wire or sticking with what they have – a group of young cornerbacks that could end up deciding Mayhew's future.
This is a sequence -- between the draft strategy, how's Houston's injury and eventual release was handled -- that should be used to judge Mayhew if Detroit struggles this season.
Mayhew put his faith with a group of young cornerbacks early. With Houston gone, Mayhew will now need them to prove he was right all along.
May, 23, 2014
May 23
12:50
PM ET
ALLEN PARK, Mich. –
Cassius Vaughn
broke on the ball, intercepted
Dan Orlovsky
, and the entire
Detroit Lions
defensive sideline went nuts – celebrating like the pick had happened in a real game and resulted in tangible points instead of what it really was, a play made against the team's backup quarterback during a May workout.
This, though, is perhaps one of the changes for Detroit this upcoming season.
It may only be May and it is still a long way from training camp and the start of the regular season, but one of the definitive things new defensive coordinator Teryl Austin has brought to the Lions is an abundance of exuberance.
[+] Enlarge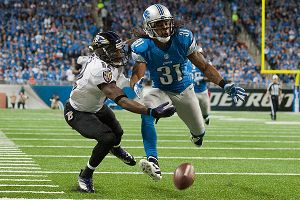 Jason Miller/Getty ImagesPress coverage will likely be the norm for Detroit's cornerbacks, including Rashean Mathis, this season.
"We do like what's going on," cornerback
Rashean Mathis
said. "We do believe in the process. That makes you have a little more energy, when everybody on the team is sold out and sold into the process and buying into what coach is doing. And everybody believes in what he's doing."
Part of that could just be the change in coaching staff from Jim Schwartz to Jim Caldwell – of which the most defining shift would be a personality change, for better or worse. But on defense, more seems to be changing.
The Lions will almost definitely be more multiple in their looks and their packages in 2014 – the way the team drafted somewhat hinted at that, as well as Austin being straightforward about that. They will employ specific ends – an open end and a closed end – instead of being more interchangeable last season.
The open end – likely
Ezekiel Ansah
– will play on the side opposite of the tight end in any formation. The closed end, for now
Jason Jones
, is typically bigger and will be used to try and bump on the tight end side of the field in an attempt to disrupt his route.
That will happen up front.
In the back end, there will be separate free and strong safety designations – that's been known for a while – but how they play corner also will be changing. Expect everything to be much more aggressive with the Lions' cornerbacks.
"I feel we'll press way more this year," cornerback
Darius Slay
said. "Way, way more. Probably every play."
There are risks and benefits to that. The benefit is if the Lions are successful there, it will push receivers off of their routes to start. That might alleviate some of the problems Detroit had reaching the quarterback last season. Too often, they were a step or two from sacking opponents.
This could give the Lions that extra half-second to force those plays. While the true implementation and success of this will not be known until September, the beginnings of it are already there.
They look faster. They look more excited. They look more like a defense focused on causing havoc and creating turnovers from the back to the front.
"Yeah, for sure," receiver
Kevin Ogletree
said. "Those guys are playing like it and bringing an intensity that we need on defense."
While a lot of that has to do with the fiery Austin and the defensive staff he retained – Jim Washburn and Kris Kocurek on the line – and hired – Bill Sheridan with linebackers and Alan Williams with defensive backs – that's not all of it.
It isn't necessarily the coaching or the scheme. It is how they are selling it. That type of convincing doesn't always happen. And that begins with Caldwell.
"I've been a part of a new coaching staff where everything is not agreeable or coaches are not selling whatever they should sell well," Mathis said. "But you know, you can deny a lot of things but you can't deny honest and truth and that's what Caldwell is.
"He's straight and to the point. He doesn't have to scream, doesn't have to yell."
He leaves that to his players when they make plays instead.
May, 21, 2014
May 21
3:45
PM ET
ALLEN PARK, Mich. – The
Detroit Lions
finished up their first open practice of the organized team activities period Wednesday afternoon – and after
Ndamukong Suh
dropped that he controlled his own draft fate in 2010 – there are other things to get to.
Here are some observations and thoughts after watching the Lions' practice under head coach Jim Caldwell, offensive coordinator Joe Lombardi and defensive coordinator Teryl Austin for the first time.
Vaughn

The defense appears faster and certainly more excited than anything I remember from last season. They celebrated plays a lot and seemed to be a fairly cohesive unit throughout the practice. They also seemed to be playing a lot better than the offense throughout the majority of Wednesday's practice, from individual periods to team periods.They seemed sharper, from a couple of interceptions of the first and second groups to just being more aggressive throughout the practice.
Of those players, cornerback Cassius Vaughn stood out heavily. He made a beautiful break on intercepting a Dan Orlovsky pass and had it been a real game, Vaughn might have scored on the play. He seemed to be aggressive and realizing there was an opportunity to be had with Chris Houston and Chris Greenwood both out of practice Wednesday."At this point in time, he's been here with us for a while," Caldwell said of Vaughn. "He's a guy that loves to play and he loves to tell you about it once in a while as he's playing. But nevertheless, he's a guy that's working extremely hard trying to win a spot on this team. He does bring some energy."It's only one practice, but if Vaughn keeps playing as he did Wednesday, he may end up in contention for a roster spot come the fall.
Calvin Johnson did not look like his typically sharp self. He dropped a couple of passes and looks like he is still finding his way into playing shape. Don't forget, he did have offseason surgery and it is May – so nothing to be concerned about yet. Also not looking particularly precise was quarterback Matthew Stafford, who was intercepted by Stephen Tulloch on one play and had a couple of other balls dropped.
Michael Williams is going to have to put on some weight – and he knows it. He said after practice he probably needs to add another 15 to 20 pounds – he's put on six to seven already – and hasn't played offensive tackle in his life. Yet playing tackle instead of tight end might end up being his best path to a roster spot in the fall and in the future, so it makes sense for him to make that switch.
DeAndre Levy's beard is intense – that much was known beforehand – but he looks like he could end up building well off of last season's breakout season. He seems pretty comfortable already and in strong shape. This is going to be important for Detroit's defense this season.
Was also impressed by the size of undrafted free-agent safety Jerome Couplin. He's listed at 6-foot-2, 215 pounds, but when I noticed him in the defensive backfield, he didn't look like your typical safety. He's longer, rangier and perhaps has a longer stride than most of your typical defensive backs. He almost looks more like a taller receiver than someone in the defensive backfield. He's going to end up being a player to watch in contention for a roster spot at points during this camp.
Jeremy Ross also looks like he has improved from a season ago. Possibly a bit bigger – especially in his arms – and perhaps with a little bit more speed as well.
Other notes:
Golden Tate was not at the Lions' open practice Wednesday. He was a bit busy with other things – like going to the White House with his old team, Seattle, to meet President Barack Obama.
Others not participating (in at least some extent) were running back Joique Bell, defensive end Kourtnei Brown, cornerback Chris Greenwood, defensive end Ezekiel Ansah, left guard Rob Sims, linebacker Brandon Hepburn, defensive tackle Nick Fairley and cornerback Chris Houston. Of those players, only Houston, Tate and Fairley were not spotted as at least being in attendance. Some of these players participated in walk-throughs or individual drills.
The Lions have one more organized team activity in this period – Thursday – before being off for the weekend.
April, 7, 2014
Apr 7
2:45
PM ET
ALLEN PARK, Mich. -- The
Detroit Lions
have been spending part of the offseason trying to upgrade their secondary.
On Monday, the team added what could be another piece, signing cornerback
Cassius Vaughn
to a
one-year deal
according to the Detroit Free Press.
The 26-year-old Vaughn played college ball at Ole Miss and went undrafted in 2010. He spent two seasons with Denver before heading to Indianapolis for 2012 and 2013.
He played in every game for the Colts over the past two seasons and has played in 54 games in his NFL career, making 116 tackles and intercepting five passes. He has also recovered four fumbles in his career.
Vaughn adds to a large group of cornerbacks already on the roster, including veteran
Chris Houston
and younger players
Darius Slay
,
Bill Bentley
,
Jonte Green
and
Chris Greenwood
. The Lions are also expected to add a cornerback during May's NFL draft, perhaps even with a first round selection.

NFC NORTH SCOREBOARD
Friday, 8/22
Saturday, 8/23