NFC North:

Chad Pennington
November, 16, 2011
11/16/11
1:25
PM ET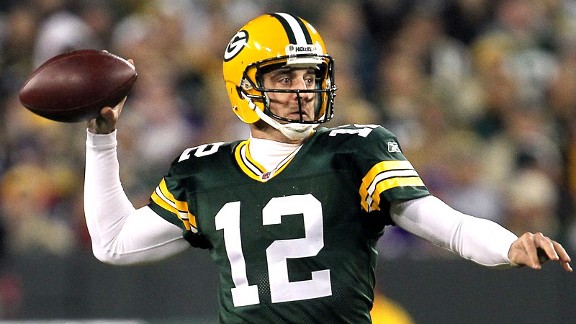 Jonathan Daniel/Getty ImagesAaron Rodgers continued his MVP-type season Monday with four TD passes against Minnesota.
LambeauOrWrigley
offered some perspective through the mailbag that I thought should be shared with the group. As you know, I'm always in favor of letting someone else do the heavy lifting around here.
As the
chart shows
,
Green Bay Packers
quarterback
Aaron Rodgers
has the second-highest career completion percentage in NFL history, based on a minimum of 1,000 attempts. If he continues at his current pace, Rodgers will leapfrog
Chad Pennington
and finish the 2011 season atop this list.
(That's provided
New Orleans Saints
quarterback
Drew Brees
, whose career completion percentage trails Rodgers' by .064 percent, doesn't exceed his current 2011 pace of 70.9 percent completions over his final six games.)
It's only fair to point out that accuracy has elevated substantially over the past decade in the NFL, a product both of West Coast offenses and rules changes that have favored the passing game. A
look at the extended list
reveals that 18 of the 20 most accurate quarterbacks in history have played within the past three seasons. Two Hall of Famers are the only exceptions:
Steve Young
and
Joe Montana
.
I know you're probably bored with it, but I keep going back to Rodgers' rare combination of high completion percentage and yards per attempt (YPA). According to the
always-fantastic database at pro-football-reference.com
, Rodgers has the third-highest average per attempt in NFL history (minimum 1,000 attempts). He is the only player among the top four on this list who played after 1960:
1. Otto Graham (8.98 YPA)
2. Sid Luckman (8.42)
4. Norm Van Brocklin (8.16)
YPA is one measure of downfield passing. It stands to reason that the more downfield (i.e. low percentage) passes a quarterback throws, the lower his completion percentage will be. Graham, Luckman and Van Brocklin all had career completion percentages less than 56 percent.
For those who don't appreciate the numbers, consider a more detailed way of saying that Rodgers is putting together one of the best and historically rare seasons -- and careers -- for a quarterback in the history of the NFL. Plus, who wouldn't want to find a way to get Aaron Rodgers, Steve Young, Joe Montana, Drew Brees, Otto Graham, Sid Luckman and Norm Van Brocklin into a single NFC North blog post? Thanks again to LambeauOrWrigley.
August, 31, 2011
8/31/11
4:05
PM ET
January, 2, 2009
1/02/09
1:05
PM ET
Posted by ESPN.com's Kevin Seifert
Minnesota tailback Adrian Peterson won the NFL rushing title and played on a division-winning team. Nevertheless, I couldn't possibly make an argument for Peterson winning the league MVP award over Indianapolis quarterback Peyton Manning.
| | |
| --- | --- |
| | |
| | Leon Halip/US Presswire |
| | Adrian Peterson led the NFL in rushing with 1,760 yards. |
Manning plays the more important position of the two, and he was the Colts player most responsible for the team ending the season on a nine-game winning streak.
But Peterson didn't finish second, either. He tied for fourth in the MVP voting. Were there really three players who deserved the award more than he did?
I'm sure some voters looked at the Vikings' season and wondered whether backup quarterback Gus Frerotte had a bigger impact on the team's division title than Peterson. (Frerotte started eight of the Vikings' 10 victories). It's clear that at least a few voters thought Atlanta tailback Michael Turner (four votes) and Miami quarterback Chad Pennington (four) played a bigger role in their teams' success than Peterson.
You can make that argument in choosing Manning over Peterson. Otherwise, it seems Peterson's consistent performance had a mind-numbing effect on voters. Peterson, after all, led the league with 10 100-yard games. He also had 20 runs of at least 20 yards, five more than the next-best performer. Is that type of production simply assumed for him?
Again, I can't advocate Peterson as the MVP. But it's a little surprising to see him finish behind three other players and tied with a fourth (Pittsburgh linebacker James Harrison) in the voting.
August, 8, 2008
8/08/08
1:37
PM ET
Posted by ESPN.com's Kevin Seifert
Just waded through 700 or so mailbag questions and comments. The vast majority centered around that minor story on that guy who used to play quarterback in Green Bay -- so we'll assume most of them have been addressed in one way or another. (We'd also like to quell the mutinous intentions of those who are demanding -- fairly -- more posts on the rest of the division).
So we invite you to hit the mailbag with non-Brett Favre questions and we'll compile an expanded Q&A edition over the weekend. For now, let's check in with Shawn:
Shawn of Pensacola, Fla., writes: What are the chances of Chad Pennington ending up in the NFC North, and if the Vikings, would the Vikings have to offer him the starting role in order to sign him?
Kevin Seifert: This qualifies as a distant cousin of Favre questions, but we'll answer it anyway. At this point, it does not appear the Vikings have interest in Pennington. (Judd Zulgad of the Star Tribune sees it the same way). The Vikings are prepared to open the season with Tarvaris Jackson as the starter, and if they need to fall back on a veteran, they already have Gus Frerotte on their roster. Things could always change as the preseason continues, but it doesn't look likely right now.
A few people have connected the dots between Pennington and the Chicago Bears -- the dots being that Pennington is an available quarterback and the Bears aren't exactly overloaded at the position -- but we are aware of no direct interest. (Brad Biggs of the Chicago Sun-Times has a good analysis of the situation).
Pennington has already been contacted by the Miami Dolphins, among other teams.
August, 7, 2008
8/07/08
9:25
AM ET
Posted by ESPN.com's Kevin Seifert
GREEN BAY, Wis. - If I had to interpret the Green Bay Packers' priorities in trading Brett Favre, it would go something like this:
1. Keep him away from the Minnesota Vikings
2. Get it done quickly
3. Everything else
In the end, and despite Favre's wishes, the Packers apparently gave no serious thought to discussing a deal with the Vikings, even if it would have ultimately led them to attaining maximum compensation from the New York Jets.
Packers general manager Ted Thompson is an old-school football man and couldn't accept the possibility of Favre teaming up with the Vikings to pursue the NFC North title. Thompson, in fact, is so traditional that he apparently didn't cultivate the Vikings as a bidder in order to drive up the market.
According to the NFL Network, the Jets gave up a fourth-round draft pick for Favre that could rise to a third-, second- or first-round selection depending on Favre's playing time. That's not a bad haul under the circumstances. But even if they had no intention of completing a deal with the Vikings, it's possible the Packers could have squeezed a higher guaranteed pick from the Jets if they had drawn Minnesota into the bidding -- or simply remained mum on the possibility of a deal with the Vikings and kept the Jets wondering who they were competing against.
Thompson was true to his word and took the honorable approach. But let's just say there are plenty of NFL executives who would have kept the door open -- to create a bidding war, if nothing else.
The Vikings would have proceeded cautiously, and no doubt would have been sensitive to the possibility of being used to drive up Favre's value. But it's fair to say the Packers swapped some of their leverage for principle by saying publicly and privately that they would never trade Favre to the Vikings.
With Favre out of the division (sniff, sniff), here's a look at what's happening with the rest of the NFC North's offenses:
July, 26, 2008
7/26/08
8:31
AM ET
Posted by ESPN.com's Tim Graham
New York Jets general manager Mike Tannenbaum broke from his personal policy and conducted private meetings Friday with quarterbacks Chad Pennington and Kellen Clemens to discuss Brett Favre.
"Given the sensitivity or the high profile of Brett Favre's name, I felt like this was a fairly unique situation, that I wanted to be proactive just so they heard from me first," Tannenbaum said today. "Ordinarily, I wouldn't try to address every rumor with every player."
Tannenbaum was cryptic about what they actually discussed, but what news would Pennington and Clemens need to hear directly from him?
Either the Jets are pursuing Favre, or they're not.
If they weren't, there would be no reason to keep that secret.
Pennington indicated something -- at least preliminarily -- was afoot.
"I did speak to Mike after practice, and he just let me know exactly what the situation was, that they received a call," Pennington said. "That's what I know. Other than that, I really do not have any feelings on it at all.
"I feel very confident about how I'm playing and how I'm developing as a quarterback and trying to get better. Other than that, it's nothing to me."
Perhaps today's developments should mean something. To hear Tannenbaum speak about Pennington, one would get the impression he's already out the door.
"He's a great guy," Tannenbaum said. "He's won playoff games here. I have nothing but all the respect in the world for Chad and his work ethic. He always works on his craft.
"We just had another conversation this afternoon because I felt like that was the appropriate thing to do as the general manager of the team."
July, 25, 2008
7/25/08
2:50
PM ET
Posted by ESPN.com's Tim Graham
The idea of Brett Favre slinging footballs for the New York Jets elicited a very distinct reaction this afternoon throughout the AFC East.
Awwww. Please tell me you're kidding.
No, we're not.
As ESPN's Chris Mortensen reported today, the Green Bay Packers have given the Jets permission to speak with Favre. The Jets and Tampa Bay Buccaneers reportedly want the record-setting quarterback, and the Packers appear ready to trade him.
The Jets went 4-12 last season, struggling to mount any substantial offense with Chad Pennington or Kellen Clemens.
Suffice to say, the rest of the AFC East likes its chances against either of those two.
The dynamic would change radically with Favre in green and white.
As one AFC personnel man told me, it's too difficult to predict how Favre would benefit the Jets because his impact would rely on many moving parts. How fast does he learn the system? How quickly does he find chemistry with his receivers? How does he handle new surroundings -- and what certainly will be a relentless media -- after so many years in a homogenous setting?
But one thing opponents can be sure of: Favre's vertical ability would transform the Jets enough to make defensive coordinators squirm. No more touch-and-feel Pennington plays. No more safe calls because of Clemens' inexperience and questionable decisions.
Favre's presence would remove the handcuffs. The card offensive coordinator Brian Schottenheimer holds on Sunday would look a whole lot different.
But would trading for Favre be a wise choice for the Jets?
The Jets would be making a substantial commitment to a player who can help them win now but won't be a part of their future. They would be asking an awful lot of an aging player -- one who already has retired once, mind you -- and asking him to rally a group of teammates he has never played with.
That might be too much to ask on a team with so many question marks.
The trade might not work, but the mere possibility Favre could join the Jets has created plenty of dread within AFC East offices.
When was the last time a Jets quarterback did that?