April, 9, 2010
4/09/10
9:50
AM ET
In researching this week's
post
on Minnesota's dilemma at quarterback, I reached out to Steve Muench of Scouts Inc. Steve went over a number of the top draft prospects, and his evaluation of Notre Dame's
Jimmy Clausen
was telling.
"Maybe his top attribute," Muench said, "is that he played in a pro-style offense."
It wasn't so much a shot as it was an acknowledgment that Clausen will enter the NFL with far more experience than some of his contemporaries in operating the type of scheme he must master before getting on the field. That background is becoming increasingly rare as more college teams move to a version of the spread offense.
At Notre Dame, Clausen played in a pseudo-West Coast scheme under former coach Charlie Weis. The Vikings are among many NFL teams that run a similar style.
Teams looking to get a first-round quarterback on the field within a year or two will without question take that background into consideration. Perhaps that's why Clausen's private throwing session, scheduled for Friday in South Bend, Ind., hasn't drawn the attention of some other high-profile quarterbacks. His game tape probably gives a much more accurate depiction of his NFL aptitude, one way or the other.
ESPN's Stats & Information put together some numbers that illustrate the dichotomy of Clausen's background compared to that of some other top prospects. In the chart to your right, you see Clausen's 2009 breakdown in throwing from the shotgun and when he lined up under center.
While more than half of his throws came from the shotgun, the figures are still much more balanced than those of Oklahoma's
Sam Bradford
, Texas'
Colt McCoy
and Florida's
Tim Tebow
. Here are the total number of passes each of those quarterbacks threw last season after lining up behind center, according to the same research:
McCoy:
12 (5-for-12, 27 yards)
Bradford:
1 (0-1)
Tebow:
1 (1-1, 16 yards)
It's not as if Bradford, McCoy and Tebow won't be able to make the adjustment to a more traditional dropback passing. But it is a different perspective and takes time to re-acquaint with after a college career in the spread system. That's why the focus of Clausen's throwing session will be to test his healing toe more than it will be to judge his ability to throw NFL-style passes.
Jimmy Clausen will work out for scouts at Notre Dame's pro day
January, 6, 2010
1/06/10
7:52
AM ET
We focused Tuesday on the
contradictory messages
emanating from Chicago's hour-long news conference at Halas Hall.
Status quo or major changes? You decide.
Now it's time to cast our gaze forward at the Bears' search for new offensive and defensive coordinators. Here's what I can tell you so far: For what it's worth, there are three names circulating for the offensive job and one prominent name on defense.
ESPN's Adam Schefter
reports the Bears have already reached out to Southern California offensive coordinator Jeremy Bates, who was
Jay Cutler
's quarterbacks coach in Denver and maintains a strong relationship with him. Given what's evident about the Bears' situation, and Bates' reported desire to return to the NFL, this seems to be a real possibility for a match.
Former St. Louis coach Mike Martz, who once hired Bears coach Lovie Smith as his defensive coordinator, has expressed interest in the job. Martz would probably get more out of Cutler than former coordinator Ron Turner, but it's important to note that Smith said he wants to maintain "balance" between the run and the pass even if the team throws more next season. "Balance" and "Martz" have rarely been used in the same sentence.
Finally,
ESPN Chicago's Jeff Dickerson
reports that former Notre Dame coach Charlie Weis is intrigued by the job. But Dickerson also reports that Cutler is lobbying hard for Bates.
On the defensive side,
speculation on the NFL's Web site has centered
on former Buffalo interim coach Perry Fewell, who interviewed Monday night for the Bills' permanent job. He's also
scheduled to interview
Thursday for the New York Giants' defensive coordinator job.
Fewell was the Bears' defensive backs coach in 2005 before leaving to become the Bills' coordinator. Smith indicated Tuesday he preferred candidates with familiarity. "When you have a basic philosophy," Smith said, "you want someone with a similar philosophy."
We'll keep you updated.
December, 8, 2009
12/08/09
11:00
AM ET
»
NFC Stock Watch
:
East
|
West
|
North
|
South
»
AFC
:
East
|
West
|
North
|
South
Falling
1. Matthew "Macho Man" Stafford, Detroit quarterback:
Has Stafford shown us how tough he is?
Oh, yeah
. Has he taken most of the Lions' snaps since separating his left shoulder two weeks ago? Oh, yeah. Has he gotten enough experience this year? Oh, yeah. There doesn't seem to be any logical reason for the Lions to continue playing their $41.7 million man through an injury that remains painful and seems to be impacting his play. Coach Jim Schwartz was non-committal about the situation Monday, but Schwartz doesn't typically tip his hand on personnel issues. If Stafford won't shut himself down, which most rookies wouldn't do, then the Lions might have to do it for him.
2. Minnesota's defensive line:
One of the best position groups in football was totally shut down by Arizona's offensive line. It was clear the Cardinals were not going to let right end
Jared Allen
beat them, and he faced a battery of double-teams and chips throughout the game. On this occasion, Allen's teammates didn't pick up much of the slack. Defensive tackle
Kevin Williams
and left end
Ray Edwards
each finished with one tackle. Only nose tackle
Pat Williams
took advantage of the single blocking he faced, making two tackles behind the line of scrimmage.
3. The rumor mill in Chicago:
It seems that every day there is a suggestion about who will replace Ron Turner next season as the Bears' offensive coordinator. One day it's Mike Martz. The next it's Charlie Weis. Then Jeremy Bates. Some of the names are legitimate and some are being tossed into the ring for leverage in other jobs. But with more than a month left in the regular season, the speculation is mostly moot right now. It's pretty unlikely coach Lovie Smith has formed a search committee. So everyone relax for a few more weeks -- until we really start grinding that mill.
[+] Enlarge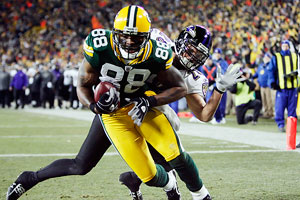 Jerry Lai/US PresswireJermichael Finley scored twice in the Packers' win Monday night.
Rising
1. Dom Capers, Green Bay defensive coordinator:
Whether you buy the NFL's method for ranking defenses (based on total yards), you have to admit the Packers have made dramatic strides on that side of the ball. Much of the credit goes to Capers, who has transformed a passive scheme into an attacking and opportunistic defense. The Packers rank first in the NFL with an average of 273.5 yards per game and second in with 31 takeaways. The defensive turnaround has the Packers in the driver's seat for an NFC wild-card berth.
2. Matt Forte, Chicago tailback:
Heard of small victories? Forte's 91-yard performance Sunday against St. Louis was his second-highest single-game total of the season. In fact, it was only the third time he's finished with more than 66 rushing yards in a game. A pessimist would note that those performances came against the St. Louis, Cleveland and Detroit (combined record: 4-32). But when you're having a season as disappointing as Forte's has been, you take your success in any form it comes your way. Remember: small victories.
3. Jermichael Finley, Green Bay tight end:
If only every game was on Monday night. Finley caught seven passes for 79 yards on and two touchdowns in the Packers' victory over Baltimore. And in two "Monday Night Football" games this season, Finley has 13 receptions for 207 yards and three touchdowns. His all-field potential was on display against the Ravens. Finley made a nice catch on a fade route over Ravens safety
Tom Zbikowski
for one touchdown, and then ran over Zbikowski for his second.
NFC NORTH SCOREBOARD
Thursday, 9/4
Sunday, 9/7
Monday, 9/8