NFC North:

Chase Blackburn
November, 26, 2012
11/26/12
12:30
PM ET
After the Green Bay Packers' 38-10 loss to the New York Giants, here are three issues that merit further examination:
ESPN.com

Part of our discussion Sunday night was the relatively low number of playmakers the Packers defense had on the field Sunday night, mostly due to injuries. The Giants converted 50 percent of their third-down attempts, did not commit a turnover and quarterback Eli Manning was sacked once. In that vein, it's fair to question why the Packers decided to start Davon House at cornerback and use rookie Casey Hayward only in nickel situations. Hayward has been one of the Packers' top defensive playmakers this season with five interceptions. But Sunday night's personnel decision left him playing only 21 of the Packers' 65 defensive snaps, while House played on 63. House is a big cornerback with some tackling ability and potential, but it's worth noting the Giants targeted him on two of Manning's three touchdown passes. I'm sure the Packers had their reasons, and it's fair to press them this week for an explanation.

Of all the Packers' injuries this season, I wonder if right tackle Bryan Bulaga's isn't going to be the most significant. In the two games since Bulaga suffered a season-ending hip injury, forcing T.J. Lang to right tackle and Evan Dietrich-Smith to left guard, quarterback Aaron Rodgers has been sacked eight times. Sunday night, the Giants put Rodgers under duress -- via sack, hurry or hit -- on 51.5 percent of his dropbacks. That was the highest percentage against any qualifying quarterback in the NFL this season. Rodgers has now been sacked an NFL-leading 37 times, a pace that would leave him with 53 sacks on the season. That would eclipse his team record for sacks (50), set in 2009. In case you're wondering, David Carr holds the record for most sacks taken in a season (76 in 2002).

Rodgers has thrown unique interceptions in each of his past two regular-season games against the Giants. Last season, you might recall, Giants linebacker Chase Blackburn intercepted him in essence because he played the wrong coverage. Sunday night, Giants cornerback Corey Webster left receiver James Jones and, even though he was supposed to play a Cover-2 scheme, he instead jumped a stick route to receiver Randall Cobb. In short, Webster could reasonably be expected to stay with Jones based on the defense the Giants were using. I'm not sure if he freelanced or had authorization to read and react if he saw Cobb, but Rodgers never anticipated the possibility that Webster would slide over. "That's kind of what you're going to get from Webster," Rodgers said. "He got beat on a double move [against receiver Jordy Nelson in the first quarter], and then he takes a gamble for whatever reason in Cover 2. He doesn't really jam the outside receiver. I never saw him. I never expected to see him down there." This is not to excuse Rodgers for his throw. It was an interception and it was costly. In this case, however, we have more context than we usually have to help explain what happened.
And here is one issue I still don't get:
I'm starting to wonder if the Packers just aren't equipped to counter the two-deep safety look the Giants used almost exclusively after Nelson's 61-yard touchdown. In fact, after that play, Rodgers didn't attempt another pass that traveled 30 yards in the air. The best way for the Packers to combat such coverages is to run the ball, but they were not effective Sunday in their decision to rotate James Starks and Alex Green. The two combined for 65 yards on 18 carries against a defensive front they should have hit for much more. "There are plenty of answers to that," Rodgers said. "We just didn't execute them." Given the current state of their offensive line, and the apparently limited skill set in their backfield, I'm not sure if there is anything substantial the Packers' running game is going to be able to do to affect a change here.
December, 7, 2011
12/07/11
3:15
PM ET
I was a baseball beat writer many ages ago and, recently, I was reminded of a story that applies to a rare occurrence we saw last weekend in the NFC North.
In a late 1990s game, then-Baltimore Orioles left fielder B.J. Surhoff came to bat with the bases loaded. He was facing a young, hard-throwing relief pitcher whose name I have long since forgotten. The pitcher couldn't throw strikes and quickly fell behind. Facing a full count, the pitcher was one ball away from walking in a run.
Everyone in the ballpark figured the next pitch would be a fastball, a pitcher's best chance for throwing a strike or getting contact or somehow avoiding a walk. Surhoff was sitting dead red, as the seamheads like to call it, and almost fell down while swinging early on an improbable change-up.
Furious, Surhoff stormed into the Orioles dugout. As then-manager Ray Miller told us later, Surhoff yelled to the pitcher: "Learn how to play the game!"
[+] Enlarge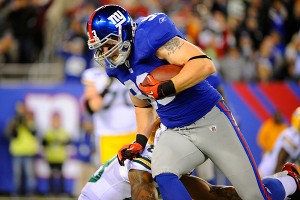 Rich Kane/Icon SMIChase Blackburn intercepted a pass intended for Greg Jennings. The turnover led to a Giants TD.
Yes, sometimes ignorance beats veteran smarts. That's pretty much what happened on the interception
Green Bay Packers
quarterback
Aaron Rodgers
threw in the second quarter of last Sunday's game against the
New York Giants
.
Trust me. I'm not trying to be a Rodgers apologist in this instance. He does in fact make mistakes, but in this case, the interception occurred mostly because Giants linebacker
Chase Blackburn
-- who had just re-signed with the team earlier in the week -- was out of position relative to the coverage.
Some of you might have seen ESPN analyst Eric Mangini break down the play earlier this week on "NFL Live." Rodgers confirmed Mangini's analysis during
his ESPN 540 radio show
this week.
Upon arriving at the line of scrimmage, Rodgers identified the Giants in a classic Tampa 2 defense with Blackburn as the middle linebacker. That meant Blackburn would have responsibility for the deep middle of the field. Given the Packers' play call, Blackburn would have responsibility for Packers receiver
Randall Cobb
, who was running a post route down the middle of the field.
Rodgers couldn't see Blackburn as he backpedaled from center, but said he "figured" Blackburn would chase Cobb downfield. Receiver
Greg Jennings
was the next read, and based on how the Packers' play call matched up to the Giants' defense, Jennings would be open.
But Blackburn was either thinking along with Rodgers, and risking a deep completion to Cobb if he was wrong, or just wasn't quick enough to get into position. Instead of following Cobb downfield, Blackburn stopped and undercut Jennings. That's why he was in position to make what appeared to be an easy interception.
Rodgers ultimately took the blame for making the throw, his fifth interception in 408 attempts this season. He called it a "deadly quarterback sin" to make a "semi-blind throw."
As amateur observers, we all wonder sometimes how a veteran quarterback can throw the ball directly into an opponent's hands. In this instance, at least, we know why -- with big hat tips to Mangini and Rodgers.