September, 21, 2011
9/21/11
7:10
AM ET
We're Black and Blue All Over:
There is undoubtedly a part of Mike Martz that will be tempted. The Chicago Bears' offensive coordinator will see the Green Bay Packers' difficulty
defending the pass
and will feel an urge to start calling passes all over Soldier Field on Sunday. And if he does, writes
David Haugh of the Chicago Tribune
, the Bears should fire him -- immediately.

Haugh: "If I were general manager Jerry Angelo or [coach Lovie] Smith, I would make clear if Martz goes rogue once more, as he did when the offense inexplicably had a 3-to-1 pass-to-run ratio in the third quarter of a close game, the Bears will move on. One more game plan recklessly putting [Jay] Cutler in harm's way, the way calling 52 passes to 11 runs did, and I either would fire Martz or strip him of play-calling duties on the spot."
That's a strong sentiment, to be sure. The Bears have some talented assistants on their staff, but unless I'm mistaken, none of them have experience as an offensive playcaller. But the point isn't so much that calling too many passes, as Martz did last Sunday against the New Orleans, should be a fireable offense. It's that the Bears already addressed the issue with Martz last year, making Sunday's game a suspicious case of at least passive insubordination.
I highly doubt the Bears would fire Martz during the season, but it's clear the Bears need to raise the urgency of the message Martz is hearing.
Continuing around the NFC North:
September, 4, 2011
9/04/11
3:50
PM ET
Let's account for a few Sunday afternoon newsbits in quick-hitting fashion ...

Item:
The
Green Bay Packers
are back at practice Sunday in preparation for Thursday's season opener (!) against the
New Orleans Saints
.
Comment:
According to
Tom Silverstein of the Milwaukee Journal Sentinel,
a number of injured players have returned. That list includes tight end
Jermichael Finley
, receiver
Randall Cobb
and defensive end
Mike Neal
. I'll have more on the start of Week 1 in a bit.
Item:
The Packers slipped several valued players through waivers and signed them to their practice squad.
Comment:
Receivers
Tori Gurley
and
Chastin West
, along with quarterback
Graham Harrell
, were all part of the practice squad Sunday. It was particularly important to keep Harrell in the program with No. 2 quarterback
Matt Flynn
's contract set to expire after this season.

Item:
The
Detroit Lions
waived running back
Aaron Brown
and center
Chris Morris
. They reportedly claimed offensive lineman
Jacques McClendon
from the
Indianapolis Colts
. At the moment, the second roster spot is unfilled.

Comment:
Veteran running back
Chester Taylor
signed with the
Arizona Cardinals
, eliminating that possibility for the Lions. It's not clear if Brown's departure means another running back is on the way in, or if he was simply the least-valued player remaining on the Lions' 53-man roster. We'll keep you updated.

Item:
The
Minnesota Vikings
claimed
linebacker
Xavier Adibi
from the
Houston Texans
.
Comment:
The Vikings are a 4-3 team and Adibi
[Updated]
probably lost his job because the Texans switched to a 3-4. Depth was a critical issue here. Only five linebackers were on the original 53-man roster, and Adibi provides credible insurance should a starter be injured.
September, 3, 2011
9/03/11
7:11
PM ET
Check here
for a complete list of the
Green Bay Packers
' roster moves.

Surprise move:
Packers coach Mike McCarthy made clear
early in camp
that he hoped to find a way to keep
Graham Harrell
on the final roster. It's no secret that No. 2 quarterback
Matt Flynn
is a pending free agent, and McCarthy thought now wouldn't be a good time to part ways with another quarterback who has spent time developing in the Packers' system. Harrell rebounded from a shaky start to camp, but I guess the Packers couldn't find a place for him on a roster that includes five tight ends and a whopping 10 linebackers. I would expect him to return on the practice squad, assuming he clears waivers.
No-brainers:
It's hard not to connect
Jermichael Finley
's pending free agency with the high number of tight ends the Packers kept. The list included two rookies,
D.J. Williams
and
Ryan Taylor
, along with veterans
Andrew Quarless
and
Tom Crabtree
. When you have a big-time starter entering a contract year, it makes sense to ensure your future bases are covered. Meanwhile, I don't fault the Packers for limiting themselves to five receivers, and in the process cutting loose
Chastin West
and
Tori Gurley
, among others. Both could return via the practice squad, and the veteran depth they have at the position would have made it difficult for a No. 6 receiver to be active on game day. Finally, the Packers chose to keep veteran tailback
Ryan Grant
and release the younger
Dimitri Nance
. Smart move.
What's next:
The Packers have already found two trade partners for their players, sending fullback
Quinn Johnson
to the
Tennessee Titans
for an undisclosed draft pick and guard
Caleb Schlauderaff
to the
New York Jets
for an undisclosed draft pick. There aren't any obvious holes on their current 53-man grouping, so the Packers' primary goal Sunday will be to get as many of their just-released players through waivers and onto the practice squad as possible.
September, 3, 2011
9/03/11
2:50
PM ET
One of the
Green Bay Packers
' top preseason storylines has centered around whether they could find an extra roster spot for a deep group of wide receivers. This week, we discussed
the relative merits
of rookie
Tori Gurley
, an intriguing 6-foot-4 prospect who displayed a natural ability to block punts during training camp.
It appears we have an answer, based on reports from
Tom Silverstein of the Milwaukee Journal Sentinel
and
Rob Demovsky of the Green Bay Press-Gazette
. Gurley has been advised he will be released, according to their reports, joining
Chastin West
and
Kerry Taylor
on that list.
Barring a change of plans, those decisions will leave the Packers with five receivers:
Greg Jennings
,
Donald Driver
,
Jordy Nelson
,
James Jones
and rookie
Randall Cobb
. It could also create a roster spot for an extra tight end, another deep group.
I would imagine that Gurley, especially, is a candidate for the practice squad. More in a bit.
September, 1, 2011
9/01/11
4:10
PM ET
Welcome to preseason Week 4, where most players you know and love will take up residence on the sideline. All four NFC North teams are in action Thursday night. I've tossed out a few talking points below and will have some postgame thoughts either late tonight or, more likely, first thing Friday morning.

Chicago Bears
Opponent:
Cleveland Browns
Location:
Soldier Field
Key
issues:
Backup quarterback
Caleb Hanie
has a 55.9 passer rating this preseason, having thrown two interceptions and no touchdowns in 53 attempts. His job isn't threatened, but the Bears would like to see him finish summer on a higher note. ... Do the Bears have any pass-rushing depth other than tackle/end
Amobi Okoye
? This game should provide give us some definitive answers.

Detroit Lions
Opponent:
Buffalo Bills
Location:
Ralph Wilson Stadium
Key issues:
The Lions have built significant momentum this summer and, frankly, escaping unscathed Thursday night should be their only goal. They should take a long look at their running back depth, determine a winner in their punting derby between
Nick Harris
and
Ryan Donahue
, and get back to Detroit.

Green Bay Packers
Opponent:
Kansas City Chiefs
Location:
Lambeau Field
Key issues:
The Packers need to decide how many receivers and tight ends they'll keep and then make decisions accordingly. Will receiver
Chastin West
make the team? How about receiver/punt blocker
Tori Gurley
? Also, third-string quarterback
Graham Harrell
should get a long opportunity to lock down a roster spot.

Minnesota Vikings
Opponent:
Houston Texans
Location:
Metrodome
Key issues:
Rookie quarterback
Christian Ponder
will start. Will he earn the No. 2 job behind
Donovan McNabb
? Or will it be
Joe Webb
? We'll also get a look at the Vikings' depth, or lack thereof, behind tailback
Adrian Peterson
. It's interesting to note they tried to claim former Lions fullback/running back
Jerome Felton
. Meanwhile, second-year defensive end
Everson Griffen
will get a look at linebacker as the team looks for depth behind its starters.
August, 31, 2011
8/31/11
12:30
PM ET
While many of us have spent the summer
watching the rise
of undrafted free-agent receiver
Dane Sanzenbacher
with the
Chicago Bears
, another interesting dynamic among wide receivers has played out with the
Green Bay Packers
.
[+] Enlarge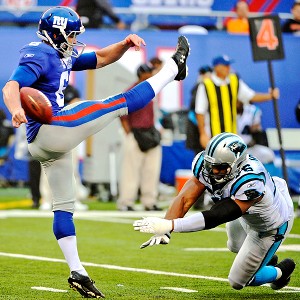 AP Photo/Bill KostrounOnly 12 out of 2,467 punts were blocked during the 2010 regular season.
The Packers have a deep group with five jobs seemingly locked up.
Greg Jennings
,
Donald Driver
,
Jordy Nelson
,
James Jones
and
Randall Cobb
all presumably have made the team. There are a number of promising young players competing for a sixth spot, if there is one, and
Tuesday's SportsNation chat
brought to light what I thought was an interesting question.
Namely: Would you make a spot on your 53-man roster based on a player's potential to block a punt?
That's the biggest advantage that rookie
Tori Gurley
has over
Chastin West
and others. Gurley is 6-foot-4, and as
Tyler Dunne of the Milwaukee Journal Sentinel
pointed out, had by far the longest wingspan (83.5 inches) of any receiver who tested this past winter at the NFL scouting combine. He has blocked five punts during training camp practices this summer, nearly got his hands on one in last Friday's preseason game against the
Indianapolis Colts
and people are actually referring to him as a Pterodactyl.
There has to be a special reason for any team to keep a sixth receiver, even for the Packers -- who make relatively liberal use of four- and five-receiver sets. Special teams is a crucial factor, but is the potential for a blocked punt enough of an enticement?
I can see it from both angles. Last season, NFL teams combined for 2,467 punts. Out of that total, 12 were blocked. That's one block for every 205 punts. The Packers last blocked a punt in 2003. No matter how skilled Gurley might be, a blocked punt is one of the lowest-percentage plays in the NFL.
On the other hand, blocked punts are often game-changing plays. If the 53rd man on your roster makes a substantive contribution to just one victory, he's probably paid his way.
Gurley is an intriguing prospect on a number of levels. He has shown flashes as a receiver during the preseason and, as a wise man I know told me, you can't teach 6-foot-4. But the punt-blocking potential is a new one for me. I don't know if I've ever seen it at the top of a player's résumé. Stay tuned.
August, 28, 2011
8/28/11
4:01
PM ET
All NFL teams must cut their roster from 90 to 80 players by Tuesday, and the
Green Bay Packers
got started Sunday morning before hitting the practice field.

Among those released were a pair of recognizable names, tight end
Spencer Havner
and receiver
Brett Swain
, whose early departures speak to the depth and fierce competition at their respective positions.
All five tight ends remaining on the Packers roster, including rookies
D.J. Williams
and
Ryan Taylor
, have legitimate chances to make the final roster. The Packers also have 11 receivers left and are judging strong summer performances from youngsters
Chastin West
and
Tori Gurley
, among others.
The moves leave the Packers with a total of 83 players. Teams will be allowed to carry 80 players until Sept. 3, when the final cutdown to 53 is required.
August, 27, 2011
8/27/11
7:30
AM ET
Reviewing Friday's action at Lucas Oil Stadium:
Green Bay Packers 24, Indianapolis Colts 21
Preseason record:
(2-1)

Of interest:
The Packers offense opened with a three-and-out and then shifted to its increasingly intriguing no-huddle offense. It led to a total of 10 points for the starters in the first half, including
Aaron Rodgers
' 18-yard touchdown pass to tight end
Jermichael Finley
. Rodgers finished with 204 passing yards in the first half. But the Packers walked away with plenty to work on. Rodgers continued to take more hits than you would like. Left tackle
Chad Clifton
struggled with defensive end
Dwight Freeney
, contributing to a pair of sacks and also producing a holding penalty that wiped out a 20-yard touchdown pass to
Chastin West
. Right guard
Josh Sitton
gave up a sack for the second consecutive week, this time to former
Chicago Bears
defensive tackle
Tommie Harris
. ... Tailback
Ryan Grant
managed 16 yards on six carries, an effort that will keep his competition with
James Starks
in play. Starks got only one carry but caught five passes for 38 yards. ... The first-team defense blitzed Colts quarterback
Curtis Painter
extensively but eventually gave up a pair of touchdowns in the second quarter. One came on a busted coverage by safety
Morgan Burnett
, while the other came with the always-shaky
Jarrett Bush
in man coverage. ... Coach Mike McCarthy worked hard to ensure this victory, however, ordering a 2-point conversion after
Ryan Taylor
's 11-yard touchdown reception with 35 seconds remaining. After a successful onside kick, place-kicker
Mason Crosby
atoned for an earlier miss with a 50-yard game-winner. ... Quarterback
Graham Harrell
's late-game heroics could go a long way toward making the team.
Local coverage:
McCarthy said he never considered kicking an extra point after Taylor's touchdown to leave with a 1-point loss, according to
Rob Demovsky of the Green Bay Press-Gazette
. McCarthy: "I understand the mindset of kicking the extra point and going home a little healthier. That's a terrible message to send to your team, in my opinion. ... I thought it was a tremendous boost for our football team. I think anytime you win a game in that fashion, it's healthy." ... The Packers starters should have scored more points,
Demovsky quotes
right tackle
Bryan Bulaga
as saying. ... Players seemed tired at times as a result of the no huddle, but Clifton (via
Tom Silverstein of the Milwaukee Journal Sentinel
) said: "There's no excuse for it. I need to play better. Our job is to perform and perform at a high level. I didn't do that tonight. I know it wasn't one of my finest performances. I'll just have to learn from it." ... Burnett admitted he was at fault in the busted coverage that led to
Reggie Wayne
's 57-yard touchdown. Via
Tyler Dunne of the Journal Sentinel
: "That was on me all the way. I should have stayed deep in my half. It's just a routine play. I need to really work on that. I can't put too much thought in it. Just need to bounce back." ... Rodgers on his touchdown pass to Finley, via J
ason Wilde of ESPNMilwaukee.com
: "It was two guys on the same page. It was nice to be able to have that non-verbal acknowledgement of what we're trying to do there."
Up next:
Thursday against
Kansas City Chiefs
August, 24, 2011
8/24/11
7:15
AM ET
We're Black and Blue All Over:
Rookie receiver/kick returner Randall Cobb has been the talk of Green Bay Packers training camp. But will he disappear from the public spotlight during the walk-up to the regular season? An unusual injury has called his immediate availability into question, notes
Tom Silverstein of the Milwaukee Journal Sentinel
.

Cobb apparently suffered contusions on both knees during a kickoff return during last weekend's preseason game against the Arizona Cardinals. He has not practiced since, is walking somewhat gingerly and can't say for sure that he will play in the Sept. 8 season opener against the New Orleans Saints.
These types of injuries are why teams build depth, and the Packers at this point are more than prepared to absorb it. Rookie Alex Green could return kickoffs while Jordy Nelson and Chastin West are candidates to return punts. And if anything, they have a surplus of receivers to use on offense at this point.
Obviously everyone wants to see a dynamic playmaker on the field right away. But it's not yet clear if that will happen for Cobb.
Continuing around the NFC North:
August, 20, 2011
8/20/11
7:42
AM ET
Reviewing Friday's action at Lambeau Field:
Green Bay Packers 28, Arizona Cardinals 20
Preseason record:
1-1

Of interest:
The first-team offense went three-and-out in its first series, punted after two first downs on its next possession but looked sharp in its third, which ended on
Aaron Rodgers
' 20-yard back-shoulder touchdown pass to receiver
Greg Jennings
. Not coincidentally, the Packers took a pre-planned no-huddle approach in that third series. Rodgers completed all five of his passes on the drive, including three consecutive to tight end
Jermichael Finley
. ... Overall, Finley was targeted on five passes in his preseason debut, catching four for 33 yards. ... Rodgers took three significant hits that I saw, one after Cardinals defensive lineman
Calais Campbell
ran right past rookie left guard
Derek Sherrod
. Cardinals lineman
Darnell Dockett
also split a double team against right guard
Josh Sitton
and right tackle
Bryan Bulaga
for a hit. ... I thought the defense created some havoc for Cardinals quarterback
Kevin Kolb
, limiting the Cardinals offense to a pair of field goals before coordinator Dom Capers began substituting. ... The defense's new (occasional) look of
Ryan Pickett
at nose tackle and
B.J. Raji
at end is interesting and worth further discussion next week. ... Safety
Morgan Burnett
continues to look aggressive in his return and made a nice play to break up a late Kolb pass to receiver
Larry Fitzgerald
. ... Fitzgerald later made one of the most incredible one-handed catches you'll ever see as he fell to the ground, setting up a field goal. ... The first look at running back/kick returner
Alex Green
was positive, most notably on a 25-yard screen reception. ... I don't know if
Chastin West
's 97-yard catch-and-run down the right sideline will help him make the team, but it sure was fun to watch. Perfect throw from quarterback
Matt Flynn
. ... Two injuries to keep an eye on: Receiver
Randall Cobb
(bruised knee) and defensive end
C.J. Wilson
(possible concussion).
Local coverage:
Finley wanted to continue playing with the second-team offense, writes
Jason Wilde of ESPNMilwaukee.com
. Finley: "I felt like the old '88.' I started getting revved up and heated and I was really close to telling them to keep me in. I'd have played the whole game. I'd have played with Flynn if I had to. It was just one of those things I had to get past me, and I got it past me." Tailback
Ryan Grant
doesn't appear to have lost a step, writes
Bob McGinn of the Milwaukee Journal Sentinel
. Packers.com has
posted video
of West's touchdown reception. It's also in the video that will accompany this post for a few days.
Rob Demovsky of the Green Bay Press-Gazette
on Green's night: "If Green shows he can pass protect, he could be a valuable weapon as a third-down back. He's a better receiver than
Brandon Jackson
, who had the job last season. But if he can't pass protect -- he gave up a quarterback hit by linebacker
O'Brien Schofield
on Matt Flynn in the third quarter -- then he won't win that job." Sherrod probably lost any chance he has of beating out
T.J. Lang
for the starting job, notes
Tom Silverstein of the Journal Sentinel
.
Up next:
Friday at
Indianapolis Colts