September, 4, 2010
9/04/10
8:06
PM ET

Check
here
for a full list of Green Bay's roster moves.
Biggest surprise:
Spencer Havner
was the Packers' No. 3 tight end last year and this summer, but his versatility seemed to make him a valuable part of the roster. He's a competent receiver, a good blocker, decent on special teams and also can play linebacker. Perhaps he wasn't good enough in any of those roles to justify a roster spot for. I don't know for sure. Regardless, the Packers chose veteran
Donald Lee
, rookie
Andrew Quarless
and also
Tom Crabtree
ahead of him. Meanwhile, we discussed the possibility that defensive back/kick returner
Will Blackmon
might get squeezed out. But it appears the Packers believe he isn't close to recovering fully from an October knee injury. They officially placed him on injured reserve, but he'll eventually be waived in accordance with an injury settlement.
No-brainers:
The Packers parted ways with offensive lineman
Allen Barbre
, who had a disastrous seven-game stint at right tackle last season. It was about time. Like Blackmon, Barbre was placed on injured reserve, but eventually will be waived. On the other side of the equation, the Packers couldn't do anything but keep rookie cornerback
Sam Shields
. I'm not sure how much he'll play immediately, but he showed too much potential this summer to risk exposing to waivers.
What's next:
Waiving
Chris Bryan
should mean that
Tim Masthay
will be the Packers' Week 1 punter, but we'll wait to get confirmation from the Packers on that. After parting ways with Blackmon and
Jason Chery
, it's not clear who will be the Packers' kickoff or punt returners. Likely candidates are running back
Brandon Jackson
and receiver
Jordy Nelson
. As of now, the Packers have more fullbacks on their roster (three) than running backs (two). I wonder if that will change in the coming days.
August, 30, 2010
8/30/10
1:00
PM ET
As we enter the final week of the preseason, position battles and depth chart competition should be nearing their conclusion. No clear answers generally means trouble. So with that timing in mind, let's take a look at the key summer issues in each NFC North locale:

Chicago Bears
Unsettled positions:
Both safeties and strongside linebacker
Comment:
The safety issue will come down to how quickly rookie
Major Wright
can return from a fractured finger. If it's soon, he could be the free safety with
Chris Harris
at strong. If not, the Bears might have to patch the position together with Harris at free safety and
Danieal Manning
or
Craig Steltz
on the strong side. Meanwhile,
Nick Roach
seemed to have the linebacker job won before having knee surgery. Can
Pisa Tinoisamoa
hold him off?

Detroit Lions
Unsettled positions:
No. 2 cornerback, strong safety
Comment:
Jonathan Wade
held down the cornerback job in camp until a finger injury knocked him from the lineup.
Eric King
or
Dre' Bly
could be his short- and/or long-term replacement.
C.C. Brown
was the first-team strong safety for most of camp, but his hand was in a cast last week.
Randy Phillips
has been the primary replacement, but fellow rookie
Amari Spievey
was moved from cornerback to safety last week.

Green Bay Packers
Unsettled positions:
Left guard and punter
Comment:
Daryn Colledge
won the left guard job by default after a hip flexor slowed rookie
Bryan Bulaga
.
Tim Masthay
appears to have an edge on
Chris Bryan
in the punting battle, but the Packers will take the competition through the end of the week.

Minnesota Vikings
Unsettled positions:
No. 2 cornerback, strong safety, center, third-down back
Comment:
Rookie
Chris Cook
appears on the brink of beating out
Lito Sheppard
and
Asher Allen
for the right cornerback job.
Tyrell Johnson
is trying to hold off
Jamarca Sanford
at safety. That battle is too close to call. The Vikings are worried that center
John Sullivan
's calf injury has put him too far behind to be ready for the Sept. 9 season opener at New Orleans, leaving them to decide whether to play backup
Jon Cooper
or move over right guard
Anthony Herrera
. The Vikings have rotated
Adrian Peterson
,
Toby Gerhart
and
Albert Young
in the third-down role and might use a combination when the season begins.
August, 27, 2010
8/27/10
8:25
AM ET
We're Black and Blue All Over:

We might be seeing the end of the Jared DeVries era in Detroit. The Lions' longtime defensive end, who was attempting a comeback from a ruptured Achilles tendon at age 34, has had knee surgery and will be sidelined for a period of time.
It's not believed to have been major surgery, but as
Tom Kowalski of Mlive.com
points out, the Lions might not want to hold open a roster spot for him as they test and attempt to develop younger players. That would be a tough decision, but keep in mind that the Lions' current coaching staff has no real history with DeVries and therefore wouldn't have as much emotion involved.
DeVries, who has been with the Lions since 1999, had a career-high 6.5 sacks and forced three fumbles in 2007.
Continuing around the NFC North:
August, 9, 2010
8/09/10
7:00
AM ET
ESPN.com NFL Power Ranking
(pre-camp): 6
GREEN BAY, Wis. -- The battalion of satellite trucks was long gone when the
Green Bay Packers
reported to training camp this summer, having vacated the premises shortly after quarterback
Brett Favre
was traded in August 2008.
Every player was signed and accounted for, making a distant memory of holdouts that have disrupted training camp in each of the past two seasons.
All that remained was the type of tranquility that allows a team to come of age. Many of us believe the Packers have the makings of a special group, one that is already off to a good start with a productive and --- more importantly -- quiet training camp.
"We determine our path that we're going to take," coach Mike McCarthy said. "Maybe we have less obstacles going into the year than we've had in the past for people to evaluate. If they think that and like us more this year, that's fine. But in reality, if you don't come here and put in the time and put in that foundation, it doesn't matter. These are our foundation days, and I like the work our guys have been putting in."
Quiet and determined, the Packers have been busy implementing some second-year wrinkles into defensive coordinator Dom Capers' scheme. They're facilitating the continued growth of tight end
Jermichael Finley
and are literally working overtime to rectify their special teams and kicking problems from a year ago.
[+] Enlarge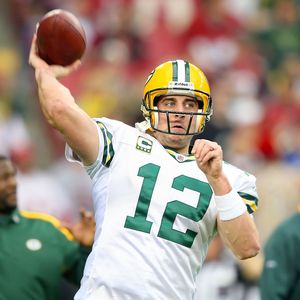 Christian Petersen/Getty ImageAaron Rodgers and the Packers faithful are thinking big.
These Packers are thinking big -- as big as it gets. So are their fans. I spotted more than a few "Super Bowl or bust" signs in the training camp bleachers last week. Those expectations are deserved and embraced in Green Bay.
"We have the right pedigree," quarterback
Aaron Rodgers
said. "... I like the way we're practicing. But a lot of things have to happen between now and the end of the season. You have to have a couple things go your way, you have to be able to stay healthy, and you have to execute down the stretch and win some games in the end."
Make no mistake, however. The building blocks are in place.
THREE HOT ISSUES
1. Have the Packers done enough to address the pass defense that let them down in losses to Pittsburgh and Arizona last season?
Three focal points jumped out during my visit to camp.
First, McCarthy has instituted
mandatory tackling drills
every day, an effort to limit yards after catch. You might not think that tackling is directly related to pass defense, but the Packers determined their problems stemmed as much from broken tackles after modest catches as they did from a lack of pass rush or poor coverage. So it's been back to the most basic of fundamentals this summer.
"If you're a high schooler," McCarthy said, "this is the practice you want to learn from."
Second, the Packers are
committed to leaving
second-year defensive lineman
B.J. Raji
at nose tackle rather than shifting him between tackle and end in their base scheme. Raji was unstoppable in an inside role at Boston College, and while the Packers' 3-4 scheme is not entirely comparable, this arrangement represents the Packers' best opportunity for collapsing the pocket.
Finally, there were some encouraging signs from two young cornerbacks the Packers are counting on for improved depth.
Pat Lee
grabbed an athletic interception by jumping over receiver
James Jones
during one practice, and second-year player
Brandon Underwood
has caught everyone's eye. Most recently, he returned an interception for a touchdown during a live period of Saturday's Family Night scrimmage. Rodgers and McCarthy went out of their way to mention Underwood during recent interviews.
"He's had a great camp," Rodgers said. McCarthy added: "Brandon is clearly a much more mature player. He has all the skills. ... The thing about him, he's a tough, smart guy, too. He's got a chance to be a really good player."
[+] Enlarge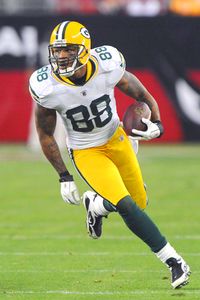 Kirby Lee/Image of Sport/US PresswireRodgers thinks tight end Jermichael Finley is Pro Bowl-caliber.
2. Can Finley continue his path to stardom?
Rodgers picked up the phone shortly after the Pro Bowl, where he worked with tight ends
Vernon Davis
and
Jason Witten
, and called Finley. "I firmly believe Jermichael Finley is in their class," Rodgers said. "He is a Pro Bowl-caliber tight end. And that's what I told him. I said, 'You've got a lot of work in front of you, but you've got the talent and ability to be recognized as a Pro Bowl tight end every year.'"
As I noted during the offseason, Rodgers threw more toward Finley than any other Packers player during the second half of last season. He changed the way opponents approached the Green Bay offense, and he spent much of the offseason working to upgrade his blocking skills to give the Packers more of a run-pass option when he is in the game. After dabbling in boxing and mixed martial arts to improve his hand quickness, Finley said: "I'm still a work in progress with my blocking and stuff. I just need to maintain and stay consistent. If I get that straight, the sky is the limit for me."
3. Can the Packers straighten out their special teams?
Rankings for combined coverage and return performance in the NFL are elusive, but Football Outsiders provides a
reliable independent analysis
. FO gave the Packers the worst special-teams rating in the league last season, and McCarthy has reacted with a number of measures that suggest the analysis is spot on.
The Packers are now devoting an extra 10 minutes to special teams per practice, a significant number considering how regimented modern-day NFL practices have become. They are holding an open competition to replace punter
Jeremy Kapinos
, for now pitting former Australian rules player
Chris Bryan
against
Tim Masthay
, and they welcomed a newly conditioned place-kicker
Mason Crosby
this summer.
Special teams coordinator Shawn Slocum is using the extra time to run coverage drills that emphasize controlled engagement with opponents. As for the punting competition, I couldn't say there was much separation between Bryan and Masthay. "Those guys are kicking it high and kicking it long," Slocum said.
As for Crosby, who struggled during the second half of last season, Slocum said: "Physically, I think he's at his best since I've been with him. He really put in some work in the summer and spring to increase his core strength. I think you're going to see that in his kickoff distance and from a field goal standpoint." Crosby missed five of his first 11 training camp kicks, but Slocum acknowledged that rotating Masthay and Bryan as holders probably played a role.
"We're working right now to build the cohesiveness of the hold, the snap and the kick," he said. "We missed a couple field goals, but I think his mentality is right where it needs to be, and we're working to get that together."
As if on cue, Crosby was lights-out during
Saturday's Family Night scrimmage
, drilling seven of eight attempts -- including shots from 47, 51 and 53 yards.
BIGGEST SURPRISE
I would never have guessed receiver
Donald Driver
would
have a contract extension
by the end of the first week of camp. From the outside, you could have put two and two together and wondered if he wasn't entering his final season with the team. After all, Driver has already set the franchise record for career receptions. He turned 35 in the offseason, was entering the final year of his existing deal and would need to hold off a hard-charging young receiver in
Jordy Nelson
. But it didn't take the Packers long to realize Driver is rejuvenated after having both knees cleaned out this spring. "I feel so much better," he said.
BIGGEST DISAPPOINTMENT
[+] Enlarge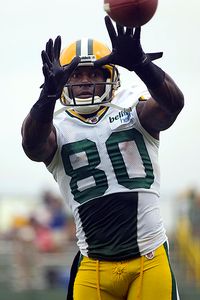 Jeff Hanisch/US PresswireThe Packers gave wide receiver Donald Driver an extension one week into camp.
To this point, the Packers have been unable to find a spot for veteran linebacker
Brady Poppinga
in their scheme. During a midweek shakeup of the linebacker depth chart, Poppinga found himself behind
Brandon Chillar
,
Clay Matthews
and
Brad Jones
. He was later sidelined by a concussion. Poppinga is a good player who might be better suited as a 4-3 linebacker -- or, if he bulked up, a 4-3 defensive end.
OBSERVATION DECK
Although there is a long way to go, it appears incumbent Daryn Colledge is holding off Jason Spitz for the starting left guard spot. Spitz has also been working behind center Scott Wells and would seem to be an ideal multi-position backup. The rest of the offensive line appears healthy and set: Chad Clifton and Mark Tauscher at tackles, with Colledge and Josh Sitton at guards.

Although the Packers dramatically cut down their sack totals during the second half of last season, pass protection remains a point of emphasis. "We've got to do a better job of cutting down sacks and negative yardage plays," Rodgers said. He added that Finley's presence "opens up the field" for the offense and, in turn, makes it more difficult for defenses to mount a pass rush. I thought it was an interesting, if not direct, correlation and will take a closer look at that in the coming weeks.

From the outside, cornerback Al Harris appears to be in phenomenal condition as he completes his rehabilitation from a serious knee injury. McCarthy said Harris is "champing at the bit" to begin practicing, but he simply hasn't been cleared medically. Still, the Packers are much more optimistic about Harris' future than they were a few months ago. McCarthy said Harris was "a big question mark" at the end of spring practice but said there is "no reason to think" Harris won't return to the field in 2010. "I just don't want him to do too much too fast," McCarthy said. "I don't want him to have a setback."

The Packers made a number of experimental adjustments to their base linebacker group, most notably moving Matthews to the left side and inserting Chillar on the right side. The move was prompted by a minor injury that caused Brad Jones to miss several days of practice, and the switchback has yet to occur. "Brandon is sort of a multi-purpose guy for us last year and we've liked what we've seen from him," Capers said. One way or the other, Chillar is going to play a lot this season.

Safety Atari Bigby will miss about a month of practice because of ankle surgery, and it's quite possible the Packers will open the season with rookie Morgan Burnett in the starting lineup. While the Packers are excited about Burnett's future, it's always a tough task to get rookies ready to start in Week 1. Understandably, Burnett is swimming in the playbook right now. "By the end of training camp," he said, "I'll have everything that I need down."

McCarthy has installed a sign on the office wall of each coordinator. It reads: "Less volume, more creativity." McCarthy said it applies mostly to his own offensive play-calling, but it's also appropriate to keep in mind as the Packers enter their second year in Capers' scheme.

The early-camp understanding has been that Will Blackmon will resume his role as the primary kickoff and possible punt returner, but Blackmon's surgically-repaired knee has been sore and cost him a number of practices during the first week. He didn't participate in the Family Night scrimmage, but McCarthy attributed his absence to normal post-surgery soreness.
August, 7, 2010
8/07/10
10:51
PM ET
GREEN BAY, Wis. -- Herewith are my observations and thoughts on the
Green Bay Packers
' annual Family Night scrimmage, which
unlike last year
actually took place as planned. The big stories were place-kicker
Mason Crosby
and two nice plays by some young defensive backs.
Crosby's first kickoff went nine yards deep in the end zone and he converted seven of eight field goal attempts. His only miss was from 44 yards on a hold that might have left something to be desired. The makes were from 26, 31, 36, 41, 47, 51 and 53 yards. There was some early-camp concern about Crosby's accuracy, but Saturday night he was pretty much lights-out. "It was definitely a good way to start," Crosby said. "I felt good. I thought I hit the ball well, and the whole operation did great."
Cornerback Brandon Underwood, working with the first team in place of a resting Charles Woodson, intercepted a Graham Harrell pass and returned it 30 yards for a touchdown. As I'll also note in my upcoming Packers Camp Confidential, Underwood has caught just about everyone's eyes this summer. "I feel a lot more comfortable with what I'm doing," he said. "I feel a lot more comfortable that when they line up, I'm going to know what to look for and can try to decipher everything they're doing."
Rookie Sam Shields, meanwhile, stepped in front of a Matt Flynn pass and unofficially took it back 97 yards for a touchdown. I'm telling you, Shields looks much more comfortable as a defensive back than as kick returner. He also displayed some flair by high-stepping the final 10 yards before crossing into the end zone. "Just a little showboating," he said.
Jordy Nelson worked with the first team in place of a resting Donald Driver and caught Aaron Rodgers' first pass, a bullet down the seam for 27 yards. Nelson held on to the ball after a nasty collision with safety Charlie Peprah but suffered a bruise that prevented him from returning to the scrimmage. The only other injury was a sprained knee for receiver Brett Swain.
Tight end Jermichael Finley bowled over Underwood after a 14-yard reception. After the play, Finley stood over Underwood to talk some (presumably) good-natured trash.
Brandon Jackson returned a kickoff 95 yards for a score. The Packers were also using him on kickoff coverage and McCarthy continued his effusive praise of the reserve running back. "Brandon Jackson, I think he has arrived," McCarthy said.
I really didn't see much separation between punters Tim Masthay and Chris Bryan. Both had long punts of 62 yards Saturday night. "We're so much further ahead [in the punting game] than we've been in the last two years," McCarthy said.
In addition to Driver and Woodson, other veterans who sat out were linebacker Nick Barnett (rest), linebacker Brady Poppinga (concussion) and safety Will Blackmon (knee).
Actual turnstile attendance was 47, 844. For a practice with live tackling. Amazing.
I'm probably jinxing us, but Sunday should be a relatively quiet day on the NFC North blog. Look for the Packers Camp Confidential on Monday morning.
August, 3, 2010
8/03/10
7:20
AM ET
We're Black and Blue All Over:
I noticed a Twitter debate breaking out Monday morning among Green Bay Packers followers who had varying opinions on how seriously to take place-kicker Mason Crosby's uneven performance during the early days of training camp. After having his ups and downs in 2009, Crosby has missed five of his 11 attempts over two practices, according to those who have tracked his kicks.

Jason Wilde of ESPNMilwaukee.com
writes that "Crosby didn't do anything to calm the fears of fans who worry about his accuracy after last year's struggles," while
Mike Vandermause of the Green Bay Press-Gazette
devoted his entire column to the issue of Crosby's rotating holders.
Vandermause: "Crosby isn't the problem. Instead, the blame rests squarely on the shoulders of McCarthy and special teams coach Shawn Slocum, who insist on saddling Crosby with a pair of inexperienced holders during camp -- punters Chris Bryan and Tim Masthay. At a time when Crosby should be building confidence coming off a so-so 2009 season, he instead has to break in not one but two new holders."
The alternative would be backup quarterback Matt Flynn, but it's understandably smoother for the punter to serve as a holder for practice purposes. I don't know if it's a kicking issue, a holding issue or no issue at all. But you would hate to see a Super Bowl run slowed by missed field goals.
Continuing around the NFC North:
March, 22, 2010
3/22/10
3:46
PM ET
ORLANDO, Fla. -- At about this time last year, Green Bay officials were noting how excited they were about the pair of young punters on their roster. The ensuing competition put their 2009 punting duties on the foot of
Jeremy Kapinos
, whose performance left coach Mike McCarthy speaking Monday about how excited he is with the two new punters on the Packers roster.
So should we expect anything better from a looming 2010 battle between
Tim Masthay
and Chris Bryan?
McCarthy spoke with both realism and confidence about the ongoing attempt to replace
Jon Ryan
, whom the Packers surprisingly released before the 2009 season.
"A young punter in Green Bay, Wisconsin, is a challenge," McCarthy said. "We'll get that on the record. I get that part. But we've been the youngest team in the league for four years. So I think we've accepted the challenge and I don't see this any differently.
"I like the two guys that we have in camp. ... I think these guys are as talented as Jon Ryan. I think they're definitely that caliber as far as pure ability to punt the football."
There are no guarantees that Masthay and Bryan will be the two punters the Packers bring to training camp. Masthay spent a brief time with Indianapolis last summer but was waived before the Colts' first preseason game. Bryan spent the past five years playing Australian rules football.
But the Packers' philosophical aversion to signing veteran free agents dictates they find a punter either through those means or via the draft. The situation remains fluid, but it appears the Packers will spend at least part of the spring evaluating their newest pair of young punters.
March, 20, 2010
3/20/10
12:00
PM ET
Get your motor runnin'
Head out on the highway
Lookin' for adventure
And whatever comes our way
Yeah Darlin' go make it happen
Take the world in a love embrace
Fire all of your guns at once
And explode into space
I like smoke and lightning
Heavy metal thunder
Racin' with the wind
And the feelin' that I'm under
Yeah Darlin' go make it happen
Take the world in a love embrace
Fire all of your guns at once
And explode into space
Like a true nature's child
We were born, born to be wild
We can climb so high
I never wanna die
Born to be wild
Born to be wild
That's right, folks! I'm heading down to Florida for Spring Break … er, the NFL owners meeting, which unofficially opens Sunday and continues through Wednesday. (Question: Does connecting
Steppenwolf
with Spring Break date me?)
I'm hoping to run in to a number of our NFC North heroes/owners/general managers/coaches during my time in Orlando, and I think have a pretty good idea of the questions you would want asked. If you want to make sure I know what you want to know, be sure to
hit the mailbag
, send me a
Facebook
message or
Tweet me
.
For now, let's address some of your lingering questions and issues from last week.
Responding to our discussion on Chicago and free agent receiver Kevin Curtis, Steve of Herndon, Va., writes:
Curtis caught 60 passes in Mike Martz's system but I feel like the Bears aren't going to sign any veteran wide receiver free agents. Fair or not,
Marty Booker
and
Brandon Lloyd
has left a bitter taste in Jerry Angelo's mouth.
Kevin Seifert:
Yes, nothing the Bears have done in the past 12 months suggest they are eager to add a veteran receiver to their talented but experience-shy mix. They want
Earl Bennett
to continue developing, they envision
Devin Hester
as a playmaking slot receiver and got some strong flashes from youngsters
Johnny Knox
and
Devin Aromashodu
last year.
But here's where I'm coming from: Curtis (or
Torry Holt
for that matter) wouldn't necessarily mean a loss of playing time for any incumbent. I just don't think there is any harm in depth and, more important, competition. If Bennett, Hester, Knox and Aromashodu are ready to step up like many believe they are, let's see them go to training camp and beat out a veteran receiver with experience in Martz's system.
While all four incumbents have high ceilings, they aren't established enough to enter camp with minimal competition. Let's see them earn their roles, and ultimately they'll be better for it. And if they're not up to it, the Bears could plug in Holt or Curtis. There's a big difference between counting on a veteran player, as the Bears did with Booker and Lloyd in recent years, and employing them as safety nets.
Second, it's always worth keeping an eye on available players with connections to the current coordinator. Look at what's happened in Detroit. Offensive coordinator Scott Linehan has been reunited with former Minnesota receiver
Nate Burleson
and quarterback
Shaun Hill
. Martz, meanwhile, made a point to bring quarterback J.T. O'Sullivan with him to San Francisco a few years ago.
Will it happen? I don't see much urgency on the Bears' part. Should it happen? To me, there is no downside.
---
Lucas of St. Paul writes:
What do you think are the chances of the Vikings picking up
Nathan Vasher
on a one or two year contract to attempt to patch the secondary holes that the Vikes need to fill? And if the did get him would they still probably draft a CB in the first or second round?
Three minutes later, Adam of Madison, Wis., wrote:
I'm sure this question has been asked to you already, but do you think Vasher could have a chance in Green Bay?
Kevin Seifert:
I understand the question. Both teams are a bit thin at cornerback because of knee injuries to
Cedric Griffin
(Minnesota) and
Al Harris
(Green Bay). And sometimes, one man's trash is another man's treasure. But in this case, I guess I would ask Vikings and Packers fans to tell me what they saw from Vasher the past few years that would suggest he would be a significant improvement over their incumbent depth?
Vasher really hasn't been a factor since the Bears' Super Bowl run in 2006. Chicago is no deeper than the Vikings or Packers at cornerback, and they chose to move on rather than even attempt to negotiate a lower contract.
Vasher is certainly a recognizable name. But I'm not sure I would trust him any more than I trust the younger players currently on each team's depth chart.
---
Cal of Eau Claire, Wis., writes:
When will they officially release the 2010 schedule?
Kevin Seifert:
The exact date hasn't been announced, but typically it comes in the first or second week of April. Stay tuned.
In the meantime, we should get a few high-profile matchups announced next week at the owners meeting. That could include a national season-opener pitting Minnesota at New Orleans.
---
Alex of Wausau, Wis., writes:
This new punter Green Bay signed from the Australian Football League, Chris Bryan, is he from Australia or what? I can't find any info on him other than he signed a three-year deal with the Packers.
Kevin Seifert:
Yes, Bryan is in fact an Australian native who has been attending an academy known as Prokick Australia in hopes of making the transition to the NFL. According to
this Australian media report
, Bryan has played Australian rules football since 2005.
At this point -- and I emphasize we have many more points to go -- Bryan is competing with
Tim Masthay
for the Packers' punting job. There is some precedent for Australian punters making it in the NFL. Success stories include Arizona's
Ben Graham
, Philadelphia's
Sav Rocca
and Dallas'
Mat McBriar
.
---
Kody of Orem, Utah, tells us to pipe down after noticing our blurb about five years passing since the last time a Lions backup quarterback won a game:
The Pack haven't had a backup QB win a game for them since 1992.
Kevin Seifert:
Well-played. I can't think of a better way to describe stability for one team and chaos for another.
---
CuRay of Albuquerque, N.M., writes:
I am a huge lions fan. Do you think Detroit will take a long look at signing
Justin Fargas
or wait until the draft to find a new running back?
Kevin Seifert:
I suppose it's possible, but the Lions already have one veteran runner on their roster in
Maurice Morris
. At this point, it's just as likely that they'll sit tight on available runners like Fargas and see if they can find a younger, fresher set of legs in the draft. Running backs are quickly-spent commodities. More than any other position, it's best to get them young.
---
Cody of Minot, N.D., writes:
In re-signing
Chad Clifton
and
Mark Tauscher
, are the Packers sending the message to
T.J. Lang
that he is not a legitimate starter and is better off being a utility lineman? I myself am happy with what I saw out of Lang last year. I'm a little bit confused on this one. Sing the words of wisdom to me, Kevin.
Kevin Seifert:
The hills are alive/with the sound of music
… Oh, wait, you meant wisdom on Lang. I don't think the Packers were necessarily sending him a message. I just believe they don't want to enter the season with an unproven starter and no safety net. It's still possible that Lang could end up starting in 2010. But unlike last season, the Packers will have both Clifton and Tauscher available for depth and competition.
March, 17, 2010
3/17/10
7:13
AM ET
Minnesota middle linebacker E.J. Henderson spoke publicly Tuesday for the first time since fracturing his left femur in a
gruesome December injury
. Henderson told a group of reporters that he is certain he will resume his career in 2010 and that it's only a matter of when doctors clear him to start practicing.

"Oh, I'm definitely going to play football again," Henderson said. "I really don't think that's a question at this point barring some freak occurrence. But I'm definitely going to play football again. It's just a matter of, will I be back in July or August?"
Here is coverage from the
Star Tribune
,
St. Paul Pioneer Press
and
Associated Press
.
The Vikings haven't made a move to replace Henderson, who was walking with a cane until recently. Jasper Brinkley played in his place last season, with outside linebacker Ben Leber calling defensive signals. It would appear the Vikings plan on using that combination again unless another option presents itself before Henderson returns.
Continuing around the NFC North: