April, 10, 2010
4/10/10
11:00
AM ET
Be it through the
mailbag
,
Facebook
,
Twitter
or
subliminal messages
, I'm always interested in your feedback. Believe it or not, I appreciate it when you spur more complete thoughts or point out a hole in my argument. That's where we'll start this weekend.
On with it....
Randal of Cambridge, Minn., writes:
Enjoyed your
QB story
but you are painting too broad of a brush. Who has Minnesota passed over in the draft that it should not have? Even with 20-20 hindsight, there has not been too many. What highly rated QB sat in the green room, while the Vikings drafted another position? Maybe
Aaron Rodgers
, but at that time Dante Culpepper looked pretty good. The issue is that they have rarely hit bottom. They have been too consistent. This is not the Rams or Lions who are in the top 10 most years.
Kevin Seifert:
You make a fair point, Randal, and it's something I wish I had looked at prior to posting. I'm not ready to concede my primary point, but let's first examine exactly what you're talking about.
The chart below shows every first-round quarterback selected after the Vikings' spot over the past 20 years.
The two best quarterbacks on this list are
Drew Brees
and Rodgers. At both points, there was no indication the Vikings needed a franchise quarterback. Culpepper made the Pro Bowl in 2000, and in 2004 he produced his best-ever season. I can't blame the Vikings for passing over Brees in 2001 and Rodgers in 2005.
And with hindsight, of course, it's hard to find fault with the decisions to draft
Adrian Peterson
over
Brady Quinn
in 2007 and
Kenechi Udeze
over J.P Losman in 2004.
But I think we should tread carefully when considering a linear analysis of the past. Washington, for example, couldn't establish
Jason Campbell
as its long-term answer at quarterback after selecting him in 2005. But how can we know for sure that Campbell's career would have progressed in the same direction if he were taken by another team?
What if the Vikings had drafted him, for example, and allowed him to spend the past four seasons working with the same offensive coaches rather than experiencing the yearly turnover he had with the Redskins? Perhaps his future would have followed a different path. I'm not saying it would have, but we shouldn't overvalue hindsight in these situations.
And yes, it's true the Vikings weren't always in position to draft an elite quarterback because of their relative success the previous season. But we shouldn't give them a full pass on that. After all, it's within NFL rules to trade up and grab a player you feel strongly about. Denver did that in 2006 and would up with
Jay Cutler
-- six spots ahead of the Vikings. He was in the Pro Bowl by his third season.
So I guess the crux of my argument remains unchanged. While it's hard to heavily criticize the Vikings for the quarterbacks they have passed over in recent years, they're not blameless. You have to swing the bat -- even if it means trading up or trusting your ability to develop a prospect -- to get a hit. At some point, they're going to have to take the bat off their shoulder.
---
Via Facebook, Andy passes along a link to former Green Bay receiver Javon Walker's latest trouble and writes:
Another move Ted Thompson doesn't get credit for.
Kevin Seifert:
Indeed. Walker missed 15 games in 2005 after tearing an anterior cruciate ligament, after which Thompson traded him to Denver for the No. 37 overall pick in the 2006 draft. (Thompson traded that pick away on draft day, but guard
Daryn Colledge
was the key player he selected with the resulting bundle.)
Although Walker had a 1,000-yard season with the Broncos in 2006, his career has since crashed. He's played in 19 games over the past three seasons and, at age 31, is out of the game. I'm not sure if Thompson foresaw any of Walker's ensuing troubles, but he certainly got a fair price for a player coming off a serious knee injury.
Andy's link gave rise to an interesting idea. Thompson has taken his lumps here and elsewhere, but what other moves should he be getting more credit for? I came up with a couple. Feel free to add or subtract in the comment section accompanying this post.
Trading defensive tackle Corey Williams in 2008 for the No. 56 overall pick in that draft. Although the payoff didn't occur -- quarterback Brian Brohm, taken in that spot, was a bust -- Thompson got pretty decent value for a player he essentially replaced a year later with B.J. Raji.
Hiring coach Mike McCarthy. There weren't many "hot lists" with McCarthy's name on it after the 2005 season. Thompson spent the time to find a coach who would mesh well with the draft-oriented philosophy he planned to use. In the big picture, McCarthy had made the playoffs twice in four seasons while coaching the league's youngest team. He's been a good fit where few would have predicted it prior to his arrival.
---
Ian of East Leroy, Mich., finds a logic hole in our discussion about a trade that would send Washington defensive tackle Albert Haynesworth to Detroit:
With the retirement of
Chris Samuels
and the acquisition of McNabb from Philadelphia, left tackle seems to be a priority for the Redskins. Acquiring Haynesworth would allow the Lions to draft Russell Okung instead of either Ndamukong Suh or Gerald McCoy. In effect the Redskins would also lose the top left tackle in the draft.
Kevin Seifert:
Ian has made a good point: The Redskins essentially could be trading Haynesworth and Okung for Suh or McCoy and (presumably) a later pick in the draft. (That's assuming they don't take the No. 2 pick in exchange for Haynesworth, of course.)
It all would come down to how desperate Shanahan is to get Haynesworth off his team. Does he need to get something in return? Otherwise, he could always release him after the draft.
I guess I wouldn't make Okung the key to a Haynesworth trade. If you can get something in return for him, and still be in position to take Suh or McCoy, I think it might be worth it. But the original point is valid: The deal is more complicated at second glance.
---
Brian of Chicago writes:
Seems the Bears' biggest remaining needs are a "quarterbacking" safety and help on the OL. Dallas just released
Ken Hamlin
and
Flozell Adams
. Now, I'm hesitant on Adams mostly because of last year's debacle with
Orlando Pace
, and Flozell is the same age as OP. But to me Ken Hamlin is a slam dunk. Thoughts?
Kevin Seifert:
Agreed on Adams. I'd stay away from him. Hamlin is a bit of a different story. He was a Pro Bowl player as recently as 2007, but since then he has one interception in his last 28 games.
I don't see him as anything more than a short-term answer at a position where the Bears really don't have many viable in-house candidates to start. He's better than what they have, and that's about the best thing I can say about him. It's possible the Bears could find an immediate starter in the draft, but they're not going to get two. I'd give him a hard look.
---
Ben of Lincoln, Neb., writes:
I want to know your feelings about the Lions picking
Matthew Stafford
last year. What I remember is everyone saying that the next year would have a better QB class, and that the Lions should pick a lineman. Now everyone this year is saying that this years QB class is not that great, and next years will be. Is the QB something that one has to evaluate for the current year, and not plan ahead, or do you still think the Lions should have waited?
Kevin Seifert:
No, I think you take too big of a risk trying to project a class from a year out. The Lions considered Stafford the best player in the draft last season. You can argue with their evaluation if you want, but the bottom line is they would have made a mistake to subordinate their own draft board based on a 12-month projection of the upcoming class.
I wonder if those projections were based on Washington's Jake Locker entering this draft. He decided to return to school; ESPN's Mel Kiper said this week that Locker is a near-guaranteed No. 1 overall pick next season. Will he feel that way 11 months from now? It's just an educated guess and nothing more.
---
Steve of Irvine writes:
Do you think Suh is athletic enough to play defensive end on 1st/2nd down...then move inside on 3rd? That's the way the Lions would have used
Anthony Hargrove
.
Kevin Seifert:
Yes, that was the plan for Hargrove had he joined the team via restricted free agency. I can't profess to be an expert on Suh's physical skills, but I've seen occasions where elite players become ordinary contributors when moved to a different position. I'm guessing Suh could play left end if he had to. But the best bet is he will be more dominant at tackle. You want your players in the position where they can maximize their skills and playmaking ability.
Minnesota did the same thing in 2003 with
Kevin Williams
, a player Suh has been compared to. Williams opened the season as the starting left end, where he was adequate. He moved inside full-time at about midseason and the difference was noticeable. The Vikings haven't tried that arrangement again.
March, 5, 2010
3/05/10
7:54
PM ET
Perhaps you've seen
this report
from ESPN's Adam Schefter: Green Bay has re-signed left tackle
Chad Clifton
to a three-year contract that includes $7.5 million guaranteed.

Clifton
The deal came amid reports that Clifton was visiting Washington, which is looking for a new left tackle following the retirement of veteran
Chris Samuels
. Did the visit loosen the Packers' purse strings? Or did Clifton merely realize he didn't want to leave Green Bay?
Tom Silverstein of the Milwaukee Journal Sentinel
suggested the latter rationale earlier Friday. We might never know the truthful answer to that question, but in the short term it means the Packers won't be transitioning their left tackle position in 2010.
As we've
discussed recently
, the Packers are in a difficult situation. Clifton has struggled at times during the past two years and is nearing the end of his career, but the Packers have no obvious replacement on their roster. I don't think anyone considers
T.J. Lang
a short- or long-term answer at the position. It's possible the Packers will draft a starting-caliber left tackle next month, but obviously there are no guarantees.
Now the question is whether the Packers will re-sign right tackle
Mark Tauscher
or whether they will turn the position over to Lang. Part of the difficult situation is that Tauscher might have more career longevity than Clifton -- but the need to retain the incumbent was more acute at Clifton's position.
I have a feeling that this post wouldn't be complete without the near-obligatory "stay tuned."
Two other quick Packers notes from Friday: The team released defensive end
Mike Montgomery
and safety
Matt Giordano
.
March, 5, 2010
3/05/10
9:13
AM ET
Chad Clifton
's scheduled visit to Washington promises an interesting dilemma for both the player and for Green Bay. I thought Andrew Brandt, the former Packers executive who now operates the National Football Post, put it well
via Twitter
:
[+] Enlarge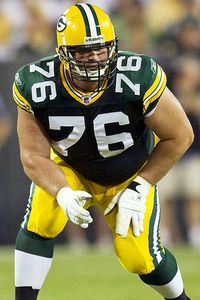 Jeff Hanisch/US PresswireDon't expect the Packers to wage a bidding war over Chad Clifton.
"Chad Clifton to visit Redskins, whose LT just retired. Chad loves GB, but can't see GBP in bidding war with them."
Yes, it's hard to imagine general manager Ted Thompson bidding against Washington owner Daniel Snyder, if it comes to that. The Redskins have bid farewell to left tackle
Chris Samuels
, and new coach Mike Shanahan is going to get whatever he wants from Snyder. If it's a veteran left tackle with experience in a zone blocking scheme, then so be it. Snyder won't let money get in the way.
So then you wonder if Clifton, a quiet and introverted guy who has spent his entire career with the Packers, really wants to leave Green Bay and play in Washington's annual high-profile circus. We're not privy to his last-minute negotiations with the Packers, so I don't know how close or far the sides are from a numbers perspective. But if Clifton thinks he can shake more money loose by following through with a visit, he's probably misjudging Thompson's reputation for sticking to his core beliefs.
And in many cases over recent years, Thompson has insisted on replacing veterans with younger, recently drafted players. It has worked more often than it has failed, and I've felt for some time the Packers needed to initiate a succession plan at both tackle positions.
We've
discussed this dynamic
thoroughly in the past few weeks, and we can only assume the Packers would replace Clifton with second-year player
T.J. Lang
, a fourth-round pick in 2009. I'm on board with replacing Clifton sooner rather than later, given his recent health issues, but to me it would have to be accompanied by the return of right tackle
Mark Tauscher
. The Packers could minimize the pain of that succession plan by proceeding gradually.
It's possible the Packers could draft a starting-caliber left tackle next month, but that wouldn't change the worst-case dynamic: Having unproven players at both tackle positions is far from ideal for quarterback
Aaron Rodgers
and the rest of the offense.
We're not at that point yet, but I do think we should take Clifton's visit to Washington seriously and begin considering the repercussions of his possible departure.